Brunello Cucinelli SPECTRE Belt
Updated on November 27th, 2016 – Once again, outside of promotional shots, finding an image of the actual Brunello Cucinelli SPECTRE Belt that James Bond wore in Morocco is really difficult (at least for me). And once again, The Suits of James Bond and James Bond Lifestyle do a great job of summing up the details.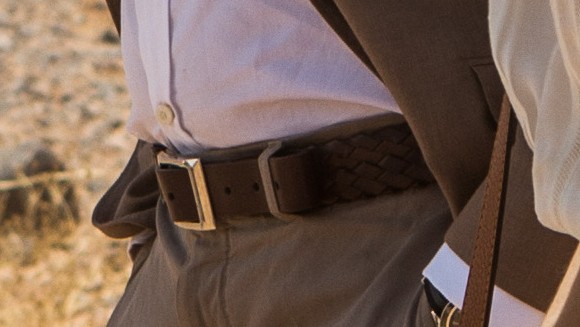 UPDATE: AJB007 forum member and incredibly patient Bond fan ExpatJB seems to have found the correct Brunello Cucinelli SPECTRE Belt at Saks Off 5th, where it was on sale for $249.99. All sold out now, unfortunately, but at least we can get a "real world" look at it. Excellent work, sir!
Features wanted for the Brunello Cucinelli SPECTRE Belt
Center bar rectangular frame silver buckle
Brown woven/braided leather with a solid leather strap end.
Best Options for the Brunello Cucinelli SPECTRE Belt
Aside from missing the full frame buckle, this one's coming pretty close! It's an actual tubular construction, built around an elastic core. So it's going to have a good amount of stretch. Width is 1 1/4″ (35 mm), so it's versatile enough to wear with jeans or more formal chinos. There's a good selection of sizes available at both Amazon U.S. and UK. And if you prefer to go with a darker color, they also make it in brown.
The Replica
Windsor Saddlers and Belt Company actually made a replica of the Cucinelli belt at the request of an AJB007 forum member and is now taking orders. You can get more information about the belt and how to order it in this thread on AJB007. It ain't cheap. But reports from buyers have been very positive and this latest version was designed with the input of real Bond fans.
Under $50
From this point on, it is more traditional frame style buckles with leather keepers. But I decided to stay with square shaped silver buckles.
Okay, so this is about as budget as you're going to get. Genuine leather in what looks to be a tubular construction. The pattern of the weave also looks to be close to the Cucinelli's. If that buckle was a little more rectangular, this would easily have been the Best Option.
The weave isn't an exact match for the screen used belt. But it does have a buckle with a little more bevel. It's an inch and a half wide. So it will work best with more casual outfits. JCPenney has sizes 34 to 44 in stock.
The full frame buckle of the original is the difficult part to replicate. The Entourage 'Good Vibe' Reversible Braided Leather Belt, currently $20.99 at Overstock.com, is a bit of a cheat. The double metal keeper will help give the illusion of a rectangular buckle. And the weave of the leather comes close to the chevron pattern of the original.
Another option from JCPenney. Like the PGA Tour above, the weave isn't exactly what we're looking for. But that bevel edge buckle is getting closer. And since it's just over an inch in width, it's going to be more versatile. Sizes 32 to 44 are available.
100% leather, 1.25″ wide and sizes 34 to 44 are in stock. What else can I say? It won't be the highest quality alternative. But it'll do a decent job at a very affordable price.
A new option from AJB007 forum member PPK! Zara is down to a lonely size 36 on the U.S. website. But you may be able to find more options in-store. Just note that the main material is described as "reconstituted leather". So there are less expensive options that use real cow. But that metal keeper is a nice touch and should help with the illusion of a full frame buckle.
A Bond-used brand (the gloves in Skyfall) and a close color match for the original. Not bad for under $50.00!
Under $100
Dan sent this alternative. While the weave and buckle may not be an exact match for the Cucinelli, the quality of the leather and workmanship is pretty much assured. Handcrafted in Spain, 35mm wide and it comes in a nice box and fabric bag.
The (kinda/sorta) DIY option
So, do you want to build your own more screen accurate belt for under $50? Here's how you do it.
Step 1: Buy a belt that has a strap and weave that come close to the Brunello Cucinelli.
I'm suggesting the "
Best Option
" belt from above for $24.80. But almost any of the alternatives will do.
Step 2: Buy a buckle or a cheap belt.
I looked in most corners of the internet to find a buckle that comes close to the screen used one. But I didn't have much luck. I decided to go with the one above. Price is
$8.34 on Amazon
. Another, fancier (i.e. more expensive) option is this
titanium buckle for $24.99
. On the cheaper side,
this one
comes to about $5 including shipping on Ebay. If you decide to search for yourself, what you're looking for is a "center bar rectangular buckle". I also found that cheap black belt with a much closer buckle style. That one costs
$11.30 on Amazon
if you order the size 40. In either case, you just want to make sure the buckle/belt you order is the same width as the belt you ordered in Step 1.
Step 3: Get a shoe repair shop to change the buckle
They'll do the work for ya for about $10 to $15 bucks. And in the end, you'll have an affordable belt with the right strap, weave and buckle.
If you find some other alternative, please share the links in the comments! And remember to check out our Facebook page, Instagram account and Pinterest Boards for more James Bond style advice, inspiration and info on where to find the latest deals!
Images used are from Danjaq/United Artists, copyright 2015.