The James Bond OHMSS Anorak Jacket
For the raid on Piz Gloria in the On Her Majesty's Secret Service finale, George Lazenby's James Bond wears a blue anorak.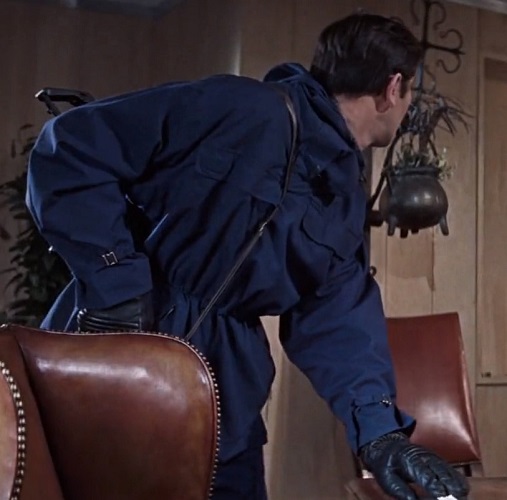 This has to be one of my all-time favorite action scenes from a Bond film. You've got the stunning location, the gun battle between Draco's team and Blofeld's guards, Tracy's up-close fight with the henchman, 007's last minute escape from the exploding mountain top fortress, and the high-speed bobsled chase after the best (IMHO) Blofeld in the series. And John Barry's score of course. I particularly like the fact that, even though part of the mission is personal, Bond still stops to gather the evidence needed to stop Blofeld's plan. It clearly shows that Bond never forgets he's a professional. And Lazenby's impressive athleticism during the action will always keep me wondering what kind of Bond he would have been if he'd continued in the role.
Features wanted for the James Bond OHMSS Anorak Jacket
Mid-thigh length
Mid-blue/dark royal blue color
Funnel neck (no zipper) with hood
 Two flap-covered chest pockets
Cinch waist
Cinch straps on cuffs with buckles
Before anyone gets their hopes up: I couldn't find any alternatives with a true funnel neck. Or buckle cinch straps at the cuffs. Or two chest pockets. Seriously, just finding a modern day anorak with a cinch waist was difficult. So the five options below will help you get close to the OHMSS look. But screen accurate they are not.
Best Option for the James Bond OHMSS Anorak Jacket
A serious jacket for serious winter sports. The Gutulla isn't some lightweight windbreaker. It's made using Fjällräven's classic G-1000 cloth. A blend of 65% polyester and 35% cotton, it's treated with Greenland wax, making highly water resistant, windproof and breathable. The shade of blue may be more muted than Lazenby's and it has a single flapped chest pocket instead of the two on the original. But the Gutulla is one of the few full length anoraks on the market right now. So the drawstring waist can be cinched in to really give you that OHMSS look. It even has the crotch strap to keep the jacket from riding up. Trekk Inn has all sizes in stock.
Under $100
Again, the blue of the Kebnekaise is more muted than what we see on the screen. It's also more of a hip length anorak. Which means no drawstring waist. But it is a technical garment, made from windproof and highly water resistant fabric. So for skiing or snowboarding, it'll get the job done. Amazon UK only has size XS left in stock. But you can find all sizes at the Turkish online store ebalikshop.com.
Sierra Designs designed this waterproof, breathable anorak for alpine climbing. So it's simple styling will work with a well with harness if you are looking for that type of technical jacket. Unfortunately, there's no drawstring waist and only a single flap covered chest pocket. But in terms of color, this alternative probably comes closest to the OHMSS one. You'll find all sizes at Moosejaw.  Or you can order it directly from Sierra Designs.
Under $200
Another simple design without a drawstring waist. The Geilo Anorak from Norwegian Company Twentyfour is made from a water resistant poly-cotton blend fabric and comes with a removable fake-fur collar. The color is also a good match for Lazenby's. Pricing on this one is all over the place on Amazon UK. They have the size small priced at £90.90. But sizes medium and large go for about £65.00. If you want something a little longer, you can also check out Twentyfour's Djerv Anorak. But I'm not sure if the fur trim is removable on that one. 
The length, loose fit and drawstring waist make the Morgedal an excellent alternative for the OHMSS anorak. But the darker blue color and that patch on the left chest keep it from being the Best Option. The fabric is 100% cotton and claims to be "wind and water-repellent". It's not treated or waxed. Instead the individual strands "swell" when wet to provide protection from the elements. Bergfest has the largest selection of sizes in stock, but mediums and larges are hard to come by.
Have some suggestions for good alternatives for the James Bond OHMSS Anorak? Leave them in the comments below! And don't forget you can find us on Facebook,  Pinterest, and Instagram!