Quantum of Solace Navy Wool Overcoat
While winter is barely half way over, most of the stores out there are dumping their cold weather inventory to make way for the new spring arrivals. Which means it's a great time to pick up a warm coat. The Quantum of Solace navy wool overcoat that Bond wore during his visit to Mitchell's apartment is about as classic an example of men's winter outwear as you can get.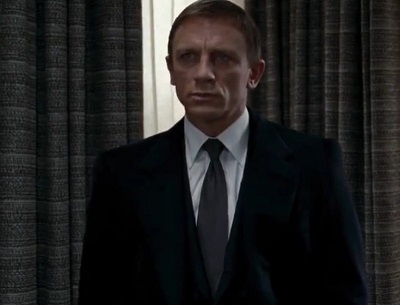 And in case you're thinking it will only work with a suit, we have a "4 Ways to Wear It" post coming soon to illustrate just how versatile this piece can be.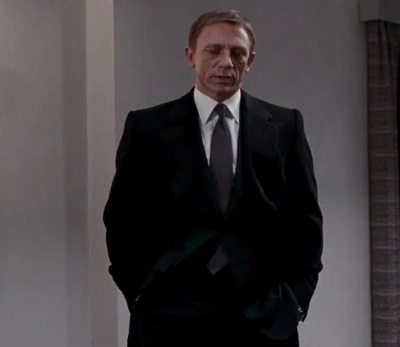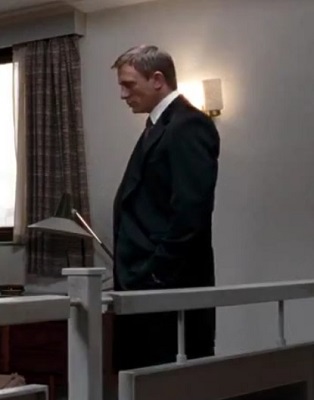 Features Wanted for the Quantum of Solace Navy Wool Overcoat
Navy wool or wool-blend fabric
Three button closer (not fly-front)
Notch lapels with a slightly lower top button stance
Chest pocket
Two flap covered hip pockets
5 button cuffs
The two features that are the most difficult to find are the ticket pocket and the five button cuffs. But we've done our best! To get more info on Bond's complete look in that scene, you can read this article at The Suits of James Bond.
Best Option for the Quantum of Solace Navy Wool Overcoat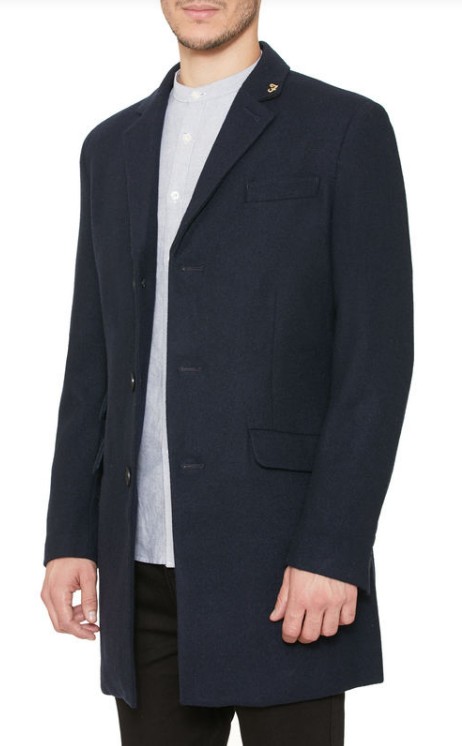 Other than being a little shorter than Bond's coat, this option from Farah is a damn close match. It has the ticket and chest pockets and the slightly lower top button stance of the Tom Ford. Fabric is a 55% wool/45% polyester blend. And sizes medium to XXL are in stock (although they're disappearing fast).
Under $100
It's missing the chest pocket and ticket pocket. But, hey; we need to sacrifice some things when we're on a budget. Fabric is a 61% re-cycled wool, 34% polyester, 2% nylon, 2% acrylic, 1% rayon blend. And seeing as this is H&M, we can expect the fit to be on the slim side. They have sizes 36R and 40R to 46R in stock.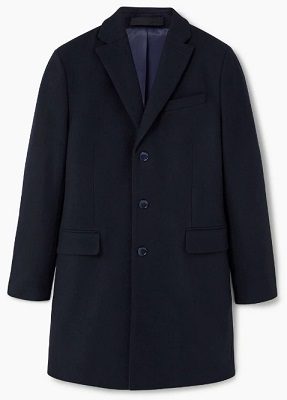 Just a heads up. Sizing is getting spotty with this one. They're down to XS and large at the time of writing. But for those of you looking for a simmer take on the classic overcoat, Mango's option is pretty good. Obviously, it's missing the ticket pocket (as are most options). But it does have the buttons at the cuffs. Fabric is a blend of 63% wool, 29% polyester, 4% acrylic, 3% polyamide, 1% viscose. God forbid we didn't have that 1% viscose ….
Under $150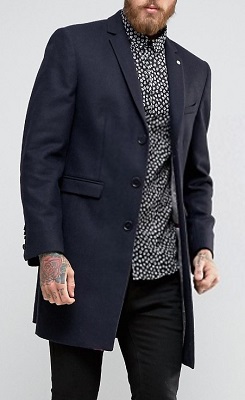 Coming at ya from ASOS. Which means free worldwide delivery is included in the price. They're calling the fabric "wool-rich". Which, when translated into actually fibers, means 60% Wool, 25% Polyester, 10% Nylon, and 5% other fibers. Be warned the that the jacket looks like a real slim fit and they're down to sizes 36 to 40. So this one may be for you smaller guys out there.
A nice, basic jacket from Moss Bros. with clean lines. Fabric is again a wool/poly blend. But they have plenty of sizes in stock. And you can choose the length.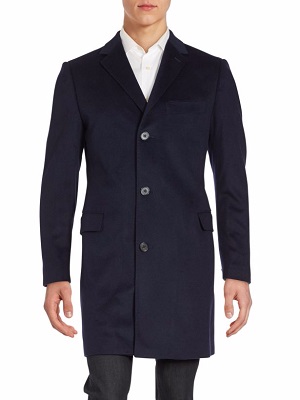 Probably the best deal of the bunch right now. If you can do without the ticket pocket. Regular price is $450, so they've priced this to move. They've used a wool/cashmere blend and the coat comes with a four button cuff. Saks has sizes medium to XL in stock.
Under $200
If you can spend up, then John Lewis has an excellent alternative. Good color match. It has the ticket pocket. And a four button cuff. Only downsides? The slightly shorter length and the fabric. It's a 60% wool/40% polyester blend. Honestly, I'd expect a slightly better quality for this price. They have most sizes still in stock.
Macy's has this option from Michael Kors. The regular price was close to $500, so it's a pretty sweet deal. Especially if you use one of Macy's frequent codes to get another 20% to 25% off. They state the fabric is a wool/nylon/cashmere blend. But they don't give the actual percentages. Macy's has sizes 38 short to 42 long available.
The Investment Piece
Gagliardi has used a 90% wool/10% cashmere blend from the famed Italian mill for their coat. They've kept the classic style (without a ticket pocket) but used a more modern, streamlined fit. Regular price is €450, so it's pretty good value for the money at it's current price. They have sizes 38 to 48 in stock.
If you're looking for other investment worthy options, you can also check out the J.Crew Wool Cashmere Ludlow Topcoat for $450.00 or the Charles Tyrwhitt Classic Navy Wool Cashmere Overcoat in slim or classic fits for £‌398.00.
Any I missed? Let us know about your favorite alternatives for the Quantum of Solace navy wool overcoat in the comments! And for more Bond-style inspiration, visit us on Facebook, Instagram and Pinterest.