R.M. Williams Gilchrist Chelsea Boots
Updated May 22nd, 2019 – It's no secret that Daniel Craig is a fan of R.M. Williams products. Their classic Craftsman model boots have long been a favorite, and that O-Ring woven belt still gets a lot of play. So it's not really surprising that for a while now, one of his "go to" pair of boots has been the tobacco suede R.M. Williams Gilchrist Chelsea Boots.
Thanks to the diligent reporting of Instagram account What's Daniel Wearing (@whatsdanielwearing), we saw lots of pics of the man-who-is-Bond strolling about town in them.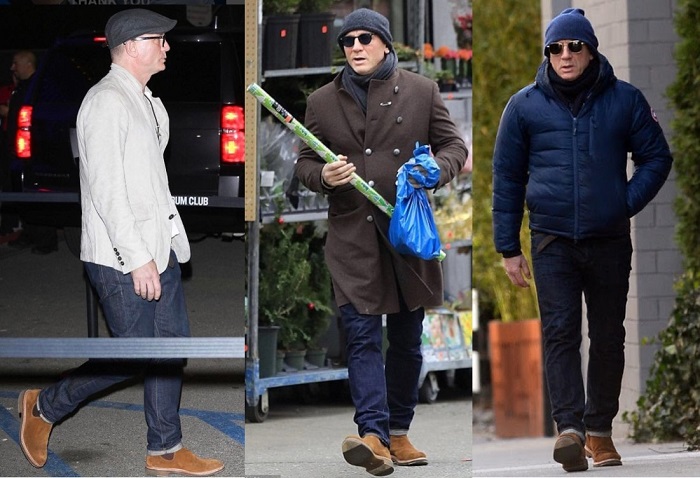 Unfortunately, the Gilchrists are sold out everywhere. So even if you could afford to spring for the real deals, they're going to be very tough to find. The closest model R.M. Williams currently stocks seems to be the Blaxland in Havana color for $495.00. However, SSENSE has a very limited size run of the boot on sale for $332.00. If you want a good deal on the Blaxland, act fast!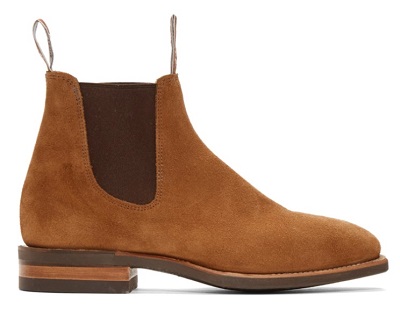 Now, I can't confirm that they're they Gilchrist. But flash-sale site East Dane does have an R.M. Williams boot in Tobacco that looks a lot like it on sale for $396.00. However, they're down to sizes 8, 10 and 11 in it.
The good news is that in the last couple of years, that Tobacco color has really taken off with other boot makers. So we have plenty of affordable alternatives to choose from!
Features Wanted for the Tobacco Suede R.M. Williams Gilchrist Chelsea Boots
A more rounded shape than the R.M. Williams Craftsman
Tobacco or reddish tan colored suede uppers
Dark brown elastic gussets
Natural colored mid-sole
Rubber out-sole
Best Option for the Tobacco Suede R.M. Williams Gilchrist Chelsea Boots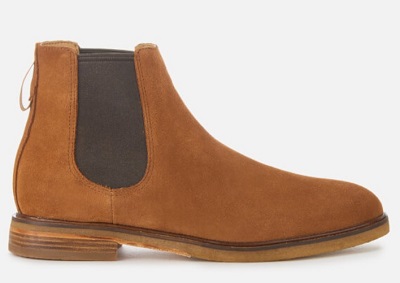 The winner this season for a few reasons. First, in terms of color and overall style, it's a great match for the Gilchrist. Second, it's readily available from a number of retailers. Third, the price is hard to beat. And fourth, Clarks is usually pretty good value for the money. The links above go to Amazon U.S. and The Hut. They have the best prices right now, but only have whole sizes 8 to 13 (UK 7 to 11) in stock. If you need a half size, you'll have to go to the Clarks' U.S. website or UK website. The price there jumps up to $170.00 or £95.00,
Under $100
Coming to you from Amazon. Where, by the way, it has 4.4 stars out of five. Comments claim the color is a little darker than it appears online. But it does have the lighter colored outsole, which is a bit of a rarity. Amazon U.S. has sizes 8 to 13 available. And of course the price will vary depending on the size you need. 'Cuz Amazon ….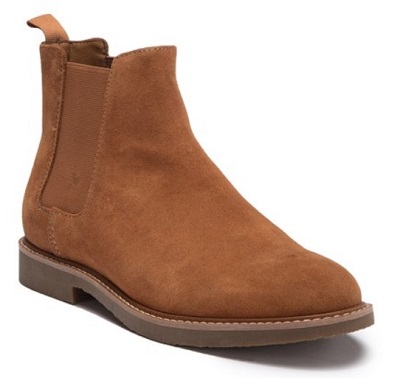 The suede color is a pretty good match for the Gilchrist, even if the side gussets are a light brown. As for Steve Madden quality, we all know it can be a bit … meh. But seventy bucks seems like a decent price for what we're getting. Nordstrom Rack has these on sale, with sizes 9 to 13 in stock.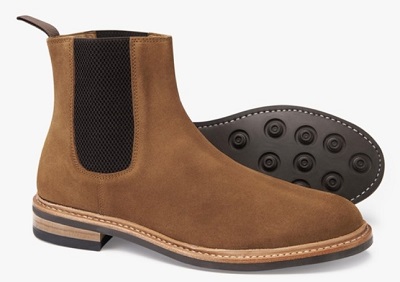 A great alternative shared by AJB007 forum member (and master of great alternatives) Chriscoop. He actually purchased these as his alternatives and had this to say about them:
"They're a true to size fit for me and I'm really quite impressed with the quality. I've had another pair of Samuel Windsor leather soled boots that were bought as a present some 12 years ago; they have been resolved twice and are still going strong."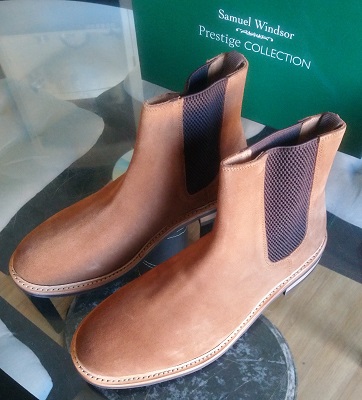 The boots are handmade (they don't say in what country) from Italian suede and the Dainite-style soles are Goodyear Welted. Which is pretty amazing at this price-point. Even better, they currently have UK sizes 5 to 14 in stock. Just note this is UK sizing. So those of you in the U.S. will need to adjust accordingly. Thanks for the recommendation, Chris!
Under $200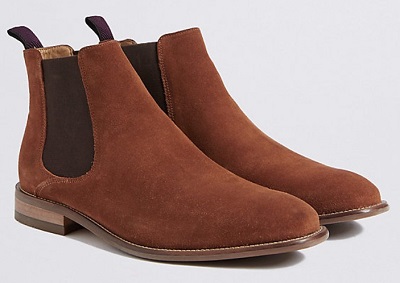 A slightly dressier option from the UK retailer. The darker tan color and lighter color certainly capture the aesthetics of the Gilchrist. It also looks like M&S has taken an interest in the environment (which is always welcome!). The leather they've used is is independently certified to LWG environmental Stewardship standards. Good to know! Sizes 6 to 12 are available on the website, but some sizes are beginning to sell out.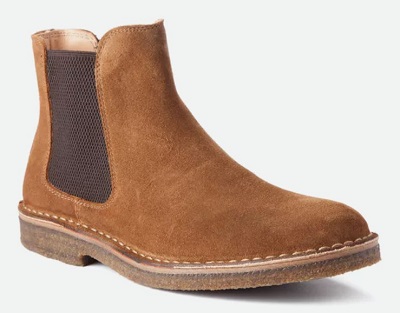 These are my affordable alternatives. I picked mine up during a sale at Huckberry. And I really couldn't be happier. Astorflex is a pretty cool company. It was started in the late 1800s, and the current 6th generation owners have shifted to a more environmentally friendly and ethcial shoe manufacturing process. That means vegetable tanned leathers, water-based colors, non-solvent glues, natural rubber soles and transparency from material sourcing to sales. I'm always a little wary of crepe soles. But after nearly two years of regular use, mine still look almost brand new. Sizing is very limited right now on Huckberry. However, a restock is due soon.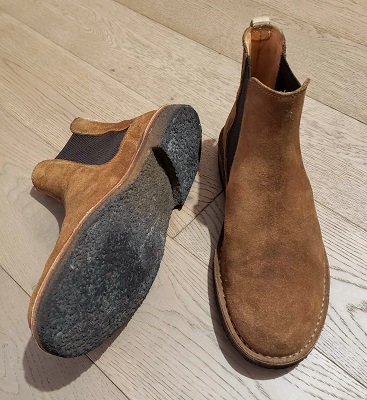 Under $300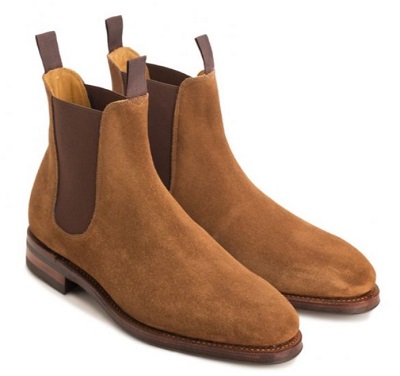 Lots to love with these ones. Meermin's quality has a very good reputation. These are built on their popular Hiro last, so the fit should work for most people. The suede color is a great match for the Gilchrists and they have a lighter colored outsole. And Meermin has fixed their return policy: if you're in the U.S. you can now return shoes to their New York showroom. Honestly, if it weren't for the higher price and the fact that the Clarks are so affordable right now, these would probably have been the "Best Option".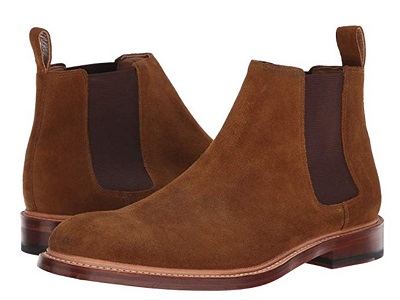 Bostonian was once a very well-respected U.S. based shoemaker. That all changed in the early 1990s. Their quality definitely slipped as ownership changed hands (Clarks is the current owner) and production moved off-shore. But these seem to be a step back in the right direction. They've gone with a Goodyear Welted construction, a leather outsole, higher quality suede uppers and a sheepskin lining with their proprietary Ortholite footbed. All in all, it sounds like a boot worth the higher price tag. In terms of looks, it's a great match for the Gilchrist, even with the slightly darker mid-sole.
The Investment 
A more streamlined, lower profile style than the Gilchrist. But that suede is a really nice color match. And the outsole also comes very close. Then there's the fact that these are made in Italy (which will be a selling feature for some). Barneys has sizes 7 to 12 in stock.
Found any alternatives for the R.M. Williams Gilchrist Chelsea Boots in Tobacco suede you'd like to share? Scroll down a little and leave a comment! And head over to our Facebook,  Pinterest, and Instagram pages if you'd like to see more Bond!