Welcome to the 5 Things I Want October edition! So what's this post about? Basically it's my public wish list. A place to share some incredibly cool things that I've found during my wanders around the internet searching for affordable alternatives. Five things that made me shout, "I WANT!" as soon as I laid eyes on 'em. They won't always be Bond-related. But I think they're definitely worth a look!
Some SPECTRE meets No Time To Die watch inspo …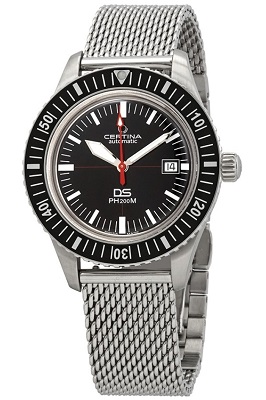 This is the first dive watch in a long time that's really caught my eye. While the face and bezel design isn't as clean as the SPECTRE Seamaster 300, it does remind me of that watch. And then there's the Milanese mesh strap it shares with the new No Time To Die Seamaster Pro Diver. The similarities shouldn't be a surprise since both Certina and Omega are both owned by The Swatch Group.
The DS PH200M is definitely packing some great value for the money. Based on a model from the company's 1960s archive, the 316L stainless steel case is on the larger size at almost 43mm and is water resistant rated to 200M/20 bar. The Swiss automatic movement has an 80 hour power reserve. The watch also comes with an extra navy blue NATO strap and everything is packed in a hard-shell box that looks a heck of a lot like a Pelican Case. Which is a fun touch. I've linked to Jomashop above. But you can also check out the Certina website for more info.
Some luggage that can take a beating …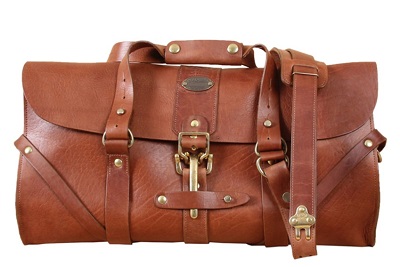 I found this while I was hunting for new alternatives for the SPECTRE Brunello Cucinelli leather duffle bag. And my jaw literally dropped when I saw it. The style might not be to everyone's liking. But I'm a sucker for vintage looking leather backpacks or bags with overly complicated solid brass hardware. So this is right my alley. The leather is actually American buffalo, a thick, heavy hide that has a very distinctive grain. Aside from the over-the-top buckles, d-rings, rivets and latches, the design of the body is pretty simple. It's basically just an oversized messenger bag measuring 11″ X 19″ X 10.5″. About the perfect size for a quick overnight trip or for carry-on luggage. And it's made in the U.S.A. The travel season will soon be upon us. Personally, I'd be a pretty happy camper with this beauty slung over my shoulder!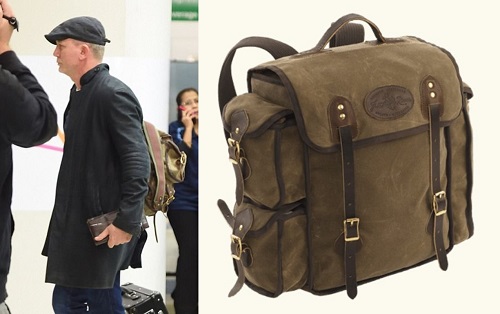 I first saw the Nessmuk in a What's Daniel Wearing post almost exactly two years ago. At the time I thought to myself, "That's a cool looking pack!". And then I forgot about it. Until a couple of days ago when I was looking through the Frost River website for our post on Craig inspired luggage and stumbled across it again. And I still think it's a cool looking pack!
Based on a Maine guide knapsack used by sportswriter George W. Sears in the late 1800s, it's made in Duluth, Minnesota from 18oz waxed cotton canvas, heavy leather from the SB Foot Tannery in Minnesota (they make the leather used in Red Wing boots) and solid brass hardware. In other words, it can more than handle what 99% of us will throw at it. A fun alternative to your typical carry-on or duffle bag that will develop more and more character with each new adventure.
Some sharp SPECTRE inspired chinos …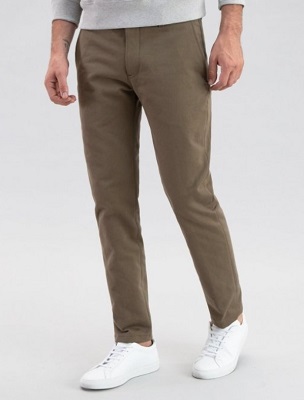 I've had my eye on Todd Shelton since first learning about the brand on Style Forum. Mainly because of the "minimalist wardrobe" philosophy that drives their product design. They believe in creating high quality pieces (jeans, chinos, shirts and sweats) that fully embrace the concept of timeless style and are built to last.
And these Aussie Dusters are an excellent example of that philosophy in action. Made in the U.S.A. from a heavier weight Portuguese 13.5oz cotton, what really sets them apart from all the other chinos out there are the sizing options. Each pair is produced on a per-order basis. So you can choose not only your waist and inseam sizes, but also the fit around the thighs and seat and below the knee. Plus that Safari color looks like a great match for the Brunello Cucinelli gabardine chinos Bond wore in Morocco in SPECTRE. With a starting price of $225, the Dusters aren't cheap. But the "buy less, buy better" strategy means the bigger initial investment will really pay off in the long run.
A sweater for my favorite Sir Roger James Bond look …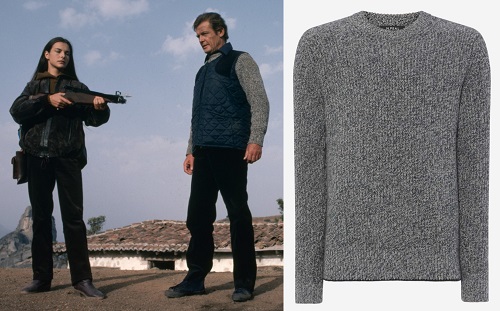 By now you've no doubt seen the complete N.Peal 007 collection all over social media. And there are some truly beautiful pieces in the line-up. But the stand out for me is this Chunky Marl sweater based on Roger Moore's climbing outfit from For Your Eyes Only. I've got a soft spot for the film and that particular scene (it was definitely one of the reasons I got seriously into climbing a few years later). So while some may gravitate more towards Sir Roger's safari jacket style, for me he was at his coolest in that quilted navy gilet and grey fisherman sweater combo. N.Peal totally nailed the look and gave it an extra touch of luxury by using a 50% Merino wool/50% cashmere blend yarn. It may not be the most exciting piece in the collection. But I think it's the real winner.
A Little Something for the office wall …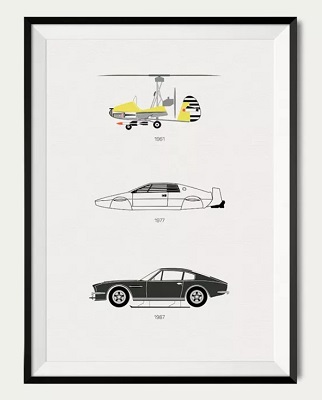 It's Bond so it's fun! But it's also minimalist so it's still classy. And it would look awesome hanging on my office wall. I've selected the largest and most expensive A2 size here (about 16.5″ X 23.5″ for unframed print). However, there are smaller sizes available for less. You can also choose a different print from the collection, from McQueen inspired Porches to famous Hollywood vehicles of the 1980s.
Bonus: A few of drams of whisky …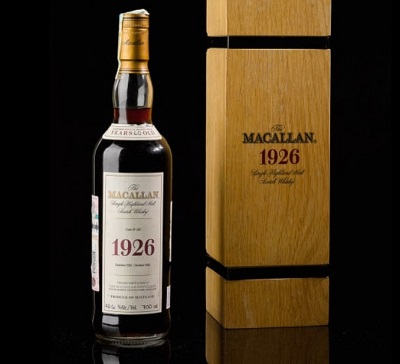 So this happened. On October 24th, that bottle above became the most expensive bottle of wine or spirit ever auctioned. It contains about forty-five pours, which (according to the math experts at CNN) works out to around $42,000 per 15ml. Now, I'm not particularly greedy fellow and I certainly don't expect to get the entire bottle to myself. Just pour me about $150,000 worth in a nice glass and I'll be happy.
Did we miss anything in our 5 Things I Want October edition? Tell us about the cool things on your wish list in the comments! And if you're looking for more style inspiration, check out Iconic Alternatives on Facebook, Instagram, Twitter and Pinterest!
This is a non-sponsored post. Neither Iconic Alternatives nor the author received any remuneration for the inclusion of the above products and/or services in this post. However, Iconic Alternatives does use affiliate links on our site. So clicking on one of the links above may result in us receiving a commission from the vendor. You can learn more about our use of affiliate links on this page.