The Girl With The Dragon Tattoo Grey Puffer Jacket
It's been just over 12 years since David Fincher's bright and cheery Christmas movie The Girl With the Dragon Tattoo hit theaters. The film wasn't exactly a box office smash when it was first released. However, as we discussed in this article, Daniel Craig's wardrobe as disgraced Swedish journalist Mikael Blomkvist definitely struck a chord with fans. And while some of the looks haven't aged particularly well (vests and thin lapeled blazers aren't exactly the height of fashion right now), one piece of outerwear has stood the test of time: his grey puffer jacket.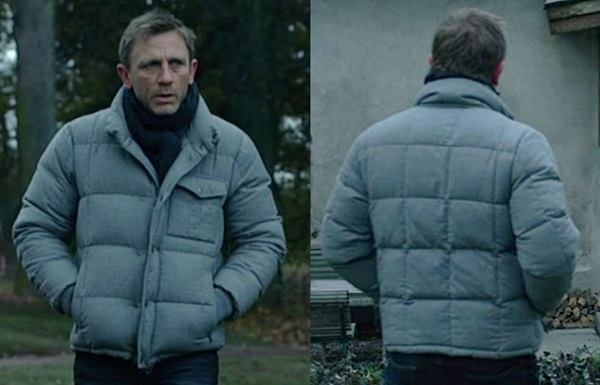 A Little About The Girl With the Dragon Tattoo Grey Puffer Jacket
The original jacket Craig wore in the film was the Moncler Cezanne, which is now out of production. Going by Moncler's current pricing for similar models, it probably retailed north of $1300.00 at the time of the film's production.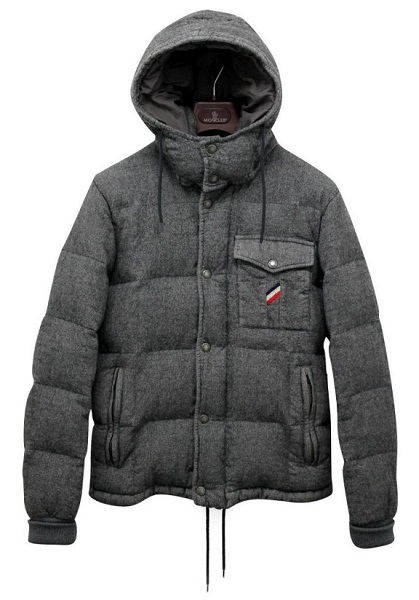 The Cezanne was very typical of Moncler's design philosophy, a blend of luxury materials and technical features that appealed to those who wanted their performance outerwear to come with a little style. Made in Italy, Moncler used a 100% wool fabric in a heathered medium grey for the shell, down insulation and Italian Lampo zippers and Fiocchi snap buttons. Costume designer Trish Summerville removed the Moncler logo from the chest pocket for the film. And despite frequently encountering sub-zero temperatures at Hedestad, Blomkvist decided to remove the jacket's insulated hood.
You can read more about some of the key pieces from Blomkvist's wardrobe in our article celebrating The Girl With the Dragon Tattoo's 10th anniversary, written by our friend Jesse MacLeod. And for a comprehensive look at almost all of Craig's looks from the film, check out this article at BAMF Style.
Features wanted for The Girl With The Dragon Tattoo Grey Puffer Jacket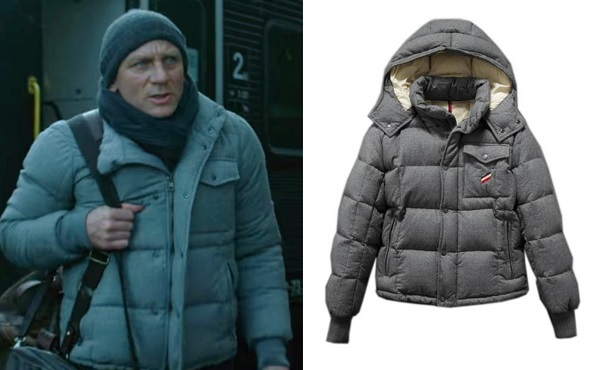 Shorter, bomber style length
Medium grey shell in a wool or wool blend fabric
Large, wide baffles at the front with square baffles at the back
Zipper front with button storm placket
Ribbed knit cuffs
Zip closure hand-warmer pokcets
Button closure chest pocket with a pointed flap
Removable hood (not an essential since Blomkvist wears his without the hood in the film)
As for the insulation, down is preferred. But a good synthetic insulation is also acceptable, whether it's because of price or ethical considerations.
Honestly, if all you want is a grey nylon shelled puffer jacket, there are hundreds of options around. It's the fabric and chest pocket that make the Moncler style special. Finding alternatives that use a similar shell material wasn't that hard. But the chest pocket? Man, it seems like almost nobody wanted to make an insulated jacket with just one of those!
Best Option for the The Girl With The Dragon Tattoo Grey Puffer Jacket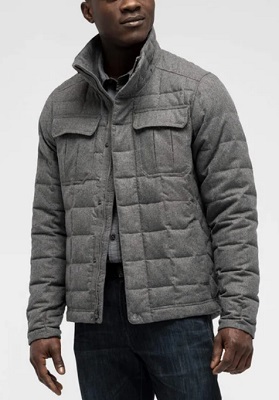 We've shared the Nau Utility Jacket a few times in the past. But now that it's on sale (60% off the original price), it easily takes top spot on our list. Made with a 70% recycled wool, 25% recycled polyester fabric (I have no idea where the other 5% went), it's insulated with a 700 fill power down to keep you toasty. Style-wise, the color and the texture of the material are a great match for Blomkvist's jacket. And the differences, such as the extra chest pocket and grid quilting on the front, give it a slightly different look but still come close to what we want. All things considered, this is a quality option at a very reasonable price. Sizes XS to XL are available on the Nau Heritage website. But note that the jacket is FINAL SALE!
Under $200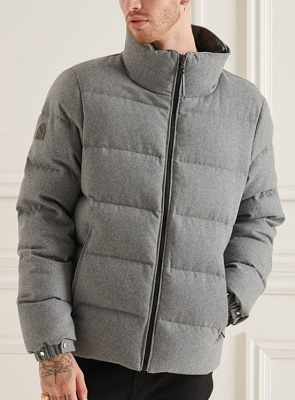 A darn good alternative at a great sale price for those of you in the UK. Although it's missing the chest pocket and front storm flap, the general styling and the color of that 59% wool, 41% synthetic shell fabric check a lot of our Features Wanted boxes. Plus the down insulation is a nice surprise at this price! Sizes small to XXL are in stock on Superdry's UK website. Sadly, this one is not available in the U.S.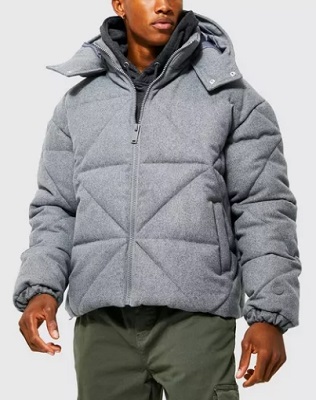 An 'inspired by' option that leans more streetstyle. The color and texture of the fabric are a pretty good match. But they've given this one an oversized fit. So you'll want to consider sizing down. Boohoo has sizes XS to XL in stock, but they're currently sold out of size Large.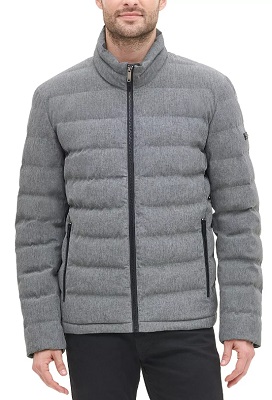 A stripped-down option with a fabric texture and color that come pretty close. But the fact that it's missing some key details, like the chest pocket and front storm flap, makes it more suitable for those you looking for a minimalist alternative. You'll find sizes small to 3XL on Amazon.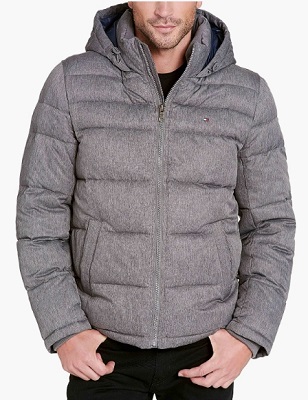 The first of two alternatives from Hilfigar. The 100% nylon shell has the look of a heathered fabric, but is actually smooth and has a bit of a sheen. And, again, the lack of a chest pocket and strom flap means it's not exactly screen-accurate. I'm also not sure if that hood is removeable. Still, if you're on a tighter budget, the price makes this option pretty attractive. Amazon has sizes small to XXL in stock.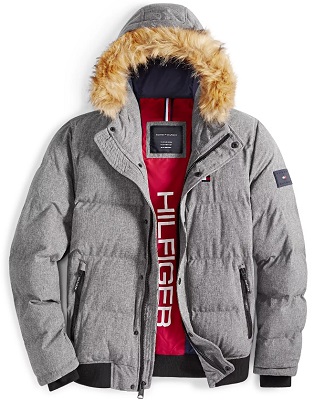 And our second option from Tommy Hilfigar. So what do you get for spending a little under twenty bucks extra? Mainly an 85% polyester, 15% cotton shell and a front storm flap that comes closer to the look of the screen-used jacket. However, if you ask me, the design is even less screen-accurate, with black ribbed knit at the hem and cuffs and an integrated hood. I'll leave it to you to decide which jacket works better. You'll find sizes XS to 4XL on Amazon. And this one also comes in a Tall fit.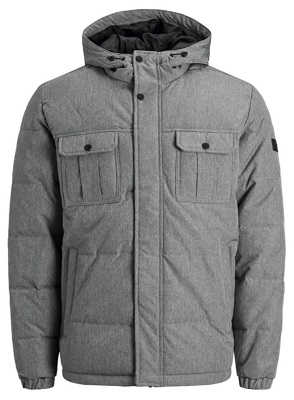 A new model from Danish brand that actually delivers a lot of the style details we're after at a wallet-friendly price. The shell is 100% polyester rather than nylon. So it has some wool-like texture to it. And while the 100% polyester insulation won't be the warmest stuff in the world, it should work on chilly (but not freezing cold) days. XS to XL are in stock on the Jack & Jones website.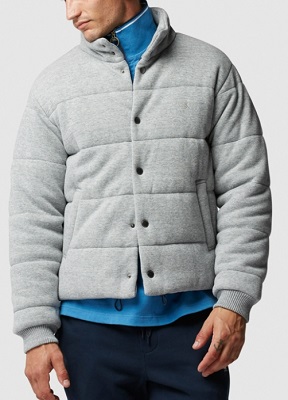 There are some things I really like about this option from New Zealand based Rodd & Gunn. The cotton shell has a nice brushed texture to it. And it certainly has many of the right details, like the stand collar, wider baffes and tonal ribbed knit at that cuffs. But that snaps-only front closure is throwing me off a little. If you happen to be size small, XXL or XXL, you can get jacket directly from Rodd & Gunn for that $99 sale price. If you need a large, you'll have to head over to Nordstrom, where the price jumps up to $198.00. XS, medium and XL are sold out everywhere it seems.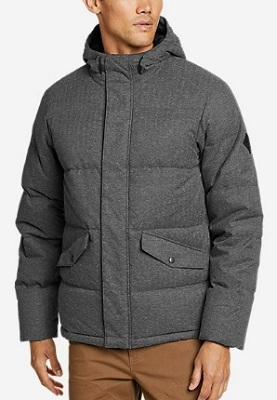 As you can see in the product photo, the integrated hood, lower flapped pockets and darker color aren't exactly what we want. But the herringbone patterned, 79% nylon/21% polyester fabric has a really interesting look to it. And the 650 fill down insulation will certainly keep you toasty. The jacket also comes in a "Capers" color, which is lighter in tone but looks like it has a hint of olive green to it on my computer monitor. Eddie Bauer has sizes small to XXL available.
Under $500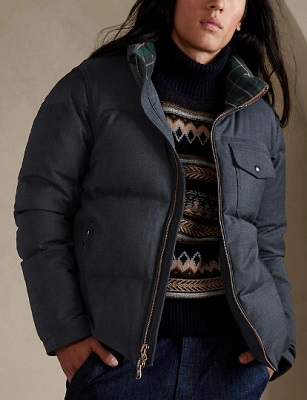 First off: yes, it's navy. It also has a plaid lining and a brass front zipper with no storm flap. So what the heck is it doing on this list? Well, if you're okay with an "inspired by" jacket, this one actually delivers some good quality and an interesting trick. The fabric is a 51% wool, 47% recycled polyester and 2% spandex blend, and they've used a 70/30 recycled down for the insulation. You can also zip off the sleeves to convert the jacket into a vest. So it's a 2-in-1 piece of outerwear! And if you order soon, they'll knock an extra 30% off the price at checkout, bringing it down to a very reasonable $157.50. They have sizes XS to XXL available on their website.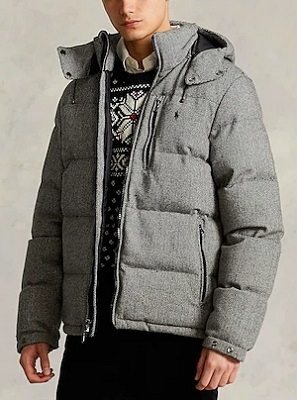 Polo has a couple of good alternatives this season. This one comes with a 51% wool, 49% polyester shell with a darker herringbone pattern. For insulation they've used a 700 fill power 80/20 recycled down. It's not a perfect match for Blomkvist's jacket. But it does have an interesting character all it's own that sets it apart in a sea of grey puffers. For sizes large to XXL, you can visit the Ralph Lauren website for that sale price. Yoox has sizes small and medium. But the price there is $498.00.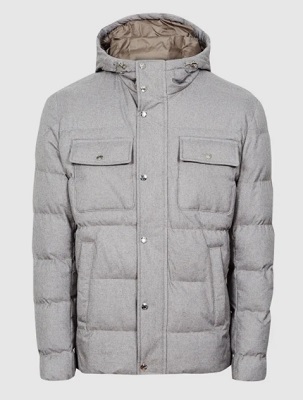 Once again we have an integrated hood and the dual chest pockets. But REISS knows how to deliver both quality and a great design. And the Bello should have no trouble keeping you warm (and looking good) on all but the coldest days. The jacket is an older model, so it's sold out nearly everywhere. But retailer David Jones does have sizes medium to XL in stock. Plus they'll take an extra 20% off the price at checkout. If your wallet can handle the $213.60 price tag, I'd definitely give this one a look!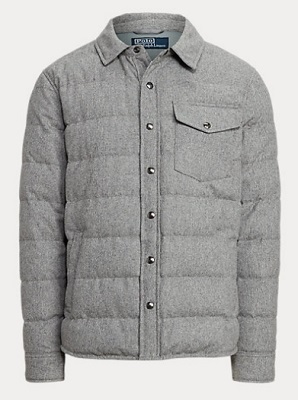 Option number two from Ralph's house. It's more a shirt-jacket than a proper puffer. But the 60% wool, 40% polyester fabric definitely has the right the color and texture. And the single chest pocket is a hard-to-find detail on most jackets. They've used a 750 fill power, 90/10 down for the insulation. Which is a little surprising, considering how light-weight the jacket looks on the model. Lots to like with this one. Sizes XS to XXL are in stock on their website.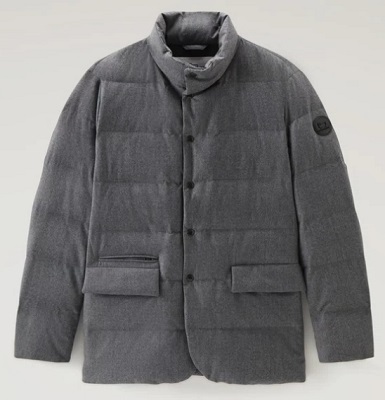 Something a little different just to mix things up. As the product name suggest, Woolrich has styled their jacket more like a blazer, with a longer length, snap-button front and rounded quarters. But we're still getting plenty of performance. They've used a 90/10 down for the insulation and a beautiful 100% wool, waterproof fabric from Italian mill Vitale Barberis that really adds a luxury feel to the piece. A very nice choice if you're in the market for a dressier winter jacket. You'll find sizes small to 3XL on the Woolrich website.
The Investment Pieces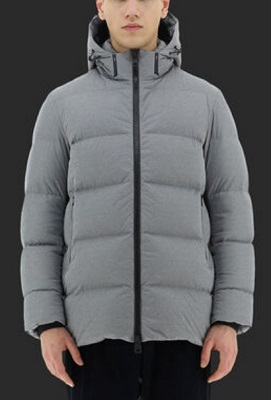 For over 70 years, Italian brand Herno has built a reputation for delivering high quality outerwear that delivers both technical performance and style. And while the Laminar may be minimalist in design, it'll will certainly keep you warm and dry thanks to the goose down insulation and the waterproof and breathable Gore-Text membrane. Outside, stretch knit fabric shell offers both a soft hand and plenty of freedom of movement. Italian sizes 44 to 60 are in stock on the Herno website, but size 48 (small/medium) is currently sold out.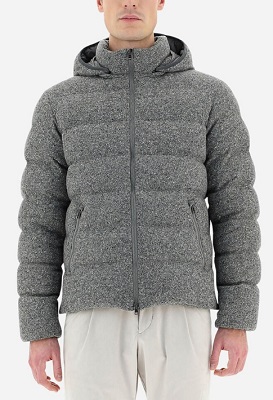 While Resort Bomber may not be quite as technical as the Laminar, it certainly ups the level of luxury. This option is missing the Gore-Tex membrane. Which means it won't be waterproof. But that Grain Jersey fabric, made from a blend of recycled wool, silk and polyamide, has a great color and texture that adds tons of visual interest. And we still get the 90/10 goose down insulation. In terms of style, the Resort Bomber is very similar to the Laminar. So more minimalist but still very handsome.
Now for the "Find Your Size" game. Herno has Italian sizes 46 and 52 at that $746.00 sale price. Farfetch has a size 54 for $993.00. And My Theresa has all sizes available. But the price jumps up to $1065.00.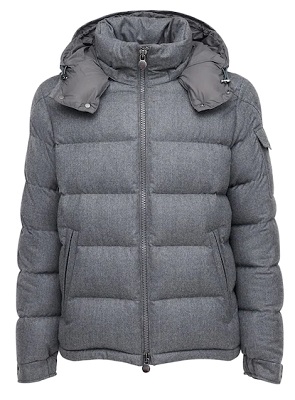 Of course we have to have a Moncler option in this post. And in their current collection, the Montgenevre model probably comes closest to the Cezanne. Made in Italy with a 100% virgin wool shell and a 90/10 down insulation, it's a little darker than the screen-used jacket. It's also missing the storm flap at the front and uses a sleeve pocket rather than a chest pocket. But if you want an alternative from the actual brand Craig wore in the film (and don't mind paying up for it), this is the one to get. Luis Via Roma is offering the best price. But they only have Italian sizes 42-44, 46 and 56 in stock. Farfetch has a better selection, however the price goes up to $2070.00.
Have a great option for the The Girl With The Dragon Tattoo Grey Puffer Jacket? Tell us about it in the comments! You can also visit our Facebook page, Instagram account and Pinterest Boards for more style icon inspired advice and inspiration!
Iconic Alternatives uses affiliate links to generate revenue. If you choose to purchase a product after clicking a link, I may receive a commission from the merchant at no extra cost to you. You can learn more about our use of affiliate links here.