Iconic Essentials: The Duffle Coat
Nearly forty years after first watching it with my dad, The Guns of Navarone is still one of my favorite movies. For me, this World War II epic is the nearly perfect blend of action, suspense and great acting. But it wasn't until recently that I really started paying attention to the film's wardrobe. Nazi uniforms aside, if you want inspiration for your heritage workwear style, look no further than Gregory Peck, David Niven, Anthony Quinn and the rest of the crew in disguise as Greek fishermen.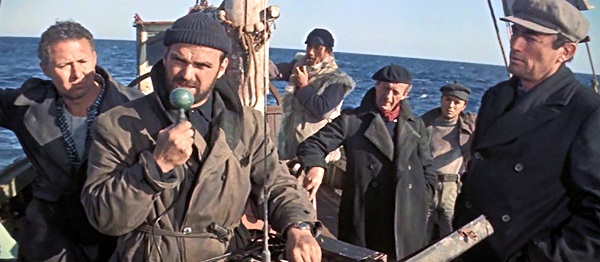 And even though it only makes a brief appearance, one of my favorite pieces is the Royal Navy standard issue duffle coat that both Peck and Niven wear on the deck of the destroyer at the end of the film. To get all the details on this classic piece of outerwear, head over to BAMF Style and read Nick's excellent analysis of the entire look.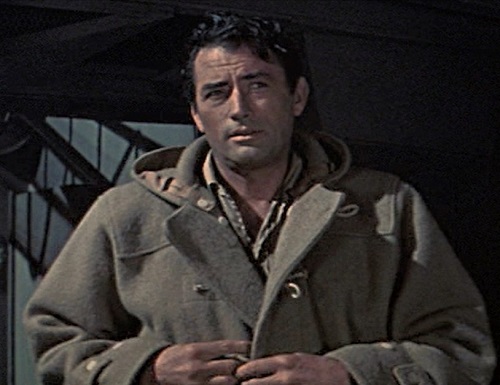 A little bit about the Duffle Coat …
For some history on the duffle coat, I'll refer once again to BAMF Style …
"… the duffel coat derives its name from the Belgian seaport town in Antwerp where the coarse, heavy woolen fabric originated in the early 19th century. By the 1890s, it had been adopted by the British Royal Navy, who issued these "convoy coats" in a camel shade of khaki through both major world wars. Though it was fielded and authorized to a greater degree by the RN, the duffel coat maintains its association with one of the most famous British Army officers, Field Marshal Sir Bernard Montgomery, resulting in its 'Monty coat' nickname."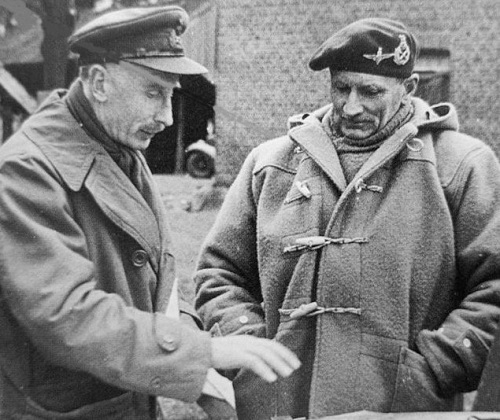 Much like the pea coat, the duffle coat had outgrown its military origins by the 1950s and became a staple in many men's cold weather wardrobes in both England and America. And, with the exception of an added zipper here or a trimmer cut there, it's basic design hasn't changed in the decades since. For example, the duffle coats worn by Jack Nicholson and Art Garfunkel in the 1971 film Carnal Knowledge look almost identical to the one  Sean Connery wore in 1990 film The Russia House.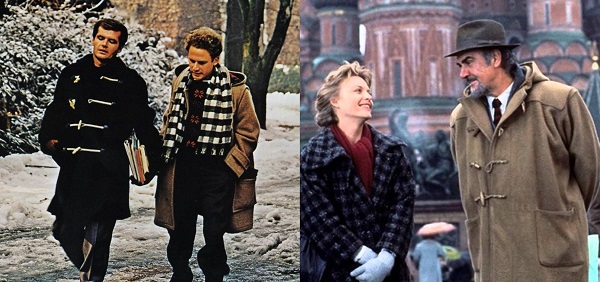 Features Wanted for the Duffle Coat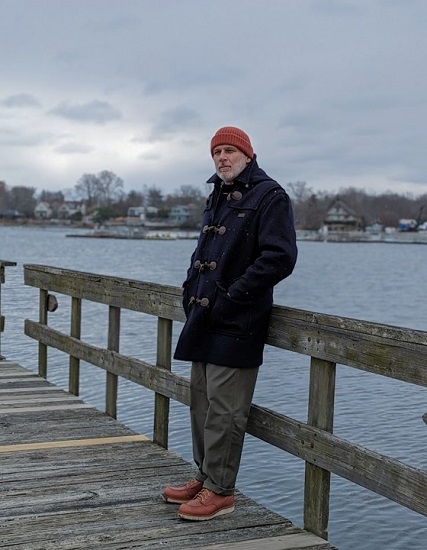 Wool or wool-blend cloth. The most traditional colors are camel and navy. But there are plenty of other options out there now if you're feeling more adventurous.
Mid-thigh to knee length.
Three or four toggle front closure. The toggles can be made of horn or wood and can be attached to the jacket with rope or leather loops. Some models now come with extra buttons (like mine above) or a zipper closures. Neither are really an issue as long as the toggles are the principal way to close the coat.
Two large patch hip pockets. The pockets can be open or flapped (your preference). Some models now come with jetted handwarmer pockets higher up on the front. They're not traditional, but some of you may appreciate them.
Detachable hood? Integrated hood but no collar? I've added alternatives for both below, so I'll leave it up to you.
Gun flaps on the shoulders. Again, some more contemporary models leave them off. But they are definitely part of the classic design.
Notes on the Duffle Coat
Three things I'd like to discuss before getting to our alternatives. First is fit. Despite more contemporary cuts, today's duffle coats are still meant to be worn a little oversized. Not as baggy as Monty wore his back in World War II. But they were never meant to look like a tailored piece of outerwear or fit like a top coat.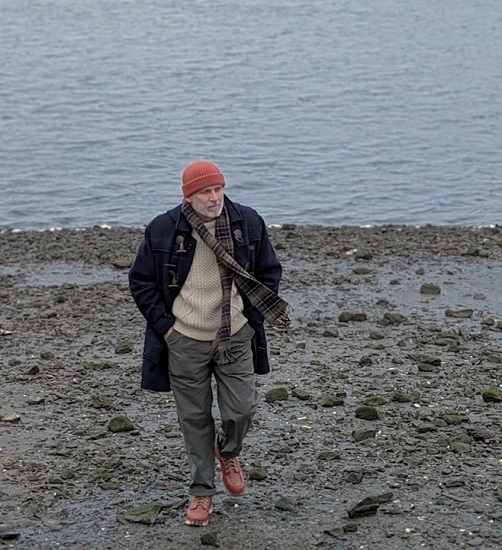 The second point is how to wear the duffle coat. I think the biggest challenge with the design is way the generous fit and big toggles can easily cause your overall look to drift into "cute" territory. If you go too preppy with the rest of your fit, you can end up looking more like Paddington Bear than Gregory Peck. So when I wear mine, I usually try and reference the duffle coat's nautical military heritage with whatever else I'm wearing. Or I'll mix in some workwear inspired pieces. Things that will help add a rugged or utilitarian edge.
Last but not least is where to get a duffle coat. Obviously, the options I've listed below are new. But there are some amazing deals to be found on Ebay for barely used coats from heritage brands like Burberry and Gloverall. And don't forget to check out Army/Navy surplus stores if you want the real deal.
Best Option for the Duffle Coat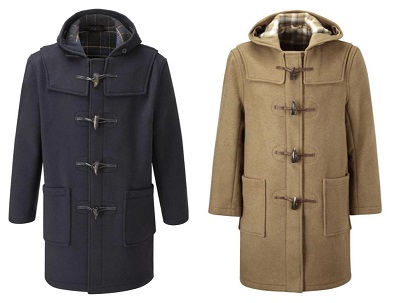 As mentioned in BAMF Style's article, Montgomery was established in 1896 and describes itself as, "the oldest surviving company chosen by the British Admiralty in the early 1890s to make the first duffle coats." So there's a considerable amount of history and authenticity behind the label. And their Classic Fit Duffle Coat, based on a design from the 1950s, is probably one of the best deals on the market.
Available in five classic colors, the coat is made in England from an Italian double-faced 70% wool/30% polyester blend. They've finished it with details like genuine horn toggles on leather keepers and internal adjusters on the hood. If you'd prefer something in a shorter and slightly trimmer fit, you should check out Montgomery's London Luxury Duffle Coat for the same price (those of you in the UK can see it here).
I've linked to Amazon U.S. above, where they have the navy, camel and charcoal options available. But you'll find even more alternatives on the Montegomery website, including different colors and the option to go with wood instead of horn toggles.
Under $200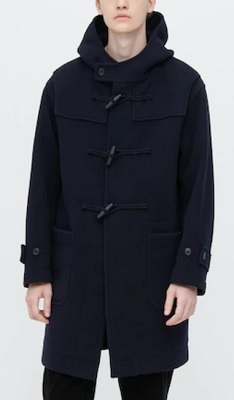 A fairly traditional design in a decent-for-the-price 67% polyester, 33% wool fabric. Uniqlo has gone all-in on the oversized fit of the classic duffle, no doubt to give it more of a streetwear feel for today's market. So almost every review suggests going down one or even two sizes. Uniqlo has sizes small to XXL in stock.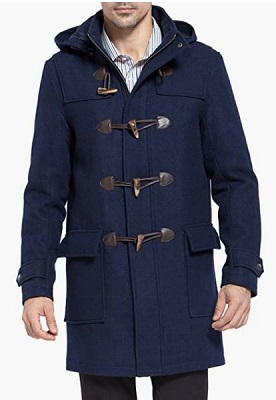 For a no-name Amazon brand, this one sounds surprisingly good! They've used a 70% wool, 25% polyester and 5% 'other' blend for the shell. And added a quilted polyester lining for extra warmth. It also comes in camel and black. I can't say I'm crazy about the zip front which runs right to the top of the collar. But other than that the design looks to be pretty traditional. Amazon has sizes medium to XXL in stock. The coat also comes in extended Big and Tall fits. However, those cost almost a hundred bucks more. Remember to check the size chart before ordering!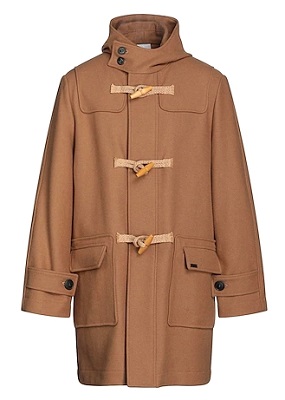 A Yoox special. And since the MSRP is $985.00, that $176 sale price makes it an absolutely steal. The Bark is made in Italy with a 70% wool, 20% polyamide and 10% acrylic fabric. They've finished it off with the classic hemp rope and wooden toggle closure and plenty of other heritage inspired details. And while black may not be a traditional color for a duffle coat, if your personal style leans more streetwear or monochrome, it's worth checking it out. Sizes small to XL are in stock in both colors.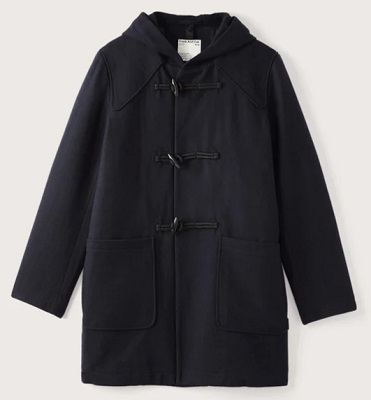 A lighter weight coat with a 50% recycled wool, 40% recycled polyester and 10% 'other' fabric. The fit is a little slimmer and the cut a little shorter than a traditional duffle. And that, combined with black toggles and keeper cord, help give it a more streamlined, modern look. Sizes XS to XXL are available on the Frank and Oak website.
Under $500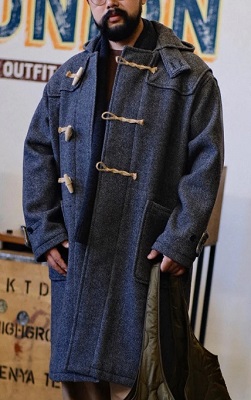 Boutique brand Labour Union have given the classic duffle coat design a bit of a workwear twist, using a heavyweight 900g 100% wool with a nice herringbone-type pattern. The fit of this one is definitely a little oversized, but that's intentional. You'll find sizes small to XL on their website.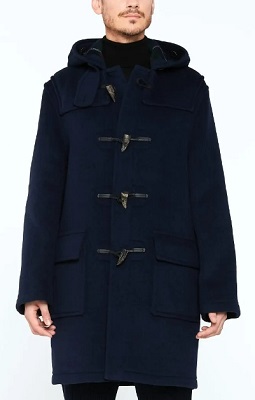 The made-in-London Martin Duffle really delivers all the classic details. The shell is a double-faced 70% wool, 30% synthetic blend. And they've included genuine buffalo horn toggles secured with leather keepers, a throat latch and large flapped patch pockets. Plus it comes in a variety of colors, from traditonal navy and camel to yellow, wine and British racing green for the more adventurous among us. Once again, this one has an oversized fit. So make sure to check the size chart.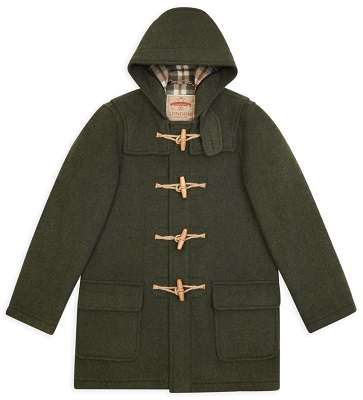 Although I prefer the more sophisticated look of horn toggles and leather keepers, I have to say I'm really liking the design of Burrow & Hare Duffle. Especially in that earthy shade of Khaki. And they certainly haven't scrimped on the quality. They make the coat in London with a double-face 70% wool, 30% synthetic shell and include all the traditional details we want. Note that the fit is again a little oversized. Sizes small to XXL are available on the Burrows & Hare website, where you'll also find plenty of other less convential colors like bright red and grey tartan!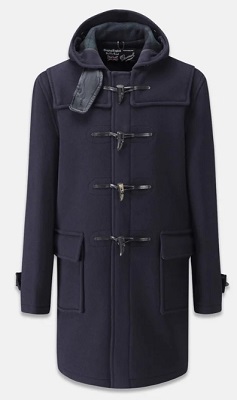 About as classic as as duffle coat can get from a true heritage brand. Made in England, the Morris offers a longer, more "vintage fit" in an 80% wool/20% polyamide Italian fabric. The coat is finished with genuine horn toggles down the front with leather keeper loops. Gloverall also has seven color options in sizes XS to XXL on their site.
If you want a coat that really captures that The Guns of Navarone spirit, take a look at their Original Monty Coat , currently on sale for $509.15/£404.00. And if you're patient (and feeling lucky), you should also check out the Gloverall Surplus site, where they offer older models with deeper discounts. They still have some of their classic mid-lengths and full lengths duffles in stock, as well as some more interesting designs in patterned wool and corduroy.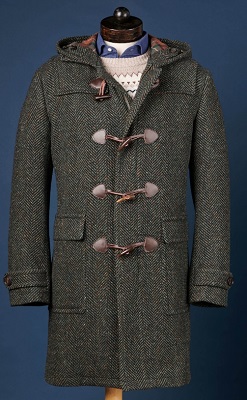 Like Labour Union, Canadian menswear company Spier & Mackay have kept the traditional duffle coat's overall design, but mixed things up by using a heavy-weight 100% wool fabric from Italian mill Lanificio Luigi Zanieri. The tweed-like material adds some great visual interest and texture to the coat, as well as a bit of rustic feel. They've also included nice details like genuine horn toggles, leather keepers, a button-adjustable hood with a detachable throat latch, an antique brass YKK front zipper, and a plaid cotton lining. It's a little different from your typical duffle coat. But still very handsome. They have sizes 34 to 46 in stock.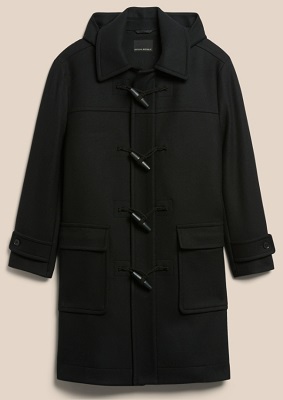 That is one black coat! Banana Republic continues its recent trend of offering solid heritage designs with some contemporary flavor. The shell is a 72% wool, 28% synthetic blend twill from Italian mill Mario Bellucci, lined with dressier viscose and cotton fabric. Although they've included plenty of traditional details, the dark color and contrasting bright silver zipper give the coat a bit more of a streetwear vibe. They have sizes XS to XL available on their website.
Under $1000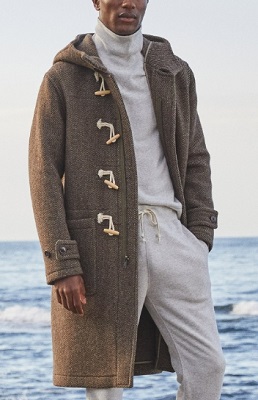 American designer Todd Snyder knows a thing or two about updating heritage designs. His take on the classic duffle is made with an Italian 75% wool, 25% synthetic blend fabric in a great shade of medium brown that will work with just about anything. And the brushed texture of the twill material combined with the more rustic wood toggles and cord keepers adds even more character. Plus, that is a very impressive sale price! Which probably explains why they're starting to run out of sizes. I'd suggest acting fast if you want one!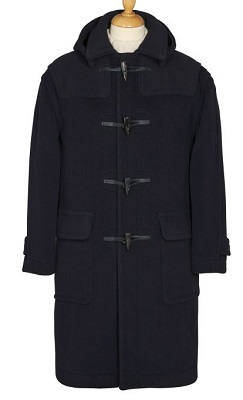 One of the few duffle coats on this list that offers a collar/removeable hood combination. That's a design feature I really like on my own coat. Made in the UK from a heavy 800gsm double-faced 100% wool fabric woven in Yorkshire, they've also added a Teflon coating for additional water resistance. Genuine stag horn toggles, leather accents and a throat latch complete the package. Sizes 40 to 44 are still available on their website.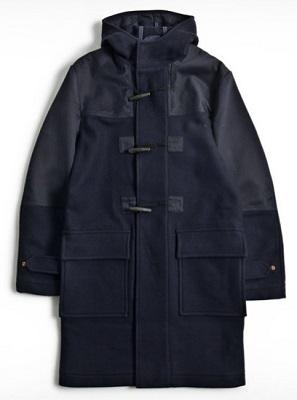 Private White V.C. decided to give their version of the duffle coat an almost technical vibe. While the shell is a soft 100% lambswool, features like cotton overlays across the shoulders and down the sleeves, rubber toggles and brass snaps at the neck and cuffs add a distinctive, modern feel to the design. It might not be for everyone. But it's certainly unique! Uncrate has sizes small and large to XL in stock at that sale price.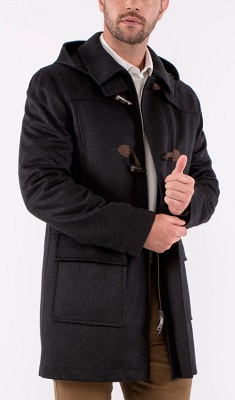 It would be a bit of an understatement to say that Robert W. Stolz loves Loden cloth. The former Marine turned 'Alpine Fashion' designer has built his entire company around the traditional fabric from Austria. And there's no question it's amazing stuff for rugged outerwear! But Robert decided go even further with the material for his duffle coat, using a beautiful 'Himalaya' Loden made with a blend of 85% virgin wool and 15% Alpaca and woven in Tyrol. The design of the coat is also a nice combination of the traditional and contemporary, with features like genuine deer antler toggles, leather keepers, a removeable hood, and a slightly shorter cut. You'll find sizes XXS to XXL on Robert's website, although size small is currently sold out.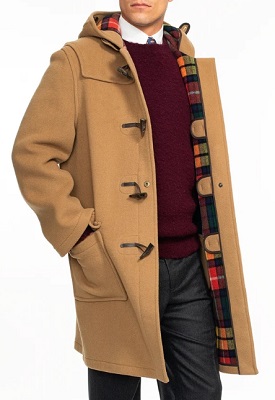 Since it first opened its doors in 1902, J.Press has been the destination for lovers of true Ivy style. So it's no surprise their version of the duffle coat fully embraces tradition. Made in England from a double-face 80% wool, 20% synthetic cloth, it features ramhorn toggles with leather keepers and a bright plaid interior. The coat is also available in Navy for the same price. And if you want to go with a more oversized fit with wood toggles, check out their Monty Duffle Coat for $895.00.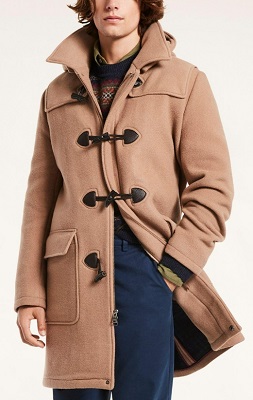 An option from another heritage American menswear label. And, with the exception of the front zipper, it's also a very traditional design. The double-face 100% wool coat features genuine horn buttons with leather keepers, a removable hood and flapped patch pockets. The coat also comes in navy and sizes XS to XXL are available on the Brooks Brothers website.
The Investment Pieces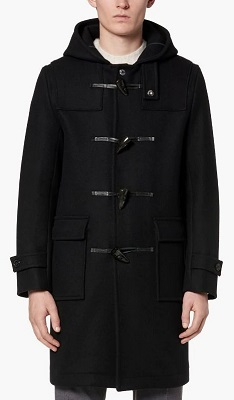 Now back to the other side of the Atlantic. Mackintosh has been in operation since 1824 when its founder, Scottish chemist Charles Macintosh, invented a new way of waterproofing cotton. In the decades that followed, the company provided outerwear for the London Police Force, the UK military and British Railway workers. Today Mackintosh is known for both its dedication to its heritage and its collaborations with famous luxury fashion houses like Céline, Balenciaga, Maison Margiela and Louis Vuitton.
Needless to say, there's a lot of history behind Mackintosh's duffle coat. And that's certainly reflected in the design. Made in the UK from 100% wool with a cupro lining, it has all the traditional features we could ask for. But there are also some small modern details, like the silver snaps on the throat latch and at the top of the front fly. The Weir also comes in Camel and a rich Dark Olive in sizes 34 to 48.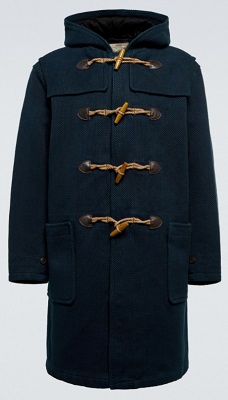 Ralph Lauren's workwear focused RRL label loves to put a surprising twist on traditional designs. And their interpretation of the duffle coat is no exception. RRL has used a distinctive 100% cotton Japanese Kendo cloth for the shell, which has a deep indigo color and nubby, barley corn like texture. The wooden toggles and cord keepers with leather accents just add to the coat's rustic character. If your personal style leans more rugged, this is definitely one to check out. My Theresa has sizes medium and large left in stock at that sale price. If you need an XS or small, they're still available on the Ralph Lauren website. But the price there jumps up to $2400.00.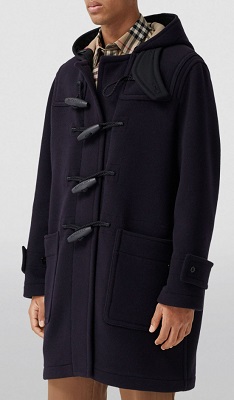 I can't really do a post on duffel coats without including a Burberry. Afterall, it's what Kevin's dad wore in Home Alone! Anyway, the brand's new "Technical Wool" Duffle Coat is made from an 80% wool/20% polyamide double sided fabric, with their famous Nova Check pattern on the inside. The toggles are 100% corozo on marine-style rope, and engraved with the new Burberry logo. Sizes 36 to 50 are available on their website in both navy and black.
Have a great option for the iconic duffle coat? Tell us about it in the comments! You can also visit our Facebook page, Instagram account and Pinterest Boards for more style icon inspired advice and inspiration!