Style Icons and the Classic Navy Peacoat
Is there any other style of men's winter outerwear more practical and versatile than the classic navy peacoat? The best examples combine rugged materials and construction with crisp military tailoring to create a coat that can be dressed up or down with equal ease. The double breasted front, with its two rows of precisely aligned buttons, gives it some formality. But the shorter length makes it more casual and utilitarian than an overcoat, so it works effortlessly with relaxed looks. And then there's the history and tradition behind the design that's spanned almost three centuries. Is it really any wonder the peacoat has remained so popular for so long with both style icons and us regular folks?
A Little History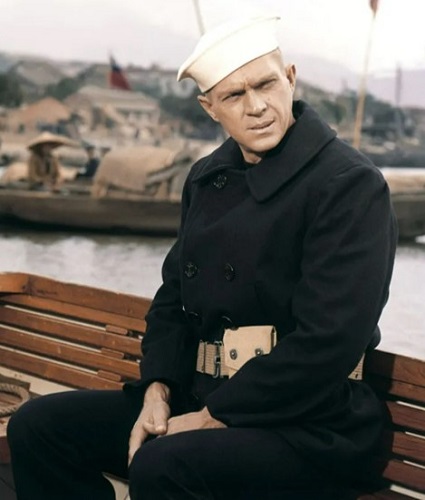 According to most sources, the story of the modern peacoat starts in the early 1720s in the Netherlands. It was here that Dutch sailors started using a shorter, double breasted coat made from coarse, rugged fabric called a "pijjekker ("pij" refers to the rough, twill cloth they originally used and "jekker" refers to the style of the coat). From mainland Europe it crossed over to England, where the design was adopted and modified by the British Navy for use as part of the Petty Officier's uniform (the "P-coat", another possible origin of the name).
The peacoat next found it's way to America and into the service of the U.S. Navy. By this point in it's history, the design was pretty much as we know it today: a double breasted, mid-thigh length coat made with a heavy Melton wool and featuring a wide Ulster collar that could be turned up and secured in place with buttons, a throat latch or cordage to protect the wearer from frigid temperatures. The details varied slightly from country to country: 6X2 or 8X2 button configurations; jetted handwarmer pockets or flapped pockets (or both); single, double or no vents. But, in general, the peacoat most of us wear now is the same as those worn by navy seaman and sailors close to two hundred years ago.
The Classic Navy Peacoat and the Style Icons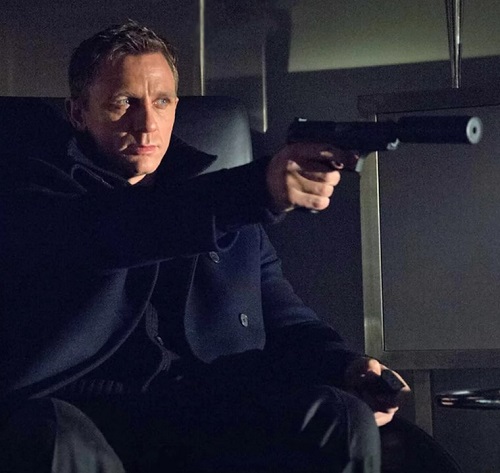 As fans of Bond-style, most of us are familiar with the Billy Reid peacoat he wore in Skyfall (more alternatives for that coat in this post). And while its handsome design kept some key features of the original, its shorter length, more tailored fit and smaller collar with the peaked lapels give it a more refined look. For a better example of Bond wearing a classic peacoat, we can instead turn to 2006 and pre-title sequence of Casino Royale. You can read more about Bond's complete look from his film noir themed meeting with Dryden in these articles from Bond Suits and BAMF Style.
Of course Casino Royale was hardly the first time a peacoat has shown up in a movie. Gregory Peck wore one in The Guns of Navarone, as did Steve McQueen in The Sand Pebbles and The Great Escape. By the early to mid-1970s, the iconic outerwear had moved beyond the period war films where it had been typically featured and was now being worn by actors playing the average guy on the street in contemporary settings. Thanks to Al Pacino in Serpico (1973) and, more famously, Robert Redford in 3 Days Of The Condor (1975), the peacoat became a key addition to every modern man's wardrobe.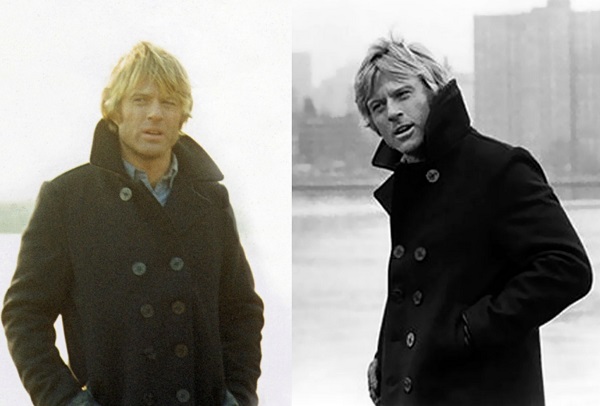 The Modern Style Icons
It seems like every season, some fashion designer decides to tweak the iconic peacoat design, adding more or fewer buttons, playing with the length or the size of the collar, trying out new fabrics and hardware. But a quick look at some of today's style icons quickly shows us that the traditional interpretation of the classic coat is still the best.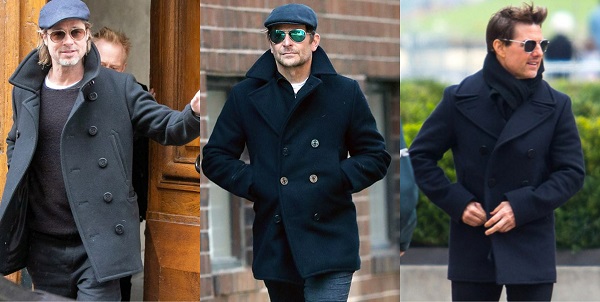 Daniel Craig, one of our favorite sources of style inspiration around these parts, is also a fan of using peacoats as part of his personal style. The Billy Reid version he wore in Skyfall has been a favorite in the past. And he was just recently spotted in New York wearing a more classic design, identified by the great Instagram account @whatsdanielwearing as a model from British tailoring house Gieves & Hawkes.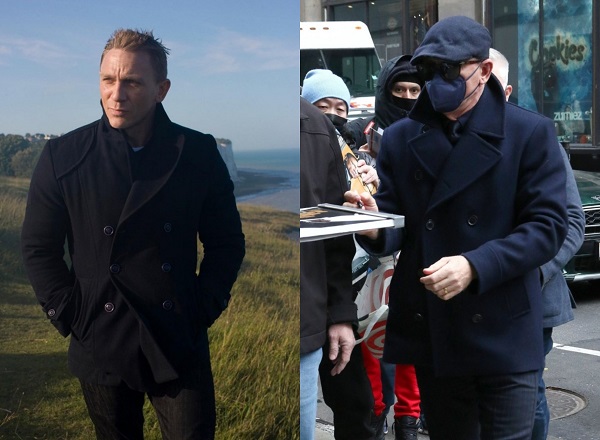 Whether you're a fan of classic or contemporary style icons, there's plenty of inspiration out there if you looking for ideas for how to wear your peacoat.
Features Wanted for the Classic Navy Peacoat
6X2 or 8X2 double breasted front, with additional buttons under the collar
Dark navy color
Heavier weight wool or wool blend outer fabric
Wide Ulster style collar that can be closed up with buttons
Length can vary slightly, but should hit around the mid-thigh
Jetted handwarmer pockets or flapped pockets? I think this is more a matter of personal preference, although the jetted pockets tend to be more common.
Single vent is classic, but double vents are also acceptable.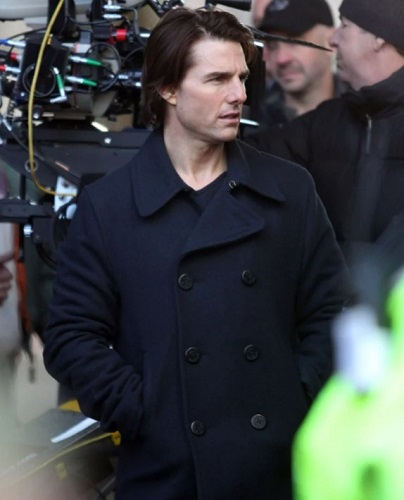 Since we're looking at the classic peacoat design, now seems like an appropriate time to discuss buying one from an Army-Navy surplus store. And whether you're going for a used vintage one or newer deadstock, there are definitely some great deals to be found. Just remember that military issued peacoats are going to prioritize function over fit. Most are going to be heavy with a fuller cut to provide room for layering and more of a flair hemmed to allow better freedom of movement around the legs. Also remember that peacoats from the 1950s and 60s are going to tend to fit smaller, with a vintage size large feeling more like a modern medium. I've found that to be true even with numeric sizing.
And now on to our alternatives!
Best Option for the Classic Navy Peacoat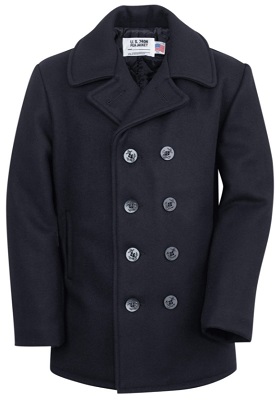 Schott's made in the U.S.A. model 740 is a classic. And a bit of a beast. Made with a 32oz 80% wool, 20% nylon melton fabric, the traditional design features a ten button front (including two under the collar), handwarmer pockets and a quilted lining for even more insulation. The heavy material is stiff, so that large collar is going to stay standing with no problems. But it also means the coat requires some wear before the fabric really relaxes. I've linked to the Navy color here. However it also comes in four other colors and they have plenty of sizes left in both regular and long lengths. Schott also uses numeric sizing for this model, making it easier to really nail the fit.
If you're looking for a more tailored fit, check out their Slim Fit Melton Peacoat for $455.00. The wool blend outer fabric is a lighter 24oz. And it also uses a cotton-poly blend lining. So while the cut may be more contemporary, it won't be quite as warm as the model 740.
Under $100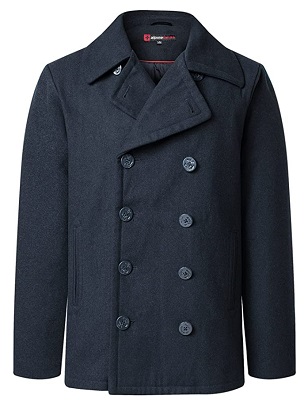 There's no shortage of cheap peacoats on the market. But this option from Alpine Swiss does seem to be a slight step up from the rest, with a customer score of 4.3 out of 5 stars after 607 reviews on Amazon. The design has the classic ten button front and jetted pockets. And while the 30% wool, 70% polyester fabric isn't exactly ideal, at least it has some natural fibers in the mix (which is actually pretty rare at this price point). Also note that it doesn't have any additional insulation, just a lightweight satin lining. So it might not be the greatest choice if you're looking for a super warm winter coat. Amazon has sizes medium to XXL in stock.
Under $200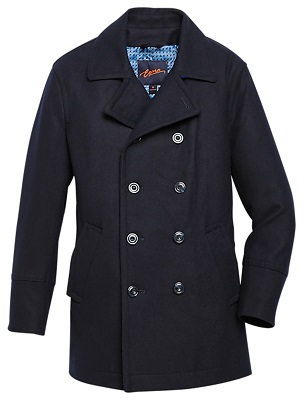 A budget friendly option from Men's Wearhouse which looks to be pretty decent quality for the money. It currently has a customer score of 4.6 stars out of 5 after 519 reviews, with most complaints focused on the trimmer fit. As with the Alpine Swiss, the fabric (a blend of 55% polyester, 40% wool and 5% "other fibers") isn't what we'd call "luxury". But the styling comes close to what we want, with an eight button front (plus one under the collar) and handwarmer pockets. This one also has a half-belt at the back which adds a touch of formality. Plus it has a zip out quilted bib, in case you want some extra protection around the neck (and don't like scarves). Sizes small to 3XL are available on their website.
Under $300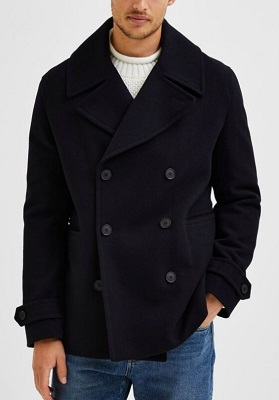 A solid option for those of you looking for a shorter cut. This is a six button front (I can't tell if there are buttons under the collar). And the 50% wool, 50% synthetic fabric gives us a little more in the way of natural fibers. Plus it has internal padding for extra insulation. In terms of the style details, we're getting flap pockets and button-through tabs on the cuffs, which add some character. For those of you in the U.S., YOOX has sizes small to XXL in stock. If you're in the UK, you can also order it from YOOX or directly from Selected.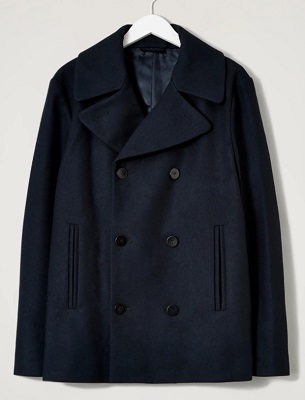 Now that we're going up in price, we'll start seeing more wool in the fabric mix. And this 80% wool, 20% polyamide option from Arlen would make a great alternative for Bond's Casino Royale peacoat. Especially with that oversized, dramatic collar. With a six button front (again, I can't tell if there are buttons under the collar), it has a shorter cut and a slimmer fit for a more tailored look. Interestingly, the "pockets" are just for show and don't actually open up. Which, in my humble opinion, is a strike against it. But the rest looks pretty darn good for the money. Thread has plenty of sizes in stock.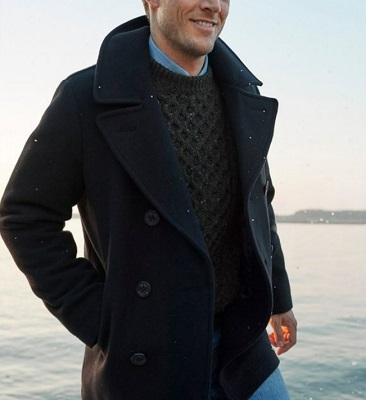 About the best bang for your buck you can get for under $300 (without going with genuine surplus). Made from 100% Italian wool, the coat is further insulated with Thinsulate. So you shouldn't have to worry too much about winter chills. The fit and detailing is very traditional, with an eight button front (including two under the collar), handwarmer pockets, plain cuffs and a single vent at the back. L.L. Bean offers it sizes small to XXL in regular length and medium to XXL in tall. Honestly, this could have easily been the "Best Option", but some customer comments about the boxier fit, a lighter weight wool and some issues with the buttons kept it from the top spot.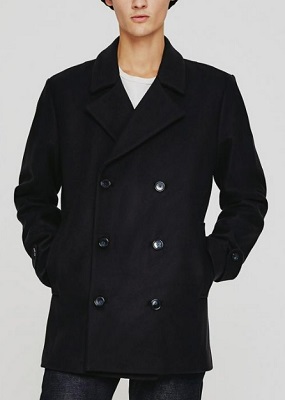 With its softer fabric, more tailored fit and relatively subdued collar, this option from Adriano Goldschmied should be of interest to those of you looking for a more refined peacoat. The outer material is an 80% wool, 20% polyamide blend and that After Dark color looks like it's coming very close to black. It's currently on sale for 50% off the normal $598.00 price and you'll find sizes XS to XXL on their website. But be aware this is FINAL SALE! So no returns if it doesn't fit.
Under $400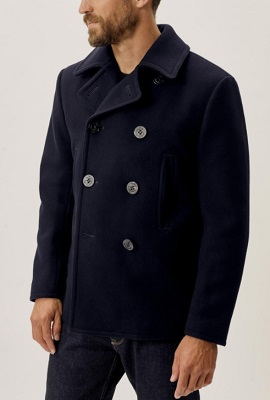 It has a shorter fit, a cleaner design and a slightly smaller collar, all of which help give it an almost sporty look. But that heavyweight 35oz, 70% wool and 30% synthetic melton fabric is plenty rugged enough. Combined with the eight button front, with two under the collar to wrap it up around your chin, it should keep you nice and warm when you're staring down an icy wind. Unfortunately, Buck Mason is down to sizes Large to XXL. However, if you're a bigger guy this one is definitely worth a look!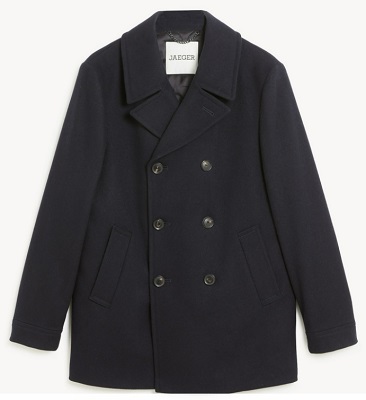 Proabably the best off-the-rack match for Bond's Casino Royale peacoat, for several reasons. The Italian fabric is an 81% wool, 19% polyamid blend, which gives the material a nice hand and some durability. And it's backed up with an additional layer of quilted insulation for even more warmth. It has a six button front, with an extra button under the collar, and those buttons are dark (faux?) horn, just like the ones on the future 007's coat. The style is traditional, with a longer length, slightly tailored fit and good sized collar. The only downside is Marks & Spencer don't offer this model on their U.S. website. But if you live in the UK and that price is within your budget, this one could be a winner!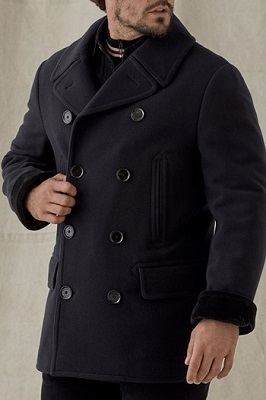 Considering the regular price is $850, this is one heck of a deal coming to us from a website I've never heard of! But a quick check on Trustpilot shows Otrium gets a solid rating from customers (although they do seem to be slow with shipping). Anyway, about the coat. Belstaff has used an 80% wool, 20% polyamid fabric and lined the pockets and cuffs with soft corduroy. Although the 8X2 front and wide Ulster collar are about as traditional as it gets, it does have a unique handwarmer and flapped pockets combination that sets it apart from the other alternatives. You can still find a decent selection of sizes on Otrium. But inventory is starting to run real low.
Established in 2001, London Tradition is relatively new name on the world of peacoats. But it's already made an impression, winning the prestigious Queens Award for International Trade in 2014. The company proudly manufactureres their coats in England, and uses a unique double-faced fabric that provides plenty of warmth while displaying the meticulous craftsmanship that goes into each piece. Outside, the Scott peacoat is a brighter navy than your typical dark blue peacoat. Inside, the coat features a unique plaid pattern that adds even more color. The design is minimalist with a clean 6X2 front, welt pockets and single rear vent. And the more tailored fit gives it very contemporary feel. They have sizes UK 36 to UK 46 on their website, with seven different color options.
The Investment Pieces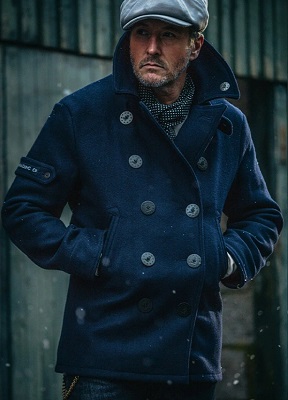 &Sons is an appropriate name for the company that builds a peacoat that'll last long enough to hand down to your offspring. The British company has used a hefty 22oz melton blend of 77% recycled wool, 13% polyester, 5% polyamide and 5% acrylic, lined it with a sustainably produced modal cloth and finished it oversized buttons forged from recycled metal and canvas reinforced elbows. The front closes with eight buttons, with an additional two under the generous collar. And it also features a detachable throat latch to keep the collar standing when things get really cold. Sadly, they're down to only size small on their U.S. website. But sizes small and large to XXL are still available in the UK.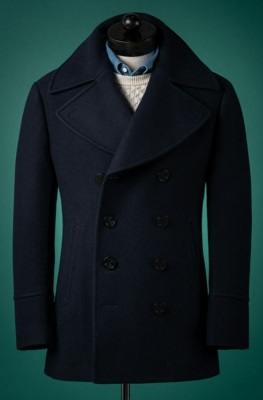 So you want a really dramatic collar? Here's your peacoat! Made with a luxurious 90% wool, 10% cashmere blend from the Italian Lanificio Luigi Zanieri mill, Canadian brand Spier & Mackay has kept the rest of the design clean and understated. It features an eight button front, jetted handwarmer pockets and a single vent at the back. And that's about it. It's definitely a statement coat. But it's an elegant one. As usually happens with Spier & Mackay as we get farther into the season, sizes are starting to get pretty spotty on their website.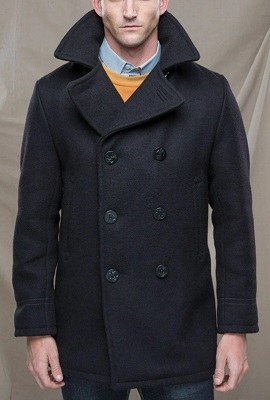 And we end with an option that fully embraces the peacoat's heritage. Cockpit USA makes their version in the U.S., using a heavy 32oz P-90 Melton in an 80% wool, 20% nylon blend. The 6×2 front using genuine horn buttons and includes an extra two buttons under the comfortably sized Ulster collar. The outside features two jetted handwarmer pockets. But inside they've added an additional 5 pockets to store all your gear. The cut is fitted but still roomy enough to layer a sweater underneath for extra warmth, given it a clean and polished look without sacrificing any of the praticality of the design. You'll find sizes XS to 4XL available on their website.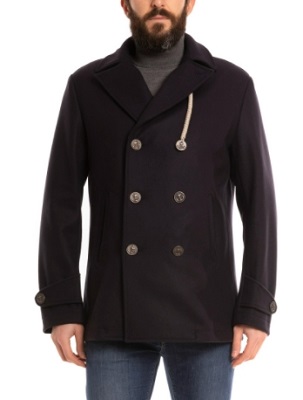 This is an interesting one (and, quite frankly, I should of known about it sooner from my research). Camplin was the original supplier of peacoats to the British Royal Navy in 1893 and, according to the company, it was Robert Camplin who modified some key elements of the design and suggested if be used by Petty Officiers. One of those unique features was the "cordage", a length of heavy string that joins the two sides of the collar to keep it wrapped tight around the wearer's chin. Although they company is now located in Italy, they still make their classic peacoat design (complete with the cordage, distinctive grosgrain buttonhole backings and button tab cuffs) in different weights of wool. If you're in Europe, you can order one directly from their website. However, those of you in the U.S. and UK will need to contact the company to find out availability.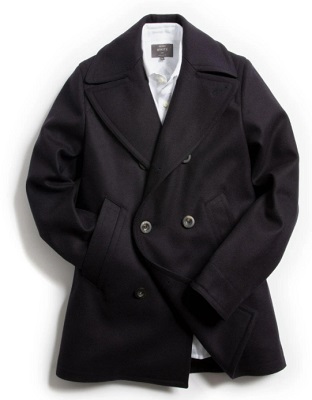 A great suggestion shared with us on Instagram by @danhogston. As with almost everything Private White makes, they've used the best of the best for their interpretation of the classic peacoat. Made in their Manchester, England factory using a heavy 30oz, 100% melton wool, the front closes in 6X2 configuration with genuine horn buttons. Around the back, they've added a button adjustable half-belt to fine tune the fit. Inside there are two large pockets that close with RiRi zippers to keep valuables secure. And the over-sized lapels and collar can be secured to provide plenty of protection in harsher weather conditions. You'll find sizes 2 (XS) to 8 (XXXL) on their website, although they are currently sold out of size 5 (Large).
If you have a favorite classic navy peacoat you'd like to share, let us know all about it in the comments below! And remember to check us out on Facebook,  Pinterest, and Instagram for more style advice, inspiration and info on where to find the latest deals!
The featured image used for this post was sourced from Thunderballs.org.