Style Icons and the Classic Navy Peacoat
Updated December 18th, 2022 – Is there any other style of men's winter outerwear more practical and versatile than the classic navy peacoat? The best examples combine rugged materials and construction with crisp military tailoring to create a coat that can be dressed up or down with equal ease. The double breasted front, with its two rows of precisely aligned buttons, gives it some formality. But the shorter length makes it more casual and utilitarian than an overcoat, so it works effortlessly with relaxed looks.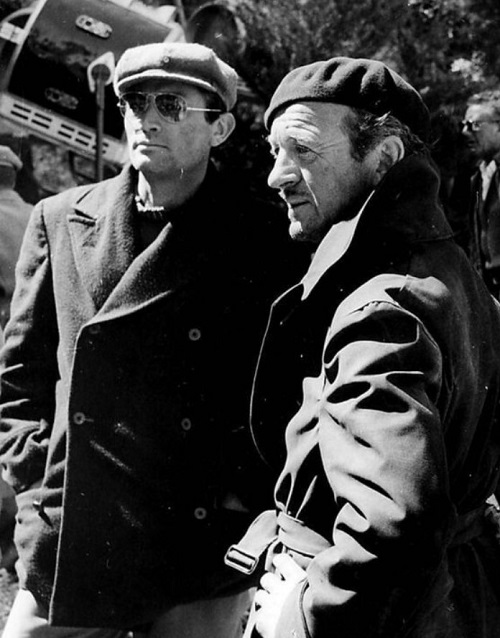 And then there's the history and tradition behind the design that's spanned almost three centuries. Is it really any wonder the peacoat has remained so popular for so long with both style icons and us regular folks?
A Little History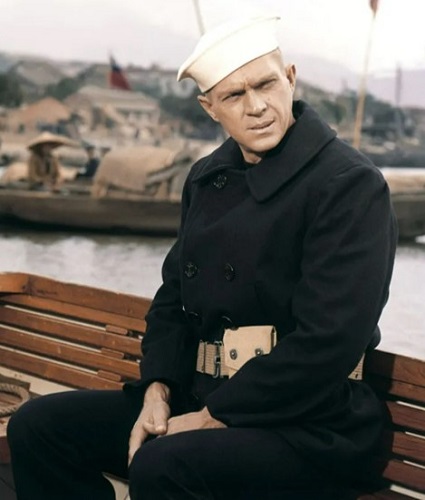 According to most sources, the story of the modern peacoat starts in the early 1720s in the Netherlands. It was here that Dutch sailors started using a shorter, double breasted coat made from coarse, rugged fabric called a "pijjekker ("pij" refers to the rough, twill cloth they originally used and "jekker" refers to the style of the coat). From mainland Europe it crossed over to England, where the design was adopted and modified by the British Navy for use as part of the Petty Officier's uniform (the "P-coat", another possible origin of the name).
The peacoat next found it's way to America and into the service of the U.S. Navy. By this point in it's history, the design was pretty much as we know it today: a double breasted, mid-thigh length coat made with a heavy Melton wool and featuring a wide Ulster collar that could be turned up and secured in place with buttons, a throat latch or cordage to protect the wearer from frigid temperatures. The details varied slightly from country to country: 6X2 or 8X2 button configurations; jetted handwarmer pockets or flapped pockets (or both); single, double or no vents. But, in general, the peacoat most of us wear now is the same as those worn by navy seaman and sailors close to two hundred years ago.
The Classic Navy Peacoat and the Style Icons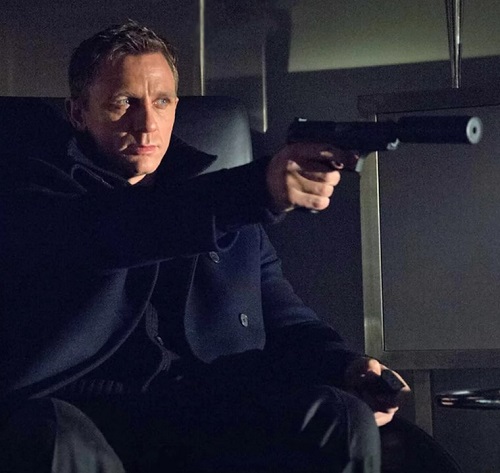 As fans of Bond-style, most of us are familiar with the Billy Reid peacoat he wore in Skyfall. And while its handsome design kept some key features of the original, its shorter length, more tailored fit and smaller collar with the peaked lapels give it a more refined look. For a better example of Bond wearing a classic peacoat, we can instead turn to 2006 and pre-title sequence of Casino Royale. You can read more about Bond's complete look from his film noir themed meeting with Dryden in these articles from Bond Suits and BAMF Style.
Of course Casino Royale was hardly the first time a peacoat has shown up in a movie. Gregory Peck wore one in The Guns of Navarone, as did Steve McQueen in The Sand Pebbles and The Great Escape. By the early to mid-1970s, the iconic outerwear had moved beyond the period war films where it had been typically featured and was now being worn by actors playing the average guy on the street in contemporary settings. Thanks to Al Pacino in Serpico (1973) and, more famously, Robert Redford in Three Days of the Condor (1975), the peacoat became a key addition to every modern man's wardrobe.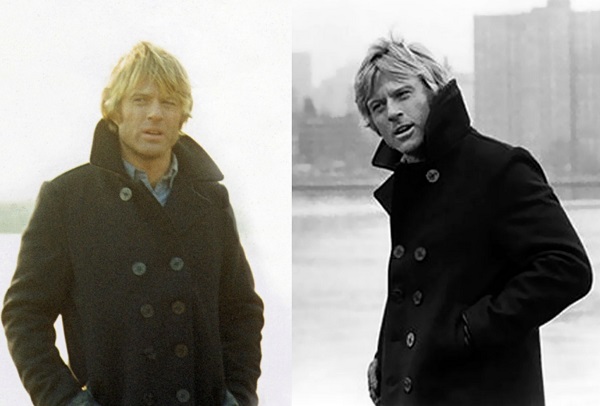 The Modern Style Icons
It seems like every season, some fashion designer decides to tweak the iconic peacoat design, adding more or fewer buttons, playing with the length or the size of the collar, trying out new fabrics and hardware. But a quick look at some of today's style icons quickly shows us that the traditional interpretation of the classic coat is still the best.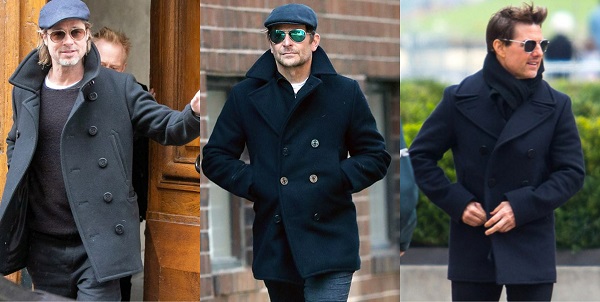 Daniel Craig, one of our favorite sources of style inspiration around these parts, is also a fan of using peacoats as part of his personal style. The Billy Reid version he wore in Skyfall has been a particular favorite in the past. And he's been spotted in New York wearing a more classic design, identified by the great Instagram account @whatsdanielwearing as a model from British tailoring house Gieves & Hawkes.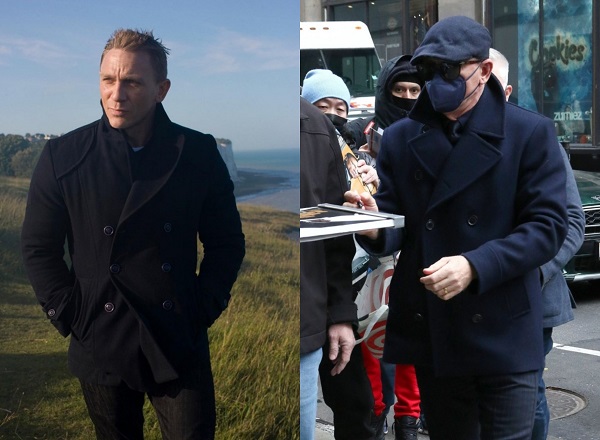 Whether you're a fan of classic or contemporary style icons, there's plenty of inspiration out there if you looking for ideas for how to wear your peacoat.
Features Wanted for the Classic Navy Peacoat
6X2 or 8X2 double breasted front, with additional buttons under the collar
Dark navy color
Heavier weight wool or wool blend outer fabric
Wide Ulster style collar that can be closed up with buttons
Length can vary slightly, but should hit around the mid-thigh
Jetted handwarmer pockets or flapped pockets? I think this is more a matter of personal preference, although the jetted pockets tend to be more common.
Single vent is classic, but double vents are also acceptable.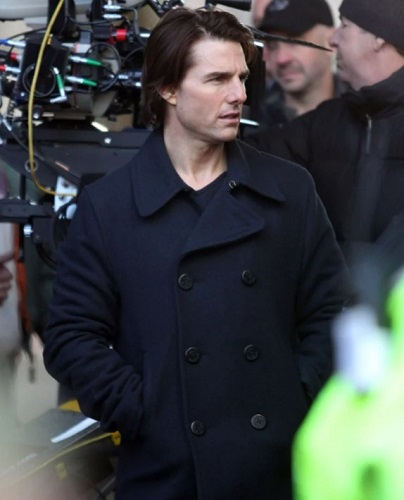 Since we're looking at the classic peacoat design, now seems like an appropriate time to discuss buying one from an Army-Navy surplus store. And whether you're going for a used vintage one or newer deadstock, there are definitely some great deals to be found. Just remember that military issued peacoats are going to prioritize function over fit. Most are going to be heavy with a fuller cut to provide room for layering and more of a flair hemmed to allow better freedom of movement around the legs. Also remember that peacoats from the 1950s and 60s are going to tend to fit smaller, with a vintage size large feeling more like a modern medium. I've found that to be true even with numeric sizing.
And now on to our alternatives!
Best Option for the Classic Navy Peacoat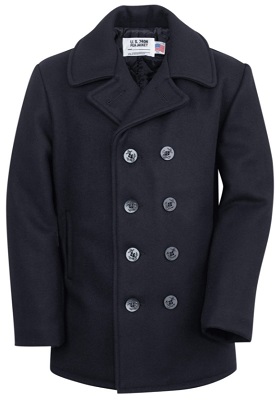 Schott's made in the U.S.A. model 740 is a classic. And a bit of a beast. Made with a 32oz 80% wool, 20% nylon melton fabric, the traditional design features a ten button front (including two under the collar), handwarmer pockets and a quilted lining for even more insulation. The heavy material is stiff, so that large collar is going to stay standing with no problems. But it also means the coat requires some wear before the fabric really relaxes. I've linked to the Navy color here. However it also comes in four other colors and they have plenty of sizes left in both regular and long lengths. Schott also uses numeric sizing for this model, making it easier to really nail the fit.
Other Schott Peacoat Models
It's also worth mentioning that if you find the classic 740 a bit too heavy for your needs, Schott has a three other models that are worth a look.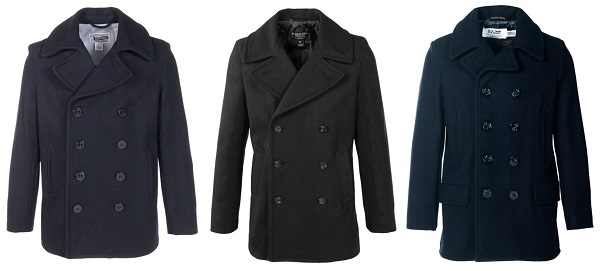 For a more tailored fit, check out their 751 Slim Fit Melton Peacoat for $495.00. The wool blend outer fabric is a lighter 24oz. And it also uses a cotton-poly blend lining. So while the cut may be more contemporary, it won't be quite as warm as the 740. If you prefer to skip the synthetics, the 100% wool 764 ($560.00) should do the trick. However, the shell is a slightly lighter 28oz melton with a nylon lining. And it only has a 6 button front and only comes in black. Last, we have the 782 for $565.00. This one uses the same 32oz melton wool as the 740 (now lined with an unquilted poly twill fabric) and has the 10 button front. But they've also added some neat details like corduroy lined welted upper pockets, lower flapped pockets and a throat latch. I'll leave it up to you to decide if it's worth the extra two hundred bucks.
Under $100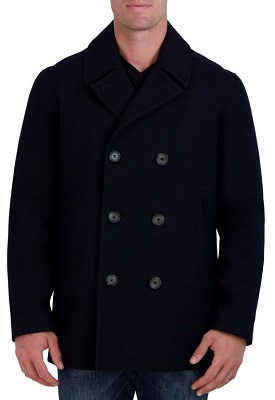 A dead simple, classic design that delivers most of what we want at a very reasonable sale price. The 52% wool, 49% synthetics fabric probably isn't the heaviest out there. But the quilted lining should help add some extra insulation. Amazon has sizes small to XXL in stock, with some of the larger sizes also available in a Tall cut.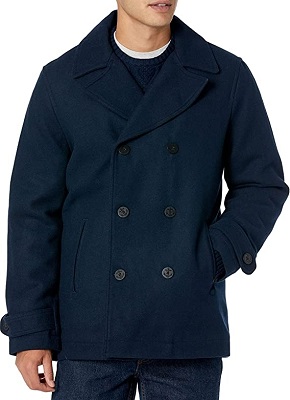 With a 67% wool and 33% synthetic blend shell fabric, this one is punching above it's weight class at that price. Again, it probably won't be the thickest fabric. But the customer reviews are solid (4.5 stars out of 5 after more than 1000 reviews). And the button tabs on the cuffs are a nice touch. Sizes XS to XXL are available on Amazon.
Also Try
Under $200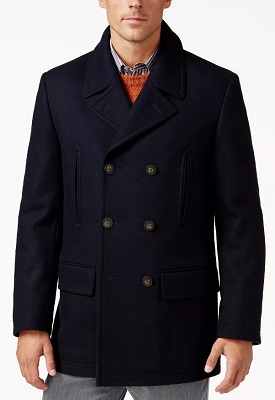 A darn good bargain and, aside from the Ulster collar, not a bad affordable alternative for Bond's Skyfall peacoat. The fabric is a bit of a mystery (it only says "wool/polyester" on the product page). But the trimmer fit and conservative lapels give it a more contemporary and sophisticated style. Macy's still has a good selection of sizes left in stock.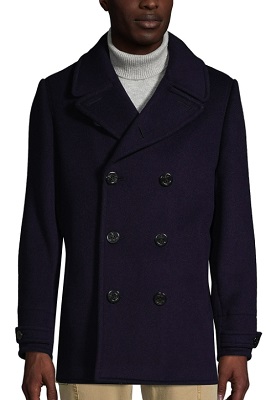 If you're looking for traditional peacoat styling that's also going to keep you warm, don't sleep on this one! Lands' End isn't exactly known for producing high fashion designs. But when it comes to simple, well made basics, the brand usually offers great value for the money (especially when you catch them on sale). Here we get a classic 8 button front with welted handwarmer pockets, a generous Ulster collar, and a 50% wool, 45% polyester and 5% 'other' blend fabric backed with 60 gram Primaloft Silver insulation. Sizes small to XXL are in stock on their website.
Also Try
Under $300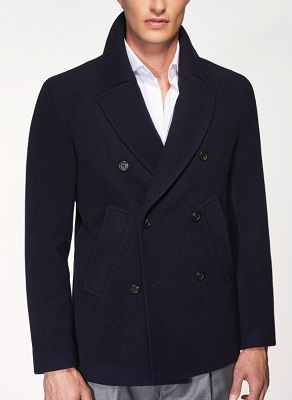 Gutteridge has given their take on the peacoat an interesting spin. In some ways, it's almost like the offspring of a peacoat and a double breasted blazer. The front is a 6-button-2, with longer, narrower lapels. The cut also appears to be quite short. It's different. But that more fashion forward styling does have a certain appeal if you're looking for dressier outerwear. And the 80% wool, 20% polyamide blend fabric sounds quite nice for the price. Italian sizes 46 to 52 are available on their website.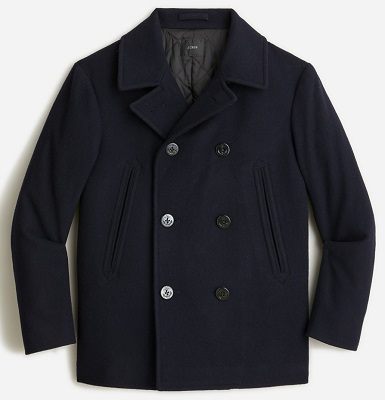 I know more than a few people weren't exactly happy when J.Crew finally decided to revamp their customer favorite Dock Peacoat. But the new model is still very much a classic peacoat design. And the 80% wool and 20% polyamide shell is also backed with a quilted PrimaLoft instulation. So that's going to help keep you warm. The have sizes XS to XL on their website.
Now the really good news: you can get the coat for a LOT less than that sale price right now. J.Crew is currently running a 70% discount when you buy 3 sale items. So add some socks, maybe a pair of boxers or even a Steve McQueen inspired sweatshirt to your cart. Then enter the code BIGSALE at checkout and the price of the Dock Peacoat drops down to $83.40! That really makes this one a steal.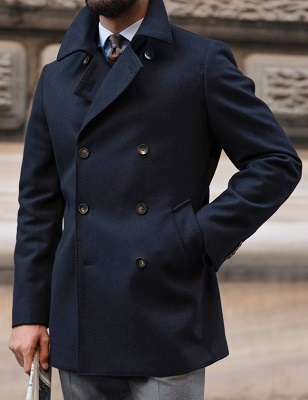 I think John Henric has done a really nice job balancing the rugged and the refined with their version of the peacoat. It keeps almost all the traditional design elements: 8 button front, Ulster collar and a slightly longer length. But they've sharpened things up with a more trimmer cut and more conservative lapels. The addition of the Martingale half-belt at the back also adds some visual and helps suppress the coat waist for a more tailored fit. The 75% wool and 25% looks to be lighter weight. So it won't be the warmest coat. However, if you need some office worthy outerwear, you should check this one out. Italian sizes 46 to 56 are available on their website.
Also Try
Under $400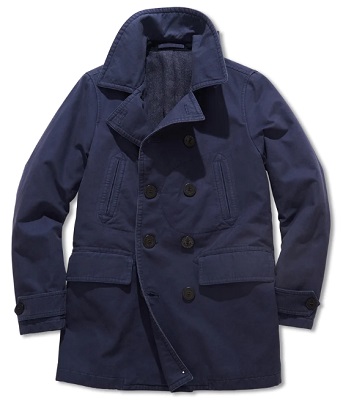 I wanted to include an option for those of you living in warmer climates that still want that classic peacoat style. And Guideboat's American Canvas Peacoat checks that box. The coat has all the classic design elements we're looking for. But they've used a U.S. made 100% cotton canvas instead of Melton wool for the shell and washed and brushed the fabric to give it a broken-in look and feel. There's a little bit of insulation with the Merino wool used for the coat's top block lining. But this is still most definitely a spring/fall weather coat. Guideboat has sizes small to XXL available at that sale price.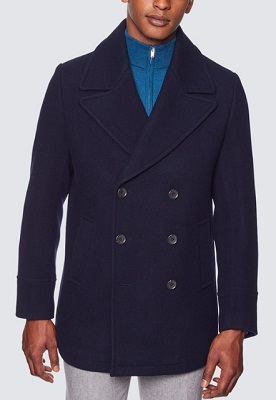 That large Ulster collar is a classic peacoat feature. But from there Hawes & Curtis have designed their peacoat more like a short overcoat. The fit is more tailored through the shoulders and body. And the 6 button front has a slightly lower buttoning stance that works well the longer cut. The 100% Melton wool shell is also a bonus at this price. U.S. sizes 36 to 48 are in stock.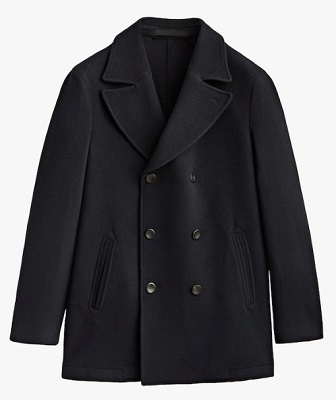 As far as I can recall, this is Massimo Dutti's first try at a peacoat. And they've kept things pretty straightforward and traditional. The shell is a 70% wool, 30% polyamide blend, which is good (but not 'great!') at this price. Perhaps the most interesting aspect is how dark that navy blue color is. I think it gives the coat a slightly more formal feel to balance out the more casual coat design. They have sizes 38 to 44 available.
Also Try
Under $500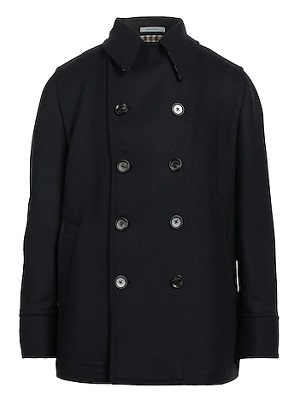 This a deal from Yoox. And what a deal it is (if you only go by price). The original retail for this one was an eye watering $1018.00. But the hefty 57% discount isn't the only reason to give this one a look. Aquascutum is very much a heritage British brand (it was established in 1851). And their made-in-Italy peacoat retains most the classic design elements but adds a touch of 'fashion' with a shorter, boxier cut and the addition of their iconic check pattern fabric under the collar. However, I do wish they'd used a nicer fabric (an 80% wool and 20% polyamide blend is just 'okay' at this price in my book). You can find sizes 38 to 46 at Yoox.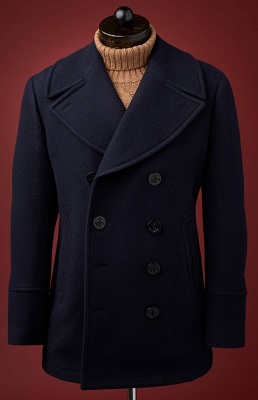 So you want a really dramatic collar? Look no further! Made with a luxurious (and heavy!) 90% wool, 10% cashmere blend from the Italian Lanificio Luigi Zanieri mill, Canadian brand Spier & Mackay has kept the rest of the design clean and understated. It features an eight button front, jetted handwarmer pockets and a single vent at the back. And that's about it. It's definitely a statement coat. But it's an elegant one.
Now, if you'd like to try something a little different with your peacoat, Spier & Mackay has you covered there as well.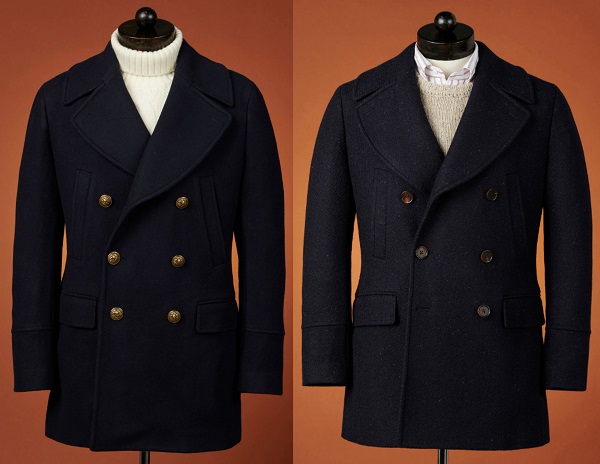 First is their Navy Melton Peacoat ($478.00). This one uses the same Zanieri 90% wool and 10% cashmere fabric as the "Classic". But they've added brass buttons on the front and at the cuffs as a call back to the coat's military heritage, flapped hip pockets and half-belt with a box pleat at the rear. It's still very traditional, but has a bit more flash. Second is the Peacoat in Dark Navy Donegal (also $478.00). The design is identical to the Navy Melton Peacoat. But the buttons are brown faux-horn. And the beautiful 100% wool Donegal fabric has flecks of lighter blue that add some visual interest. Both are definitely worth a look!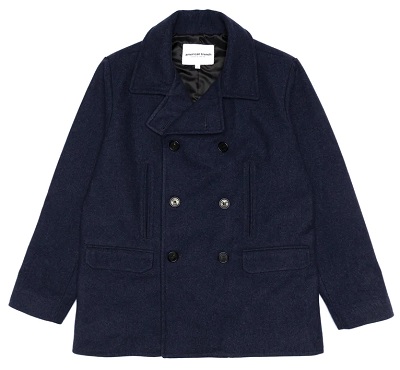 If made-in-America matters to you, then here's your peacoat. American Trench cuts and sews their version in Boston using a 100% melton wool from the American Woolen mill in Stafford Springs, Connecticut. The design includes the chest-height handwarmer pockets, flapped lower pockets, a generous (but not overly-dramatic) Ulster-style collar and genuine horn buttons. Honestly, this one is delivering details that easily match coats that cost $300 or $400 more. Sizes small to XL are available on their website.
Also Try
Under $600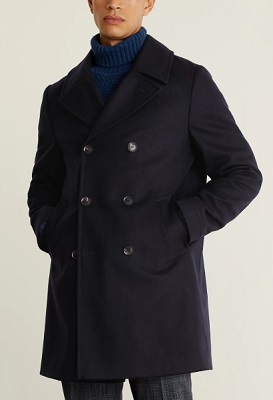 A straight forward, classic design from well known British retailer Marks & Spencer. The Italian fabric is an 81% wool, 19% polyamid blend. So it's nice, but not stellar. However I think the real appeal with this option is the length. It seems like so many brands are giving their peacoats a shorter cut (maybe to make them more fashionable?). With this one, the true mid-thigh length will not only help keep you warmer, it also adds a touch of elegance. Sizes small to XXL are in stock on their website.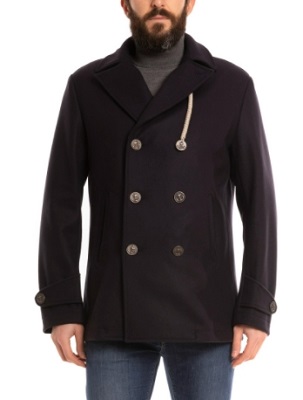 This is an interesting one (and, quite frankly, I should of known about it sooner from my research). Camplin was the original supplier of peacoats to the British Royal Navy in 1893 and, according to the company, it was Robert Camplin who modified some key elements of the design and suggested if be used by Petty Officiers. One of those unique features was the "cordage", a length of heavy string that joins the two sides of the collar to keep it wrapped tight around the wearer's chin. Although they company is now located in Italy, they still make their classic peacoat design (complete with the cordage, distinctive grosgrain buttonhole backings and button tab cuffs) in different weights of wool. If you're in Europe, you can order one directly from their website. However, those of you in the U.S. and UK will need to contact the company to find out availability.
Also a quick note about sizing. The coat I've linked to above is currently available in Italian sizes 44 and 52 to 56. If you need a size 46, 50 or 58, you'll need to go with this coat for €608.00. I honestly can't see any difference between the two coats to justify the higher price (they even use the some photos on the product pages). Maybe one is a newer version?
Also try
The Investment Pieces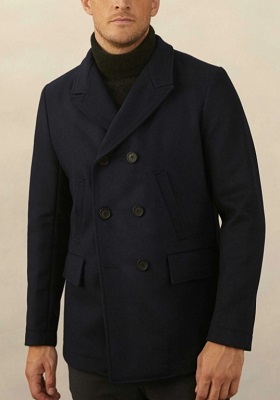 As fans of Bond-style, we're all know (and most of us love) the now iconic Billy Reid peacoat. It's what Daniel Craig wore during his high-rise fight with Patrice in Skyfall, as well as being a personal favorite of the actor. So no post on "style icon inspired peacoats" would be complete without it. Just two things to mention. Over the years, the natural wool content of the fabric has continually decreased. And Billy Reid is currently using a 75% wool and 25% polyamide blend. But the coat is still being made in Italy and features genuine horn buttons and leather accents, which is nice. Second, this coat is unlined. If you need outerwear for truly chilly temperatures, you may want to look elsewhere no matter how much you like the design. Billy Reid has sizes medium to XXL in stock.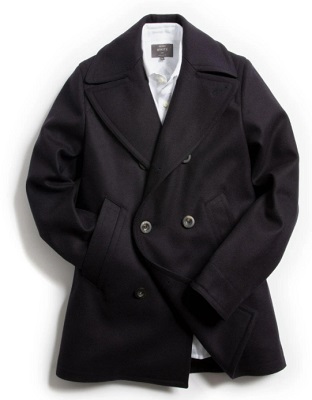 A great suggestion shared with us on Instagram by @danhogston. As with almost everything Private White makes, they've used the best of the best for their interpretation of the classic peacoat. Made in their Manchester, England factory using a heavy 30oz, 100% melton wool, the front closes in 6X3 configuration with genuine horn buttons. Around the back, they've added a button adjustable half-belt to fine tune the fit. Inside there are two large pockets that close with RiRi zippers to keep valuables secure. And the over-sized lapels can be buttoned up to provide plenty of protection in harsher weather conditions. You'll find sizes 2 (XS) to 8 (XXXL) on their website, although they are currently sold out of size 5 (Large).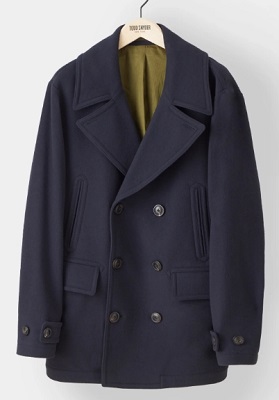 We'll wrap things up with an option from well respected American designer Todd Snyder. His brand is known for its take on "elevated workwear". And his peacoat is a great example of what that concept looks like in person. The overall style is very classic, with a 6-button-3 front, welted handwarmer pockets, flapped hip pockets and button tabs at the cuff. But the 90% wool and 10% cashmere fabric, Bemberg lining and genuine horn buttons certainly adds some luxury. You'll find sizes small to XXL on their website.
Also try
If you have a favorite classic navy peacoat you'd like to share, let us know all about it in the comments below! And remember to check us out on Facebook,  Pinterest, and Instagram for more style advice, inspiration and info on where to find the latest deals!
The featured image used for this post was sourced from Thunderballs.org.
Iconic Alternatives uses affiliate links to generate revenue. If you choose to purchase a product after clicking a link, I may receive a commission from the merchant at no extra cost to you. You can learn more about our use of affiliate links here.