Best Budget Style Finds December 12th
Welcome to our Best Budget Style Finds for December 12th! This is where we share some of the great alternatives for Bond (or Craig or McQueen) style that either slipped through the cracks when I was writing the original dedicated posts or deserve a special mention. Sometimes the posts will be short. Sometimes there will be a ton of new options. A lot will depend on what we, as a community, find and share. So if you have any suggestions, let us know in the comments. On to the alternatives!
Some Bond Style Outerwear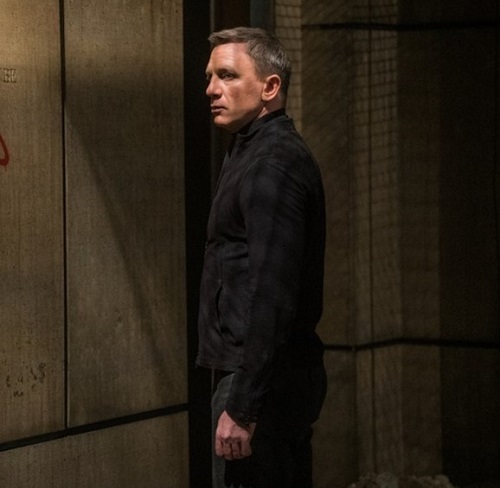 Let's get things rolling with some options for Bond's John Varvatos navy suede racer jacket and a less well known coat from SPECTRE.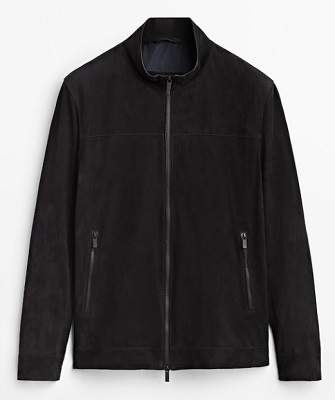 This excellent alternative was suggested by AJB007 forum member Agent Eternal. Made from a goatskin suede, there are some obvious differences in the design details (no zippered cuffs, but zippered pockets, very dark navy color). But it definitely gives us the sleek moto jacket/cafe racer vibe we want. And, in my experience, Massimo Dutti's leathers offer good bang for buck. Sizes small to XXL are available on their website.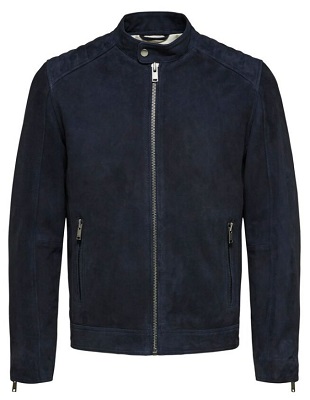 One specifically for you folks in the UK. I shared this alternative in a recent Best Budget Style Finds. But now that the price has dropped from the original £235.00 to £164.50, I think it's worth another mention. Selected has used goat suede for the outer and this one does have the zippered cuffs. But the quilted shoulders, zippered pockets and throat latch aren't exactly screen accurate. They still have sizes small to XL in stock. Sadly, it looks like Selected doesn't ship to the U.S.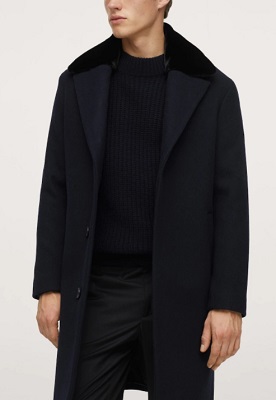 A recent arrival at Mango and one that makes a decent alternative for the navy blue Crombie coat Bond wore in SPECTRE. Bond's was a 51% cashmere, 49% silk blend from Tom Ford (of course); you can read about the entire look in this article from Bond Suits. This Mango option has a different collar design, using a faux fur (which is removable) rather than the more common moleskin, and vertical handwarmer pockets. But it does have a 3 button front with the fly cover. The fabric is a 61% recycled wool with a mix of synthetics and cotton. So not quite as luxurious as the screen used coat. However, it's still a dressier way to keep warm this winter that offers a nice nod to Bond style.
More Mr. White Jackets!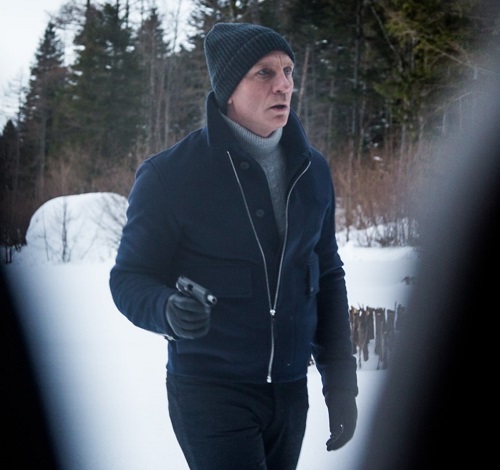 We've already covered a LOT of alternatives in our recent post on Bond's Dior Homme cashmere bomber from SPECTRE. But, as tends to happen, even more have turned up in the days that followed. And that's one of the main reasons why I do these Best Budget Style Finds posts!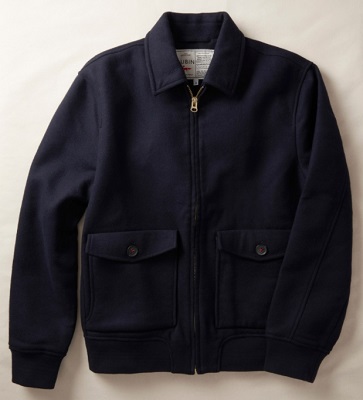 Another UK-only option, I'm afraid. Suggested by Scott in the comments section of our Mr. White jacket post, it has some clear differences compaired to the original. Rib knit cuffs and hem, buttons on the flap pockets. So overall, more of a rugged-style bomber than French fashion outerwear. The outer fabric is also a 72% polyester, 28% wool. That wool content seems a little low for the price tag. But it will still work as an "inspired by" option. Sizes small to XXL are available on the Aubin website.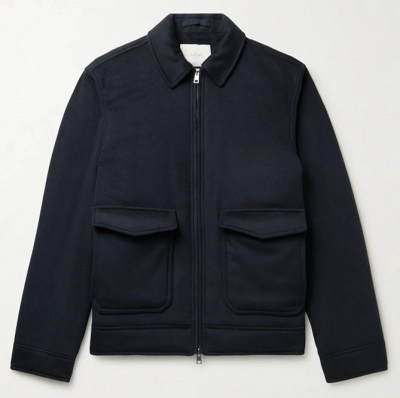 A great suggestion from @mr_jwf in the comments for our Instagram post. Made in Italy from 100% cashmere and insulated with polyester to add some extra warmth, it definitely captures the look (and probably the feel) of the original Dior. Yeah, that price is getting way up there. But it still doesn't come close to the $5800 cost of the original. A reminder that sometimes "budget" is relative.
Also try:
Something for the Race Track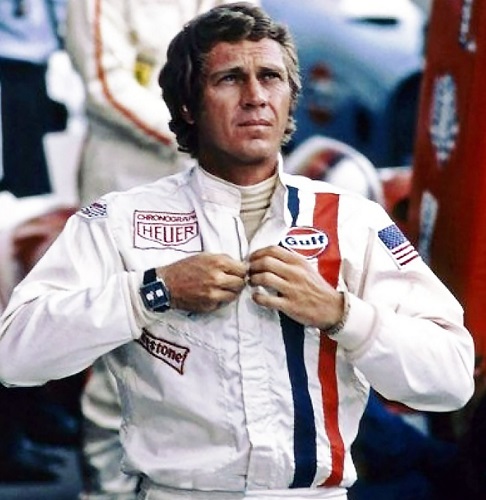 There are plenty of jackets out there inspired by McQueen's "Delany" racing suit from Le Mans. But what if you're looking for something without all the patches?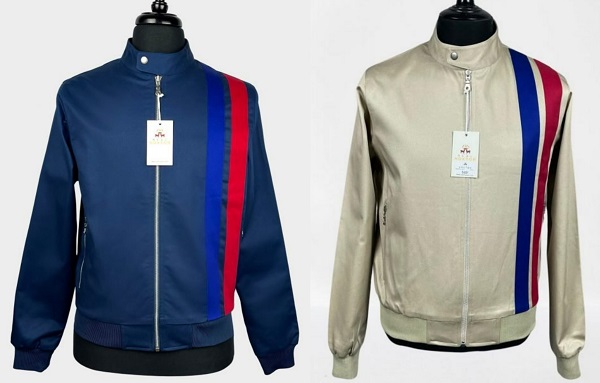 These are definitely some of the nicer rally jackets I've come across in a while. Made with heavy wieght 100% cotton shell and lined with a color coordinated tonic fabric, they're sort of the car-lover's version of the Harrington. Available in a Le Mans-ish Beige, classic Navy and a cool Steel Blue for that "Ford vs. Ferrari" look. Real Hoxton has plenty of sizes in stock and shipping is free for those of you in the UK. If you're in the U.S., they charge a flat £14.50 for delivery, although international shipping is free if you cross a £150.00 threshold with your purchase. So maybe check out their On Her Majesty's Secret Service style anarok for £95.00 as well?
Celebrating Sweater Weather!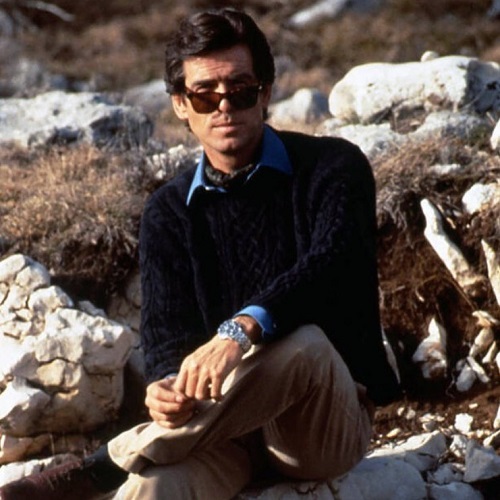 There's still time to pick up some cozy knitwear before winter really hits us with everything it's got! Or a unique polo if you plan on escaping someplace warm when the snow hits.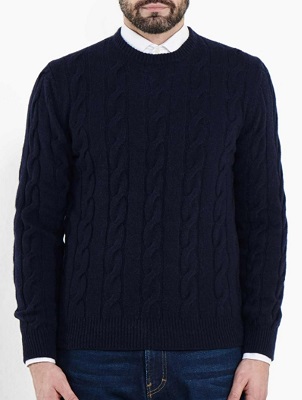 Bond's Goldeneye navy sweater was definitely more of a classic Aran design, mixing different knit patterns in a chunkier style. But this option from Maison Cashmere certainly has the right vibe, thanks to it's thicker rows of cables and higher 7 gauge, 100% 4 ply cashmere knit. Made in Tuscany, Italy, it offers a slightly more refined feel and plenty of warmth for the cold months ahead. They have sizes small to 2XL on their website.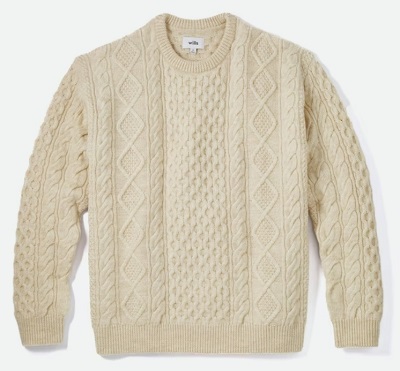 We also recently looked at alternatives for McQueen's iconic The Thomas Crown Affair Aran knit. And wouldn't you know it? Two days later, Huckberry sends out an email promoting this option from Wills, which is directly inspired by that sweater! They've used a 100% wool yarn, sourced from Patagonian sheep. and kept the knit pattern as close to the screen-used sweater as possible. It also looks to be a little more fitted than your typical Aran sweater which some of you may appreciate. Sizes medium to XL are in stock!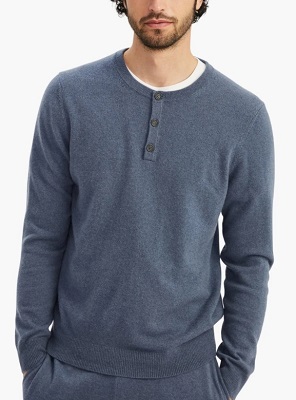 A solid alternative for a lesser known piece of Daniel Craig knitwear. We posted about his silk and cashmere henley in our article on Craig-inspired Casual Spring Style earlier this year. But since then, not too many options have shown up. However, this one gets all sorts of things right. Made from a blend of 70% recycled cashmere and 30% virgin cashmere, the color and overall style (with the exception of the ribbed knit hem) is a great match. And that 50% off sale price is very hard to beat. Layer it under a cool brown suede jacket and you'll nail the look. Naadam has sizes XS to XXL available.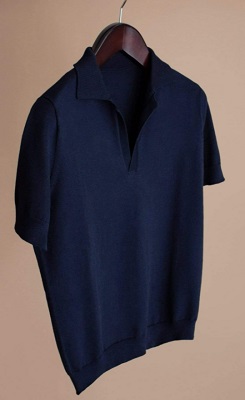 Something for your warmer weather travels that does a great job capturing that "Bond in Morocco" look from SPECTRE. They've gone with a 100% Egyptian cotton yarn imported from Italy, and 3D knit each polo using a single yarn construction to elimate any seams. And it's made in Brooklyn, New York. Sizes XS to XXL are in stock and it also comes in four other colors. But fair warning: this is designed with a screen-accurate deeper V neckline. If you've got the build and/or confidence to pull that off, then more power to you!
Cool Suede Boots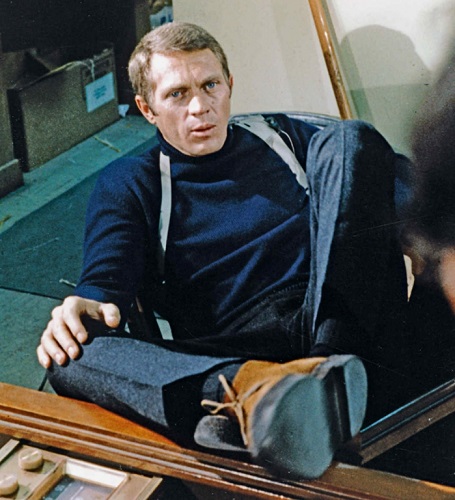 Winter isn't exactly known as "suede boot season". But there's no reason you can't throw a pair on when you get to work (even if you're still working from home). We have some new options for a trio of classic styles to get you inspired.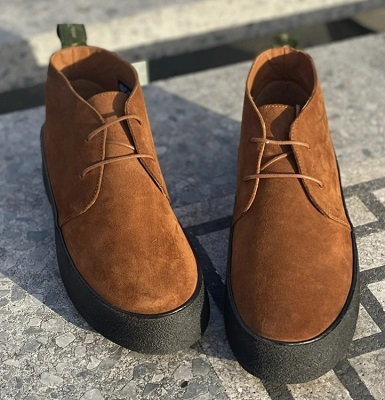 Considering that you'll be paying an additional €55,00 for shipping to the U.S. on top of that listed price, these are definitely on the expensive side. But Playboy Footwear is now the owner of the original Hutton boot design (Patent No. 392737) that McQueen wore. And they're collaborating directly with McQueen's estate for this particular model. So they're about as close to "authentic" as we can get. They've also made some improvements on the decades old design, going with a water resistant suede. But that distinctive 100% natural crepe rubber sole hasn't changed a bit!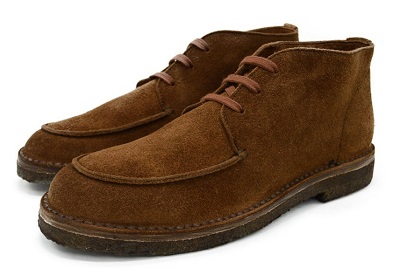 Some Bond-in-Italy style! As a person who owns way too many dark brown suede chukkas, I made the decision to go with a snuff color for my Matera alternatives. And I haven't regretted it for a second. This option from British shop A Fine Pair of Shoes also delivers the look we want, but with a similar color variation. Made in Almansa, Spain, Berwick 1707 has used a beautiful reverse kudu suede, a crepe rubber sole and that eye-catching Veldtschoen welt construction for this limited edition design. These are also unlined, so break-in time will be virtually non-existent. A Fine Pair of Shoes is currently offering them for pre-order, so expect a bit of a wait. But they do throw in a free pair of cedar shoe trees to reward you for your patience!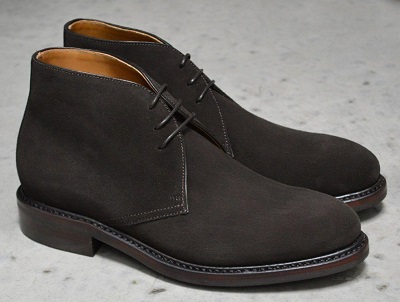 Also coming to us from A Fine Pair of Shoes, these look like a top quality alternative for Bond's Quantum of Solace chukkas (if you can get past the 3 eyelets). Like the Apron Toe boots above, these are also made in Spain and come with a full leather lining and a genuine Dainite sole with Goodyear welt construction. Seems like they're offering solid value for the money, even with any additional shipping costs.
A Collection of Awesome Gift ideas!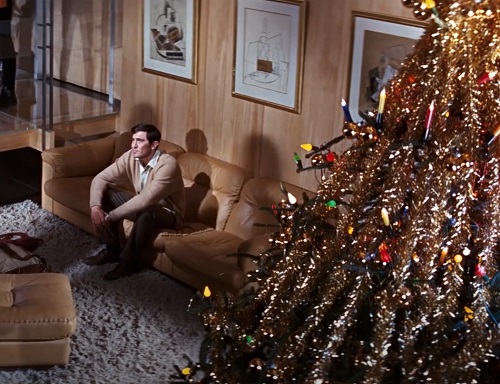 Even though this is a Best Budget Style Finds post, the gift ideas below aren't exactly what we'd call "inexpensive". I'm also thinking outside the box and offering a few suggestions from beyond the worlds of Bond and McQueen. These are ideas for guys (and gals and kids) who'd appreciate something cool, something fun and something quality. After the craziness of the last two years, I think we all deserve something extra special this Christmas!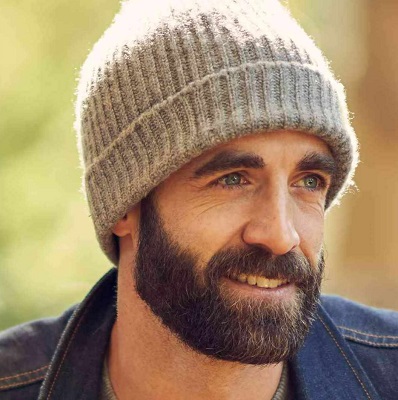 Science has now dispelled the myth that we lose half our body heat through our head (it's more like 7% to 10%). But I still choose to believe it, considering I feel ten times warmer when I'm wearing a super cozy cap. So, for me, it's worth investing in one that I know will get the job done and last for longer than just one winter. The George Beanie from Billie Todd is the kind of cap I'm talking about. They make their toques (shout out to Todd, a fellow Canadian!) in Scotland with an 8 ply Grade-A Mongolian cashmere spun by the renowned Todd & Duncan mill using a heavy-weight 12 gauge knit. And they come in four great colors. I'll have a review of the George Beanie coming next week. For now, I'll just recommend getting one for yourself (or someone you love). It's worth the investment!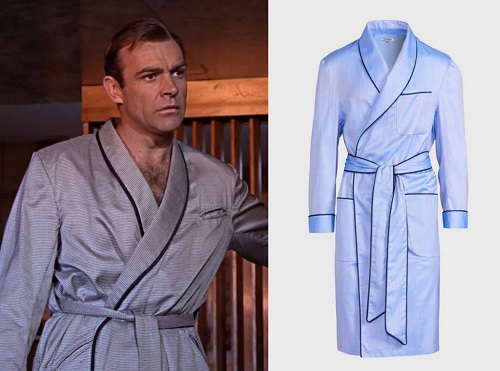 Is it entirely screen accurate? No. Bond's Goldfinger robe was a nail head pattern that came across as more of a pale grey color on screen. But boy, this alternative from Paul Stuart sure captures the other details! Made on Madison Avenue in New York City from a 100% cotton in a herringbone weave, it has the contrasting piping details, shawl collar, chest pocket and the turn back cuffs. About the only that's missing is the fringe at the end of the belt. It's perfect for the gentleman who appreciates a little luxury while enjoying his perfectly boiled egg and black coffee each morning.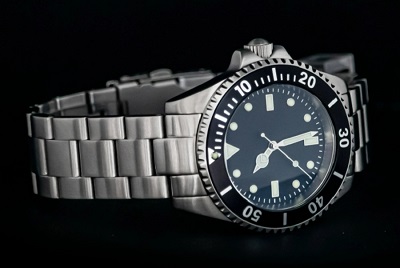 We've done a whole post on alternatives for the Rolex Ref. 5513 worn by two Bonds. This option from Enoksen is a little different. They've used a Seiko VH31 Hybrid movement, a reliable 2 jewel quartz motor that beats at four steps per second to create a smoother, more elegant sweep of the seconds hand. The case measures a versatile 41mm and the lack of a date window captures the look of the original better than most other watches out there. Plus the 316L stainless steel case topped with a scratch resistant sapphire crystal offers 300M of water resistance. So it's capable of doing more than just looking pretty. And it comes with a 24 month warranty. It's definitely packing a lot value for a sub $250 time piece!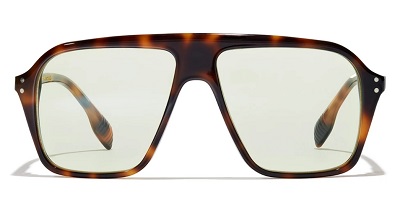 Retro-cool shades Paul Newman would have appreciated! These come from a collaboration Kirk did with the Rolling Stones. So they have a bit of rock and roll edge to them, especially those yellow tinted CR39 lenses. The premium acetate frame measures 56-15-145. They're big, but not ridiculously BUG-EYE oversized. If you're ready to add some attitude to your look, I would definitely check these out.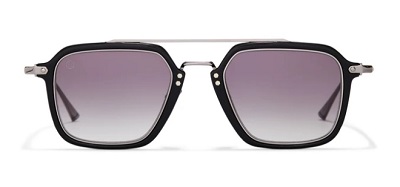 When it comes to Bond-style, I fall firmly in the "inspired by" camp. I enjoy what he wears in the films. But I also like some of my own personal taste to come through in my clothes. His sunglasses from the No Time To Die finale are a perfect example. Round frames (especially round frames with side shields) just don't work for my face shape. But something with a more geometric shape with similar design details? These will do quite nicely! And Taylor Morris also delivers the quality, using premium acetate and gunmetal stainless steel for the frames and CR39 lenses. They're sophisticated enough to wear with a suit but still sporty enough for a raid on a villain's island fortress.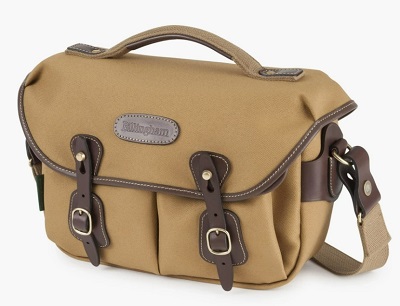 I'm always on the look out for good alternatives for Craig's Belstaff Messenger bag. And even though this option from Billingham is designed to be a camera bag, it definitely captures the style we want. Made in England from a 3-layer waterproof fabric with genuine leather accents, it's more rigid than your typical canvas satchel, which will make rummaging around inside a lot easier. They include a closed cell foam insert to store camera gear. But pull that out and you've a great looking bag for day-to-day use that's rugged enough to stand up to some abuse.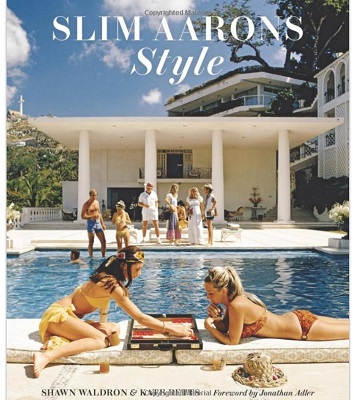 He was the photographer from the golden age of jet setters. And his images of the rich and famous relaxing on the Riviera (and in Palm Springs and Mexico) in the 1960s, 70s and 80s have become world famous. This latest collection of his work capturing "attractive people doing attractive things in attractive places" might be just what we need when the snow is piling up in the driveway.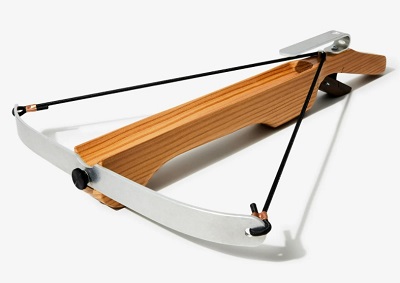 It's a hundred dollar crossbow from Canada. That fires marshmellows. And I honestly have no idea how I've gone this long without one. If you really need to make a Bond connection, say you were inspired by Melina Havelock. Also comes in black for $125.00.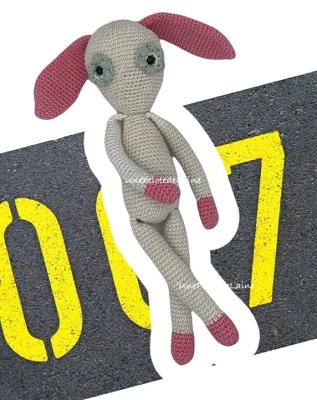 No spoilers. But if you know, you know. This particular dou dou is hand-made in France by Ursula (@naeni_unepelotedelaine on Instagram) using a 100% mercerized cotton yarn and is lightly stuffed with a fire resistant polyester fibre fill. In other words, a lot of care and attention to detail has gone into crafting this little rabbit to make it not only screen-accurate but also suitable for children over 3 years old. If you want one, act fast! There are just four left on her Instagram store!
Know of any alternatives we should feature in our next Best Budget Style Finds post? Or do you have another option for this post? Tell us about it in the comments! If you'd like to see our previous Best Budget Style Finds posts, you just need to click here. And you can always visit our Facebook page, Instagram account and Pinterest Boards for more Bond, Craig and McQueen style advice and inspiration.