The Iconic Aran Knit Sweater
A cream Aran knit sweater is about as timeless as a piece of knitwear can get. And in this post we're going to look at two excellent examples of the iconic style. First, Steve McQueen's classic design from the 1968 film The Thomas Crown Affair. Second, Chris Evan's well worn sweater from 2019's Knives Out, which really brought the Aran knit back into the spotlight. As we'll see below, the two sweaters share some similarities and some important differences, including the patterns and the fit.
Steve McQueen's The Thomas Crown Affair Aran knit sweater
Steve McQueen wore his Aran knit twice in the film. The first time was while he was hanging out at the beach in his Meyers Manx dune buggy, quietly contemplating his next move. The next was during the bonfire scene with Faye Dunaway (she's wearing one too!). However, we never really get to see the sweater in all its glory in those scenes.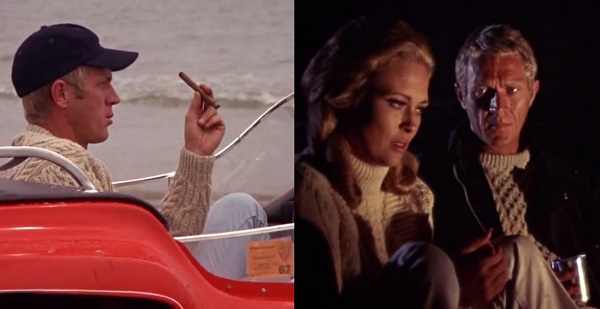 One interesting thing we can notice about the knitwear from the film is the color. Crown's sweater is not the usual cream or ivory. It looks to be more of a very light beige or sand, a less common shade that adds something a little different to the otherwise traditional design. As for the pattern, some behind-the-scenes pics from the production give us a much better look.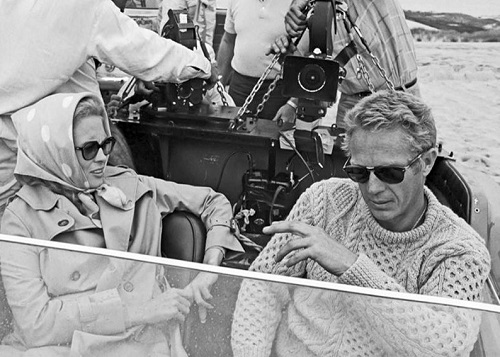 About Aran Knit Patterns
As most know, the different elements of the pattern in an Aran knit are symbolic. The cables are for the safe return of the fisherman and good luck during the day. The honeycomb represents hard work and diligence (bees). The diamond symbolizes plots of farm land, with the dots inside the diamond symbolizing the crops; together they represent wealth. And the basket weave is the fisherman's net and represents hope for a good catch.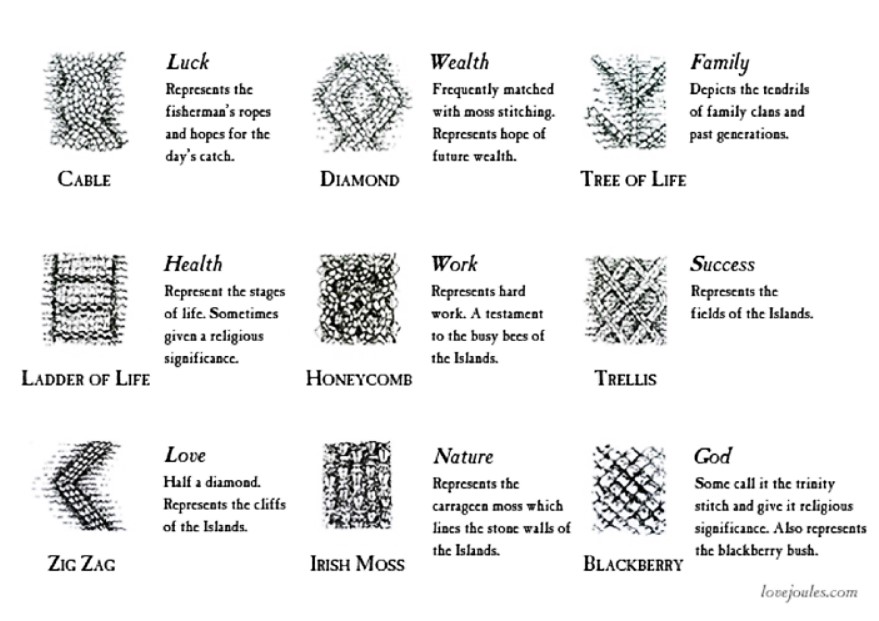 What some of you may not know is that most of this "symbolism" was made up by a self-proclaimed textile expert named Heinz Keiwe in the late 1930s. The Irish knitters didn't bother to correct anyone because "Every Sweater Tells a Story!" is a great marketing phrase.
Regardless of it's origin, the myth of the "symbolic Aran pattern" was pretty established by the time of The Thomas Crown Affair. And it's fun to analyze McQueen's sweater through that lens. The predominant patterns are honeycombs, diamonds and baskets. Unlike most Aran sweaters, the cable pattern is kept to a minimum. So the story McQueen's sweater is telling is "hard work and diligence (and a little luck) are the heart of wealth and good fortune". Which sounds about right for the character.
Best Option for The Thomas Crown Affair Aran Knit Sweater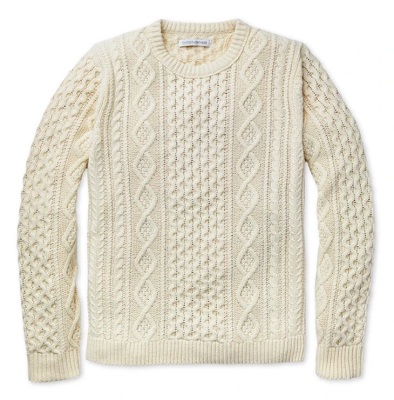 A 55% extrafine Merino wool and 45% organic cotton blend gives us a slightly lighter weight option. This is also a trimmer, more contemporary fit, which helps reduce the bulk we normally associate with Aran knits. But the sweater is still fully fashioned, which means the panels are knit together rather than sewn (which is what you'll see on less expensive knitwear). Last but not least, although the Birch color leans a little more cream than we want, the pattern is a great match for McQueen's sweater. Sizes small to XXL are in stock on their website.
Under $100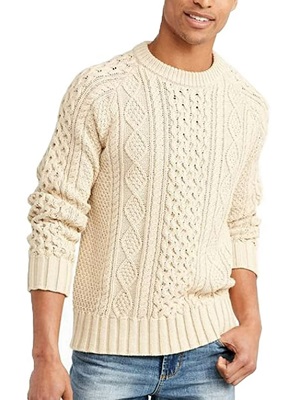 Someone on Instagram reminded me that some people are allergic to wool. So here's a 100% acrylic option that comes pretty darn close to the look we want. And it's budget friendly as well! You'll find a good selection of sizes on Amazon.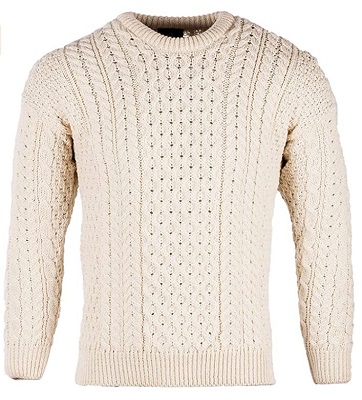 A good, basic Aran knit, made in Ireland from 100% wool. The color is a traditional "natural". So it will lean more cream in tone than the one McQueen wore. The pattern also has a few subtle differences. And I have to say I'm not a huge fan of the way the sleeves are attached to the body (check out the knit at the shoulders on this one and then compare it to the "Best Option" above). But you can easily order this one through Amazon (and easily return it if it doesn't meet your expectations).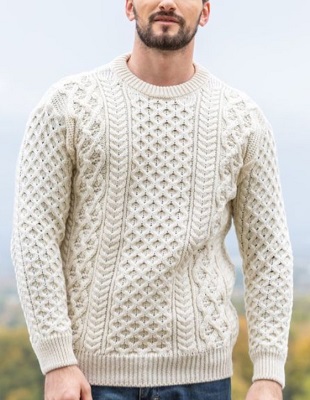 This 100% Merino wool alternative is very similar to our "Best Option" above. But the fit is more traditional, with a fuller fit and slightly dropped shoulders. I'm including it for you gentlemen who want a good quality sweater at a fair price, but would prefer a more generous cut through the sleeves and body. Sizes XS to 3XL are available on their website.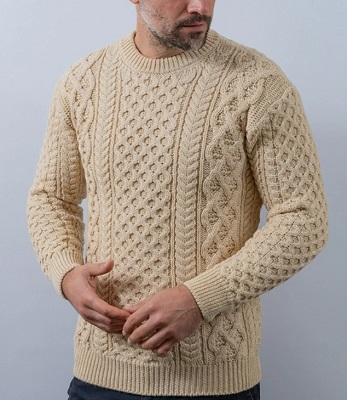 A former "Best Option". That Oatmeal tone looks like a great match for the one Mr. Crown was wearing. The pattern is also very similar. There's a couple of extra cables down the sides of the body. But the wider band of more intricate honeycombing down the sleeves is almost exactly what we want. And the 100% Merino wool they've used for this sweater should feel nice and soft right out of the box. Lastly, there's the fit. Traditional Aran sweaters tend to be a little boxy and/or baggy. However, this sweater is knit to fit a little closer through the body and sleeves, which gives it more more fitted, contemporary look. The price is pretty great too! Aran Sweater Market has sizes XS to XXXL in stock.
Under $200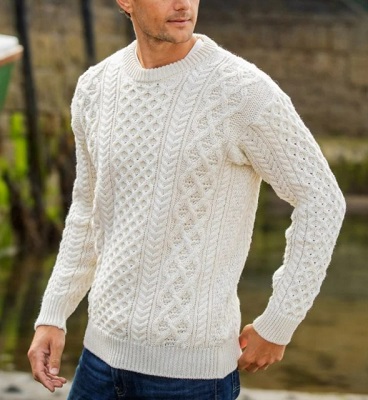 Coming to us from the Irish Store, another 100% Merino wool option in a pattern that comes close to Mr. Crown's sweater. Why choose this one? Aside from its slimmer, more contemporary fit, it has 4.8 starts out of 5 after more than one hundred customer reviews. So folks seem pretty darn happy with it! The Irish Store has sizes small to XXL in stock.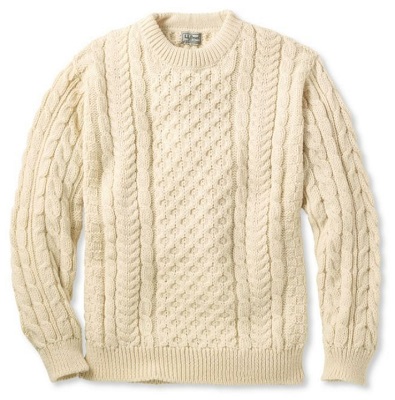 A classic design from the woodsy American heritage brand. Made in Ireland from 100% wool, it doesn't quite have the pattern we want. But it certainly delivers the authenticity, blending together the Americana of McQueen with the traditions of the Emerald Isle.
If you're looking for a lighter weight sweater (or are sensitive to wool), definitely check L.L. Bean's Signature Cotton Fisherman Sweater in Beige for $99.00. It'll work well for those of you that don't have to face particulary frigid temperatures. And the pattern is an even better match for McQueen's Aran knit than the Heritage version. L.L. Beans has plenty of sizes of both models in stock.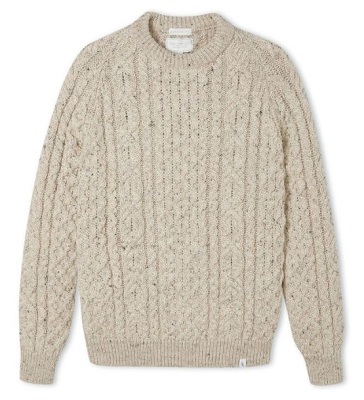 And now for something a little different. Peregrine's Hudson is made in England from 100% British wool ("sourced no more than 60 miles" from the Peregrine factory). Design-wise, the pattern is a pretty good match for McQueen's version. As is the main color, which has a beige main tone with darker flecks running through the yarn to give it some pop. All in all, I'd say Peregrine has done a great job giving the traditional Aran knit a bit of a modern twist.
Also, after wading through a sea of websites stuffed with photos of happy Irish men standing in sunny fields wearing their classic sweaters, I have to give props to Peregrine for including this pic on their product page: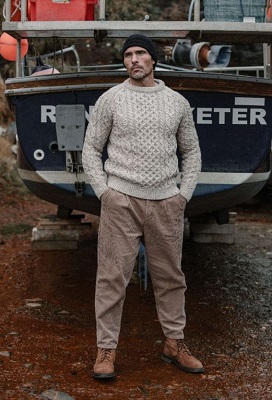 About finding your size: finding the one you need at a decent price is a bit like playing whack-a-mole. Your best bet is probably Bombinate, which I've linked to above. They have sizes medium to XXL in stock and are currently running a code that gives you 15% off the price. But you can also order it directly from Peregrine if you're in the UK.
The Investment Pieces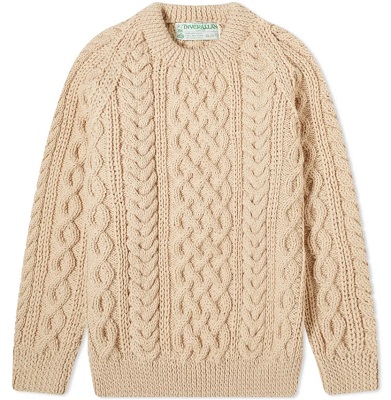 So if you can get a proper, made-in-Ireland Aran knit for around a hundred bucks, why would anyone pay two and half times that? Well, as I mentioned about Inverallan in our post on Essential Bond Sweaters, their sweaters are hand-knit by the family owned company in Alloa, Scotland. So each piece will be subtly unique. Hand knitting, while certainly more time consuming and labor intensive, also produces a heavier knit sweater with a full-fashioned construction. So expect a better fit and high quality finishes. It's an investment for sure. But it will be worth it for some of us looking for something really special. I've linked to END clothing above since they have a good price and easy shipping to the U.S. But you can also check out Inverallan's website for more information about the company and its products.
For other options for true hand-knit Aran sweaters, check out the Donegal Aran Sweater from The Irish Store (on sale for $279.95; this is actually the sweater I have, if that means anything).
Ransom Drysdale's Knives Out Aran Knit Sweater
The Aran knit sweater has recently returned to the spotlight thanks to Captain America himself, Chris Evans. The great "Daniel Craig does Agatha Christie" film Knives Out features Evan's character, smug rich boy Hugh Ransom Drysdale, wearing a beaten-to-hell version through a good part of its runtime. If you're interested, there's a fun interview in The Hollywood Reporter with the Knives Out costumer designer Jenny Eagan about how the sweater made it to the screen (and how it got all those holes).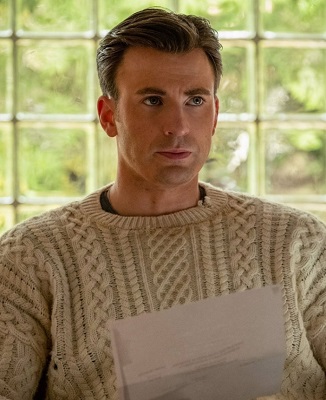 As we noted above, there are some important differences  between McQueen's sweater and Chris Evan's sweater. According to this excellent analysis of the costume from our friend BAMF Style, Ransom's sweater came from French fashion brand The Kooples and retailed for $395.00. Made from a lighter weight wool and cashmere blend, it was designed to be an oversized fit. Which explains why Evan's wore a size small in the film. And, perhaps most surprisingly, it already came pre-distressed (although the costume department added some extra wear and tear). In other words, it's not really what we could call an "authentic" Irish Aran knit.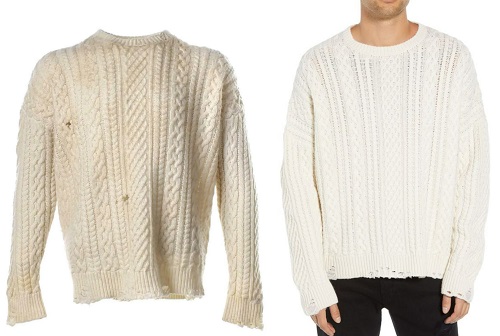 About the pattern of Ransom's Sweater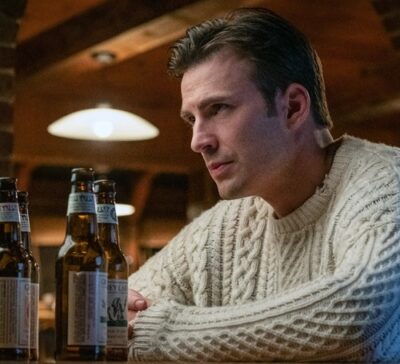 If we can learn something about the character of McQueen's Thomas Crown from the knit pattern of his sweater, what can we learn about Ransom if we analyze the pattern on his? Well, the the strips of honeycomb stitching (meaning hard work) in the center and on the sleeves  are very narrow. Instead the sweater is dominated by lots of cables which symbolize "luck" and lines of what look like "Tree of Life" patterns, meaning "family". So, the story here is: get lucky with your family and you can be successful without really trying. Which definitely sounds like Ransom.
And now that I've shared a lot of completely useless information, on to the alternatives!
Best Option for Ransom's Knives Out Aran Knit Sweater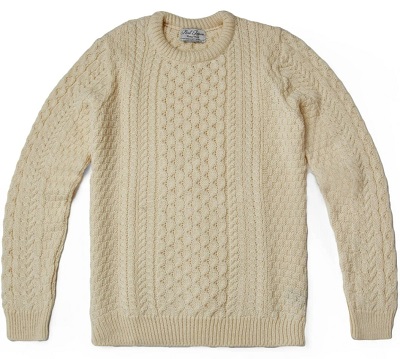 A great pattern match in a chunky 5 gauge knit 100% British wool. And it's made in the England. I've been very happy with the navy Modern Submariner sweater I received from Paul James (you can read my review here). So I have no hesitation recommending the company. This particular Aran knit also has 4.8 stars out 5 after 190 customer reviews (just in case you don't trust my opinion). And the price is certainly reasonable for what they deliver. You'll find sizes XS to XXL in stock on their website.
Under $100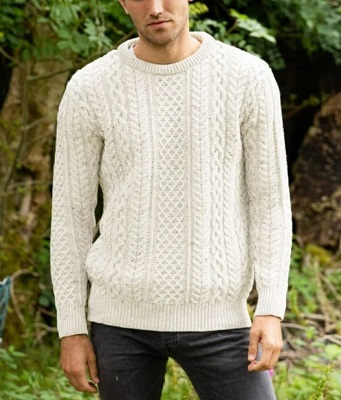 The Irish Store actually mentions Chris Evan's Knives Out sweater in the product description for their O'Connell. And I have to admit: it's a heck of a good match, right down to the narrow honeycomb panel in the center and on the sleeves! Made in Ireland from a soft Merino wool, it'll deliver the look we want at an affordable price. Sizes small to XXL are available on their website.
Under $200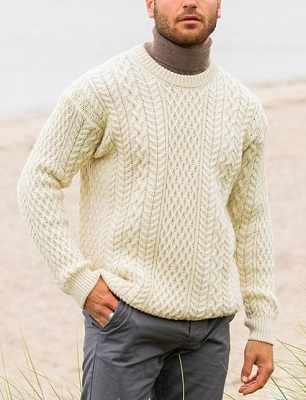 Another option from The Irish Store, again made in Ireland from 100% Merino wool. The pattern is very similar to the O'Connell model above. But the Slievemore has a more traditional fit with the classic drop shoulders and roomier cut. Sizes small to XXL can be found on their website.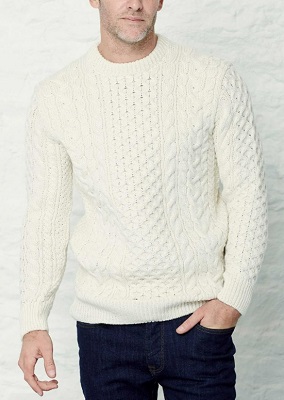 Traditional styling, a pretty-darn-close pattern and it's made in Ireland from 100% Merino wool. The big difference here is the fit. It's trimmer through the body and sleeves giving the classic a more modern look. They have sizes small to XXL in stock, but some of the customer comments recommend sizing up if you want a more forgiving fit.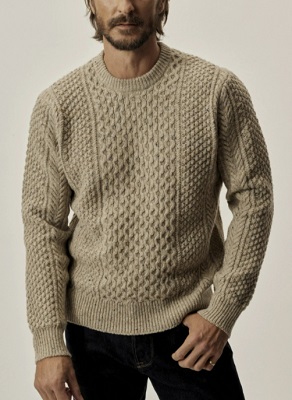 An interesting choice for those of you who want a break from the traditional. The pattern on Buck Mason's Donegal Cable Crew is a pretty good match for Ransom's and still classic, if a little more subdued. However it's the fabric (and that color) that really make it stand out in a sea of ivory sweaters. Made from a darker shade of Merino wool, nylon and alpaca blend yarn, it should feel soft and comfortable as soon as you put it on. The fit is also more contemporary, with a slimmer (but not skinny) fit through the body and sleeves. It's not the most screen accurate choice. But it definitely has some character! You'll find sizes XS to XXL on the Buck Mason website.
If you have any comments or suggestions for alternatives for the iconic Aran knit sweaters from The Thomas Crown Affair or Knives Out, leave them in the comments below. And remember to visit our Facebook page, Instagram account and Pinterest Boards for more style icon inspiration!
Information for this post was sourced from The Irish Store, DoChara and In Stitches. Black and white photographs were sourced from Getty Images.