The Iconic Sheepskin Jacket
Updated December 2nd, 2022 – Welcome to our indepth exploration of the iconic sheepskin jacket! In this post we're going to look at four different designs of winter ready shearling outerwear: the classic B-3 bomber (and its close relative the B-6), the versatile rancher coat, and the shearling lined B-3/B-6 and G-1/A-2 variations worn by Daniel Craig. But first, I wanted to discuss what we should look for in a good sheepskin jacket so we can make sure we're getting the best value for our money. And for that insight, I turned to one of the most experienced manufacturers of shearling outerwear in the market today: Overland.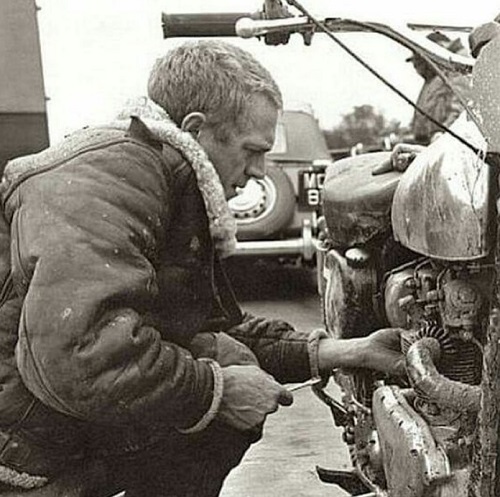 About Overland
Overland was established in 1973 by the Leahy family in Taos, New Mexico. What started as small operation handstitiching their first coats and jackets in a small adobe workshop has now grown into an industry leader, with 17 stores throughout the U.S and an international clientele. Aside from the quality of their leathers and construction, one of Overland's greatest strengths has been in design. While they embrace the heritage behind styles like the B-3 and the rancher, they're not afraid to refine the originals with more contemporary fits and refined finishes.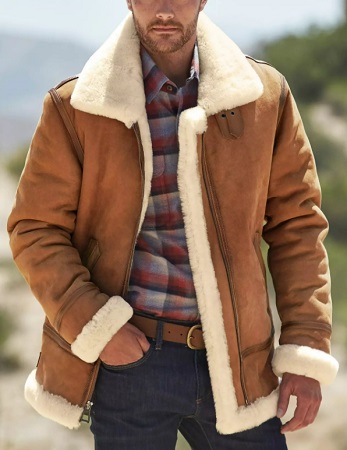 To find out what to look for when shopping for a shearling coat or jacket, we spoke with Mr. Monty Goodson, a member of Overland's product development team and a man with more than 25 years experience working with the highest quality sheepskins in the world.
Mr. Goodson shares his expertise
First, just to clear up some terminology, is there a difference between "sheepskin" and "shearling"?
There is some historical and technical differences between the two. But today almost everyone uses them interchangeably when we're talking about the natural material.
In your experience, why do people still choose sheepskin for winter coats when there are all these modern fabrics and insulations available?
There are many reasons. Sheepskin is a natural fiber that's uniquely insulating, breathable and very durable while still being exceptionally soft. So, all in all, it's an ideal winter coat material because it combines warmth with comfort and style. With synthetics, you need to add a lot of bulk to acheive the same level of warmth. And synthetics are more prone to damage through wear and tear, so they won't last as long. On the other hand, a good sheepskin coat will last decades and just get better with age if it's properly maintained.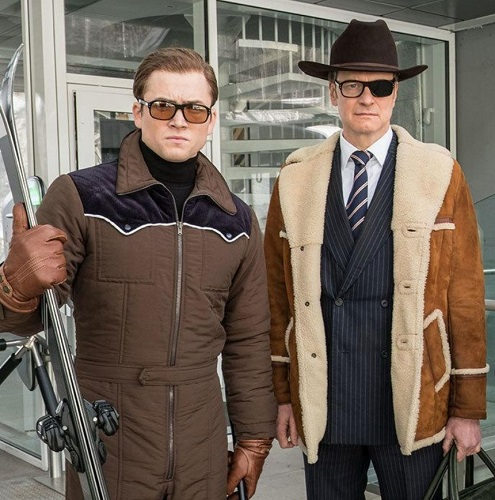 Changing the look of sheepskin
We've also seen that sheepskin can be used in a variety of different ways when making outerwear, from the exterior finishes to the color. Is one better than another?
Any sheepskin coat is a full grain leather, since the wool is still attached to the outside or top of the hide. So what you're seeing are different finishes to the under side or suede side of the leather, since the hide is basically turned inside out to make the jacket. Those treatments can range from very natural finishes that keep the suede texture to special tanning processes that can give the hide a vintage, distressed leather look. Ultimately, the choice of what finish to go with is a matter of personal preference, since it doesn't affect the performance of the sheepskin.
You can also find high quality coats and jackets that are lined with natural sheepskin. In these cases, a layer of another material is added on top of the full grain sheepskin to give the piece a different look and feel. For example, Overland has the Oscar Car Coat, which lines a wool and Alpaca blend outer fabric with natural shearling to create the look of a classic topcoat. And we use shearling lined leathers and suedes for some of our premium Jack Frost jackets. The decision to add another material is really about design and style since you'll still enjoy all the benefits of using sheepskin.
Checking the quality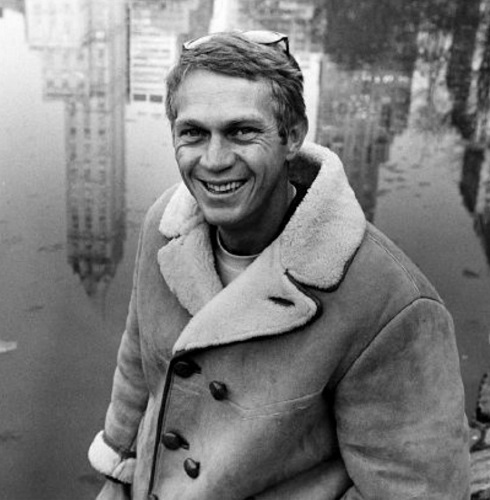 As an expert in sheepskin, if you were going to buy a jacket for yourself, what are some of the key things you'd look for to make sure you're getting the best value for your investment?
In terms of quality, there are a whole range of different hides available and the one the coatmaker chooses will often depend on the style of outerwear they're making. You can have high-quality skins, but the leather might be thicker or the wool might be a little coarser or longer. And that type of sheepskin might work well for more rugged styles, like bomber jackets. If you want a more sophisticated coat, a lighter weight sheepskin might be a better choice. So the characteristics you're looking for in a quality jacket or coat will vary depending on the design you want and your lifestyle.
But in general, I look at the lightness and flexibility of the skin and the softness of the wool fleece. That combination will provide excellent insulation for the weight, but will still be very comfortable and durable. For example, Merino sheepskins are some of the very best available. They have beautifully finished suede sides and the wool side is incredibly soft, almost like a fur. They're expensive. But they will last for decades and develop a wonderful patina.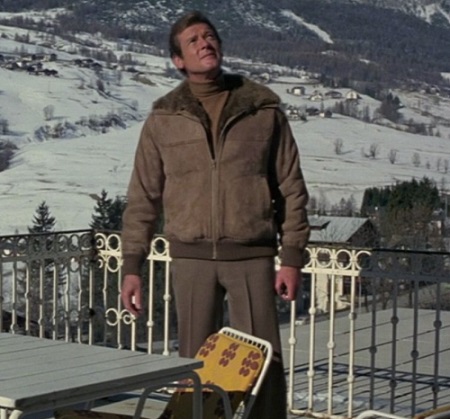 You also need to consider the quality of the construction and how the coat or jacket is cut to create a flattering fit. Obviously, it's impossible to to see and feel all these characteristics if you're buying the jacket online. If you can, it's really best to buy your coat or jacket in person so you can experience the quality firsthand. But if you are going to buy one online, my best advice would be to purchase from an experienced and reputable manufacturer.
The ethics of sheepskin and shearling
There are also some questions around the sourcing of sheepskin. How does Overland ensure your products are ethically sourced?
That's a very important question. We work with vetted partners around the world to produce our coats and jackets. And many are small workshops and family-run businesses like ourselves. But they are all experts in their specializations. We source our sheepskin from regions where there are long traditions of sheep-herding and the tanning is most often done in European facilities. The jackets and coats are then handcrafted by skilled partners in Turkey or here in the U.S. Maintaining a close connection with all our suppliers to ensure our high standards are consistently met is one of our core values.
And this is another important reason to buy your sheepskin jacket from a reputable company. You can find plenty of inexpensive sheepskin jackets on the market today. There are obvious questions about the quality of those pieces since most will use sub-par pelts and hides that are very heavy, stiffer or have much coarser wool. Things like the stitiching or the hardware they use can also be an issue. But we also need to ask how those jackets were made and under what conditions?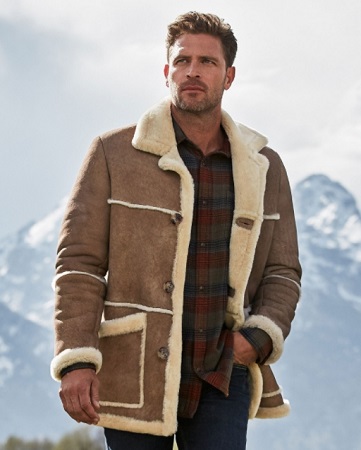 Crafting a high quality sheepskin garment takes years of training. Which is why we're so careful about choosing our partners and prefer working with sources that share our values. When you combine high quality materials with skilled design and manufacturing, it's certainly going to make the coat or jacket more expensive. But that coat or jacket is also something you can feel proud to wear for years to come.
Thank you to Overland and Monty Goodson for sharing their expertise! If you'd like to learn more about Overland, visit their website or emails them at [email protected]. They have a great customer service team that's always ready to help. And now on to the alternatives!
The B-3 and B-6 Sheepskin Bombers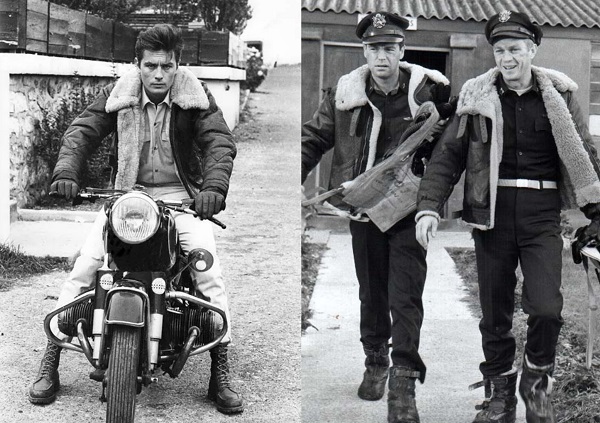 When most of us think of sheepskin bomber jackets, this is the style that comes to mind. The B-3 was first introduced into the U.S. military in 1934 for use by bomber crews flying at high altitudes. It was thick and bulky but incredibly warm. The B-6 soon followed in 1939 as a slimmer fitting, lighter wieght version of B-3. Another way to tell the difference between the two models is the number of throat latches: the B-3 had two and the B-6 only one. If you'd like more information on the different models, this article at Heddels gives a great overview.
Today, most brands just call their shearling bombers B-3s. But unless it's an actual era-accurate reproduction of the first model, today's sheepskin bombers are actually closer to the more tailored B-6. And of course we haven't even gotten into the various designs used by other military, such as the RAF bombers from England.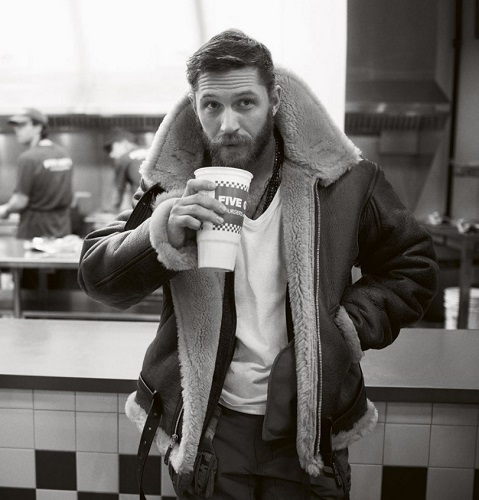 With the variety of sheepskin bombers currently available, choosing the "right" jacket really comes down to your personal taste. You can find thicker and historically accurate models, lighter weight and more tailored versions and everything in between. For our alternatives, I've tried to include options in different styles to give us some choice.
Best Option for the Sheepskin Bomber Jacket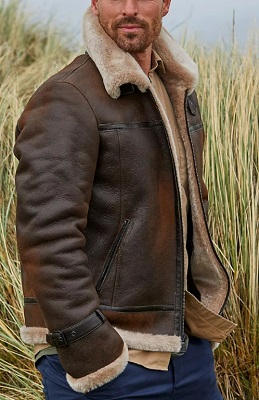 A classic design that does the antique distressing right and captures the important details without going over the top with the straps, buckles or collar size. And, unlike so many other sheepskin bombers out there, this one keeps the fit on the trimmer side to give it a more refined look. Made in Turkey with over four pounds of sheepskin, it's definitely delivering the warmth we want. And if things get really cold, you can attach the zip-on sheepskin hood! Last, but certainly not least, it's priced in a sweet spot for many. Overland offers significantly higher quality than many of the sub-$500 options without making you pay extra for a fashion brand name. Want something in a similar style for a little less money? Check out their Classic Sheepskin B-3 in dark brown for $695.00.
Under $1000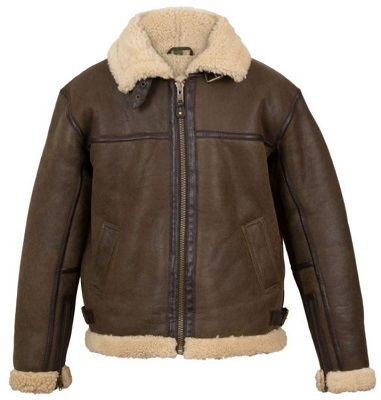 It has the rugged style of the original while still updating the general look with a trimmer fit and and cleaner look. Based in Grantham, England, and now over 40 years old, Hidepark has a solid reputation and their products are carried by 40 stockists throughout the UK. So you know you're buying from an established company. And they offer free international shipping on orders over £150! Sizes small to 2XL are in stock on their website.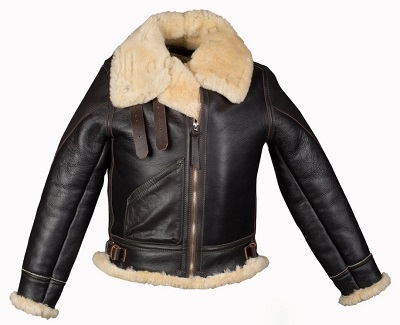 Simmons Bilt is one of the better kept secrets in the world of vintage inspired leather jackets. But the people that have one of their pieces rave about them. Each jacket is made on a per order basis by their team of specialists in their Scotland workshop. This means you can choose the color and thickness of your shearling from eight different options and make some other small tweaks to the design. It also means you'll need to be a little patient for it to be delivered. However, when you're getting a jacket that's going to last a lifetime, it's worth the wait.
The Investment Pieces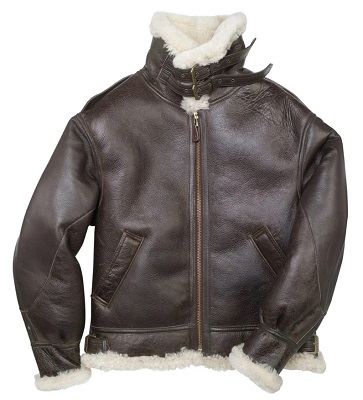 About as close to the real deal as you can get without actually buying a vintage leather jacket. Cockpit USA was started in 1975 by Jeff and Jackie Clyman (they still run the show) and prides itself on it's made in the USA constuction, high quality materials and attention to detail. The jackets are built to take a beating but are incredibly soft from the start thanks to Jeff's quest to find the best sheepskin and leather for each piece. And somebody important must have noticed all that hard work, since Cockpit USA has been a supplier to the US Government since 1980 and the US Air Force still uses their A-2 Leather Pilot Jacket.
Long story short: if you want a truly classic B-3 design and understand you'll be investing a jacket that will last decades, this is an excellent option. Just note that their jackets are extremely popular. So if you want one for Christmas order fast! Otherwise, you may be waiting a while for delivery.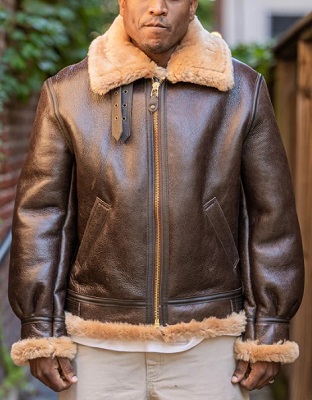 Schott has delivered a pretty period accurate take on the classic B-3 design, with the double throat latches and a generous fit. Made in the U.S. with genuine heavyweight sheepskin, it's should have no problem keeping you warm on the coldest days! Franklin & Poe have sizes 38 to 44 in stock. If you need another sizes, Schott has some bigger ones in stock. But smaller sizes are only available for pre-order at this time.
Other Alternatives
The Daniel Craig Sheepskin Bomber Jacket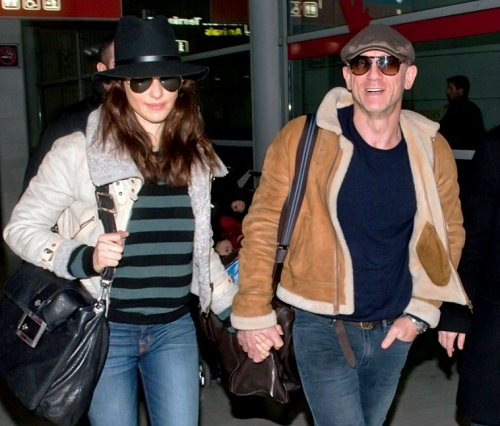 Daniel Craig has been spotted wearing a few different sheepskin outerwear styles. But this is probably the most well known. Craig's jacket was custom made for him by Four Seasons Furs in Toronto. And for a good part of the early 2010s, he seemed to be wearing it everywhere. The design, a modern interpretation of the B-6 made from a light tan sheepskin, really does make it a great choice if your looking for a versatile bomber that can work with both rugged and more refined looks. David Zaritsky of The Bond Experience actually had Four Seasons Furs make him the same jacket for personal use and you can check out this video (starting at the 11:30 mark) for a full analysis!
Best Option for the Daniel Craig Style Sheepskin Bomber Jacket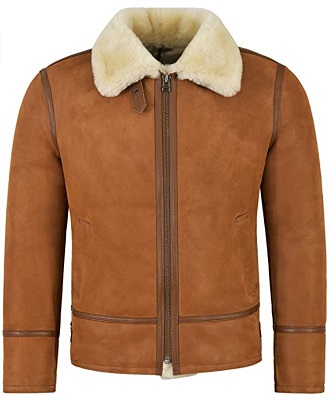 In the past when I've shared alternatives for Daniel Craig's shearling bomber jacket, I've almost always started with this option from Smart Range. To put it simply, it was a great match at a very reasonable price and used to be easily ordered from Amazon in the U.S. and UK. However, there have been some recent changes at the company. Smart Range has opened its own retail operation called Boutique England. Which means you now need to buy it directly from them. The good news is Boutique England has already earned a very impressive Trustpilot score of 4.9 stars out 5 after 114 reviews.
This particular model retails for £300.00 on their website, with an additional £24.99 for shipping to the U.S. (shipping is free for those of you in the UK). That brings the price to around $390.00, which is about what the original Smart Range went for on Amazon. With that information, I still feel pretty comfortable recommending it as the Best Option. Although ordering may not be as simple as it once was.
Under $500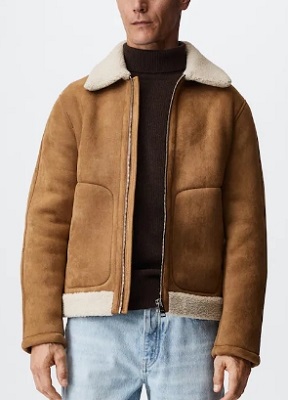 If you're avoiding genuine sheepskin for personal or budget reasons, Mango has done a nice job of capturing the look using a faux shearling material. Obviously this isn't a "lifetime' jacket. But if you just want to play around with the style, you could do a lot worse. They have sizes medium to XL on their website, with an estimated delivery time of about 1 week.
Under $1000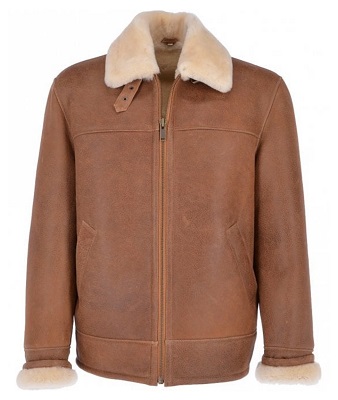 This is a genuine sheepskin jacket, but with the exterior treated to give it a smoother finish for more a "full grain leather" look. The hide is sourced from Ashwood Leather, a fairly well respected tannery and cutting service with its own factories in China, India, Pakistan and Turkey. So in terms of quality, it seems to be offering a lot for the price. Not exactly the best match for Craig's jacket. But definitely a good "inspired by" option, especially if you prefer the look of leather over suede. You'll find sizes small to 5XL on the Leather Company website.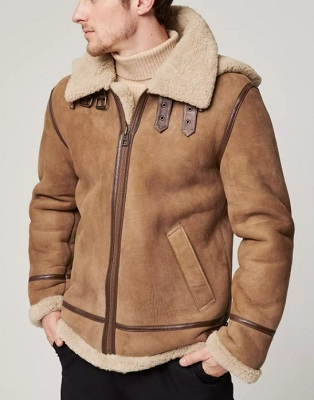 Putting aside the darker leather seam trim and slightly longer cut, this is a high quality option that captures the look we want while adding some of its own character. The styling is more in line with the classic B-3, complete with the dual strap closures at that collar and side tab adjusters. But the lighter tan color gives it a more modern look. And the medium weight sheepskin reduces the bulk we normally associate with vintage pilots jackets. As a bonus, it also comes with a removeable hood for those days when your head needs some extra insulation. Overland has sizes XS to XXXL on their website.
The Investment Piece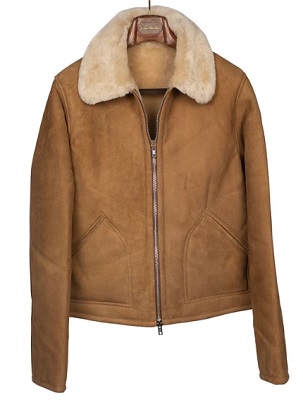 Often sold out, this particular jacket has become a grail of sorts for many menswear afficionados. Lucky for us, No Man Walks Alone has just received a re-stock and currently has sizes 38 to 44 available. Made in England from a beautifully soft sheepskin with a suede finish, it's a minimalist design with a more modern fit. So it will work great with both casual and slightly dressier looks. If you like this style of shearling jacket and are ready to make an investment, this is definitely one to seriously consider.
Other Alternatives:
The Rancher Style Sheepskin Coat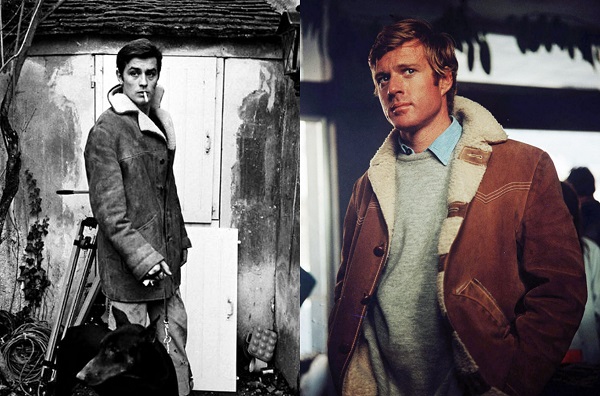 From the late 1950s to the 1970s, a rancher style sheepskin was the coat everyone wanted to wear. Embraced by beatniks, preppies and cowboys alike (as well as the iconic Marlboro Man), it was an incredibly versatile design that could work with almost any look. And now, after a few decades of relative obscurity, the Rancher is making a big comeback.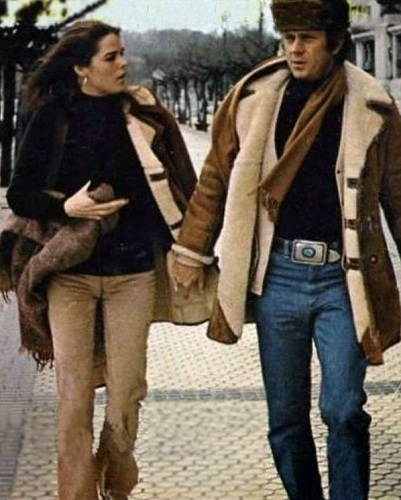 If you're interested in learning more about the rancher sheepkin coat in classic films, our friend BAMF Style has a great series of articles that are worth checking out. There's Robert Redford's western style coat in Downhill Racer, Alain Delon's car coat inspired outerwear in Once a Thief, Ryan O'Neal's Ivy League take on the style in Love Story and Tom Hardy's disillusioned British spy circa 1973 look in Tinker Tailor Solider Spy. All should give you some great ideas on how to wear the rancher!
Best Option for the Rancher Style Sheepskin Coat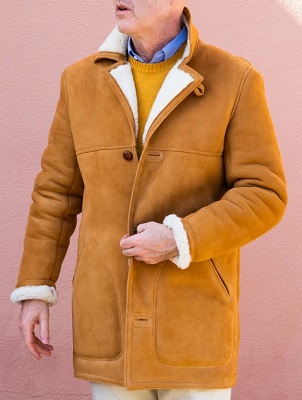 Our friends at Hutton (makers of Steve McQueen's original Playtime chukkas) based this design on the famous coat worn by Ryan O'Neal as Oliver Barrett in the 1970 film Love Story. And they do a great job describing the process of creation in this article. Made in England by Owen Barry (you're going to hear that name a lot!), 'The Oliver' has all the details we could want: a soft and supple medium weight sheepskin with a suede finish, brown leather football buttons and a trimmer fit that's perfect for more casual looks. You do need to pre-order this jacket, with an approximate wait time of 3 to 4 weeks. To do that, click on the "Sold Out: Notify Me When Available" button on the product page, enter your email and Hutton will be in contact with you to make all the arrangements.
Under $1000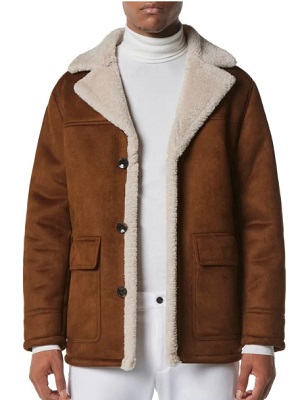 Faux shearling with a sueded finish that actually doesn't look too fake. And I actually like the design. The darker snuff brown color, wider lapels and flapped patch pockets bring something different to the table. Saks Off 5th has sizes small to XXL in stock. And if you use the code WINTER you'll get an extra 30% knocked off the price!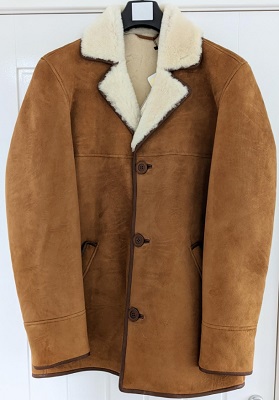 There's a lot about this jacket that's attractive. The style definitely captures the classic look we want (the dark leather trim around the edges is a nice McQueen touch). And they use genuine British sheepskin. Plus, despite the generic sounding name, the company has 4.6 stars out of 5 on Trustpilot, with 80% of the reviews being "Excellent". Finally, there's that very reasonable price. Even better: those of you in the UK get free shipping. For those of you in the US, you'll need to pay for delivery, but VAT will be deducted from the already reduced sale price. That's pretty good value for the money!
Under $2000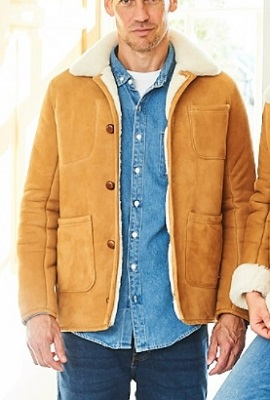 Okay, so it's not exactly a McQueen, Delon or Redford style. But I still like it! Going with a workwear inspired chore coat design works very well with sheepskin and really helps emphasize its rugged character. As for the quality: Owen Barry has over 60 years of experience working with fine leathers and hand cuts and makes each jacket in their own Somerset, England factory from a medium weight sheepskin. The details include two patch hip pockets with both top and side entry (for keeping your hands warm), an interior pocket and leather football buttons. And it comes in regular and long lengths. All in all, it's a pretty impressive piece of outerwear for those you looking for something a little different.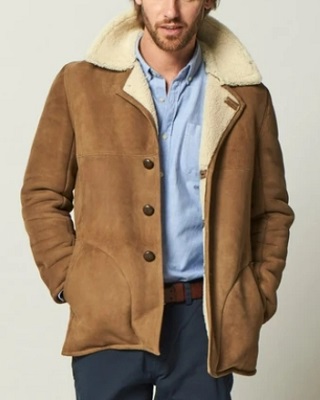 The L'Atelier Global coat absolutely nails all the details that make this design so timeless. Made in Somerset, England (by Owen Barry, I'm going to assume) from Merino curly sheepskin, it features tailored buttonholes, leather football buttons and front handwarmer pockets. And the length is darn near perfect. If you want to own that classic McQueen or Redford style, this is an excellent choice. Sizes small to XXL are in stock on their website.
The Investment Piece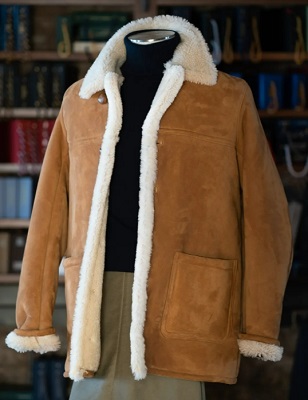 I really love visiting the Amoury brick and mortar store. Founders Mark Cho and Alan See do an amazing job of curating some of the best casual and tailored menswear out there for their customers. And when they can't find exactly what want, they work with top quality manufacturers to create it. In the case of their Shearling Coat, they partnered with Owen Barry (a very popular partner for shearling collabs, as you've probably noticed!) and based the design on the coat worn by Alain Delon in Once a Thief. Seeing as this is a post about sheepskin jackets inspired by style icons, I would have included it here for that reason alone. But it also happens to be a beautiful piece of outerwear that will never go out of style. The Armoury has sizes XS to XXL on their website.
Other Alternatives:
Daniel Craig's Vintage Schott 674 in Tan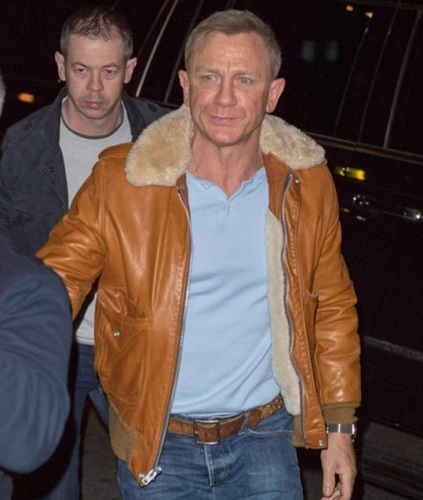 When the Instagram account WhatsDanielWearing posted a photo of Daniel Craig (looking a little grumpy) entering a Saturday Night Live after-party in March, 2020, the brand of his leather and shearling jacket was still unknown. Of course, being the great detective that he is, WhatsDanielWearing was eventually able to ID it: it's a vintage Schott 674 in Tan with the the less common ivory shearling liner.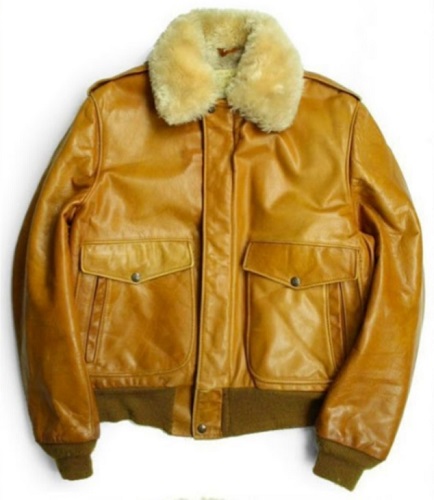 The 674's design is a mix of the classic G-1 and A-2 jackets from the 1940s, which gives it a distinctive military look (especially with the epaulets). But the orange tinted Cognac color has a real 1970s vibe which makes certainly helps it stand out in a world of dark brown bombers. You can still find vintage 674s on Ebay, Grailed and other re-seller websites if you're patient, although most will come with the more common brown shearling liner. Don't want to wait? Let's get rolling with the alternatives!
Best Option for Daniel Craig's Vintage Schott 674 in Tan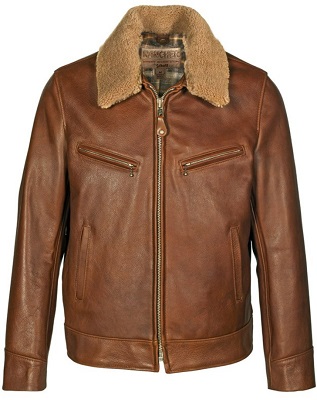 We'll start with something from the original brand. If you know leather jackets, you know the history of Schott. And although you could go with their current Bomber Jacket in Naked Buffalo ($998.00) for more of that G-1/A-2 style, its darker brown color really isn't the best match. On the other hand, that Luggage color of the Rancher is a really nice shade of medium brown and something you don't see every day. Although the jacket is only lined with Schott's classic plaid brushed cotton, the detachable collar is genuine curly sheepskin. Stag Provisions has sizes small to XL in stock and offer free shipping in the U.S. You can also order the jacket directly from Schott.
If your personal style leans more towards western wear, you should also check out Schott's Buffalo Leather Trucker Jacket with Sheepskin Collar in Sycamore ($985.00). It has a faux shearling lining but the collar is genuine sheepskin. And while the design has more in common with a typical jean jacket, the color is a great match for the one Craig wore. I've linked to Nordstrom, since they offer free shipping and returns. But you can also order it directly from Schott.
Under $500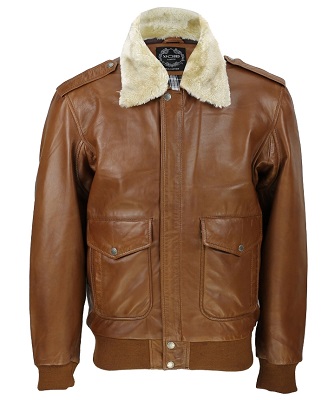 An Ebay special that ships out of the UK (hence the high delivery cost). They've used a faux shearling collar and gone with a basic cotton lining. But the shell is genuine leather (I just wouldn't expect the best quality). And the design is almost exactly what we want, right down to the epaulets. Those of you in the U.S. will find sizes XS to 6XL on Ebay; size small is currently sold out. If you're in the UK, you can also order it on Ebay for £109.99 or you can try Amazon.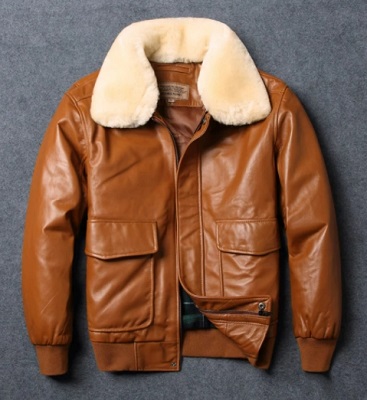 And now an AliExpress special. But it does claim to be genuine sheepskin leather with a Mouton shearling collar. It also clearly states in the product description that it's "Proudly made in China". So it's not like they're trying to hide the country of origin. And, with the exception of the shearling liner, it definitely nails all the right style details. I think this is supposed to be a copy of the Avirex G-1 rather than the Schott 674. However, the designs are so similar that it's close enough for horseshoes. I have no idea about the quality of the material and construction. But they do have sizes small to XXXL in case you want to roll the dice. Just remember to read that size chart carefully!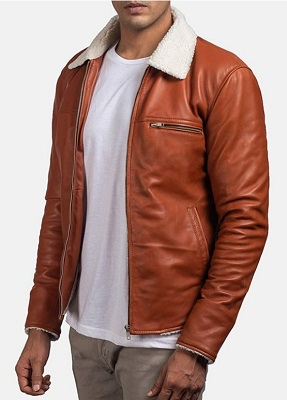 For those you who like the style of Craig's 674 but want something lighter weight, this option from The Jacket Maker should do the trick. It's made from sheepskin leather but the interior is lined with a faux fur, which helps explain the affordable price. Although the styling isn't the best match the G-1-like 674, you can customize the design with their made-to-measure program to add the accurate pockets and ribbed knit cuffs and hem (although that will cost you extra). By most reports, The Jacket Maker is pretty committed to delivering what their customers want. So it's certainly worth checking them out.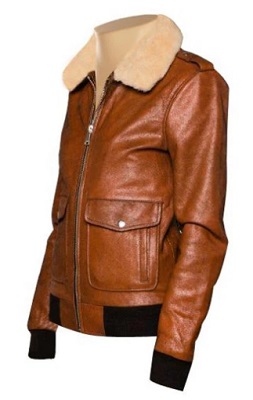 Another made-to-measure alternative, this time from a Canadian company that offers plenty of customization options. But the base design of their Dominic is pretty much what we want straight off the rack. The shell is genuine lambskin leather and, even better, the collar is genuine sheepskin. And while they've just used lightweight polyester fabric for the lining, you can upgrade to a faux shearling "Sherpa Fabric" liner if you really want to nail the style of the 674. An interesting choice if you want to take the time to really dial in all the details on your jacket.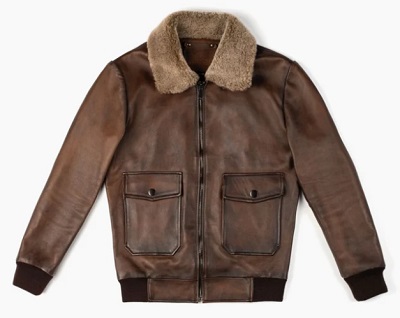 If you just can't be bothered with all this made-to-measure stuff, here's a nice and affordable off-the-rack alternative from well known footwear maker Thursday Boots. The overall color is darker than ideal. And it's missing the slash handwarmer pockets and shearling liner. But that Anejo leather does have some character to it. Plus you won't be waiting a month or more to get it! You'll find sizes small to XXL on their website.
Other Alternatives:
A final note on other sources ….
Before we sign off, I just wanted to share some information on other places to find sheepskin jackets and coats. First, it's always worth checking out Ebay, Etsy and other re-seller websites for used jackets. Especially if you're after a more vintage style. There are great deals to found from heritage brands like Sawyer, Schott, L.L. Bean and even vintage military jackets. But a word of caution: older sheepskin jackets that have been stored improperly for years will be fragile. The outer suede side can develop an almost paper-like texture and be much more prone to ripping. And the wool can become much coarser and stiffer as it's dried out over time.
Also keep a close eye on the sizing. With military jackets, true vintage pieces tend to fit smaller, so a size 42 today is not the same as a size 42 from 1950 or 1960. And jackets from the 1980s and early 1990s are commonly styled to be oversized, as was the fashion of the time. So they can look very dated. In other words, double and triple check the return policy in case you don't receive what you expected.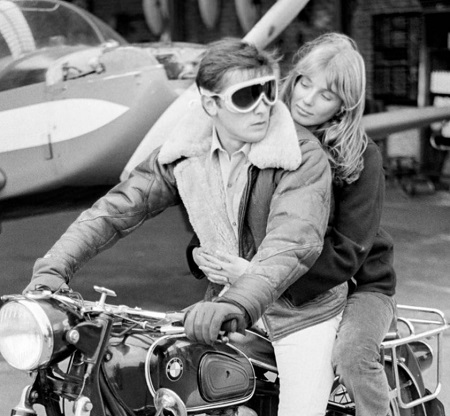 It's also worth checking out smaller, boutique manufacturers for high quality sheepskin outerwear. Companies like The Sheepherder (Colorado), Sickafus Sheepskins (Pennsylvania) and Village Shop Sheepskin and Leather (Pennsylvania) make most of their jackets on a per order basis in their own workshops. And they're not crazy expensive, with prices ranging from $800 to $1200. If you can make the investment, it's a great way to get exactly the sheepskin jacket you want while supporting a small business.
If you have any comments or suggestions for alternatives for an iconic sheepskin jacket or coat, let us know about them in the comments below. For more style essentials for men, check out these posts. And remember to visit our Facebook page, Instagram account and Pinterest Boards for more style icon inspiration!