The James Bond SPECTRE Mr White Jacket
Updated January 22nd, 2023 – It was the grail jacket from SPECTRE. And I'm not just taking about affordable alternatives. The orginal Dior Homme jacket James Bond wore to meet Mr White in his remote Austrian cabin was limited to just twenty pieces. Made from 100% cashmere in a unique shade of dusty navy blue and retailing for close to $6000, the design was a mash-up of a double rider biker jacket, G-1 bomber and French high fashion. And Bond looked cool as hell wearing it in one of the film's best scenes.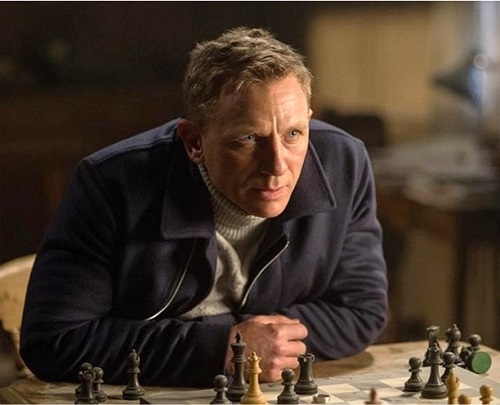 The quest to first identify the jacket is an interesting story. I think it was user steviekim on the AJB007 Bond fan forum that first called Dior as the designer, with agreement coming from TheExit148 and final confirmation from rstv. Given the rarity of the jacket, it was practically a miracle that one or two originals found their way into the hands of members of the Bond fan community. David Zaritsky of the The Bond Experience gives a great overview of the Dior jacket in this video. And Peter Brooker of From Tailors With Love currently has one in his possession and shares all the details in this article.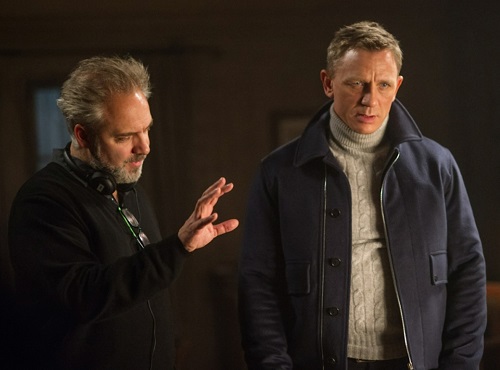 In the film, Daniel Craig wore the Dior Homme jacket with the light grey N.Peal cashmere turtleneck (alternatives for that in this post), a pair of Neil Barrett puppy-tooth trousers and black quilted leather Agnelle gloves. For more on the complete look, check out these posts from Bond Suits and BAMF Style.
Features Wanted for the James Bond SPECTRE Mr White Jacket
---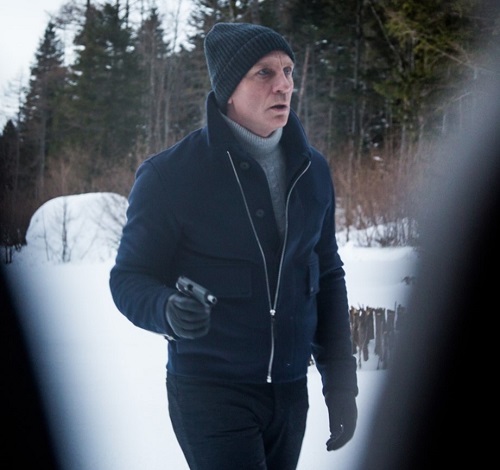 Bomber jacket length
Navy blue wool or wool blend (although cashmere would be sweet!)
Asymmetrical front zip in a brighter silver color
Button closure interior storm placket
Zip cuffs
No rib knitting at waist
Waist pockets with flaps and dual snap closure buttons
Shirt style collar; shearling collars should be removable for a screen accurate look.
Given that this is a jacket with such specific design details, the odds of finding an exact match are almost impossible unless you go with a repro. The zip cuffs are a challenge. But that placket configuration and the asymmetrical zipper are pretty much unique to Dior. Even the brighter tone of navy blue is tough to match! However, we've still done our best to find solid alternatives that capture the spirit of the Mr. White jacket, even if they are missing some of the key features.
The Repros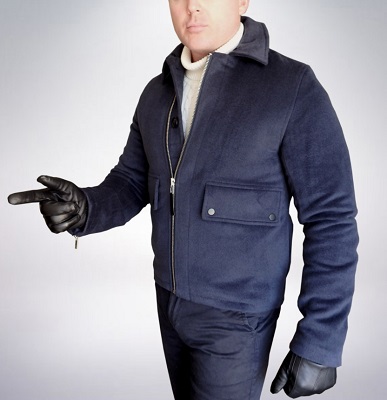 ROYALE Filmwear Altaussee Jacket 2023: Coming Soon!
Definitely a highlight from the creative mind of Daniel Love, owner of ROYALE Filmwear. Simply put, if you want to get as screen accurate as possible, this is the one to get. And even if you don't care about looking like Bond, it's still an outstanding piece of outerwear. Made from a luxurious wool and cashmere blend it will keep you plenty warm when the weather drops. You can read my full review of an earlier version here for all the details, including notes on the sizing and fit. Now the good/bad news: the jacket is currently sold out on the ROYALE Filmwear website. However, Daniel is currently in the process of putting together another run. No word on the exact delivery date, but if you would like one, I'd strongly suggest emailing him with the size you need so you receive a notification as soon as it becomes available.
---
Magnoli Clothiers Altaussee Jacket: $295.00
And the option from another fan favorite repro maker, Indy Magnoli. The shell is a wool blend and it also does an admirable job of capturing the original's design details. This one is made-to-measure, which means each jacket is made on a per order basis to the customer's specific measurements. There's also seven month waiting period for delivery. So if you're a "plan ahead" kind of guy, it's a great alternative if you know you'll need a jacket for next winter.
Best Option for the James Bond SPECTRE Mr White Jacket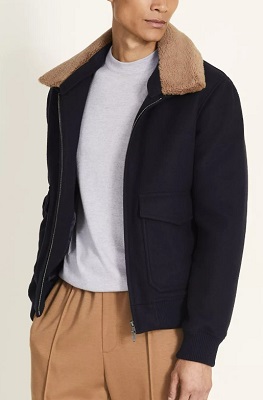 Moss Bomber Jacket in Navy: on sale for $200.00/£99.95
We'll start with the negatives. With its ribbed knit hem and cuffs, this one looks more like a wool G-1 than French fashion house's interpretation of a double rider. However, as we'll see, that's a common issue with most of our alternatives. Also, the pockets aren't a perfect match. Finally, I can't say I'm crazy about the 90% polyester, 10% viscose fabric. Seeing as the original retail price in the U.S. was almost four hundred bucks, I would've expected some wool in that blend.
Now the good. That shearling collar is removeable. And the fabric collar underneath is quite generous. So it'll look nice and dramatic when you turn it up. The overall styling is also pretty good. Not screen-accurate of course. But the silver front zipper and large patch pockets help give it the right vibe. Then there's the sale price. If you're in the U.S., $200 seems fairly reasonable . And for those of you in the UK, it's actually quite the steal! You'll find sizes small to XXL on the Moss website.
Under $100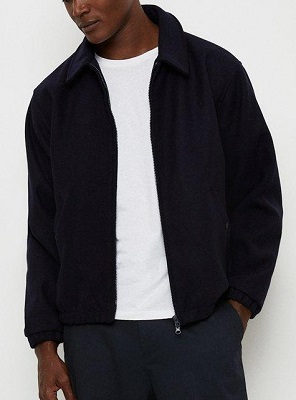 Burton Faux Wool Harrington Jacket in Navy: on sale for £19.75
If you find yourself on an extremely tight budget, you could defintiely do worse than this option from Burton. It's a lighter weight jacket, with a 100% polyester shell. It's also missing the flapped front pockets and the hem and cuffs are elasticized. But it does have a good sized collar. And you'll have a tough time finding an option at a lower price. Debenhams has sizes small to XXL in stock. You can also order the jacket directly from Burton. Sadly, this one is only available in the UK.
---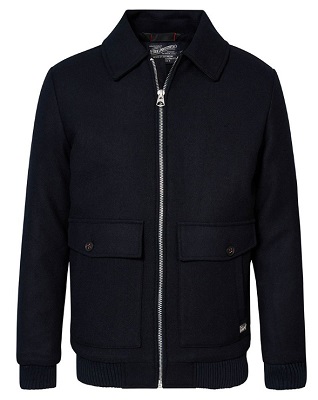 Petrol Industries Bomber Jacket in Dark Navy: on sale for $94.99/£74.75
This one had the potential to be a Best Option. The silver zipper, large collar and flapped patch pockets all give it the right look. And the 30% wool, 70% polyester fabric actually isn't too bad for this price. Obviously, the ribbed knit hem and cuffs aren't ideal. But, again, many of the alternatives this season are coming with that design feature. What holds it back is the lack of sizing options. Dress Inn has size Large. La Redoute has size XL. And that's it. If you do need either of those sizes, I'd act fast.
Under $200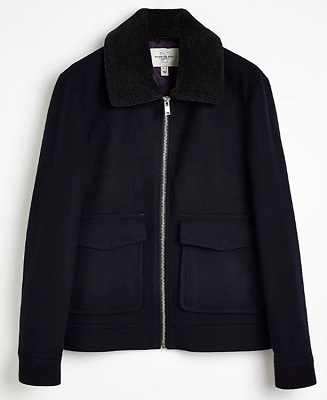 River Island Borg Collar Wool Blend Jacket in Navy: $158.00/£85.00
When it comes to off-the-rack alternatives, this is one of the closest options I've seen in a long time. It's got the silver zipper, the flapped pockets (with no visible buttons), a decent 61% wool/39% synthetic fabric and, most importantly, no ribbed knitting to be seen. The problem is the collar. I honestly have no idea if we can remove that faux shearling trim. I've written to River Island to ask. But no response so far. If (and it's a big if) we can take it off, then the River Island jacket will easily take the top spot in this post. Sizes XS to XXL are in stock at the time of writing.
---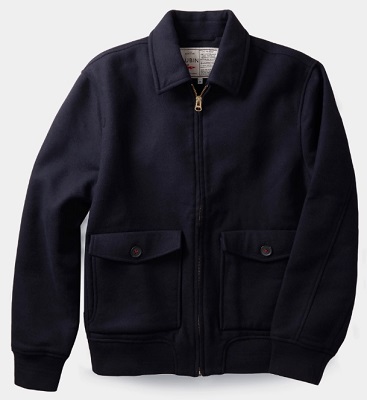 Aubin Haycombe Harrington in Navy: on sale for $166.00
The brass zipper and button-through flapped pockets give this one a bit of a vintage feel. More workwear, less high fashion. Which I kind of like. But it'll still look sharp layered over a nice cable knit roll neck. The double-faced, 72% polyester and 28% wool fabric also sounds interesting. Could be a good choice for an "inspired by" alternative if you're personal style leans a little more rugged. Aubin has sizes small to XXL on their website.
---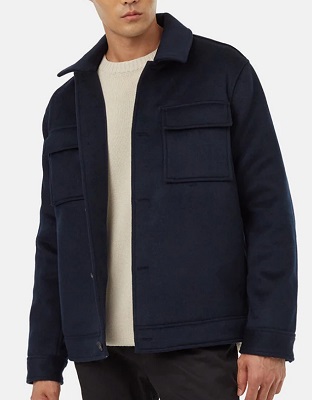 Ten Tree Wool Button Down Jacket in Navy: on sale for $187.50
Speaking of rugged style, this option from Ten Tree has a great minimalist trucker jacket/shacket look that, while not screen accurate, still delivers a lot of character. And the fabric, made from 80% recycled wool and 20% synthetic, also sounds pretty nice. It's definitely lighter weight than the SPECTRE jacket. But if you're looking for more of 3 season piece or live in a warmer climate, I think this one's worth checking out. Sizes medium to XXL are in stock on the Ten Tree website.
---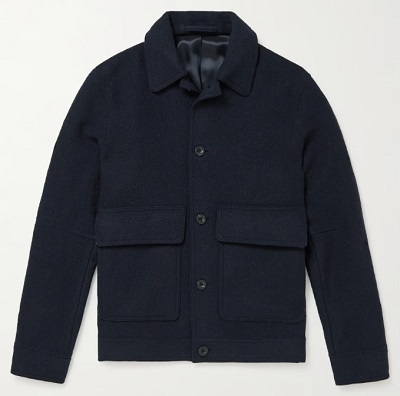 Mr P. Boiled Wool Jacket in Navy: on sale for $200.00
With its slightly longer cut and button front, this option is more a shirt jacket with big pockets than a bomber. But Mr Porter's Mr P. line does deliver high end luxury at (slightly) more affordable prices. In this case, they've gone with a 100% wool outer and delivered what looks to be a great fit. And I can't be the only one looking at that model photo on their website and wondering, "Hmm, what was the inspiration for that outfit?" Sadly, they're down to sizes XL and XXL. But if that's what you need, use the code FLASH15 to knock an extra 15% off the price!
Under $500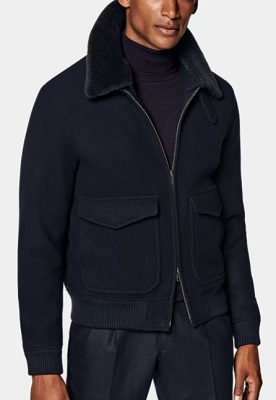 Suit Supply Pure Wool Bomber Jacket in Navy: $449.00
Another one that could have been a Best Option. Again we have the ribbed knit hem and cuffs. But other than that the styling definitely delivers the look we're after. Plus, the 100% wool material is what I'd expect for this price. And yes: we can remove the shearling collar. Unfortunatley, we're once more let down by the limited available sizes. Suit Supply is down to XS and small on their website. Good news if you're smaller guy. But those of us who need anything larger will have to look elsewhere.
The Investment Piece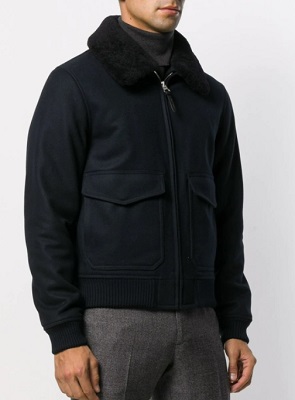 Sandro Aviator Jacket in Navy Blue: $790.00/£589.00
Obviously, the ribbed knit cuffs and hem aren't exactly what we're looking for. But Paris-based Sandro has it's own French design aesthetic that makes this one a worthy contender. The outer is a 70% wool, 20% polyamide, 10% cashmere blend. And since they've used 100% genuine shearling for the detachable collar, you may want to just keep it on. The Aviator is available directly from the company's website, but Bloomingdale's, which I've linked to above, might be a better choice if you're in the U.S. and want faster shipping. For those of you in the UK, Farfetch is also worth checking out.
Know of a great alternative for the James Bond SPECTRE Mr White jacket that we missed? We'd love to hear about it, so share away in the comments! And remember to check us out on Instagram, Facebook and Pinterest for even more style icon inspriation!
Iconic Alternatives uses affiliate links to generate revenue. If you choose to purchase a product after clicking a link, I may receive a commission from the merchant at no extra cost to you. You can learn more about our use of affiliate links here.