The &Sons Virgil Chinos Review
Now that I don't have to wear a suit regularly, I've definitely transitioned into a denim guy. Most days of the week will see me wearing a pair of jeans, usually selvedge and usually pretty beaten up. But as we all know, we can't wear jeans all the time. There are still occassions in today's world that require something more formal than denim, but where a suit would be overkill. And this is when most of us turn to a pair of chinos.
I'll admit I'm not the biggest fan of chinos. At my age, I still strongly associate them with the staff at a Blockbuster and, to be honest, I've just never found a way to make them look "cool". Believe me, I've tried more than a few styles from different low-end and high-end brands, mostly without success. And so, while I've been more than willing to shell out my hard earned cash on obscure Japanese denim brands and well-made dress trousers, when it's come to chinos I decided to stick with the less expensive options from places like J.Crew.
But now I think I've found a pair that's changed my mind and convinced me to give the style another chance: the Virgil Chinos from &Sons Trading Co.
The &Sons Virgil Chinos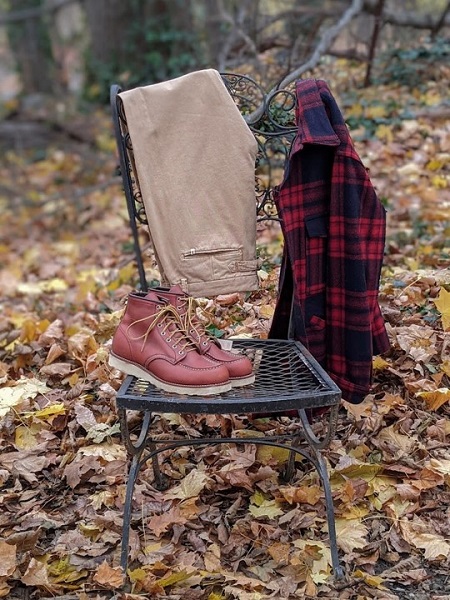 &Sons is a relatively new company on the workwear scene. Founded in 2016 by Phil James, the UK based brand has taken a particular approach to rugged style. Honoring the heritage and tradition behind the pieces in their collections is important. But they're not precious about it and are more than willing to update fits and details to make their vintage inspired jackets, shirts, knitwear and trousers more wearable in today's casual world.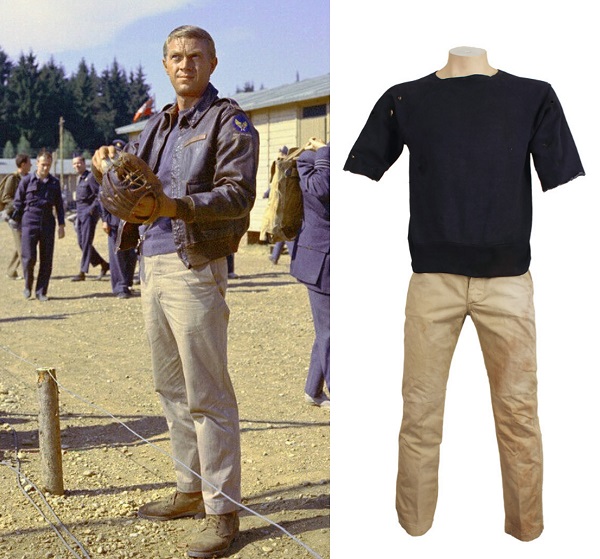 Their Virgil Chinos are a great example of this design philosophy. Inspired by the classic chinos worn by Steve McQueen in The Great Escape (hence the name), they combine the cut of a 1950s style trouser with a heavier, tougher cotton twill fabric and add some interesting vintage touches to the mix. &Sons promotes this as a "new style of chino", one that takes the best of the old and the new to create a versatile pair of trousers that can stand up to some abuse and look good doing it.
Priced at $170.00/£120.00, we can't call them inexpensive. But after speaking with Phil and his team at &Sons, I was very impressed with their dedication to their work and attention to detail. These people are definitely passionate about what they do! And since McQueen is a style hero of mine, I jumped at their offer to try out a pair of their Virgil Chinos and find out if they're really worth the money. On to the review!
The Fabric and Construction
I'm going to start with the fabric, because it really is something special. &Sons has used an amazing mid-weight, 100% cotton twill that has been pre-washed to acheive an incredible level of softness. It has an almost brushed or flannel-like hand, but still feels durable and rugged. Think of your favorite sweatshirt that's been washed a hundred times and you'll get an idea of the type of comfort I'm talking about.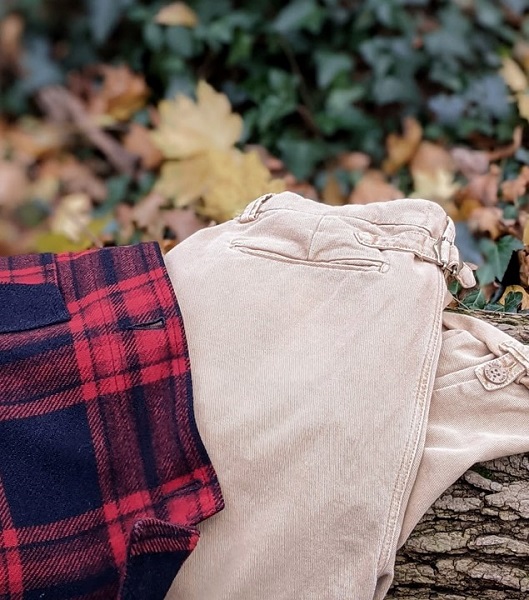 The tan color is also interesting. It's a very warm tone, close to lightly toasted brown, that will work great with olive, indigo, shades of ivory and cream, or even bolder colors like deep reds and dark blues. &Sons also proudly annouces on the hang-tag that this fabric is "Made to Fade", and the left-hand twill of the material will help it develop even more character with wear and washing.
The Construction
The build of these chinos is rock solid, inside and out. &Sons makes them in Turkey, and all the stitiching is neat and tight. They've reinforced the bottom of the angled front pockets and the jetted back pockets with bar-tacking, so you can feel confident there won't be any blow-outs there. Inside, the waist band is lined with a soft herringbone cotton to make it even more comfortable. Critical seam edges have been tapped to prevent fraying. And, in a fun touch, the pocket bags feature a cool little repeating motif of the &Sons logo. After a careful inspection, I have zero worries about these things falling apart anytime soon!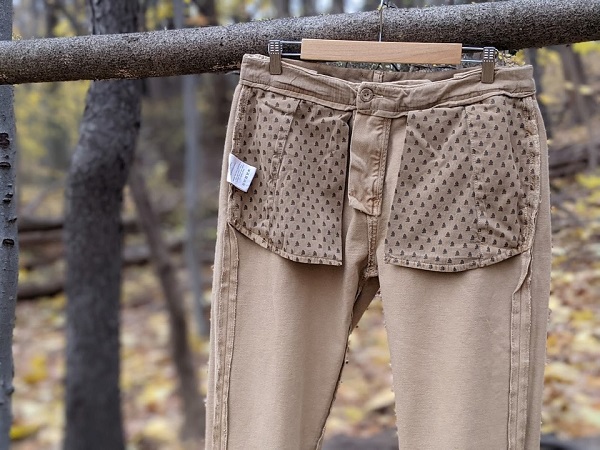 The Details
&Sons didn't stop with great fabric and quality construction. The Virgil Chinos are also packed with some very cool details. They close with a combination jigger button and longer than average hook and bar tab. This, combined with the wide front belt loops, gives the waist a clean but distinctive look. And it would make it easy to wear the chinos without a belt and still look sharp and put together. We also get a chain loop at the right pocket and a subtle coin pocket along the edge of the waist band.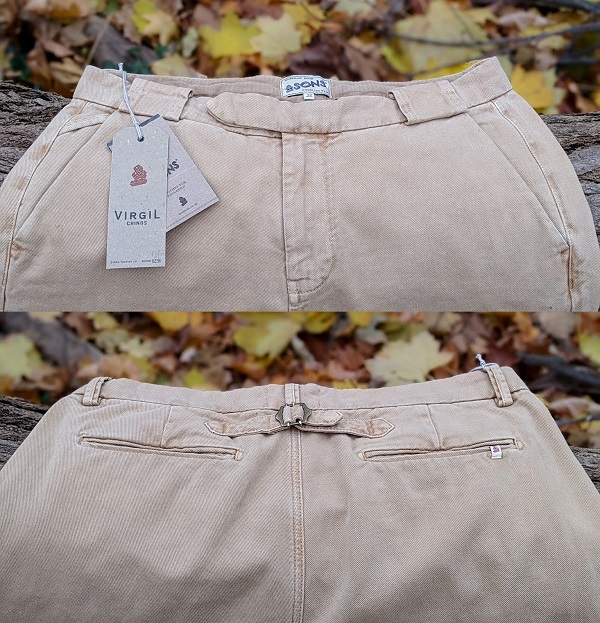 Around the back they've added a nice vintage touch with a brass buckle cinch strap. Aside from helping to adjust the waist sizing slightly, it also adds some character to the chinos, a sort of call-back to their heritage without making them feel old-fashioned.
The Cuff Strap
One detail I have slightly mixed feelings about is the strap at the cuffs. This is a very cool idea in concept: a button tab that helps keep your rolled cuffs in place. And, in my humble opinion, it adds some great visual interest to the design.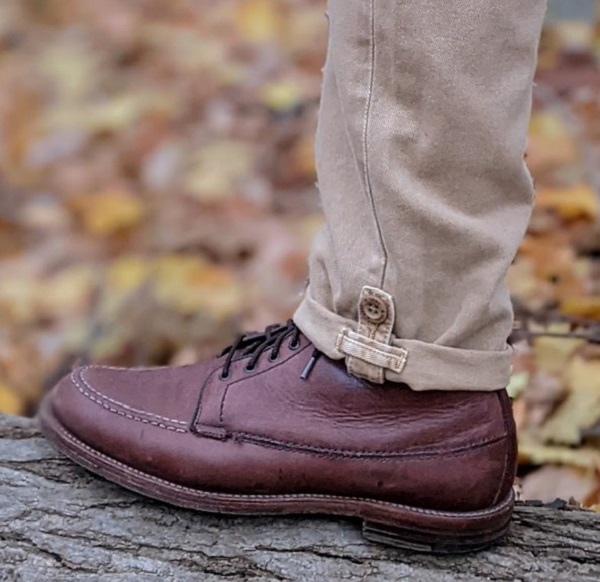 But because the chinos only come in one inseam length (about 33″ with the cuff unrolled), it doesn't work so well in practice. The strap is long enough to accommodate about two rolls. If you need the trouser legs any shorter than that, you're out of luck. And rolling them without using the strap makes the cuffs a little bulky and more prone to falling down. It's definitely not a deal breaker since the rest of the design is so good. But it's a design feature that adds a new layer of complexity to getting them shortened.
So when I do get the chinos hemmed, will the cuff strap be a "keep or kill"? I still haven't decided. As I said, I really like the look. But the additional effort (and cost) of moving the button, strap and keeper loop to the right position to shorten the chinos to the proper length has me questioning if it's worth it. In the end, I may just go for a normal cuff for a more accurate "Cooler King" look. But the fact that I'm thinking about it this much should tell you how much I appreciate the thought that went into the design.
The Fit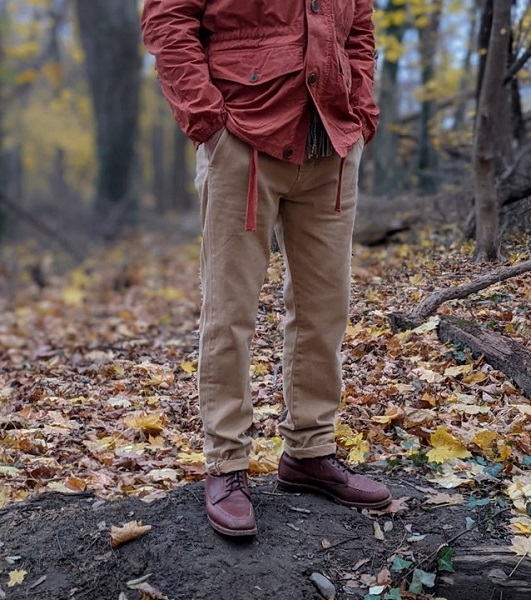 These could quite possibly be the best fitting pair of chinos I've worn. For reference, I'm 5'9″, 175lbs and normally take a size 32 waist, 30″ inseam in the most common brands (J.Crew, Gap, Levi's). I ordered the Virgil Chinos in a size 32 waist and I would say they fit true to size.
&Sons has come up with a cut that just flat out works for my body type. If I had to give it a label, I'd call it a straight taper. The top block is roomy with a medium (verging on high) 11″ rise. With the size 32 chinos laying flat, the legs measure 12.5″ at the thighs and gradually narrow down to 7″ at the cuffs. Overall, they're incredibly comfortable with no binding anywhere, despite the 100% cotton fabric having zero stretch.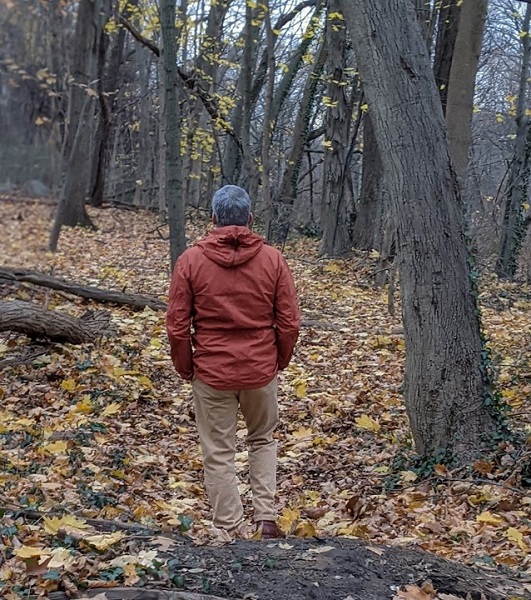 You can definitely see the vintage inspiration in the design. But in no way are these baggy, high waisted 1940s trouser reproductions. That taper, combined with the high-but not-too-high rise of the top block, gives the Virgil chinos a contemporary style that I can see working very well with a variety of looks. The only issue I have with the fit is the aforementioned inseam length. But considering how great the chinos fit everywhere else, that's more of minor inconvenience.
Conclusions
So now we come to the big question: are the &Sons Virgil Chinos worth the $170.00/£120.00 price tag? Speaking as someone who's spent $200 on denim and even more than that on dress trousers, my answer is absolutely, unequivocally, "Yes"!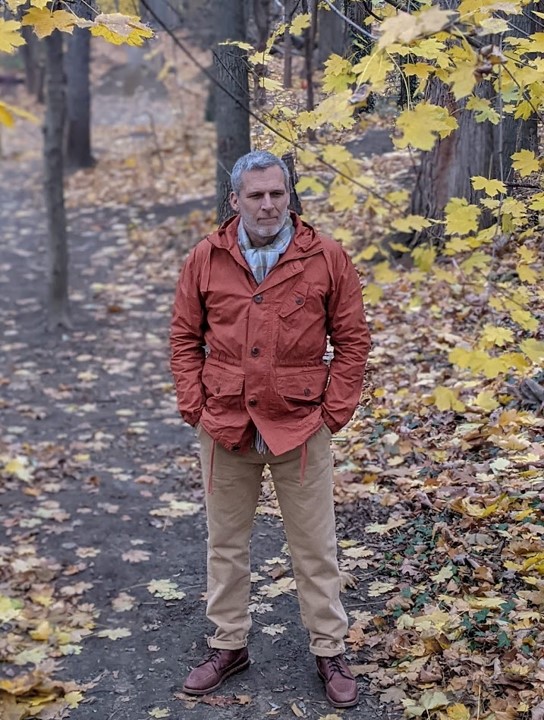 To put it simply, &Sons has really delivered the quality and construction we'd expect for the money and more. The little details you find throughout the design are very cool. I'm also not joking when I say the cotton twill fabric is fantastic! But it's the amazing fit that's really removed any doubt I had. The cut of the Virgils just feels effortlessly comfortable while (according to my wife at least) still looking good, a difficult combination to find in any pair of trousers. It's a versatile, very well executed design that I can see myself wearing as often as possible (even taking the place of a few pairs of jeans in my rotation!). And that, for me, makes them worth the investment.
I'll end with a suggestion for &Sons: maybe for your next version of the Virgils you could have that cuff strap attach with buttons outside and inside? That would make it much easier to adjust the length of the chinos (people would just have to move a couple of buttons up or down). And if folks don't want to use the straps, they can just take them off.
And now? Well now I need another pair of Virgils in Army Green!
The Virgil Chinos are available on the &Sons Trading Co. website for $170.00/£120.00 in Tan, Indigo and Army Green. They offer free shipping on order over $100/£100 (so that applies to the chinos!). And you can get 10% off your first &Sons order with the code FIRST10 or by subscribing to their mailing list. &Sons provided the author with one pair of Virgil Chinos in Tan free of charge for this review.