5 Essential James Bond Sweaters
It's the time of the year I look forward to the most: sweater weather! In case you hadn't noticed, I'm kind of a sweater addict. And 007 has certainly sported some damn fine knitwear throughout the franchise's history. Put those two things together and you'll understand why I get excited writing about the essential James Bond sweaters every fan should have in his (or her) collection. We're going to look at five of my favorite styles in this article, with plenty of alternatives for each, suitable for every budget. There's a lot to cover here. So let's get started!
The Black V-Neck Sweater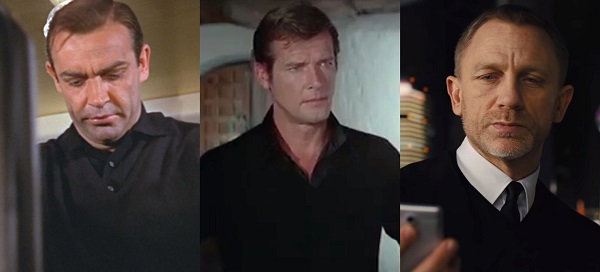 Bond certainly likes his black V-neck sweaters. From Connery's Goldfinger outfit on the plane to Moore's black-on-black look when he's being confronted by Anya in The Spy Who Loved Me to Craig's Shanghai style with the John Smedley Bobby in Skyfall, this versatile piece of knitwear has been a consistent part of our favorite agent's wardrobe.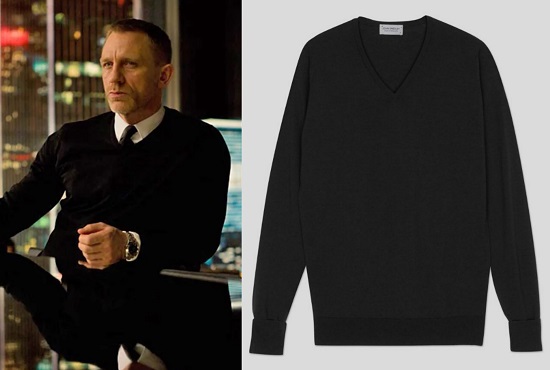 When one sweater can help you capture this much Bond-style, it's definitely earned a place in your closet. Lucky for us, there are plenty of options out there. In fact, it's a challenge to find a clothing brand that doesn't have a black V-neck sweater in its collection. So I've tried to stick with higher quality wool and cashmere alternatives for our list.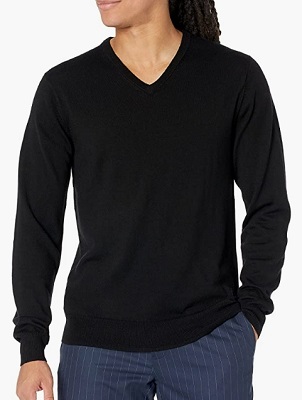 About as affordable as it gets for 100% Merino wool sweater. This is coming from one of Amazon's in-house brands and the quality of the wool and the fit are both pretty well reviewed (4.5 out of 5 stars after more than 3000 reviews). Plenty of sizes in stock as well. If you want something basic that offers good value for the money (and who among us doesn't want that?) this one seems like a pretty solid bet.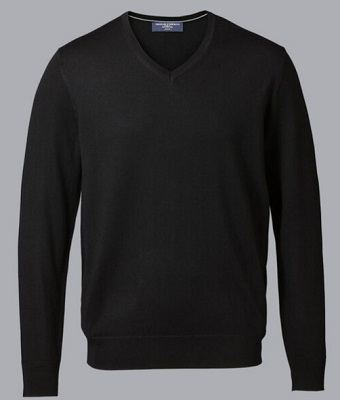 Charles Tyrwhitt has earned a name for itself by offering well-made, classic yet affordable menswear staples. And the brand's 100% Merino wool V-neck meets that description perfectly. You'll find sizes XS to XXXL on the website.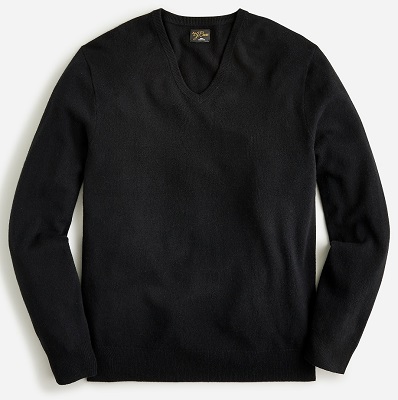 J.Crew has being going through some things these last two years. But it hasn't stopped providing solid basics that would work in any guy's wardrobe. The V-neck sweater in this season's collection is made from 100% cashmere that comes with AbTF's The Good Cashmere Standard certification. And it also offers pretty good value for the money, especially when you can grab it during one of J.Crew's frequent sales. Sizes XS to XXL are in stock.
Also Try
The Grey Ribbed Knit Sweater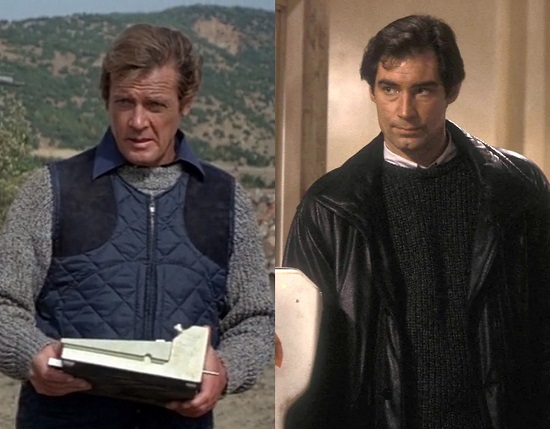 Roger Moore's chunky sweater and quilted gilet outfit in For Your Eyes Only is still one of favorite looks from the Bond franchise (although I would probably keep the shirt collar neatly tucked away under the sweater). It manages to combine "English gentleman" and proto-workwear in a way that would totally fit in with today's styles. Timothy Dalton wore similar knitwear in The Living Daylights, just in a significantly darker charcoal grey. Which, let's be honest, perfectly suits Mr. Dalton's portrayal of Bond. And while, the fit of his leather jacket may be dated, the sweater style is still a classic. We should all being giving some serious thought to making the rustic fisherman-style sweater a part of our knitwear rotation this winter.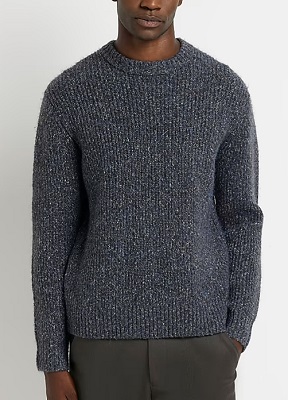 Not the most luxurious option (the yarn is a blend of 21% acrylic, 19% cotton, 1% elastane, 52% polyester and 7% wool). But it definitely has the chunky look we want. And the marling adds some real character. River Island has sizes XS to XXL available.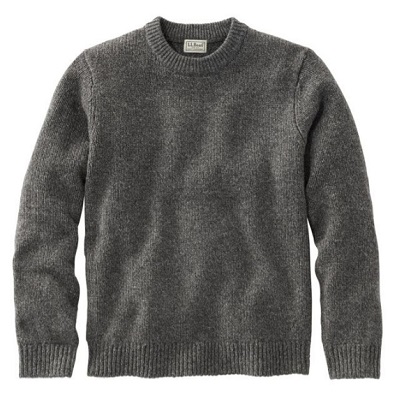 An absolute classic. I still have my Bean Ragg wool sweater I bought in the early 1990s. And it's still one I reach for when the weather gets chilly. Made from 100% lambswool, it will definitely feel itchy when new. But the yarn softens up over time with wear and washing. Just note that the color is missing the noticeable dark and light marling we see in the FYEO sweater. And since this is L.L. Bean, expect the cut to be generous. Sizing down should be considered.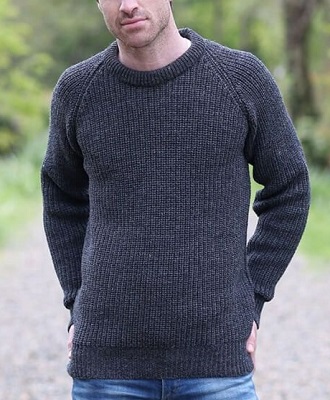 Made in Ireland from 100% wool, the dark charcoal color and heavy rib knit are a nearly spot-on match for Dalton Bond's knitwear. This is the type of sweater you keep for years. So don't worry too much about the initial scratchiness and stiffness of the wool. It will soften in time and wear. Sizes small to XXL are in stock.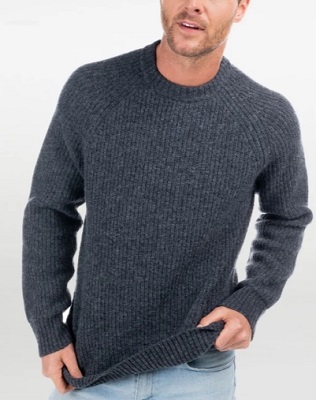 Kit London has kept the looks of the traditional fisherman sweater, but given it a slightly trimmer fit. And the 100% lambswool yarn and chunky ribbed knit add plenty of rugged character. It's also a heck of good deal right now, with the priced dropped from the normal $157 retail. Wolf & Badger have sizes small to XL in stock.
Also Try
The Goldeneye Navy Aran Sweater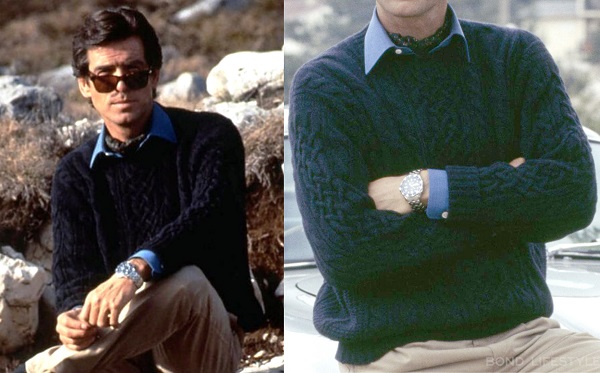 I do love me a traditional Aran knit! And although Bond has only worn the style one time in Goldeneye, he did pick a nice one. The heavier weight knit and pattern give it a suitably rugged look. But by going with a dark navy in a slightly trimmer fit, it comes across as a more sophisticated piece of knitwear, one that's appropriate for a man driving the iconic DB5. If you're looking for a great weekend sweater for your winter wardrobe, this is definitely a style to consider.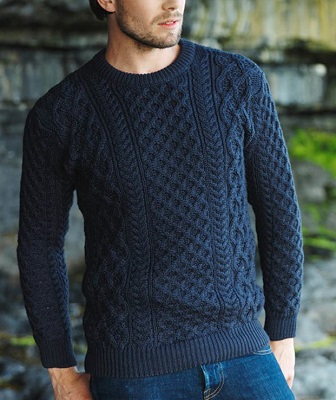 A traditional Aran knit pattern in a more fitted design, made from a softer, 100% Merino wool. What's not to like? As a bonus, GlenAran offers express shipping from Ireland and a 60 day return period (although return shipping costs could get pricey). For those of you looking for heritage style with a modern twist, this could be a solid alternative. Sizes XS to XXXL can be found on their website.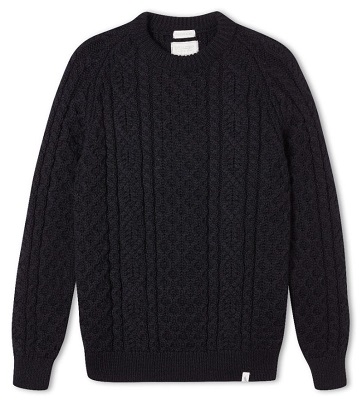 Another traditional design made by a heritage knitwear brand, this time based in England. The yarn is 100% British wool "sourced no more than 60 miles" away from the Peregrine factory. With proper care, this will be one of those sweaters you pass down to your kids. The best price I could find was at our friends Herring Shoes (which I linked to above). However, they're running a little low on sizes. So you can also check out Atterley ($143.75) and Huckberry ($170.00), or order it directly from Peregrine (£125.00).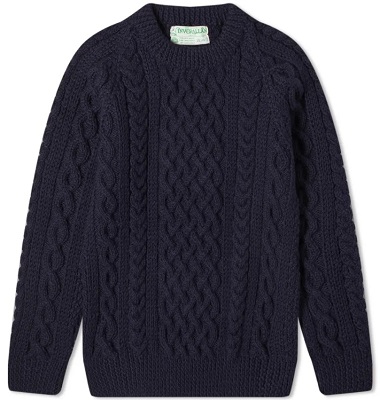 So if you can get a traditional Aran knit from GlenAran for around a hundred bucks, why would anyone pay two and half times that? Well first of all, the pattern, with its thick overlapping cable knit throughout, is a great match for Brosnan's sweater. And each sweater is hand-knit by the family owned company in Alloa, Scotland. So each piece will be subtly unique. Hand knitting, while certainly more time consuming and labor intensive, also produces a heavier knit sweater with a full-fashioned construction. So expect a better fit and high quality construction. It's an investment for sure. But it will be worth it for some of us looking for something really special. I've linked to END clothing above since they have a good price and easy shipping to the U.S. But you can also check out Inverallan's website for more information about the company and its products.
Also Try:
The Skyfall Teal Crew Neck Sweater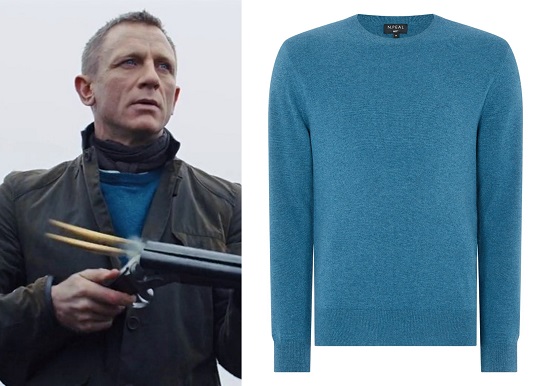 The knitwear that started Bond's relationship with British brand N.Peal. As we all know by now, the original screen used knit was their Cashmere Oxford Round Neck in Blue Wave (now relabled the 007 Crew Neck Sweater), which you can still purchase for $410.00/£295.00. And on a list dominated by blacks and greys, it's good to add a little color to the mix. Even if that shade of teal blue is a little difficult to match.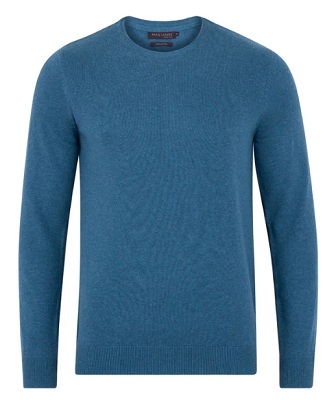 As the name clearly states, the yarn is 100% cotton. But the color comes really close to Bond's sweater. And with it's fine knit, trimmer fit and thinner ribbed collar band, it has all the style details we want. Plus that price is well within reach for most of us. Last, but not least, it's sitting with 4.5 stars out of 5 after almost 200 reviews on their website. So it seems like folks have been pretty satisfied with the sweater. You'll find sizes small to XXL on their website. But since this one comes from the UK, remember to check shipping costs if you're in the U.S. For more on Paul James, check out our review of their Fitted Submariner Roll Neck Sweater.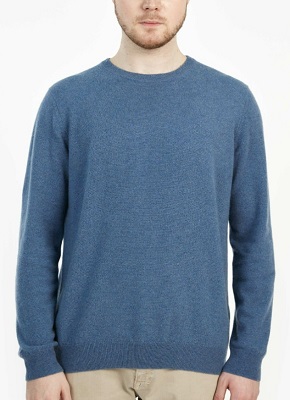 The color is more pale blue than true teal. But that's a great price for a piece of 100% Mongolian cashmere knitwear. And the finer 12 gauge knit gives it the smoother hand and sophisticated look we want. Gobi has sizes small to 3XL on their website.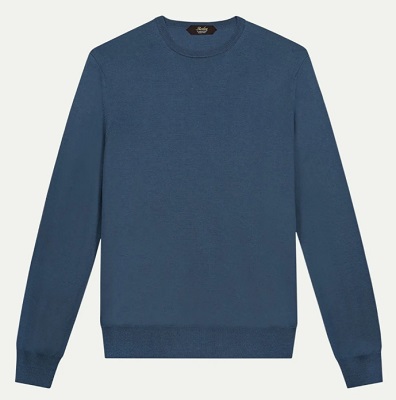 It's a shade darker and leans more "true blue" than the N.Peal. But this option from Aurélien has a lot going for it for the price. Made in Italy using their proprietary Cashwool, the sweater has an ultrafine 100% Merino wool knit with each fiber measuring only 19.5 microns in diameter. This gives it a slight silk-like sheen, a rich color and a super soft, lightweight hand. Combine that with a modern, slimmer fit and you have a sweater that will look great on it's own and can be easily layered under you favorite waxed cotton jacket. The have sizes small to XXXL available on their website
Also Try
The Grey Roll Neck Sweater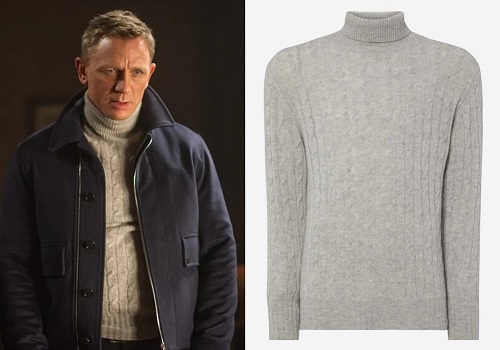 What more can we say about Bond's "Mr. White" sweater from SPECTRE? At this point almost all of us know he was wearing the N.Peal Cashmere Turtle Neck Sweater in Fumo Grey, which you can still purchase for $455.00/£355.00. And even though it was only onscreen for a relatively short amount of time, it's definitely a fan favorite. Worn with the blue Dior jacket, it gave Bond a rugged but sophisticated look that has become something of signature style for Craig's 007. And that's a look we can all mine for inspiration during the colder months ahead!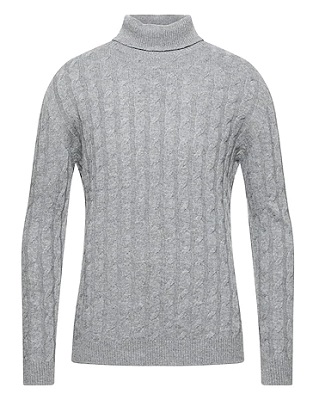 A new option this season coming to us from fashion clearinghouse Yoox. Alpha Studio knits their sweater in Italy from a unique 50% viscose, 16% nylon, 14% wool, 11% cashmere and 9% polyester yarn and gives it a trimmer but not body-hugging fit. The cable pattern is a little chunkier than what we saw Bond wearing. But overall, it's a pretty good match at a heck of a sale price (normal retail is $300!). Yoox has sizes small to XXL in stock. But I'm not sure how long this one will be available.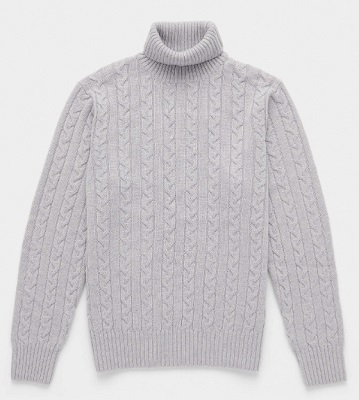 It's back! Canadian menswear company Spier & Mackay offered a very similar sweater a couple of years ago. And knowing the quality for the price the brand usually offers, I'm happy to see it make a return. They've used a 100% Australian Merino wool yarn and a finer cable knit that really delivers the look we want and should pair perfectly with whatever blue outerwear you're using for your "Mr. White" jacket alternative. Sizes XS to XXL are in stock.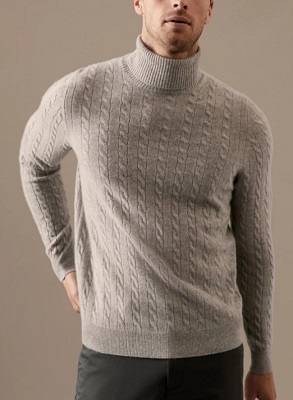 A big THANK YOU! to M&M who shared this suggestion in the comments for the old post on the SPECTRE roll neck. And I feel like a bit of an idiot for missing it. As the product name states, this is 100% cashmere. And while the color may be a shade darker than idea, that all-over cable knit pattern is a great match. Sizes medium to XL are in stock on their U.S. and UK websites.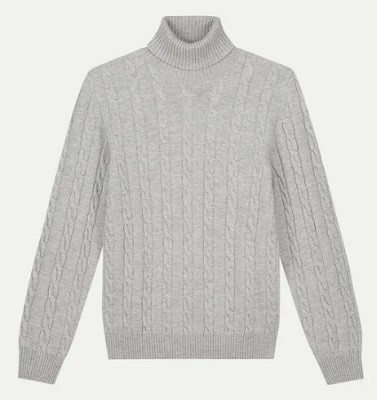 Another option from Aurélien. I've been loving some of the designs the brand has been producing lately. And the quality of the pieces I own from them have honestly really impressed me. So I'd have high hopes for this sweater. Obviously, the color and cable knit design are a great match for what we see on screen. But there's also the fact that the sweater is hand made in Italy with a 90% extra-fine Merino wool and 10% cashmere blend yarn. It's not the lowest priced alternative in this post. But should prove to be great value for the money. Sizes small to XXXL are in stock on their website.
Also Try
Is there another 007 inspired piece of knitwear you would have added to our list of 5 essential James Bond sweaters? Think we missed a great alternative for one of the ones we included? Let us know if the comments! And if you haven't already, check out our article on How To Care for Your Cashmere Sweater so you can keep your new knitwear looking its best. You can also visit our Facebook page, Instagram account, and Pinterest Boards for more James Bond style advice and inspiration!
Some of the images used in this article were sourced from Thunderballs.org, Bond Suits and BAMF Style.