The James Bond Skyfall Peacoat
The James Bond Skyfall peacoat has undoubtedly become one of the more popular pieces of 007 outerwear. As noted in this article, there are literally thousands of peacoats on the market. But the original Billy Reid that Bond wore in Shanghai during his encounter with Patrice has some design features that make finding an exact match more difficult than you'd think. More on that below. The new 75% wool/25% polyamide version of the Bond Peacoat is still available on their site for $698.00. Although if you can catch one of their sales events, they'll often offer a discount. And size large is currently on sale on Amazon for $428.52.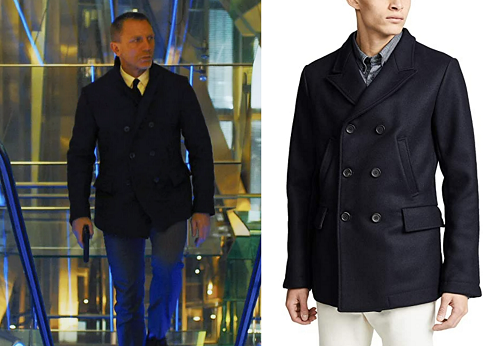 Bond wore the peacoat with the Acne Wall Street Shark Trousers and the Crockett & Jones Tetbury Boots. For more on his complete Shanghai out, you can check out The Suits of James Bond, James Bond Lifestyle, BAMF Style, or check out this vlog from The Bond Experience.
Features wanted for the Skyfall Billy Reid Bond Peacoat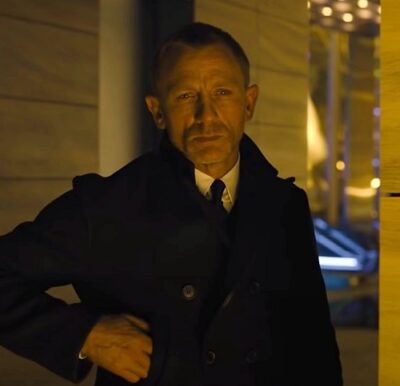 Navy 100% wool or wool blend fabric
6 button, double-breasted style
Shorter, slim fit cut
Peak lapels (be prepared to search hard for this feature)
Jetted chest level hand warmer pockets
Flap covered, non-patch hip pockets
Single vent
Two quick things to note. First, the peaked lapels on the Billy Reid Bond Peacoat are pretty unique. And the style trend right now is drifting towards wider, more traditional collars. So even their smaller size is becoming rare. Second, like the lapels, current peacoats seems to be edging towards more traditional and boxier cuts. Which means it's more tailored fit is also getting a little difficult to find. So for our alternatives I'm focusing on that combination of jetted handwarmer pockets and flapped hip pockets. Luckily there are some good options out there with that design and (if you're willing to pay a little more) they'll also have a slimmer, shorter cut.
The Replica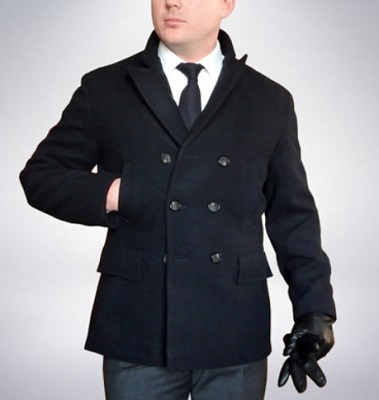 When Royale Filmwear owner Daniel Love launches a new run of his extremely well made Shanghai Pea Coat, it's literally the best option on the market. And, lucky for us, there are still a good selection of sizes available of his latest model! Made from a 70% wool and 30% polyester blend Melton, it nails just about every detail you could ask for. It's a fan favorite and for good reason. You can read my review of the 2016 model here.
Best Option of the James Bond Skyfall Peacoat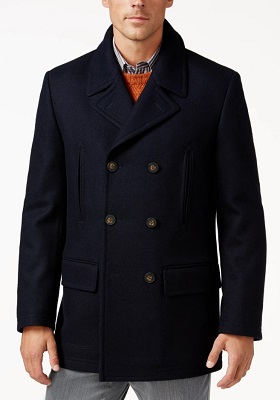 The cut is a little longer and isn't as tailored as the Billy Reid. But we do get the handwarmer and flapped hip pockets comb. And although the lapels aren't peaked, they are on the smaller side unlike many of the more dramatic collars that are trending lately. The 50% wool, 39% polyester, 11% other fibers fabric isn't too bad either. Obviously the price listed above is full retail. But I would definitely recommend waiting for a sale. For example, I've linked to Macy's above, where it's going for $118.50 at the time of writing. Plus they have plenty of sizes in stock in short, regular and long fits.
Under $200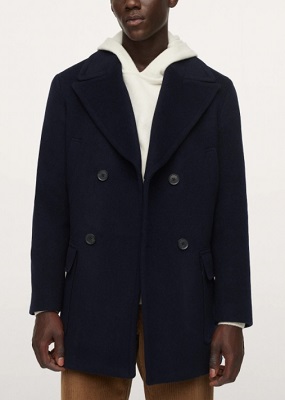 It only has four buttons. And those lapels are definitely making a statement! But it has the right pockets and the 70% recycled wool, 30% polyamide fabric actually sounds pretty decent. You'll find sizes XS to XXL on the Mango website.
Under $300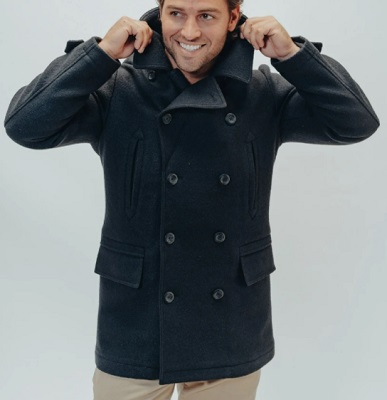 It's an eight button front. But those top two buttons tend to get hidden under the lapels, so they're not a deal breaker. There's also a half-belt at the back, the button tabs at the cuffs and (of course) the more traditional collar design. Still, it's a nice take on the classic peacoat design that has some Bond style . Sizes small to XL are available on their website. Just note that the sale ends very soon!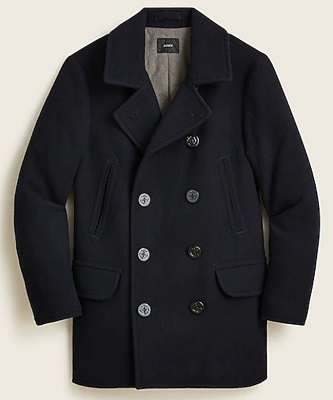 Another eight button design that leans towards the traditional. But this is an annual customer favorite at J.Crew. And with it's extra layer of Primaloft insulation, it's built to keep you warm in the depths of winter. Unfortunately, they're currently down to sizes medium and XL. I'd also recommend waiting for a sale (which are pretty common at J.Crew) to bring down the price. If you don't mind a slightly different fabric, it's worth checking out their version in Navy Black Herringbone. It's almost exactly the same design (including the additional insulation), but the material has a slightly more sophisticated look and they have more sizes in stock.
Under $500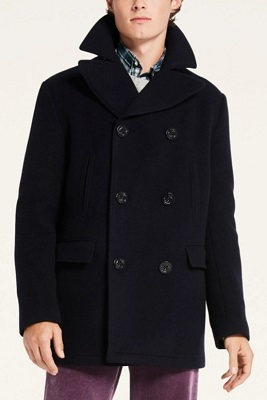 If anyone knows about classic menswear, it's Brooks Brothers. As expected, their peacoat is pretty traditional classic design in 100% wool. The collar is on the larger size, but not too extreme. And it has the adjustable half-belt at the back. But the pocket configuration is close to what we want and it has the plain cuffs and single vent. They have sizes XS to XXL on their website.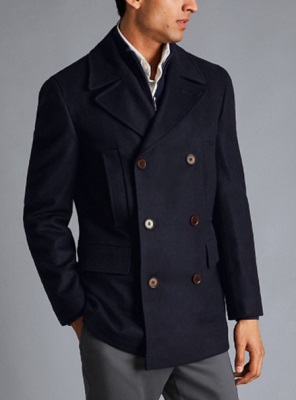 Aside from the collar design, this is about as close to ideal as we're going to get off-the-rack. Is it expensive? Yep! But the luxurious 90% wool, 10% cashmere blend fabric from the Zaieri mill in Italy certainly helps justify the price. And it's still almost $200 less expensive than the original. Plus it comes in numerical sizes so you can really dial in the fit. You'll find sizes 36 to 44 at the Charles Tyrwhitt website. Catch this one on sale and it would easily be the Best Option.
The Investment Pieces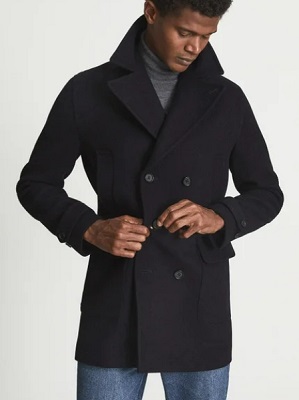 REISS is well known for offering more contemporary interpretations of classic designs. So it's no surprise their Cork peacoat looks like something Bond would wear. Made from a 69% wool, 29% polyester and 2% viscose blend fabric, it has a more tailored fit than some of the other options on this list. And although the collar is on the larger side, the lapels are peaked. They're down to sizes XS to medium on Thread (the best price for those of you in the U.S.) and the REISS website.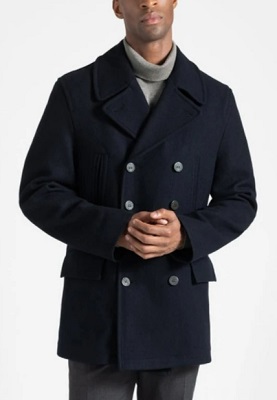 Even though the earliest peacoats were worn by Dutch sailors, the modern design really became famous thanks to its use in the British Navy. So I would be remiss if I didn't include an alternative from a great English brand. Gloverall has been making classic men's outerwear since the early 1950s, including their now famous duffle coats (we'll have more about those coming soon!). Their take on the peacoat is, as you'd expect, pretty traditional. The make them in the UK from a 100% Melton wool with fuller, longer cut and eight button front. It may not be the best match for Bond's peacoat. But it's certainly iconic in its own right and definitely worthy of consideration.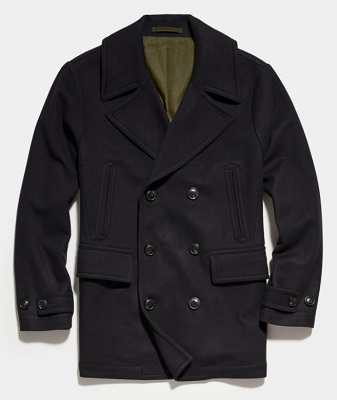 I had a chance to check this one out in a Todd Snyder store. And it's really nice! The 90% wool, 10% cashmere has a super soft hand. The fit is true to size and pretty classic, but not overly boxy. And the details, from horn buttons to the Bemberg lining, add an extra luxury touch. It's also on the lighter side. So I'd anticipate needing to layer it over a heavy sweater on the coldest winter days. But it could also be a great choice if you live somewhere that gets chilly but not freezing. You'll find sizes XS to XXL on the Todd Snyder website.
I'll keep adding more options as they appear. If you have a good alternative for the James Bond Skyfall peacoat you'd like to share, let us know all about it in the comments below! And remember to check us out on Facebook,  Pinterest, and Instagram for more style advice, inspiration and info on where to find the latest deals!