The Essential James Bond Sweaters Part 2
Update: We have a new version of this post with plenty of fresh alternatives! You can see it here!
In Part 1 of our exploration of the essential James Bond sweaters, we looked at designs from Goldfinger, For Your Eyes Only, Die Another Day, Casino Royale and SPECTRE. Now it's time to check out some Dalton-style knitwear and add a little color to our sweater collection.
The Living Daylights Charcoal Fisherman Sweater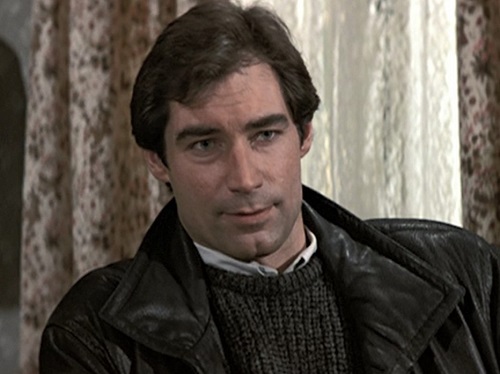 Very similar to the Roger Moore For Your Eyes Only sweater we saw in Part 1. Just in a significantly darker grey. Which, let's be honest, perfectly suits Mr. Dalton's portrayal of Bond. The fit of his leather jacket may be dated. But the sweater style is still a classic.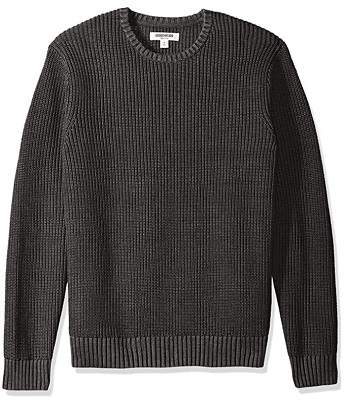 A 100% cotton option from the Amazon house brand for those of you looking for a lighter weight sweater. Although the quality is unlikely to make this an "heirloom" piece of knitwear, the price is more than affordable and they carry plenty of size options.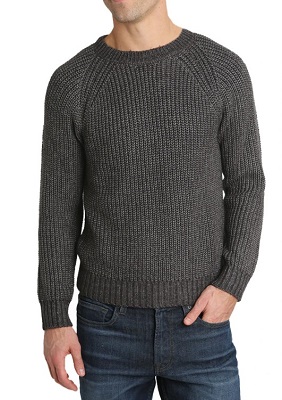 A solid option for us bargain hunters. Normally priced at $129.00, this 76% cotton/24% acrylic sweater hits all the right style details: dark grey color, a pronounced ribbing and a heavier knit around the neck. Sizes small to XXL are in stock on their website.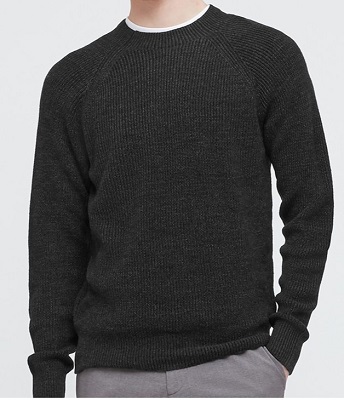 A no frills alternative from the usually reliable Uniqlo. The yarn is 95% acrylic and 5% wool. So not exactly luxury. But Uniqlo quality is actually pretty good for the price and their cuts tend to be more trim. A good option for those of you looking for a more modern interpretation of Bond's sweater. Sizes XXS to 3XL are in stock on their website.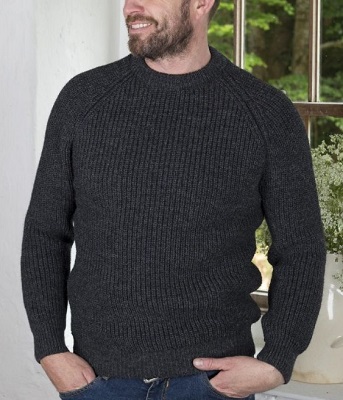 It's almost double the price of the Uniqlo option. But that extra thirty-five bucks buys you a lot of authenticity! Made in Ireland from 100% wool, the dark charcoal color and heavy rib knit are a nearly spot-on match for Bond's knitwear. This is the type of sweater you keep for years. So don't worry too much about the initial scratchiness of the wool. It will soften in time. However, you could also spend another fifteen bucks and get their Baltimore Fisherman's Sweater for $89.95. That one is made from 100% Merino wool which will be much softer from the get go.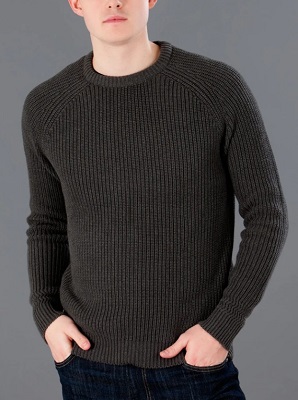 And we're back to the 100% cotton alternatives. This one is a medium gauge knit. Meaning it won't wear as warm as the more traditional wool options above. But it also won't be as bulky when you're layering it under your black leather jacket. One of the nice things about this Paul James sweater is the thick, chunky collar. It does a great job of replicating the look and feel of the one Bond wore.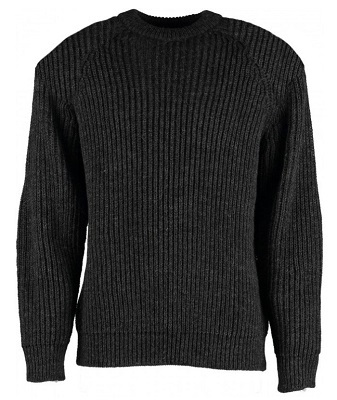 If you're more interested in warmth than a trim fit, then here's your sweater. Made from "soft wool from Welsh mountain sheep" and knitted with a thick gauge ribbing, they've constructed the sweater using a "fully-fashioned" technique. Which means the sweater seams are knitted together using special stitches rather than sewn together, which you'll see on less expensive knitwear. Fully-fashioned construction allows for a better overall fit, flatter and stronger seams and makes the sweater less resistant to stretching out . In other words, you can expect this piece to last you a long time.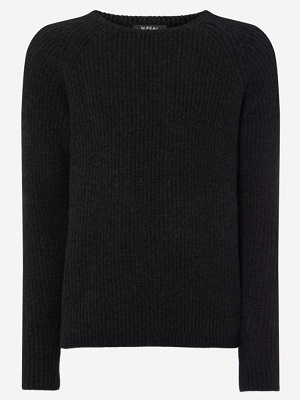 Part of N.Peal's now famous "Inspired by Bond" line, this sweater is made from a 50% cashmere, 50% superfine Merino wool yarn. And, of course, it will come in that special 007 branded packaging. I think this model was one of the more popular options from their collection seeing as their down to sizes small, XL and XXL on the website.
The Teal Crew Neck Sweater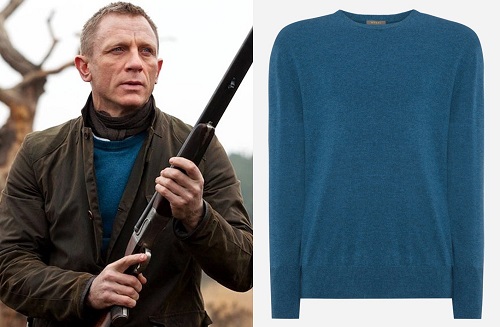 The knitwear that started Bond's relationship with British brand N.Peal. As we all know by now, the original screen used knit was their Cashmere Oxford Round Neck in Blue Wave, which you can still purchase for $350.00. And on a list dominated by blacks and greys, it's good to add a little color to the mix. Even if that color is a little difficult to find. N.Peal spends a lot of time getting their colors just right. So finding an exact match isn't easy.
A no-frills 100% cotton option from the online retail giant's house brand. The color is shade more green than the N.Peal sweater. But it should still give the right effect under your Barbour. Plenty of sizes still in stock.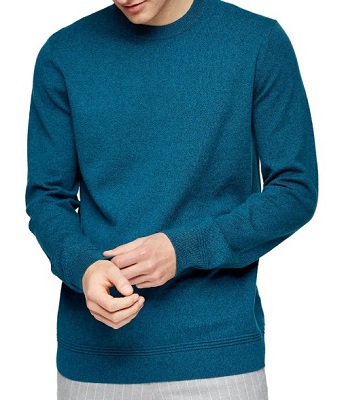 Based on the online product photos, this one looks like an excellent color match. Fabric is an 80% cotton, 20% polyester blend and it's described as a "slim-fit". So expect it to be a little snug through the body. Since this one is on sale and we're getting late into the winter season (at least from the retailer perspective), sizes are going fast.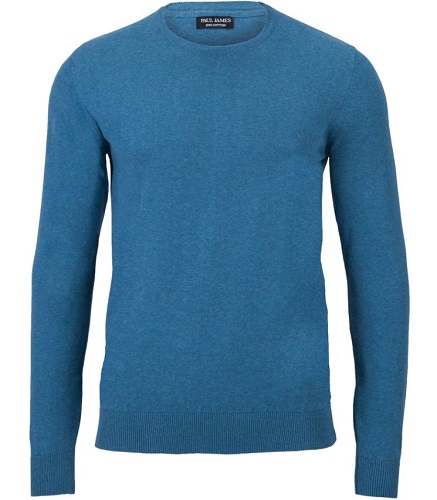 And from the "a little too green" of the Amazon alternative we move to the "a little too blue" option. Which, honestly, I prefer since teal green makes me look like I have jaundice. Paul James makes most of its knitwear in the UK. But this 100% cotton jumper is made in their Indian factory. It's also described as a "slim fit". So keep that in mind when you look at the sizing.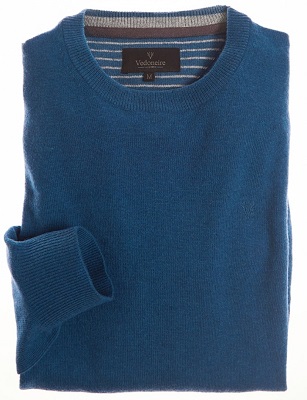 A slight jump in price. But now we're getting an 80% lambswool, 20% nylon yarn which makes for a warmer sweater. There is a small Vedoneire logo embroidered on the chest. But the thread is tonal so it doesn't jump out at you like a red polo pony would. Sizes medium to 2XL are available on their website.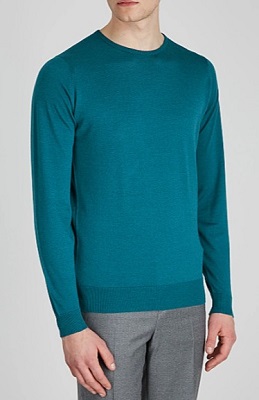 A higher end alternative from another Bond brand. Here we're getting a 54% wool, 46% cotton blend in simple style. And, as you can see in the product photo, the color is leaning a little more green than the original N.Peal. Harvey Nichols has sizes small to XXL in stock.
The Black Polo Collar Sweater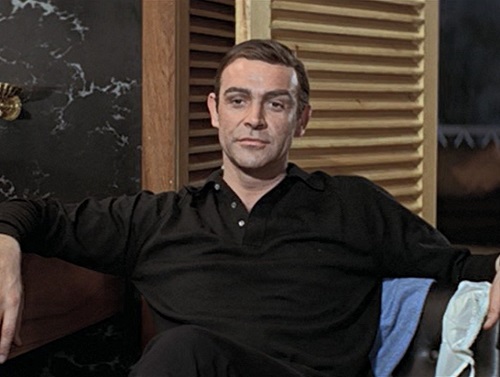 If any sweater can beat the v-neck as Bond's favorite style it's the polo. Connery wore it in black in both Thunderball and Diamonds are Forever. Dalton sported a dark navy one with an extra long placket in The Living Daylights. And Craig wore a black (presumably cashmere) version when he broke into M's apartment and a brighter blue cotton one for his run through Venice in Casino Royale. While any of those can work in a man's wardrobe, I feel like that the black knit version is the one with the strongest Bond connection.
And honestly, if you just want a simple cotton long sleeve polo shirt, there's no shortage of affordable options out there on the market. So for this post I've decided to focus on some more refined alternatives.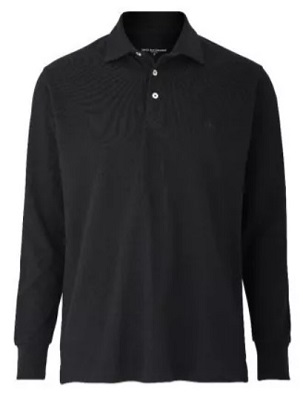 Made from a 180 gram pique cotton, the self-collar and trimmer fit elevates this alternative above your typical cotton polo. There is a small logo on the chest, but since they've used tonal thread for it, it's not too in your face. Saville Row Co. has sizes small to XXXL in stock.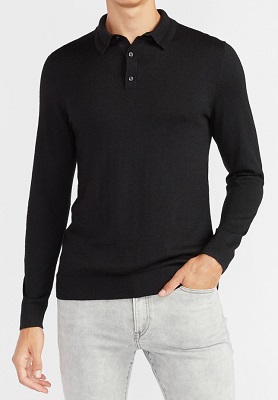 I normally wouldn't use the word "elegant" to describe an Express polo. But it seems appropriate here. The fabric is a wool and polyester blend (I'd guess there are more synthetic than natural fibers in the mix) and they've gone with a trimmer fit and tonal buttons at the placket. However, the collar may be an issue for some. It's a more standard rib knit construction with some decorative stitching around the edge. It's not particularly noticeable but it's a detail that takes a little bit away from the desired simplicity we look for it most Bond pieces.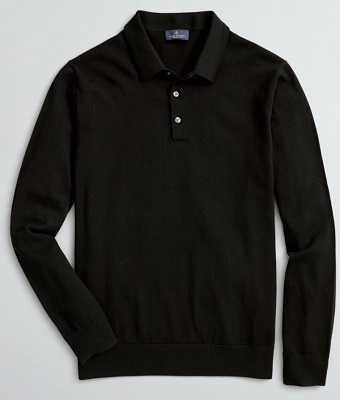 Very similar to the Express polo, right down to the "Milano knit" detailing on the collar. But the extra fifteen dollars buys you 100% Merino wool yarn. Thankfully Brooks Brothers has decided to skip that parachuting sheep logo they seem to want to stitch onto everything. They have sizes small to XXL on their website and since this Brooks Brothers I would expect the fit to be on the generous side.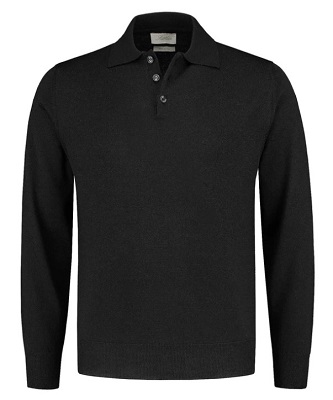 I've shared this sweater more than a few times now. And I still think it offers great bang for the buck. Handmade in Italy from 100% extra-fine Merino wool, it comes in a trimmer fit that will work well on its own or layered under a jacket and genuine mother of pearl buttons. Sizes small to XXL are in stock on their website.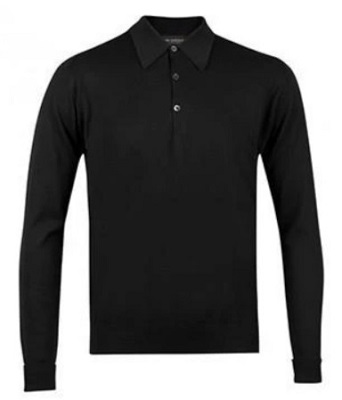 And a final alternative from the maker of Bond's Skyfall v-neck sweater. With the Finchley, we're moving to a 100% Sea Island Cotton fabric (a Bond favorite). It also has a slightly longer placket with more space between the buttons, which nicely matches the style of Connery's polo from Thunderball. You can buy the sweater directly from John Smedley. But I found the price for those of you in the U.S. to be better at Mason & Sons (about a hundred bucks cheaper!), so that's what I've linked to above. They have sizes small to XXL in stock. If you'd like to go with a 100% Merino wool polo from John Smedley, you can check out their Cotswold model for $310.00.
The Navy Aran Knit Sweater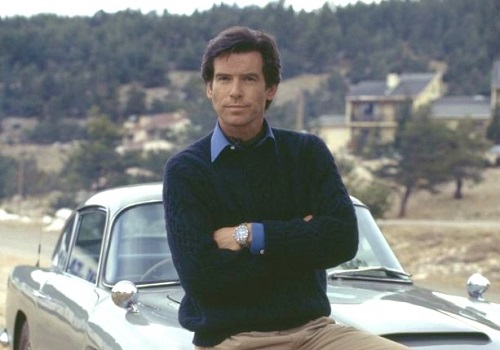 I do love me a traditional Aran knit! And although Bond has only worn the style one time in Goldeneye, he did pick a nice one. The heavier weight knit and pattern give it a suitably rugged look. But by going with a dark navy in a slightly trimmer fit, it comes across as a more sophisticated piece of knitwear, one that's appropriate for a man driving the iconic DB5. If you're looking for a great weekend sweater for your winter wardrobe, this is definitely a style to consider.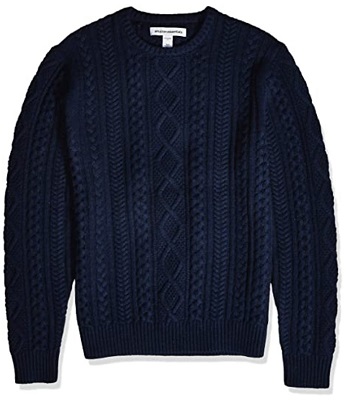 A 60% cotton, 30% nylon, 10% wool alternative from Amazon. Although I wouldn't expect this to be the best sweater ever made, the color and overlapping cable knit pattern are actually a pretty good match for Brosnan's knitwear. They have sizes XS to XXL available on the U.S. site, but size small is currently sold out. I hunted for it on the UK site, but no luck finding it. If you're looking for something a little more refined (but still very affordable), you could try their Goodthreads Soft Cotton Cable Stitch Sweater for $30.00.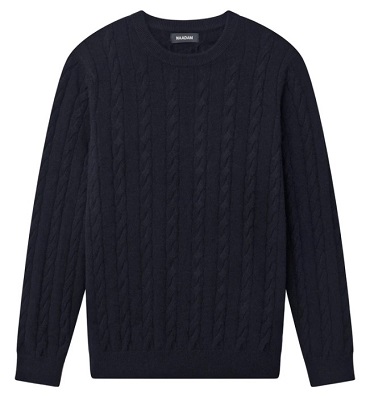 This could very well be the best bang for your buck on the list. Normally priced at $150, Naadam has gone with a 90% wool, 10% cashmere blend yarn and a trimmer, more modern fit. And while the cable pattern may not match what Bond wore in Goldeneye, it does come very close to the more sophisticated N.Peal interpretation. Naadam has sizes XS to XL available on their website. Just note that you may want to size up for a more relaxed fit and this is a final sale item. So there's no sending it back if it doesn't work for you.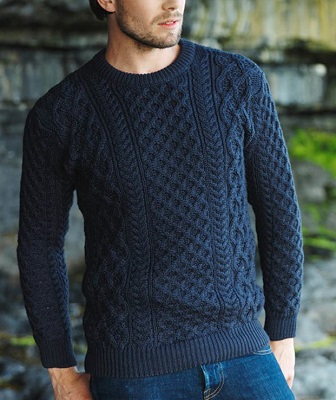 A traditional Aran knit pattern in a more fitted design, made from a softer, 100% Merino wool. What's not to like? As a bonus, GlenAran offers express shipping from Ireland and a 60 day return period (although return shipping costs could get pricey). For those of you looking for heritage style with a modern twist, this could be a solid alternative. Sizes XS to XXXL can be found on their website.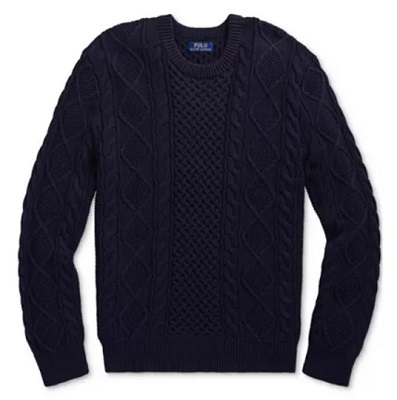 A classic, 100% cotton alternative from the house that Ralph built. This is currently full price at Macy's. However, as we know, Macy's is almost always running some type of sale. So I wouldn't panic. Sizes small to XL are available on the Macy's website.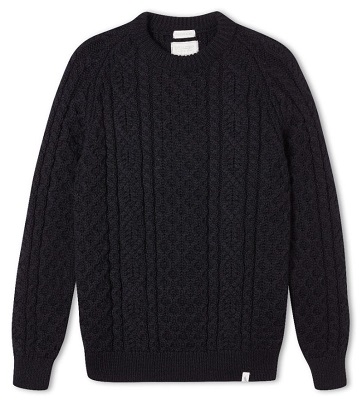 Another traditional design made by a heritage knitwear brand, this time based in England. The yarn is 100% British wool "sourced no more than 60 miles" away from the Peregrine factory. With proper care, this will be one of those sweaters you pass down to your kids. Sizes small to XXL are available on their website, but size large is currently out of stock.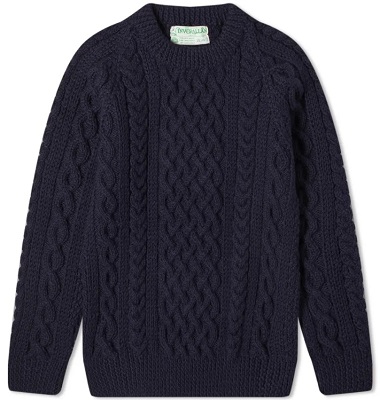 So if you can get a traditional Aran knit from GlenAran or Peregrine for around a hundred bucks, why would anyone pay two and half times that? Well first of all, the pattern, with its thick overlapping cable knit throughout, is a great match for Brosnan's sweater. And each sweater is hand-knit by the family owned company in Alloa, Scotland. So each piece will be subtly unique. Hand knitting, while certainly more time consuming and labor intensive, also produces a heavier knit sweater with a full-fashioned construction. So expect a better fit and high quality construction. It's an investment for sure. But it will be worth it for some of us looking for something really special. I've linked to END clothing above since they have a good price and easy shipping to the U.S. But you can also check out Inverallan's website for more information about the company and its products.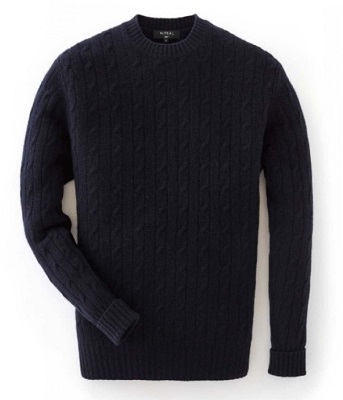 And last, but certainly not least, we have the N.Peal interpretation from their "Inspired by Bond" collection. Bond Lifestyle has an excellent review of the sweater where they note the key differences between this one and the screen used knitwear. To summarize, it's a thinner and more refined 100% cashmere piece. That will make it more wearable when layering and for warmer weather. But if you want you a chunky "fisherman on the open waters" look, this isn't exactly the sweater you're looking for. Sizes XS to XXL are still available on the N.Peal website.
You can find Part 1 of our Essential James Bond Sweaters over here. And if you think we missed a great alternative in Part 2, tell us about it in the comments! Also, check out our article on How To Care for Your Cashmere Sweater so you can keep your new knitwear looking its best. And remember to visit our Facebook page, Instagram account, Twitter account and Pinterest Boards for more James Bond style advice and inspiration!