The Essential James Bond Sweaters Part 1
Update: We have a new version of this post with plenty of fresh alternatives! You can see it here!
It's sweater weather! This is the time of the year I look forward to the most. You see, I'm kind of a sweater addict. And 007 has certainly sported some damn fine knitwear throughout the franchise's history. Put those two things together and you'll understand why I get excited writing about the essential James Bond sweaters every fan should have in his (or her) collection. There's a lot to cover here (so much that I had to divide this post into two parts!). So let's get started!
The Black V-Neck Sweater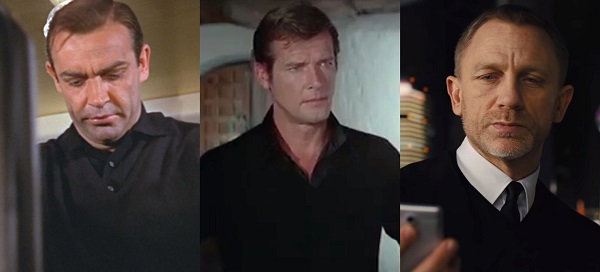 Bond certainly likes his black V-neck sweaters. From Connery's Goldfinger outfit to Moore's black-on-black look when he's being confronted by Anya in The Spy Who Loved Me to Craig's Shanghai style in Skyfall, this versatile piece of knitwear has been a consistent part of our favorite agent's wardrobe. When one sweater can help you capture this much Bond-style, it's definitely earned a place in your closet.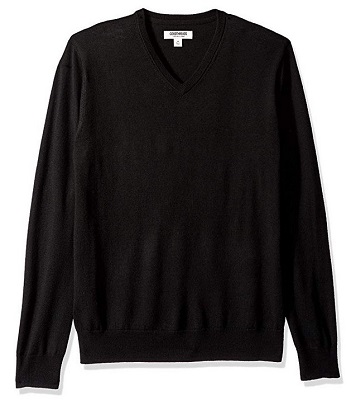 About as affordable as it gets. This is coming from one of Amazon's in-house brands and the quality of the wool and the fit are both pretty well reviewed (4.3 out of 5 stars after 1500 reviews). Plenty of sizes in stock as well. If you want something basic that offers good value for the money (and who among us doesn't want that?) this one seems like a pretty solid bet.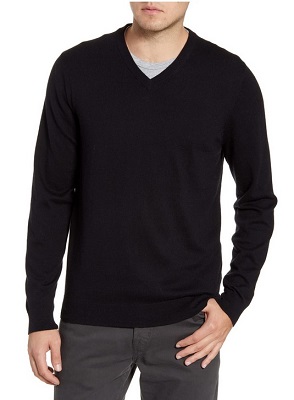 Looking for something lighter weight with a touch of luxury? This should do the trick. The knit is a 95% cotton/5% cashmere blend and Nordstrom has sizes medium to XXL in stock.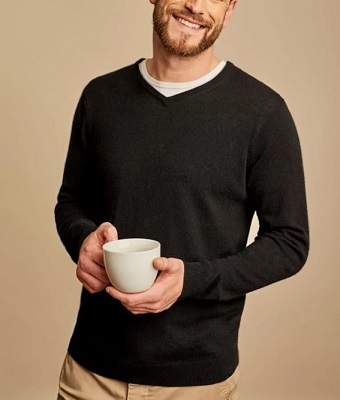 A classic style in a trimmer fit than we used to see from Woolovers (even if they still describe it as their "Classic" cut). Made from a blend of 20% Cashmere and 80% Merino, it currently sits with 4.5 stars out of 5 in the reviews. A similar model is also available in 100% Cashmere for $135.00/£99.00 but they're down to sizes small and medium in that one.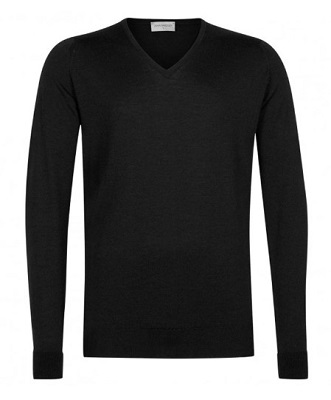 Yes, you can still get Bond's Skyfall Shanghai sweater. Made in England from extra-fine Merino wool, it's a slimmer fit than most traditional V-neck sweaters. Just something to consider when selecting your size. I've linked to Mason & Sons here. But you can also purchase the sweater directly from John Smedley for £180.00.
The For Your Eyes Only Grey Ribbed Knit Sweater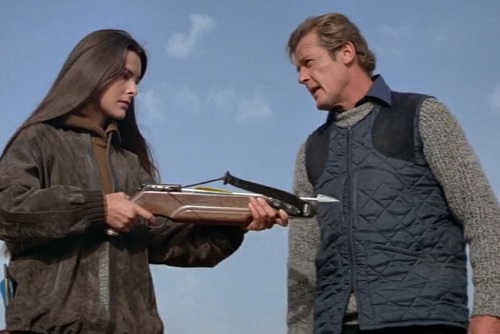 Still one of favorite looks from the Bond franchise (although I would probably keep the shirt collar neatly tucked away under the sweater). The combination of the heavy ribbed knit sweater with the quilted shooting gilet manages to combine "English gentleman" and proto-workwear in a way that would totally fit in with today's styles. We've already looked at some options for the gilet in our "7 Bond Jackets for Fall" article. But you should also seriously consider making the rustic fisherman-style sweater a part of your knitwear rotation.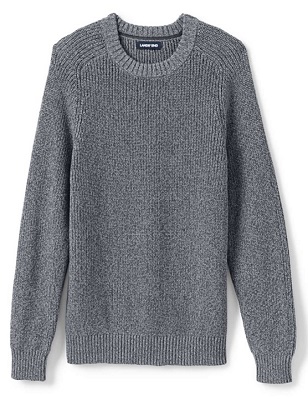 This one has been part of Lands' End's line-up for a loooong time and still gets solid reviews. It's a thicker 100% combed cotton yarn knitted with a pronounced shaker stitch. It it should have plenty of heft to match Sir Roger's look. Regularly priced at sixty bucks, the sale price means these are going fast. Currently they're down to sizes small, medium and XXL. But my experience with Lands' End is their products tend to fit big, so a small should fit most mediums out there.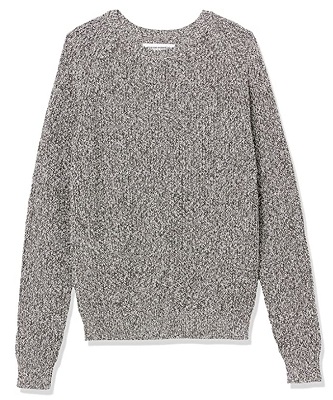 Another 100% cotton option in a heavier knit, this time from another Amazon house brand. I'll admit I'm not totally sold on the yarn blend with this one. From a distance it looks like a good match for the screen used sweater. But the close-up photos on the product page show the contrast between the dark grey and light grey yarns is much more noticeable. Still, it's a decent enough sweater at an affordable price if you want to dabble with the look.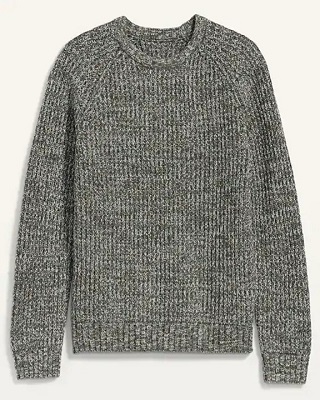 Much like the Amazon sweater above, there's a noticeable contrast between the darker and lighter yarns in the knit. But in this case it seems to be balanced more effectively to give the sweater a more "natural" look. The fabric is a blend of 60% cotton and 40% nylon, which should make caring for it easier. For those of you on a tighter budget, this is definitely one of my favorite options. Sizes XS to XXXL are in stock on the website.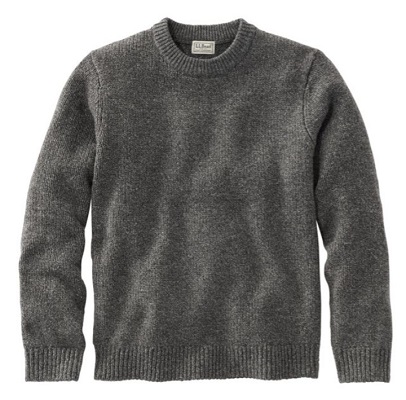 An absolute classic. I still have my Bean Ragg wool sweater I bought in the early 1990s. And it's still one I reach for when the weather gets chilly. Made from 100% lambswool, it will definitely feel itchy when new. But the yarn softens up over time with wear and washing. Just note that the color is missing the noticeable dark and light marling we see in the FYEO sweater. And since this is L.L. Bean, expect the cut to be generous. Sizing down should be considered.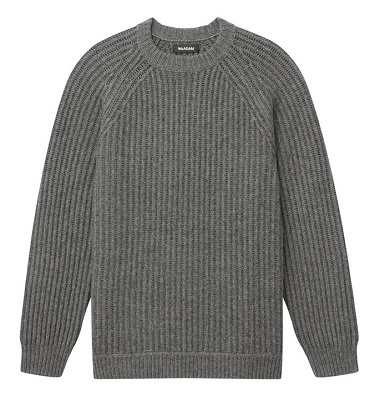 Naadam is a relatively new brand, but they've popped up on my radar a few times over the last few years. Started in 2013, the owners Matthew Scanlan and Diederik Rijsemus have tried to operate Naadam with ethics and sustainability at the forefront. They're also one of a growing number of small businesses that are operating under the "we cut out the middle-man" business model. Which means they're offering higher quality wool and cashmere pieces at reasonable prices. This particular sweater is a blend of 90% wool and 10% cashmere. Like the L.L. Bean sweater, the color is darker and the marling less pronounced than Bond's sweater. But it's a thick knit with pronounced ribbing that certainly captures that rugged look we want. Sizes XS to XL are in stock on the Naadam website.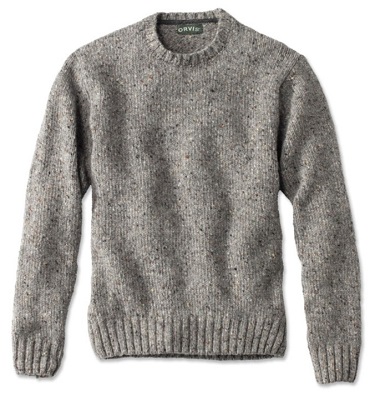 And from darker colors to something a little lighter. Made from a genuine Irish Donegal tweed yarn, this option from heritage outdoor company Orvis definitely has that mountain man look Sir Roger was sporting. Only sizes medium and XXL are available on the website. But the reviews are very consistent in noting that the sizing runs really big on this one.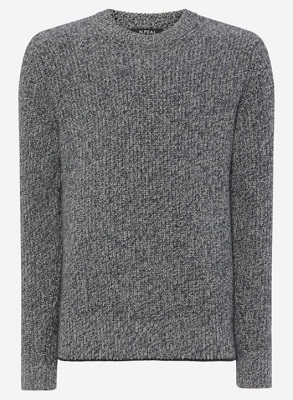 Of course we have to mention famed Bond-brand N.Peal's interpretation of the FYEO sweater. At $630, it ain't cheap. But, honestly, was anyone expecting it would be? The yarn is a 50% Merino wool/50% cashmere blend. So it's probably one of the softest sweaters listed here. And the beautiful looking packaging is a nice bonus. Sizes small to XXL are still in stock on the N.Peal website.
The Grey Roll Neck Sweater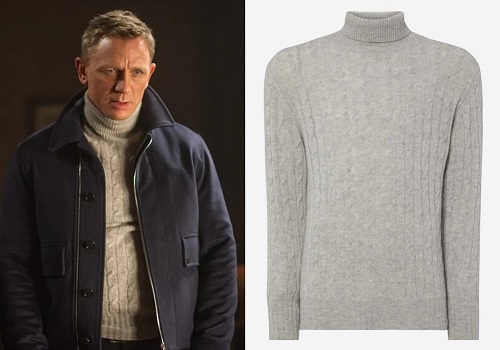 What more can we say about Bond's "Mr. White" sweater from SPECTRE? At this point almost all of us know he was wearing the N.Peal Cashmere Turtle Neck Sweater in Fumo Grey, which you can still purchase for $430.00/£339.00. And even though it was only onscreen for a relatively short amount of time, it's definitely a fan favorite. Worn with the blue Dior jacket, it gave Bond a rugged but sophisticated look that has become something of signature style for Craig's 007. And that's a look we can all mine for inspiration during the cold months!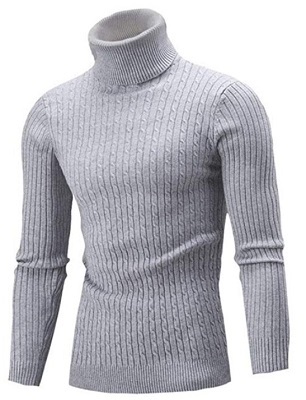 Let's play "Guess the Fabric"! Because there's no mention of what this one is made of on either the Amazon UK or U.S. site. Obviously it's one of those mass produced numbers that Amazon FBA stores sell under various obscure brand names. So if you dig around for a bit, I'm sure you'll find it at a cheaper price. But the design and color aren't a bad match. Just watch out for the sizing! The U.S. site only lists XXS to XL. However, you'll find the actual measurements for each size on Amazon UK. Expect it to fit small!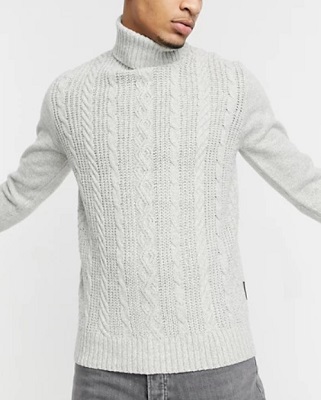 A slightly more complex cable pattern than what we see on the N.Peal sweater. And the yarn is 100% acrylic (which shouldn't be a huge shock at this price point). But it does come close in color and more sophisticated design. And with MSRP of $122.00 (what?!?) the 64% discount is appreciated! ASOS has sizes XS to XL available.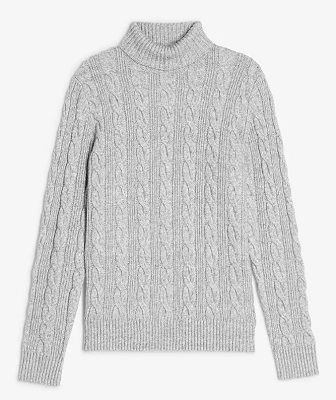 Probably one of the better matches for the original out there at the moment. The yarn is a polyester/acrylic/wool blend (no percentages are given on the Express website). So caring for it should be relatively painless. It also has a trimmer cut which will make it easier for layering under your outerwear. Sizes XS to XL are available on the Express website.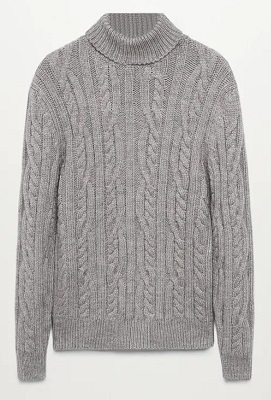 Although darker in color with a chunkier cable pattern than the N.Peal, this option from Mango still has a similar vibe to the original and will look good when trekking through a winter wonderland. However, the yarn is 86% acrylic, 9% polyamide, 5% elastane blend, with nary a natural fiber in sight. No doubt that will be a turn-off for some of you. Sizes small to XXL are in stock on the U.S. site. But they're down to mediums and XXLs on the UK one. Mango also has another version called the "Turtleneck Wool Sweater" for $89.99/£59.99. That one has a more refined cable knit pattern closer to the N.Peal design and adds some cotton and wool to the yarn blend. But the color is a very light brown toned "Sand" that might not work for everyone. Still might be worth checking it out!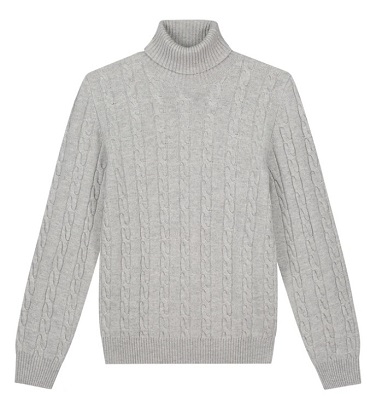 I've been loving some of the designs Aurélien has been producing lately. And the quality of the pieces I do have from them have honestly really impressed. So I'd have high hopes for this sweater. Obviously, the color and cable knit design are a great match for what we see on screen. But there's also the fact that the sweater is hand made in Italy with a 90% extra-fine Merino wool and 10% cashmere blend yarn. It's not the lowest priced alternative in this post. But should prove to be great value for the money. Sizes small to XXXL are in stock on their website.
The Charcoal Grey Roll Neck Sweater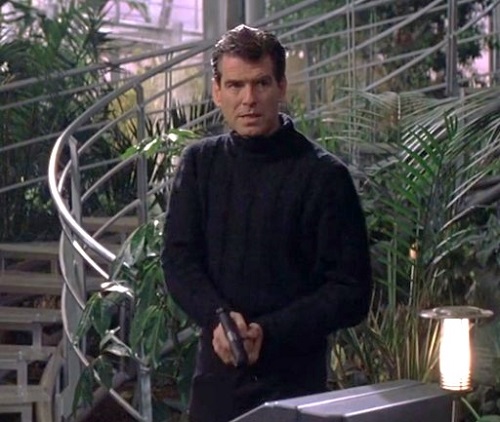 And we'll wrap up Part 1 with another awesome turtleneck: the charcoal cashmere Ballantyne Bond wore in Die Another Day. Made specifically for Brosnan's 007, its most distinctive feature is certainly the extra-wide ribbed knit. You'll find more information about the sweater in this article on James Bond Lifestyle. I'll only add that, although the movie may have its flaws, that sweater is an absolute winner!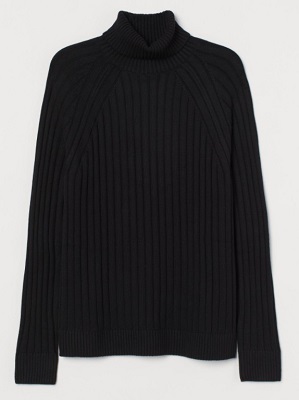 Well, it certainly comes close to the extra-wide rib knit of the Ballantyne! The fabric is a 40% viscose, 30% cotton 30% polyamide blend in a heavier knit. H&M has sizes XS to XL on the U.S. site, but the sweater is unfortunately sold out in the UK.
So you want a chunky knit? I'll give ya a chunky knit! Made from 100% acrylic yarn, the sweater's body is certainly close to what we want. But I'm the first to admit it takes a certain type of guy to pull off that heavyweight roll collar. This obviously one of those "mass-produced in China" sweaters that's picked up by multiple "companies" playing the FBA game on Amazon. But it also has 4.3 out of 5 stars after 100+ reviews. So it can't be all bad. Just make sure to check the sizing! Most of the complaints focus not on the quality but the fact that the sweater fits extremely small.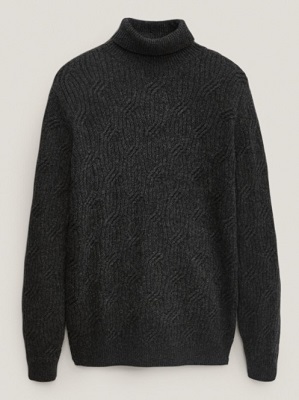 I was a little on the fence about including this one, simply because its pattern doesn't match the screen accurate wide-rib knit. But (in my humble opinion) it's the unique knit of the Ballantyne that really makes it stand out. So maybe you don't want a direct copy of Bond's sweater but still want that rugged yet sophisticated vibe. Then this one could do the trick. Made from a 90% wool and 10% yak hair yarn, it certainly looks heavy enough. And (again in my humble opinon), that "ribbed knit meets wavy cable" pattern sets it apart from the other black turtlenecks out there.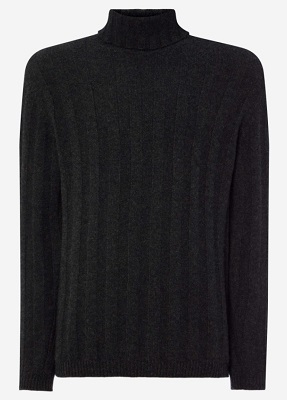 And once again we come to an N.Peal interpretation of a classic Bond sweater. As with their FYEO sweater, this one is a blend of 50% cashmere and 50% fine Merino wool. Of course it totally nails the style details of the original and comes in the exclusive 007 packaging, which some of us love. N.Peal has sizes small to XXL available.
You can view Part 2 of our Essential James Bond Sweaters by clicking here. But if you think we missed a great alternative in Part 1, tell us about it in the comments! And if you haven't already, check out our article on How To Care for Your Cashmere Sweater so you can keep your new knitwear looking its best. You can also visit our Facebook page, Instagram account, Twitter account and Pinterest Boards for more James Bond style advice and inspiration!