7 Essential James Bond Jackets for Fall
Despite what the sun might be currently telling you, cooler weather is coming (eventually). So here's our first look at the 7 Essential James Bond Jackets you'll want to look for this fall. Many of these already have dedicated posts with alternatives. And those will be getting updated over the next month or two as new options become available. So consider this a preview, with lots more to come!
The Skyfall Barbour X To Ki To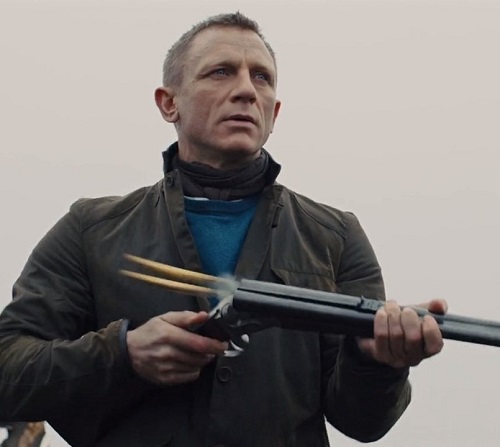 What else can we say about one of Bond's most iconic jackets? At this point, most fans know that his Skyfall Scotland outwear was originally from a collaboration collection between Barbour and Japanese designer Tokihito Yoshida. The stock jacket was modified for the movie, with the costume department removing the zippers and buttons at the collar that attached the included hood.
The almost immediate popularity of the To Ki To (and the fact the original was a limited edition model) led Barbour to release a "screen accurate" version called the Dept. B Commander, which came without the hood and the extra zippers and buttons. It was also missing the internal chest flap that was never seen in the movie. The Commander is now simply called the Beacon Sport Coat.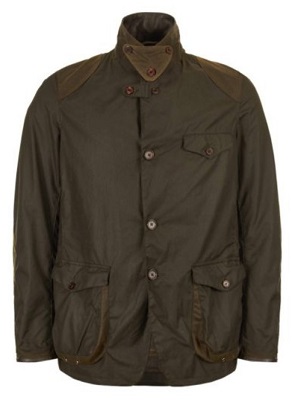 And here it is. As mentioned above, if you're after the original, the Beacon Sport Coat is about as screen accurate a jacket as you can get without waiting for a To Ki To to turn up on Ebay or Grailed at an inflated price. Aphrodite1994 has sizes XS to XL in stock.
The closest, less expensive model from Barbour is probably the Lutz. It has the button front, the blazer style collar and the bellow pockets. But it's missing the chest pocket, the collar trim is dark brown corduroy and it uses a buckle throat latch.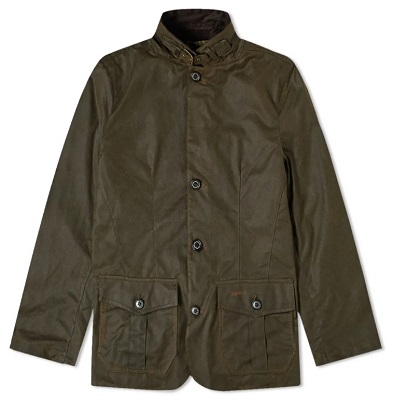 Still, it's a pretty good match for the To Ki To (and a nice jacket in its own right) and it's coming from the original brand. End Clothing has sizes 38 to 44 for £229.00/$285.00. And they offer to pay the shipping and any import duties.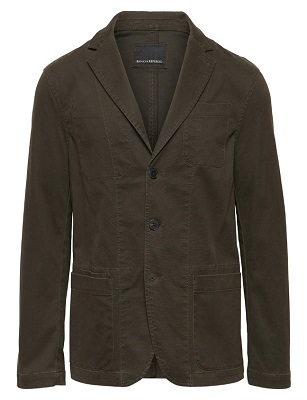 Made from a 96% cotton/4% spandex blend, this is obviously a more casual, less technical piece. But that can have its advantages. For one thing, it will make the jacket more versatile so you can use it in a wider variety of casual outfits. Banana Republic has sizes 38 to 44 in stock. The sale price is part of their current Friends and Family event, so don't expect it to last long.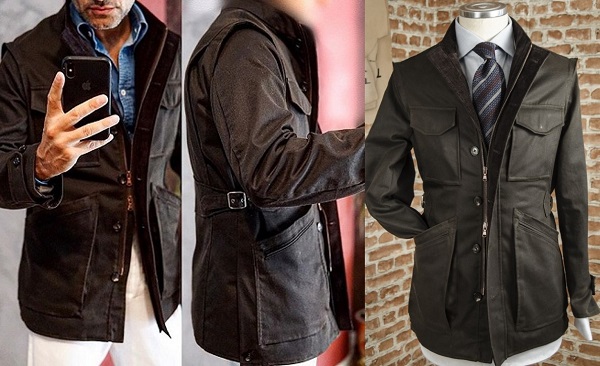 I almost never link to a vendor that requires you to create an account before you can see its products. But I'm making an exception in the case of López Aragón. I've bought from them before, so I know their legit. And they make really nice jackets! Is their Mastang an exact replica of the Barbour To Ki To? No. It's very much its own thing. The details, from the side waist adjusters to the cuff and skirt tabs to the well thought out pocket construction, give it a unique but still heritage vibe. It won't be a jacket for everyone. But if it does capture your attention I recommend contacting López Aragón for more info.
The For Your Eyes Only Gilet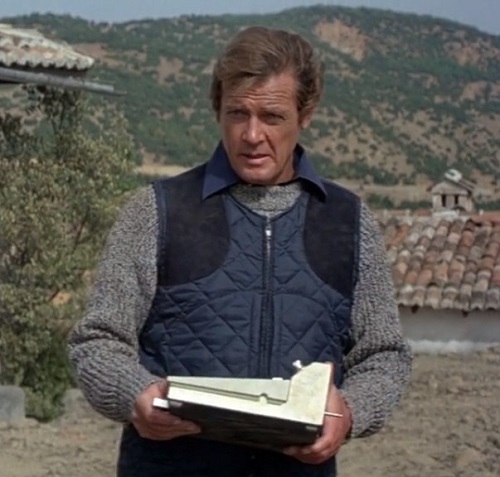 Okay, so technically it's not a coat or a jacket. But a gilet or light quilted vest can be a very practical layering piece for fall. Follow Sir Roger's example and throw it on over a sweater for little extra warmth and protection from the wind. Or use it under a light jacket for some additional insulation. There's also a trend right now to use lighter quilted vests with tailored pieces such as sport coats and blazers. And they pack up small to fit in a day bag. In other words, the gilet is extremely versatile.
Bond's gilet from For Your Eyes Only is a pretty classic example. The minimalist design and mid-navy color work in a variety of looks. And the diamond quilting and suede shooting patches give it a rustic feel that ties in with more work wear and heritage styles. We'll be updating our dedicated post on the gilet with more alternatives in September.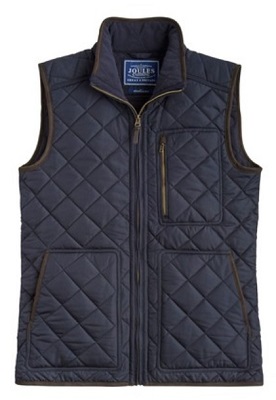 The design is busier than the one from For Your Eyes Only. But it still captures that "minimalist meets rustic" vibe we want. Even without the shoulder patches. And the it does have some nice details such as the contrasting brown suede trim and brass colored zippers. Amazon U.S. and UK have sizes small to XXL in stock.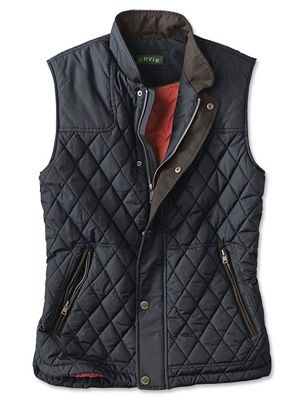 Much like the Joules option above. But with a front placket and shoulder patches. Orvis has sizes medium to XXL available. However, knowing the way Orvis's sizing works, you might want to think about sizing down for a trimmer fit.
The Quantum of Solace Tom Ford Harrington Jacket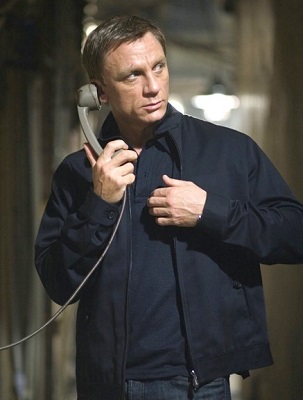 The jacket that hooked many a man on the current Bond's casual style. And it's pretty hard to go wrong with a timeless classic like the Harrington. Tom Ford's interpretation for Quantum of Solace, with its open cuffs and hem, was based more on the Barcuta G4 design (see below). And those details give the Harrington a cleaner, more sophisticated feel. But the same jacket can easily be used for some Steve McQueen Thomas Crown G9 looks. In short, it's a staple jacket style every guy should own.
We updated our dedicated post on the jacket back in April. But we'll be doing a refresh soon as new options show up in stores for the fall season. And if you'd like some ideas for wearing the Harrington in some other, non-screen accurate looks, check out this 4 Ways to Wear It post.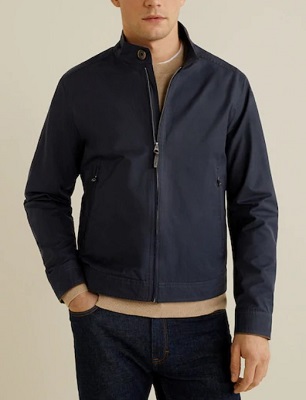 If you're a size extra-small or large, get it while you can. Even with the leather trim at the collar and zip pockets, this is still the closest alternative I've seen in a while. Sadly now sold out now in the UK. Just be aware that Mango uses European sizing. And by that I mean the size large is probably going to fit like a U.S. medium.
Ribbed knit cuffs. It's got 'em. But if you can get past that and appreciate the open hem, then this alternative from Farah isn't a bad choice. The fabric is a 100% cotton twill and House of Fraser currently has sizes small to XL available.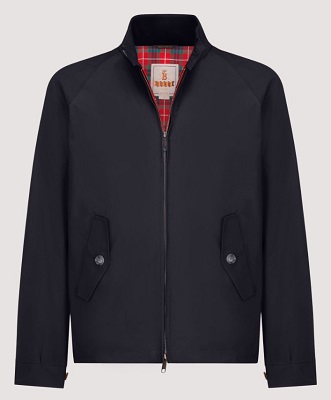 Honestly, if you can afford it, just save up and get a genuine Baracuta G4 in Navy. Not only is it a close match for the Tom Ford, as a bonus, you'll be the owner of a jacket that has a long history beyond Bond. Baracuta currently has sizes 34 to 50 in stock. I own a couple of Baracutas and they're pretty true to size, especially in the "Classic" cuts.
The Skyfall Levi's Vintage Clothing Menlo Leather Jacket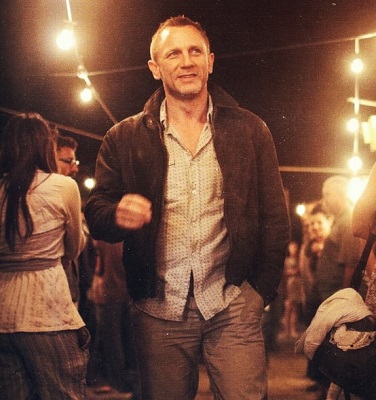 Considering the Bond's taste in leather jackets in the past tended to favor baggy suede blousons or oversized 3/4 length numbers, seeing the vintage-style Menlo in Skyfall was a bit of fresh air. And it certainly was a vintage style. Many owners had issues with the jacket's shorter torso length and longer sleeves. But the design was directly copied from a model Levi's made in the 1930s and that fit is very much of that time.
There are still many companies today that make "heritage" style leather jackets. But the Menlo had two unique design details that are difficult to find on reasonably priced alternatives. First, the front pocket design. And second, the pleating of the "action back". Menlos still show up on Ebay from time to time. However, if you want the exact model from the right season, expect to pay a premium. We'll be updating our dedicated post on the Menlo with more options very shortly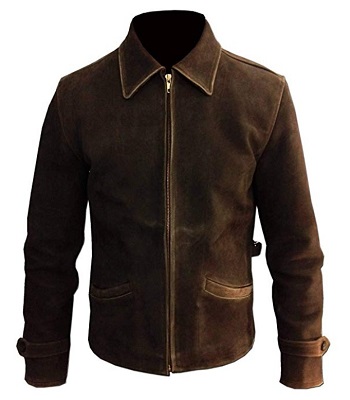 There are a ton of cheap Menlo repros available on Amazon. And, honestly, most of them look horrible. I'm including this one for three reasons. First, it looks to be a different model than all the others and a little better quality. Second, So-Shway has its own website, with it's own product photos and models, and it looks to be up to date. Third, this is being sold on Amazon with a 30 day money back guarantee. So if the jacket ends up being less than you expect (and don't expect too much for $120!), you should have some buyer protection.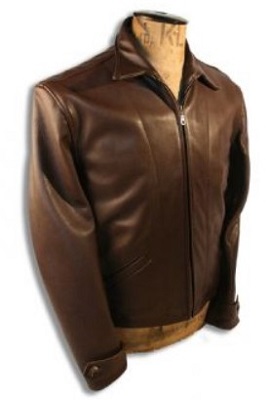 The other Menlo repro maker that frequently gets mentioned by fans is Wested Leather. There's lots of reviews of their work online (check out this thread on AJB007 for some opinions). And, in general, people have pretty positive things to say about their products. Plus, Wested can usually do some extra bespoke work to really nail the fit without raising the price too much.
The For Your Eyes Only Navy Blouson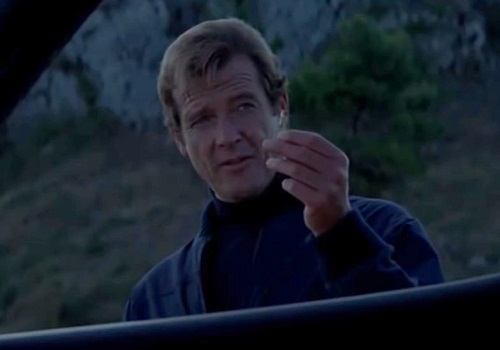 In my opinion, this is one of Roger Moore's coolest casual Bond looks. And if it wasn't an influence on Craig's outfit at the end of SPECTRE, I don't know what was. The good news is Sir Roger's MA-1 style navy bomber jacket is very much in style right now. So there's lots of options at affordable prices. I've focused on alternatives that also have the slightly darker navy trim at the collar and cuffs.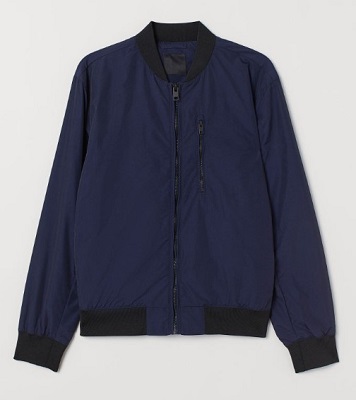 If you just want to start playing around with using a blouson as part of your personal style, it's not a bad idea to pick up a less expensive one. With the exception of the zippered chest pocket, this 65% Polyamide/35% Polyester version from H&M has most of the style details we want. However, I'll admit I'm a little confused by the product photos. In the product only shot (above), the zippers look to be matte black. But in the photos with the model, they look to be shiny silver. Not sure if that's a deal breaker for anyone. But I though I'd share ….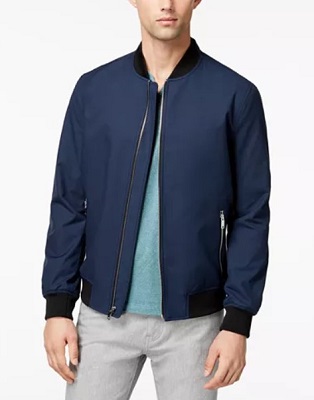 Repeat after me: Alfani is a Bond brand! From the Macy's house label that brought us the Casino Royale One & Only Ocean Club black shirt comes a darn close alternative for Moore's blouson at a darn good sale price. The shell material on this one is poly/cotton blend which should give it more of a matte finish. Macy's has sizes small to large in stock.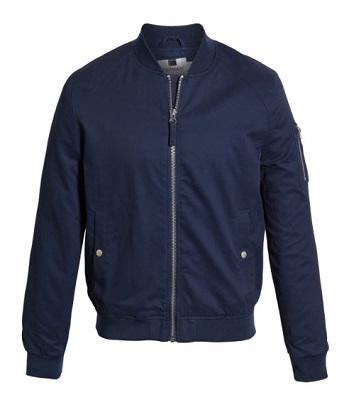 With it's zippered sleeve pocket and snap buttons, the Topman design leans closer to a true MA-1 jacket. But its slimmer cut and 97% cotton/3% elastane shell material still make it a very contemporary piece. For those of you in the U.S., I've linked to Nordstrom above (free shipping and returns!). If you're in the UK, try getting it directly from Topman, where the price is a little lower.
The Bond-style Navy Overcoat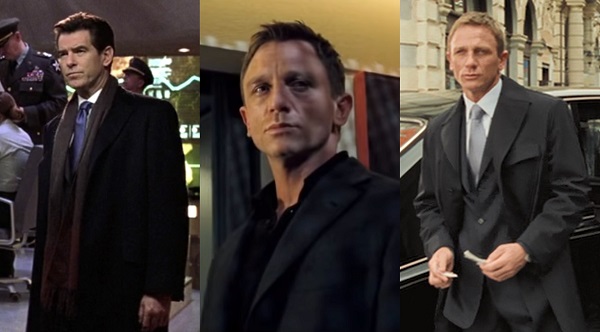 Three for one! Bond is the master of the navy overcoat (and I'm using "overcoat" in a general sense here). However, he's almost always worn them with suits. The fact is a longer, dressier coat can add some sophistication to a more casual outfit. The trick is to keep the design relatively clean and simple. If you want some inspiration, take a look at this 4 Ways to Wear It post.
For now, we're going to look at alternatives for three of Bond's navy overcoats. First, the wool and cashmere ones from Die Another Day, Quantum of Solace and Skyfall. Second, the top coat Bond wears when he breaks into M's apartment in Casino Royale. And third, the belted Mac from the Hotel Splendide arrival scenes in Casino Royale. Technically, each of them is a different design. But any of them can be dressed up or dressed down.
A quick note on coat length and height. For what I hope are obvious reasons, guys who are 5'11" and up can get away with coats that extend below the knee. Guys under that height can definitely still wear longer coats. But they should aim for a length somewhere between mid-thigh and the top of the knee and a trimmer fit so everything looks to be in the correct proportions. Nothing will make you appear smaller than an oversized top coat that ends at your ankles.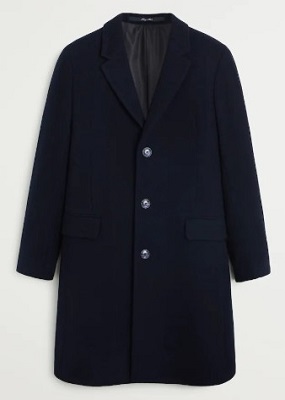 We'll be updating our dedicated post on navy topcoats in October when the weather really cools off. But this new model from Mango shows promise if you want that Skyfall top coat style. Made from a 60% wool/40% polyester blend, it has the three button front, notch lapels and single vent we're looking for. The fit should also work for most people. It's a trimmer cut that ends just around the mid-thigh. Long enough to work with a suit jacket. But simple and contemporary enough to fit in with a more casual look.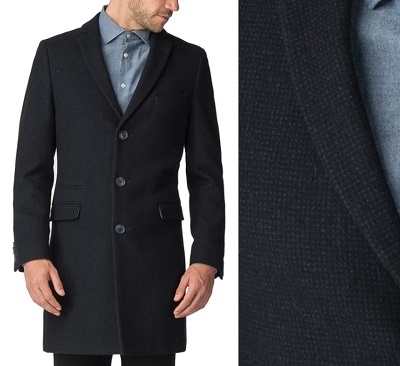 What really sets Bond's Casino Royale top coat apart is the fabric. As The Suits of James Bond points out, the coat has a distinctive pale blue and black barley corn pattern that makes it look deep navy from a distance. While the pattern of the Racing Green coat isn't barley corn, the 50% wool, 35% polyester, 10% viscose, 5% "other" fabric does provide a similar effect. Sizes 38R to 48R are available at Debenhams at a heck of good sale price!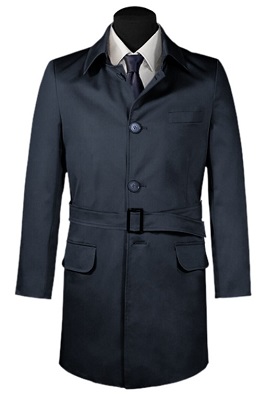 I haven't started looking in earnest for alternatives for Bond's Hotel Splendide arrival coat yet. But I gotta say, I'm liking the possibilities of this option. Yes, it's a custom job. But the price is fair, turn around time seems pretty quick and you can use standard sizing so you don't need to mess around too much with your measurements. Although it's nice to be able to tweak the sleeve length if you need to. The fabric isn't a herringbone pattern like the original. It's actually a water resistant polyester twill. However, with the exception of the flap covered chest pocket (maybe you can ask them to add that?), you can select most of the details needed for a pretty screen accurate look.
SPECTRE Matchless Morocco Suede Jacket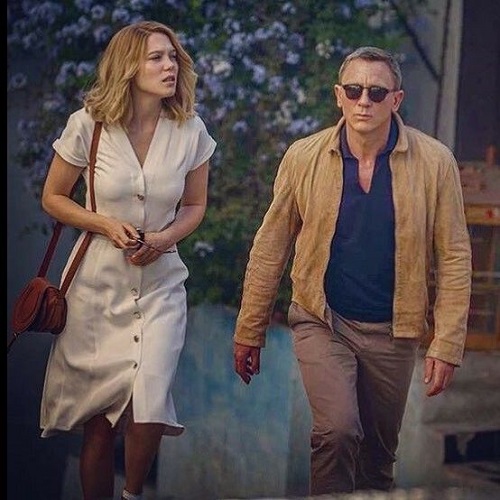 Another very well known piece of outerwear from Bond's closet. Matchless designed the Craig blouson specifically for the film. And more than a few fans were upset when the off-the-rack version became available missing some screen accurate details. Not to mention the fact that it was supposed to be a "limited edition" model but has since become part of Matchless's standard offerings. Whatever your feelings about how the company has handled things with the customers, there's no denying it's a cool looking jacket. And Craig's entire Morocco look is now a fan favorite from the series.
We updated our dedicated post on alternatives for the Matchless jacket in May. And some great alternatives are still available in decent size ranges. But I'll be updating that post again soon with new options from the fall collections.
Hold your horses, cowboy! Yes, that is a sale price. BUT Country Attire only has size large in stock. If you need a medium, you can get it directly from Matchless for the full retail price of €1399. And if you need any other size, I guess you're out of luck until Matchless decides to do a re-issue. I searched about twenty different retailers and it was sold out everywhere.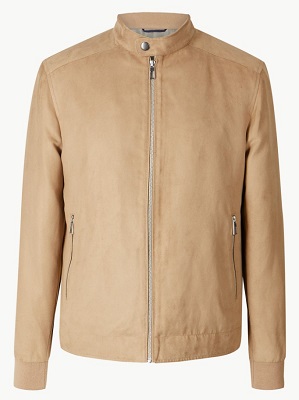 A few people have asked me to start including faux/vegan leather options in these posts. Which I will definitely endeavor to do. To start, here's a 100% polyester option from Marks & Spencer. Unfortunately it has rib knit sleeve cuffs. But the other details and the color come pretty close. As I mentioned in the dedicated post, it's pretty easy and inexpensive to have a tailor clip off that throat tab so the collar is more screen accurate. Sizes small to 4XL are available on their UK website. It's almost completely sold out in the U.S.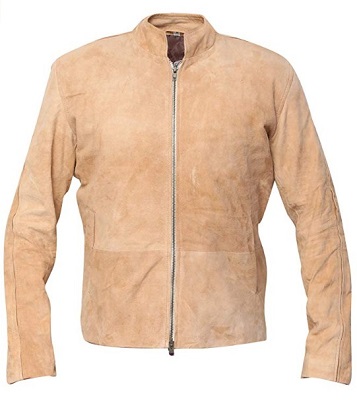 An alternative from our Matchless dedicated post. Apparently RSH Leathercraft is one of those companies that only sells on Amazon and Ebay. And I normally avoid those like the plague. But this one caught my attention for a few reasons. First, they use photos of their own jacket on the product page. Most lower end repro companies just post a pic of the actual Matchless and say,"Our's looks just like this!". Second, it seems like they nailed a lot of the details, including the unique seam on the sleeves. Third, they offer an "easy return backed by a money back guarantee". Which is nice. And fourth, some of their other jackets have real customer reviews in the 4 to 5 star range. So these guys may just be worth a shot. The jacket is made from lambskin suede and they have sizes xs to XXXL available.
Did we miss one of your essential James Bond jackets for fall? Have a better alternative than the ones we listed? Tell us about it in the comments! You can also visit our Facebook page, Instagram account, Twitter account and Pinterest Boards for more James Bond style advice and inspiration! And don't forget to check out our Amazon Page. That's where we've organized the James Bond and Steve McQueen alternatives we've found the massive online retailer.