Quantum of Solace Harrington Jacket
Updated September 9th, 2021 – Like the Tom Ford black cardigan, for a few years after the film's release it seemed like every brand had its own version of the Quantum of Solace Harrington jacket. Now? It's not so easy to find a budget one with the right details.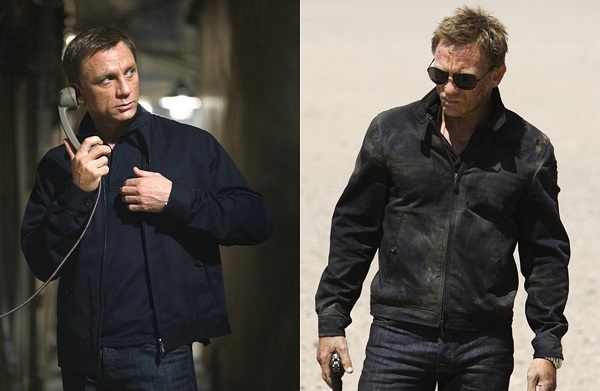 This remains one of Bond's most popular looks with fans because costume designer Louise Frogley kept the styling clean and classic. Like the jacket, the other pieces that make up the outfit don't sound too complicated on paper: a navy blue polo, some jeans, suede chukkas, aviators. There are certainly strong hints of retro-cool Steve McQueen. But the trim fit and monochromatic color scheme give it a contemporary feel. It's a combo any guy would look good (and feel comfortable) wearing.
But because it's so simple, the details really matter. The Tom Ford polo has a self-collar, so it stays standing under the weight of the jacket. The 7 For All Mankind jeans are a dark wash. But the denim weave has an interesting texture and marling. The boots aren't your common Clarks desert boots. Bond goes for the more structured Church's Ryder IIIs with a Dainite sole (options for those can be found in this post). And the open hem and cuffs and streamlined cut of the Tom Ford Harrington expel any thoughts of looking like a grandad on a park bench. Put it all together and we get a near perfect balance of the timeless and the modern.
Features Wanted for the Quantum of Solace Harrington Jacket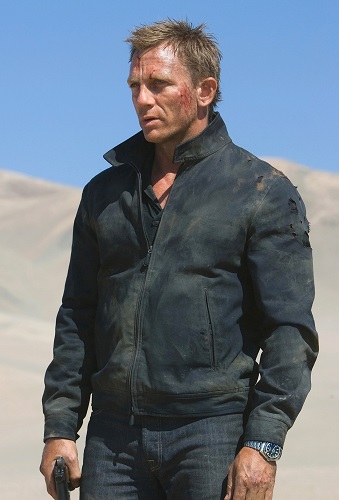 Harrington/Barracuda style collar (one button would be ideal)
Dark navy blue cotton or cotton blend
Open hem
Open cuffs with button tab closures
The feature that matters most is the lack of elasticized knit cuffs and/or hem we see on almost every Harrington out there. The Tom Ford jacket is a loose fit. But we don't see any bagginess around the waist thanks to the jacket's open hem. And while there is some stacking with the sleeves, the button cuffs add a sophisticated touch to the design. Unfortunately, there doesn't seem to be many alternatives out there this season that capture all the right details. So we'll need to make some sacrifices.
Best Option for the Quantum of Solace Harrington Jacket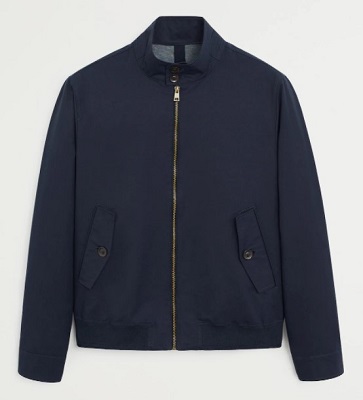 Yes, it has the elasticized hem. But Mango's typical slim-fit keeps things from getting too baggy around the waist. And it does have the button tab cuffs. The 63% cotton, 27% polyamide fabric also adds some water resistance but keeps it's matte finish. As I said above, it's slim pickings this season for affordable alternatives. But this one gets enough right to make it the Best Option, especially with that sale price. Mango Outlet U.S. is sold out of sizes small and large. The UK site still has all sizes in stock at the time of writing.
The Classic Option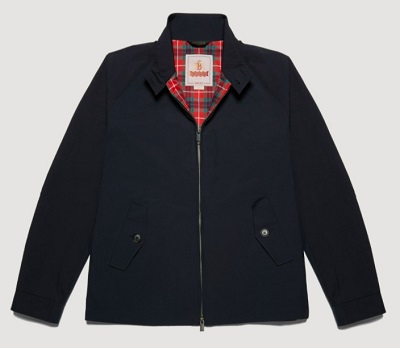 Honestly, if you can afford it, just save up and get a genuine Baracuta G4 in Dark Navy. Not only is it a close match for the Tom Ford, as a bonus you'll be the owner of a jacket that has a long history beyond Bond. Stuarts London currently has sizes 36 to 48 in stock (with free shipping to the U.S.). And of course you can get it directly from Baracuta. I own a couple of Baracutas (G9s and G4s) and they're pretty true to size, especially in the "Classic" cuts.
The Replica Option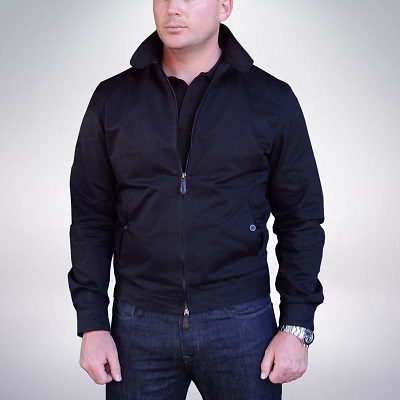 Daniel Love has been dropping a new and improved version of his Bolivia Harrington Jacket for a few years now. And it's still a favorite among Bond fans. Although Royale Filmwear is currently sold out, if you're looking for the most screen accurate alternative you can get, it's definitely worth waiting for. I have the 2016 version of the Quantum and was honestly blown away by the details and quality. You can read my review of the jacket here. To get an alert when the next run becomes available, send an email to subscribe@royalefilmwear.com and join Daniel's mailing list.
Under $100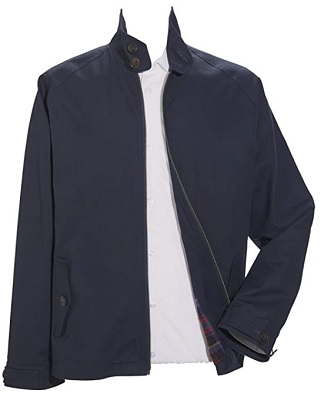 R.I.P. Samuel Windsor! After 18 years in business, the retailer closed its doors permanently in August. But some of it's products are still showing up on Amazon. So if you're in the UK and want a solid jacket that delivers most of the right features at a great price, I'd strongly suggest grabbing this one. The design does have some key differences: a two button collar, flapped pockets and raglan sleeves. It's also a looser cut than the Tom Ford. However, the open cuffs and hem and the dark navy of the 100% cotton fabric definitely capture some of that Quantum of Solace vibe. Only sizes medium and large are left.
Under $200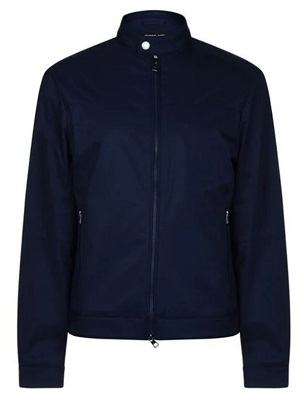 It's definitely not a perfect match. The zippered pockets and the single silver snap button at the collar are the most obvious non-screen accurate details. And the fabric is a techier polyester that has a bit of a sheen. But I do kind of like the Quantum of Solace Harrington meets Belstaff K Racer vibe of the jacket. Plus the open cuffs and hem help to keep the look modern. It could be an interesting choice for those of you looking for an "inspired by" option. Macy's has sizes small to 2XL in stock. If you're in the UK, House of Fraser also has a full size run available.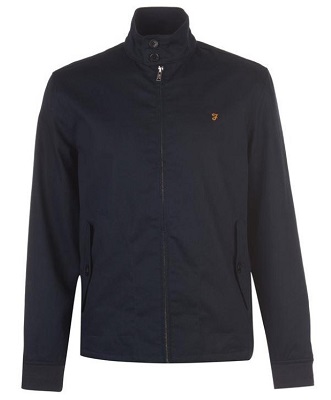 Ribbed knit cuffs. It's got 'em. But if you can get past that and appreciate the open hem, then this alternative from Farah isn't a bad choice. The fabric is a 100% cotton twill and Thread currently has sizes XS to XXL available.
The Investment Piece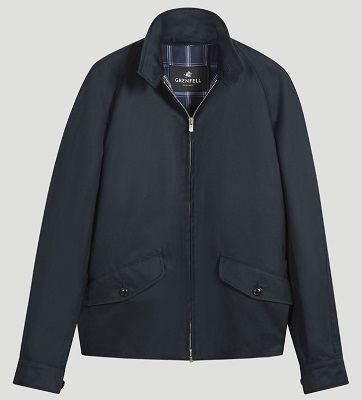 Heritage Brand Alert! Grenfell claims to have invented the Harrington jacket style in 1931, beating Baracuta by about 6 years. Whoever you want to believe, the fact is Grenfell makes damn nice outerwear. And its "Grenfell Cloth" (a 600 threads-per-inch, highly water resistant cotton gabardine invented in 1923) is world famous. With regards to their Golfer model being a good alternative for the Tom Ford … it's not exactly spot on. Especially those more horizontally positioned front pockets. But if you've got the cash, sacrificing a few style details to own a beautiful, made in the UK jacket with some history behind it may be worth it.
If you've found an option for the Quantum of Solace Harrington jacket that works for you, share the link in the comments below. And remember to check us out our Instagram account, Facebook page and Pinterest Boards for more James Bond style advice, inspiration and info on where to find the latest deals!