(00)7 James Bond Chukka Boots
Updated April 6th, 2022 – Connery had his slip-on dress boots. Moore had his loafers. And Brosnan had his oxfords. When it comes to Craig's tenure as James Bond, chukka boots have undoubtedly been the defining footwear. He's worn chukkas in one form or another in every one of this films. Which makes sense considering the style of Craig's Bond has leaned much more to the casual side of things than any of his predecessors. After 15 years and five films we all have our favorite pair. So let's dig into the alternatives!
The Casino Royale Suede Chukka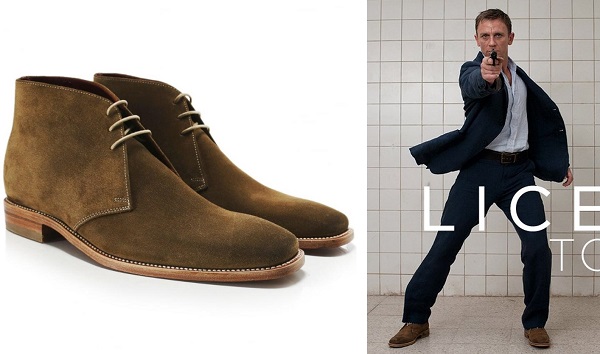 The first Craig-era chukka, the Loake Trapper, showed up in the 2006 film's black and white pre-title sequence's bathroom fight. A three eyelet, Goodyear welted boot with a leather sole and low profile vamp, the color of that suede combined with lighter, natural sole edge really sets this one apart. There're just not many reasonably priced alternatives out there that have that combo. The suede color alone is tricky to nail down. Sometimes it reads as having a reddish hue. But in other product pics it looks almost olive. This thread on AJB007 goes into all kinds of detail about the Trappers and is worth checking out. And this July 20th, 2017 Instagram post from the great @legallybond account does a good job of capturing the dark tan shade of the suede.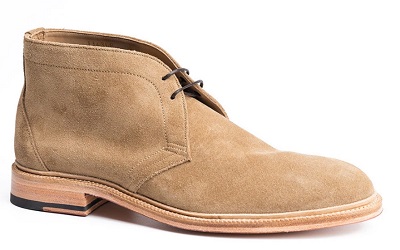 That taupe color is lighter than ideal. And it has two eyelets rather than three. But Spanish shoemaker Meermin offers plenty of value for the money. For the 114368, they've used their new proprietary Ultraflex system, which combines a Goodyear welt construction with a more flexible forefoot to make the boots comfortable right out of the box. The uppers are a full grain calf suede from UK tannery CF Stead, which offers significantly more durability than your typical split grain leather.
I'll be sharing a few more Meermin styles in this post, so I'll get this out of the way right at the start. Rumor has it that Meermin's uppers are actually made in China by a crew that was directly trained by Meermin to meet its quality standards. The finished uppers are then sent to Spain where the soles are attached. The fact that they're not exactly transparent about that process may put some people off. But Meermin does have a very solid reputation for making quality shoes at a fair price. Given that, I'm not personally bothered by their supply chain strategies. But I still think it's important we're informed about where our footwear is coming from.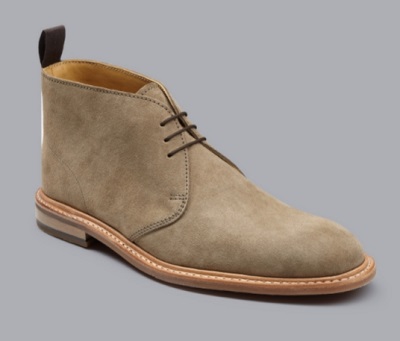 These look to be a little darker than the Meermins. And even though the description says, "leather sole", it sure looks like rubber in the product photos (which some of us may prefer). Once again we're getting a Goodyear welt construction. But the uppers are a lighter weight suede backed by leather lining. Sizes 8 to 13 are available on the Charles Tyrwhitt website. However it doesn't look like they offer this style in half sizes.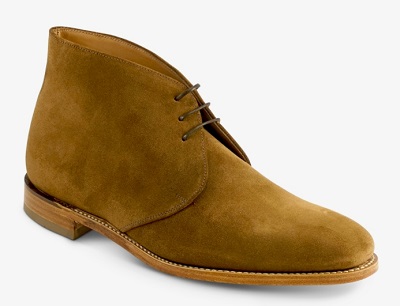 Now that Loake has discontinued the Trapper, I think this is the closest model in their current lineup. The color of the suede appears to be a little darker. But it's still a made-in-England three eyelet chukka with a Goodyear welt construction and natural color mid and outsole. The biggest difference is probably the overall shape. Loake has used their Capital last for the Boughton, which has a much more rounded toebox when compared to the more elongated, square-off shape we saw on the Trapper. NOTE: this are available for pre-order and I wasn't able to find an expected delivery date on the website. So you'll need to contact Loake directly for more information.
Also try
Thursday Boot Company Scout in Almond Suede: $149.00
Banana Republic Brendt Leather Chukka Boots in Light Brown: $178.00
Gordon Rush Austin Suede Chukka Boot in Tan: on sale for $179.99
Spier & Mackay Chukka in Tobacco Suede: $248.99
Hugo Boss Tunley Desert Boots in Stone Beige: $230.00
Velasca Ciapparatt Chukka in Beige Suede: $265.00
Gordon Rush Austin Suede Chukka Boot in Taupe Suede: $265.00
The Quantum of Solace Suede Chukka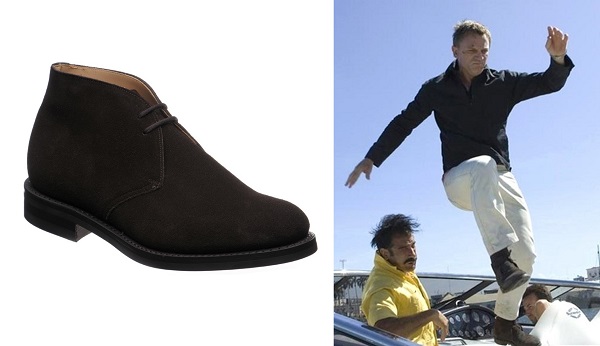 One of the very first posts I published on Iconic Alternatives way back in 2015 was on alternatives for Bond's now iconic Quantum of Solace footwear. And the Church's Ryder IIIs continue to be popular fourteen (!) years after Bond wore them while visiting Port-au-Prince and blowing up eco-hotels in Bolivia. You can get the latest version of the boot, the Ryder III LW, at Zappos for $825.00.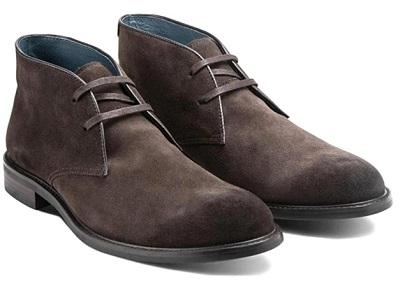 Nice Italian suede uppers with a leather lining. A Dainite-style studded rubber sole. And the color and overall shape are a good match. Lots to like here for the price. The problem? I can't find out what construction they've used. Given the company's name (Lyman Blake and Gordon Mckay invented "Blake stitching" back in the 1850s), I'm going to assume they're Blake stitched. Which is still pretty good at this price point, since it means the boots can be re-crafted. The link above goes to Amazon. But you can also get them at Nordstrom and the Blake McKay website for the same price.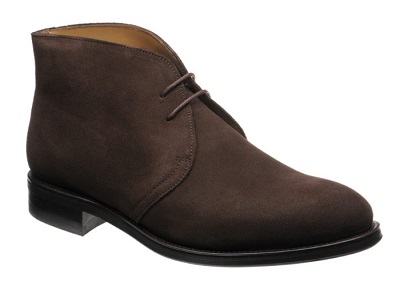 Another boot that offers good bang for the buck. They have the look we want, they're leather lined and Blake stitched with a Dainite-like rubber studded sole. The Canterburys are made in Portugal, not England. But the reviews are very good and Herring has sizes 6 to 13 arriving sometime this month. Shipping in the UK is free. However, they charge £20.00 (about $25) to get them to you in the States. I can't deny liking Herring Shoes. As I've frequently said, the owners and staff there know footwear and make customer service a priority. That's something I think we can all appreciate.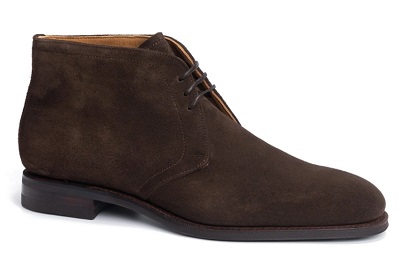 Like the 114368, the 101468 is a heck of alot boot for the money. A Goodyear welt construction secures the leather lined Italian suede uppers to the Dainite-like studded rubber sole. And their Hiro last is a more rounded shape that should work well for most of us. If you prefer a slightly more elongated shape, check out the 101268 model on the Jim last for the same price.
Also Try
Charles Tyrwhitt Suede Chukka Boots in Dark Chocolate: on sale for $179.99
Jones Bootmaker Campbell Suede Desert Boots in Dark Brown: $201.00
Sanders Holburn in Chocolate Suede: $261.80 excluding VAT
Velasca Artista in Dark Brown Suede: $270.00
Sanders Chesham Chocolate Suede Chukka Boot: $272.70
BOSS Hugo Boss Firstclass Desert Boots in Dark Brown: on sale for $228.00
Berwick 1707 Chukka Boot in Dark Brown Suede: £180.00
Velasca Artista in Dark Brown Suede: $270.00
Shipton & Heneage Holborn Brown Suede Chukka: $305.00
The Skyfall "Enjoying Death" Suede Chukka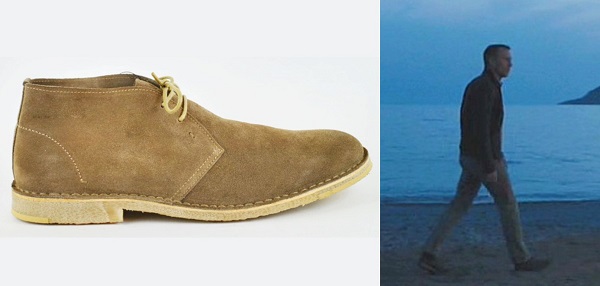 This particular pair of chukka boots from Zara was on-screen for … what? … maybe 15 seconds? But we're nothing if not thorough here at IA! And that "Enjoying Death" look continues to be a fan favorite nearly ten years after Skyfall first hit the movie screens. So if we're going to keep using it as Bond-style inspo, we best get it right! Like the Loake Trappers from Casino Royale, this is a tricky one when it comes to alternatives. The dark tan suede isn't a huge issue. But that pale crepe sole presents some challenges. To learn more about the Zara chukkas, check out this thread on AJB007 (from 2012!). There's lots of good information and it's a great blast from the past!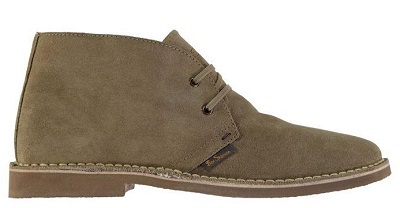 A basic boot that doesn't offer a whole lot of bells and whistles. But the lower cut shape has the look we want. And the price is definitely afforable. As for the tag on the seam, a couple of seconds with a razor blade should take care of it. House of Fraser has whole sizes 6 to 12 in stock.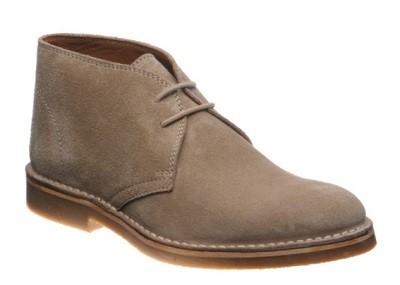 Herring's take on the classic desert boot is a little more substantial than your typical pair of Clark's thanks to the full leather lining. They also come close to the look we want thanks to the stitch down construction and that lighter colored rubber crepe sole. A great choice if you want an alternative that will provide more support and can actually take a bit of abuse. Herring still has most sizes in stock.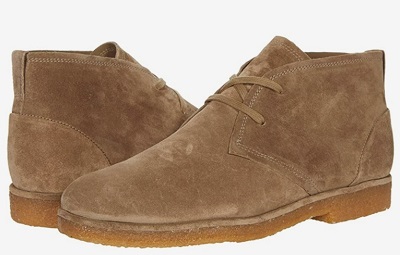 A more artisanal design for sure. And I'm not sure that price (even with the sale discount) is justified by the construction or materials. But they do have that "Enjoying Death" spirit! 6pm has a decent selection of sizes left in stock.
Also try
Crown Vintage Casper Chukka Boot in Taupe Suede: $59.99
Clarks Desert Boots in Sand Waxy Suede: on sale for $72.00
Prophet Findley Desert Boot in Desert Camel: on sale for $104.95
Bloomingdale's Suede Chukka Boot in Desert: on sale for $108.00
Banana Republic Brendt Suede Chukka Boots in Vintage Tan: $180.00
Astorflex Greenflex in Stone: $195.00
Herring Monty Desert Boots in Sand Suede: $208.00
Grant Stone Chukka in Tan Suede: $292.00
The Skyfall Black Dress Boot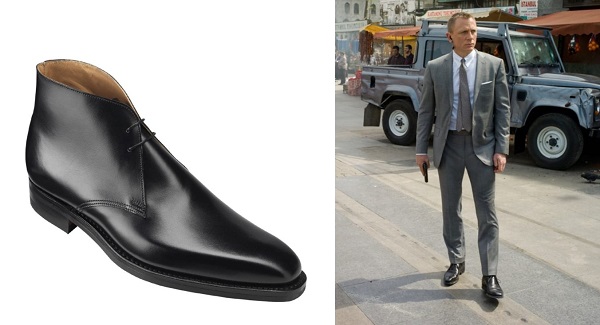 When we're looking for a great dress boot that can also withstand the wet weather that comes with April showers, Bond's Tetburys from Skyfall are among the best we'll find. Made with a full grain leather upper and Goodyear welted Dainite rubber outsole, the boot's most distinctive characteristic is the chisel toe of their 348 last. You can still order them directly from Crockett & Jones for $695.00. But Pediwear has them for $507.10/£445.00 (excluding VAT) and is a very well respected retailer. Definitely an investment. But they're built to last years.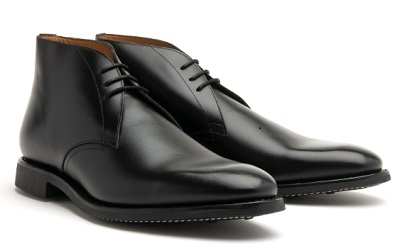 Spier & Mackay is best known for its suits and sport coats. But they footwear line they launched also offered that same "value for money" proposition that's made so many men fans of the Canadian brand. For their made-in-Portugal dress chukkas they've used full grain box calf leather from the Weinheimer tannery, an open channel Goodyear welt construction and a studded leather sole. Normally priced at $248, at they're a pretty great deal at the sub-$200 sale price. Spier & Mackay still has plenty of sizes available on their website.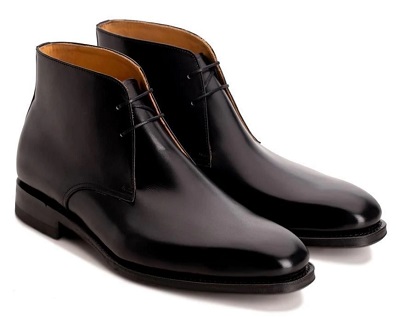 Meermin's 101268 model has three eyelets instead of two. And the stitching along the quarters isn't an exact match for the Tetburys. Plus the toe is slightly more rounded and lacks the original's chiseled shape. But it's still a sleek and sophisticated style that will work quite well with a suit. As for the construction, the 101268 uses full grain box calf leather uppers (from the French Du Puy tannery) attached to double rubber soles with a Goodyear Welt. They're also fully lined in calf leather. Most smaller sizes are still in stock on their website. But it looks like they're sold out off anything over a U.S. 10.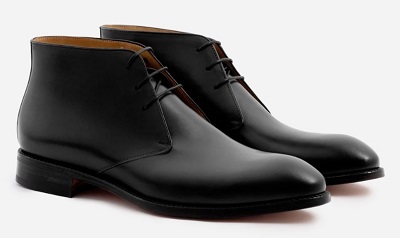 Beckett Simonon uses a business model similar to the one used by Gustin and Taylor Stitch: buy the product now, they'll make it, and then ship it to you at a later date. Yes, you do have to wait for delivery (sometimes months depending on what you've bought). But there are some advantages to the strategy. Because the company isn't manufacturing and then storing a whole lot of excess inventory in anticipation of someone, somewhere buying it, they can keep their costs lower. It also generates less waste: since nothing is made before it's sold, there's no unsold product that needs to be dumped. So, about these boots. They're made from full grain Italian leather using a Blake stitch construction and feature a full leather lined interior and leather sole. Perhaps most importantly, they've used their "Soho" last, which gives the boot it's more refined lines and that distinctive chisel toe. If you're not in a rush for your new boots, these could definitely be worth a shot.
Also Try
Carlos by Carlos Santana Corazon Chukka Boot in Black Full Grain: $138.95
Thursday Boot Co. Scout Boot in Black: $149.00
NPS Edward Chukka Boot in Black: $249.00
Herring Shoes Cannock Chukka Boots in Black Calf: $191.00/£165.00
The SPECTRE Suede Chukkas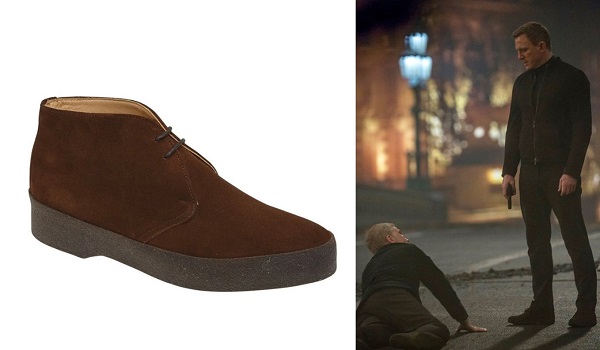 Ther unique bumper crepe sole of the "Playboy" style really sets them apart from other chukkas, Steve McQueen also loved them, and the business history behind the boots is actually kind of interesting (and explains why so many companies are making "Playboy chukkas"). Bond's boots in SPECTRE came from Sanders. You can still get them directly from the company in either Chocolate Suede or Polo Snuff for $235.36/£179.17. And there are plenty of other retailers carrying them, including Stuarts and Clutch Cafe, if you want to hunt around for a sale price.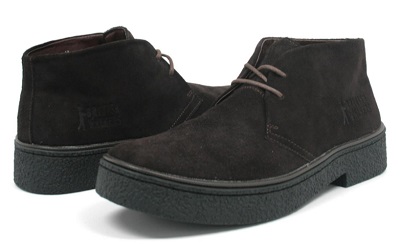 One of the many brands using "Classic" and "Playboy" in the name. British Walkers seems to be making a real effort to tap into the street-wear crowd, if the photos on their website are anything to go by. But their version of the iconic chukka will definitely work with our SPECTRE "London finale" looks at more wallet friendly price. It's just a shame about that big embossed logo on the heel!
Luckily there is an easy (albeit more expensive) solution if that logo is a deal breaker. British Walker also has the British Collection Playboy Original High Top in a lighter brown suede for $200. Aside from calling them "Original" rather than "Classic", the main differences are the quality of the construction and materials and the natural crepe sole.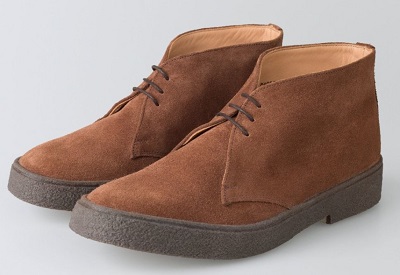 George Cox and the "Popboys" have a noteworthy legacy in British culture ("brothel creepers" and Sid Vicious are just part of it). Yes, they're almost the same price as the Sanders & Sanders Playboys. And they're not what Bond wore in SPECTRE. But they have their own special kind of "cool" that makes them a worthy addition to any man's wardrobe. They even feature in a story on the Fred Perry website. You can buy them directly from the George Cox.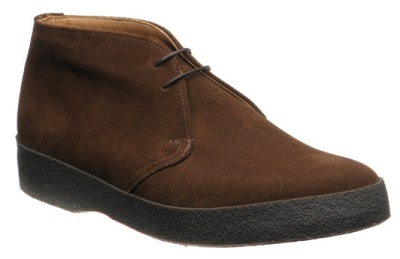 The Mustang is handmade in Northhamptonshire, with a full leather lining and natural crepe sole. And Herring has almost managed to make a bumper sole look sleek. But the size selection is getting a little thin on their website. If you're looking to invest in this style, and have problems with the fit (or possible durability) of the Sanders and Sanders, this is a solid choice. Update: There have been some reports from customers that the Herring Mustang is a re-branded Sanders boot. I'm looking into this.
Remember at the start of this section when I wrote that the Playboy style had an interesting history? Well, this is a big part of it. Playboy Footwear (the brand) is now the owner of the original Hutton boot design (Patent No. 392737) that McQueen wore. And they collaborated directly with McQueen's estate for this particular made-in-Portugal model. So they're pretty darn close to "King of Cool authentic". They've also made some improvements on the decades old design, going with a more water resistant suede. But that distinctive 100% natural crepe rubber sole hasn't changed a bit!
As for ordering them: you can buy them directly from the Playboy Footwear website (€249.95). But as far as I know, they won't ship outside of Europe. However, AJB007 forum member welshboy78 found a dealer that is a little more flexible called Lester. So that's the one I've linked to above.
And just to throw one more interesting twist on all this: Hutton (the British company that once owned the patent for the Playboy design) is now back in business and offering the Playtime model. These retail for £295.00 so it's quite the jump up in price. But they are made in Italy and feature reverse suede uppers and a natural crepe sole.
Also Try
Delicious Junction Bullitt Suede Boots in Brown 2: £88.99 to £89.99
Sanders Luthor in Polo Snuff Suede: $245.83
Shipton & Heneage Snuff Brown Hi-Top Chukka Boot: $295.00
The No Time To Die Moc Toe Suede Chukkas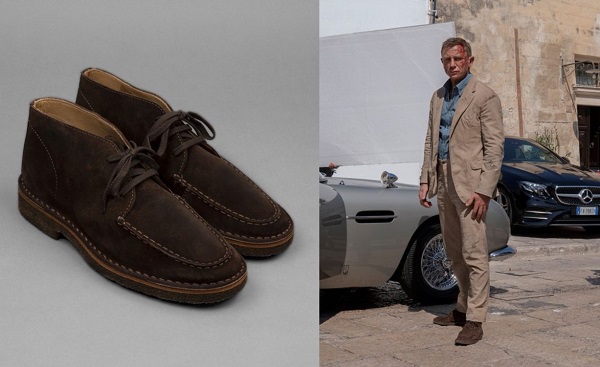 It's now common knowledge that the boots Bond's wearing in the No Time To Die Matera scenes are the Drake's Crosby moc toe chukkas in dark brown suede. You can still get those directly from Drake's for $445.00/£295.00. They're now also doing a more rugged, rough-out suede version with a studded, Dainite-like sole for $495/£345. Just in case you're planning on giving the boots more of a beating than Bond gave the original crepe sole ones. If you live in the U.S. and want a slightly lower price (and shipping cost), the venerable retailer Cable Car Clothiers also has some sizes in stock for $398.00.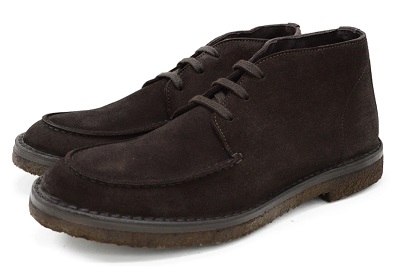 This option from British shop A Fine Pair of Shoes definitely delivers the look we want at a more attainable price. Made in Almansa, Spain, Berwick 1707 has used a beautiful reverse kudu suede, a crepe rubber sole and that eye-catching Veldtschoen welt construction for this limited edition design. These are also unlined, so break-in time will be virtually non-existent. A Fine Pair of Shoes is currently offering them for pre-order, so expect a bit of a wait. But if you're not in a rush, the savings should be worth it!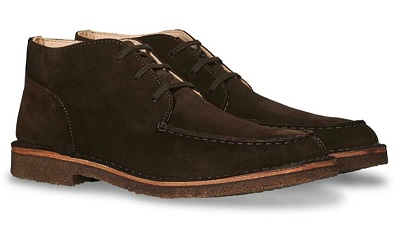 The rumor around town is that Astorflex made the Crosby for Drakes. However, Drake's asked for a different last and a few upgrades here and there (not sure what those may be). In any event, from a looks standpoint, the Dukeflex is nearly identical to Bond's boots. I'll also add that I have a pair of the Dukeflex (in the lighter brown color) and I love 'em. They're a great fit and super comfy. But they do run about a half size large in my experience. Now, here's the problem. The only place I could find that is currently carrying the Dukeflex in dark brown is Care of Carl. And it seems like they only ship to Sweden, Norway, Denmark, Finland and Germany. If you live in one of those countries: Yay! Go get your boots! The rest of us may be out of luck.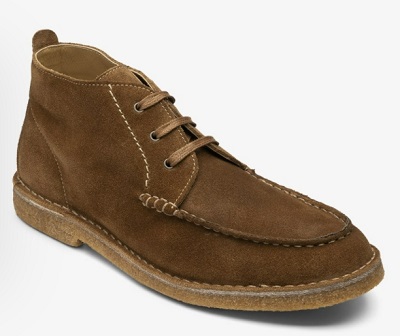 AJB007 forum member Jellyfish suggested these chukkas from Bond brand Loake and they certainly look like they could play the part. Most of us know Loake as a heritage shoemaker based in Northamptonshire, although it should be noted that these particular boots were made in Portugal. The sole is a natural crepe rubber which tends to wear very well. And they've built the boot with a stitched down construction on their new Quad last for a roomier, more comfortable fit. All in all, a very respectable alternative that's about $240 less expensive than the originals. Not sure if Loake calling them the "Daniels" is a coincidence or not ….
Also Try
Beckett Simonon Anders Split Toe Derbies in Brown Suede: $209.00
Mr Porter "Mr P." Andrew Split Toe Shearling Lined Chukka Boots in Brown: $385.00/£265.00
Paul Smith Suede Paxton Boots in Dark Brown: $525.00
The No Time To Die Rough Out Suede Chukkas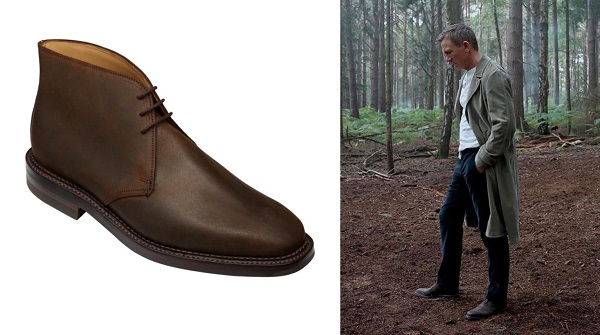 I need another pair of brown chukka boots like I need an extra hole in my head. But I have to admit: these ones are calling to me. They're also a clear example of Craig's heavy influence on Bond's sartorial decisions. He's being wearing a pair of rough out suede Moltons in his personal life for years. You can learn more about the boots on the Crockett & Jones product page. But I found best price at Pediwear, where they retail for $452.69/£345.83 (ex. VAT).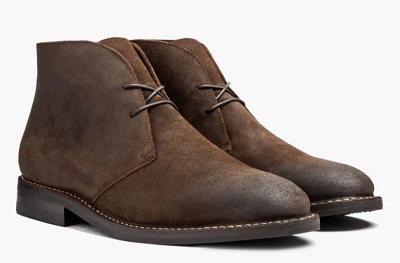 We've shared these alternatives many times before, and for good reason. Thursday has used what they call "WeatherSafe" suede. Which gives the uppers that waxy finish that comes very close to the look of the Moltons. They've also gone with a full glove leather lining, a studded rubber Dainite-like sole and a stitched out construction so the boots can be re-crafted. And the price is pretty hard to beat. You'll find sizes 6 to 15 on the Thursday Boot Co. website. Shipping and returns are free anywhere in the U.S., with international shipping available for a very reasonable fee.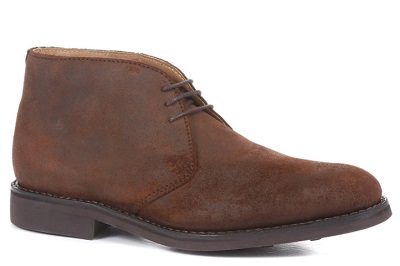 Barker is another well known and respected heritage British shoemaker that's been in the business since 1880. And although their chukkas regularly retail for north of $400, Jones Bootmaker is currently selling this discontinued model for a much more affordable price. This made-in-England boot uses a waxy suede upper for improved water resistance, a Goodyear welt construction and a studded Dainite-like sole. You'll find a decent selection of sizes on the Jones Bootmaker website.
Also Try 
Banana Republic Factory Suede Chukka Boots in Dark Brown: on sale for $79.99
Born Harrison Chukka Boot in Brown: $125.00
Johnston and Murphy Copeland Chukka Boots in Tan Oiled Full Grain: $168.95
Beckett Simonon Laval Chukka Boots in Brown: $239.00
Did we miss you're favorite alternatives for a pair of James Bond chukka boots? Tell us about them in the comments below! And remember to visit our Facebook page, our NEW Instagram account and Pinterest Boards for more James Bond style advice and inspiration!