3 Alternatives for the No Time To Die Corduroy Coat
Let's talk about Bond's No Time To Die corduroy coat. I'll start with the details. It comes from Italian designer Massimo Alba, who launched his first collection in 2006. The coat itself is his Rain 2 Cotton Needlecord Duster Coat and the color is a light olive green called Agades. As the name suggests, it's made from a very fine wale, super soft corduroy and is unlined and unstructured. Bond Suits has an interview with the designer in which he talks more about the clothes used in the film. And you can check out this review from The Bond Experience to see the coat in action.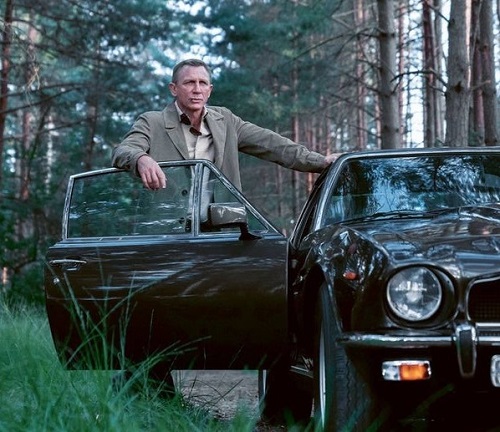 Now let's discuss Bond wearing the No Time To Die corduroy coat. As far as I can tell he uses it with two looks in the film. In one, shown above, he wears it with the Connolly X Finamore cotton-linen shirt and the Massimo Alba washed black Mauko corduroy trousers. And personally, I really like the coat in this combination. I think the collared button up shirt gives the outfit some structure that compliments the coat and plays to its strengths. It looks casually stylish and contemporary without coming across as a "fashion" piece.
The second look is where I start to have problems with the coat. This is when Bond replaces his collared shirt with the Rag & Bone Henley. It's probably the more well-known of the two looks since it's been a bigger part of the film's publicity.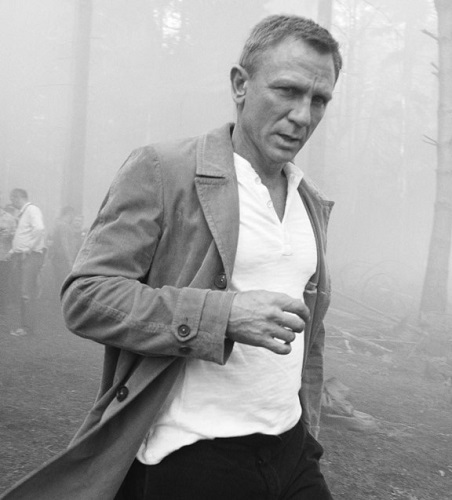 Why I don't think it works
I just don't get this one. I'm the first to admit I am not a costume designer. And, as others have pointed out, we still don't know the story context for why he's wearing it. But from what I've seen so far, the corduroy coat simply doesn't work for me here. From a style perspective, when it's combined with the more rugged Henley I think it makes Bond look like a cowboy cosplayer. That's not a look that says "BOND!" to me. From a practical perspective, he's running through a misty forest hunting down bad guys. A long, flowing coat like that is just begging to get snagged on branches. And cotton corduroy is about the last thing I'd use in damp conditions. It'll soak up moisture and make you feel like you're wearing a wet rag in no time.
Before anyone says, "context!" let me add that I understand that there could be a very good story reason for why Bond is wearing the coat here. But I'll counter that "plot" has rarely played a big role in Bond's wardrobe choices. This is the spy who changed into a suit to walk along the rooftops of Mexico City. The spy who donned a luxury cashmere jacket to take a boat across a lake. The secret agent who wore a white dinner jacket and bowtie under a wetsuit. You see where I'm going with this.
So, if the corduroy coat isn't working for me, what would I use instead? That's what I'll try to answer in this post.
The Original No Time To Die Corduroy Coat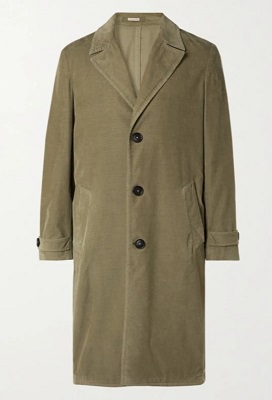 If you do like Bond's coat, then more power to you. As I said, with the collared shirt I think it looks pretty sharp. The original is still available at various retailers in different sizes. I've linked to Mr. Porter above. But you can also purchase it directly from Massimo Alba. If they don't have your size, you can join a wait list for the next run by emailing them at [email protected].
The Alternatives
I've been looking for a good alternative for the Massimo Alba Duster for almost four months now. And so far I've come up empty handed. The best suggestion I have is this Aspesi Cotton-Twill Coat in Army Green for $725.00/£465.00.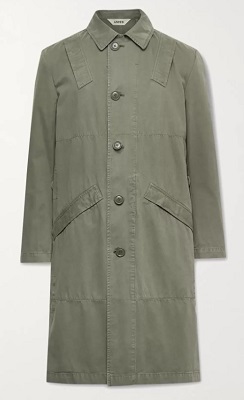 The Aspesi's color, length, simple design and relaxed construction have a very similar feel to Bond's coat. But it's not corduroy. And the price is out of reach for most of us.
But what if instead of hunting for a close match for the corduroy coat we explore different outerwear styles that may work better with the rest of Bond's look? For this experiment, I've taken three different jacket and coat designs (a corduroy shirt jacket, a utility jacket and a long rain coat) and added them to the other pieces from Bond's outfit to see if they'd make a suitable replacement. And I've listed the pros and cons of using each style instead of the coat used in the film.
For the other clothes in the flatlays below, I've tried to use appropriate affordable alternatives. For the the trousers, we've used the Samuel Windsor Slim-Fit Needle Corduroy Pants in black (on sale for $35.00/£15.00); more options in this post). The Henley is the screen used Rag & Bone, but you can find alternatives in this post. The boots are the Thursday Boot Company Scout Chukkas in Mocha ($149.00; more options over here). And, last but not least, the watch is the Pagani Design Automatic Diving Watch ($139.00/£139.99; more alternatives in this post).
Now on with our style experiment!
A Corduroy Shirt Jacket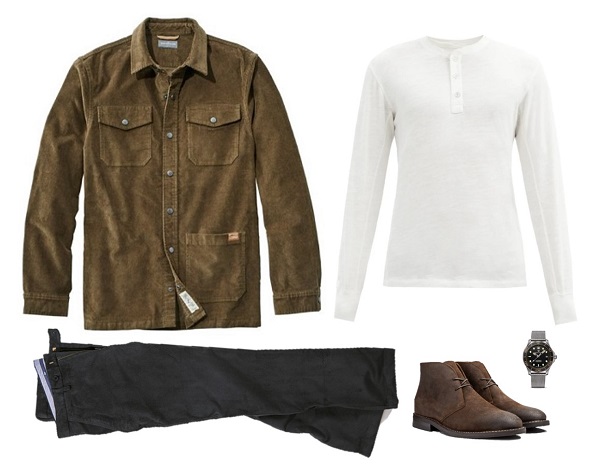 Pros:
It's the same fabric as the No Time To Die coat.
It's versatile. You can layer it over (or under) almost anything to accommodate changes in the weather.
It would look great over a Henley.
It's easy to take care of. Basically treat it like a shirt and throw it in the washing machine (but hang to dry!).
Cons:
It's a completely different style than the No Time To Die coat. Nobody's going to look at a shirt jacket and think, "That reminds me of an overcoat."
It is definitely a casual piece. So you're more or less limited to using it with casual looks.
Cheap corduroy can have a very short lifespan. It tends to pill more quickly, develop a "shine" at spots with heavier wear (elbows, along the sides and back hem) and general start to look ratty unless you're a little delicate with it.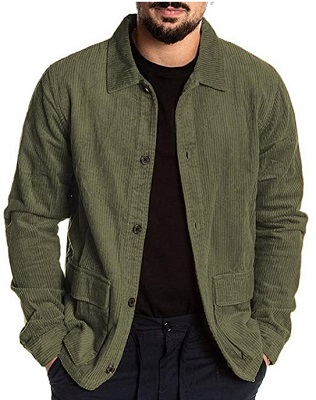 If you want to experiment with this look, here's an extremely cheap way to do it. It's being sold on Amazon by one of those anonymous FBA operations. The only thing in the description (aside from a LOT of key words) is that it's made from a cotton blend, it ships from China and should arrive in 10 to 20 days, and the jacket "will highlight your super-good figure and will receive a lot of praise". So it's got that going for it. Sizes small, large and XL are available. And they recommend you size up.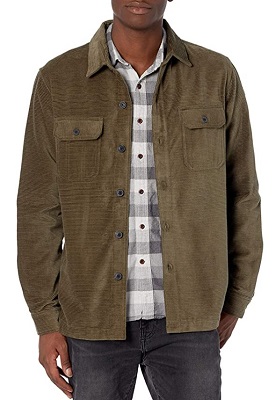 Union isn't a particularly well known brand when it comes to workwear. But I'm kind of digging the way they've used the fabric so the ribbing runs horizontally. It's something different that sets it apart from other corduroy jackets. Nordstrom Rack has sizes small and medium at that sale price. But there's also a few sizes left on Amazon that go for $16.86 to $35.45.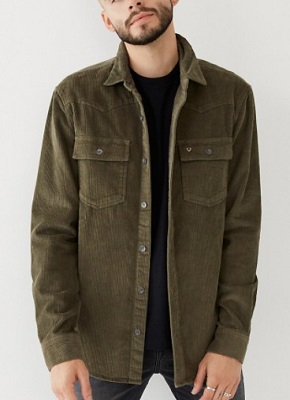 I was on the fence about including this one when I first started organizing this post. But then I realized that Bond's coat is a Duster. And that is very much a cowboy style of outerwear. So the western design of this shirt, especially around the front yoke, is actually appropriate. Aside from that, it also looks like a pretty well made piece. The 60% discount off the original price doesn't hurt either! Lots of sizes in stock on their website. I'll leave it to you to figure out a way to get rid of the metal horse-shoe/logo thingy on the left pocket.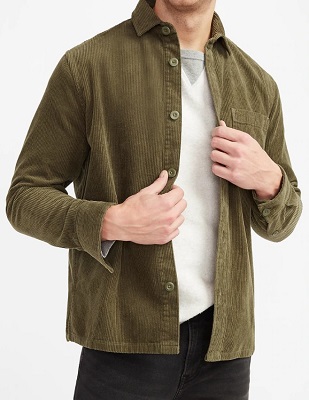 I feel that the olive green of this option is coming closer to the color of the Massimo Alba duster than some of the other options on this list. And I like the fact that Express has used larger buttons. Those, combined with the shorter straight hem, give it more of a jacket feel. The fabric is a cotton and polyester blend so it has a bit of stretch. They have sizes XS to XL at that sale price. But it is a slim fit, so consider sizing up if you plan on layering it over anything thicker than a Henley.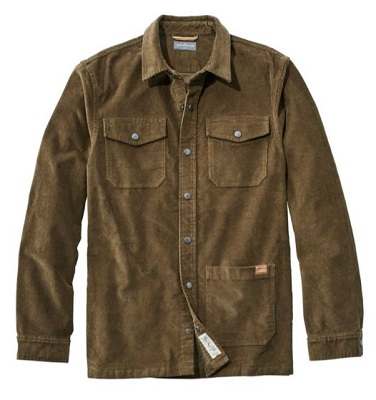 Vintage looks from an American heritage brand. The dark olive isn't the best match for Bond's coat. But personally I think it would work really well with an off-white Henley and some slightly faded black cords. Maybe even better than the lighter green of the Massimo Alba (gasp!). The design also grabs my attention. The cut is shorter with a straight hem and it has the extra patch pocket at the hip and snap buttons. So it definitely leans more "jacket" than "untucked shirt". And the fabric is 98% cotton and 2% spandex, which gives it some stretch. This one's a winner in my opinion.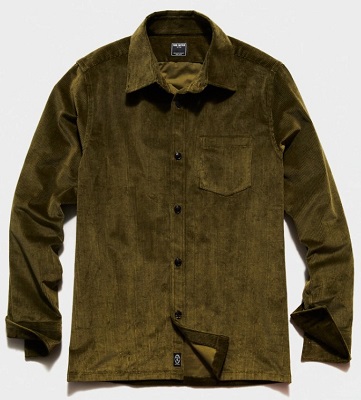 A big jump in price. But we're also entering the realm of "luxury workwear". Designer Todd Snyder knows his fabrics and for this shirt he's used a 98% cotton, 2% spandex 9 wale corduroy from Italy. If the product photos are anything to go by, this ain't your typical rustic, muted green. It seems to have a real sheen to it, almost like velvet. Add in some genuine horn buttons and you can understand why Snyder calls the design "luxe utility". Sizes small to XXL are available on the website.
A Utility Jacket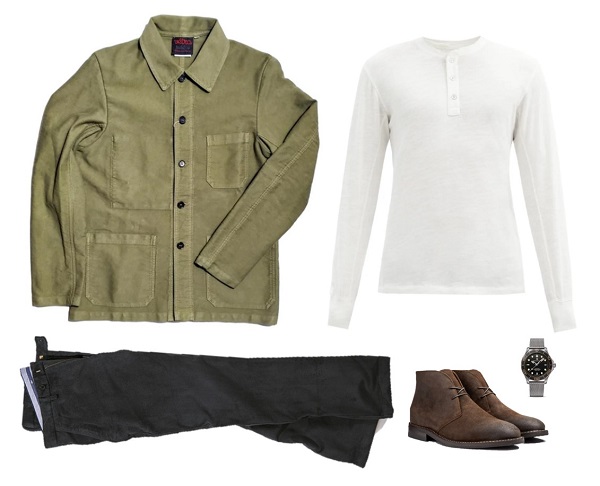 Pros:
Can be found in a similar color to Bond's coat.
Versatile and practical. Can work with a lot of different looks (field jackets worn over tailoring is a pretty popular look right now) and the designs usually use some type of water resistant fabric and have lots of pockets.
Plenty of different styles to choose from. "Utility Jackets" can be chore coats or blazers, military inspired field jackets, heavier waxed cotton outerwear or lighter weight safari style jackets.
You can pick one in a length that best suits your body type and personal style, from 3/4 length to shorter truckers.
They're available at a wide range of price points, from $20 versions from Amazon to luxury designer models for $500 and up. In fact there are so many options that I've listed some others to check out at the end of this section.
Cons:
It's a very different style than the Massimo Alba Duster. Utility jackets are normally more complicated designs, with pockets, zippers, drawstrings and even stow-away hoods. So we lose the clean lines of the simpler, longer coat that Bond wears.
Not corduroy
Some utility jackets can be made from heavier fabrics and/or lined. So they may not be suitable for warmer temperatures.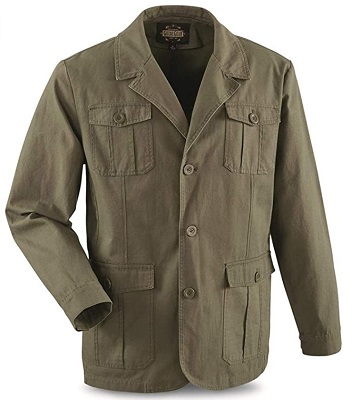 A 100% cotton, unlined, unstructured jacket that fully embraces the traditional definition of "sport coat". If you like your field jackets with a bit of Roger Moore Bond style, this could be a great option. The lapels, length and three button front give it a slightly more formal, military feel. But those four flapped and pleated patch pockets are all about utility. If your personal style leans more "classic" this could be a fun and inexpensive way to play around with the look.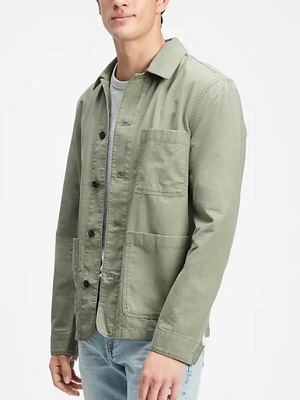 And if your personal style is more "workwear", here's another inexpensive option. This is coming from GAP's lower end Factory line. So I wouldn't expect amazing quality. But it's about as traditional a chore coat design as you can get. And that lighter green color is a great match for Bond's Duster. They have sizes XS to XL available at the sale price.
A more military styled field jacket from the British retro-specialists at Farah. This is a longer design with a drawstring waist in a 100% cotton ripstop. And I do like the way they use a button closure for the front but just use flaps on the four pocket. It gives the jacket a more contemporary feel. Sizes XS to XL are available at ASOS.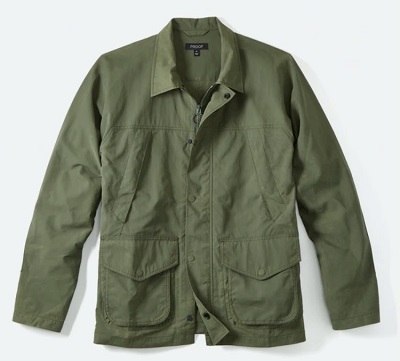 Made from a lightweight double-layer nylon finished with a wax coating, this jacket will gradually develop a patina with wear that just adds to its character. And the combination of the lower bellows pockets and slash hand warmer pockets gives a different look than most traditional field jackets. Other features include a two-way front zipper with snap button placket, snap button cuffs and hidden pockets behind those chest flaps. It's also a nice length, hitting about mid-hip. Huckberry has sizes small to large at the 50% off sale price.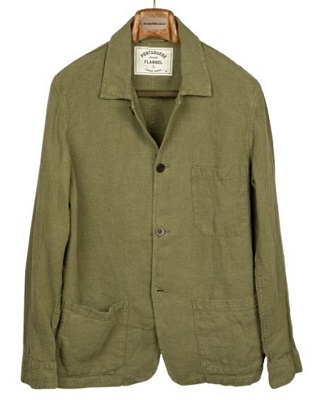 This one's a popular model with the crowd over at Style Forum. Portuguese Flannel has used a slightly heavier weight 100% linen canvas to give the unstructured jacket some heft. It will still be comfortable in warmer temperatures. But it'll look more like a jacket than a light overshirt. As the name suggests, the design is based on the vintage French worker's jacket made famous by renowned fashion photographer Bill Cunningham. No Man Walks Alone has sizes small and XL in stock (these things sell fast!). Garmentory has a few more sizes of the cotton version in a very similar color on sale for $126.00/£91.09.
If you're really liking this design, I strongly recommend you also check out the Vetra Moleskin Chore Coat in Olive for $235.00 shown in the flatlay at the start of this section. The company was founded in 1921 in Paris and was one of the original makers of the now iconic French outerwear design. Milworks has sizes small to XL available.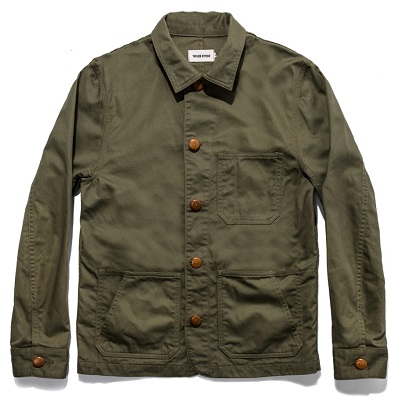 Taylor Stitch has taken the traditional chore coat and given it a bit of a twist. To start, they've used a washed 8oz organic cotton to give the jacket a soft, light feel. They've also gone with side entry hip pockets rather than the top entry patch pockets you normally see. As for the details, all stress points are bar-tacked and the seams are double stitched. But one of the coolest features is the ring-backed button design. They still have sizes large to XXL available.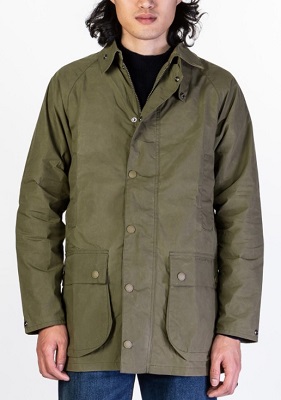 Barbour and its jackets probably don't need much of an introduction. Here we have the heritage British brand's classic Beaufort model (first introduced in 1993) but in a lighter weight, unlined construction. It's from their more casual White Label line that was specifically designed for the Japanese market. But other than the construction, all the other design details remain the same: chest height hand warmer pockets, bellows hip pockets, rear game pocket, throat latch and the Beaufort's famous longer, boxier cut. End Clothing has the best price I could find and currently stock sizes 36 to 42.
If you want to go all out with your Barbour, you need to check out the Barbour Gold Standard Overdyed Beaufort Casual Coat in Dusky Green for $770.00/£850.00. It's made from a durable cotton ripstop, is lined with mesh to help with breathability, and features one of the most insane hoods I've seen in while!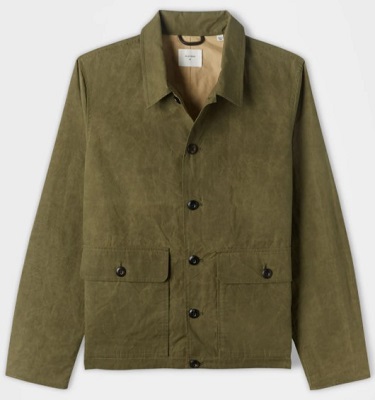 I wanted to add something with a shorter cut to this list. So when AJB007 forum member Westward_Drift shared this Billy Reid Flight Jacket, I thought, "Perfect!" The 100% waxed cotton fabric comes from famed Scottish company Halley Stevenson. And it's finished with details like horn buttons and lined sleeves (those are a nicer feature than you might think). The length falls right around that of a modern trucker jacket. So it's definitely a casual piece. But a very upscale and elegant one. The Billy Reid website has sizes small to XXL in stock. But you can also order it from Nordstrom for the same price if that's your preferred retailer.
Also Try:
A Proper Rain Coat
Pros:
Many versions are about the same length as the Massimo Alba coat, and some alternatives will have a very similar clean and simple style. So it's easier to get that "Bond in the forest" look.
Since it's an actual rain coat, it's practical and will help keep you dry.
Since it'll look right at home with more formal outfits, it may be more versatile if your personal style leans more towards classic menswear.
Cons:
Since rain coats tend be made from thicker fabrics coated with some type of water repellant finish, they can be uncomfortable to wear in hotter and more humid weather.
Those thicker fabrics also tend to drape very differently than the soft corduroy of Bond's Duster.
And if you go with a coat with a synthetic shell material (polyester, nylon or some kind of rubberized material), they can look pretty shiny.
Like the Massimo Alba Duster, a longer rain coat isn't for everyone and can be a bit difficult to work into more casual looks.
It's challenging to find a good and inexpensive raincoat (unless you go with a used one). So these are among the pricier options in this post.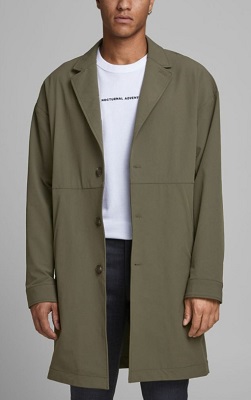 First suggested by AJB007 forum member RonBerry, who really deserves the credit for kicking off this whole thought experiment. The color, three button closure and welted side pockets give the Jack & Jones coat a similar vibe to Bond's Duster. And that's helped by the relaxed, unstructured construction. The shell material is 100% polyester. But it has more of a matte finish, so the shine is kept to a minimum. Jack & Jones have sizes XS to XXL in stock. Unfortunately they don't have this model available in the U.S. and it doesn't turn up on any of the 3rd party vendors that normally carry their pieces.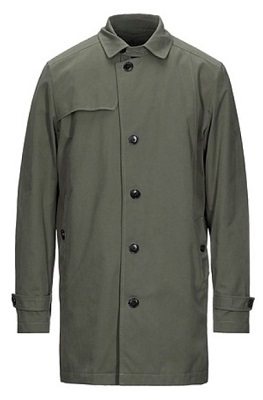 Made from a 58% cotton, 25% polyester, 17% nylon fabric, this one will keep you relatively dry in a light rain. It also has a pretty clean design with some nice details, like the throat latch and button slash pockets. And that trench coat style shoulder flap makes it more interesting than your typical mac without going over the top. I feel like this is a coat that could easily transition between classic and more workwear focused outfits and look equally stylish in both. Yoox has sizes small to XL in stock.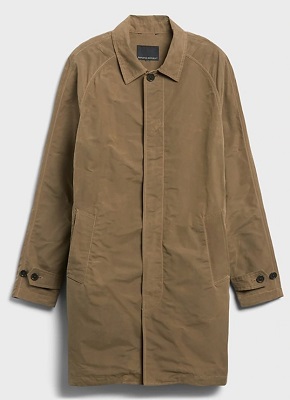 Banana Republic usually produces one or two good traditionally styled, reasonably priced raincoats each season. This year's Mac features a 59% cotton, 41% nylon shell material with a water resistant coating, a four button front with storm placket, and an unstructured design with raglan sleeves. The color looks more brown in the website product photos. But I've seen this one in-store and the color is closer to a medium khaki and it has a matte, almost waxy finish. It really is a very sharp looking coat. Banana Republic has sizes medium to XL on their website. And make sure to keep an eye out for sales. As I write this, they're offering a 40% discount which would bring the price down to just under $150.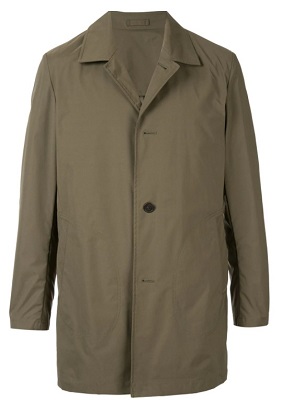 Kent & Curwen has done an interesting job of combining its heritage in Savile Row tailoring with a streetwear aesthetic. So this particular mac is actually a little conservative for them. In terms of style, it's very similar to the Jack & Jones option above. But I imagine you'll be getting a jump up in the quality of the materials, construction and fit for that higher price. Farfetch has sizes medium and large available.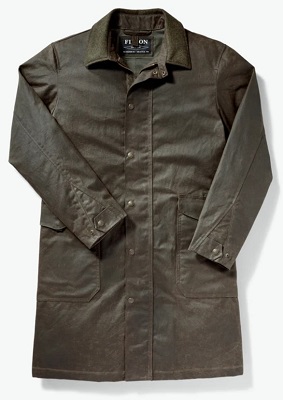 Since Bond's Massimo Alba coat is called a "Duster" I figured I should include an actual duster in this post. This one from Filson is a full on cowboy riding the open range in the middle of a snow storm tracking down stray cattle kind of coat (if you don't believe me, just look at the product photos on their website!). But seriously, Filson is very well known for the quality of their outerwear. Their trench coat is made from a heavy 11.5oz waxed cotton canvas from Hally Stevensons and features a two-way front zipper with storm placket, a throat latch, big bellow pockets and a pleated rear hem that will flare out when you're on your horse. And it's made in the U.S.A. You'll find sizes XS to XL on their website.
So what do you think about our 3 alternatives for the No Time To Die corduroy coat? Any that you'd choose over the original? Or do you have a style you think would work better? Let us know in the comments! And you can always visit our Facebook page, Instagram account and Pinterest Boards for more Bond, Craig and McQueen style advice and inspiration.