The James Bond Corduroy Trousers
One thing you can say about Daniel Craig: he's made James Bond corduroy trousers a thing. I honestly thought the All Saints from Skyfall were going to be a rarity in the series' sartorial history. But with two different corduroy trousers from Massimo Alba showing up in No Time To Die (not to mention the full corduroy suit!), I think we can now officially say it's a Bond-worthy fabric. So in this post we're going to explore alternatives for all three pairs of pants: the fan favorite Skyfall Iggys and the Winch2 and Mauko models from the upcoming film.
The Skyfall All Saints Iggy Corduane Jeans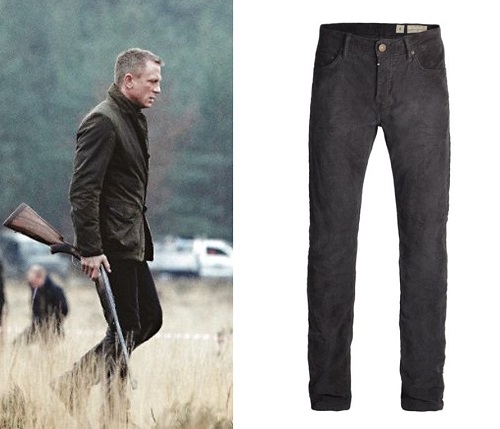 We know them. We love them. And they're a key part of what GQ writer Cam Wolf called "one of the most influential menswear outfits in movie history". Supposedly the original All Saints Iggys were in the Bitter Chocolate color (shown above). The pants were dyed a darker color for the film, as confirmed in this post by jon_1uk on page 3 of this thread on AJB007, which includes a response from All Saints customer service about the modification. So there's still some question as to the actual original color of the Iggy Corduanes used in Skyfall and what color eventually showed up on screen.
When it comes to alternatives, I've always assumed that cords in a very dark brown would get us the screen accurate "Lodge Outfit" look. But there are some that feel that a deep charcoal would also work. I'm going to include alternatives in both colors so you can take your pick. Of course you could always follow the strategy of the Skyfall costume department and dye your own to get the right color!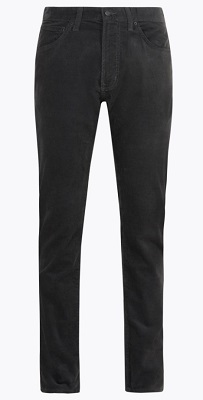 We already mentioned these in our Best Budget Style Finds post from February 16th. A great option at a terrific price for those of you who fall into the "charcoal will work!" camp. Sizes are starting to get a little scarce on the Marks & Spencer UK website. But there's still some options left. Unfortunately, these are now completely sold out on the U.S. site.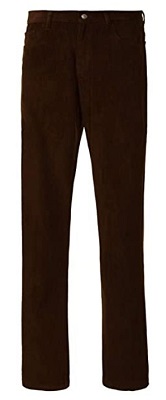 The big problem with these is the size of the cord wale. The screen used Iggys were a very narrow 14. But the Alexanders are a much wider 8 (hence the name "Jumbo Cord"). However, they are 5 pocket pants in a 100% cotton, darker brown cord. And that's something that's harder to find these days than you'd think. Amazon UK has plenty of sizes in stock.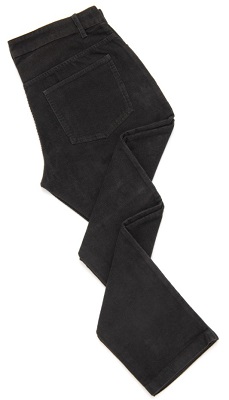 Another option for you charcoal fans. Over the last five years, Spier & Mackay has built quite the fan base in the menswear community. Mainly because they consistently offer solid quality and great fit at a reasonable price. Their cords are 100% cotton and come in both a slim and contemporary (more roomy) style and there's plenty of sizes still available. Just note that they do ship from Canada. And that can make things a little tricky if you need to make a return.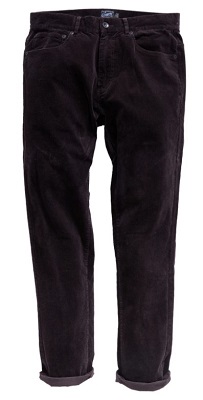 Pretty much exactly what we're looking for in an alternative. The color is a super dark brown. They're a slim fit (so not quite as skinny as Bond's jeans) and should work on a variety of body shapes. And they've used a narrow 14 wale cord, just like the Iggys. But, sadly they're down to waist sizes 32 and 33. If that's your size, rejoice! Just act fast; I have no idea how much longer those sizes or that sale price will last.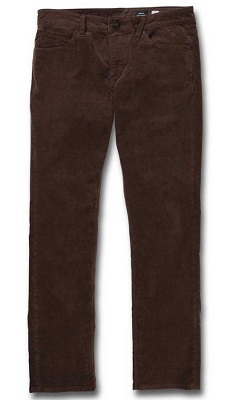 Not quite as dark as we'd like. But the Vortas do use a thinner wale cord. Volcom calls these a "straight" fit. However, they still look plenty slim in the product photos. And there's a little bit of elastane in the fabric mix to give them some stretch, which is nice. DressInn has the best price on these I could find. Unfortunately, available sizes are getting low. They're down to 28 to 33 on the site.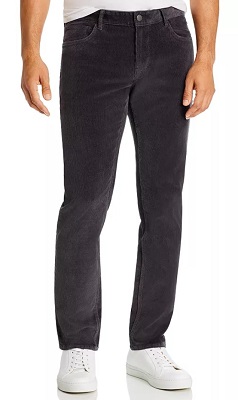 These are one of the more expensive alternatives on the list. But if I was going to go with dark grey instead of dark brown, I'd probably choose the Michael Kors. Based on the product photos, I just think that graphite would work well with the olive, blues and browns of the rest of the Lodge outfit. They're also a 98% cotton, 2% elastane blend. And I like me some stretch in my slim fit trousers. Lots of waist sizes available at Bloomingdales. But they all have a 32″ inseam, which could be a problem for you taller fellas.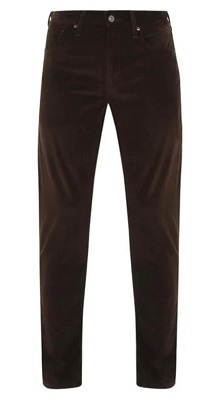 Something a little different. Levi's has used a Japanese diagonally cut deep brown corduroy fabric that gives the jeans a unique texture. I also wouldn't call the 502 model "slim". Based on the 501 fit, it keeps the roomier upper block of the original but tapers below the knee. Personally, l like the fit. And not everyone is built like a 6'3″, 180 lbs model. So it's good to have something for us more regular shape guys. You'll still find a good selection of sizes at House of Fraser.
The No Time To Die Massimo Alba Winch Trousers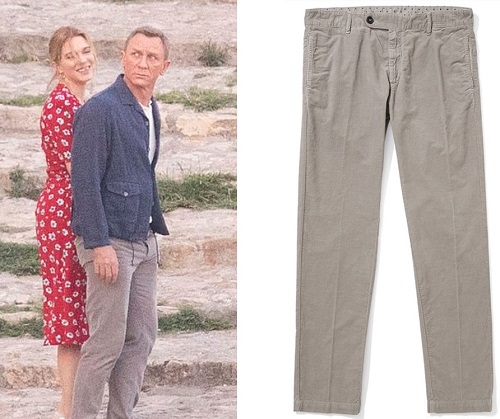 For his "Romantic Look" in Matera, Bond wears a pair of Massimo Alba Winch2 baby corduroy trousers in a color they call "alluminio". To translate: "baby corduroy" is basically a soft, fine wale needle cord and the color is a very light grey. There are still some larger sizes for the trousers available on the Massimo Alba website, where they retail for €235.00/$385.00. If you need a smaller size, they have a waitlist started for the next production run. Just email [email protected] to get on it. And while you're over at their website, check out the rest of the James Bond baby corduroy collection. That's where you'll find the suit and the duster he'll be wearing in the film.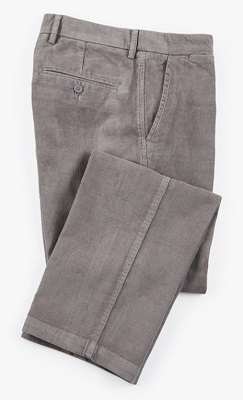 Why have I been mentioning Samuel Windsor so much in recent posts? Because right now they're offering great deals on some standout pieces. Like these trousers suggested by AJB007 forum member Hold Command. They may not be an exact match for the Winch2 pants (the Samuel Windsor ones have button back pockets instead welted and that shade of grey is a little off). But damn, do they come close. To start, the fabric is a 97% cotton, 3% elastane 11 wale needlecord. They also have the tab closure waist detail. And they're a slim fit. So not your typical baggy country cords.
Even better? Samuel Windsor is running another promotion right now: 2 pairs for $60. And, as we'll see below, these Slim Fit Needle Cords also come in Black. Those ones could be a pretty good match for the Massimo Alba Mauko trousers Bond also wears in the film with the Duster coat. So you could get alternatives for two No Time To Die trousers for about the same price as just one pair of some of the other options on this list. And finding deals like that is what Iconic Alternatives is all about, my friends!
One trick when you're ordering from they're website: select your waist size (the bottom row of numbers) first, then select your length (the top row of numbers). If you click on the length first it will look like a bunch of waist sizes are out of stock. I should also mention that the trousers are available on Amazon UK for £25.00 to £34.95 if you prefer to use that service.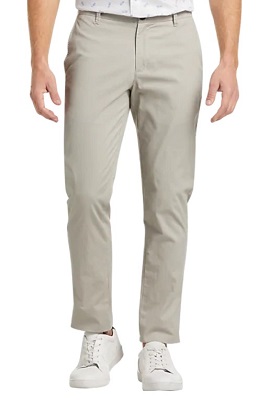 A lighter weight trouser made from a 98% cotton, 2% elastane a micro-wale cord in a slimmer fit coming to us from Men's Wearhouse. The design seems to have the on-seam side pockets and the welted back pockets are button free like the Winch2. But they are missing the tab closure at the waist. And, to my eye at least, the color of these doesn't look quite dark enough. However we all know website product photography can be deceiving. I'm hoping to pop into a store soon to check these out in person. I'll keep everyone posted on what I find. In the meantime, if you want to roll the dice, they have plenty of sizes on the website.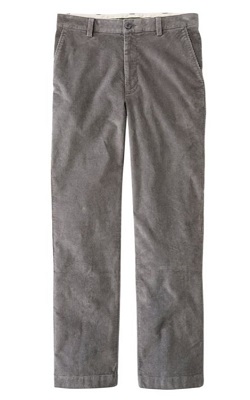 As I mentioned above, not everyone is built like an H&M model. So for you bigger guys, this fuller cut option from the venerable retailer of outdoor goods can come close to giving you the right look without cutting off your circulation when you're wearing them. The fabric is a 98% cotton, 2% spandex 11 wale corduroy which also comes close to what we want. Lots of sizes available on their website.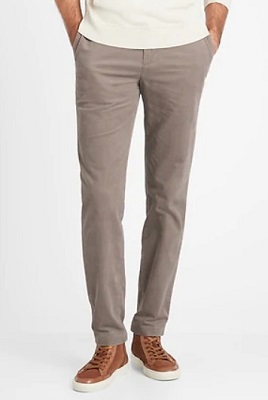 I'm also hoping to get into a store to check these out. Because I know for a fact that the colors in some of Banana Republic's online photos can be a little wonky. If the shade is a little lighter than it looks on the website, these could be a solid alternative. Their "Traveler" pants have a lot of fans. And although these are missing the tab waist closure and the back welted pockets have buttons, the 99% cotton, 1% elastane fine wale corduroy certainly sounds like a good match. They even have a good selection of sizes left in stock. Also, if you don't mind going with a chino style rather than a jean style, the "Antique Brown" color might be an alternative for the Skyfall Iggys.
The No Time To Die Massimo Alba Mauko Trousers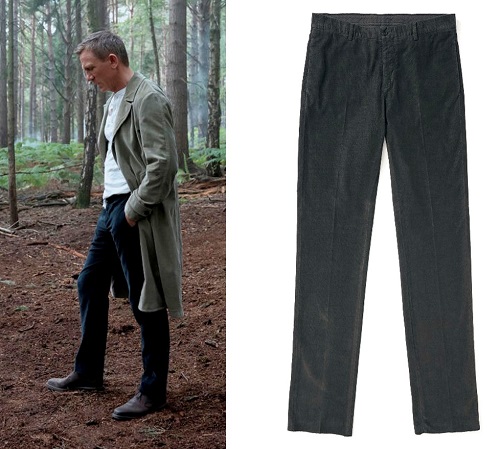 The second pair of Massimo Alba corduroy trousers are the Mauko model in the Nero Lavato color. These are also a fine wale needlecord made from 100% cotton in a slim fit. The main differences between the Maukos and the Winch2 are the lack of the tab closure at the waist and the buttons on the welted back pockets. Again, there are a few larger sizes left on the Massimo Alba website. And if you need a smaller size, you can join their waitlist by emailing [email protected]. As for the rest of Bond's outfit, you'll find alternatives for the Crockett & Jones Molton rough out suede boots he wears in our post on (00)7 James Bond Chukkas. For options for the henley, check out this post.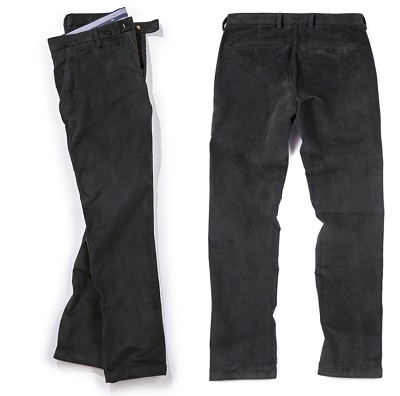 I've already overwhelmed you with info about this alternative in Grey. So I won't repeat myself here. Except to say that, tab closure waist aside, they look like a great match for the Maukos. And that price is really hard to beat. Lots of sizes left in these ones as well!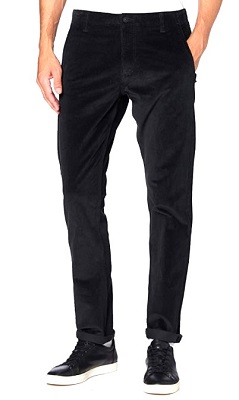 These are a part of Dockers' slim fit Alpha line. So the look will be much more contemporary than the baggy, double pleated chinos you may remember from the old days (although apparently that look is coming back into style in a big way). The fabric is a 97% cotton, 3% spandex with a four way stretch. Which should make them very comfortable. As for style details, the cord looks to be a suitably fine wale, and they have single button closure at the waist. One of the back pockets also has a zippered "security" closure which is a nice touch. If you're in the U.S. you'll find a good selection of sizes on the Dockers' website. For those of you in the UK, you can find them on Amazon.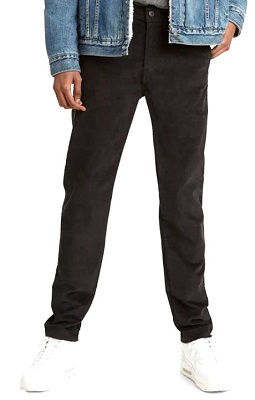 I have a pair of Levi's XX chinos and I really like the fit. Comfortably roomy in the top block with a medium rise and a nice taper below the knee. It's a cut that seems to work for me. This particular pair are a blend of cotton, polyester and elastane and it looks like they have that finer wale cord we want. We also get the button waist and the welted back pockets (although only the right side one has a button). Macy's has sizes 28 to 33 in stock.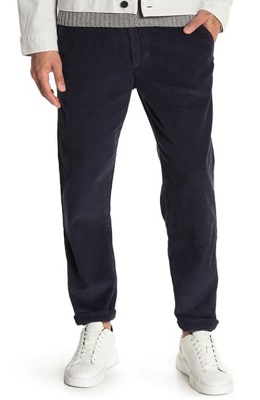 For about four bucks more, I would probably choose these ones over the Levi's above. Mainly because these are made in the U.S.A. And, with a regular retail price of $278, sixty-three bucks seems like a steal of a deal! I've used a photo of the navy blue color here since it's next to impossible to see any details in the product pics of the black ones. But overall they seem to have most of the style details we want, although the corduroy may be a slightly thicker wale than ideal. Nordstrom Rack has sizes 28 to 38 in stock.
Have a suggestion for an alternative for a pair of the James Bond corduroy trousers? Share away in the comments below! And if you're looking for more style inspiration, check out Iconic Alternatives on Facebook, Instagram, Twitter and Pinterest!