The James Bond No Time To Die Henley
Updated July 5th, 2022 – It's a "two for the price of one" post! You don't need to decide which James Bond No Time To Die henley is your favorite. Because we're going to be looking at both them here. First, the well-known Rag & Bone long-sleeve one he wears with his Massimo Alba duster and the N.Peal commando sweater. And then the short sleeve version he wears with Connolly blue linen blouson (alternatives in this post) while on vacation in Matera with Madeleine. Let's get to it!
The Long Sleeve No Time To Die Henley
This shirt was identified pretty early on during the initial publicity for film. I first heard it was from Rag & Bone from AJB007 forum member cederic0011 back in October, 2019. And the great news is it's still available. Matches Fashion sizes small to XXL in stock for $150.00/£130.00. Or you can head over to Saks Fifth Avenue where they have it for the same price. Currently Rag & Bone is down to sizes XL and XXL. But I have no doubt they'll be re-stocking soon.
Features Wanted for the Long Sleeve No Time To Die Henley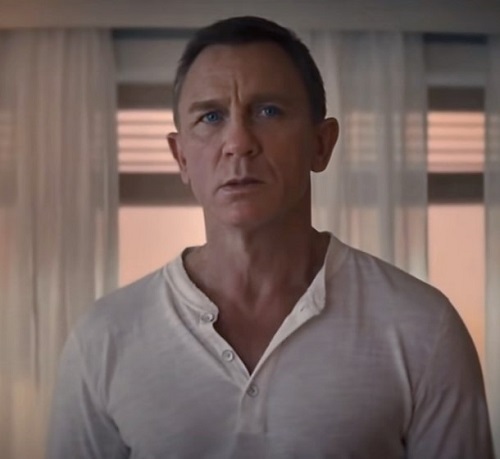 White color
Slub Cotton
Longer 3 button woven placket with distressed metal buttons
Rib Knit Cuffs (a little longer than what you'd typically find)
Straight hem
Let's start by stating that those distressed metal buttons are very much a Rag & Bone thing. So unless you want to go with the repro (more on that below), the exact buttons are a style detail that needs to be sacrificed. But other than that, there literally thousands of white henleys on the market that could do the job. For that reason, I'm going to be very strict with our alternatives: no raglan sleeves and we want the 3 button placket and collar design to come as close to the original as possible. The four options I highlight below all come very close. But there are pleny more Henleys under the "Also Try" heading that are worth a look.
Under $50.00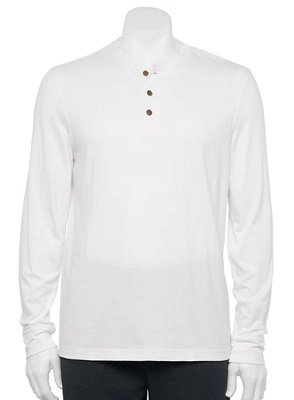 A dirt cheap option from the Kohl's house brand. And it actually nails a lot of the "Features Wanted". Sure the shipping is going to add another $8.95 to the price. But even with that, we're getting an alternative that comes darn close for under twenty bucks. Sizes small to XXL are in stock.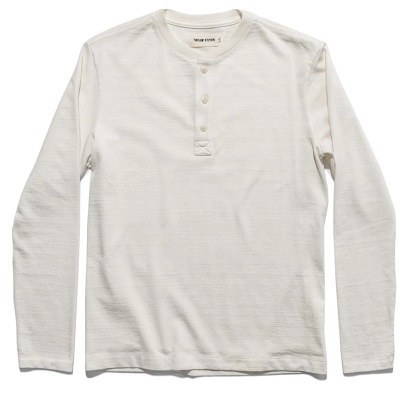 A great suggestion from our Instagram friend Adam Storm (@storm_adam)! Made from 52% 8oz upcycled cotton and 48% recycled polyester, it nails most of the right style details. The placket, button placement, fabric texture and straight hem look like solid matches. And apparently it's so soft it feels like "heavyweight boxing champion holding a kitten". Yes, that's a direct quote from the Taylor Stitch product page. They still have most sizes in stock, but are currently sold out of mediums unfortunately. I'm also not sure how long that 30% off discount is going to last. So you may want to act fast if you want the deal.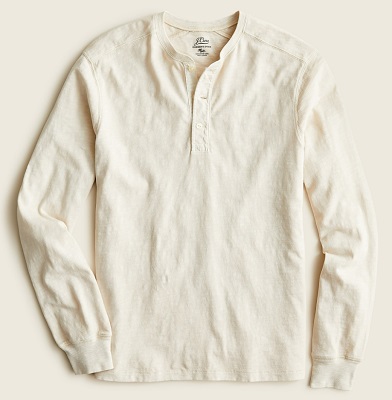 That color isn't an exact match. But personally I find it easier to wear off-white Henleys than pure white ones. I just think they look less stark when layered under shirts and cardigans. Other than that, this option from J.Crew gets almost all the details right at a great price. And one of the things I like is that they offer it in "Classic" and "Tall" fits. So you can really dial in the sizing to work for your body. They currently have sizes XS to XXL in stock. Just remember to check for discount codes to bring that price down even lower!
Under $100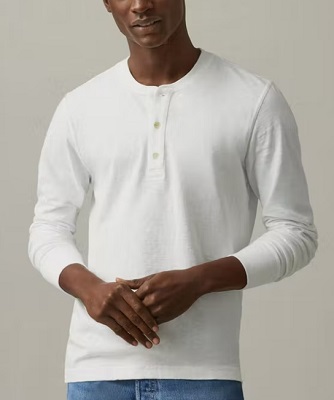 In the world of heavy weight sweatshirts, American Giant is legend. I have a couple myself, as well as one of their long sleeve tees. What I can tell you is their made-in-L.A.. shirts start out stiff and the fit is a little boxy. But that 100% cotton fabric softens with wear and washes. And they'll soon become favorites if you're willing to invest a little time breaking them in. Definitely worth the money in my opinion. They have sizes small to XXL in stock.
The Repro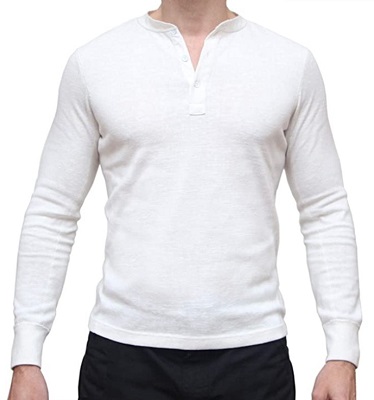 I'm a little reluctant to share repros for products when the original is still out there and easily available. But Indy has done a lot for the Bond-fan community. And (distressed metal buttons aside) an off-white henley isn't exactly a rarity. So here it is. Magnoli has gone with a cotton/poly blend slub fabric. The other style details are, as you'd expect, very close to the Rag & Bone henley. I would just recommend that you check out the sizing chart if you order one. Apparently they run a little large? I've linked to Amazon above for the U.S. price (where there's also a $12 shipping fee). However the price drops to $65 if you order directly from their website.
Also Try
The Short Sleeve No Time To Die Henley
After much speculation, it was finally revealed that Bond's Matera Henley came from the legendary London tailoring house of Anderson & Sheppard, where it's still available in sizes XS to XXXL for $270.00/£215.00.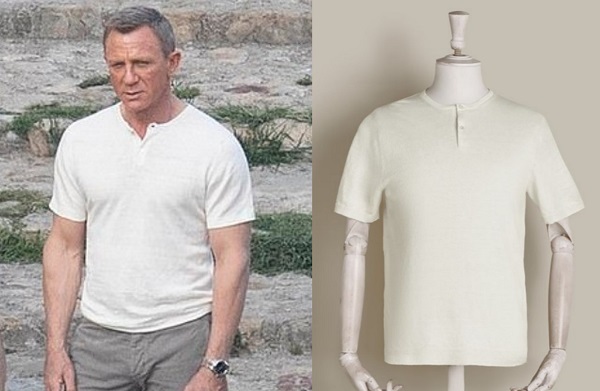 It's quite a unique (and beautiful) piece. Made in Italy with a soft, knitted linen fabric, it's fashioned more like a lightweight sweater than your typical tee. It also has a slightly more relaxed fit with fuller sleeves. But it's the design of that two button placket that really differentiates it, as you can see in the photo below.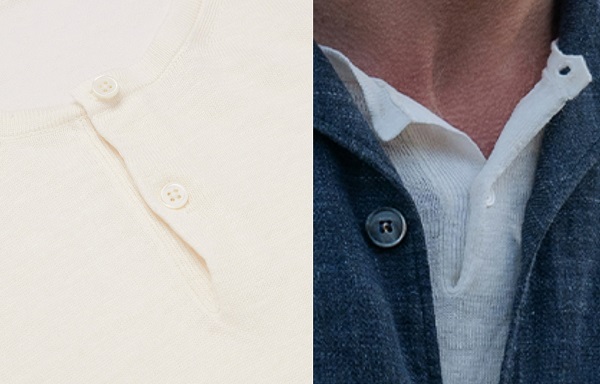 It's tough to find that particular detail on a lower priced alternative. But we gave it our best shot!
Affordable Options for the Short Sleeve No Time To Die Henley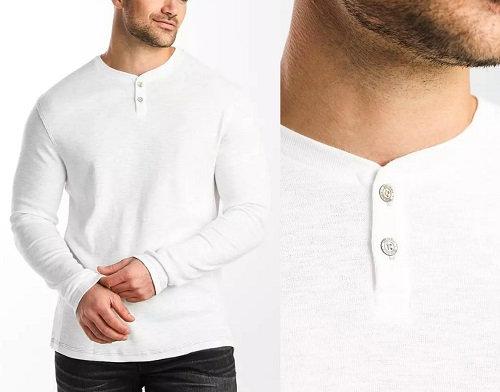 "But John," I hear you say. "That's a long sleeve Henley!" Yes it is. But take a look at the placket. It has the same "folded" look as the screen used shirt. And the fabric has the right knit texture (although this is a less luxurious 98% cotton, 2% Spandex blend). So given the fact that it does a solid job capturing those important details and it's priced under thirty bucks, I'd be willing to invest a little more to take it to a tailor to turn it into a short sleeve. Buckle has sizes XS to XXL in stock.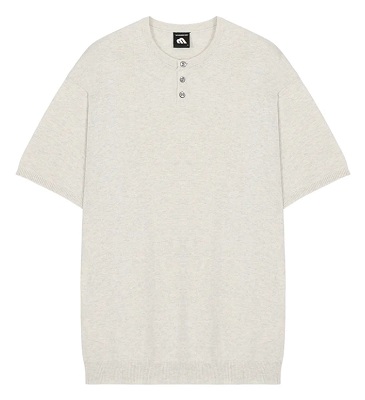 A late addition to the list, suggested by our Instagram friend Ste Smith (@stesmith10). Although it has a three button placket, the design is pretty close to the screen used shirt. And they've used a soft knit 100% cotton fabric with the ribbed hem. This one is coming to us from Japan. So I'd just be sure to double check the shipping costs and the sizing (you may need to size up). Thanks, Ste!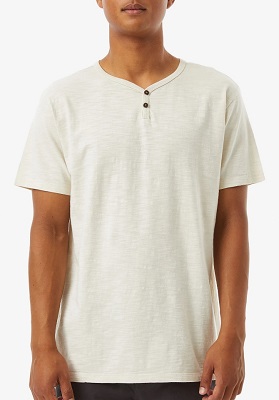 A more traditional style in a slubby 100% cotton garment dyed fabric. Although the 2 button placket isn't the same design as the one on the Matera Henley, it's different in its own way from your run-of-the-mill Henley and adds a bit of character. Sizes small to XXL are available on the Katin website.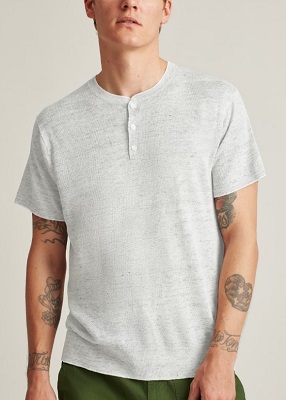 The three button placket and grey color are obviously less than screen accurate. But this option from Bonobos does deliver a lot of the other features we want. Including a soft knit Italian linen fabric and the ribbed cuffs and hem. And it would still look sharp under a lightweight blue jacket. Bonobos has sizes XS to XXL in stock.
Also Try
Have a suggestion for an alternative for a No Time To Die henley? Share away in the comments below! And if you're looking for more style inspiration, check out Iconic Alternatives on Facebook, our NEW Instagram account and Pinterest!