Best Budget Style Finds February 23
Welcome to our Best Budget Style Finds for February 23rd! This is where we share some of the great alternatives for Bond (or Craig or McQueen) style that either slipped through the cracks when I was writing the original dedicated posts or deserve a special mention. My goal is publish one of these a week. Sometimes they'll be short. Sometimes there'll be a ton of new options. A lot will depend on what we, as a community, find and share. So if you have any suggestions, let us know in the comments. On to the alternatives!
No Time To Die Cuba Style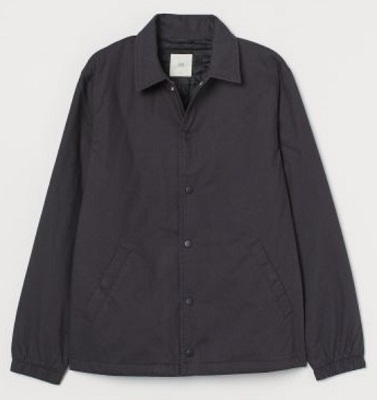 I'm not sure how I missed this one when I was writing the post on the NTTD Cuba jacket. But that's what these "Best Budget Style Finds" posts are for. Anyway, I saw this one in-store last week for under twenty buck and grabbed it. And I'm actually really happy with it! The fit is true to size (I'm a medium in almost everything and took a medium in this). The jacket does have some insulation, but it's very lightweight. More of a cool spring evening piece of outerwear. H&M calls the color "dark grey". But to my eye it has a blue tint to it and a matte finish so it doesn't look like your typical coaches jacket. No zipper and it has elasticized cuffs, unfortunately. But we can't have everything at this price. Sizes are moving fast on the H&M website so you best get going if you want one!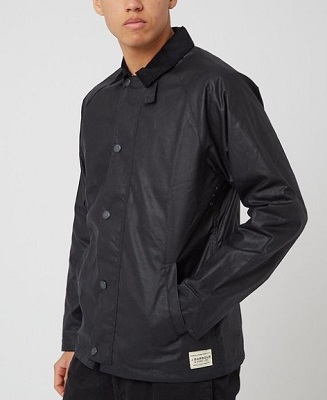 If you're looking to invest a little more in your "Bond in Cuba" style, here's another alternative from the brand everyone is pretty sure made the screen used jacket. Obviously the corduroy collar is a big difference between the Gelbin and Graham. But other than that, this alternative checks most of the boxes: shorter length, raglan sleeves, welted pockets, zipper closure with snap button storm placket (although the zipper ribbon is white). It even has that throat latch. I found the best price at Garmentory, where they have sizes small to large in stock. If you need an XL, there's still a couple left at Thread. But the price jumps up to $390.00.
Denim done the Bond way …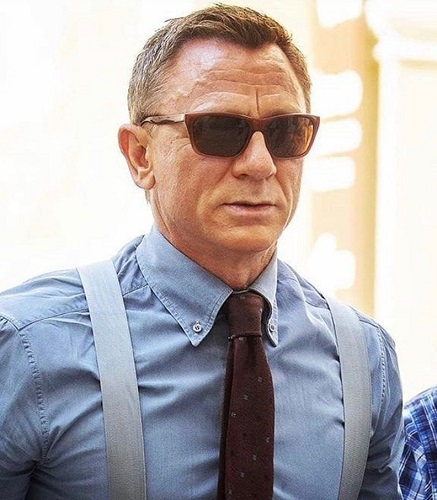 You know the problem with most denim-ish button down dress shirts out there? They come with white buttons. Heck, they even had to change the white buttons on Bond's Brunello Cucinelli shirt to custom blue ones that better matched the shirt color. If you're willing to do some sewing to get the screen accurate look, then there're lots of alternatives available. But if we want the style with the correct button color right off the rack then our options become much more limited. So I'm happy to say that we've found a couple that will do the trick!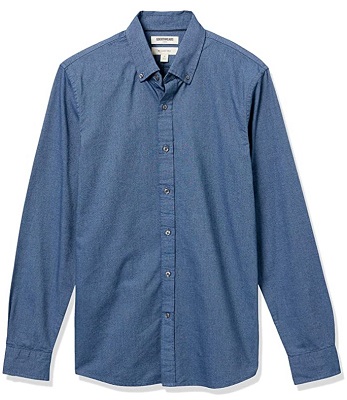 And Amazon nails it. The fabric is a 100% cotton oxford cloth. So not exactly screen accurate. And we certainly won't be getting that beautiful Cucinelli collar roll. But the color looks good, it has the tonal buttons we want and that price tag is easy on the wallet. Lots of sizes (both regular and tall) are available on the U.S. site. On Amazon UK, sizes are running out. Also, I've linked to the Slim Fit above. But you can get the same model in a Standard Fit for $13.75 to $30.00/£10.38 to £24.10.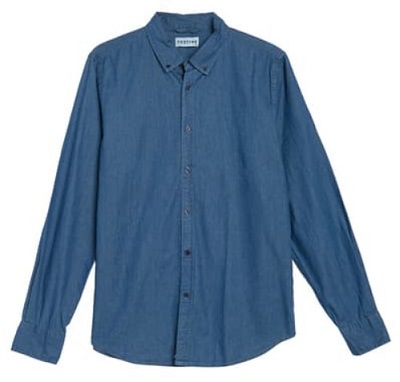 This 100% cotton alternative is an actual denim shirting. And although color may be a little darker than ideal, I still think it would look damn sharp under a beige corduroy suit. Nordstrom Rack is offering it at that sale price and they have sizes small to XL in stock. But lord only knows how long it will be available there since it seems like they rotate their inventory every week.
Still not sure about this one …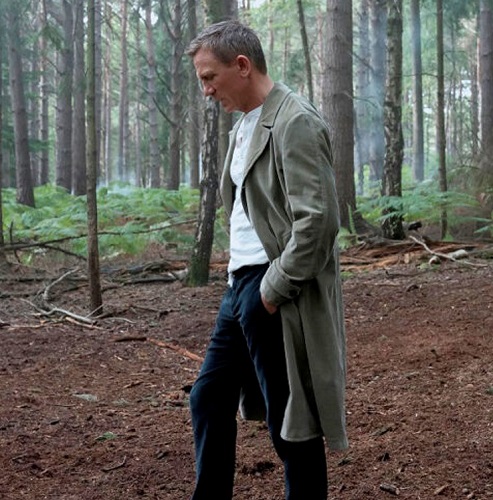 Some people love the Massimo Alba pale green corduroy duster. Honestly, at this point I can't say I'm one of them. I can think of a dozen other pieces of outerwear that would work better here (a cool Brosnan inspired leather field coat? how about a gilet worn over an awesome sweater à la Roger Moore? or a corduroy chore coat like this one from Monitaly?). Maybe "Cowboy Bond" isn't my thing. Any thoughts?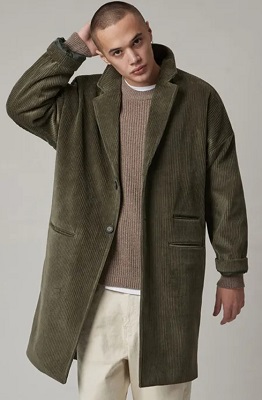 Don't be too hard on me. I've been looking for a suitable duster coat alternative for a while now. And there ain't much out there. So when this one came across my screen, I got a little excited. But the fit is HUGE! It's coming from a Korean streetwear brand and is cut to be oversized and loose (for example: the drop shoulders measure 27.5″ across … on the size small). On the other hand, it is a long 100% cotton corduroy coat at a reasonable price. And it's greenish. Needless to say I'll stay on the hunt.
If you need something right away and the Takeasy option isn't doing it for you, you could also try The Jacket Factory. They make a custom repro of the coat for $139.00 to $159.00. I'm not going to bother sharing a photo from their site since the product pics are obviously the actual Massimo Alba piece. And I have zero personal experience with the company and can't find any reviews for them online. So buying from them could be a serious roll of the dice.
Everything old is new again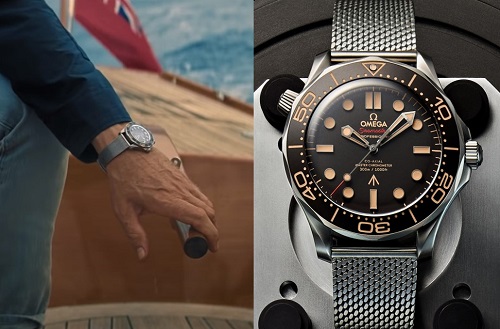 By now every fan of Bond's timepieces knows he's wearing the Omega Seamaster Diver 300M in No Time To Die. And that Daniel Craig himself was an important part of the design process. We'll be updating our dedicated post with more alternatives for the watch soon. But you can find all the technical specs for it on the Omega website. I can also promise you that any options we come up with will certainly cost less than the original's $9000 price tag.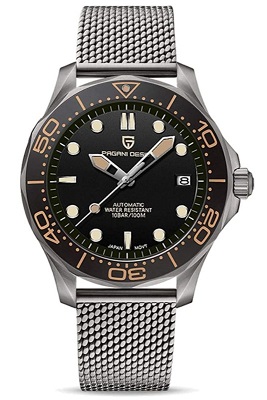 It would be pretty generous to call this an "homage". Yes, there are some subtle differences that keep it from being an exact copy. The design of the hands, the date window at 3 o'clock and the lack of the helium valve are a few that jump out. But there's no denying what it's trying to be (they even use a photo of Bond wearing the real Omega on their product page). On the other hand, a watch is much more than just its looks. And Pagani actually gets decent reviews around the internet. The specs seem solid on paper. The movement is a stock Japanese NH35 automatic, they've used a unidirectional ceramic bezel, the Milanese bracelet has quick release pins, and it has an exhibition caseback. The watch measures 42mm, a good size for many of us, and is rated for 100m water resistance. So not bad for $140, if you remember to keep your expectations in check.
I remember vacations …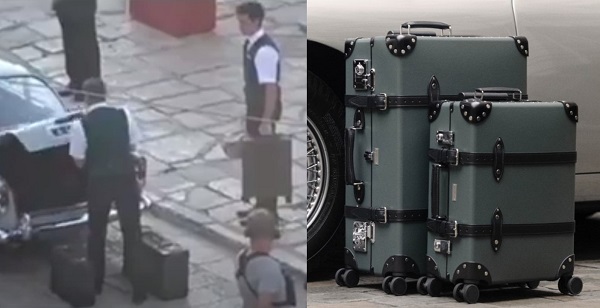 I truly believe in my heart a day will come soon when we can all travel for pleasure once again. And it will probably be around that time that No Time To Die finally makes it into movie theaters. So why not take some inspiration from Bond's luggage to get ready? He's once again using cases from Globetrotter and they've released a new collection to tie in with the film. You can find the carry-on at Uncrate for $2485.00. The larger check-in case goes for $2895.00. You can also get the cases directly from Globe-Trotter. And Bond Lifestyle has a great in-depth look at the pieces if you're interested in learning more.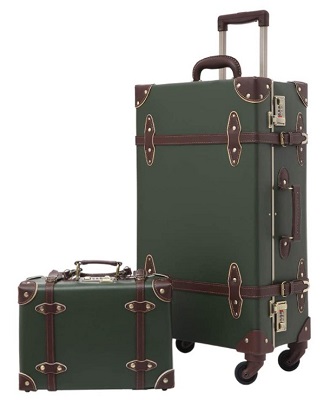 Of course for some us two thousand bucks is more than we'd spend on our entire vacation. But that doesn't mean we shouldn't travel with a little style. Obviously $200 isn't going to get us the quality materials and workmanship the Globe-Trotter cases will deliver. And I'm always leery of recommending the use of inexpensive luggage for any travel that involves airports and planes. However, if you're planning a road trip and just need something that looks cool when you pull it out of the trunk of your car, these should work. You'll find this set on Amazon and there are multiple sizes available if you want something a larger.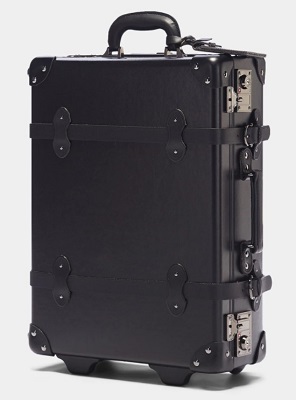 If your budget sits somewhere between Amazon and Globe-Trotter, here's a worthy investment inspired by Daniel Craig's personal luggage. The hardbody case is made from Japanase fibreboard and accented with genuine leather straps. It also has a telescopic handle and gunmetal hardware, including TSA approved locks. And the detailing inside looks just as nice. Measuring 20″ X 14.5″ X 6.5″, it will fit into most overhead bins and comes with a ripstop nylon cover for some protection from bumps. Steamline also makes an all-leather case in hunter green with brown leather straps called "The Diplomat" that should do the trick if you're drawn more to the No Time To Die style luggage.
A couple of fan favorite Quantum pieces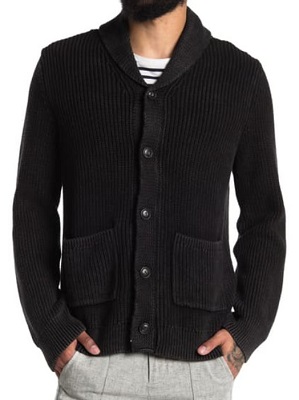 For a few years it seemed like no one wanted to make a nice ribbed knit shawl collar cardigan at a reasonable price. Now there everywhere! Not that I'm complaining. I still remember those early days of Iconic Alternatives, when I would spend hours hunting in the darkest reaches of the internet for suitable alternatives for the Tom Ford cardigan. Scary times! Anyway, here's another 100% cotton option coming to us from Nordstrom Rack that will help give us that now classic "Mathis Villa" look. They have sizes small to XL in stock. You can find even more alternatives for the Quantum of Solace cardigan in this post.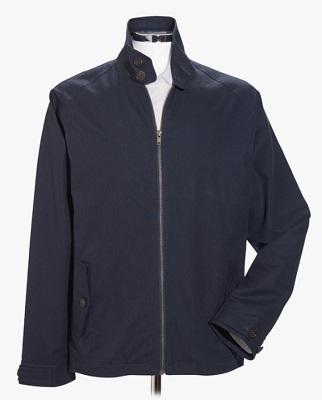 Unfortunately, unlike the black cardigan, good alternatives for Bond's Tom Ford Harrington jacket are still rare. Most options either have ribbed knit cuffs, a ribbed knit hem or both. So finding this one at such a great price at Samuel Windsor was a very pleasant surprise. It does have a two button collar. But it also has an open hem and cuffs and there's even button straps at the wrists. All of which are things we want in the design. Lots of sizes left as well. Judging by the product photos on the website, it does seem like a fuller, more traditional cut compared to the Quantum jacket. Just something to keep in mind when ordering.
Our first warm weather SPECTRE alternatives …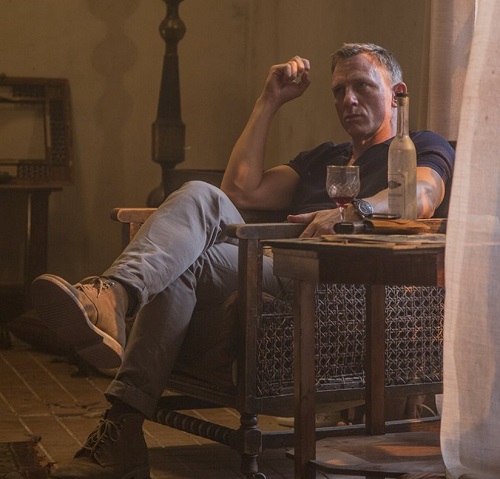 There's freezing rain falling outside my window as I write this. But we all know warm weather will come our way eventually. Realistically, by the end of March we'll be right in the middle of our search for Spring style alternatives. So let's get an early start with two popular pieces from SPECTRE.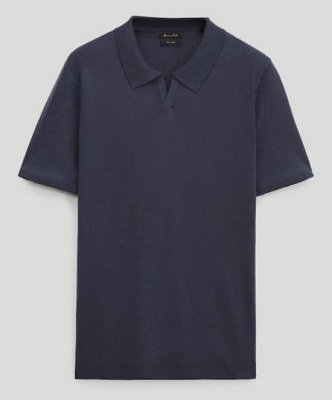 It's missing the ribbed hem and intricate knit details of the original from Tom Ford. But that Johnny collar and the tailored fit look to be a great match. Don't let the fact that it's Merino wool scare you off. It's actually a great spring fabric that will help regulate your body temperature. Sizes 36 to 44 are in stock on their website.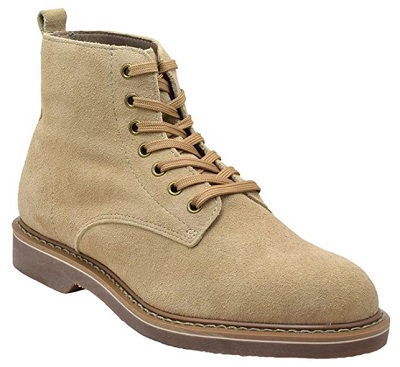 Still our favorite alternatives for Bond's J.Crew Kenton boots. You can read our review of the Boondockers here. But long story short: after four years of regular wear and tear they're still going strong and look great. For a while it seemed like inventory for these was running low on both Amazon and the Golden Fox website. But sizes 8.5 to 13 are back in stock, which is great news. If you're looking to finish off your Bond Morocco looks, these are definitely recommended.
And speaking of suede boots …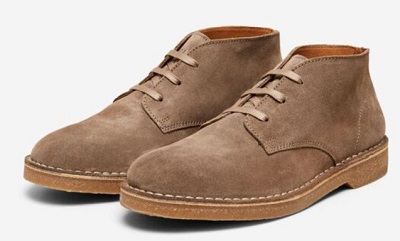 We just finished up a post on Bond's chukka boots. But here's another alternative for his Skyfall "Enjoying Death" Zara footwear to add to the list. As I mentioned in the other post, finding a lower profile desert boot with a mid-brown upper and lighter colored sole is a bit of a challenge. However, aside from having three eyelets, these ones from Selected Homme are a pretty good match. And they'll almost certainly be better made than the screen used pair. Thread has sizes EU sizes 40 to 45 in stock (approximately U.S. sizes 7 to 12).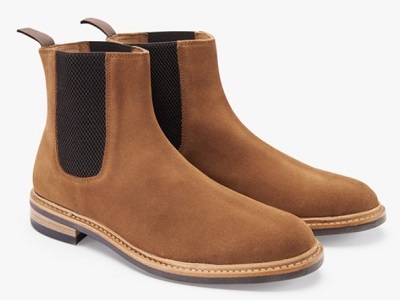 Another post we'll updating soon focuses on alternatives for one of our favorite pairs of Daniel Craig boots: the R.M. Williams Gilchrist Chelseas. And we've already found a solid option for a steal of a price at Samuel Windsor. Yep, Samuel Windsor again. I swear they're not sponsoring this post. Maybe they're going out of business? Or just clearing out as much old stock as quickly as they can? Whatever the reason, they're certainly offering some killer deals right now. These particular boots use an Italian suede upper and a Dainite-like studded rubber sole. And they're Goodyear welted, so they can be recrafted. Style-wise, they're a little taller than the Gilchrists and it would be nice if the suede had a bit more of a reddish hue. But that natural colored welt and heel block are very similar details. Lots of UK sizes left in stock on the website.
The Last Minute Additions
I was just putting the final touches on the post when I stumbled across a sale at DSW via Dappered.com. And they're offering some great prices on boots that should appeal to fans of Bond's footwear. You'll need to use the code ABOOTTIME at checkout to get 30% off the last listed price on each model. Sale ends on February 24th.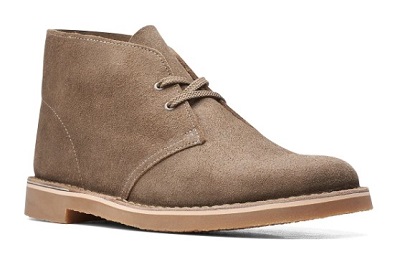 Since I published that post on Bond's chukkas, some people have been asking me why I didn't include any alternatives from Clarks (I heard you Matt on Facebook and jayactiv on IG!). And my answer was I couldn't find any models that looked like what we needed. The, of course, these Bushacres show up and they'd work just fine as alternatives for the "Enjoying Death" Zara boots. Again I ask myself: how the hell did I miss these when I was writing the original post? Plenty of sizes left in this colorway.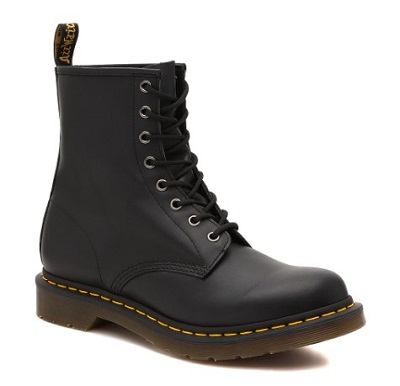 I'm pretty sure Bond wore Docs in The Living Daylights. Specifically, their 14 eyelet 1914 model for the raid on the Russian base at the end of the film. Here's some photo evidence so you can judge for yourself.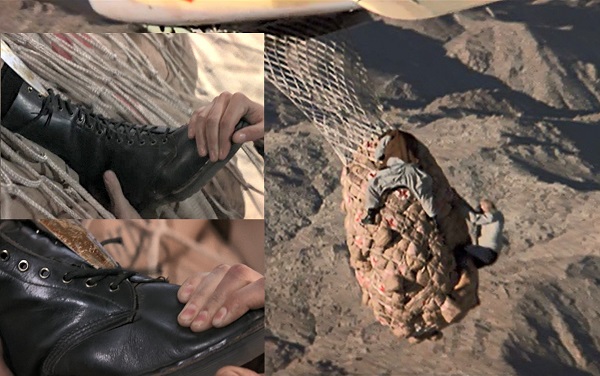 All this is a long way of saying that DSW has the 1914's shorter cousin on sale at a good price.
I don't have time to do a write up about the other boots individually. So here are the links to a few others and some quick notes:
To see our previous Best Budget Style Finds posts, you just need to click here. Know of any alternatives we should feature in our next Best Budget Style Finds post? Or do you have another option for this post? Tell us about it in the comments! You can also visit our Facebook page, Instagram account, Twitter account and Pinterest Boards for more Bond, Craig and McQueen style advice and inspiration.