The James Bond No Time To Die Cuba Jacket
Updated September 19th, 2021 – To start, let me say that we're still not 100% certain what the James Bond No Time To Die Cuba jacket is. But we're about 99.9% there. And so far all signs are pointing to it being the Barbour X Engineered Garments Graham Jacket.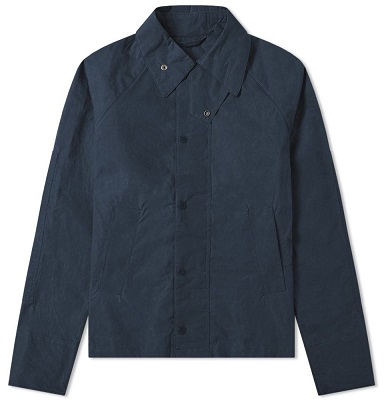 The shots we've seen in the movie trailers, the BTS footage from director Cary Joji Fukunaga and the Omega video of 007 Bond wearing it reveal many of the jacket's details that match with the Graham's design: the raglan sleeves, the bigger collar with exposed snap button and the throat latch. So I think we can be fairly confident this is the right model.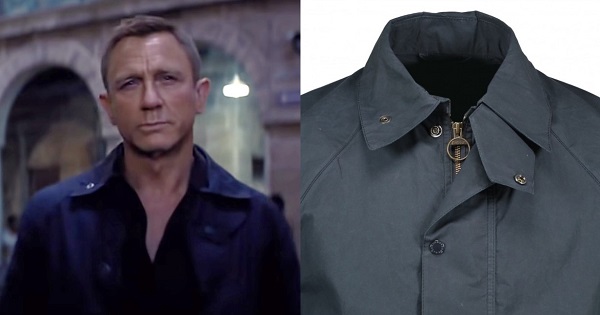 David Zaritsky of The Bond Experience has a great video where he explores the details of the Graham Jacket in depth. And James Bond Lifestyle's article on the jacket also provides lots of helpful information. Both are worth checking out if you want to learn more!
Features Wanted for the James Bond No Time To Die Cuba Jacket
Lighter weight waxed cotton shell
Navy blue color
Shorter length
Zipper closure with a wider snap button storm flap
Raglan sleeves
Larger collar with detachable snap-on throat latch
Open hem and cuffs with interior knit cuffs
Welted side pockets
Game pocket at the back
That's quite the list for what, at first glance, seems like a simple jacket. When it comes to alternatives, there's obviously a few features we'll need to sacrifice. For example, with one exception, I didn't find any options with a rear game pocket. And, surprisingly, raglan sleeves were rarer than I thought they'd be. That larger collar with the throat latch is also a distinctive Barbour design detail that most other brands don't copy. As for the exposed snap button on the collar point: if you really want it try these for a DIY solution.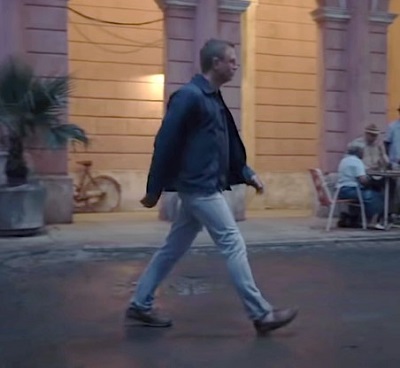 I've heard people describe Bond's Cuba jacket in different ways. Some have said it looks like a Coach's jacket. Others seem to feel it has more of a workwear vibe. Personally, the style reminds me of a traditional U.S. Navy A-2 Deck jacket. Which would fit nicely with Engineered Garments' history of finding inspiration in heritage military wear. The options below have characteristics of all those types of jackets. So you can choose one that will work best with your personal style.
Best Barbour Option for the James Bond No Time To Die Cuba Jacket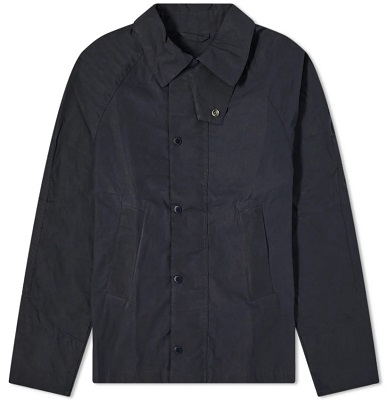 Much like Barbour did with the To Ki To jacket from Skyfall (re-issuing a new version as the Dept. B Commander), it looks like the British heritage company has launched a new iteration of the Graham called the "Covert". This jacket has been popping up on various on-line various on-line retailers for a while now. It also tends to disappear from stores without notice. Currently END Clothing has all sizes available. But I honestly have no idea how long it will be there. So if you want one, act fast!
As for the differences between the original Graham and the Covert, I highly recommend checking out this Instagram post from @bondclothes007 and this one from @legallybond. They have the jackets and offer some great details about the subtle changes Barbour has made in the two versions.
Best Option for the James Bond No Time To Die Cuba Jacket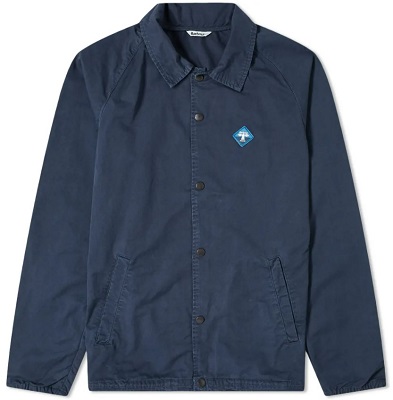 And our Best Option is (cue drumroll) … another Barbour jacket! Obviously there are some big differences between the Graham and the Beacon Coach Jacket. The material is untreated cotton in a lighter blue, it's missing the front zipper, the sleeve cuffs are elasticized and it doesn't have that dramatic collar. But it does come with raglan sleeves and the length and general styling are pretty close. Plus Barbour made it and brand recognition does have a certain appeal. ASOS U.S. has small to XL in stock, but it's unfortunately unavailable on their UK site.
Under $50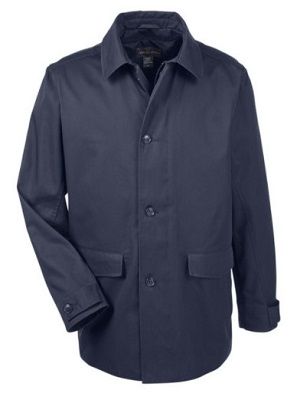 If you're liking Bond's "walking around Cuba" look but aren't too worried about his "on a boat" look with the jacket zipped up, this one could work. Clearly it has more in common with a classic Mac than an A2. But the boxy shape, 65% polyester and 32% cotton matte fabric and nautical flavor of the design have some of the same spirit. And, judging by the photos of the model wearing it, it's not as long as you may think. Plus, did you see that price? It's less than twenty bucks! I've linked to the cheapest offer above at LeadOutfit. But I have zero experience with that company and so I can't say what kind of customer service you're going to get. Amazon also has it for $22.13 if that's your preferred retailer.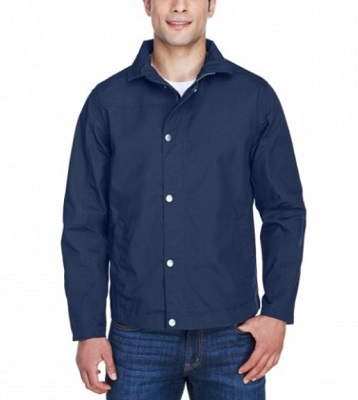 What's it missing? The Graham's dramatic collar and raglan sleeves. What's it got? Pretty much everything else we're looking for style-wise. The shell fabric is an 8oz 80% polyester, 20% cotton blend canvas that they've coated for water resistance. So the jacket has more of a matte finish. We also get the zipper and five snap button closure front with a slightly wider placket. And the front welt pockets and open cuffs and hem. The length looks to be spot on as well. Lots to like for that price! I've linked to Overstock above where they have sizes small to XL. If you play the coupon game there, I'm sure you can get the price down to under thirty bucks. You can also search around for the make and model number. I've seen it cheaper elsewhere, but I'm not sure how trustworthy some of those other sites are.
Under $100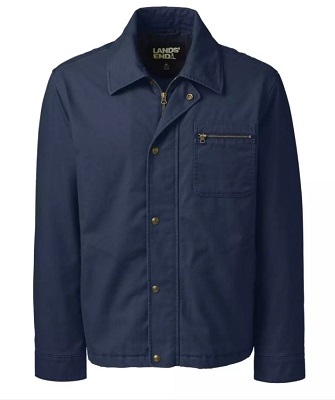 This soooo could've been the "Best Option"! Chest pocket and brass studs aside, the Lands' End Chore Coat really nails that Bond-in-Cuba vibe we're looking for. The problem? It's lightly insulated with 100 gram Primaloft. Although, to be honest, at this sale price I'd be tempted to buy it and just rip the inside lining and insulation right out! How hard could it be? On the other hand, maybe you want a slightly warmer jacket. In which case: Voilà! You'll find sizes XS to XXL on the Lands' End website.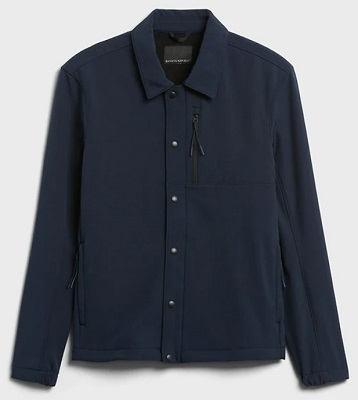 A new entry this season. Style-wise, it's got a kind of Barbour-meets-LuLu Lemon vibe which is interesting. The outer shell is a 92% polyester, 2% fabric. And it's definitely a more tailored fit than the Graham, so that bit of stretch will help. If your personal style is more athleisure (or you think the Barbour is just too boxy), this could be a cool option. The sale price is part of Banana Republic's current Friends and Family Sale. The 40% discount is added automatically at check out, but you need to use the code BRFAMILY for an additional 10% off. Thanks to Pierre for suggesting this one in the comments below!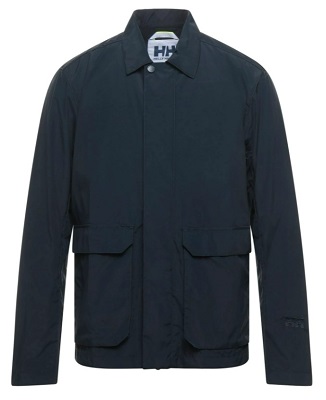 Even though it's not the most screen accurate option, I'm really liking this one. Those bellows pockets add a bit of traditional Barbour feel. And the darker color of the 55% cotton, 45% polyamide fabric is a solid match for the Graham. Helly Hansen may not get the same name recognition as brands like The North Face or Patagonia. But they've been making clothing for outdoor adventures since 1877 and deliver a quality product for the price. Yoox has sizes small to large in stock.
Under $200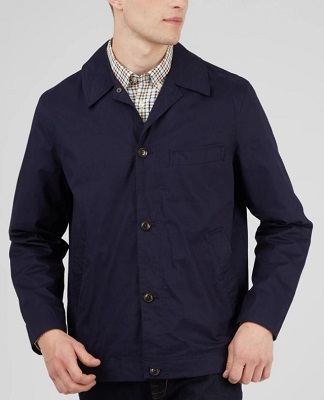 More of shirt jacket style, this one has a chest pockets and uses a button-through closure rather than the zipper and placket of the Graham. However, it does have the wider collar and boxier cut. And the style of the hip pockets is a pretty good match. The 100% cotton shell material won't be very water resistant. But with its lightweight lining it could be a great layer to throw on for those cooler early fall evenings. You'll find sizes small to XXL on the Ben Sherman website.
The Investment Piece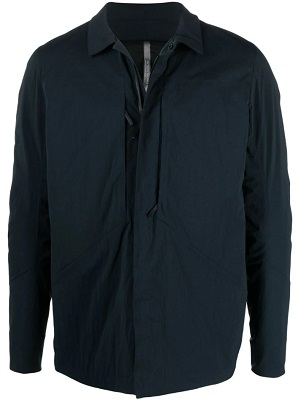 Veilance is Arc'Teryx's high-end line for more urban environments. And it's been a favorite of streetwear fans since it's launch in 2009. The designs are clean and deceptively simple and tend to use technical fabrics and well thought-out details to create pieces that are practical and versatile. Their Mionn Overshirt is a great example. The outer fabric is wind and water resistant and a light layer of insulation will keep you cozy when the temperature drops. Two zippered chest pockets provide plenty of storage. I like to think of this as the futurist's interpretation of Bond's Barbour. Sizes medium to XL are available on Lyst's U.S. site.
We're still barely into the Fall season, so I'm sure more alternatives for the James Bond No Time To Die Cuba jacket will be showing up. I'll keep updating this post as I find them. In the meantime, if you have any thoughts on the jacket leave them in the comments below! And remember to visit our Facebook page, Instagram account, and Pinterest Boards for more James Bond style advice and inspiration!