The James Bond No Time To Die Cuba Jacket
Updated October 14th, 2022 – The story behind the James Bond No Time To Die Cuba jacket has had a few interesting twists and turns. It was quickly identified as the Barbour X Engineered Garments Graham Jacket pretty soon after fans saw the first BTS promos for the film. Part of a 2019 collaboration between the heritage British brand and Daiki Suzuki, Engineered Garments' head designer, the Graham model came in a few different colors with various features: navy, brown, sand, olive and black, some with Barbour's trademark corduroy collar, others without, some with a "washed" fabric, others "unwashed". As most fans know, Craig's Bond wore the navy version, most likely in the waxed, unwashed make-up.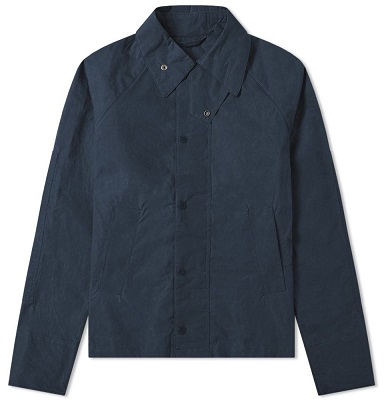 Even though the make and model of the jacket were pretty firmly established more than a year before No Time To Die finally hit cinemas, finding an actual Graham to buy proved to be a bit of challenge. The fact that the release of film was constantly delayed due to COVID meant that by the time fans saw the jacket in the trailers and BTS promos, the Graham was already almost a year old and no longer widely available.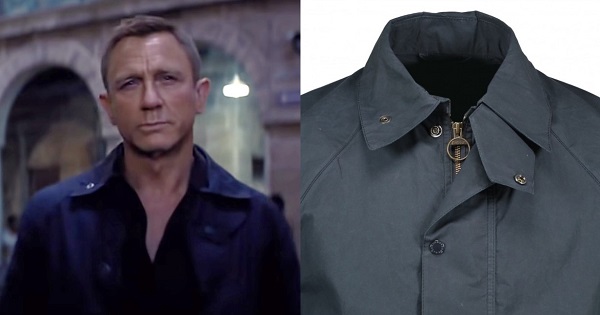 A "Covert" Operation
Luckily, fans got another shot at capturing Bond's Cuba style with the release of the Covert jacket. This is just pure speculation on my part, but my theory is that sometime in early to mid-2020, Barbour learned that Craig would be wearing their Graham in the upcoming film. But since that jacket was long gone, they decided to take a page out of their Skyfall playbook and re-produce the model under a new name. And so, much as the Barbour X To Ki To became the Dept. B Commander, the Graham evolved into the Covert. And Barbour was once again set to capitalize on their Bond connection.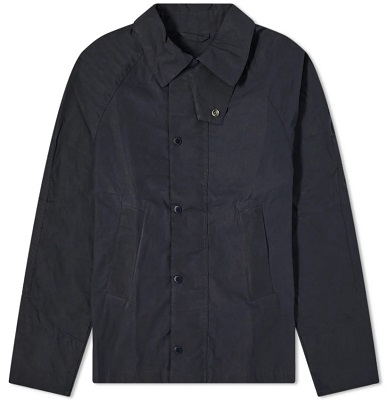 Unfortunately, COVID wasn't quite done with manufacturers and retailers in the first half of 2021. And further delays to the release of No Time To Die (this time from April 2021 to October 2021) stymied what I'm sure Barbour hoped would be a triumphant (and profitable) product launch. Instead, the Covert began popping up at various on-line retailers without much fanfare (at one point it was on sale for about eighty bucks at Nordstrom Rack!). It also tended to disappear from stores without notice, which just added to the frustration. But by late 2021, things had calmed down and the Covert became widely available.
The Graham vs. The Covert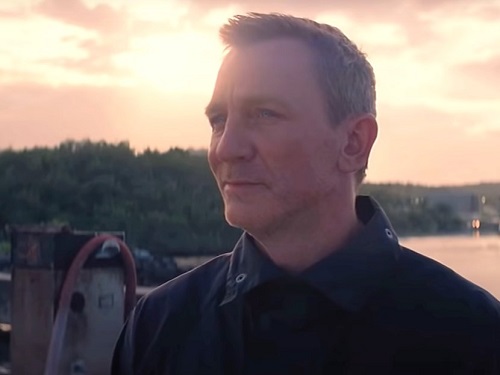 Even though they looked almost identical, there were some differences between the original Graham and the Covert (just as there were between the To Ki To and Dept. B Commander). The evolution of the jacket included making the Covert a slightly darker shade of navy, using a smaller front zipper, and modifying the cut and (most noticeably) the snaps on the collar. If you're interested learning more about the changes, I highly recommend checking out this Instagram post from @bondclothes007 and this one from @legallybond. They have the jackets and offer some great details about the subtle variations between the two versions.
You can still purchase the Covert today, although most of the smaller sizes are sold out (no doubt a result of the jacket's very generous fit). END Clothing has large and XL on sale for $175.00/£149.00. You can also find large to XXL at Flannels for $187.50/£125.00. None of those working for you? Well then read on! Because we have some great alternatives to share!
Features Wanted for the James Bond No Time To Die Cuba Jacket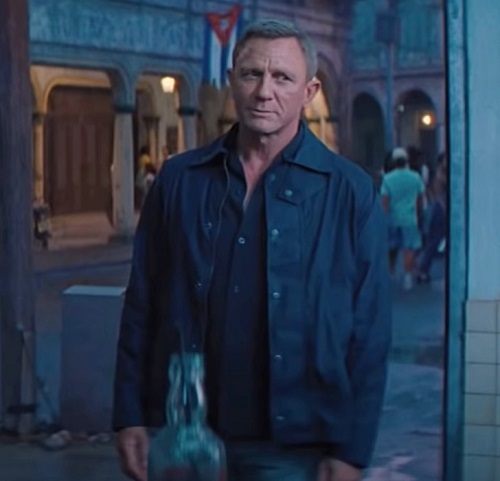 Lighter weight waxed cotton shell
Navy blue color
Shorter length
Zipper closure with a wider snap button storm flap
Raglan sleeves
Larger collar with detachable snap-on throat latch
Open hem and cuffs with interior knit cuffs
Welted side pockets
Game pocket at the back
That's quite the list for what, at first glance, seems like a simple jacket. When it comes to alternatives, there's obviously a few features we'll need to sacrifice. For example, I didn't find any options with a rear game pocket. And, surprisingly, raglan sleeves were rarer than I thought they'd be. That larger collar with the throat latch is also a distinctive Barbour design detail that most other brands don't copy. As for the exposed snap button on the collar point: if you really want it try these for a DIY solution.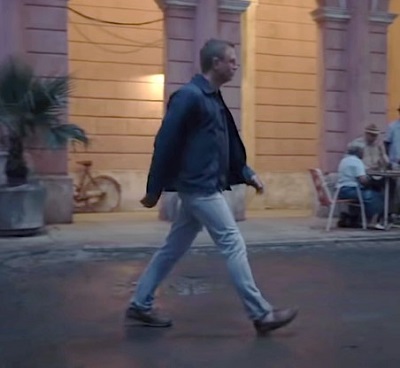 I've heard people describe Bond's Cuba jacket in different ways. Some have said it looks like a Coach's jacket. Others seem to feel it has more of a workwear vibe. Personally, the style reminds me of a traditional U.S. Navy A-2 Deck jacket. Which would fit nicely with Engineered Garments' history of finding inspiration in heritage military wear. The options below have characteristics of all those types of jackets. So you can choose one that will work best with your personal style.
Best Option for the James Bond No Time To Die Cuba Jacket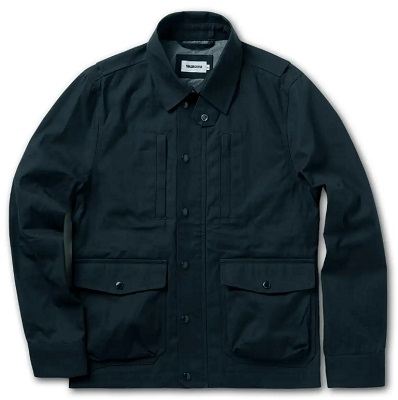 The differences between the Pathfinder and Bond's jacket are pretty obivous: set in sleeves, flapped patch pockets below and side-entry zippered handwarmer pockets up top. But look past those and you'll find a jacket that has a lot to offer. The shell is a medium weight 8oz organic cotton with a dry-wax finish for wind and water repelency. We also have the shirt style collar with the throat latch and the wider storm placket with enamel finish snaps. Plus an action back to provide more freedom of movement. And the hip length cut is spot on. All in all, it's a sharp looking jacket that does a great job combining function and style. If you want one, act fast! The Pathfinder is currently "In Production" at Taylor Stitch with an expected ship date sometime this month. But sizes small, large and XXL are already sold out. Here's hoping they'll do a re-stock.
Under $200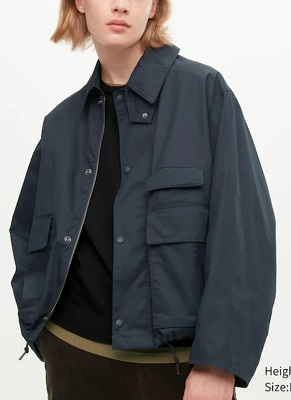 Based on the design alone, this could have easily been our "Best Option" (even if all those pockets aren't screen accurate). So what's the problem? Uniqlo keeps selling out of sizes. At the time of writing they're down to XL only. And judging by the model photos on the product page, this one looks like it fits very oversized. As for the material: the shell is 100% cotton treated with a polyurethane coating to give it a "waxed look". I'm going to attempt to find one in a local Uniqlo store to try on just to see how weird the fit is. But if anyone else has some feedback, please let us know in the comments.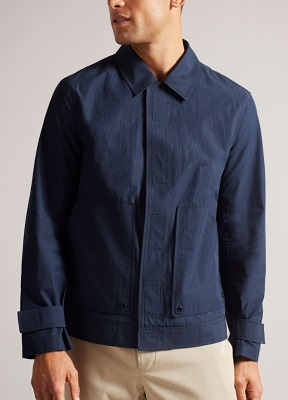 Looking for a light wieght alternative to Bond's Cuba jacket? Ted Baker has an option for you. Made from 73% cotton and 27% polyamide material, it skips the metal snaps and uses velcro to seal up the front placket and cuffs. It also folds up into its own carry bag, making it easy to take anywhere. They have sizes XS to XXXL available on their website.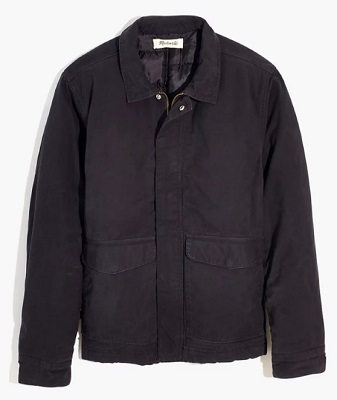 It's black and it has those flapped patch pockets. Plus it's lined with a quilted insulation. But the shell is an actual waxed cotton. And it certainly has the right boxy, workwear fit. Might be a solid pick if you're in the market for a cooler weather Covert alternative? Madewell has sizes XS to XL in stock. And, at the time of writing, if you use the code GOSPREE, they'll knock 25% off the price!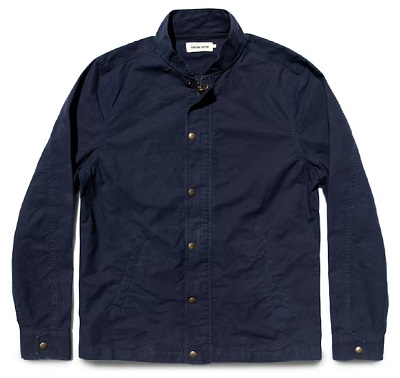 If you can't get your hands on a Pathfinder, you might want to give the Bomber Jacket a look. Again we get a dry-wax 100% cotton shell, this time a lighter weight 5.5oz. And the welted lower pockets and overall more minimalist design are a little more screen accurate. However, as we can see from the product photo, this one is missing the shirt style collar and throat, instead going with a simpler stand collar. And that might be a deal breaker for some of you. Bespoke Post has sizes medium to XL available.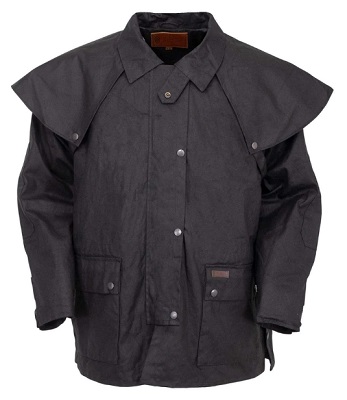 It's black. It's longer than the Graham and has flapped patch pockets. And it has that cape thing. But stick with me here! While there's not much we can do about the color or the pockets, that cape (a key feature of traditional Australian Duster style coats) does come off. And underneath, the jacket has the raglan sleeves we're looking for. That detail combined with larger collar with the throat latch, wide storm placket and boxier fit definitely help give us the look we want.
It's also worth noting that this isn't some fashion jacket. Made from a substantial 12oz Oilskin, it's tough, highly water resistant and designed to be used out in the field. For example, that storm placket (which looks like it buttons opposite what we'd expect on a men's jacket) covers another storm placket for extra protection. Give it a little TLC once and a while and this jacket will last for years. You'll find sizes XS to XXXL on the Australian Outback website. It's also available at Amazon for the same price. Just be aware that, like the Graham and the Covert, Dusters tend have a very generous fit for layering and freedom of movement. So definitely check the size chart and consider sizing down for a more tailored look.
We're still barely into the Fall season, so I'm sure more alternatives for the James Bond No Time To Die Cuba jacket will be showing up. I'll keep updating this post as I find them. In the meantime, if you have any thoughts on the jacket leave them in the comments below! And remember to visit our Facebook page, Instagram account, and Pinterest Boards for more James Bond style advice and inspiration!