James Bond Inspired Spring Style
Welcome to our look at James Bond inspired spring style! Rather than doing the usual checklist of clothing options, I've decided to revive the good old "4 Ways to Wear It" format for this post. This is where we take one piece of iconic Bond clothing and combine it with other affordable 007 inspired alternatives to extend our wardrobe and get the most bang for our buck.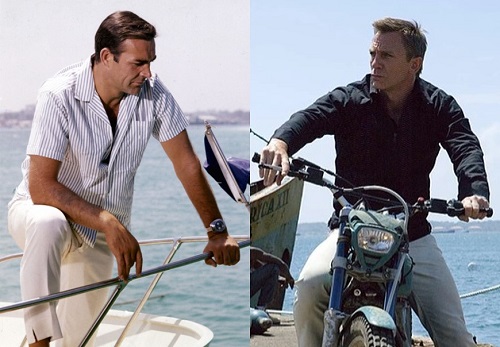 And for me, nothing says, "Spring is HERE!" like a pair of off-white trousers. Bond has worn them in several looks throughout the franchise's history. Two of the most popular are undoubtedly the outfit he wore for his visit to Palmyra in Thunderball and his Haiti look from Quantum of Solace. But they can also be paired with a navy polo, a blue t-shirt or a black short sleeve shirt for Casino Royale, For Your Eyes Only and Live and Let Die inspired fits. Or how about wearing them with a light blue dress shirt and navy blazer for some "Bond on the Manticore" Goldeneye style? And it goes without saying they'll look great with an olive safari shirt. Really, there're are no limits to how you can use them.
The Trousers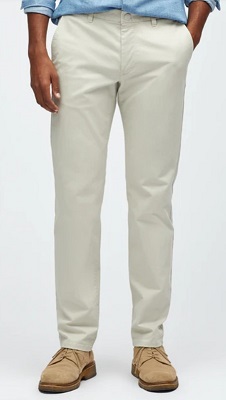 For this particular "4 Ways to Wear It" I've decided to use the Bonobos Stretch Wash Chinos in Millstones ($99.00). They're not cheap. But I think they're worth the investment for a couple of reasons. First, Bonobos is well known for the great fit of their pants. Second, that Millstone color is a perfect "light but not too light" off-white tone. And third, they have plenty of sizes and inseam lengths in five different fits. So you should be able to find the right combination for your particular body shape. Of course you can also go with any pale beige/ivory/cream chino you like. And some light colored 5 pocket denim (like these Gap Vintage Slim Jeans in Natural for $34.99) should also work with most of the looks below.
Alright, on to the inspiration!
A Farewell To Arms Redux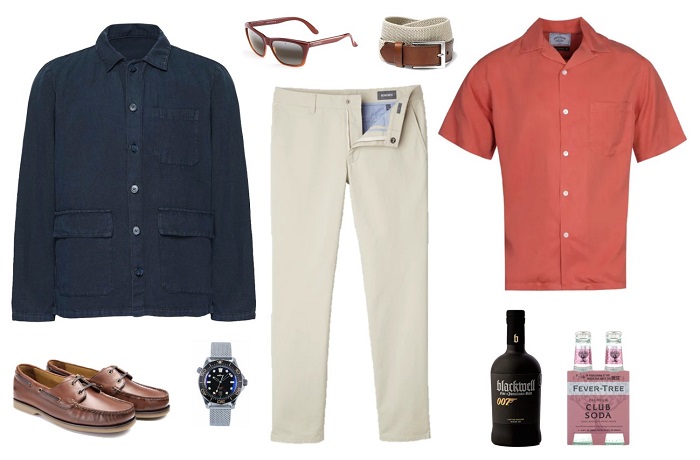 Options:
NOTES:
I'm currently mulling over ideas for a post on how to update some of Bond's more dated looks. So let's consider this look a warmup for that. For inspiration I'm using Timothy Dalton's outfit from the Hemingway house scene in License to Kill. Most of use will remember it as being over-the-top baggy, as was dictated by 80s fashion. So the first thing we need to do is dial in the fit. Dalton's Teba jacket is actually a very traditional hunting jacket design from Spain. And a more tailored version would certainly look cool today if you can find one. This would also be a perfect opportunity to break out your No Time To Die Matera jacket alternative (the Walkers Appeal Esteban Jacket for $276.00/£199.00 is a nice one).
As for the pink shirt: if there was ever a time to try one out it's during a trip to Miami. But if you're still not feeling it, a plain white linen shirt or another Thunderball inspired camp collar shirt (like this striped one from Selected Homme for $65.00) will also work. And the top-siders, old school Vuarnets and surcingle belt are just pure retro-80s goodness!
Bond does Normcore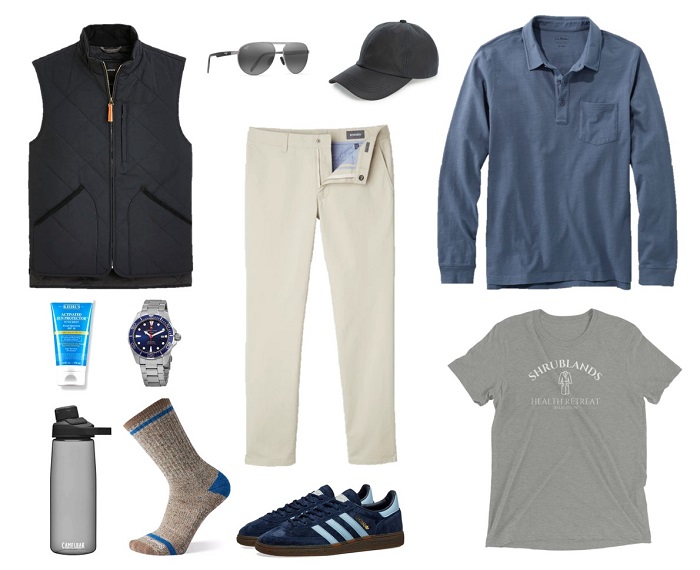 Options:
NOTES:
This should be a look almost any guy will feel comfortable wearing. So it doesn't need much explanation. I'll just add that, for me, a lightly insulated vest or gilet is one of the most versatile pieces of outerwear you can own. It adds that extra layer of insulation when it's too cool for just a sweater but too warm for a jacket or coat. It basically lets you fine-tune your comfort level for the variety of weather spring throws at us. And they're stylish too! Oh, and since this is a "running around outside" kind of look, please remember your sun protection! Those UV rays can still cause skin damage even when the temperature is a little cool.
Spring Showers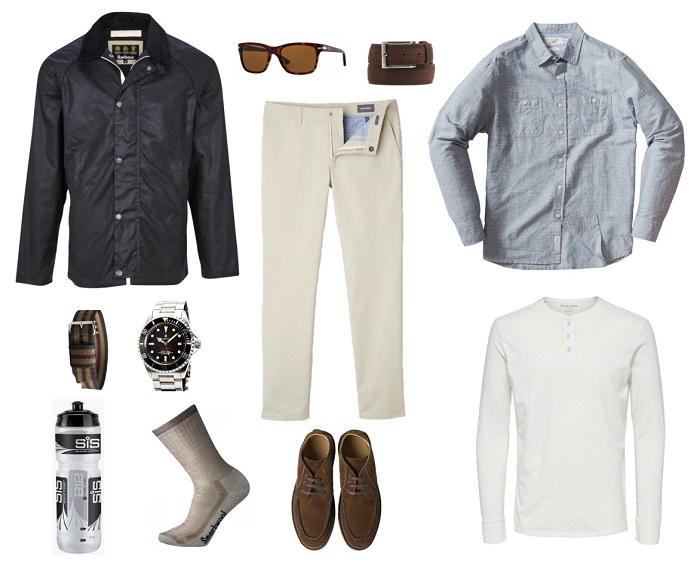 Options:
NOTES:
Again, there's nothing overtly flashy about this look. I just like to think of it as the way a more mature gentleman does "rugged style". What elevates it are the subtle details. Going with a small patterned shirt instead of your more run-of-the-mill chambray. Moc-toe suede chukkas rather than regular desert boots or sneakers (alternatives for the No Time To Die Crockett & Jones Moltons would also work here). Using a belt that matches the shoes. And a cool watch strap. If you nail the fit of each piece, it's an outfit that's both practical and stylish. People won't stop and stare when they see you. But they may give you a quick second glance to figure out what sets you apart from the crowd.
A Romantic Vacation in Southern Italy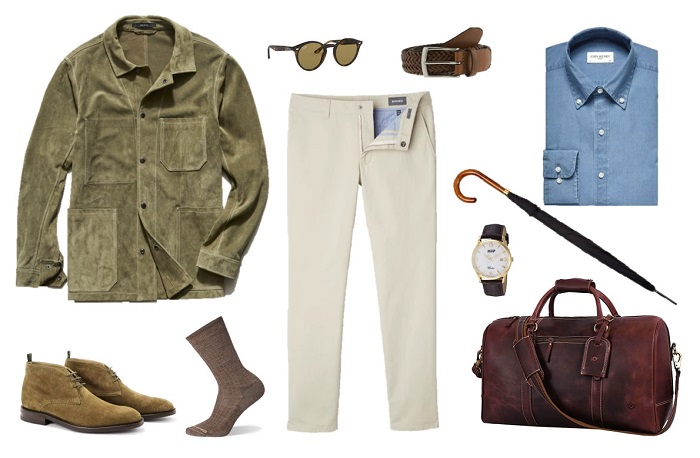 Options:
NOTES:
Once in a while, someone will ask me how I would dress Bond for a particular scene. Honestly, it's not something I think about very much. In general, I really like the way Bond dresses (I did start a website focused on his style, after all). But occasionally I get a couple of ideas. For example: what he would wear for a romantic journey through southern Italy in his DB5. So here's my attempt to dress our favorite retired spy for that scenario.
I'll start with the outerwear. I'm the first to admit it's a real stretch to call that Todd Snyder chore coat an alternative for the Die Another Day PTS suede jacket. But it has a similar "rugged yet sophisticated" vibe that seems right for Bond in this particular locale (and I needed an excuse to include it in this post because I really like it!). I'd keep the denim shirt and sunglasses from the actual No Time To Die wardrobe. They're two pieces that, imho, also work with Bond's style and the setting. And I'd stick with suede chukkas, although I'd favor a lighter color like the Loakes for this outfit. Nothing wrong with the Drake's Crosby. I just think their dark brown color gives a little too much contrast with the pants and jacket.
As for the accessories, the vintage style of the watch on the leather band is more fitting for this romantic trip through old Italy. I think a dive watch on a steel bracelet or NATAO would look too utilitarian. This would also be a great time to use an alternative for the vintage Omega Caliber 321 chronograph Bond wore at the end of SPECTRE. The rustic style of the braided Brunello Cucinelli belt works for similar reasons. And I can definitely see Bond keeping the leather bag handy for those one night stops on the way. No need to unpack all that Globe-Trotter luggage at every hotel. Last but not least: if Bond keeps a wool blanket in the back of the Aston Martin, he certainly has an umbrella as well. And it won't be a collapsible one!
Have some thoughts on our James Bond inspired spring style looks? Let us know in the comments below! And remember to visit our Facebook page, Instagram account, Twitter account and Pinterest Boards for more James Bond style advice and inspiration!