The James Bond No Time To Die Watch
Updated June 28th, 2022 – Well, we've learned a lot about the James Bond No Time To Die watch since I wrote the original post way back in June, 2019. For example, we've known the exact model for quite some time now: it's the Omega Seamaster 300M, Ref. 210.90.42.20.01.001. We know the suggested retail price: $9200. And, based on the number of wrist rolls and group shots folks post on Instagram, we know that it's been incredibly popular with fans of Bond style.
Nine grand is quite a bit of money, even for a Bond Omega. So what makes it so special? The main thing is the Grade 2 titanium 42mm case which, as the name of the watch suggests, is certified water resistant up to 300m. The Milanese bracelet is also Grade 2 titanium. For power, Omega has used their Co-Axial Master Chronometer 8806 automatic movement which is resistant to magnetic fields up 15,000 gauss and has a 55 hour power reserve. Oh, and they designed the watch in collaboration with Bond himself, Daniel Craig.
I'm not sure if any Omega boutiques still have the watch in stock (it's currently not available on the Omega website). But if you do want one you can check with some authorized (always authorized!) 3rd party retailers or join the waiting list on the Omega website and hope for a re-issue. Or, if you don't mind paying a little more (and missing out on the whole boutique experience), Jomashop has the watch for $9985.00.
Features wanted for the James Bond No Time To Die watch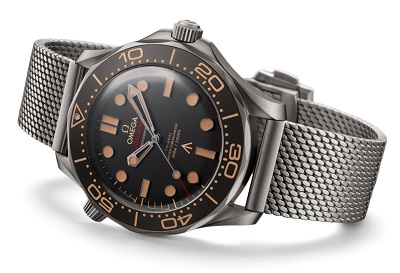 42mm asymmetrical case
Dark brown face with dot indices and baton indices at 3, 6, 9 and 12 o'clock
No date window
Skeleton sword style hour and minute hands
Dark brown diver style bezel
Vintage style tan or "aged" lumes, indices and bezel markings
Helium release valve (very rare on any lower priced watch)
Milanese bracelet (I'm not being too strict with this since I'm more concerned about the quality of the actual watch and after-market mesh bracelets aren't that expensive)
There are lots of fakes and knock-offs of this watch on Ebay and AliExpress that look exactly like the Omega (in some cases right down to the logo!). But my feelings about Bond inspired timepieces are pretty simple. I'm against spending my hard earned money on a cheap copy that will probably fall apart inside of a year. Instead, I'd rather buy a quality watch from a reputable brand that comes close to the look I want. That's just me. So, while I've included a few "homages" below, most of the alternatives are watches I feel do a good job of capturing the spirit of the No Time To Die watch while offering solid value for the money.
Best Option for the James Bond No Time To Die Watch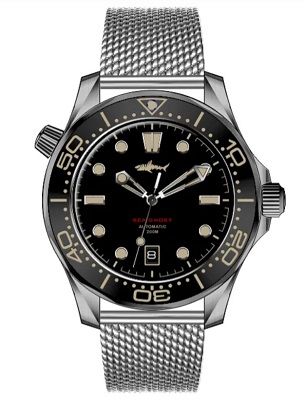 I learned about this one in a thread on WatchUSeek. And it seemed like some folks over there were pretty enthusiastic about it. The Heimdallr comes really close to crossing the line between "homage" and straight-up knock off. But it does offer some nice features for the price. Most of the specs are what you'd expect: Seiko II NH35A automatic movement, water resistance rating of 200m. However, what sets the Heimdallr apart is that they've used actual titanium for the 42mm case and a domed sapphire crystal. They don't mention on the product page if that helium release valve at 10 o'clock functions.
I've linked to AliExpress above, where the seller has two watches left in stock at the time of posting. You can also try ordering directly from Heimdallr. However, it's not clear if they still actually offer it on their website (the product page is still live, but this particular model doesn't show up in search results). I'll also add that our good friend @knightcrusader actually has the Sea Ghost in the blue colorway and says he's been very happy with it. And @livingthebondlife seems to be enjoying his as well! The Solex Agitator also has good things to say about it in the comments at the end of this post. It's always good to get some solid feedback from people we trust!
Under $200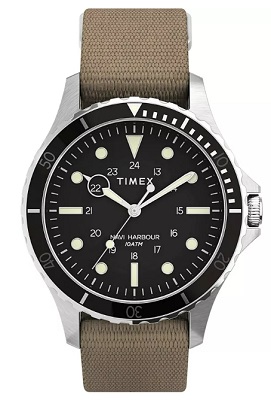 Big "Thank You" to IG'er @007dossier for reminding me about this one. The Navi has a 41mm stainless steel case with a water resistance rating of 100M. The engine is their proprietary quartz movement. And it's topped off with a mineral glass crystal. But what's probably most distinctive about the watch is that face. Timex has used a combination of "aged" dot and baton indices, with that standout triangle at 12 o'clock. I also like the circle at that end of the hour hand that captures the 24 hour markers. Smart touch! I've linked to the Timex website above. But you can also order the watch from Macy's or Todd Snyder for the same price.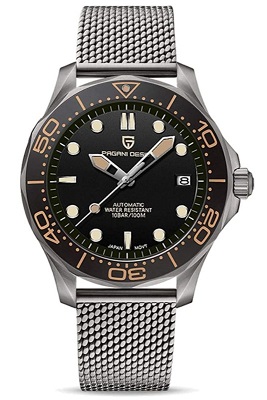 It would be pretty generous to call this an "homage". Yes, there are some subtle differences that keep it from being an exact copy. The design of the hands, the date window at 3 o'clock and the lack of the helium valve are a few that jump out. But there's no denying what it's trying to be (at one point they even used a photo of Bond wearing the real Omega on their product page). On the other hand, a watch is much more than just its looks. And Pagani actually gets decent reviews around the internet for their other models. The specs also seem solid on paper for the price. They've used a stock Japanese NH35 automatic movement, a unidirectional ceramic bezel, the Milanese bracelet has quick release pins, and it has an exhibition caseback. The 42mm stainless steel case is rated for 100m water resistance. So not bad for $140, if you remember to keep your expectations in check.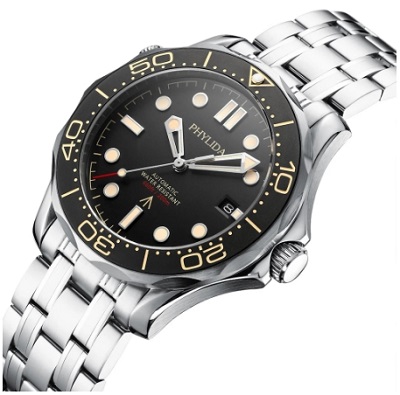 This is another "homage" that a few people have pointed out to me, including Brian R. Sheridan, Mr Paul Bunyan and Jonathan Brook (who also included a link to his video review) in the comments below. So I figured it was time to add it to this post. But I do have to say that I have a real issue with the watch: the "arrow" above the 6 o'clock marker. Since that symbol is closely associated with the British Ministry of Defense and Omega actually had to put some effort into being allowed to use it on the original timepiece, the fact that Phylida just added to their watch for "looks" really rubs me the wrong way. Maybe I'm the only one that feels that way …
Anyway, about the actual watch. It comes in two versions. I've linked to the more expensive PT5000 option above (which you can also get with a NATO strap for about the same price). Or you could go with the less expensive option with the Miyota Movement, which costs $113.05. Interestingly, you can also choose to get the watch with or without the "Phylida" branding. The link above goes to AliExpress but you can also find the Miyota version on Ebay for $117.99.
Under $500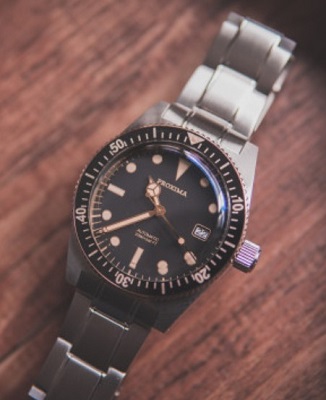 If you feel that the designs of the other "homages" are a little too on the nose, here's another affordable options with similar specs but is inspired more by a vintage Rolex. Again the 40mm case is a 316L stainless steel, rated water resistant to 200m. They've also used the stock Japanese NH35 automatic movement. But here's where things get a little interesting. If you pay extra, you can upgrade to a PT5000 or SW 200 movement. And the watch has a more unique domed sapphire crystal that helps it stand out from the other Chinese made watches out there. I couldn't find many reviews for the brand (not surprising since it only started in 2016), but here's one from WatchUSeek for another model that gives some insights into the quality.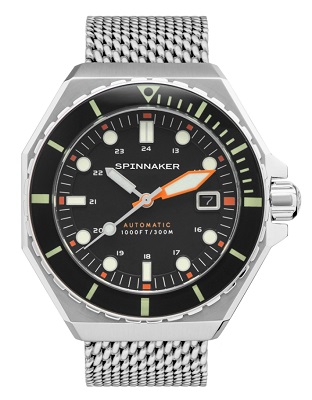 When it comes to capturing the stye of the No Time To Die watch, this is definitely more my type of alternative. There are obvious similarities between the Dumas and the Omega. But Spinnaker has made some nice design decisions that give it its own character, like the octagonal case and cowling over the lugs. The movement is the familiar NH35 TMI automatic packed into a large 44mm 316L stainless steel case that will work great for you guys with bigger wrists. Spinnaker has a strong reputation in the micro-brand watch community. So this is definitely one to consider if you want the Bond watch look while avoiding clones.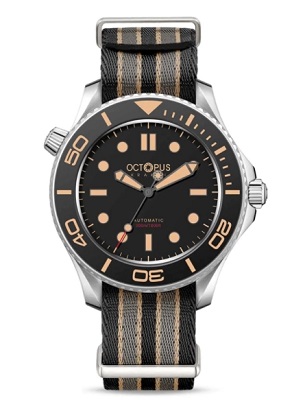 Another "homage" using a stock PT5000 automatic movement. The watch (formerly known as the Kraken) has a coin edge bezel rather than the scalloped bezel of the screen-used original. However, aesthetics aside, it does offer some interesting features. The lack of a date window makes it more screen accurate. And it's nice that you can choose a Bond-ish NATO strap or a mesh stainless steel strap. Plus, our good friend on the AJB007 fan forum SpectreBlofled has written a detailed review comparing the Octopus to the Pagani Design watch. And the Octopus came out the winner! That alone makes it worth a look in my books.
I've linked to WatchDives above, where I found the best price. But you can also get it directly from Octopus for $275.00. Over at AliExpress, they're offering the watch for $266.50 with the PT5000 movement and a the steel mesh band. However, they have another version with a SW200 automatic movement for $386.75 in case you feel like upgrading the engine.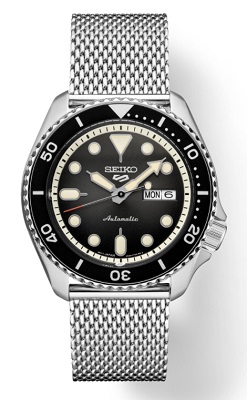 A great suggestion by Damien in the comments below (with support from The Solex Agitator). Most of the sub-$500 watches we've suggested so far have come from more obscure brands that don't have a much of a history behind them. That's obviously not true for Seiko, a watch maker that's well known for consistently offering solid value for the money. This model comes with the time tested 23 jewel Japanese movement, a Hardlex mineral crystal, a unidirectional bezel and is certified water resistant to 100m (a rating I actually believe!). So while it may not be the best match for Bond's watch in the looks department, it does have the right vintage vibe and it's coming from a name we can trust.
I've linked to Amazon above, where I found the best price. Seiko also sells it directly for $350. And, just to muddy the waters a little, there's another version of the watch (the SRPD73K1) on Amazon which sure looks like exactly the same Seiko 5 Sport, but is selling for only $209.00. And If you feel like investing a little more, check out the Seiko Prospex SBDC141 for $1104.00. It's a clean, retro-inspired design with a 200M water resistance rating and a solid 40.5mm case.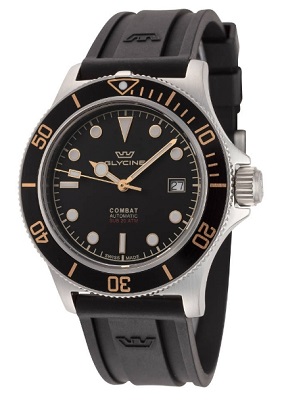 Another option suggested by our good friend @knightcrusader on Instagram. Many of us already know Glycine for their homage to Bond's SPECTRE watch. But their Combat Sub Sport 42 does a nice job blending together classic Rolex styling with vintage design touches suitable for a No Time To Die alternative. The Swiss made watch has a 42mm stainless steel case housing a proprietary GL224 automatic movement and water resistance rating of 200M. If you like a little Connery 007 style mixed in with you Craig Bond, this one could be a very interesting choice!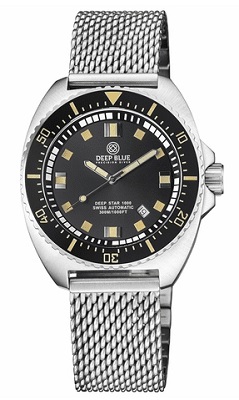 Kaleb recommended this brand in the comments below. And while the watch he suggested (the Master 1000) is no longer available, Deep Blue's Deep Star Model has also has the look we want and some very nice specs for the price. The case is a BIG 45mm and is finished with a sapphire crystal and exhibition case back. The motor is the tried and true Sellita SW200 automatic movement. And the whole thing has an impressive water resistance rating of 330M with an integrated helium release valve. While it doesn't have the most screen accurate looks, it sounds like a pretty solid timepiece that will serve as a proper tool watch.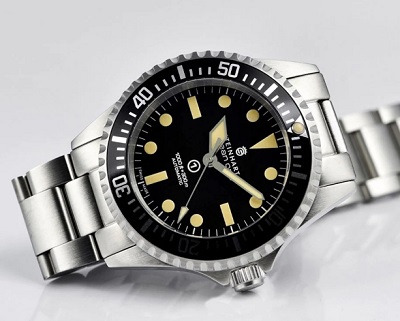 One of our readers, Oliver, recommended this alternative in the comments for the original article I wrote on the No Time To Die watch back in June 2019. And Steinhart's latest version of their well known Ocean One model still packs a lot of value for the money. Made in Switzerland, it's powered by a Swiss made ETA 2824-2/SW200 élaboré automatic movement and the 42mm 316L stainless steel case is finished with a domed sapphire crystal. Plus we get a water resistance rating of 300M. It's also nice is this model has actually been around since at least 2012. So, despite the similar design, it's not trying to be an "homage" to the No Time To Die watch. The Ocean Vintage Military currently has 5 stars out of 5 after 17 reviews on the Gnomon website.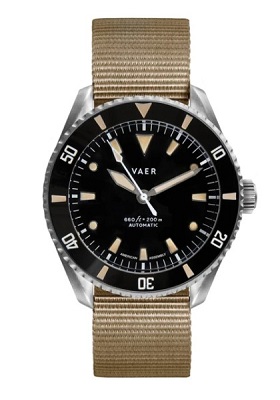 If "made in America" is your thing, then here's your alternative. The brand opened for business in 2016 but it already has a bit of a cult following, mainly thanks to the fact that they assemble their watches in the U.S.A., albeit with foreign parts. The D5 is a relatively new addition to their portfolio. However, it checks a lot of the right boxes. They've used the respected Miyota 9039 automatic movement, a ceramic unidirectional bezel and a double domed sapphire crystal. The 39mm 316L stainless steel case has a water resistance rating of 200m and an exhibition case back. Plus the each watch comes with the standard Tropic strap (shown above) and your choice of a stainless bracelet or a made-in-the-U.S. Horween leather strap. If you feel like spending an extra four hundred bucks, you can upgrade to the D7 version, which is made in Switzerland using the SW200 automatic movement.
Under $1000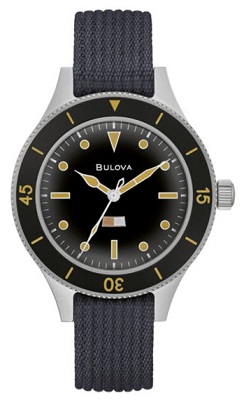 This one was suggested by Gianandrea in the comments below. And there's actually a LOT of history behind the design, which you can read about over at Hodinkee. To summarize, the watch is based on a 1957 prototype Bulova made for the then newly formed Navy Experimental Diving Unit. The modern version of the MIL-SHIPS-W-2181 features a 41mm sand blasted stainless steel case with a double domed sapphire crystal and water resistance rating of 200M. There are also a couple of unique features: a push lock rotating top ring and a special paper strip on the dial that gauges moisture levels inside the watch. Overall, the watch does a great job blending traditional dive watch looks with a character all its own. I've linked to JC Penney above, where I found the best sale price.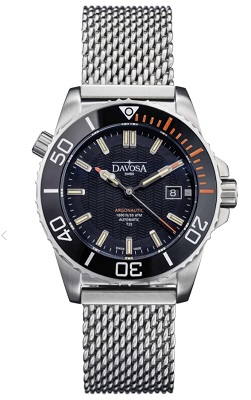 The price is starting to creep up there. But we're getting some cool features for the extra dollars. First off, the Argonautic is a fine looking timepiece with the right vintage feel. But it doesn't look like a direct copy of Bond's watch (the Lumis range was actually launched in 2013). The key detail is the lume makeup. Davosa has used "borosilicate glass tubes filled with a mix of gaseous tritium that is positioned on the hands and hour markings". This gives the watch a distinctive orange glow in the dark that's easy to read in a variety of conditions. Add in the 30 ATM water resistance rating, the helium valve, a 43mm stainless steel case and the in-house DAV 3021 automatic movement and you get a versatile tool watch that's ready for almost anything.
Under $2000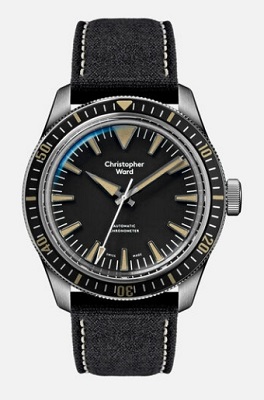 With its thinner coin edge bezel and more pronounced, baton style indices, this alternative looks to me like a cross between the No Time To Die watch and Bond's older Omega Planet Ocean from Casino Royal and Quantum of Solace. And since that was one of my favorite watches from the series, it's no surprise I also like this C65 Dartmouth. Christopher Ward based the design of the watch on the Omega "Royal Navy 0552" from the late 1960s. So it does have a bit of a Bond connection. They've used the 26 jewel SW200 automatic movement and a sapphire crystal. The stainless steel case measures 41mm, a good size for most guys. It's not the closest match to screen-worn Omega. But I like to think of it as the "versatile option" that can cover a lot of different Bond looks.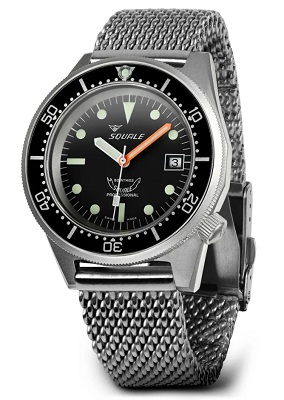 It has that vintage vibe. But this is no homage. The design of the 1521 is almost 40 years old, originally created by Charles von Büren in the 1970s. Made in Switzerland, it features a time-tested ETA 2824-2 automatic movement, a comfortable-for-most 42mm stainless steel case topped with a sapphire crystal and tool watch worthy 500Mm water resistance rating. And the blasted metal gives the watch a nice matte finish for those of you looking to avoid too much flash on your wrist.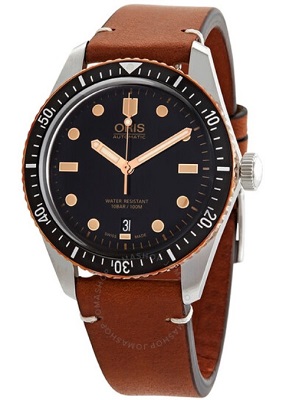 As we move up in price we also move to more recognized and respected heritage Swiss watchmakers. And in the luxury watch world, Oris is often considered to provide some of the best bang for your buck. The 40mm stainless steel case is rated water resistant to 100M and houses their proprietary 733 automatic movement, which is based on the trusted SW200. If you're just starting to get into higher end watches, this could be a good one to begin your collection with.
The Investment Pieces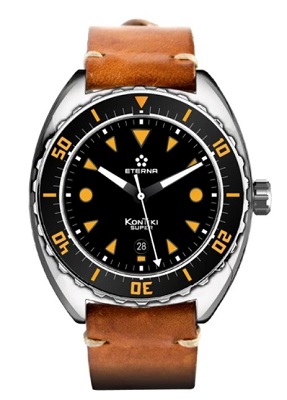 An entry level luxury watch for you bigger guys. The large 45mm case holds an ETA Sellita SW200-1 caliber automatic movement and has a water resistance rating of 200m. The Tonneau shape and combination of dot and triangle indices also gives it even more of a unique, retro look. The stock strap is rustic style full grain leather. But Eterna does have another model (the 1973 Super Kontiki) that comes with the Milanese style bracelet and an ETA 2824-2 automatic movement. However, that one is missing the vintage lumes, opting instead to go with a more common silver and white colorway.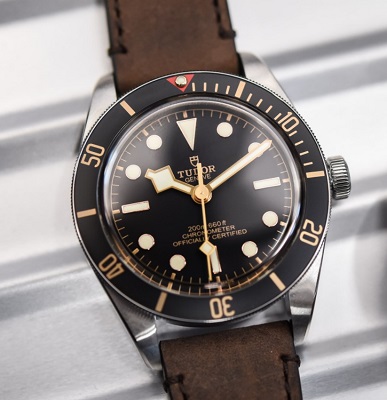 Just in case any of you think I'm losing my mind: many people have suggested the Black Bay to me as an "affordable" alternative for both the No Time To Die watch and the SPECTRE Seamaster 300. And considering it costs a few grand less than those other watches, I guess it's kinda-sorta a bargain. Tudor may be known in some circles as Rolex's little brother. But the company is definitely well respected and makes extremely high quality timepieces. The Black Bay comes with a 39mm case with a 200m water resistance rating. And they've used their in-house 27 jewel MT5402 automatic movement, a sapphire crystal and stainless steel unidirectional bezel. It's certainly an investment piece, but one you can wear proudly when everyone around you has an Omega. I've linked to Reeds Jewellers above. But you can also contact Tudor directly to find a local boutique.
The Strap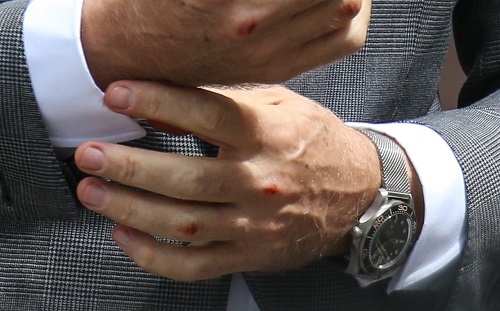 Part of what makes the No Time To Die watch unique is that Milanese mesh bracelet. And since most of the alternatives come standard with metal link bracelets or leather straps, you're probably going to need to pick up a 3rd party alternative if you want to really nail Bond's look. So here are a few options to consider.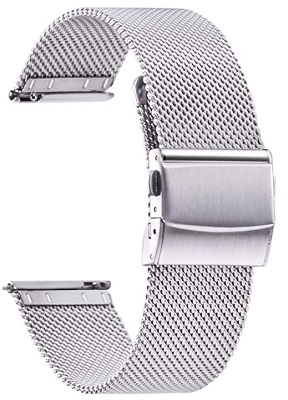 The low-cost option. The EACHE comes with quick release pins, which will make getting it on and off the watch fairly easy. And despite the low price, it's sitting with a rating of 4.4 stars out of 5 after more than 500 reviews. Amazon has sizes 12mm to 22mm in stock.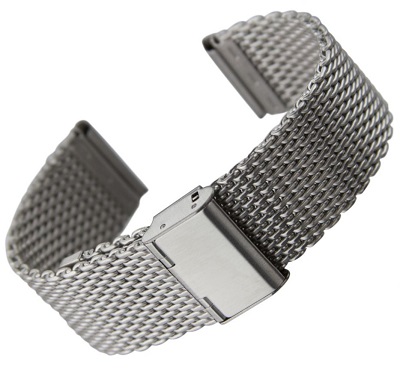 This one was recommended by AJB007 Forum member jon_1uk over on the "Bond 25" watch thread. I've selected the Satin Finish option. But you can also get it in a polished silver if you want something a little flashier. Watch Gecko has sizes 18mm to 22mm in stock.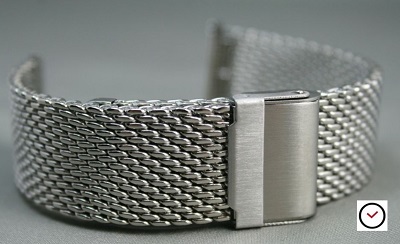 From the makers of the screen accurate Goldfinger Rolex watch band, their Milanese watch band is available in widths from 18mm to 24mm. They also have a version with quick release spring bars for €25.00. Just in case you like to frequently change your straps.
Have some suggestions for affordable alternatives for the James Bond No Time To Die watch? Tell us about them in the comments below! If you're looking for other Bond inspired watches, we'll be updating our posts on Bond's best watches from Connery to Craig over the coming months. And remember you can also find Iconic Alternatives on our NEW Instagram account, on Facebook and Pinterest, just in case you're looking for even more Bond inspiration.