Best Budget Style Finds March 16
Welcome to our Best Budget Style Finds for March 16th! This is where we share some of the great alternatives for Bond (or Craig or McQueen) style that either slipped through the cracks when I was writing the original dedicated posts or deserve a special mention. Sometimes the posts will be short. Sometimes there'll be a ton of new options. A lot will depend on what we, as a community, find and share. So if you have any suggestions, let us know in the comments. On to the alternatives!
The Old School OHMSS Anorak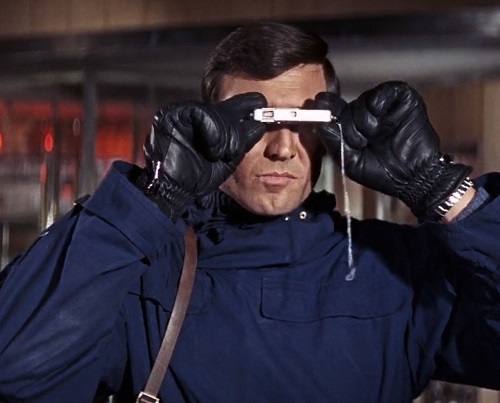 Still one of my favorite jackets from any Bond movie from one of my all-time favorite action scenes. You've got the stunning location, the gun battle between Draco's team and Blofeld's guards, Tracy's up-close fight with the henchman, 007's last minute escape from the exploding mountain top fortress, and the high-speed bobsled chase after the best (IMHO) Blofeld in the series. And John Barry's score of course. Lazenby's impressive athleticism during the action will always keep me wondering what kind of Bond he would have been if he'd continued in the role.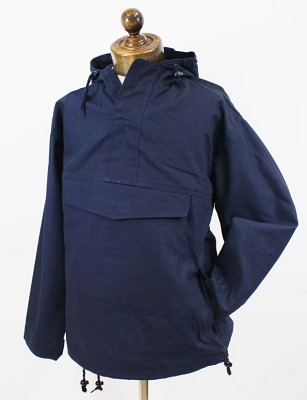 Not exactly screen accurate. But since Jump the Gun (a brand that IG'er @dick.e.71 introduced me to) is all about that 1960s design aesthetic, it does have a very similar vibe. And, with it's zip neck, it'll probably be more practical than Bond's funnel collar version. If you haven't noticed, I love me some cool outerwear. So this one is definitely going on the wish list! Jump the Gun has sizes XXS to XXL in stock. I'm not sure what shipping to the U.S. will be like but, considering the price, customs shouldn't be an issue. By the way, they also do some beige STA-Prest trousers with frog-mouth pockets that would add some awesome retro style to our Quantum of Solace "Mathis Villa" looks! Check those out as well!
A Couple of Classic Jackets Inspired by Sir Roger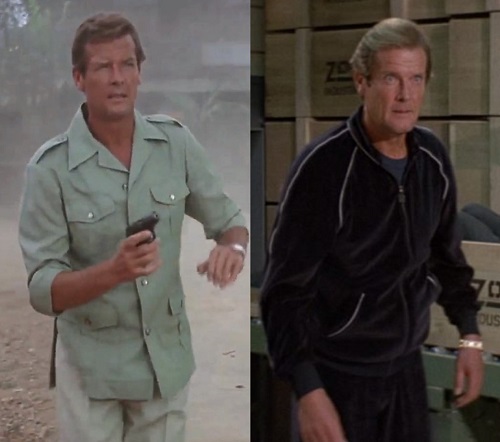 We really need to give Roger's Bond more love around here. While a few of his looks are dated, overall he had great style that still serves as an excellent source of inspiration. So let's start by looking at two pieces. One from the start of his tenure as 007 and one from the end.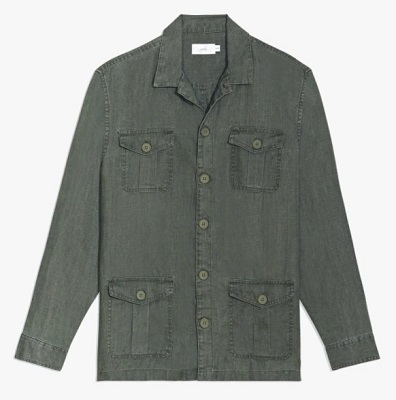 I've seen this one in person and it's very nice for the price. The 100% linen fabric almost looks like it's been garment dyed, which gives it a really deep color that brings out the texture and marling of the material. It's also a little stiffer than you'd expect, almost like a lightweight denim jacket. But it will undoubtedly soften up after a few wears. If you're in the market for an alternative for Moore's The Man With The Golden Gun safari shirt, you should definitely give this one a look! They have sizes medium to XL on their website and it does fit true to size.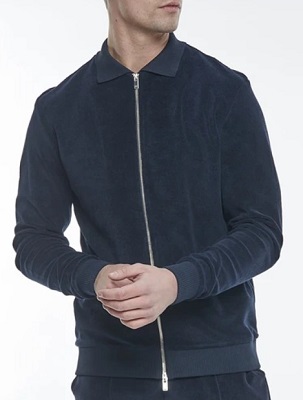 Recommended to us by AJB007 forum member Thomo as an alternative for Moore's velour tracksuit top from A View To A Kill. In that film, Bond's dark navy tracksuit was from Fila and had white piping around the seams. Bond Suits has a good write up about it if you'd like to learn more. This alternative from Arne is obviously missing that distinctive white piping. And they've used 100% cotton towelling fabric instead of velour and added a polo style collar. BUT! If you pair it with their Towelling Cuffed Joggers ($50/£35.00) you could have a very cool (and comfortable) minimalist take on Sir Roger's look. Sizes small to XXL are on their website.
Surprise! It's time for some SPECTRE Style!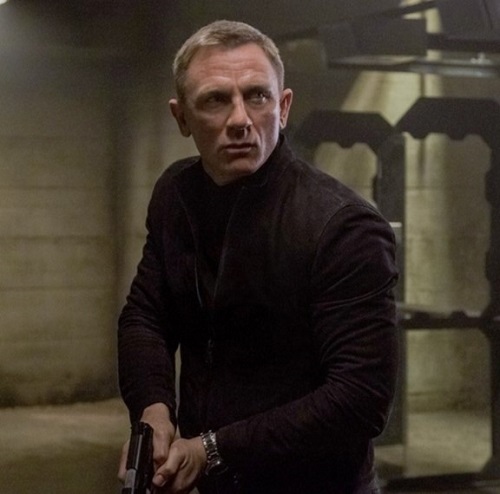 Five and half years after the movie hit cinemas and we're still finding great alternatives for Bond's looks from the film. Actually, there seems to be even more this spring season than I've seen for a while. As I mentioned in last week's Best Budget Style Finds, we'll soon be updating the dedicated posts for many of the pieces. Until those are ready, I'll keep adding alternatives here.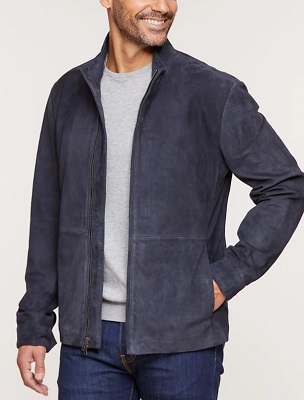 I've never done a dedicated post on alternatives for that dark blue John Varvatos suede cafe racer Bond wears in the London scenes. Mainly because I never found enough options to fill one. So when a suitable jacket does turn up at a reasonable price, I'm a pretty happy camper.
It's obvious from the Overland product photos that they like to style their models so the jackets have an oversized look. To me, this one looks to be at least a size too large on the guy. So imagine it sized down to give it a more tailored fit. Then check out the collar: no snaps, flaps or tabs. Just a clean design that zips to the top the way the original did. The Overland is missing the zippered cuffs. And of course it doesn't have that Varvatos baseball style stitching on the seams. But, unless you go with a replica of questionable quality, good matches for the SPECTRE jacket are pretty rare. And this one comes closer than any I've seen for a while! They have sizes small to XXL available on their website.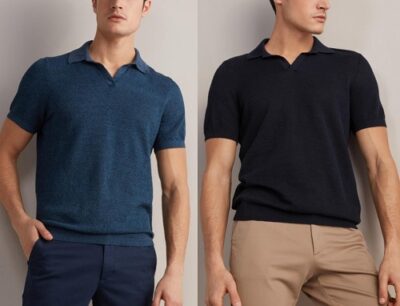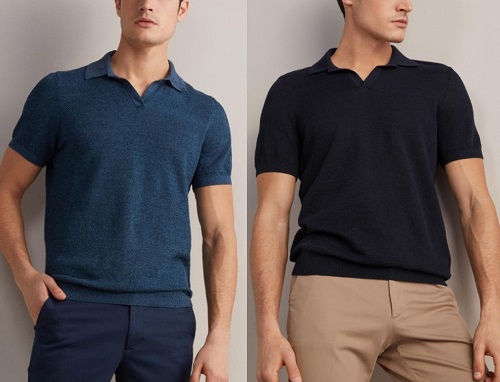 I mentioned in our post on Steve McQueen Spring Style that the navy version of the Falconeri polo would make a great alternative for the Tom Ford SPECTRE polo. So here it is. And I'm sharing it in two colors so you can choose which shade of blue you think is a better match. The neckline on this one isn't exactly the same as the screen used shirt. The V isn't as deep (which some of us may appreciate) and it has a bit of a placket. However what I really love about this polo is the fabric. It has that heavily textured, piqué-like knit that comes really close to the Tom Ford shirt. It's not the cheapest option we've found on this site. But it is definitely one of my favorites. Falconeri has sizes small to XXXXL(!) on their website. And to see the details of the actual Tom Ford polo for comparison, check out this video from The Bond Experience.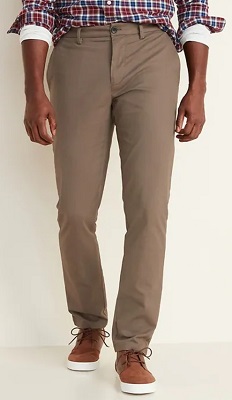 Of course you need trousers to go with your polo. We've shared these alternatives on the site before. But now that Old Navy has dropped the price from $50 to $20, they're an even better bargain. We're obviously not going to get all of the style details that we saw on the Brunello Cucinelli screen used trousers. But the color of these ones looks to be a very good match. And the 61% cotton, 37% polyester and 3% spandex blend fabric should make them plenty comfortable to wear. Even though Old Navy isn't exactly famous for their quality, these particular chinos have 4.6 stars out of 5 after more than 500 reviews. So plenty of customers have been satisfied with them. Still lots of sizes left in the Weimaraner color.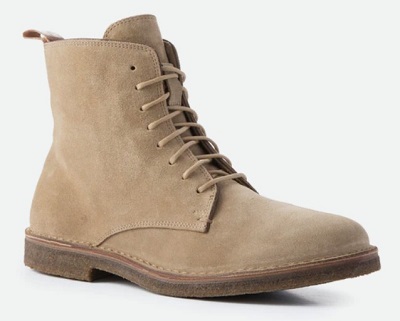 Some lightweight alternatives for Bond's J.Crew Kentons. Handmade in Northern Italy using an environmentally responsible construction process, the Bootflex has a suede upper that's attached to the 100% natural crepe rubber sole using a traditional stitch down method. I own a couple of pairs of Astorflex boots: some suede Chelseas and a pair of Dukeflex that I discuss in this post and use as alternatives for the No Time To Die Matera boots. And I love them both. They're super comfortable, the quality of the materials is excellent and the Chelseas have held up incredibly well over 4 years of use. So yes: I highly recommend them. And that sale price at Huckberry makes them an even better value for the money.
The No Time To Die Matera Henley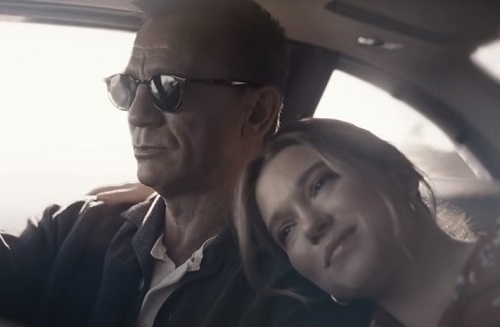 We recently did a dedicated post on the No Time To Die Henleys with plenty of alternatives for both the long sleeve Rag & Bond and this short sleeve one. But there's still been no word (at least that I've heard) about who made the one used in the Matera scenes. As for the rest of the outfit, you can see alternatives for his Massimo Alba corduroy trousers in this post (the ones from Banana Republic in Stone are a very good match and still on sale!) and options for his suede boots over here. We'll be updating the post with alternatives for the blue jacket very soon. In the meantime, here's another option for the Matera Henley.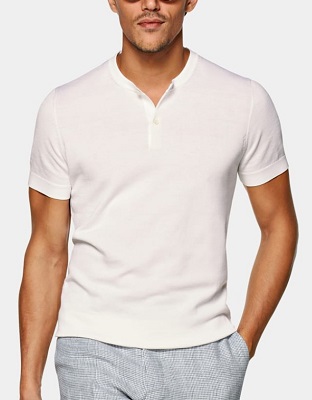 Just a little bit more expensive than the $24 Amazon Peak Velocity Henley I recently recommended. But I expect this SuitSupply alternative will feel more luxurious since the fabric is a 70% cotton, 30% silk blend. And with the top button closing on the collar band, it even nails some of the key details. Just note that it's built like a sweater. Imagine the Henley version of the Tom Ford SPECTRE polo and you'll get the idea. If Madeleine is indeed wearing Bond's shirt when she's standing on the balcony, then that's not a screen accurate design. But if you're really loving Bond's whole Matera look, this could be a very worthy investment that (imho) would look great with the corduroy trousers and blue jacket. Sizes XS to XXL are available on their website.
A few more boots …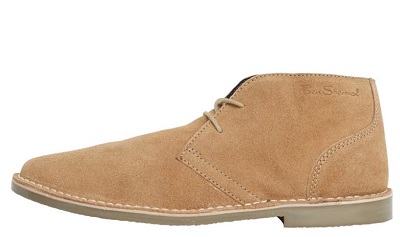 A very affordable alternative for the Zara boots Bond wore while he was enjoying death in Skyfall. They have genuine suede uppers and, based on the product photos, the same lower profile design as the screen used ones. That's also quite the markdown from their £90 suggested retail price. MandM Direct has UK sizes 6 to 12 (Euro 40 to 46) in stock. Since MandM Direct doesn't ship to the U.S., these are only available to you fine people in the UK and Europe.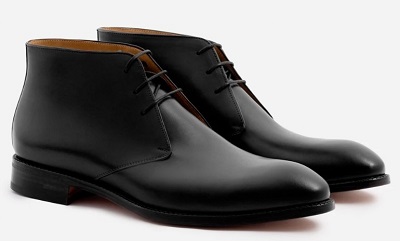 Our friends over at SIS Training Gear (makers of some fine Bond inspired exercise clothing and tees) get all the credit for finding these alternatives for the Skyfall Crockett & Jones Tetburys. And they've written a great review for Ellis Chukkas over on their blog. That's where the links above will take you since, to be fair, they're the guys who did all the heavy lifting. But I will say they look like a solid option if you find yourself wanting some nice dress boots!
Daniel Craig Jackets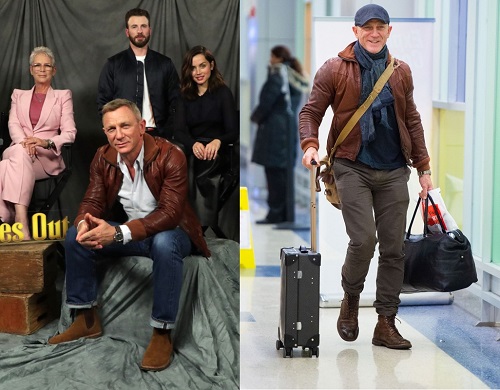 The jacket that's stumped even the great What's Daniel Wearing Instagram account. No, I don't have a clue who made it either. What I do know is I was not a fan of knit cuffs and collars on leather jackets. And then I saw Craig wearing this one and I thought to myself, "You know what? That actually looks pretty cool!" And so, me being me, I went down the rabbit hole looking for alternatives. Here are a few I've found that come close to the original's design.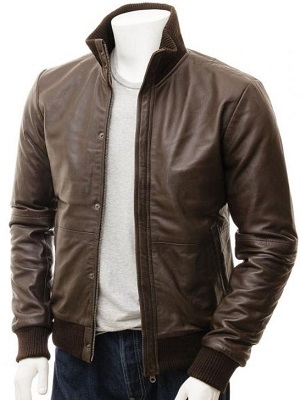 First up, this alternative for UK based Caine Leather Jackets. I can't say I'm familiar with the company, so if anyone knows more about them (good or bad) please share in the comments. As for the jacket, the obvious differences are the darker brown color, the rib knit hem and the snap button placket over the front zipper. But boy, does that collar design ever come close! The website says they've used "a high grade sheep napa leather and they do offer a pretty comprehensive guide explaining what that is and how it's produced. Which is nice information to share with prospective buyers. They have sizes XS to XXL on their website and offer even larger sizes for a £15.00 extra fee. Caine also does a model called the Groningen in a lighter brown that's worth a look if you don't mind having open cuffs instead of the ribbed knit ones.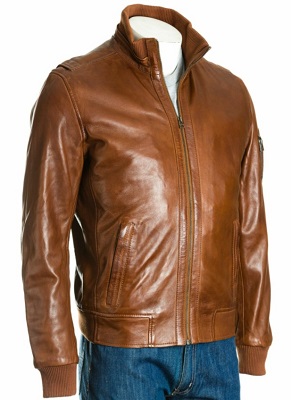 From the front, I feel like this alternative is getting closer to what we want. The brown "sheep nappa leather" is closer in color. And the dark tan knit ribbing around the collar and cuffs is a better match for Craig's jacket. Just three things to be aware of. First, it has a pocket on the upper left sleeve, like an MA-1 jacket. Second, the waist does have knit ribbing around the back (I'm not sure if that's also true of Craig's jacket since I haven't seen the back of that one). And third, the jacket has an action back (those pleats at the shoulders that allow for a greater range of motion, like you see on many motorcycle jackets). Since The Leather Shop offers a Made-to-Measure service if may be possible to get the jacket made to spec without those features. But they don't go into too much detail about it on their website.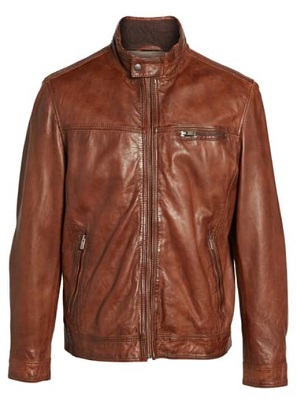 Our last alternative (so far) is probably my favorite of the three, despite being the least accurate. First the bad. It's missing the ribbed cuffs, it has a chest pocket, and the Harrington style collar isn't as high as the one on Craig's jacket. But it does have the open hem and the collar is lined with corduroy. So when it's flipped down the way Craig wears his it'll have a similar look. However what I really like about this one is the color and overall clean design. The Cognac color leather looks to be a nice rich brown that's gone through some mild weathering to give it character. And the two zip front pockets and horizontal seam across the chest make it a good match for the design of the original. Nordstrom Rack has sizes small to XXL available.
When you're Bond, Hackett just gives you Aston Martin merch …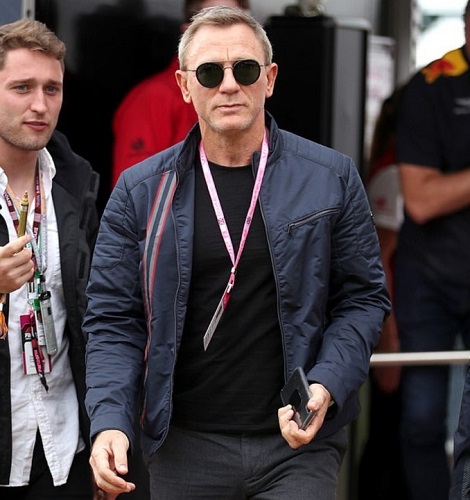 I still really like that Hackett London Aston Martin jacket Craig wore at the British F1 Grand Prix back in July, 2019. It reminds me of the Belstaff K Racer, but the retro vertical racing strip makes it look faster! I've kept an eye out for a jacket with a similar vibe since I first saw it. But most of the options I've found are either modelled after the iconic Steve McQueen white Gulf jacket (which is also very cool, if a little logo heavy) or the one Elvis Presley wore in Speedway with the wide stripes. So far, the one below comes closest to the right look.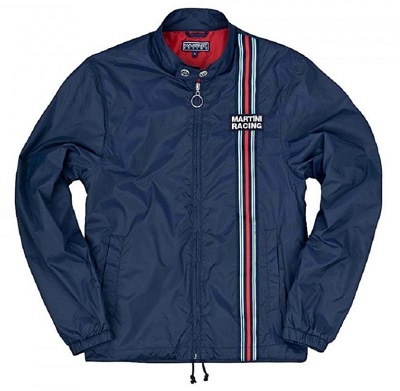 It's probably poor form to suggest using the jacket from one iconic racing franchise as an alternative for the jacket from another iconic racing franchise. So, lovers of motorsports, please don't come down too hard me! I'm just looking at the jacket design. And, in my favor, it does have Bond's favorite drink in the name. Anyway, this one isn't as technical a piece as the Hackett jacket Craig wore. The shell is a simple 100% polyester, it has a drawstring waist and the snap button tab closure at the collar. And although the Martini branding is kept relatively small up front, it is announced in bold white letters on the back of the jacket. But I think the overall design comes close to the Hackett and captures that retro raceway vibe without going overboard. I've linked to Ebay above, but you can also find the jacket on Amazon.
Brown and Blue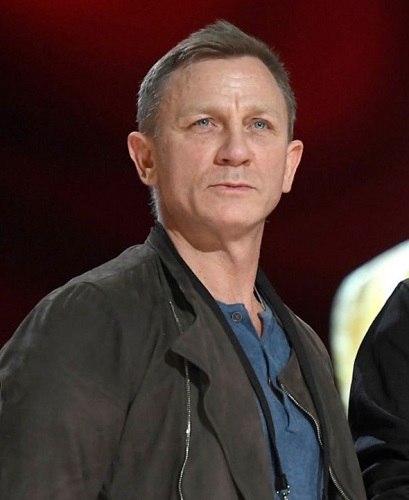 I haven't kept it a secret that I've been hunting for a good suede jacket inspired by that brown Brunello Cucinelli double rider Craig's always wearing. I also love a good Henley, and that blue John Varvatos cashmere one is really nice. It was even one of the pieces in our post on Daniel Craig's spring style. Put the two together and you have what I think is a pretty killer casual look.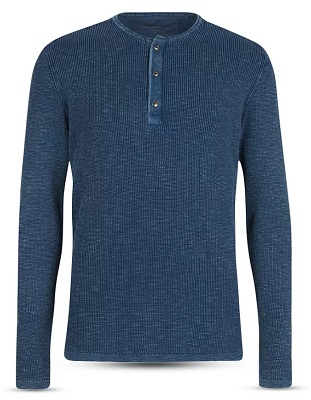 This 100% cotton alternative isn't exactly the same Henley as Craig wears. But it is coming from the same designer and the color isn't a bad match. The overall look isn't as refined as the cashmere version. But it might actually work better with a more rugged style of suede double rider. Amazon has sizes small to XXL in stock.
With it's cleaner look (no belts, coin pockets or epaulettes cluttering up the design) it reminds me the Cucinelli jacket's more rugged cousin. The leather is 100% goat suede, which should make it lightweight and pliable but still tough enough to take a bit of beating. Definitely one of the nicer off the rack alternatives I've seen that's still a reasonable price. Selected Homme has sizes small to XL on their website. But, and this is a bit of heartbreaker, it's only available in the UK and I couldn't find it on any 3rd party U.S. sites.
Know of any alternatives we should feature in our next Best Budget Style Finds post? Or do you have another option for this post? Tell us about it in the comments! If you'd like to see our previous Best Budget Style Finds posts, you just need to click here. And you can always visit our Facebook page, Instagram account and Pinterest Boards for more Bond, Craig and McQueen style advice and inspiration.