Daniel Craig Casual Style for Spring
I'd like to sub-title this post "the rarely seen and/or forgotten edition". Because today we're going to be looking at some pieces inspired by Daniel Craig's casual style that are either due for a revisit after being long ignored or that we've seen him wear only once or twice. And we also have some newer additions that are worthy of a closer look. Much of the information about the individual items in this post came from the excellent What's Daniel Wearing Instagram account. I'm sure most of you already know about it. But if you don't, get over there and give him a follow.
For more advice on how to combine the different pieces we share in this post, check out our Guide to Contemporary Casual Style and our article on the Art of Layering. You'll find some great tips from some true style masters in both. Alright, on to the alternatives!
The Plaited O-Ring Belt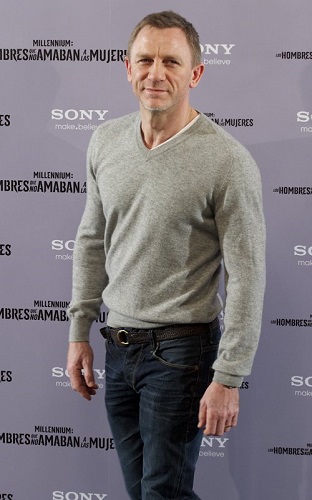 We're going to start with an old favorite. For years Craig used an R.M. Williams O-Ring plaited kangaroo leather belt to hold up his jeans. And it still makes an appearance every now and then. The original is on sale at The Stable Door for $232.00 Australian (about $180.00). It comes with brass hardware and has a 16 strand construction, which makes it very strong but also lightweight and flexible.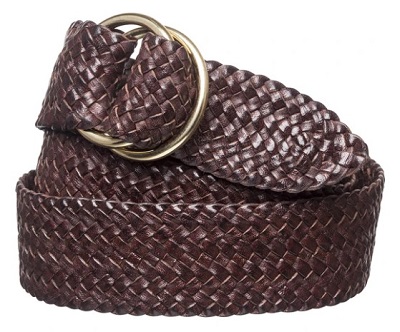 BUT I'm not sure you can import it directly into the U.S. due to material restrictions. It has to be one of R.M. Williams more popular products and they don't have it on their U.S. website. Which is weird. Hence the 3rd party retailer I linked to above.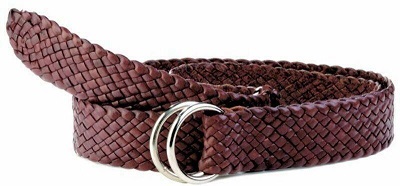 This is the alternative I've had for almost five years now. It's still going strong and I still love it. Honestly, if someone were to ask me what my most used piece of Craig inspired clothing was, I'd point to this belt. On my waist. Because I'm actually wearing it as I write this. You can also read my review of the belt way back when I first got it in 2016. It's an 11 strand plaiting instead of the 16 you'd get with the original. The hardware is also nickel plated rather than brass. But I've had zero problems with it and can recommend it highly. I've linked to Ebay above where the shipping costs are pretty high. You can also buy it directly from Badgery Belts. Or you'll find it on Etsy, where the shipping is cheaper but the price is a little higher.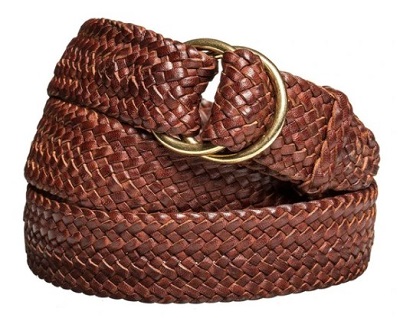 A step up in price (and number of strands) from a relative new comer to the world of plaited belts. They do ship from Australia (where their belts are handmade). If you don't feel like giving your money directly to them, they also have a store on Etsy. Obviously I haven't seen these in person. But at that price they could be a solid alternative for those of you looking for something a little more refined than the Badgery Belt without paying R.M. Williams prices.
The Blue Long Sleeve Henley
As you can see in the Instagram post below, this is piece showed up on my radar a little more recently. And since I'm a fan of the color blue and henleys and really soft shirts this one is has stuck with me. What's Daniel Wearing has already done a great job of describing the John Varvatos silk and cashmere Artisan Henley in his post. So I'll just add that when we're looking for alternatives, not any old blue henley will do. We need something special that at least tries to capture some of the luxury of Craig's shirt.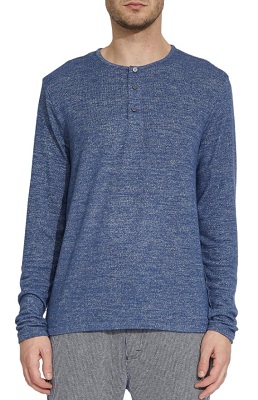 It has a little more "mélange" going on than I'd like. And the fabric is a 52% rayon, 45% polyester, 3% elastane blend. So not exactly silk and cashmere. But it's dirt cheap, they have plenty of sizes at Nordstrom Rack and the general color and texture aren't a bad match. Could be a good way to experiment with the look.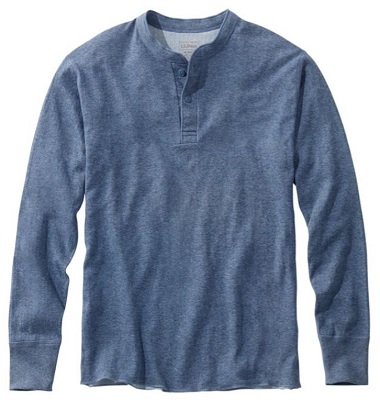 The River Driver's Henley has been in L.L. Bean's lineup for decades. I've had a couple of different versions myself over the years. And as an alternative for the John Varvatos, it's probably one of my favorites. The fabric is a 50% cotton, 40% Merino wool, 10% nylon woven with a "duofold" construction. So the inside has a softer hand while the outside is a little stiffer and wear resistant. The shirt is actually made in Canada by heritage company Stanfield's, which is also kind of cool. Just remember that this is L.L. Bean we're talking about and their sizes tend to be generous and a little boxy. They still have sizes medium, large and XXL on the website, but I'd recommend trying a size down if you want a more fitted look.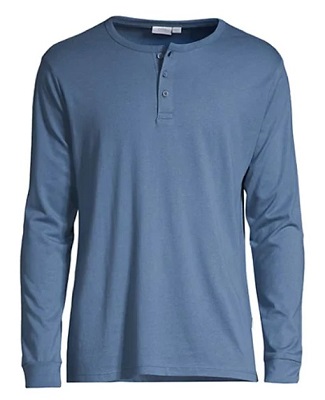 It's a 100% cotton. But it does have a nice, textured knit that elevates it over you typical jersey henleys. And although the fabric is missing some of that mélange look we want, the color is a great match. Sizes small and large are available at Saks 5th Avenue.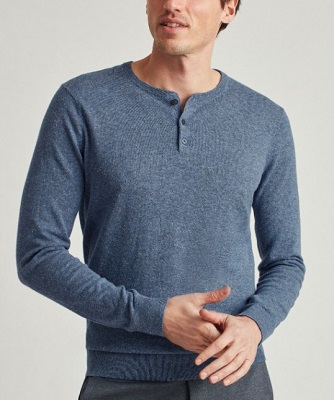 Aside from the knit hem, this is probably the best match for the Varvatos henley on the list. The color comes very close. And the 70% cotton, 20% hemp, 10% silk fabric is knit with a subtle mélange that gives it a real luxurious look. Being from Bonobos, you can also expect a more contemporary slim fit. So the hem shouldn't cause any bagging out around the waist like you'd get with a boxier cut sweater. They have sizes XS to XXL on their website. I'll be adding this one to my Wish List.
Also Try
Banana Republic Core Temp Waffle Knit Henley in Powder Blue: on sale for $43.99
L.L. Bean Unshrinkable Mini-Waffle Henley in Indigo Heather: $49.95
Saks Fifth Avenue Cashmere Henley in Dark Slate Blue: on sale for $49.99
John Varvatos Star U.S.A. Provo Henley in Officer Blue: on sale for $59.99
Vince Long Sleeve Knit Henley in Heather Denim: on sale for $67.50
Grayers Campesina Double Cloth Thermal Henley in Blue Mirage: $78.00
Ministry of Supply Composite Merino Henley in Storm Blue: $95.00
Billy Reid Thermal Knit Cotton Blend Henley in Faded Denim: $115.00
Suede Trucker Jacket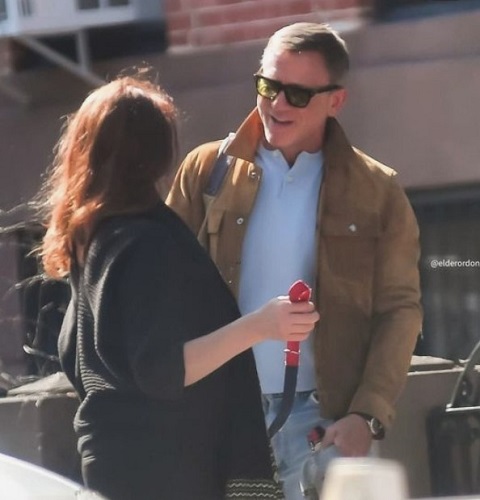 Another more recent find thanks to this post from What's Daniel Wearing. Craig was wearing this beautiful suede trucker-style jacket from Tom Ford (of course) back in early March, 2020. It's a timeless style that raises the bar for what "workwear" can be. And if you're willing to invest in a higher quality suede, it's the type of jacket that can last you a lifetime. If you like the look of the No Time To Die Rogue Territory Supply Jacket but want something more refined then this is the way to go.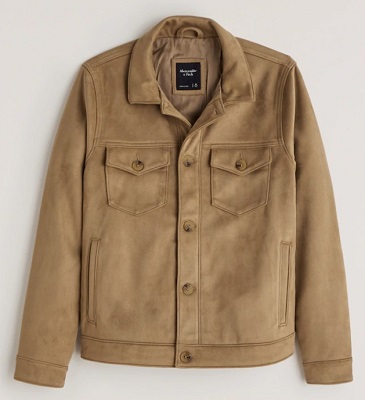 It's missing the patch pockets and the snap buttons. But in terms of overall style and color, it's a pretty good alternative for the Tom Ford. Of course the real elephant in the room is the faux suede. Yes, the outer material is 100% polyester. However, some of you often request that I share vegan options for the leather jackets we feature. I'll also say that higher quality faux suede is miles ahead of where we were 10 years ago. Get the good stuff and it won't feel spongy or cheap. And it the finish will be matte instead of having that "velour pretending to be leather" sheen. If you going with real suede isn't for you then this one might just do the job. You'll find sizes XS to XXL on the website.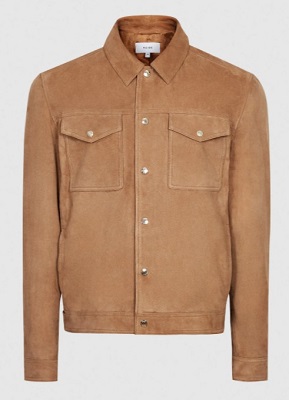 It's a heck of a jump up in price. But now we're getting genuine suede with Tom Ford worthy styling. The product photos on the REISS website also do a great job of showing how a jacket like this can be worn with more tailored pieces for an elegant or minimalist look. They have sizes XS to XL available. However, they do note that it's slim fit. So check that sizing chart!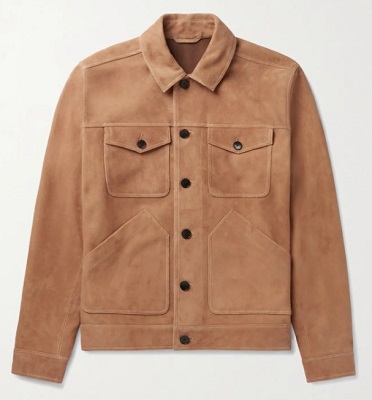 When it comes to the styling details, this is about as close a match to Craig's Tom Ford as an alternative is going to get. It even has the same patch pockets. Coming to us from Mr. Porter's own house brand, the jacket is made from genuine suede and features a button through closure instead of the snaps. It's also about $5000 less expensive than the original. Sometimes "affordable options" work on a sliding scale. Sizes XS to XXL are available at the Mr. Porter website.
Also Try
Caine Leather Jackets Tan Suede Trucker Jacket in Tan: $225.88/£195.00
Lucky Brand Suede Trucker Jacket in Cowboy Congac: on sale for $249.50
Other Suede Trucker Jacket in Tobacco Suede: $688.00/£380.00
Golden Bear Suede Trucker in Taupe: $998.00
The Navy Blue Cashmere Sweater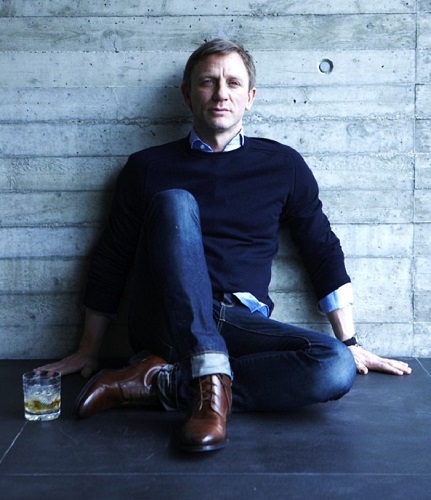 In my humble opinion, if a guy is going to invest in one "luxury" item for his wardrobe, a great pair of shoes should come first. But a high quality navy cashmere crewneck sweater would run a very close second. It's timeless. It's versatile. And almost everyone is going to look good wearing one, whether you layer it over a collared shirt or a tee. Craig's been spotted on multiple occasions sporting one from Ralph Lauren's Purple Label. Which runs about $995 these days.
I am not suggesting you spend a thousand bucks on a piece of knitwear. But this is one of those items that's worth saving up for. Buying cheap cashmere is a bad decision for a variety of reasons (Die, Workwear! has a great article outlining many of them if you're interested). But poor quality probably tops the list for most of us. Inexpensive cashmere knitwear is typically made with short, coarse fibers and a looser knit. Together, those create a thinner fabric that's prone to pilling and holes from everyday wear and tear. Hence the short lifespan. More expensive cashmere knitwear is made using longer staple fibers, thicker yarns and a much tighter knit. With proper care the sweater can last you a lifetime or more. And that, my friends, is why they're worth the investment.
There is some good news. Beside the options listed below you can also find good quality navy cashmere sweaters on sale at sites like Nordstrom Rack, Saks Off 5th and Gilt. I haven't listed any alternatives from those sites simply because their stock sells out so quickly. But if you keep a close watch, you shouldn't have too much trouble getting a three or four hundred dollar sweater for under $200.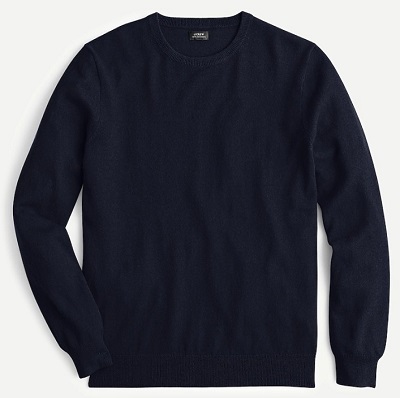 This is about as low a price as I'd go for a decent cashmere sweater. It won't be the thickest piece of knitwear. And chances are it won't last long enough to become an "heirloom". But J.Crew does have their sweaters certified to the Good Cashmere Standard by the Aid by Trade Foundation. That's certainly a point in their favor. When it comes to value for the money, you could do much worse.
N.Peal …. Why does that name sound familiar?
Seriously, what more is there to say about Bond's favorite maker of luxury knitwear? Above is the navy version of the Oxford Round Neck Sweater 007 wore in Scotland in Skyfall. It's a season after season staple in N.Peal's collection. So there's almost always plenty of sizes (and other colors) available.
Also Try
Note: I'm trying to keep the options below under $200. But if you've saved your pennies and can invest a little more then definitely check out makers such as Johnston of Elgin, John Smedley, William Lockie and, of course, other options from N.Peal.
Lands' End Fine Gauge Cashmere Crewneck Sweater in Radiant Navy: on sale for $132.96/£90.00
Woolovers Pure Cashmere Crew Neck Jumper in Navy: $135.00/£99.00
John Lewis & Partners Cashmere Crew Neck Jumper in Navy: £99.00
Marks & Spencer Pure Cashmere Crew Neck Jumper in Midnight Navy: $155.00/£89.00
Boden Cashmere Crew Neck in Navy: $195.00 £130.00
Nike Sneakers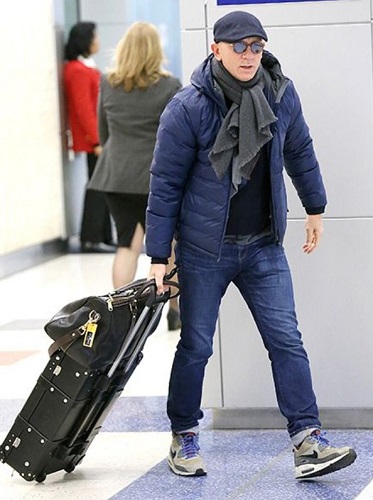 We all know Daniel Craig loves his Nikes. I've lost count of the different models he's worn over the years (although this article gives a good overview of his collection up to late 2016 in case you need a refresher). But there is one style he's worn that I still want to this day: the Air Max 90 SneakerBoot PRM in Bamboo/Newsprint.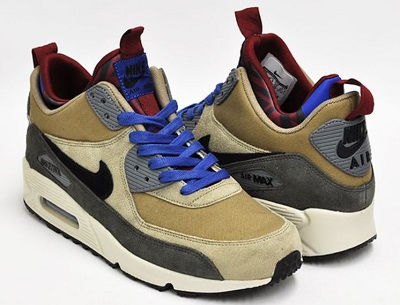 Maybe it's the relatively subdued, neutral colorway combined with the bright blue laces. Maybe it's the "Air Max on steroids" shape. Whatever it is, the design just appeals to me. Unfortunately, they've been sold out in my size for years now. And I've yet to see a pair pop up on Ebay, Grailed or any of the other well known second-hand market sites.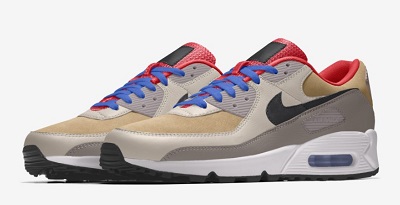 Since I haven't had any luck finding the originals, I went another way. Somehow I got access to the "Nike Unlocked By You" customization feature on the Nike website. Just to be clear, this is different than the regular "Nike By You" feature I'm sure many of us already know. The "Unlocked" version offers more nylon, suede and leather color options and the ability to change some other design details. Long story short, I was able to create some Airmax 90s that come close to the colorway of the Sneaker Boots. Sure, they don't have that unique profile of Craig's shoes. But these custom jobs may be as close as I can get until I find the originals in my size. Not mention the fact that creating your own sneaker designs can provide hours of fun during boring Zoom calls!
The Chore Coat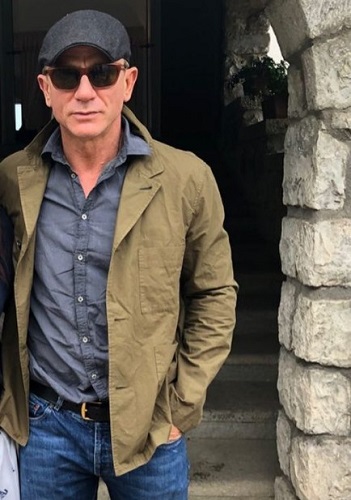 I've only seen one photo of Craig wearing this jacket. But I like it! What's Daniel Wearing posted about it on Instagram back in September, 2019 and identified it as a Paul Smith Cotton Chore Blazer in Khaki. It's a simple, unlined design with a three button front and three patch pockets. So just about perfect for the warmer weather ahead. Farfectch still has one size large in blue available for $198.00. Just in case you like the jacket but aren't particularly worried about getting the same color.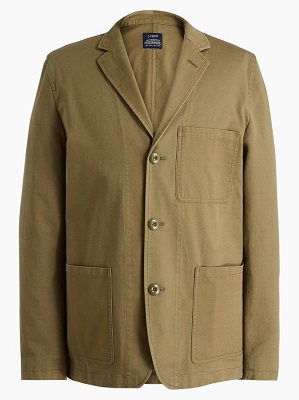 I think the 100% cotton fabric on this one will be a little heavier than what Paul Smith used. But other than that it look like a very solid match: three button front, three patch pockets, and an unlined construction. That "Frosty Olive" color also comes very close to what we see in the photo. Most importantly, it has the blazer style lapels. Most alternatives out there are more of a chore coat design with shirt style collars. You'll find sizes XS to XXL at J.Crew Factory.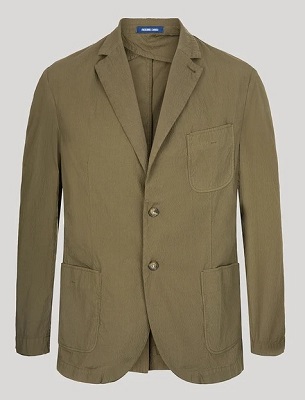 There are some subtle differences between this alternative and the Paul Smith jacket. Most obvious are the two button front and the longer lapels. But the fabric is also very cool (figuratively and literally). Frescobol Carioca has used a 100% cotton Italian seersucker, a lightweight fabric that has tiny wrinkles running through it that allow for better airflow. It has a unique look and it keeps you comfortable when the temperatures start to climb. They have sizes 36 to 44 in stock and that sale knocks 50% off the original $545.00 price tag.
Also Try
Goodfellow & Co Standard Fit Stretch Canvas Chore Coat in Olive: $39.99
Mango Pocketed Cotton Jacket in Khaki: on sale for $49.99/£39.99
Bonobos Stretch Cotton Chore Blazer in Olive Garment Dye: on final sale for $98.00
J.Crew Wallace & Barnes Slim-fit Cotton Linen Chore Blazer in Hillside Green: on sale for $109.50
Outerknown Tradesman Chore Jacket in Olive Drab: on sale for $142.99
The Shearling Bomber Jacket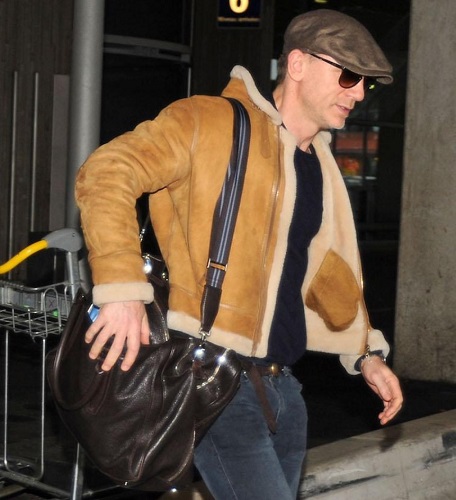 And we go from a spring weight jacket to one that is definitely for the colder months. We all may want to forget about winter at this point. But this is a great time to find killer deals on cold weather outerwear. Which brings us to Craig's shearling. His was custom made for him by Four Season Furs in Toronto. They based the design on a fairly common B-3 jacket and then stepped it up with high quality sheepskin and finishing. David at The Bond Experience has a detailed video about the jacket they made for him modeled after Craig's design. The segment about the shearling starts at about the 11:30 mark.
Before we get to the new alternatives, I'll also suggest that you look for used shearling jackets on Ebay, Etsy, etc. With a little patience you could find a great made in the U.S.A. or Canada one from a company like L.L. Bean or Sawyer of Napa for around $200. Those are beautiful jackets and since the bomber style is so timeless you don't have to worry about them looking dated.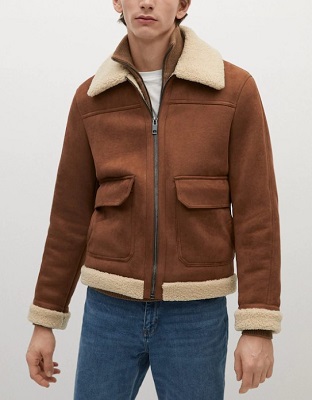 Unfortunately for those of you in the U.S., it looks like Mango is only offering this one on their UK site. It's faux shearling, of course, with a 98% polyester, 2% elastane outer fabric and a 100% polyester inner pile lining. And even though it looks like a pretty good match for Craig's jacket, product photos aren't going to show us how it feels. So it could be a decent imitation. Or it could feel awful. If it does turn out to be decent quality, it's a fairly inexpensive way to find out if you like this style before investing in a better jacket. Sizes small to XXL are in stock on the website.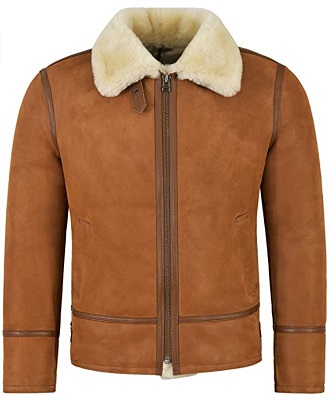 A jump up in price. However now we're talking about 100% genuine shearling with leather trim. It would be tempting to say the design is a copy of Craig's jacket. But, as I said above, the B-3 aviator bomber is about as classic a style as it gets. So no surprise multiple companies have their own variations of it. Four hundred bucks is still a little inexpensive for a good quality genuine shearling jacket in my opinion. But the five reviews on Amazon give an earlier model from Smart Range 5 stars. So this could turn out to be a winner as long as you're not expecting a super thick $2000 sheepskin.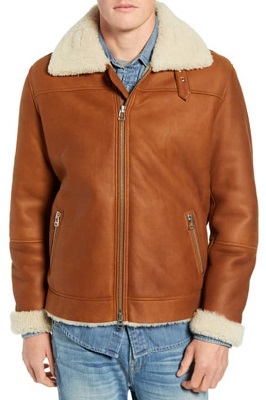 And another big price jump. But now we're coming close to what I'd expect to pay for a new high quality shearling jacket. Most of us know FRAME as the makers of some of Daniel Craig's favorite jeans. Coincidently, their sheepskin flight jacket also looks like a good match for his shearling. I know a thousand bucks is a big chunk of change for most of us to spend on one piece of outerwear. But when you consider the original price for the jacket was $2195, it seems like more of a deal.
I will add that I'm a little reluctant to recommend spending that much money on any leather jacket from a fashion brand. Especially when the same amount of cash can get you a nice shearling from a company like Schott or Eastman that specializes in producing high quality leather goods. Or it could get you a great used one on Ebay. As always, do your research before investing and don't rush to buy just because there's a deal.
Also Try
Caine Leather Jackets Newton Sheepskin Jacket in Taupe: $440.17/£380.00
Schott Waxy Vintage Buffalo Trucker Jacket with Sheepskin Collar: $845.00
Paul Smith Sheepskin Jacket in Chocolate: on sale for $977.18
Have a suggestion for a great alternative for one of the pieces on our Daniel Craig Casual Style for Sping list? Or maybe there's a piece you'd like us to include in a future post? Let us know about it in the comments! And remember to visit our Facebook page, Instagram account, Twitter account and Pinterest Boards for more James Bond style advice and inspiration!