Badgery Belts Queenslander Review
We've mentioned the Badgery Belts Queenslander Kangaroo Braided Leather Belt a few times on the site as a reasonable alternative for one of Daniel Craig's favorite accessories: the R.M. Williams 1 1/2″ Plaited O Ring Belt ($319.00 AUS/$215.00 U.S.). But a couple of things have happened recently that may increase the appeal of the Badgery Belts option.
R.M. Williams Plaited "O" Ring Belt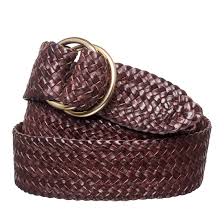 Badgery Belts Queenslander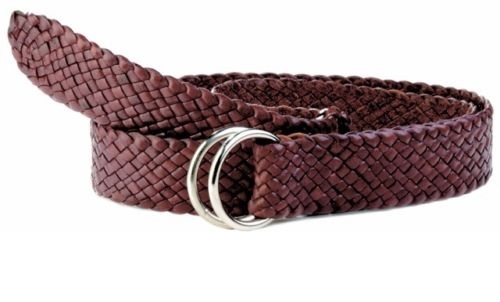 First, after purchasing a 49.9% interest in R.M. Williams in 2013, luxury brand holding company Louis Vuitton Moet Hennessy (LVMH) basically took full control of the company in February of this year, leaving no original owners on the board of directors. While that doesn't necessarily mean the quality associated with R.M. Williams will diminish in the short term, LVMH usually has aggressive expansion plans for the companies it acquires and historically has had no problem raising prices to fund the growth. Concerning LVMH's management of the brand so far, a recent move into more fashion forward clothing (slim-fit, pre-ripped jeans!), a rapidly growing marketing presence on social media, and a recent statement by industry analyst James Stewart that the new owner, "is essentially pushing for R.M. Williams to become a global luxury brand," are all pretty much par for the course when it comes to LVMH's management of the heritage companies it's taken over in the past. As result, I wouldn't be surprised to see R.M. Williams go from a relatively boutique brand to showing up in airport shopping concourses and higher end U.S. department stores at higher price points sometime in the next 1 to 3 years. If you would like to know more about this business-side of things, I've included some additional links at the end of this post.
The second factor (and the one that probably matters the most to people) is that the Badgery Belts Queenslander has dropped in price on Amazon U.S., going from $79.00 back in December, 2015 to the current $56.50 plus $4.49 shipping! And that was good enough for me to order one.
Badgery Belts Queenslander review
Company History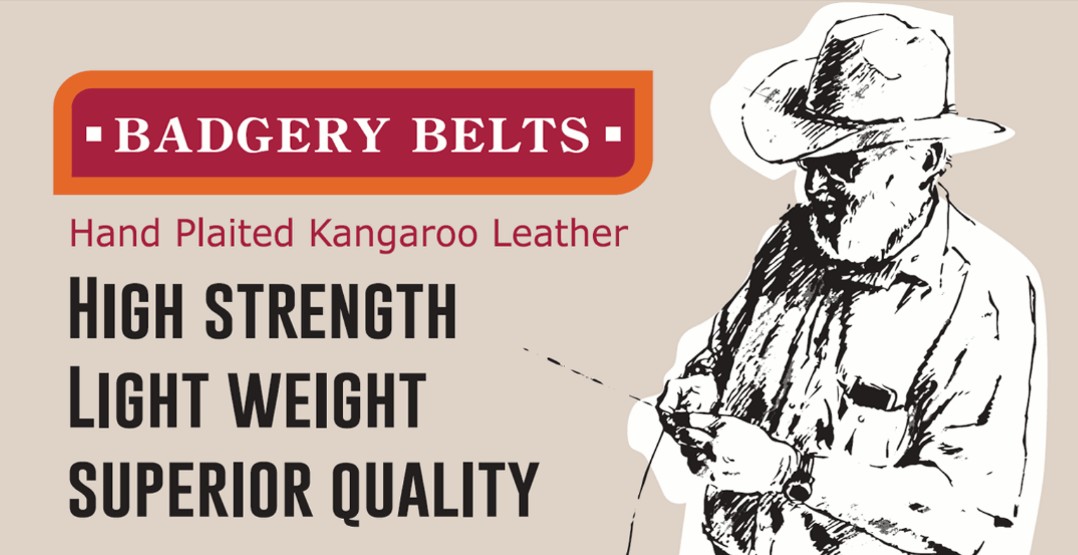 To start, we should be clear that Badgery Belts is a bit of legacy company in its own right. According to their website, the company was started by and named after Bob Badgery, who began making and selling plaited belts in the 1930's in Queensland, Australia. Like R.M. Williams, Badgery Belts prides itself on its heritage and its, "good quality locally made items, reasonably priced and unmistakably Australian." Overall, you get the feeling this is not a large company mass producing its signature pieces. Rather, they are what they claim to be: a "cottage style industry" company that knows its niche and just wants to consistently produce solid products. Personally, I like that about them.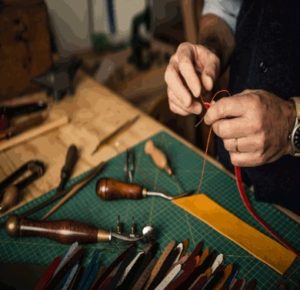 Differences
So the first question most people will probably have is: What makes this belt different to the R.M. Williams version? Generally speaking, there are 2 main differences:
The width: the R.M.Williams' is 1.5″; the Badgery Belts Queenslander is 1.25″. Does that narrower width make the Queenslander look too skinny? All I can say is I don't have a problem with it.
The number of leather strands used: The R.M. Williams is a 16 strand belt; the Queenslander is an 11 strand belt. I really have no idea what this means in terms of comparable strength or durability; but the additional thinner strands do seem to give the R.M. Williams a smoother, more finished look.
Since I've never come in direct contact with the R.M. Williams belt, it's impossible for me to compare the quality of the leather and hardware used, but I definitely welcome the comments and opinions of those who have! This article on Stockman Leather goes into more detail about what it takes to actually make a plaited belt – I gotta say, it don't look easy!
Initial impressions of the Queenslander
When I first opened the box, I was happy to see that the Queenslander is darker in color than it look in the online pics. Below are images of the belt from the Badgery Belts website (on the left) and my actual belt.
Taking the belt out of the box, my initial reaction was, "this belt is light and thin!" Seriously, I was worried that if I pulled too hard on it the strands would snap. However, after giving the belt a couple of hard pulls, I was impressed by the lack of stretch in the leather (basically none), the tightness of the plaiting (no gaps appeared between the individual strands), and the fact that it still managed to feel soft and flexible.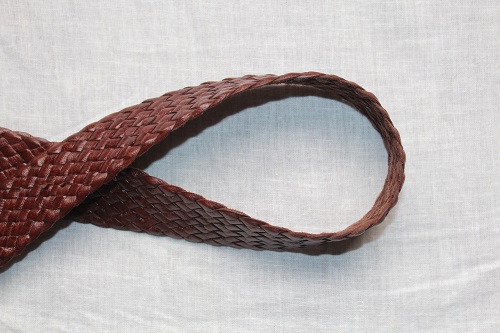 However, there were two other things about the belt that caught me a little off guard at first, and not in a good way. On the back side of the belt and the front side of the tongue (where the belt strap feeds through the O rings), the leather is left raw and untreated. After thinking about it a little, part of this made sense. The raw leather part of the tongue will provide more friction in the O rings to reduce slippage, and will be hidden once the strap is doubled back, so it's not a bad design decision on the part of the makers. But I really can't see any advantage to leaving the back of the strap totally untreated (other than to reduce costs); it does end up leaving the belt feeling a little rough and unfinished, at least for me.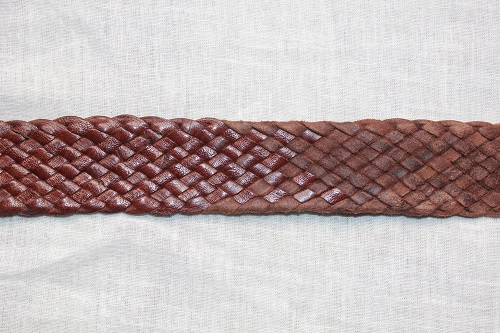 The other negative was that the metal O rings were stuck together; some of the treatment used on the leather had obviously gotten on them and hadn't been completely cleaned off before it dried and the belt was boxed up. Honestly, it only took me two seconds to pry them apart and two minutes to clean up the metal, so it's really a nitpick. But still: when you're eager to try on your new belt and you need to take 3 or 4 minutes to mess around with the hardware, it can be a little frustrating.
The last thing to discuss is the fit, and this is important because it can get confusing. Badgery Belts recommends ordering two sizes up from your waist size to get a good fit. In my opinion, this just won't cut it. I would recommend ordering three sizes up from your pant size to get a comfortable fit. For example, I'm a 32 pant size, which means I would go with a 36″ in a normal belt. I chose the 38″ Queenslander (which actually measures 43″ laying flat, not including the O rings); the photo below shows how it fits on me. I'm happy with the length: it's still long enough (barely) to double back into the pant belt loop, but the tail won't be flapping around if I don't.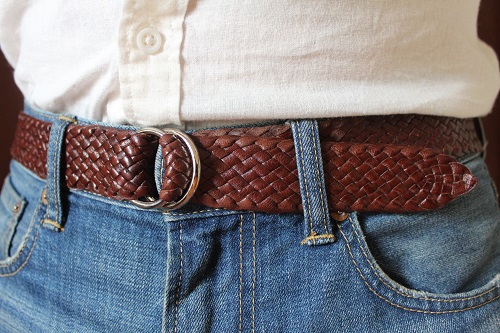 Now, if you do want the Daniel Craig look, where the belt tail hangs 8″ or 9″ inches after feeding it through the O rings, I would suggest going four to five sizes up from your normal pant size. So if you're a size 32 pant, go for a 40″ or 42″ Queenslander belt.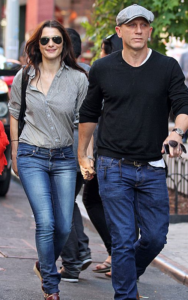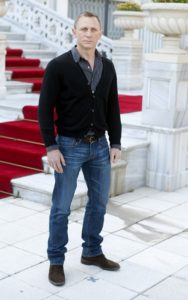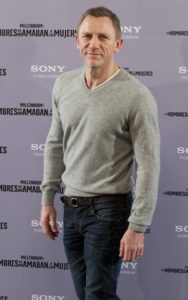 Impressions after 2 weeks
I pretty much love this belt. I've been wearing it almost daily for the last two weeks; it has not stretched out at all, there's still not a mark on the leather, and it's very, very comfortable. I'm also surprised at how versatile it is; I thought this was only going to be a "jean" belt, but I've been using it with chinos, shorts and linen pants and it never looks out of place. Honestly, the style and the color seem to go with everything short of a suit and tie. So for $61.00 all in, I'm very happy.
The Badgery Belts Queenslander Kangaroo Braided Leather Belt is available at Amazon U.S. for $56.50 plus $4.49 shipping or directly from Badgery Belts.
If you would like to know more about LVMH's ownership of R.M. Williams, you can check out these articles from The Land, AFR and .
The author was not compensated or remunerated in any way for this review.