How to Buy Your First Custom Dress Shirt
Dressing exactly like James Bond is expensive! If it was cheap, sites like this one wouldn't exist*. But there's good news! A select group of intrepid online entrepreneurs are helping us regular guys add some Bond-style luxury to our lives. Yes, you too can have shirts and suits custom made and personalized at prices your wallet (or significant other) won't cry over. And to help you get the most bang for your buck, we've asked some experts to share their advice on how to buy your first custom dress shirt.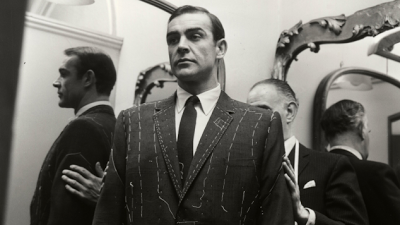 Okay, so we're not talking about in-person Savile Row bespoke tailoring. But for an increasing number of men, online made-to-measure (MTM) has become a truly viable option for buying shirts, suits and shoes. By most reports, the results have been positive, with a few horror stories showing up now and again. However, the more experienced and dedicated MTM providers are constantly striving to refine the measurement processes to help ensure fewer errors. Their goal is to deliver the best product the first time. Combine those efforts with a growing selection of high quality fabrics, the freedom to choose many of the personal details on your shirts and suits, and a focus on exceptional customer service and it's easy to see why, if you work with the right company, today's MTM experience can actually be preferable to buying off the rack.
The Online Made-to-Measure Experience
If you want to get a shirt or suit that truly meets your expectations, some of the responsibility is going to lie with you. And that's where this guide comes in. We're starting with custom shirts for the simple reason that they're an affordable way to try online MTM without too much risk. And we asked three highly respected custom shirt makers what advice they would give first time MTM buyers to help make your first purchase as positive as possible. Read on to find out what Indy Magnoli of Magnoli Clothiers, Rikky Khanna of Spier & Mackay, and Eric Powell of Ratio Clothing have to say!

Eric Powell, Founder and Owner of Ratio Clothing
When you see the name "Ratio Clothing" on the men's style forums, it's usually followed by the words "excellent fit and customer service". Started by Eric Powell in 2009, Ratio Clothing has stayed focused on shirt making, fine tuning their craft to the point that today many claim they'll only wear what Ratio makes for them. Their made-in-the-U.S. custom shirts start at $98.00. www.ratioclothing.com
Eric's Advice
Think about sizing issues you've had in the past with off-the-rack shirts. If you tend to always have a baggy waist (most common issue with off-the-rack), or there are certain areas that just don't fit in your typical neck and sleeve size (eg. 16/34), that's helpful to share when providing sizing information remotely.
Remember you have to breathe. We all want that sharp, tailored fit, but remember that your body measurements are going to need a few inches here and there for give—otherwise you'd be sizing out a second skin. Even if you want it very, very slim, you don't want that, because you wouldn't be able to move. A shirt is not a suit, and some folds and wrinkles will be normal in a good fit you can still move in. Models in dress shirts, ours included, are clamped and pinned within an inch of their lives, but they can't even bend over to tie their shoes. If you're doing more than sitting still and posing, let yourself have some wiggle room.
Measurements are only part of the process: just because you've been measured by someone (a friend, tailor, etc.), doesn't mean that a shirt maker will be able to take those measurements and translate them to the perfect fit you have in your mind. Your own preferences are a big part of finding a perfect fit, and two people with identical body measurements can have very different preferences. We'll keep you from doing something truly wrong, but clothing is self-expression and fit is a big part of that. That said:
Trust the experts. Again, it can seem overwhelming, but we do this for a living and are here to help. We'll get the right information from you to get you in the best fit possible, and if we give you advice, we only have your best interests at heart.

Rikky Khanna, President and Creative Director at Spier & Mackay
Canadian company Spier & Mackay began in 2009 as custom shirt makers, and over the next 7 years expanded into MTM and OTR suits, sport coats and casual wear. Their reputation for excellent quality, on-point pricing and above-and-beyond customer service have made them the go-to favorites on many men's style forums. Spier & Mackay custom shirts start at $79.00 Canadian (about $60 U.S.). www.spierandmackay.com
Rikky's advice
Have ready a shirt that fits "well" as a comparison. Something that you have in your closet that you feel is a good starting point. Working online or in person, this is always a helpful way to get a wearable shirt off the bat. Simply measure the shirt you have and note down the necessary adjustments.
Do your homework ahead of time to know what style options you like. For example, what collar are you looking for? Do you wear it with a tie or open collar? Does that collar suit your face shape, etc. This will save a lot of time and stress and make the process go more smoothly.
If an online maker is making your shirt and you need to give body measurements, make sure another person measures you. You will never get accurate measurements trying to take them yourself. In addition, follow the vendor's measuring guides closely. Double and triple check all measurements. Even one wrong measurement can throw the entire shirt off.
Research the maker. Do they have a good reputation? Do they come highly recommended? A quality maker will have a lot of positive reviews that are easy to track down. Working with a reputable maker will make the entire process a little less stressful as they have probably seen everything under the sun and can catch any errors before they happen.
Curb your expectations. MTM is a human process. Even the best bespoke shirt makers in the world need time, multiple fittings and multiple shirts before they can deliver the perfect fit. All too often many first time MTM customers expect perfection on the first go and end up disappointed when that doesn't happen. If the measurements are right, you should still end up with a great fitting shirt that fits you better than off the rack, but that perfect fit might take a couple of rounds of refinement.

Indy Magnoli, Owner and Designer, Magnoli Clothiers
For many Bond fans, Indy Magnoli needs no introduction. His efforts to create high-quality, screen accurate replicas from some of our favorite films have made Magnoli Clothiers a well-recognized source for helping us achieve the looks we want at a reasonable price. The custom made "SPECTRE Shirt" shown below comes in dark blue, light blue and white for $125.00.  www.magnoliclothiers.com
Indy's Advice
MEASUREMENTS:
Read the measurement instructions carefully. Each shirt maker will have a slightly different approach to measuring. Sleeve length is a classic example. Ready-made dress shirts have a sleeve length measured from the center of the back to the shoulder seam, then down the sleeve. Many shirt makers, Magnoli Clothiers included, want the literal sleeve length; that is, the measurement from the shoulder seam to the end of the sleeve cuff.
Check whether the measurements should be taken exactly off-the-body, comfortably off-the-body or from an existing garment.
When in doubt, round up. Remember it's MUCH easier to alter a shirt to a smaller measurement than the other way around.
Remember the adage: "Measure twice, cut once".
COMMUNICATION:
If you have any questions, ask. Most shirt makers should be happy to answer any questions about measurements, materials, style and details.
Don't assume anything. Some makers include collar stays as standard, others don't. Some make collars and cuffs stiff, while others use very little fusing. If you have specific needs or expectations, ask before you order.
Since you're having a custom shirt made, don't be afraid to ask for customizations. Some makers may charge an extra fee, even for small tweaks. This is usually not to cover the cost of labor, but the extra time involved in double-checking a custom-order list. Some tailors are happy to tweak their own styles to suit your taste… don't be afraid to ask.
Once you receive your shirt, let the maker know how you like it. If you need to make any tweaks, you may be able to have them done locally for less than the cost of sending it back. Your tailor should be able to give you the best advice. If you do alter it locally, be sure find out exactly what changes were made so your shirt maker can update your profile accordingly to insure a perfect fit on your next shirt.
Wrap-up
So now that you've got the experts' advice on how to buy your first custom dress shirt, what's next? Men's style forums are a great place to read customer reviews, receive advice and see pics of final products. To start, search Dappered Threads, Style Forum and Ask Andy About Clothes for the shirt makers you're interested in.  And, of course, if you have experience with MTM shirts, please share in the comments below! The rest of the community would appreciate your insights!
*Note to self: write a thank you note to Mr. Ford.  
The author was not compensated or remunerated in any way for the inclusion of the participating companies in this article.
The featured image for this post was sourced from Spier & Mackay.