Die Another Day Blue Cuba Shirt
Updated May 8th, 2019 – We've learned a lot about the Die Another Day blue Cuba Shirt since we first published this post. The actual shirt Pierce Brosnan's James Bond wears during his arrival in Havana and first encounter with Jinx was made by Brioni. In September, 2018 the screen-used shirt was sold at auction for about $3600. You can check out Bond Lifestyle for more details about that.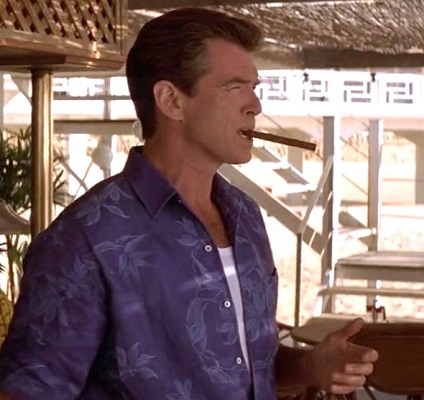 Brosnan wears the shirt over low-neck white tank top. On the bottom, he wears navy blue linen trousers and brown suede chukkas. To finish it off, he uses his tortoise shell Persol PE2672-S sunglasses when outside. Both BAMF Style and Bond Suits do a great job of breaking down the look's details.
Features Wanted for the Die Another Day Blue Cuba Shirt
Linen or linen blend
Light blue, simple floral print on a darker blue background
Camp collar
Elbow-length half sleeves
Straight hem with side vents
Rounded left chest pocket
Honestly, for an "Aloha" shirt, this one's pretty subdued. The large, lighter blue embroidered pattern on the mid-blue background keeps things simple. And wearing it with the darker pants helps mute the shirt even more. Probably the only thing that really dates the shirt is the fit. Today's short sleeve short styles tend to be much more fitted with shorter sleeves.
Best Option for the Die Another Day Blue Cuba Shirt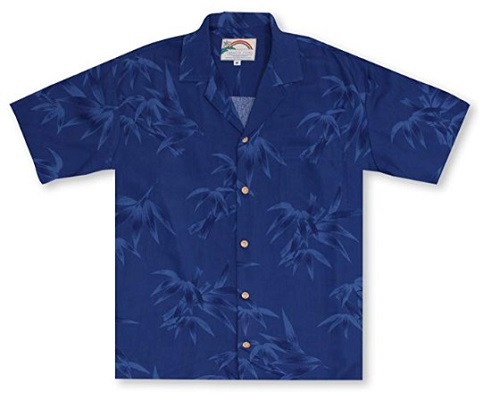 This one was a no-brainer. The color and larger, less-crowded pattern line up nicely with the DAD Brioni shirt. AND Paradise Found was also the brand of choice for Magnum P.I.! This particular shirt is 100% Rayon and still made in Hawaii. The Hawaiian Shirt Dude (love that name) has sizes small to 4XL in stock for $79.99. For a lower price, you can also try the Aloha Shirt Shop. But sizes there are getting spotty.
Under $50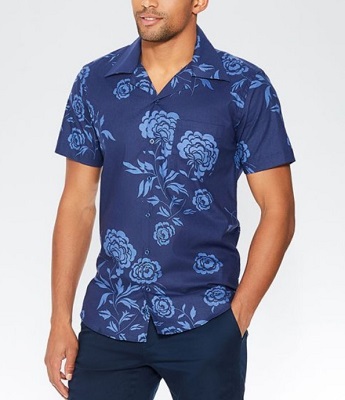 A 100% cotton alternative coming to us from a brand I've never heard of. Even though its floral print isn't spot-on, the style and colors come close. And it costs less than £15.00. Which is nice. Quiz still has a good variety of sizes left.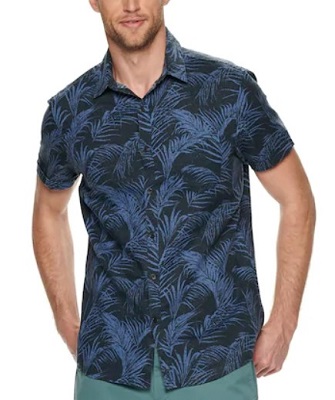 A linen-cotton blend option from the famous the salsa singer's eponymous clothing line and sold by Kohl's. A darker background blue, a busier pattern and the lack of a camp collar keep this alternative from being the ideal choice. But for those of us on stricter budget, it's not a bad choice. Kohl's has sizes small to XXL in stock.
Under $100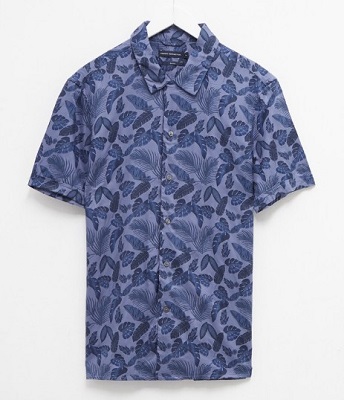 I'd say this alternative falls more in the "inspired by" camp. Thanks to the muted blues, it definitely has the understated vibe of the Brioni shirt. But the pattern is busier. French Connection has used a 100% viscose material to keep it light and airy. Sizes XS to XXL are available.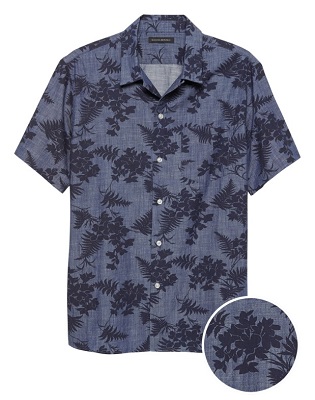 Probably the one that's least like the original. But I'm still digging it. Chambray can be a great summer fabric when it's done right. And the darker colors and trim fit have a low-key appeal that keeps the look from drifting too far into "Caribbean Tourist" territory. Banana Republic still has a good selection of sizes left.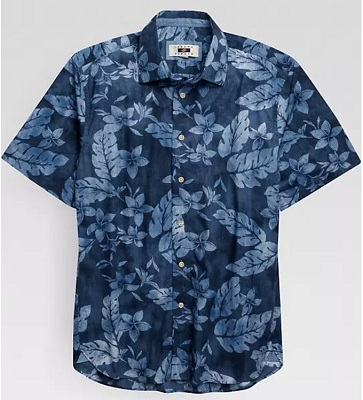 If the more "classic" styling of the Brioni is what you're after, this could do the trick. It also comes in a crazy range of sizes, from small to 6XL Tall. But seriously, Men's Wearhouse? Absolutely NO information about the fabric on the product page? I can't even begin to guess what this one is made of …
Under $150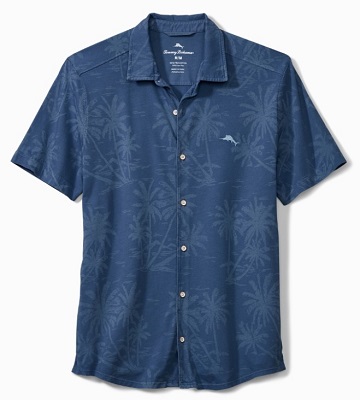 Here's something I never thought I'd write: Brought to you by Bond-brand Tommy Bahama …. But seriously, for the particular market to which they cater, Tommy Bahama makes some really nice shirts. The colors of this one are more muted than what we see on the original. But some us prefer an even more subdued shirt in this style. They still have a decent selection of sizes left on their website.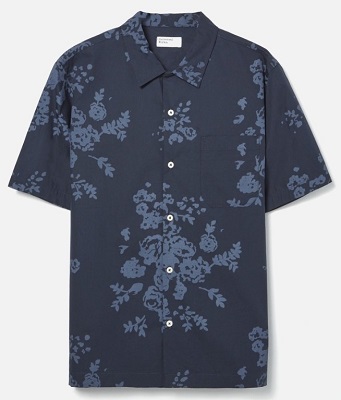 British company Universal Works is perhaps best known for their minimalist, work-wear inspired pieces. That design philosophy also shows in this shirt. Made from a lightweight cotton, the floral pattern is digitally printed which gives it some pop. Much like the alternative from Banana Republic, this would be a good choice for those of you who are inspired by the DAD Cuba look, but want to give it an update. Universal Works has sizes XS to XL available on their website.
Have some suggestions for close matches and affordable alternatives for Bond's Die Another Day blue Cuba shirt? Share away in the comments below! And remember to check us out our Facebook Page, Instagram Account and Pinterest Boards for more James Bond style advice, inspiration and info on where to find the latest deals!