The Art of Layering Part 1
We all instinctively understand how layering is supposed to work. Throw on a t-shirt or button down. Then throw a sweater on over the shirt. And then throw on a jacket or coat just as you're heading out the door. It's not rocket science. And it keeps you warm. But what if you're ready to take it further? What if you want to become a Master in the art of layering as a way of expressing your personal style, getting more use out of your favorite pieces and just … well .. looking like you really know what you're doing?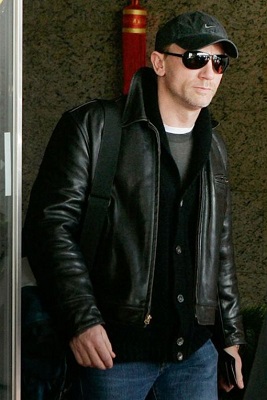 I spoke with a two experts from Aphrodite to help us get started on the next stage of our style journeys. Aphrodite specializes in high end men's clothing and works with a broad selection of brands and designers that represent the best in contemporary and heritage menswear. Here you'll find Barbour, Belstaff, Patagonia and Canada Goose hanging next to Maison Margiela, Vivienne Westwood, Comme de Garçons and Stone Island … with some Ralph Lauren, Adidas, Moncler and Norse Projects mixed in just to keep it interesting.
Beth Wear is the stylist at Aphrodite, the person responsible for bringing together all those different pieces of clothing to create memorable looks. Dan Graham is Aphrodite's head photographer. It's his eye that captures those looks in action, with an emphasis on real world contexts. The experience they share working with some of the world's best brands to design outfits that capture the attention of men everywhere will guide us as we begin exploring the art of layering.
The "Layers" in Layering
When it comes to elevating our layering game, the first thing we need to understand are the layers themselves. It probably easiest to think of our clothing as typically falling into one of three "Layering Categories": base layers, mid-layers and outer layers.
Typical Base Layers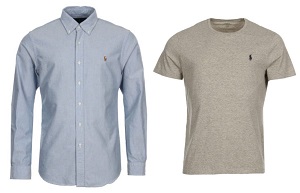 T-Shirt (short sleeve or long sleeve)
Henley (short sleeve or long sleeve)
Button Down Shirt (short sleeve or long sleeve)
Shown above: Ralph Lauren Slim Fit Oxford Shirt in Blue and Heather Grey T-Shirt
Normally, the base layer is what you're wearing next to your skin. Base layers are usually lighter weight or thinner fabrics so they don't add much bulk when you add more layers over top. And when it comes to t-shits and Henleys, it may be best to stick with basic designs in solid, neutral colors so they can work with a wider range of looks. Button down shirts are, of course, a different matter. A lot depends on how you're planning on using them in your layering game. So having a decent mix of OCBDs in solid staple colors (light blue, off white) and pattern shirts (plaids, maybe some stripes) is a wise strategy. Then you can add some other styles to mix things up. Western style denim shirts, utility shirts, or some heavier flannels can all be welcome additions.
Typical Mid-Layers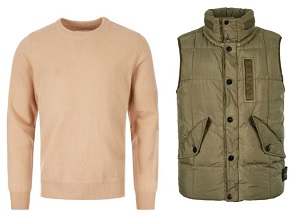 Button Down Shirts (short sleeve or long sleeve)
Sweaters
Cardigans
Sweatshirts and Hoodies
Vests
Gilets
Over Shirts
Shown above: Maison Margiela Cashmere Crew Neck Sweater and Stone Island Crinkle Reps Gilet in Olive
Here's where things get interesting. Of course we want some basics to start. You can't go wrong with merino wool or cashmere crew neck sweaters in navy, charcoal and a few other colors. Same with a sweatshirt and/or a hoody. Then move on to cardigans. We're all familiar with the Quantum of Solace black shawl collar design. And one in navy or even ivory would be nice as well. Roll neck sweaters (similar to Steve McQueen's blue one from Bullitt) can also work with a variety of looks. And then we have aran knits, mock necks, V-necks … the list goes on and on.
As for the other mid-layer options, gilets and vests are very versatile pieces to add to your closet. They can come in handy when things cool down but you'd still be too hot in a heavy wool sweater. And over shirts (shorter shirt designs in heavier materials like flannel and wool) have really been growing in popularity lately. So definitely consider giving that style a closer look.
Typical Outer Layers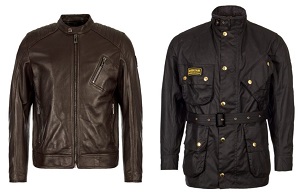 Coats
Jackets
Sport Coats and Blazers
Over Shirts
Shown above: Belstaff V Racer Leather Jacket in Dark Brown and Barbour International Jacket in Black
Again, there's no shortage of options here. Waxed cotton moto jackets. Leather jackets. Longer, tailored wool overcoats. Trench coats. Pea coats. Harringtons. Duffle coats. Linen and cotton bombers. Denim trucker jackets. And those are just examples of outerwear! Now consider what blazers and sport coats you could add to your closet. Most of us already have a healthy collection of outerwear. So I'd suggest starting with what you already own. Experiment with new ways to layer with those pieces first before rushing out to buy anything new.
The Art of Layering with Intention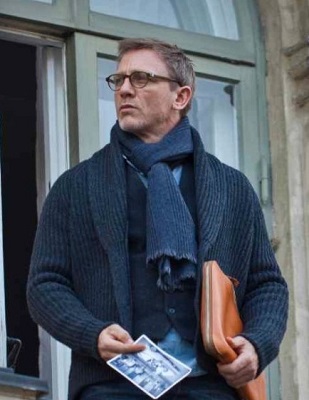 "Layering with intention" simply means giving some conscious thought to how you're combining your base layers, mid-layers and outer layers to create a cohesive look. Beth and Dan walk us through the four steps we can follow to help us get closer to mastering the art of layering.
Step 1: Choose Your Core Piece
"The core piece is the article of clothing that will inspired the rest of the look," Beth says. "And ANYTHING can be a 'Core Piece'. A jacket, a sweater, a pair of jeans. The idea is get to more wear out of your favorite pieces in your closet. So building multiple looks around them just makes sense."
When we're starting to get more creative with our layering, Beth suggests still playing it safe with the core piece. Since it will be the foundation for the rest of the look, it can be a challenge to match other clothes if we start with something wild. "You can always use accessories to mix things up and and add some more color if you want to," she suggests.
Think about Context
"Context also matters when you're selecting your core piece," Dan adds. "When I'm shooting editorials for our blog, I always have to consider the environment and background and how those are going to work with the outfits. Everything has to be part of the larger story." Often we're creating a look for a specific location or activity: the office, drinks with friends, date night. So select a core piece that you'll feel comfortable wearing in those specific environments.
For our example outfit, I'm going to think outside the box a little and choose these New Balance 575 Trainers in Green/Brown as the core piece for the rest of the look.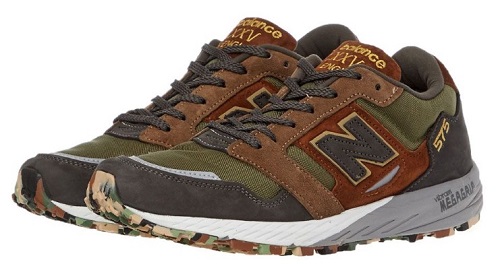 Step 2: Consider the Silhouette
"When I'm selecting the next pieces to add to a look, the first thing I consider is the silhouette," Beth says. "For me, silhouette comes before colors, patterns or textures. It's what makes the outfit look intentional and creates consistency from top to bottom." For example, let's say your core piece is a workwear style chore jacket in a boxier cut. You'll want to pair that with straight fit jeans and heavier boots to create balance between the top and bottom halves. But if you're using a pair of slim jeans as your core piece, the rest of the pieces should have a more tailored silhouette.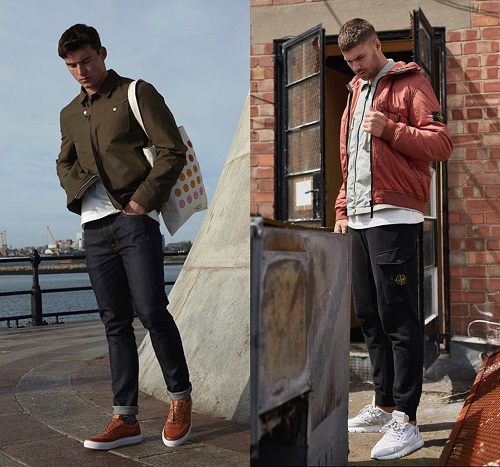 One of the great things that's happening now in men's style is the way designers and brands are creating clothing that combines design elements from different genres. We're getting traditional heritage and workwear pieces, such as safari jackets, pea coats and field jackets, in more refined and tailored silhouettes. Even Michelin Man style puffer jackets are getting slimmed down. This evolution in the cut and fit allows us to pair them with a wider range of clothing from different style genres. And that helps us create looks that have more character.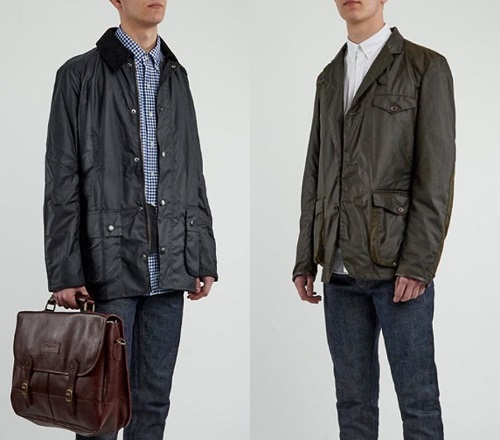 "Focusing on finding a silhouette that flatters your body type is also key," Beth adds. "If each of the pieces in your wardrobe works for your body shape and you feel good wearing them, it's just going to be that much easier to combine them for different looks."
The Example Look
Back to our example look: those New Balance shoes obviously have a pretty blocky silhouette. Which means the pants and jacket I choose should also have a slightly boxier or straighter cut. In this case, I've gone with Norse Projects Aros Chinos in Utilty Khaki and the Folk Rain Jacket in Tan.
Step 3: Add Colors, Textures and Patterns
"Once I've established which pieces have similar silhouettes, the next step is choosing complimentary colors and textures," Beth continues. "Again, I'm building everything around that core piece. So I want any piece I add to the look to pick up on its key colors. And when you're starting out with layering, it is easier to use pieces that come from the same color families. You just want to avoid get too 'matchy' with everything."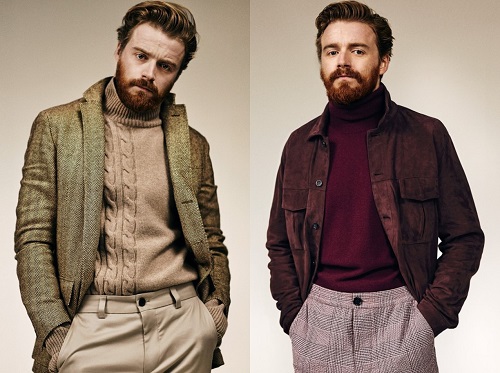 We've already discussed using color, texture and patterns in our How to Dress Like Bond article. But Dan adds some more advice. "As the photographer, I really need to be aware of how all the parts of the look are coming together to tell the same story. And things like the fabric and textures of the different pieces, how they play off each other, is very important to creating something that looks cohesive. You can take that core piece and combine it with something heavier like denim to create one look. Or you can pair it with smoother, more technical fabrics to give things more of streetwear feel."
Example Look 1

In these examples, we've selected the Belstaff Streamline Jacket in Mahogany as our core piece. For the first look, we're playing on the bulkier silhouette of the puffer jacket and its toned down, mid-brown color. By combining it with pieces that share a similar muted color palette made from heavier and more textured fabrics like wool, denim and thick leather, we can create a look that leans towards a heritage/workwear vibe.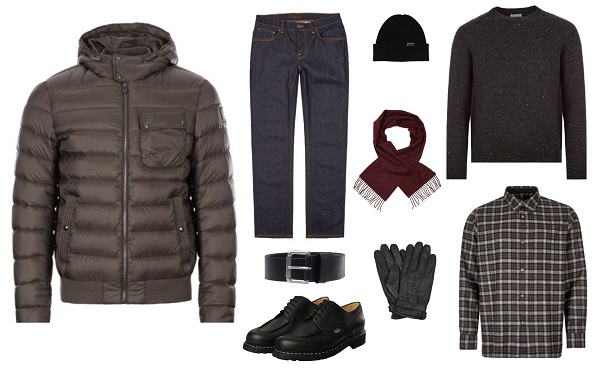 Example Look 2
But if we take that same jacket and focus instead on its smoother, shinier outer shell fabric we can create a look with an entirely different feel. Now we're bringing in pieces that have trimmer cuts and more technical looking materials and details. And we're keeping the color palette almost monochromatic, with no patterns in sight.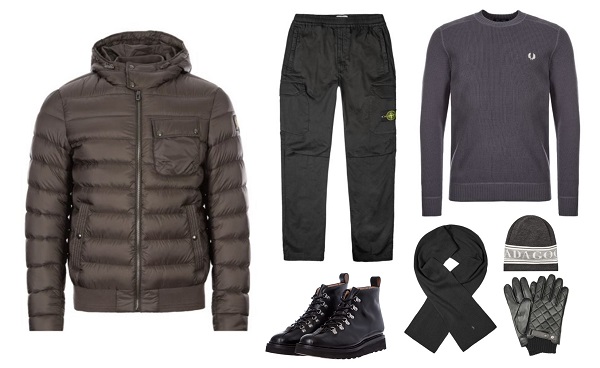 Back to our Example Look …
What are some of the key colors in those New Balance 575s? We've got green, brown, rust, charcoal, light grey and even a touch of golden khaki in the lettering.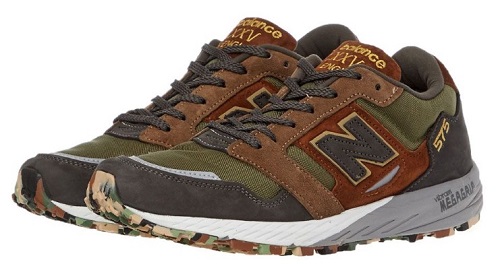 We've already gone pretty heavy on beige and khaki in our choice of jacket and trousers. So for the next pieces we want to touch on some of the other colors. The solid, mid-grey Canada Goose Garson Vest ties in nicely to the charcoal and grey on the shoes and is a pretty safe choice. On the other hand, the Patagonia Fjord Flannel Shirt is more of a fun addition (without looking too wild). First, the pattern isn't a traditional plaid. So it works with the more modern and sportier feel of the sneakers and jacket. And the colors pick up on the rusts, browns, greys and khakis we see in the other pieces.
Step 4: Bring in the Accessories
"Accessories are where you can play around a little," Beth advises. "Use them to add more color and texture. Or if you want to introduce a bolder statement piece. Things like the shape of the hat or the pattern on a scarf can really change the feel of a look. So don't be afraid to experiment with accessories. They add personality."
For our example look, we've stayed relatively conservative since the shirt above already has a pretty distinctive pattern. A simple green Ralph Lauren Ribbed Scarf, some Barbour brown burnished leather gloves and a pair of classic Ray-Ban Wayfarers should suffice. Just a note about the belt. If you're one of those people that worries about matching your belt to your shoes, you know it can be a pain to find the right one to work with sneakers. Personally, I've found the easiest way around this is to use a textured or woven leather belt. No one is going to mistake it for something you'd wear with a suit. And the brown leather picks up on the brown in the New Balance shoes. Here I've used one from Anderson Belts.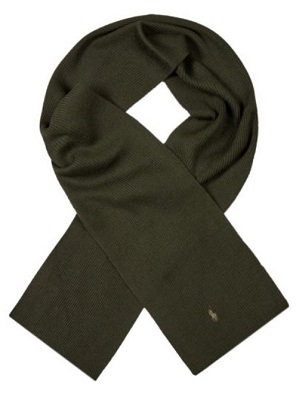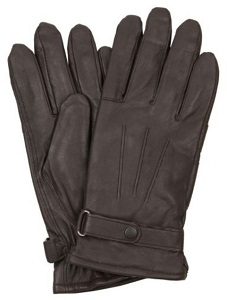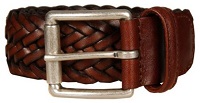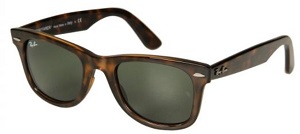 The Complete Look
When we put the whole look together, there's a clear logic behind our choices. The boxier cut of the jacket, the straight fit chinos and the volume of the puffer vest align with the blockier silhouette of the running shoes. Each article of clothing also picks up on a key color in our core piece. But nothing comes across as being too "matchy-matchy". And the textures also work well together. The heavier natural fabrics like cotton, wool and leather coordinate with the suede in footwear while the smoother material of the jacket and vest play off the sporty design of the sneakers and the green nylon. Throw in a basic grey t-shirt, like this one is from Fred Perry and something like this Maison Kitsune watch cap to keep your head warm and you're all set to go!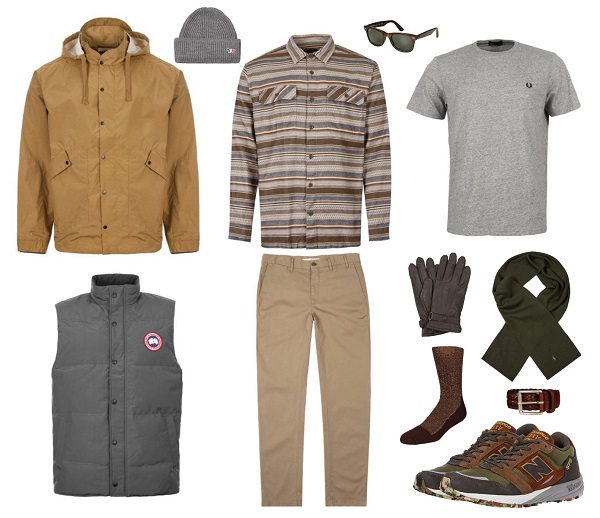 This is a non-sponsored post. Neither Iconic Alternatives nor the author received any compensation or remuneration, financial or otherwise, for the inclusion of the above products in this post. However, Iconic Alternatives does use affiliate links on our site. So clicking on one of the links above may result in us receiving a commission from the vendor. You can learn more about our use of affiliate links on this page. The featured image for this post was sourced from BAMF Style.