Quantum of Solace Black Shawl Collar Cardigan
Updated September 21, 2021 – The Quantum of Solace black shawl collar cardigan that Bond wore with his Levi's STA-Prest jeans and Church's Ryder III suede chukkas during his visit to Mathis's villa quickly became an iconic sweater. The QoS version was provided by Tom Ford, but Bond wore a similar cardigan in Casino Royale. And Daniel Craig's character in The Girl with the Dragon Tattoo also sported one.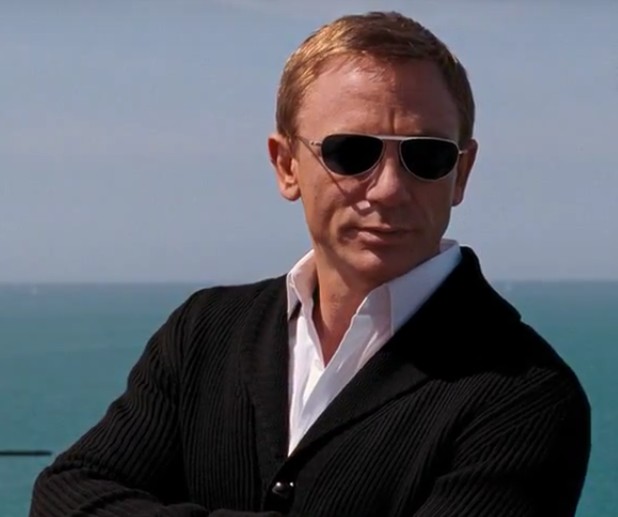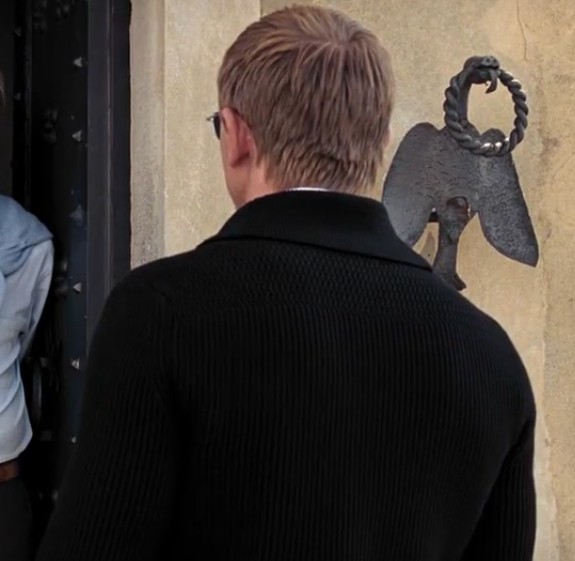 Features Wanted for the Quantum of Solace Black Shawl Collar Cardigan   
Shawl collar style
Rib knit texture
Black leather buttons
Two front, patch-style pockets
Best Option for the Quantum of Solace Black Shawl Collar Cardigan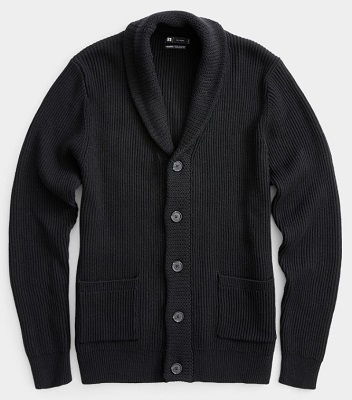 Our "Best Option" once again. Coming to us from the venerable Canadian retailer, it uses a 100% organic cotton yarn and includes contrasting knit around the collar and placket to give it some visual interest. And the price is right in the middle of the pack. You'll need to replace the buttons for a screen accurate look, but that's true of almost all the options out there. Pick up some like these ones and it should be an easy fix. While cotton won't be as warm as wool, I'd still be happy to wear this for a boat ride on a cool early fall evening. Simons is down to sizes small to large on their website. But don't worry: we have plenty of other great options for you larger gentlemen below!
Under $100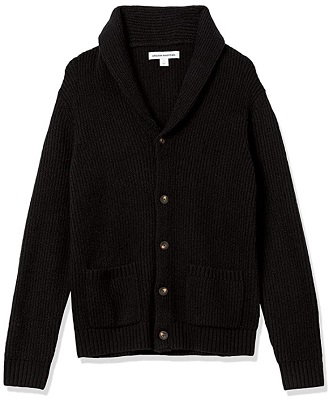 Basic and affordable. As we'd expect from Amazon's in-house "Essentials" line. Of course you'll need to change the buttons for the screen-accurate look. But it does have the thicker ribbed knit and patch pockets we want. The yarn is a (ready for this?) 56% cotton, 23% polyester, 18% acrylic and 3% Spandex blend. And it also comes in an Ivory, just in case you want to go for that Daniel Craig casual look. If you keep your expectations in check, this could be a solid option.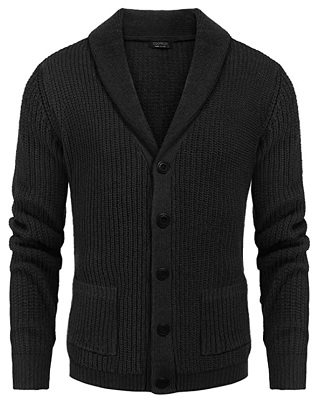 If you're looking for an "easy to care for" alternative, this is it. COOFANDY (that name!) has gone with a 100% synthetic yarn. Which should keep things relatively low maintenance. However, they do recommend giving this a wash before you wear it. Why, you ask? Because (according to the reviews) if you don't, it'll shed fibers like crazy the first time you wear it. Not good when it's being layered over a crisp white shirt! The other thing to note is the sizing. Unexpectedly (for me at least), it's almost oversized. So there's plenty of recommendations to order a size down from your normal size. Now, having focused on the weird/negative, I will say that it's sitting with 4.4 out of 5 stars after more than 700 reviews. So it's obviously making more than a few folks happy!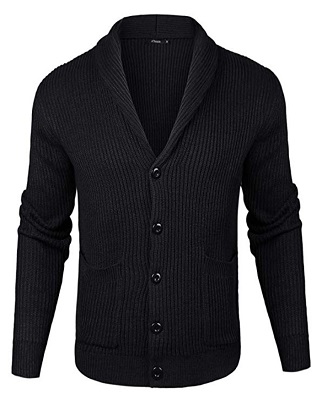 Another solid find on Amazon. The yarn for this one is a slightly nicer 65% wool/35% polyester blend and it has the ribbed knit style and patch pockets to match the original. And it currently has 4.2 out of 5 stars on Amazon, with most of the complaints focused on the sizing. So make sure you double check their size chart before you order. Amazon U.S. and UK have almost all sizes in stock.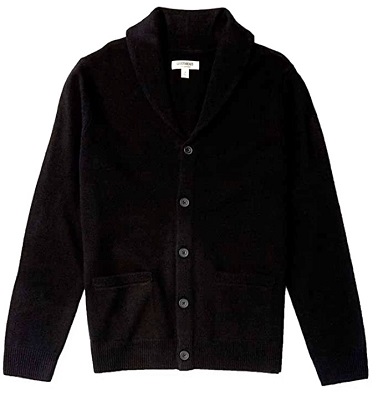 Goodthreads is supposed to be Amazon's higher end casual clothing line, their answer to J.Crew and Banana Republic if you will. And honestly, the few pieces I have from them haven't been half bad. But I did try out some of their knitwear using the Prime Wardrobe option and I can't say I was impressed. The lamb's wool knit is definitely on the thin side. And the fit was a little weird (long body and sleeves, but very trim through the chest). If you're looking for a lighter weight cardigan for around-the-house use, there are worse options out there. But I'd be more tempted to try their newer (and cheaper) Essentials piece.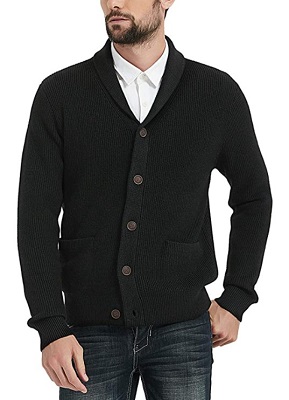 Yep, yet another alternative from Amazon. This time we're getting a 50% polyester, 20% Merino wool, 15% acrylic and 15% nylon blend yarn. Other than that, the design details are pretty similar to the other options above. Amazon has plenty of sizes in stock, and the cardigan is certainly well rated, with 4.7 stars out of 5 after 244 reviews.
Under $200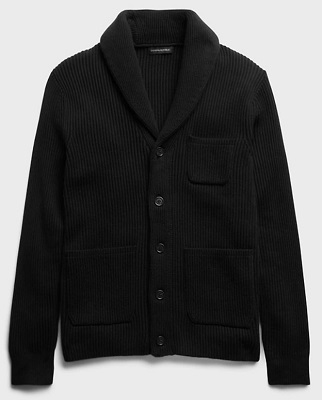 A great suggestion from our AJB007 friend armenianmovieman. And it's a solid "alternative with a twist" for Bond's Quantum of Solace cardigan. We get the ribbed knitting (made from 100% Supima cotton), the heavier collar and the patch hip pockets. The addition of the chest pocket, while not screen accurate, is a nice touch in my opinion and doesn't ruin the simple sophistication of the style. I've tried this one on in-store and the fit is trim but true to size. It's also a pretty darn substantial knit. Banana Republic's Friends and Family sale had it going for 46% off. That's over now, but fingers crossed another sale will come along soon. Sizes small to XXL are in stock on their website.
The Investment Pieces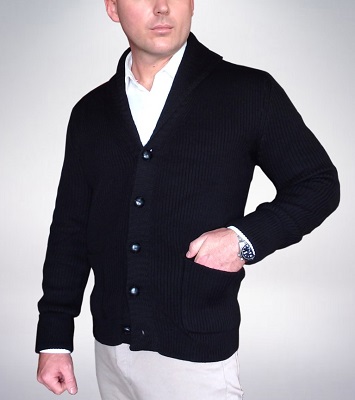 An investment in both money and patience. But boy, does Daniel Love's ROYALE Filmwear do a top notch job of reproducing our favorite Bond pieces! Seriously, I haven't been disappointed with a single item I've received from him. So if you want a high quality piece of knitwear with near perfect screen accuracy, then the price and the wait will be worth it. Daniel currently only has a size XXL available on his website for this 100% Merino wool beauty. But it seems like he does a new production run at least once a year. And with each new version he makes little tweaks to improve the fit and details. My advice is to send ROYALE Filmwear an email for the latest updates. Daniel is very good with his communication and he'll give you plenty of heads up when it's time to get one.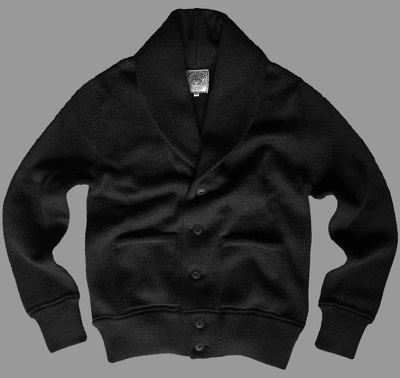 I wouldn't call it screen-accurate. But it is an impressive looking piece of knitwear! Made from a 100% British wool in a thick 5 gauge knit, it features an extra-wide shawl collar and natural corozo nut buttons. And even though shipping costs are extra, if you're in the EU or U.S. 20% should be taken off the price due to the UK VAT deduction. Just make sure to check the size chart before ordering!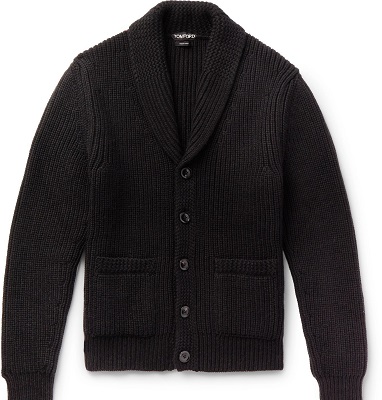 I believe this is the latest iteration of the Bond cardigan, now made with a 75% cashmere, 25% mohair blend yarn. Just leaving it here in case anyone is looking for something ridiculously cozy to wear around the house ….
I'll keep looking for alternatives for the Quantum of Solace black shawl collar cardigan and add them as find them. In the meantime, if you have an alternative for the Quantum of Solace black shawl collar cardigan, tell us about in the comments. You can also visit our Facebook page, Instagram account and Pinterest Boards for more Bond and McQueen style advice and inspiration.