Tom Ford Ivory Shawl Collar Cardigan
We have a new version of this post with all new alternatives! You can see it here – Way back in November of 2008, GQ UK published an interview with Daniel Craig to promote Quantum of Solace (you can read a reprint of that interview here). And as part of the photoshoot for that article, Mr. Craig wore a Tom Ford ivory shawl collar cardigan. That same cardigan in black would be worn during the Mathis Villa scenes in Quantum of Solace. And the rest is knitwear history.
While finding affordable alternatives for the black shawl collar cardigan has been an obsession around these parts for a while (okay, my obsession!), that cream/ivory colored version also deserves a serious look.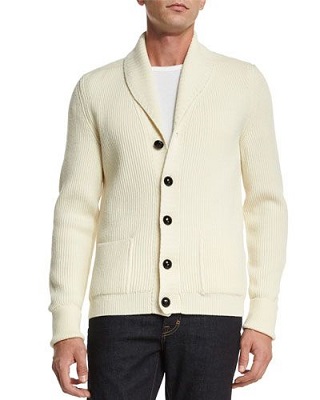 And why is it deserving of attention you may ask? Because it looks really cool! The cream/ivory color evokes the classic Aran knit fisherman's sweater. But the simpler rib knit gives the sweater a more streamlined, less busy attitude. It's like a perfect mix of rustic traditional and urbane. And it looks great with a plain white shirt and jeans.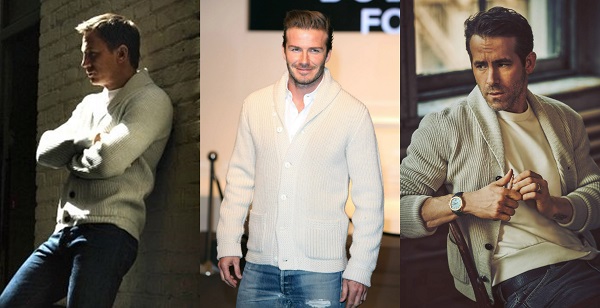 And I even tried my own take on the look using a now sold out cotton alternative from Celio: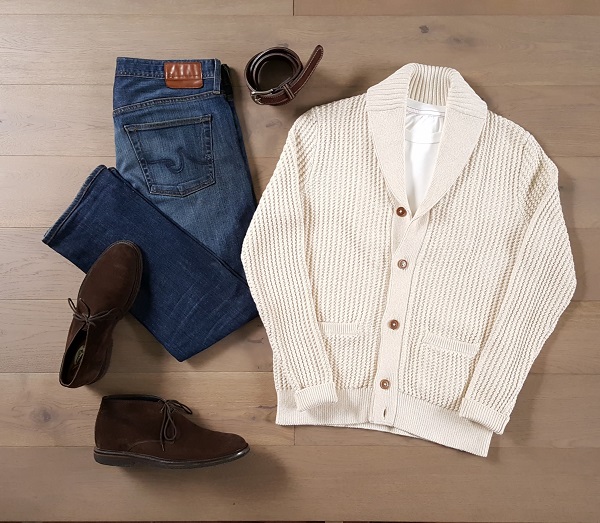 This has quickly become one of my favorite looks to just throw on for a casual night out. I just need to be careful not to spill anything on myself!
Features Wanted for the Tom Ford Ivory Shawl Collar Cardigan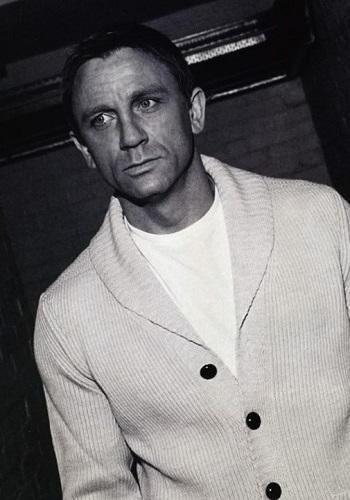 Rib knit texture
Five button closure with black leather buttons
Patch hip pockets
So basically everything we want from the Quantum of Solace cardigan. But in cream/ivory.
Best Option for the Tom Ford Ivory Shawl Collar Cardigan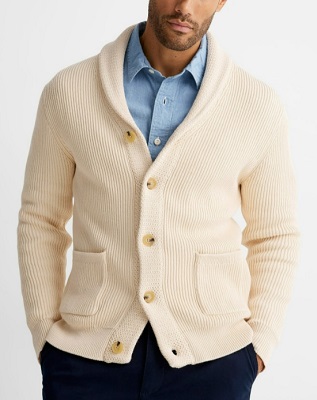 The black version of this one regularly gets a shout out in our post on alternatives for the Quantum of Solace cardigan. But the Ivory one is also worth a looksie. From a style perspective, it probably comes closer to the original Tom Ford cardigan than any of the others on this list. We get a great color match, the patch pockets, the thicker ribbing with some contrasting pattern at the collar. The fact that they've used a 100% organic cotton yarn is also a nice touch. So lots to like for the price! All that's needed is to swap out the buttons for some black leather ones. Simons has sizes small to XXL on their website.
Under $100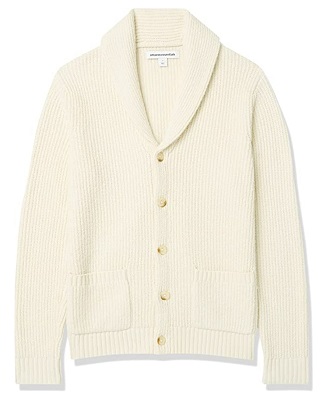 The price is definitey wallet friendly. But what about the quality? The Primer website has an indepth reveiw of the cardigan (in black) that details the good and the bad. The good? It actually offers decent value for the money (if you keep your expectations in check). The Bad? Sizing runs large and it has a tendency to pill like crazy. Those points are also reflected in the customer comments on Amazon, where the cardigan currently has 4.5 stars out of 5 after 467 reviews. If you're just looking for some knitwear for occassional casual use, this one could be a solid choice.
Under $200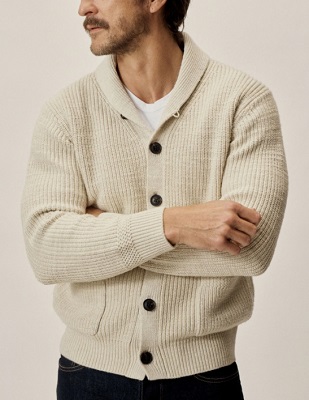 With its high buttoning placket and slightly slubbier 100% cotton 5 gauge knit texture, this one definitely leans more "casually rugged". But Buck Mason has still added some interesting touches (like the constrasting knit pattern around the cuffs) that show a real attention to detail. As the name says, the color is a more earthy natural neutral than cream or ivory. But overall, I'm loving the look if you're after an "inspired by" piece of knitwear. I should also mention that our AJB007 friend armenianmovieman discovered this one around the same time I did. So I want to give him some credit for sharing his find!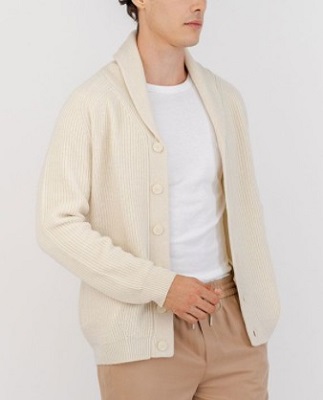 Not the cheapest alternative on this list. But when it comes to value for money, the Grana cardigan certainly makes a strong argument for investing a little extra to get a LOT more. They've used an undyed 100% Mongolian cashmere yarn. Which means the sweater is going to be warm and incredibly soft while still having some heft to it. Design-wise, it's missing the patch front pockets (they're side entry) and the black leather buttons of the original. However, we are getting that wide shawl collar and a great knit pattern and color match. It ain't easy finding a good quality cashmere sweater at this price. So I'd definitely recommend giving this one a look if you're on the hunt for some truly luxury knitwear. Grana has sizes XS to XL in stock on their website.
Do you have any alternatives for the Tom Ford Ivory Shawl Collar Cardigan you'd like to share? That's what the comments are for! And please check out our Facebook page, Instagram account and Pinterest Boards for more Bond and McQueen style advice and inspiration!