Tom Ford Ivory Shawl Collar Cardigan
Updated March 31st, 2022 – Way back in November of 2008, GQ UK published an interview with Daniel Craig to promote Quantum of Solace (you can read a reprint of that interview here). And as part of the photoshoot for that article, Mr. Craig wore a Tom Ford ivory shawl collar cardigan. That same cardigan in black would be worn during the Mathis Villa scenes in Quantum of Solace. And the rest is knitwear history.
While finding affordable alternatives for the black shawl collar cardigan has been an obsession around these parts for a while (okay, my obsession!), that cream/ivory colored version also deserves a serious look.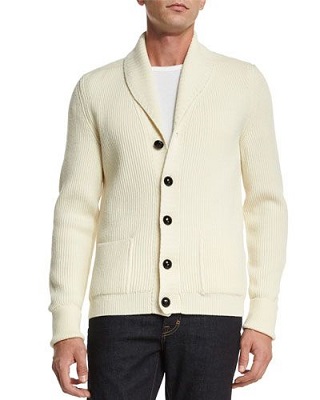 And why is it deserving of attention you may ask? Because it looks really cool! The cream/ivory color evokes the classic Aran knit fisherman's sweater. But the simpler rib knit gives the sweater a more streamlined, less busy attitude. It's like a perfect mix of rustic traditional and urbane. And it looks great with a plain white shirt and jeans.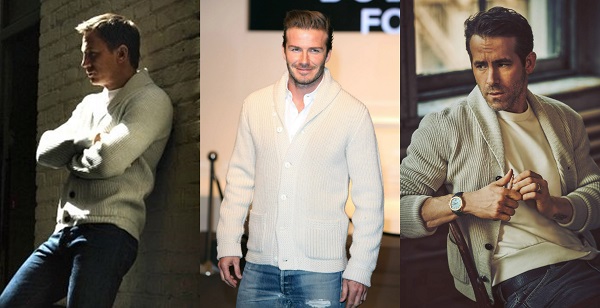 And I even tried my own take on the look using a now sold out cotton alternative from Celio: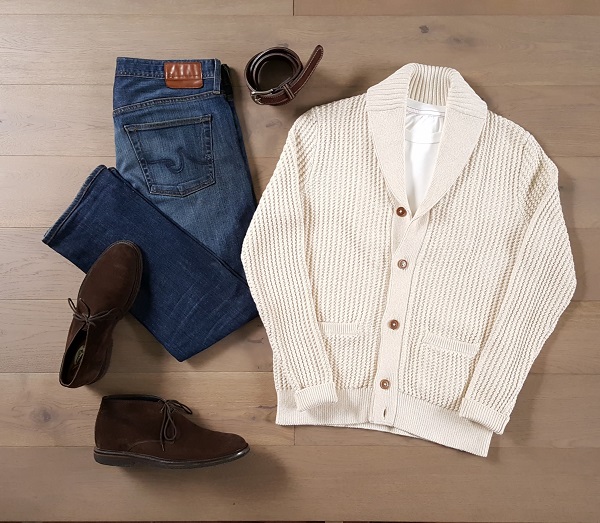 This has quickly become one of my favorite looks to just throw on for a casual night out. I just need to be careful not to spill anything on myself!
Features Wanted for the Tom Ford Ivory Shawl Collar Cardigan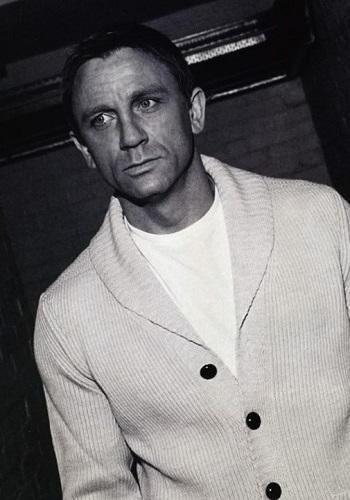 Rib knit texture
Five button closure with black leather buttons
Patch hip pockets
So basically everything we want from the Quantum of Solace cardigan. But in cream/ivory.
Best Option for the Tom Ford Ivory Shawl Collar Cardigan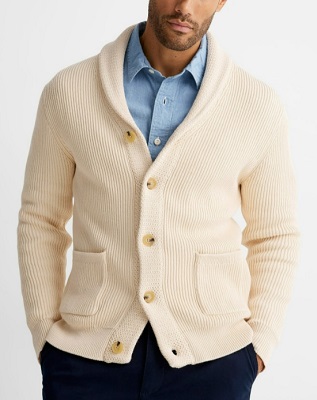 The black version of this one regularly gets a shout out in our post on alternatives for the Quantum of Solace cardigan. But the Ivory one is also worth a looksie. From a style perspective, it probably comes closer to the original Tom Ford cardigan than any of the others on this list. We get a great color match, the patch pockets, the thicker ribbing with some contrasting pattern at the collar. The fact that they've used a 100% organic cotton yarn is also a nice touch. So lots to like for the price! All that's needed is to swap out the buttons for some black leather ones. Simons has sizes small to XXL on their website.
Under $100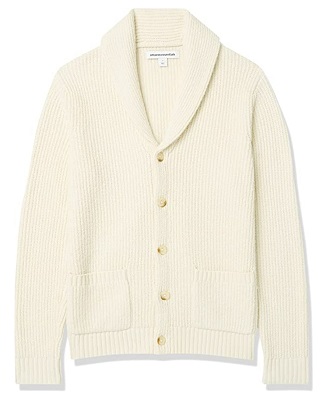 The price is definitey wallet friendly. But what about the quality? The Primer website has an indepth reveiw of the cardigan (in black) that details the good and the bad. The good? It actually offers decent value for the money (if you keep your expectations in check). The Bad? Sizing runs large and it has a tendency to pill like crazy. Those points are also reflected in the customer comments on Amazon, where the cardigan currently has 4.5 stars out of 5 after 467 reviews. If you're just looking for some knitwear for occassional casual use, this one could be a solid choice.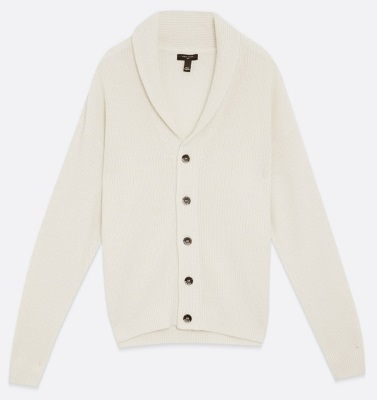 This one is sold out on the New Look website. But ASOS U.S. still has all sizes in stock at post time and ASOS UK has sizes small to large. 100% acrylic yarn and a slightly oversized fit make this more of a "fashion" cardigan. But it still checks a lot of the right "Features Wanted" boxes at an affordable price.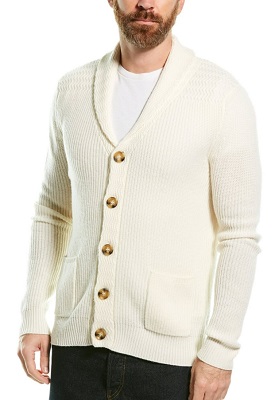 When it comes to great deals, this one is probably the winner on the list. It originally retailed for $308. So that 75% discount is pretty big deal. As for the details, it's made with a 90% Merino wool and 10% cashmere yarn and features some great contrasting knit patterns to give it a more refined, upscale look. So what's the problem? GILT only has size medium left in stock. However, if that's your size I'd same jump on this one before it's gone!
Under $200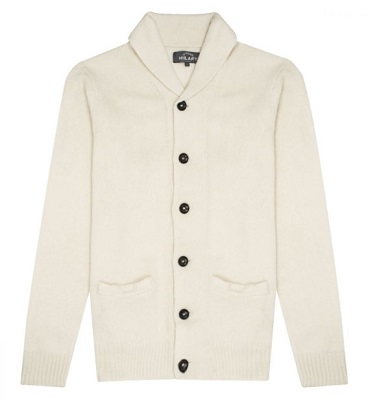 This one requires a little back story. Some of you may be unaware that New Zealander Sir Edmund Hillary and his partner Tenzing Norgay were the first people to summit Mount Everest (Chomolungma in Tibetan and Sagarmatha in Nepalese) on May 29th, 1953. After this historic achievement, both men continued to build on their legacies by devoting their energies to improving the lives of the people of Nepal. This led to the creation of the Sir Edmund Hillary Foundation, which is still working with local organizations to help build hospitals, schools and develop infrastructure in the region.
The Edmund Hillary brand was co-founded with the direct involvement of the Hillary family and donates a percentage of each sale to one of the causes close to Sir Edmund's heart. It's clothing designs are inspired by the heritage mountaineering and sportswear of the 1950s, with most of the manufacturing done in Great Britain and New Zealand. For example, the cardigan above is made from 100% British Lambswool in Yorkshire. I've linked to the Edmund Hillary brand website above for the sweater and to see more from their collection. They definitely have some cool pieces!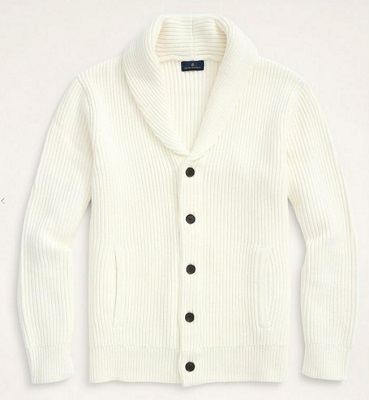 If you like your cardigans with a more substantial collar, this one will deliver the coziness. Made from 100% cotton, it's missing the patch pockets. But it does have the darker buttons (plastic, not leather). And it definitely has the rugged yet sophisticated look we want. The Heather Grey or Charcoal versions would also make great alternatives for Craig's Prada Cardigan.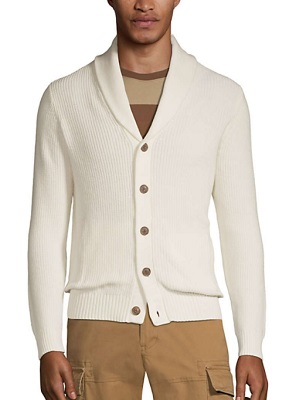 A new entry this year from the American Trad retailer. It terms of the styling, it's very similar to the Brooks Brothers option above. But the collar isn't quite as chunky, which gives this 100% cotton Lands' End cardigan a look that's closer to the original Tom Ford. About the price: At full retail, it's still a pretty good deal. But Lands' End regularly runs codes that can bring the price waaaaay down. Just a couple of days ago, this one was going for under fifty bucks! Since they still have a full run of sizes in stock, it's worth waiting for a discount.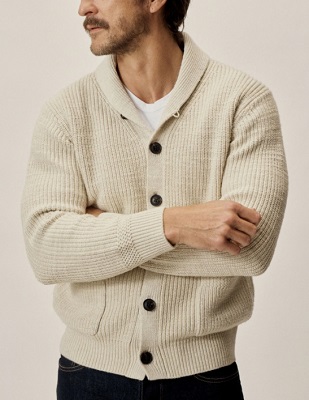 With its high buttoning placket and slightly slubbier 100% cotton 5 gauge knit texture, this one definitely leans more "casually rugged". But Buck Mason has still added some interesting touches (like the constrasting knit pattern around the cuffs) that show a real attention to detail. As the name says, the color is a more earthy natural neutral than cream or ivory. But overall, I'm loving the look if you're after an "inspired by" piece of knitwear. I should also mention that our AJB007 friend armenianmovieman discovered this one around the same time I did. So I want to give him some credit for sharing his find!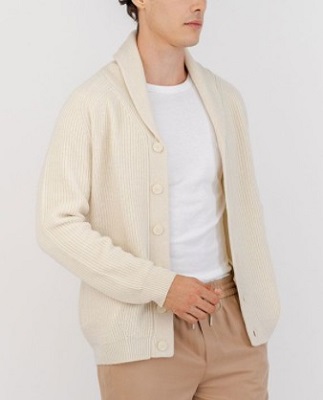 Not the cheapest alternative on this list. But when it comes to value for money, the Grana cardigan certainly makes a strong argument for investing a little extra to get a LOT more. They've used an undyed 100% Mongolian cashmere yarn. Which means the sweater is going to be warm and incredibly soft while still having some heft to it. Design-wise, it's missing the patch front pockets (they're side entry) and the black leather buttons of the original. However, we are getting that wide shawl collar and a great knit pattern and color match. It ain't easy finding a good quality cashmere sweater at this price. So I'd definitely recommend giving this one a look if you're on the hunt for some truly luxury knitwear. Grana has sizes XS to XL in stock on their website.
Do you have any alternatives for the Tom Ford Ivory Shawl Collar Cardigan you'd like to share? That's what the comments are for! And please check out our Facebook page, Instagram account and Pinterest Boards for more Bond and McQueen style advice and inspiration!