Daniel Craig Ivory Shawl Collar Cardigan
Way back in November of 2008, GQ UK published an interview with Daniel Craig to promote Quantum of Solace (you can read a reprint of that interview here). And as part of the photoshoot for that article, Mr. Craig wore a Tom Ford ivory shawl collar cardigan. That same cardigan in black would be worn during the Mathis Villa scenes in Quantum of Solace. And the rest is knitwear history.
While finding affordable alternatives for the black shawl collar cardigan has been an obsession around these parts for a while (okay, my obsession!), that cream/ivory colored version also deserves a serious look.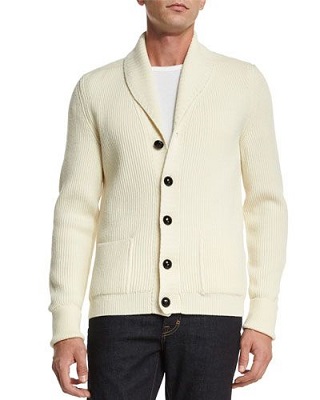 And why is it deserving of attention you may ask? Because it looks really cool! The ivory color evokes the classic Aran knit fisherman's sweater. But the simpler rib knit gives the sweater a more streamlined, less busy attitude. It's like a perfect mix of rustic traditional and urbane. And it looks great with a plain white shirt and jeans.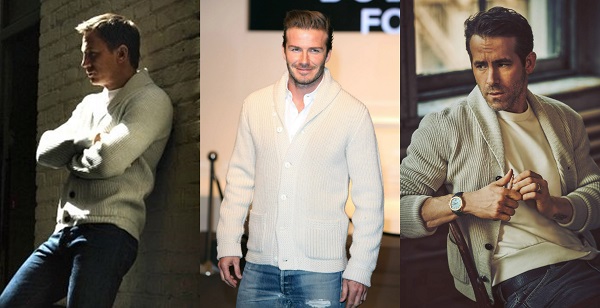 And I even tried my own take on the look using a now sold out cotton alternative from Celio: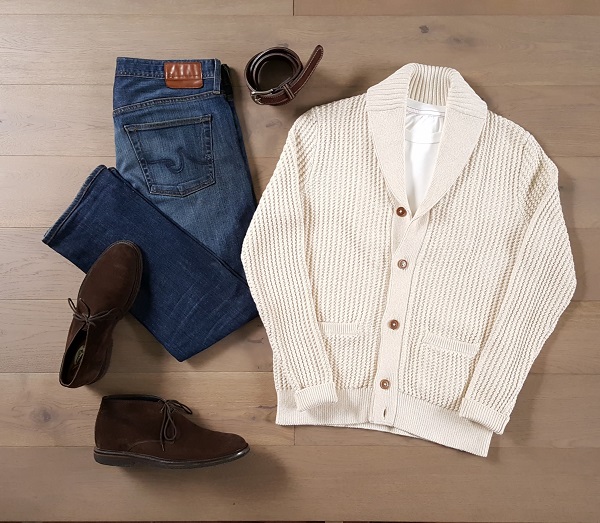 This has quickly become one of my favorite looks to just throw on for a casual night out. I just need to be careful not to spill anything on myself!
Features Wanted for the Daniel Craig Ivory Shawl Collar Cardigan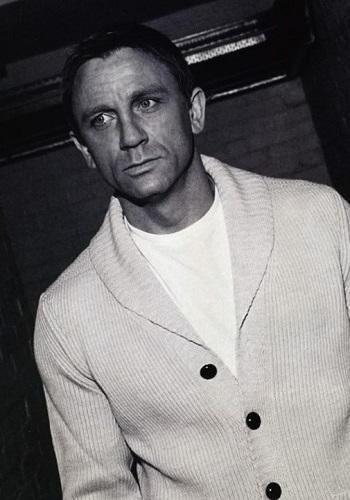 Rib knit texture
Five button closure with black leather buttons
Patch hip pockets
So basically everything we want from the Quantum of Solace cardigan. But in cream/ivory.
The Replica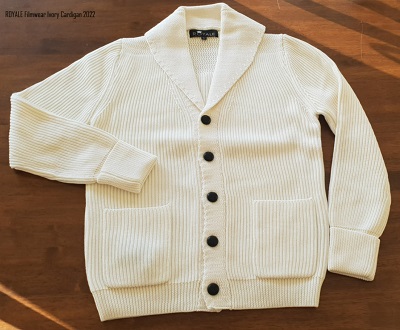 ROYALE Filmwear owner Daniel Love took his fan favorite Quantum of Solace inspired Talamone cardigan and made it in Ivory. So we get all the correct details (contrasting knit patterns, black leather buttons, longer cuffs and a trimmer fit) in a beautifully soft 100% Merino wool. If you're willing to make the investment, it'll deliver pretty much everything we're looking for. Sizes XS to XXXL are available on the website.
Best Option for the Daniel Craig Ivory Shawl Collar Cardigan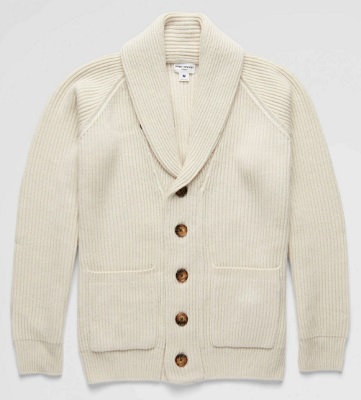 With it's heavier knit, thicker collar and raglan sleeves, it may not be the most accurate alternative. Or the most affordable. But Spier & Mackay are offering a lot of value for the money here. Made from a 4-ply Australian Merino wool yarn, it has a slightly oversized fit and some serious weight to it. It won't have the streamlined elegance of the original. However, it could be the perfect cold and rainy day cardigan. And the price is a couple of hundred dollars less than comparable knitwear. They have sizes XS to XXL in stock. Just note that these things tend to sell out fast!
Under $100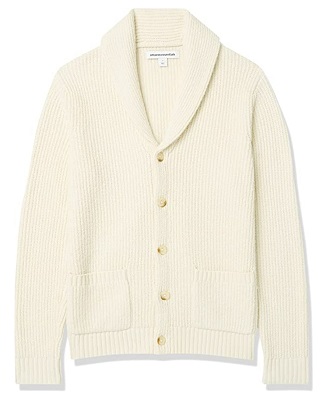 The price is definitey wallet friendly. But what about the quality? Primer Magazine has an indepth reveiw of the cardigan (in black) that details the good and the bad. The good? It actually offers decent value for the money (if you keep your expectations in check). The Bad? Sizing runs large and it has a tendency to pill like crazy. Those points are also reflected in the customer comments on Amazon, where the cardigan currently has 4.5 stars out of 5 after almost 700 reviews. If you're just looking for some knitwear for occassional casual use, this one could be a solid choice.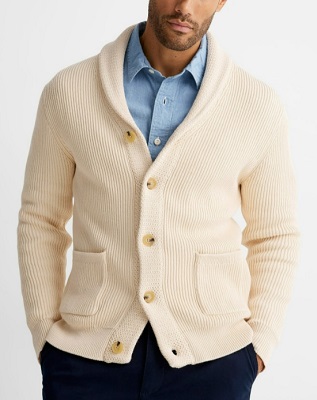 The black version of this one regularly gets a shout out in our post on alternatives for the Quantum of Solace cardigan. But the Ivory one is also worth a looksie. From a style perspective, it probably comes closer to the original Tom Ford cardigan than any of the others on this list. We get a great color match, the patch pockets, the thicker ribbing with some contrasting pattern at the collar. The fact that they've used a 100% organic cotton yarn is also a nice touch. So lots to like for the sale price! All that's needed is to swap out the buttons for some black leather ones. Simons has sizes small to XXL on their website.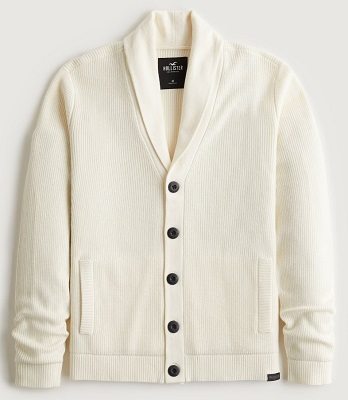 Like it's mall brand brethen (Abercrombie & Fitch, AEO, etc.), it looks like Hollister is starting to offer some pieces targeted at a more mature customer. While there are still plenty of logo loaded sweatshirts and tees in their collection, this shawl collar cardigan keeps things simple. Made from 60% cotton and 40% polyester yarn, it has the black buttons and a decent ribbed knit. But the collar and placket have a much smoother texture. Some of you may like the contrast. Others, not so much. They have sizes XS to XXL on their website.
Under $200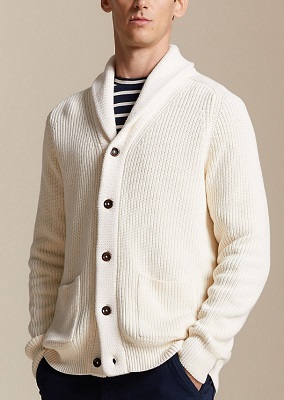 With it's black buttons and contrasting knit pattern around the collar and placket, this 100% cotton piece could easily have been our "Best Option". The problem? M&S are down to sizes large to XXXL. Which leaves us size small and medium guys out of luck. However, if you're on the larger/taller side, I'd say thumbs-up to giving it a try. The customer reviews are also very positive!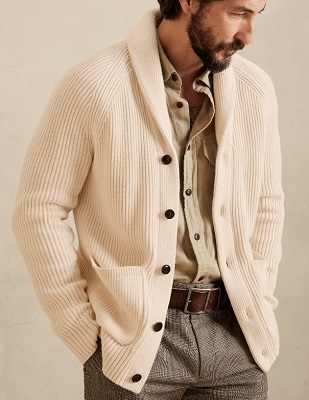 IMHO, Banana Republic has been on a roll these last couple of seasons. The company was started in 1978 as a travel and safari outfitters before being bought out by Gap in 1983 and turned into an ubiquitous mall brand. Now it's tapping into its archives for inspiration. And that's resulted in the launch of some very interesting and … yes, I'll say it … cool pieces, featuring unique fabrics and fun design details that combine a real heritage feel with more contemporary fits and styling. This particular cardigan is one of their safer offerings, a classic take on the shawl collar cardigan that doesn't try to fix what ain't broken. The fit is a little slouchier and longer than Craig's cardigan. But it still delivers a rugged elegance that can work with most fits. Sizes XS to XXL are available on their website.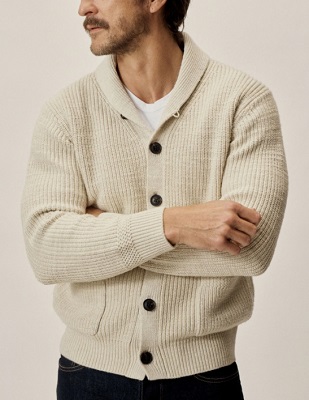 With its high buttoning placket and slightly slubbier 100% cotton 5 gauge knit texture, this one definitely leans more "casually rugged". But Buck Mason has added some interesting touches (like the constrasting knit pattern around the cuffs) that show a real attention to detail. As the name says, the color is a more earthy natural neutral than cream or ivory. But overall, I'm loving the look if you're after an "inspired by" piece of knitwear. I should also mention that our AJB007 friend armenianmovieman discovered this one around the same time I did. So I want to give him some credit for sharing his find!
Under $300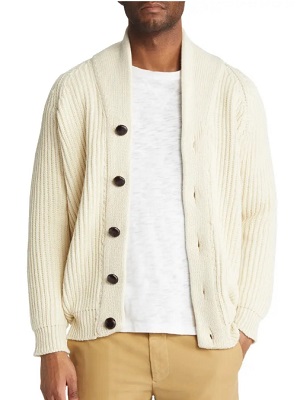 If you're willing to forgo the pockets and are okay with raglan sleeves, this option from heritage knitwear maker Peregrine definitely packs a lot of bang for the buck. Made in Manchester, England from 100% Merino wool, it comes with black leather buttons and slightly shorter, trimmer fit. It also has a higher top button stance than some of the other options on this list, which helps give us the look we want. Nordstrom has sizes medium to XXL in stock.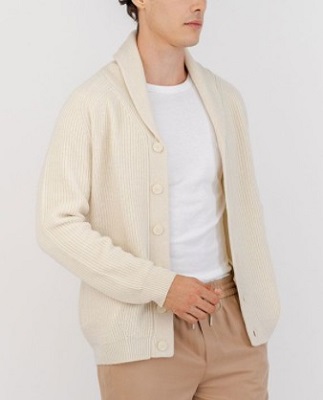 Not the cheapest alternative on this list. But when it comes to value for money, the Grana cardigan certainly makes a strong argument for investing a little extra to get a LOT more. They've used an undyed 100% Mongolian cashmere yarn. Which means the sweater is going to be warm and incredibly soft while still having some heft to it. Design-wise, it's missing the patch front pockets (they're side entry) and the black leather buttons of the original. However, we are getting that wide shawl collar and a great knit pattern and color match. It ain't easy finding a good quality cashmere sweater at this price. So I'd definitely recommend giving this one a look if you're on the hunt for some truly luxury knitwear. Grana has sizes XS to XL in stock on their website.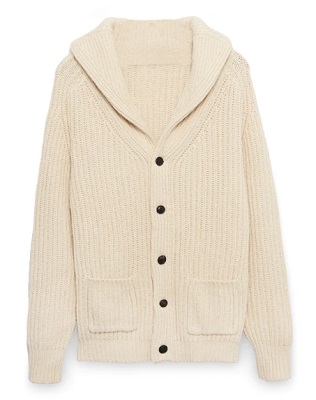 Guideboat is one of those companies that tends to fly under most people's radar. But they always seem produce well-thought-out pieces that manage to put an interesting spin on more traditional designs. Three hundred bucks is a pretty steep price for a 100% cotton cardigan. But it features some nice contrasting knit patterns that really elevate the look. They have sizes medium to XL in stock.
The Investment Piece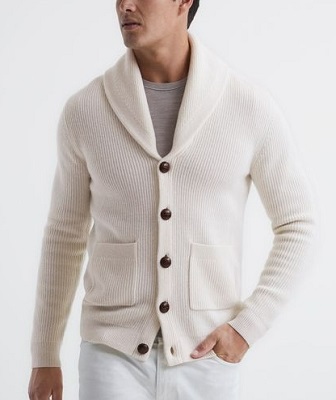 It delivers almost exactly the look we want in a luxurious 100% cashmere knit. Of course you're going to have to pay up for all that. Especially if you're in the U.S. Reiss has sizes XS to XXL in stock.
Do you have any alternatives for the Daniel Craig Ivory Shawl Collar Cardigan you'd like to share? That's what the comments are for! And please check out our Facebook page, Instagram account and Pinterest Boards for more Bond and McQueen style advice and inspiration!