Why You Need a Madras Shirt This Summer
Judging by the Fall/Winter menswear collections recently released by J.Crew and Brooks Brothers, it looks like "Preppy" will be making a big comeback once the temperatures start to drop. However, we're currently still smack dab in the middle of one of hottest summers on record. So what can we do if want to weave some of that Ivy inspired style into our warm weather looks? We find ourselves a great Madras shirt, of course!
What is Madras?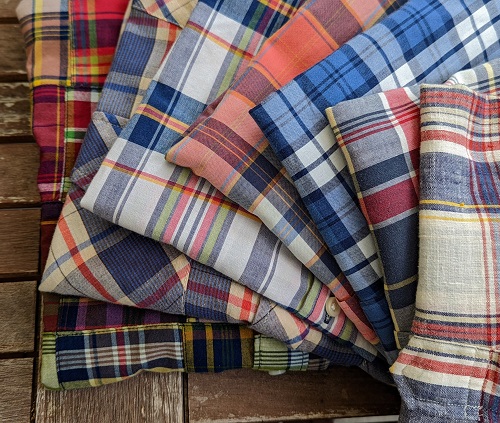 Madras is a very lightweight, handwoven cotton fabric sourced from Chennai, India. Aside from it's breathability and airiness, which makes it the perfect material for hot and humid weather, most people know it for its distinctive, often brightly colored plaid patterns. First introduced into Europe in the early 1600s, the history of the fabric is long and can get a little convoluted (Heddels has a great write-up on it here). For this article, we're just going to focus on Madras's period of peak popularity in the U.S.A., from about 1930 to the mid-1980s.
Madras and Men's Style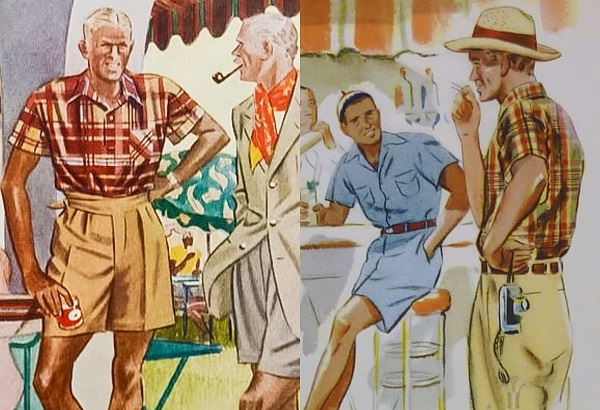 As we mentioned in our article on Style Icons from the Golden Age of Hollywood, in the 1930s and 40s, authentic Madras fabric was something of a status symbol, a sign that one had the wealth to travel to far away places (or least to the then English-controlled Bahamas). But things got really interesting in 1958. That year, Brooks Brothers ordered 10,000 yards of Madras fabric from India to keep up with the growing demand. What the company didn't realize was that the natural vegetable dyes used to give the fabric its vibrant colors would run like crazy unless you followed very specific washing instructions.
Still unaware of the consequences if the Madras wasn't laundered correctly, Brooks Brothers began selling shirts, jackets and pants made from the fabric. Of course, plenty of angry customers were soon complaining that the colors of their new garments had run and faded after just one wash. At first, Brooks Brothers threatened to sue the fabric importer. But rather than follow through on that particular course of action, they instead collaborated on one of the greatest marketing campaigns in modern history: a seven page article in Seventeen Magazine that promoted the "special qualities" of the amazing Madras fabric from India that was "guaranteed to bleed". And so the legend of "bleeding Madras" was born.
Madras and the Ivy Style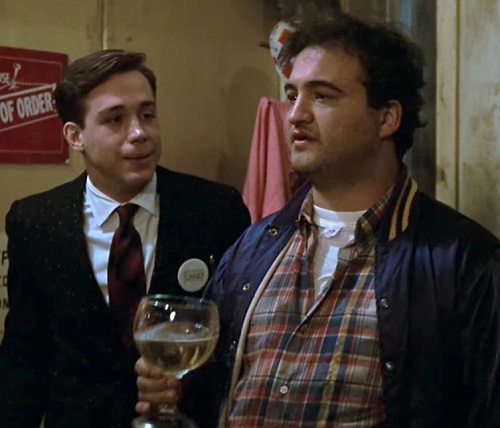 Brooks Brothers "guaranteed to bleed" campaign was a huge hit. And Madras quickly became the summer fabric of choice for Ivy League students across the northeastern U.S. throughout the 1960s and 70s. However it was the publication of Lisa Birnbach's The Official Preppy Handbook in 1980 that really introduced the rest of the country to Madras. The book was meant to be satirical. But plenty of people, eager to escape the synthetic and flashy fashions of the disco era, took it seriously. Suddenly tweed jackets, chinos, Shetland sweaters, OCBDs and Madras shirts were everwhere.
After a solid 10 year run, people eventually moved on from the Preppy look as they do with almost every fashion trend (Whit Stillman's excellent 1990 film Metropolitan does a good job of helping to capping off the era). By the mid-1990s, dressing in the Ivy Style was pretty much of the opposite of "cool". And by the early 2000s, being "Preppy" was treated as a punchline.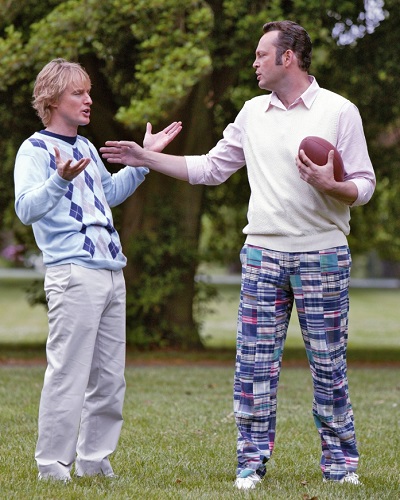 How Madras got its cool back
After some dark decades on the fringes of men's fashion, Preppy style has started staging a comeback over the last few years. The #menswear movement on social media in the early 2010s reignited an interest in traditional tailoring with some added creative styling. And brands like Rowing Blazers, Noah (one of the founders, Brendon Babenzien, is now the head designer for J.Crew), Drake's, Todd Snyder and Aimé Leon Dore have mixed elements of urban street style with the Ivy Trad aesthetic to give Preppy a new twist.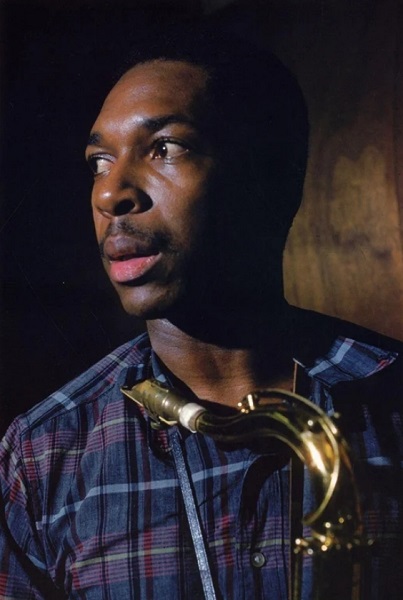 We also need to note the work of some key authors and researchers who have explored the impact of Preppy style beyond the confines of Ivy League campuses. W. David Marx's Ametora: How Japan Saved American Style (2015) investigates how Japanese designers and fashion lovers have obessively preserved the very best of "American traditional". And Jason Jules excellent Black Ivy: A Revolt in Style (2021) offers fascinating insights into the ways Black culture has adopted, subverted and taken ownership of the "Ivy look" to make a social statement.
Long story short, it's safe to say the Preppy look is enjoying a renaissance. And Madras has definitely come along for the ride. Now the question is how do you choose a Madras shirt that's right for your personal style? Below we offer four suggestions to help you narrow down the options.
The Low Key Option
Although most people associate Madras with bold and vibrant plaids, you don't have to go loud to enjoy the benefits of the fabric. Going with a more subtle tone-on-tone plaid or even a solid color lets you stay cool without drawing attention.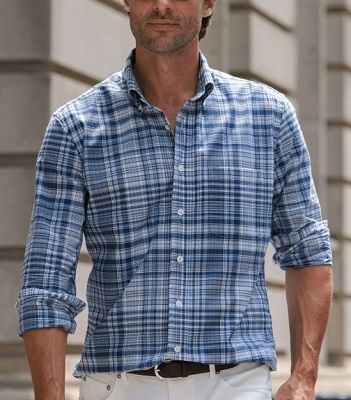 Proper Cloth uses a Madras fabric from Chennai and gives it a wash to soften it up and fade the colors. And that large scale plaid pattern in shades of blue is about as versatile as it gets. The stock model comes with the traditional button down collar. But since this is Proper Cloth, you can customize the design to get exactly the shirt you want.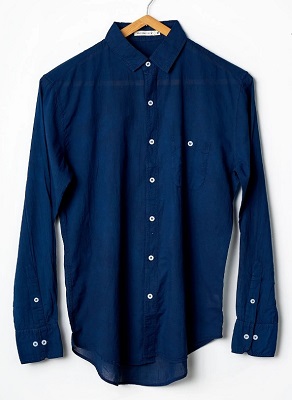 Who said Madras had to be a loud plaid? This is such a simple looking shirt. But there's a LOT that goes into making it. The fabric is a true Madras, made with organic cotton grown in the Indian state of Tamil Nadu (of which Chennai is the captial). The lightweight, open weave fabric is dipped 12 times in a natural indigo dye bath to give it that deep, rich shade of blue. And then it's finished with river shell buttons. IOAN is very committed to sustainable manufacturing processes and fair labor practices and include plenty of information about the work they do on their website.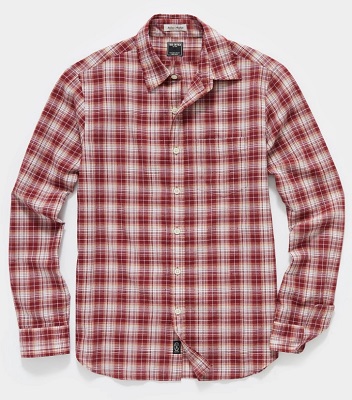 Another tone-on-tone plaid pattern. But the brighter red gives it more of a pop. Todd Snyder makes the shirt in India using authentic Madras cloth and goes with a spread collar rather than the more traditional button for an even more relaxed style. Sizes XS to XXL are available on the Todd Snyder website.
The Traditional Option
When it comes to the classic plaid Madras, there are literally hundreds of plaids in various color combinations to choose from, ranging from more muted blues, reds and greens to brighter pinks, yellows and purples. I've gone with some options below that (I think) strike a nice middle ground. But traditional preppy brands like Brooks Brothers, J.Crew, J.Press and Ralph Lauren offer broad selections to match almost any taste.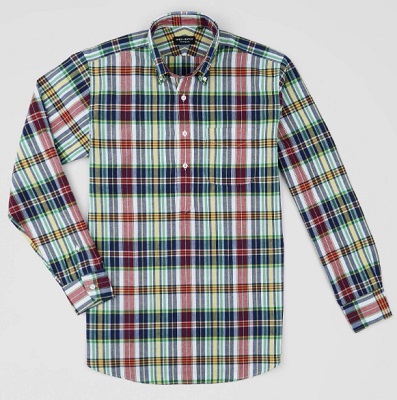 Canadian company Spier & Mackay are relative newcomers to the world of Madras shirts. But they've worked hard to deliver very traditional and authentic designs at an affordable price. The shirting is true Madras from Chennai and the loose fit and popover design keep things airy and relaxed. They have sizes 14.5 to 17.5 in slim and contemporary cuts on their website.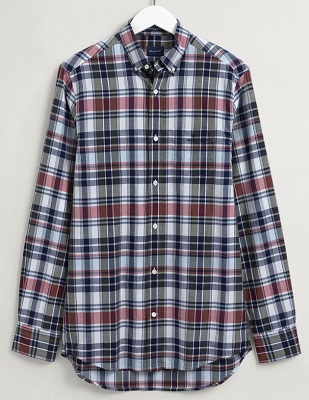 GANT may not be as well-known as Brooks Brothers or Polo. But in the world of Trad style, the company is very respected. Started in 1949 in New Haven, Connecticut, it's built a reputation for delivering high quality shirts that stay true to their Ivy League roots. Their take on the classic Madras shirt includes details like the back collar button, locker loop and boxpleat at the rear. Ironically, those of us in the U.S. cannot currently purchases directly from GANT (which is now based in Sweden). But plenty of 3rd party retailers like Thread, ASOS and YOOX carry their designs.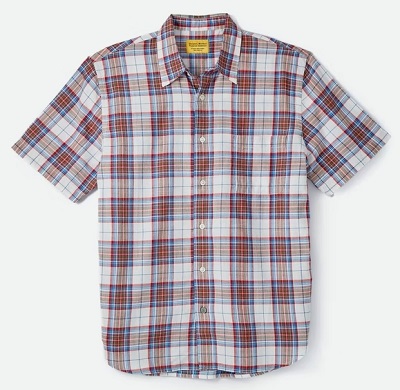 The Original Madras Trading Company started operations in the early 1970s in New York, mainly as a supplier of fabrics to other brands. But they recently launched their own line of shirts, hoodies and gowns, using traditional Madras in some new and interesting designs. This short sleeve model has a more subdued pattern and a spread collar. So it embraces that East Coast heritage without going full preppy. Huckberry has sizes medium to XL available.
The "Go To Hell" Option
It's the statement shirt. Made from numerous small squares of mismatched Madras fabric stitched together to create a patchwork of vibrant colors, it's about as in-your-face as a traditional shirt can get. Yet it's still surprisingly wearable, especially if you keep the rest of the pieces in your look clean and simple. Layer it over a white t-shirt with some faded denim or nicely broken-in chinos and it won't look nearly as LOUD as it does on its own.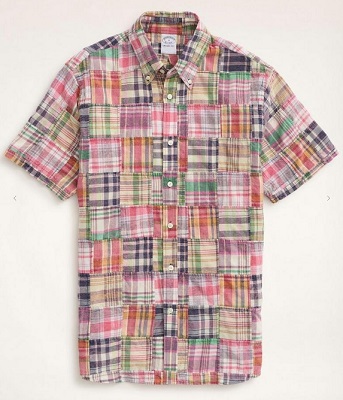 Coming to us from one of the originators of Ivy League style, this option from Brooks Brothers uses a softer color palette that keeps things slightly toned down. But the design details don't get more trad. Sizes XS to XL are in stock.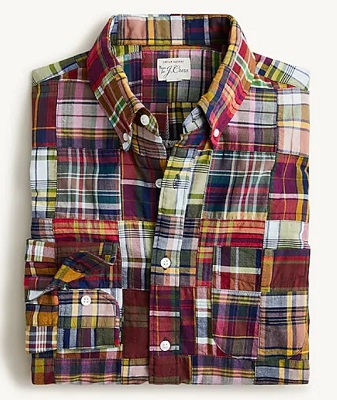 When it comes to Madras, J.Crew offers some of the better bang for the buck options out there. Especially when you can catch one of their frequent discount codes to bring the price down even more. And I have to say I actually really like the mix of patterns in deeper, richer colors that they've used here. They have have sizes small to XL on their website. Just note that some of the customer comments state that the fit runs large.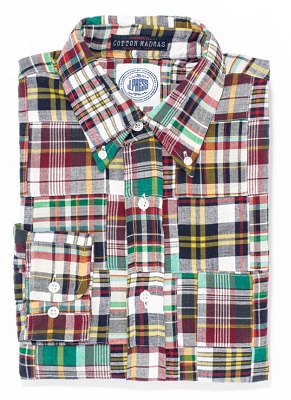 This New Haven, Connecticut based brand has been a bastion of East Coast style for more than a century. And to this day, if you want truly "trad" polos, rugby shirts and chinos, this is where you'd go. J.Press doesn't do tech fabrics, it doesn't do trendy and it doesn't do logos (unless it's for an Ivy League school). Which means its version of the patchwork Madras shirt is as classic and authentic as they come. You can find sizes medium to XXL on their website.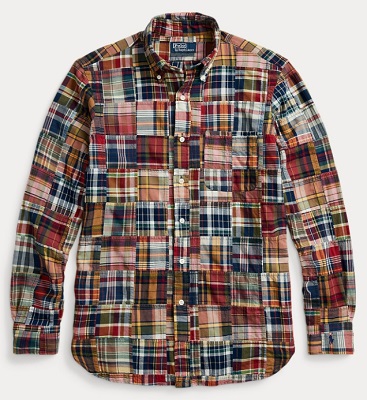 And now one from the brand that brought Ivy League style to the masses. Ralph Lauren has had no problem embracing some of the wilder elements of the preppy look in the past (and I'm sure lime green chinos with an embroided sailboat motif will show up again in the near future). But the brand has kept things relatively sedate this season. So the patchwork Madras shirts on offer are loud, but not that crazy. I've shared the tamer option above, which is currently on sale. If you want something that makes even more of a statement, check out the Custom Fit Patchwork Madras Shirt for $188.00, which includes some very trad details like the rear collar button and a box pleat back with the locker loop.
Something a little different …
While Madras may be a Preppy fabric, the style of the shirt itself doesn't have to be Ivy League inspired. Going with a design that's more of a workwear or western design gives you the benefits of the light and airy material without having to deal with all the cultural baggage that can come with it.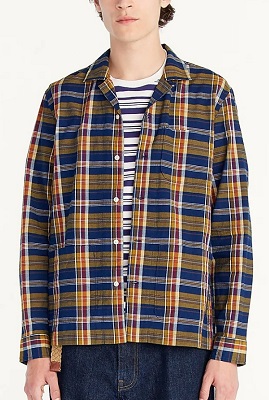 With its boxy cut and patch hip pockets, this is styled more like a cabana shirt (or a very lightweight chore jacket) than a traditional oxford cloth button down. Wear it with some faded denim and leather sandals and you've a great casual look for a cooler summer evening that won't look remotely preppy.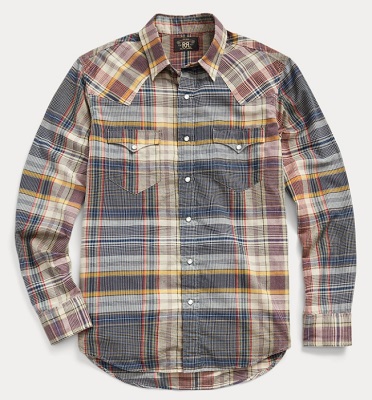 One of the Madras shirts in my collection is an old western style from Salt Valley Western. And I wear the hell out of that thing in the summer. The cowboy inspiration for the design couldn't be further from the buttoned-up Ivy League traditions of the East Coast. But I can still take advantage of the lightweight fabric to keep me cool and comfortable. It's just a really fun way to mix things up when you get a little tired of the 'buttoned down look". This option from Ralph Lauren's Americana inspired RRL line is a great example of what I'm taking about.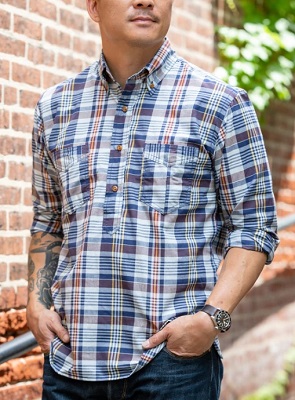 The popover style and loose fit give it a super relaxed vibe. And the combination of the button down collar and double chest pockets is a nice "preppy meets workwear" twist that can work with a lot of fits. But the real story is that new old stock (NOS) Madras fabric in the traditional bleeding colors. Mister Freedom makes the shirt in the U.S. and has added plenty of smaller details like chain-stitch construction and a very retro looking rayon label at the collar. Franklin and Poe have sizes small to XXL in stock.
Know of a great Madras shirt that we missed? Let us know about it in the comments! And remember you can always find more iconic style inspiration on our Facebook page, our NEW Instagram account and on Pinterest!
The shirt shown in the featured image at the top of this post is the John Siimons Davis Madras Popover Shirt (£120.00).