Summer Style Icons: The Golden Age of Hollywood
Welcome to our post on Summer Style Icons: The Golden Age of Hollywood! In this first article in our Summer Style Icons series, we'll be looking at some of the best in warm weather menswear from the 1930s to the 1950s. Let's start by saying that the objective is not to get you cosplaying as some gentleman from the 1940s. Instead we'll be drawing inspiration from the greats like Cary Grant, Gary Cooper, Gene Kelly and Errol Flynn and selecting some key pieces from the period that should be fairly easy to incorporate into a contemporary wardrobe.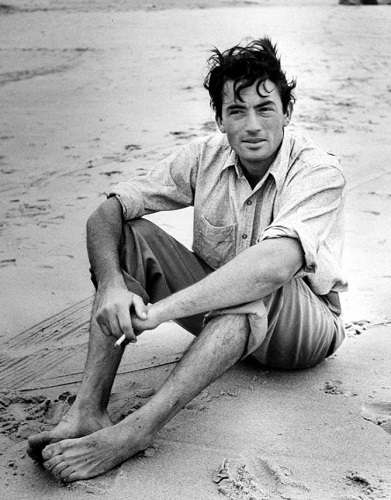 To help us in our task, we turned to Thread.com to find all of the clothing we've used in this article. Since Thread offers designs from hundreds of different brands, the search for the perfect shirt, sweater or pair of trousers was significantly easier. And while they're not sponsoring this post, they are offering some very special deals for Iconic Alternatives readers. If you're new to Thread.com, those of you in the U.S. will receive $30 off your first order of $130 or more; if you're in the UK, you'll get 20% off your first order of £75.00 or more. And when you create your account on Thread using this link you'll be entered into a draw to win a $100 store credit you can use on any item on their site! Update: A big CONGRATULATIONS to Adam Storm (@storm_adam on Instagram) for winning the draw! 
We have more details on all that at the end of this post. Now it's time to go hunting for some summer style inspiration!
Summer Style in Golden Age of Hollywood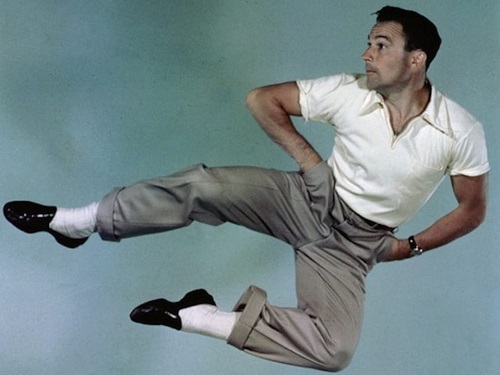 For the purposes of this article, I'm going to focus on the period from about the mid-1930s until the late 1950s. Menswear from that era had some pretty distinctive characteristics. Dramatic shirt collars, high waisted and relaxed fit trousers (both pleated and not), and shorter knitwear with a boxier cut were all part of the style. This was also the time when many of today's iconic style essentials were born: the Baracuta G9, the Lacoste polo shirt, Sperry Top-Siders, acetate sunglasses, Converse Chuck Taylor All Stars and many more.
Finding Inspiration
When we look at that era for style inspiration, it's easy to gravitate to the movie stars and their films. But some of our best records of what men wore at that time are the illustrations from artists like Laurence Fellows and Leslie Saalburg that filled the pages of Apparel Arts and Esquire Magazine. A search for their work will turn up dozens of images that will get your imagination fired up.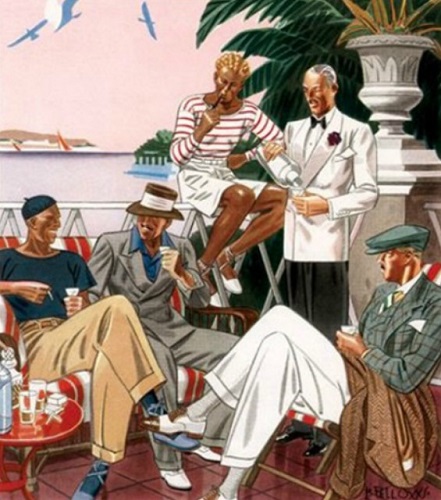 Likewise, there have been countless articles, thought pieces and analyses written on the specifics of men's style in the 1930s, 40s and 50s. Some of my favorites come from Gentleman's Gazette, The Rake, Vintage Dancer and, for a closer look at the various costumes from the movies, BAMF Style and Clothes on Film. Those websites are a wealth of information if you want to dig deeper into the clothing aesthetics of the era or do further research one particular actor's look.
Vintage Style and the Modern Wardrobe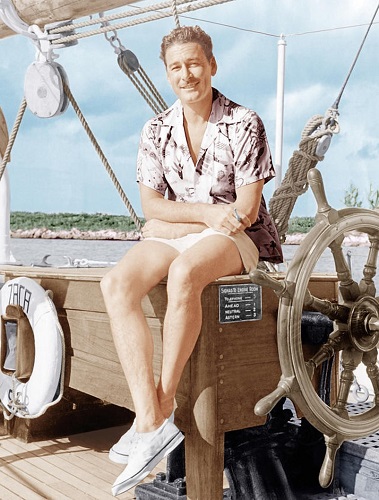 When we're trying to incorporate some of that Golden Age of Hollywood style into our contemporary wardrobes, there can definitely be some challenges. For example, the suit jackets from that era, with their boxier cut and high degree of structure, will just look out of place today. Trouser designs from the 1930s and 40s can also seem anachronistic, although certain features, like the looser cut, higher rise and pleats, are coming back into fashion.
But there's good news! As a fan of Bond and McQueen style you probably already have some clothing in your closet to help capture that Golden Age of Hollywood summer vibe. Here's a short list of key pieces you can use to get the look (links go to the different Iconic Alternatives posts with options for each):
With that kind of foundation, we really only need to look at some specific pieces to fill in the gaps. Let's get started!
The Breton Stripe Long Sleeve Tee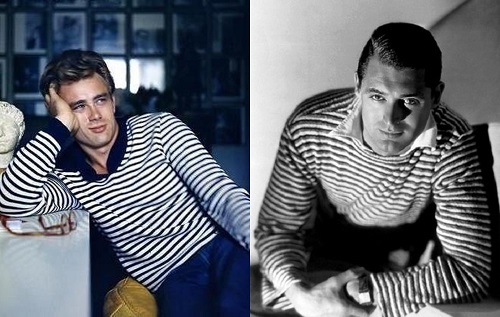 If there was one sweater style that seemed to dominate the Golden Age of Hollywood, it was the Breton Stripe. The cream tennis or circket sweater, with it's V-neck bordered by bands of navy, green, yellow and burgundy, was certainly popular for the sporting activities of the time. But the Breton Stripe sweater showed up everywhere and was worn by personalities as diverse as Pablo Picasso, James Dean and Cary Grant. Of course Grant's most famous use of the horizontally striped knitwear was in the classic Hitchcock film To Catch a Thief. And the style has been making a strong comeback in recent years. So if you only get one article of clothing to capture some of that vintage menswear vibe, make it something with Breton Stripes.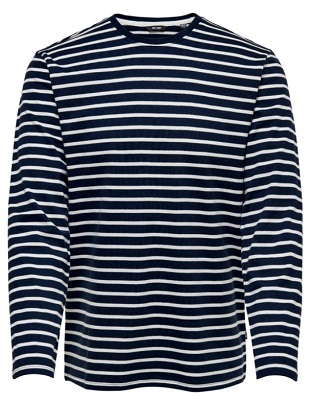 A basic 100% cotton option that will give us the look we want at a budget friendly price.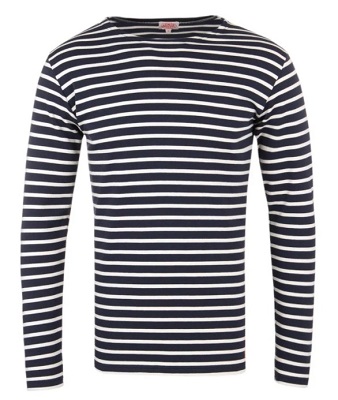 French brand Amor Lux has been in operation since 1938. So when it comes to that Golden Age style, they know what they're talking about. Their interpretation of the classic Breton stripe tee is made from organic cotton and features a wider neckline for that authentic vintage look.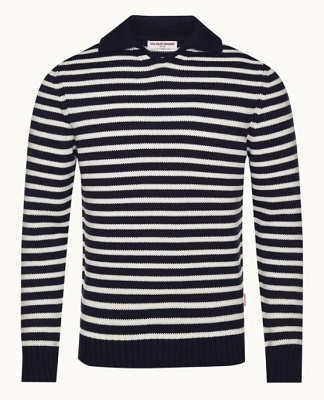 If you saw that photo of James Dean above and thought, "THAT'S the style I want!", then here's your sweater. Most of us in the Bond fan community need no introduction to Orlebar Brown. Their Hedley sweater is knitted from 100% Merino wool, so it's definitely a piece more suited for those cooler evening in the early and late summer.
The Statement Polo Shirt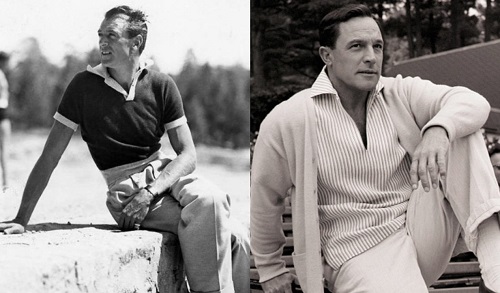 As I said in the intro for this post, shirts with dramatic point collars were definitely the style to wear in the Golden Age of Hollywood. Now combine that collar with a deep V-neck and some cool contrasting colors and you get the Statement Polo. Of course having a large piece of unstructured fabric flapping around your neck isn't always practical or comfortable. But if you dial down the collar size a bit and keep the Johnny collar and tipping, you'll have a contemporary polo that'll work with almost any wardrobe while still honoring its rich heritage. If the polo comes without a sweater-style ribbed knit hem, you might even want to think about tucking it in to really capture the right Golden Age look.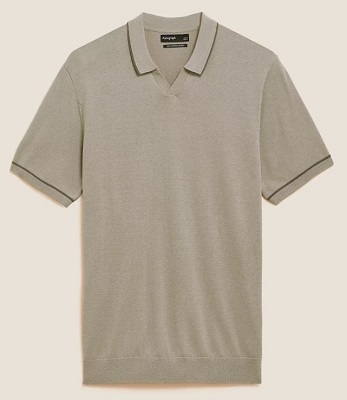 A more subdued design that still has some of the right vintage vibes. The 55% silk, 45% cotton fabric gives the polo a touch of luxury, while the slim fit, ribbed knit cuffs and hem, contrasting tipping and Johnny collar offer all the style details we want.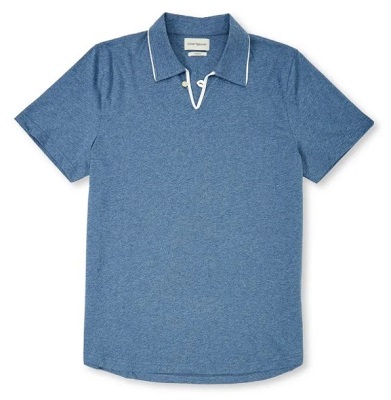 English designer Oliver Spencer knows how to make great looking clothes that combine contemporary design with a touch of retro-cool. And his Hawthorn Polo is a great example of his work. The wider collar, subtle tipping and that single button closure on the placket really elevate the style. And it would look great tucked into a pair of higher rise trousers.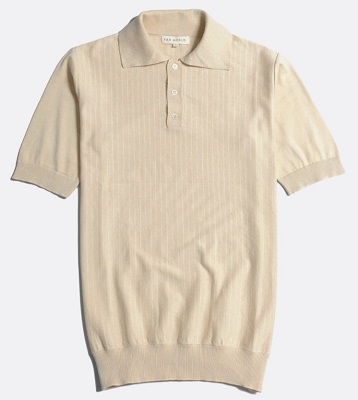 The vertical pinstripe on the 100% organic cotton fabric adds some visual interest. But it's the ribbed knit cuffs and hem and that BIG collar that really make this polo Golden Age style-worthy.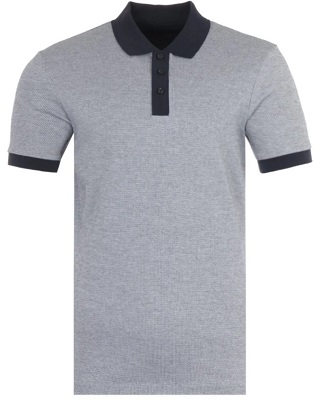 The bold contrasting colors on the color, placket and cuff give this 100% cotton polo the right vintage style. And sticking with classic, more conservative shades of light and dark blue make it versatile enough to be worn with anything from navy shorts to cream linen trousers to a pair of faded jeans.
The Retro T-Shirt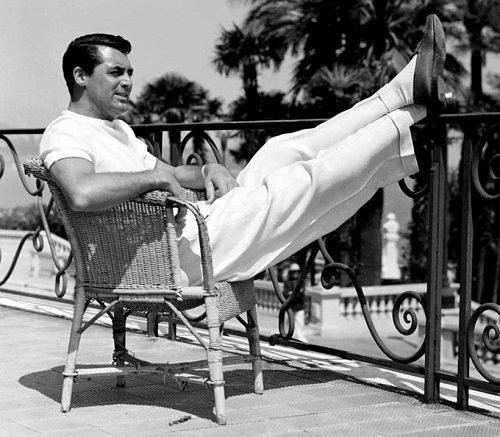 Another vintage-style short sleeve summer shirt that's once again coming back into fashion. Often made with a knit fabric, they usually feature a slightly higher neckline and ribbed knit cuffs and a sweater-style hem. Basically the t-shirt version of the polo above. The style is definitely more casual than that of a collared shirt. But the tailored cut combined with the snugger fit around the arms and waist add a sophisticated touch a typical cotton tee lacks. And that makes it suitable for pairing with some sharper trousers for clean, relaxed look. I'll leave it up to you to decide if you want to add the bandana around your neck.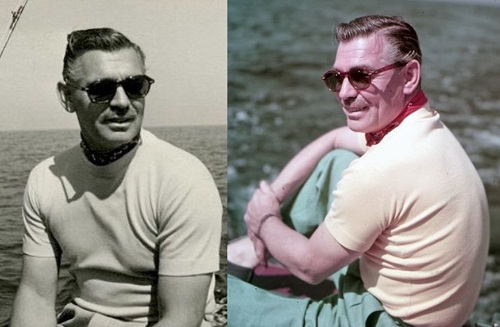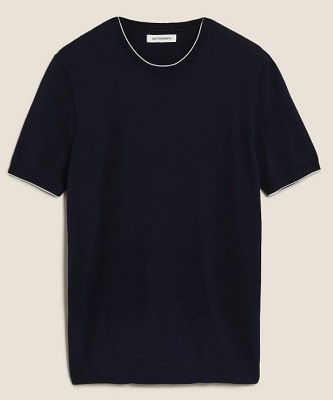 A well executed design using a lighter weight 58% cotton, 42% viscose knit. The darker color and subtle tipping make it a great choice if you want to start playing around with the style. If you want a tee without the tipping, the Autograph Knitted T-shirt for $28.00/£19.50 is also worth a look and comes in a variety of colors.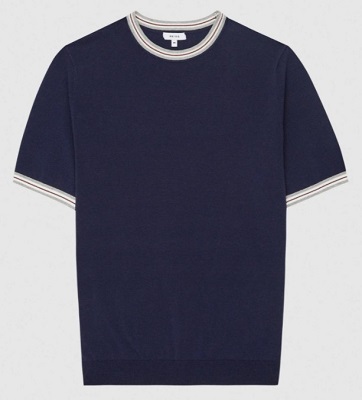 The Farroe Tee takes the vintage vibes up a notch. It neck-line is higher and the wider, contrasting banding around the collar and cuffs gives the shirt a little more pop. It also comes in white with navy accents if you prefer to wear a lighter color when things get hot.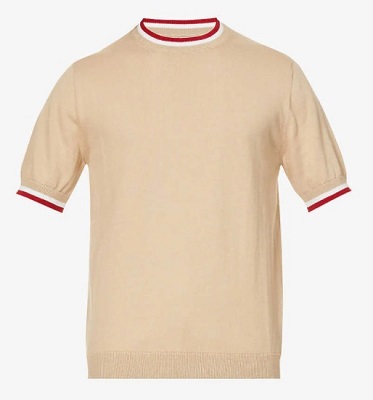 This 100%, made-in-Italy tee offers all the Golden Age of Hollywood style you could want. The collar is taller, the sleeves are a little longer and the shorter length through the body will work great with some higher rise trousers.
The Bold Short Sleeve Shirt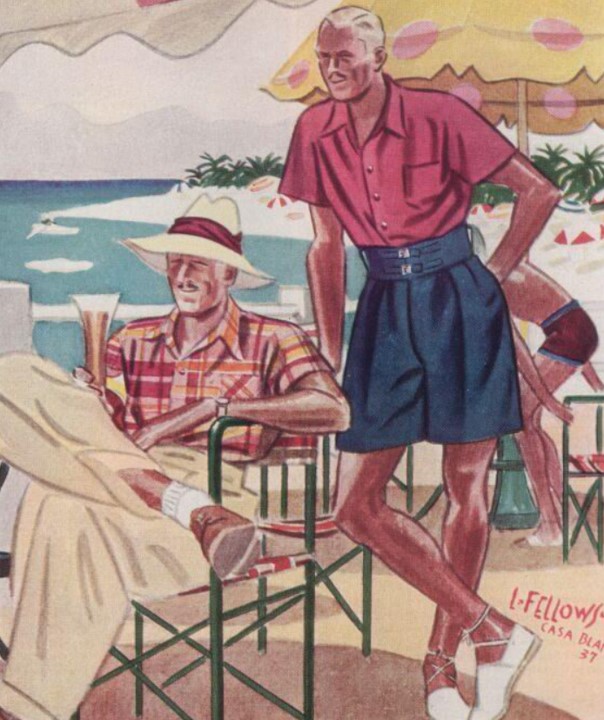 If you've been spending any time on this website, then the camp collar shirt needs no introduction. However, where the majority of Bond's summer shirts stayed with solid colors or subtle checks and stripes, the styles from the earlier era favored bigger patterns in bolder colors. Plaids were especially popular. Shirts made from lightweight Madras cotton, woven in India and famous for its distinctive colors, became something of a status symbol. Although the fabric wouldn't reach peak popularity until the 1960s, during the Great Depression of the 1930s a Madras shirt identified the wearer as a man of wealth who could afford to travel.
Long story short, if you're looking to work some Golden Age of Hollywood style into your wardrobe, a bolder and brighter camp collar shirt would be a worthy addition.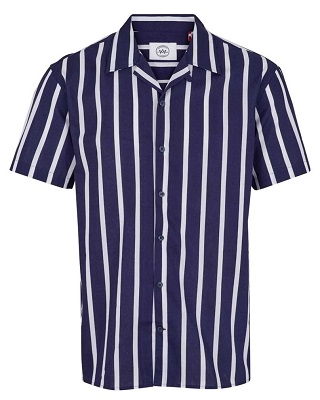 If plaid just ain't your thing, this 100% cotton camp collar shirt's bold stripes will also give you the right look. Especially with its slightly oversized collar.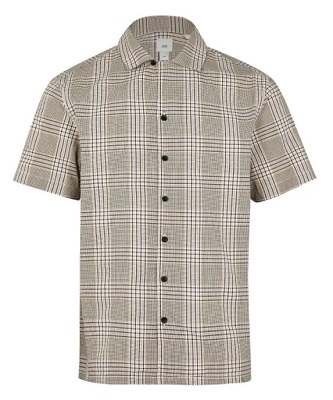 With its neutral colors and more subdued plaid, this shirt a great way to start experimenting with that Golden Age style.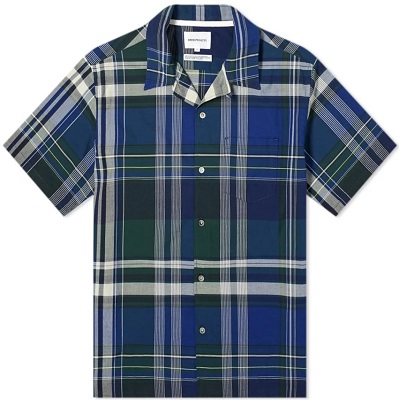 Here's a great example of that brightly colored plaid we discussed above. The 100% cotton fabric is from Portugal. So it's not true Madras (the material has to come from India to receive that distinction). But the large collar and shorter, boxier cut have the right vintage vibe. And the Mother of Pearl buttons add a touch of luxury.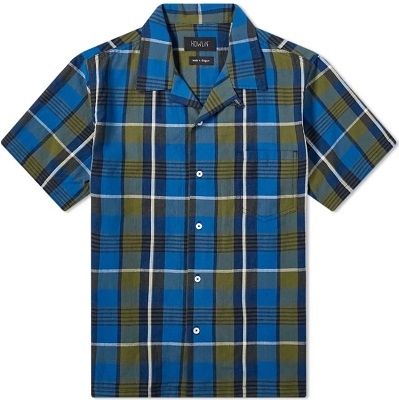 This option from Howlin' takes everything that's great about the Norse Projects shirt above and dials it up just a little more. The 100% cotton Japanese fabric features one of their signature patterns in bright colors that will work with almost anything.
The High Waisted Trousers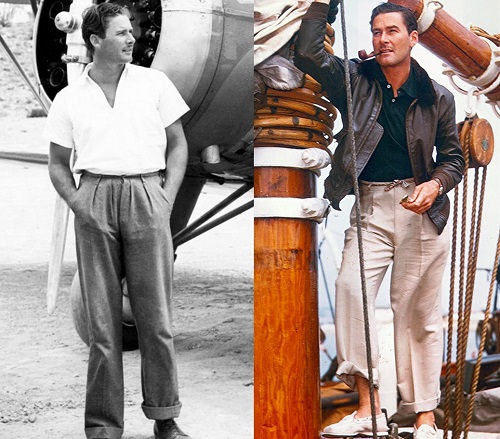 The trousers from the Golden Age of Hollywood are probably the most important articles of clothing that defined the distinctive style of the era. And, unfortunately, they're also the most difficult pieces to incorporate into a modern wardrobe. The higher rise, fuller cut and pleats are almost diametrically opposed to the slimmer, tapered flat front trousers most men wear today. So throwing yourself completely into the "Big and Baggy" look is most likely going to end up with you looking like you're wearing a costume.
How to Wear Them
If you do want to experiment with the cut of your chinos, I'd recommend moving in increments. Believe it or not, an extra inch in the front rise, through the thighs and at the leg openings can make a big difference to the way the trousers look and feel. So try something simple like a straight or athletic fit at the start. Get used to that and see how it works with the rest of your personal style. If you're liking it, try trousers with an even higher rise or more relaxed cut next. Take it bit by bit.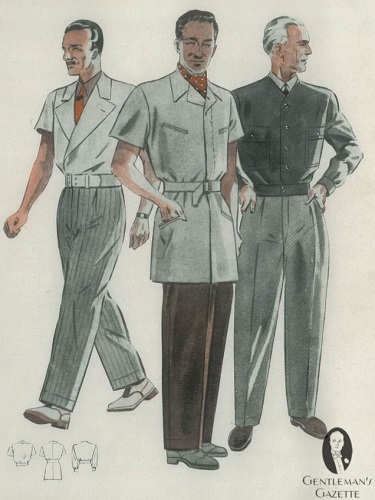 And I also suggest you take a closer look at the photos in this post (and from other sources). Notice anything about the way the greats styled their trousers? If you said, "They're all cuffed or rolled", you nailed it! Rolling or adding cuffs to wider, looser trousers helps with the drape and keeps the lines from the hips to the shoes clean and straight. It also helps to keep the fabric from flapping around your legs when you're walking. Plus they add a bit of character. Give it a shot!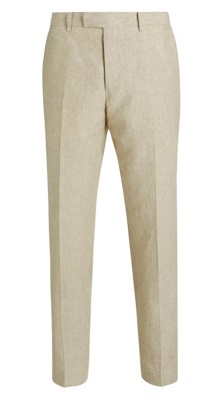 I would considers something like these John Lewis & Partners trousers the first step in experimenting with a wider fit. The higher rise and the straight cut through the legs will start giving us the look we want without going to extremes. And the 100% linen fabric in that pale beige is pretty much perfect for summer.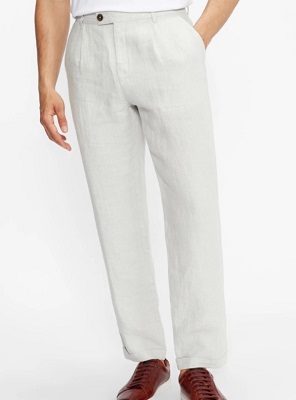 If you're convinced you'll like that Golden Age style and feel ready to take the plunge, the 100% linen Radiot trousers from Ted Baker are a great place to start. The wider cut, higher rise and single pleat have the right vintage feel without looking like a costume.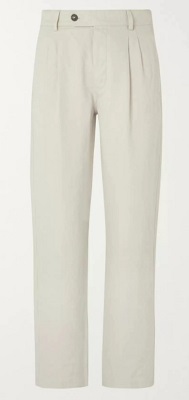 Warning: wearing trousers like these ones from Mr. Porter's inhouse collection is a pretty advanced fashion move. Do it right and you'll elevate you personal style. Do it wrong and it'll come across as 1930s cosplay.
The Vintage Fit Sweater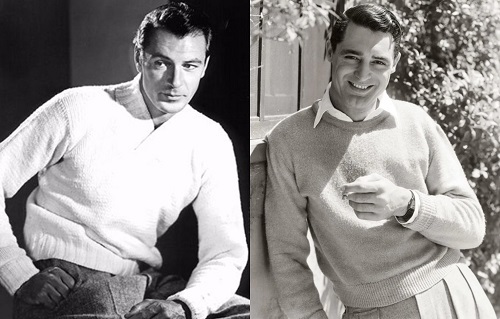 Most of us today would find the fit of the knitwear from the 1930s and 40s to be a little … weird. The body tended to be roomier and boxier. And the length was much shorter than most modern designs to work better with the high waisted trousers of the time. But if you're willing to start experimenting with some Golden Age style chinos, you may also want to try a vintage fit sweater for those cooler late summer nights. They do have a distinctive look. But when done right, they can also be very cool.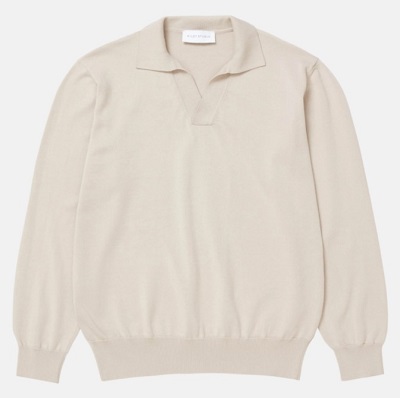 Riley Studio has used a lightweight 100% organic cotton knit and crafted their sweater in a period appropriate retro-vintage style. With its wide collar, deeper buttonless placket and shorter, boxier fit, it's definitely something we could image Cary Grant or Gary Cooper wearing.
The Iconic Penny Loafer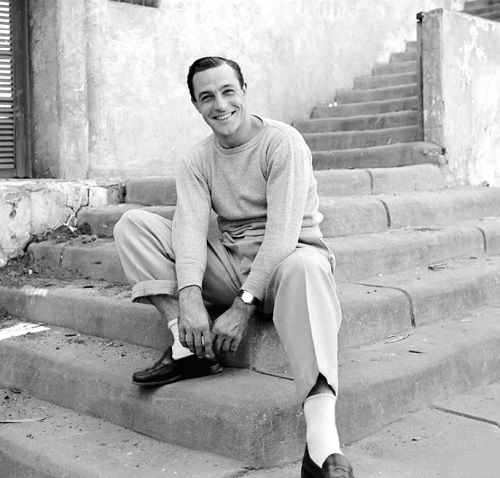 The iconic Bass Weejun was first introduced to the American market in 1936. And although it mainly found popularity on college campuses starting in the 1940s, it was also a staple in many a Golden Age actor's wardrobe. This article gives a great overview of the history of the Penny Loafer if you'd like to learn more. For now, it's probably enough to say that incorporating a penny loafer into your shoe rotation is a great way to add a bit of All-American vintage preppy style to your look. Full grain leather may have been the material of choice back in the day. But personally, I think suede is a better choice for summer and tones down some the Ivy League vibes.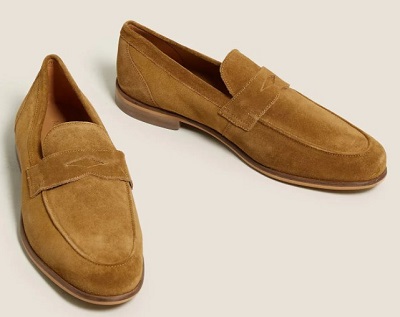 Classic styling with a more streamlined apron toe. At this price, the sole is probably cemented on rather than stitched. But Marks & Spencer have finished the suede with a stain resistant finish. So keeping them looking sharp should be a breeze.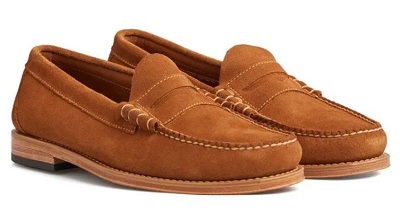 The original design in a very contemporary color that will work with everything from cream linen trousers to a pair of beaten-up jeans. Weejuns really are the definition of "timeless style".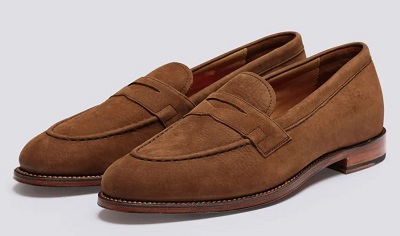 A sophisticated take on the penny loafer for those of you with a personal style that leans more formal. Grenson is a heritage British brand, started in 1866. And while they tend to offer more modern shoe designs today, the Lloyd is an absolute classic.
The Classic Watch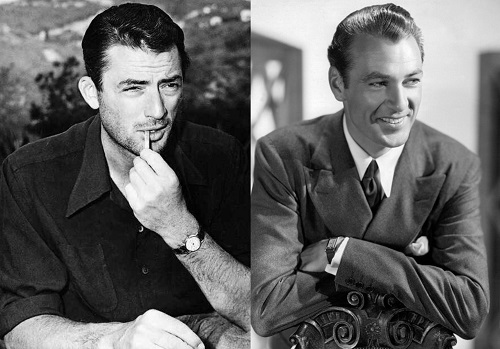 For most of us fans of Bond-style, the classic diver watch is the grail. But the smaller, dressier timepieces from the Golden Age of Hollywood also deserve a place in our collections. There's a tendency to believe that every watch from the era was absolutely tiny. And many did have case measurements in the 30mm to 35mm range. But there were also plenty of 38mm and 40mm models that wouldn't look out of place today (there were guys with big wrists back then too!). Of course modern watchmakers have also taken that vintage styling and repackaged it in sizes we'd feel comfortable wearing.
And that vintage styling can be very beautiful and unique. Watch designs from the 1930s and 40s show a willingness to experiment. Cases came in a variety of shapes and advances in the movements allowed for all sorts of complications, from day/date windows to chronometers to moon phase apertures. For inspiration, take a look at these watches from the 1930s and 1940s sold on the Antique Atlas website.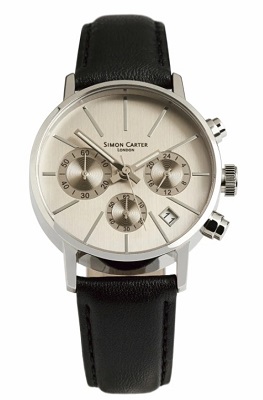 The smaller 35mm diameter case may make some of us a little nervous. But the classic design and silver sub-dials on the grey face make a subtle statement that will attract some attention.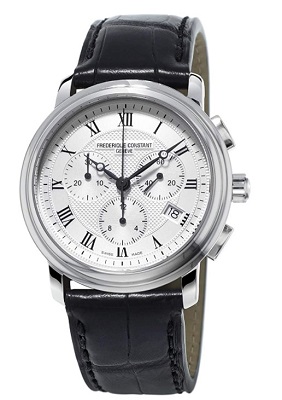 This is one of two items on this list that does NOT come from Thread.com. Instead we turned to Amazon to find this classic design from Frederique Constant. The case is a healthy 40mm, which should work on most wrist sizes. But it's really all about the style of the watch. There's a lot happening here (sub-dials, Roman numerals, minute indices, two-tone and textured face, Breguet hands, date window). But somehow they've made it all work to deliver a watch that will look good with both a suit and vintage-inspired casual style.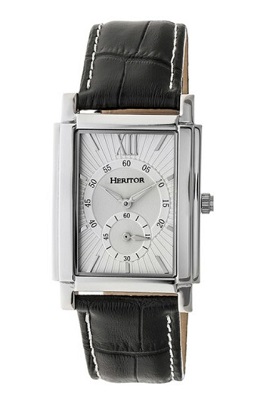 And here is the second item on this list that's not sourced from Thread.com. But I really wanted to include a watch with that distinctive rectangular case design that was so popular in the 1930s and 40s. The 316L stainless steel case is a narrow 32mm and features an exhibition back to show off the automatic movement. I've shared the silver model here. But the Frederick comes in a variety of face colors and metals to work with almost any wardrobe.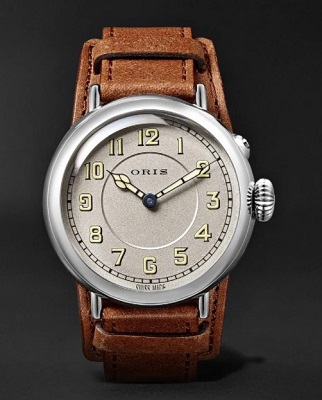 As the name suggests, this watch from Orvis is faithful to the original design from 1917, but uses the modern 26 jewel SW-200-1 automatic movement, with a 38 hour power reserve. A great looking and beautifully made example of classic sporty style.
The Timeless Round Sunglasses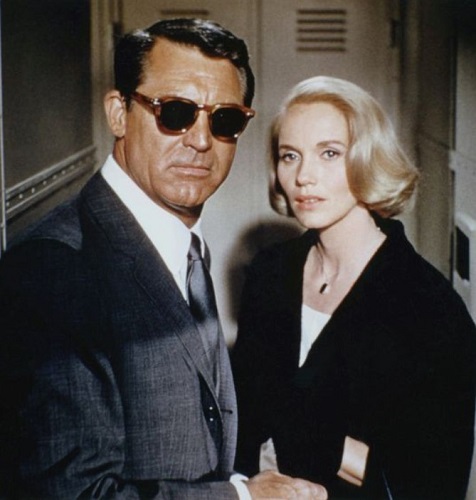 Classic, timeless, they go with about any outfit and the style suits a variety of faces. What more do you want from a pair of shades? If you don't already have a pair of round, tortoise shell sunglasses after seeing Bond sport the Barton Perriera Nortons in the No Time To Die clips, here's further motivation to grab some.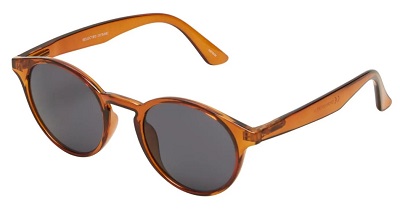 An affordable entry point if you want to start playing with the style. And the translucent mid-brown plastic frames should look good on most of us.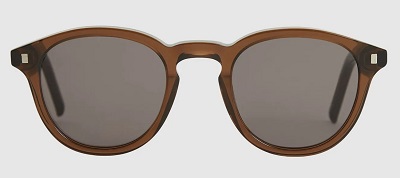 A big jump up in price and quality. REISS partnered with Swedish eyeglass design house Monokel to create the Nelson. They've paired premium acetate frames with excellent Carl Zeiss Vision lenses to craft sunglasses that will look sharp and offer you plenty of protection.
Do you have some suggestions for what we should add to our Summer Style Icons: the Golden Age of Hollywood post? Let us know in the comments! Our next post in the series is going to explore inspiration from the French and Italian style masters of the Riviera in the 1950s and 60s. And you can always find more Bond and McQueen on our Instagram profile, Facebook page and Pinterest boards.