Updated May 22, 2021 – The hot months are coming on fast, which means it's time to break out the James Bond summer shirts to help keep us comfortable when the temperature climbs! The good news? Print and camp collar shirts have been making a serious comeback lately. The better news? 007 has sported more than a few in his films that we can use for inspiration! So in these posts we'll be covering as many shirt styles as possible, from Connery's camp collars to Brosnan's aloha to Daniel Craig's long sleeve linens.
This year I've decided to organize things a little differently and divide our look into Bond's massive shirt selection into four posts. This post will focus on the short sleeve solid color shirts. Our second post will be for the short sleeve patterned shirts. Post number three will explore the various summer weight long sleeve shirts. And finally, the fourth post will deal with alternatives for the Bond polos. Alright, let's get started!
The Connery Bond Camp Collar Solid Color Shirts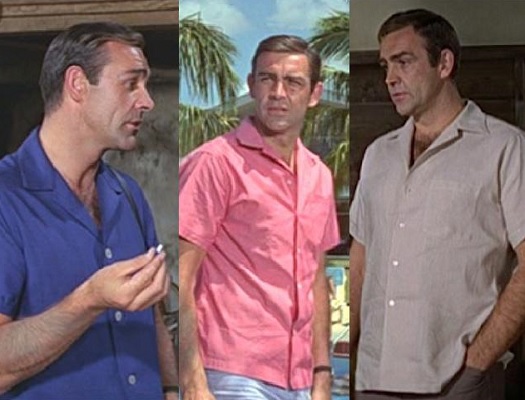 Until we saw the black Tommy Bahama shirt in the No Time To Die set photos (you can find alternatives for that one in this post), Daniel Craig's 007 had tended to stay away from revere collars, preferring to go with polos in most hot weather settings. But Connery's Bond had no trouble rocking multiple versions of this shirt style (and the chest hair to match) throughout his career. So In this post, we're going to focus on the two solid color shirts from Thunderball, and the beige camp shirt worn in You Only Live Twice. For more information on the looks you can check out this post and this post from BAMF Style and this article on Bond Suits. We'll be looking at Bond's patterned shirts in the next post in this series.
First, let's do a quick overview of the type of collar we're looking for, since it pretty much defined this particular style of shirt.
The Revere Collar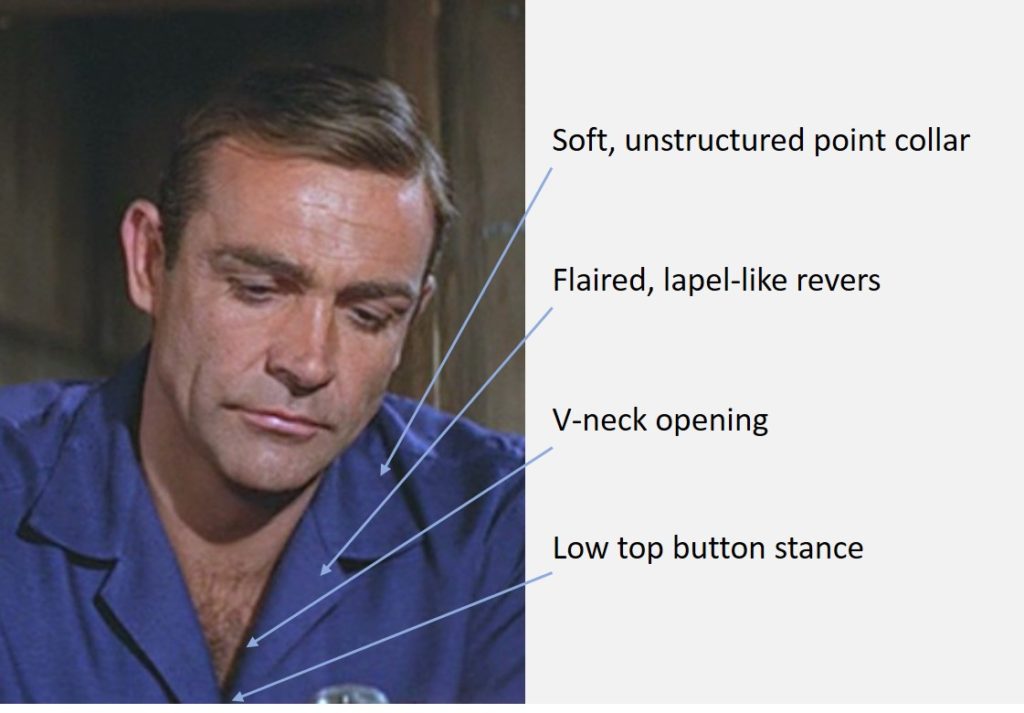 The main difference between the blue shirt Bond wears and the others is the lack of a chest pocket and the two patch hip pockets. So that's a detail we want to look for (and is next to impossible to find right now).
The Blue Camp Collar Shirt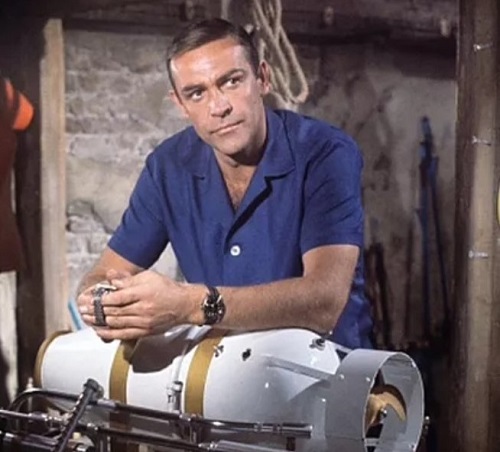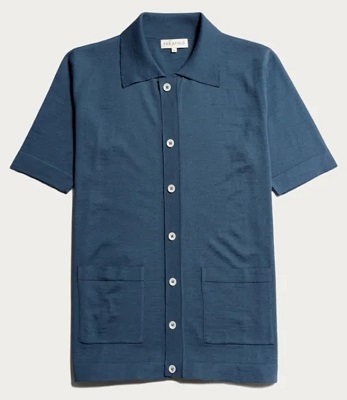 A fun find from a less well known brand. I said above that it would be next to impossible to get an alternative for Bond's blue Thunderball shirt with the screen accurate hip pockets. And I was kind of right. Because this piece from Far Afield is actually a cardigan! The material is a 50% Merino wool, 50% acrylic knit. Which may not sound like the best fabric for summer. But imagine yourself wearing this on one of those cooler early summer evenings when you head out for drinks with friends on an outdoor patio. It would be temperature appropriate and super stylish. Bombinate has sizes XS to XXL in stock.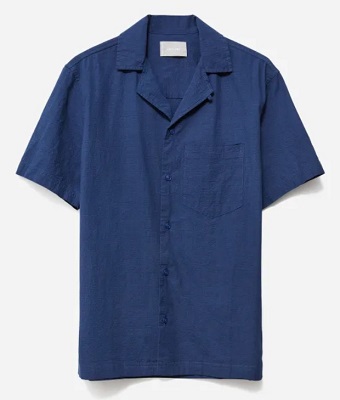 I don't think Bond ever wore seersucker (although I know Felix Leiter was a fan). But it's once again a popular fabric for menswear this season and there's more than a few alternatives in this post that use it. For those that don't know, seersucker is wrinkly textured fabric that helps increase airflow around the body to keep you more comfortable in hotter weather. This example from Everlane is made from a 95% cotton, 5% elastane fabric, so it also has some stretch. The chest pocket isn't screen accurate. But the color and the camp collar are a good match for Bond's shirt. Sizes XS to medium are available on their website.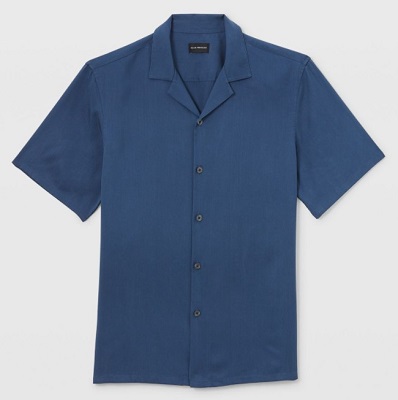 It doesn't have the patch hip pockets. But the color, camp collar, slightly larger buttons and shorter length really give it the "Bond style" we want. They've gone with a 100% Lyocell fabric for the shirt, which is a more environmentally sustainable fiber than cotton. So that's also nice. Sizes XS to XXL are available at the Club Monaco website.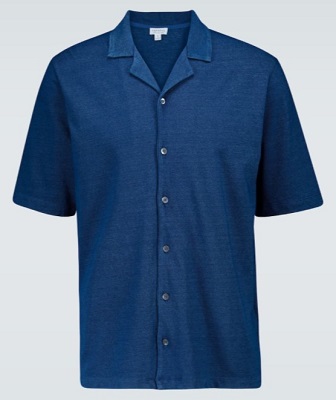 If we're talking about Bond summer shirts, of course we have to include a fan favorite Bond brand! The piqué knit of the fabric gives the shirt an interesting texture. But it also helps with air flow to keep you cool on a sunny afternoon. I also like the way piqué wears. It's softer and a little looser (unlike poplin, which can be stiff when it's new) which gives the shirt a slightly different look than your typical summer shirt. This particular model is not longer available on the Sunspel site, but you'll find sizes small to XL at that sale price at My Theresa.
If you are looking to invest a little more in your summer wardrobe, check out Sunspel's Cotton Pyjama Shirt in Navy Melange for $165 or their beautiful Sea Island Cotton Knit Short Sleeve Shirt in Smoke Blue for $335. I don't think they're as screen accurate as the piqué shirt above. But either of them would be very stylish alternative for a day out in the sun!
Also Try:
Gap Button Front Poplin Shirt in Tapestry Navy: on sale for $22.97
Abercrombie & Fitch Short Sleeve Camp Collar Shirt in Blue: on sale for $33.00
Mango Regular Fit Lyocell Cotton Shirt in Navy: $59.99
Express Slim Striped Cotton Short Sleeve Shirt in Navy: on sale for $60.00
28 Palms Relaxed Fit 100% Silk Camp Shirt in Deep Ocean Blue: $60.00
Cremieux Short Sleeve Woven Camp Shirt in Estate Blue: $75.00
Portuguese Flannel Catown Short Sleeve Shirt in Blue: $112.00
NN07 Miyagi Camp Collar Linen Shirt in Storm Blue: $145.00/£100.00
The Pink Camp Collar Shirt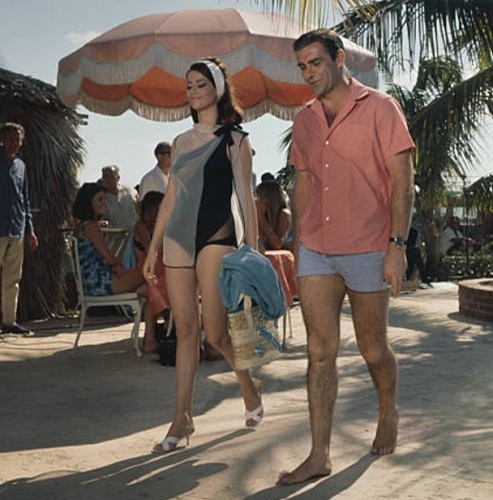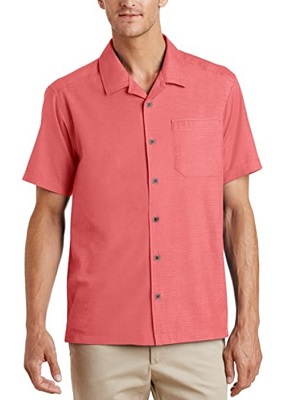 With most sizes going for under twenty bucks on Amazon, this is a pretty low cost way to play around with Bond's pink shirt look. And it's actually not a bad color match. Since the shirt was designed to be used by resort and restaurant workers, the 60% cotton, 40% polyester fabric is wrinkle and stain resistant. It's not exactly "luxurious". But those are properties some of us may appreciate if clothing maintenance isn't high on our list of priorities. Plenty of sizes, from XS to 4XL, are available.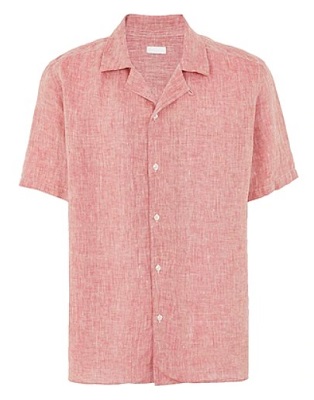 A 100% linen basic from Yoox's house brand. The blend of white and red fibers gives the fabric a subtle slub texture and a more muted pink tone. That could work well for those of you who aren't quite ready to fully embrace the brighter pink of Bond's shirt but still want to look. Sizes small to XXL are available at that sale price.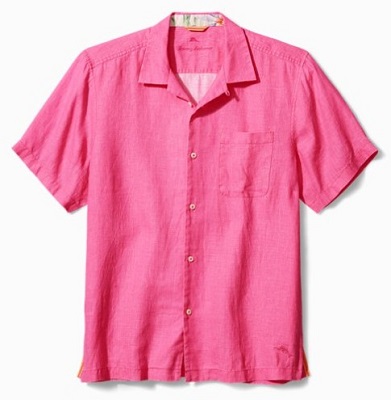 On the other hand, if you have no problem wearing pink, here's one to check out. Coming to us from the maker of Bond's No Time To Die Jamaica shirt, the rich, garment dyed 100% linen fabric is anything but subtle. Personally, I'm not sure I could pull it off. But you definitely have my respect if you're able to rock it. You'll find sizes XS to 3XL on their website. Just remember that this is Tommy Bahama, so consider sizing down for a more fitted look.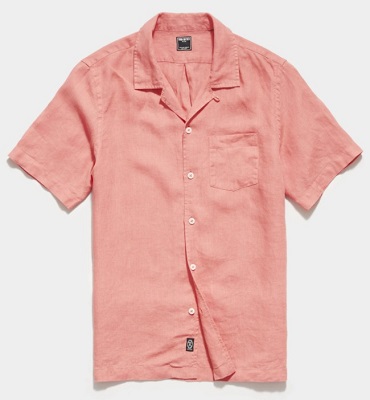 And back to a more a subtle shade of pink. Made in Portugal with a 100% linen fabric from renowned Irish mill Baird McNutt, Toddy Snyder has kept the design simple and focused on the quality of the materials and construction. It's expensive. But good linen just gets softer with wear and washing and, with proper care, can last years. So this is a shirt you can use summer after summer. Todd Snyder has sizes XS to XXL in stock.
Also Try:
Pronto Uomo Coral Diamond Pattern Short Sleeve Sport Shirt in Coral: on sale for $24.99
Onia Short Sleeve Camp Collar Shirt in Salmon: on sale for $29.98
Abercrombie & Fitch Linen Blend Camp Collar Shirt in Paprika Red: $55.00
28 Palms 100% Silk Relaxed Fit Camp Shirt in Nantucket Red: $60.00
Wax London Fazely Short Sleeve Shirt in Redwood: on sale for $73.33
Cremieux Short Sleeve Woven Camp Shirt in Claret Red: $75.00
Polo Ralph Lauren Classic Fit Camp Shirt in Chili Pepper: $98.50
Orlebar Brown Hibbert Chambray Linen Shirt in Vintage Rose: $295.00
The Beige Camp Collar Shirt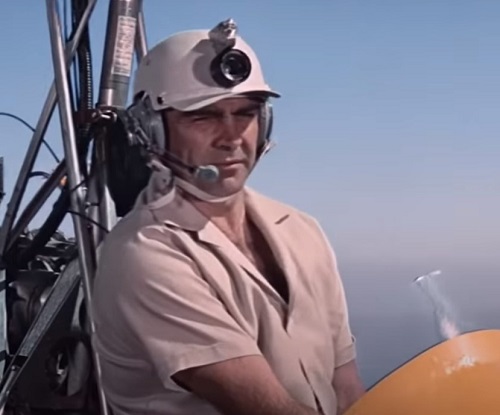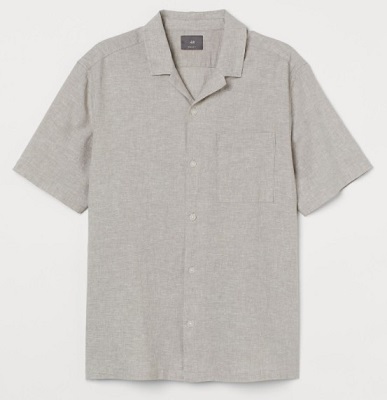 A no frills, 55% linen, 45% cotton blend shirt from the well known fashion brand. Sizes XS to XL are available.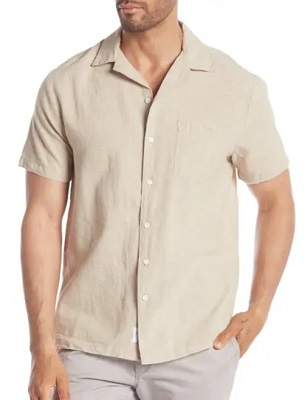 This Onia is definitely one of the better deals in this post. Regularly priced at $130, Nordstrom Rack has it on deep discount with sizes small to XL still in stock. The fabric is a 60% cotton, 40% modal rather than the more common linen. But it still has a nice slub texture and all the style details we want.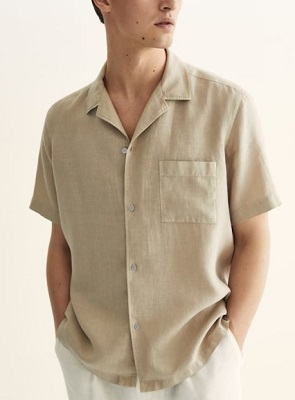 A solid 100% linen alternative from one of our go-to brands for affordable Bond style. I like that the top button is placed a little lower than on some of the other options. It gives the reveres a touch more width and makes the whole shirt appear more screen accurate. Sizes small to XXL are in stock.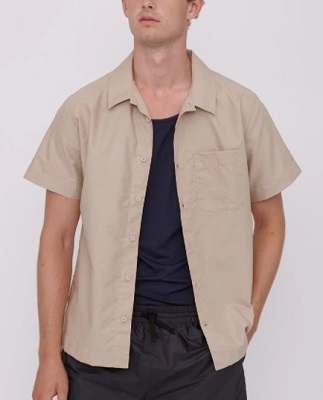 The styling isn't that different from the other alternatives. But this time we're getting a 100% organic cotton oxford cloth, which has a bit more weight to it than linen. Organic Basics is committed to sourcing sustainable materials (for example the buttons are 60% recycled hemp) and using ethical, lower impact manufacturing processes. If those are things you look for in your clothing brands, this is definitely one to check out. They have sizes small to XXL in stock on their website.
Also Try:
28 Palms 100% Silk Relaxed Fit Camp Shirt in Natural: $11.10 to $60.00
Harriton Bahama Cord Camp Shirt in Sand: $23.34 to $39.95
8 by Yoox Linen Cotton Camp Shirt in Khaki: on sale for $64.00/£48.00
Hartford Camp Collar Slub Linen Shirt in Beige: $200.00/£130.00
Frescobol Carioca Thomas Shirt in Tencel Beige: on sale for $228.00
The Diamonds are Forever Toweling Camp Shirt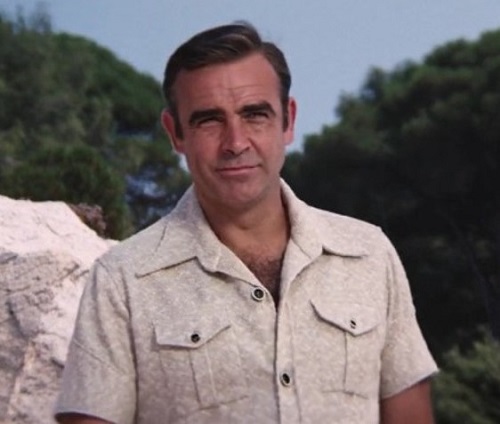 This has to be be one of the more unique shirt designs 007 has worn in his long career. The combination of the toweling fabric plus the camp collar plus the pleated and flapped chest pockets is pretty unique. If you want that same swinging 60s "safari shirt at the resort" feel, you could go for the classic traditional Guayabera. But, being who we are, we know that won't satisfy most of us. We want a shirt that's as screen accurate as possible. Unfortunately, based on the results my hunting, we'll still have to prioritize which features matter to us the most and choose accordingly. You can read more about Bond's shirt in this article from Bond Suits.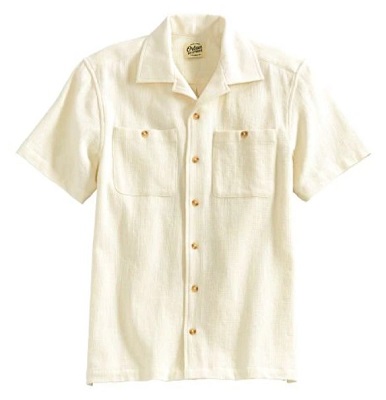 It's not exactly screen accurate. But I'm really liking the fact that Orton Brothers went with the bigger spread collar. It captures some of that Diamonds Are Forever 1970s Bond style without going over the top. The fabric is an open weave cotton instead of the desired terry cloth. But it'll help keep things cool and airy when the temperatures climb. The shirt is available in sizes small to 3XL.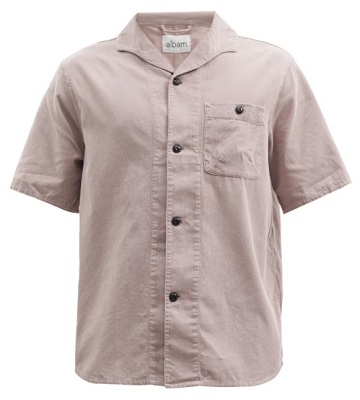 First things first: yes, the shirt is purple. But it's a really washed out pale purple. So no worries about looking like Barney when you wear it. And the fabric isn't terry cloth. Nor is it linen. It's actually a fine wale corduroy, which helps set it apart from all the other camp shirts out there. This option obviously isn't going to appeal to everyone. But, personally, I think the four button front, modified camp collar and funky fabric make it a great choice if you want a style that's more "inspired by Bond" rather than a direct copy. Sizes small to large are available at Matches Fashion.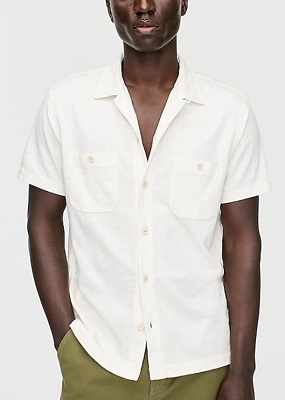 A lightweight option from the famous preppy brand. They've gone with a lightweight slub cotton (the same fabric they use on their popular t-shirts) and the design includes many of the key style details we want. The color is obviously lighter than ideal and the just pockets aren't a perfect match. But I think it still does a good job of capturing some of that 70s safari shirt style. You'll find sizes small to XL on their website.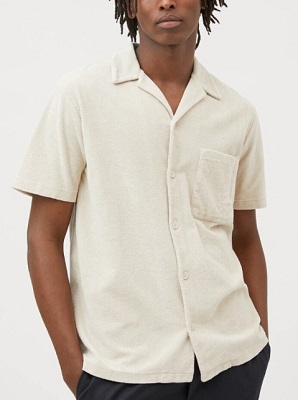 Obviously I needed to include a terry cloth alternative. And it came down to three: one from Urban Outfitters, a design from Faherty and this shirt from A Day's March. Any of them would be a fine choice. But in the end, I felt like this option from A Day's March did the best job for the price. I've gone with the lighter "Desert" color here. But, believe it or not. based on their product photos, the "Dusty Pink" could also be an interesting way to go. Unfortunately, they're down to sizes small and medium on their website. So if you really have your heart set on getting terry toweling and you need a larger size, you'll find the links to the Urban Outfitter and Faherty alternatives below.
Also Try:,
Isle Bay Linens Ramie Guayabera Shirt in Beige: $12.00 to $28.00
Croft & Barrow Big and Tall Crosshatch Woven Shirt in Nolan Beige: on sale for $19.99
Mango Relaxed Fit Denim Shirt in Ecru: on sale for $49.99/£35.99
Urban Outfitters Jacquard Terry Button Shirt in Tan: $59.00
Express Slim Fit Chambray Short Sleeve Shirt in Chalk: $68.00
Patagonia Back Step Shirt in Goshawk Dobby Pumice: $69.00
Paul Fredrick Linen Solid Casual Shirt in Tan: $85.00
Rowin Warwick Heritage Twill Short Sleeve Shirt in Chalk: $95.00
Beams Plus Short Sleeve Open Collar Shirt in Beige: $139.99/£139.00
Faherty Terry Cabana Shirt: $148.00
The Live and Let Die Black Silk Shirt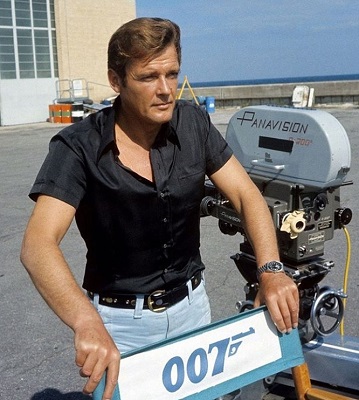 Of course we have to include Sir Roger Moore's classic shirt! Personally, I think you've got to be totally on top of your style game to pull this look off. A fitted, black silk, short sleeve shirt (worn with lots of buttons undone) can go wrong in soooo many ways. The fact that Sir Roger actually does it successfully is a testament to his status as an underappreciated style god!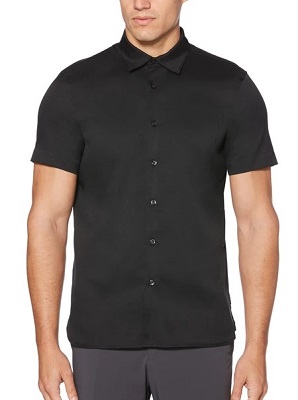 A very affordable alternative if you're just looking to play around with this look. The fabric is lightweight 100% polyester twill, with moisture wicking and quick drying properties. Two characteristic we may appreciate when wearing a black shirt on a hot day. Unfortunately it's missing the chest pocket. But it has a bit of silky sheen to it that captures some of Sir Roger's style. Perry Ellis has sizes small to XXL available.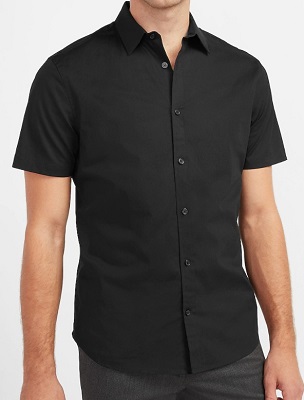 Another pocketless alternative, this time in a cotton and spandex blend fabric. That stretch will help the shirt feel less restrictive, since I have a feeling the Express slim cut is going to fit very close to the body. Sizes XS to XXL are in stock.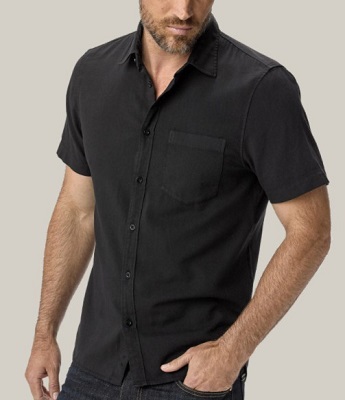 Buck Mason is mainly known for their workwear designs. And their interpretation of the black short sleeve shirt does have a slightly more rugged feel to it. Made from a 60% cotton and 40% rayon blend fabric, it lacks some of the sophistication of Bond's silk shirt. But that casual vibe should also make it more versatile and easier to pair with shorts, jeans and linen trousers. They have sizes XS to large on their website.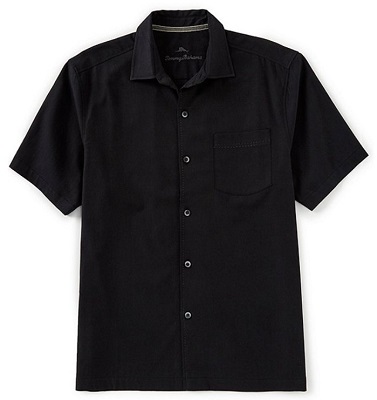 Some of us may only know about Tommy Bahama thanks to Bond wearing their long sleeve Catalina shirt in No Time To Die. But the brand's been in the summer-weight silk shirt game for a long time. This short sleeve version of the Catalina includes many of the details we see on Bond's new Jamaica shirt (pick stitching, camp collar). But it's made with a silk, cotton and spandex blend material that gives it some stretch. The twill fabric won't have that shiny effect of Moore's shirt. And the boxier cut definitely won't hug the body the same way. But I think it's an interesting choice if you want to merge two Bond looks into one shirt. You'll find sizes small to 2XL at Dillard's.
Also Try:
Apt. 9 Seriously Soft Button Down Shirt in Black: on sale for $19.99
Batik Bay Textured Solid Button Down Shirt in Black: on sale for $24.99
The Casino Royale Bahamas Arrival Shirt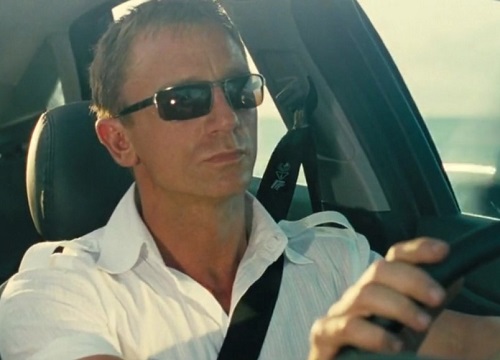 Man, this is a tricky one! There's so many little details to consider. First, the fabric. It has a tone-on-tone track stripe with a different texture than the background material. Then there's the two button collar. And we certainly can't forget the epaulets! It's almost impossible to find an off-the-rack shirt that has everything we want. But we're still going to try!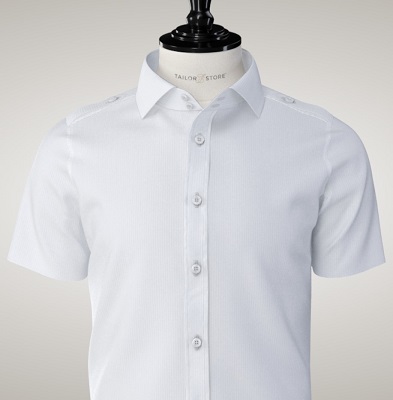 Here's a fun project: make your own Casino Royale shirt! On-line made-to-measure service Tailor Store actually has a function that let's you design your own uniform shirt. You can choose everything from the fabric to the number and types of buttons at the collar to – yes – shoulder strap style. I designed the one above using their 100% cotton dobby weave shirting, which has a very subtle stripe. As you can see, I was able to add the correct two button collar and shoulder straps and select to not add any pockets. And I bet in your communications with the company you could request the wider sleeve cuff to make it even more screen accurate. Total price for my shirt came out to $99.00, but that could go up or down depending on the fabric you choose. I haven't tried Tailor Shop yet, but they're definitely worth considering for custom work like this.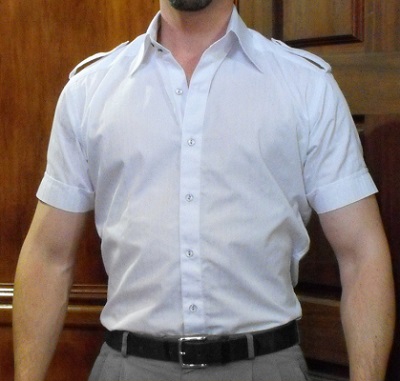 A close to screen accurate reproduction from fan favorite Indy Magnoli. I say "close" because some fans who've bought the shirt say the fabric he uses isn't a perfect match for the screen used shirt. But, as of right now, it has a perfect 5 star rating from customers and, in terms of style details, he's offering the closest version we can get. Each shirt is made-to-measure. So you'll need to be a little patient during that whole process.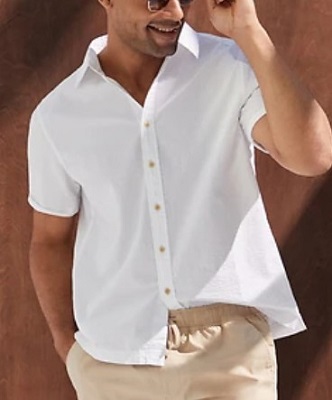 This one is a bit of a cheat. The fabric doesn't have any stripes. It's actually a lightweight seersucker with a texture that gives a similar effect. Other than that, the design is dead simple. So no wider shirt cuffs, no double button collar and definitely no epaulets. But that basic styling does make the shirt very versatile. And with that twenty-five dollar sale price, you could probably buy an extra one just for the fabric and add the shoulder straps and cuffs. Still plenty of sizes left over at Banana Republic Factory.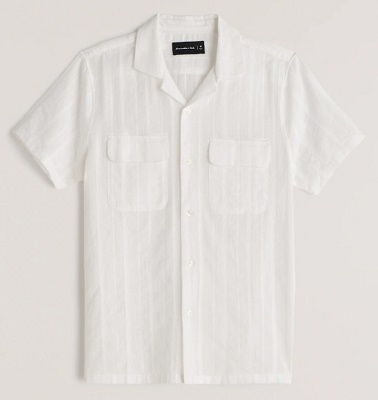 It might be the least screen accurate alternative. But when it comes to off-the-rack options, I feel this one does the best job of capturing the spirit of Bond's Bahamas shirt. The combination of wide and narrow dobby weave stripes really helps with that. And even though it's missing the epaulets, the double chest pockets give it a similar military feel. Abercrombie & Fitch have sizes XS to XXL in stock.
Also Try:
Séfr Suneheim Striped Cotton Blend Shirt in White: on sale for $161.00/£180.00
Oliver Spencer Convertible Collar Cotton Seersucker Shirt in White: $170.00/£120.00
Orlebar Brown HIbbert Seersucker Shirt in Cloud: $375.00
Do you have some suggestions for alternatives for the James Bond summer shirts we've shared in Part 1? Tell us about them in the comments! If you want to see more Bond inspired summer shirts, take a look at Part 2 (short sleeve patterned shirts), Part 3 (long sleeve summer weight shirts) and Part 4 (polos). And remember to check out our Facebook Page, Instagram Account and Pinterest Boards for more James Bond and Steve McQueen style advice, inspiration and info!
Some photos were sourced from BAMF Style and Bond Lifestyle.