Updated May 19th, 2022 – The hot months are coming on fast, which means it's time to break out the James Bond summer shirts to help keep us comfortable when the temperature climbs! The good news? Print and camp collar shirts have been making a serious comeback. The better news? 007 has sported more than a few in his films that we can use for inspiration! So in these posts we'll be covering as many shirt styles as possible, from Connery's camp collars to Brosnan's aloha to Daniel Craig's long sleeve linens.
This year we'll once again divide our look into Bond's massive shirt selection into four posts. This post will focus on the short sleeve solid color shirts. Our second post will be for the short sleeve patterned shirts. Post number three will explore the various summer weight long sleeve shirts. And finally, the fourth post will deal with alternatives for the Bond polos. Alright, let's get started!
The Connery Bond Camp Collar Solid Color Shirts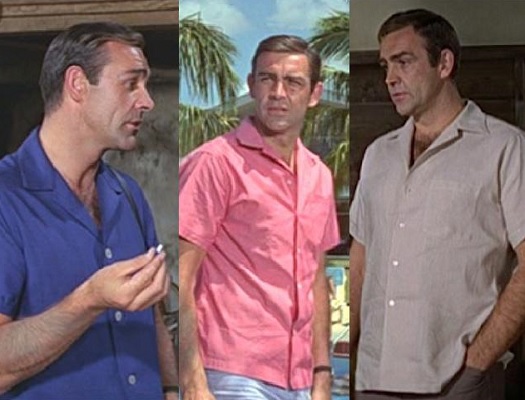 Until we saw the black Tommy Bahama shirt in No Time To Die (you can find alternatives for that one in this post), Daniel Craig's 007 had tended to stay away from revere collars, preferring to go with polos in most hot weather settings. But Connery's Bond had no trouble rocking multiple versions of this shirt style (and the chest hair to match) throughout his career. So In this post, we're going to focus on the two solid color shirts from Thunderball, and the beige camp shirt worn in You Only Live Twice. For more information on the looks you can check out this post and this post from BAMF Style and this article on Bond Suits. We'll be looking at Bond's patterned shirts in the next post in this series.
First, let's do a quick overview of the type of collar we're looking for, since it pretty much defined this particular style of shirt.
The Revere Collar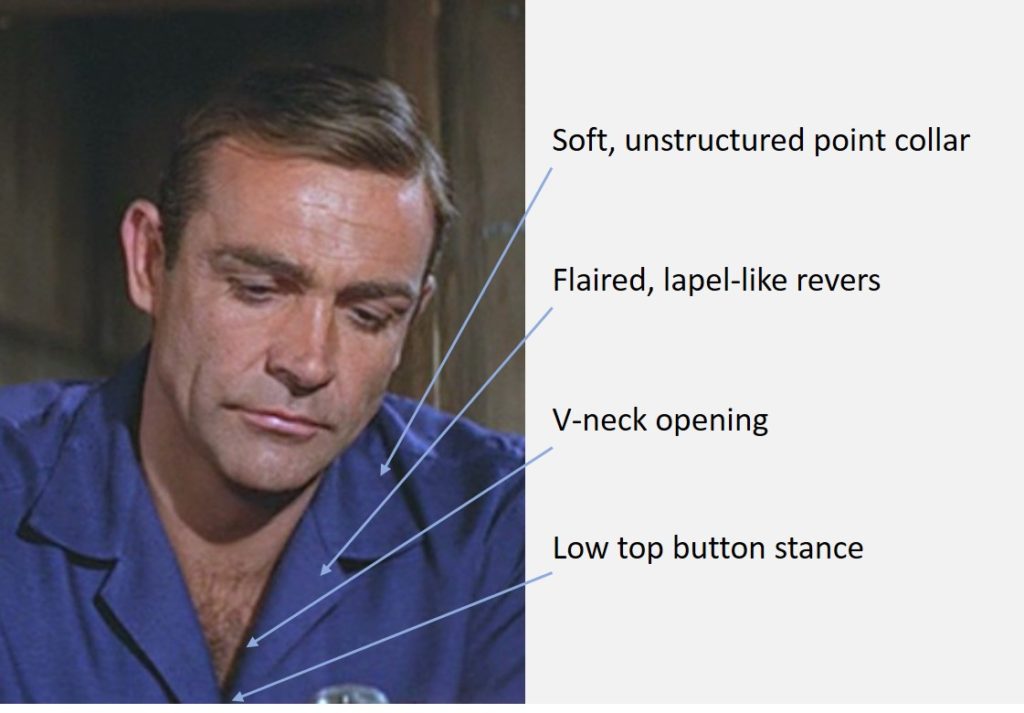 The main difference between the blue shirt Bond wears and the others is the lack of a chest pocket and the two patch hip pockets. So that's a detail we want to look for (and is next to impossible to find right now).
The Blue Camp Collar Shirt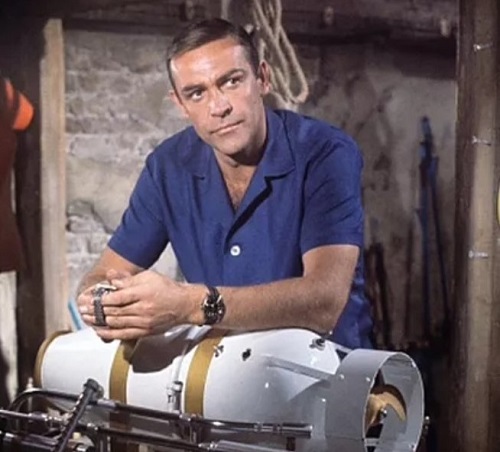 A straight forward, no frills camp collar shirt from one of our favorite brands for affordable Bond style. Actually, this one is from Mango Outlet, which makes it even more affordable. Although it doesn't have the two hip pockets, it also foregoes the chest pocket. So at least the shirt's top half looks relatively screen accurate. The fabric is also interesting: a blend of 87% linen and 13% polyester which Mango claims will help "thermoregulate" your body temperature and wrinkle less than your typical 100% linen shirt. Sizes small to XL are available on their website.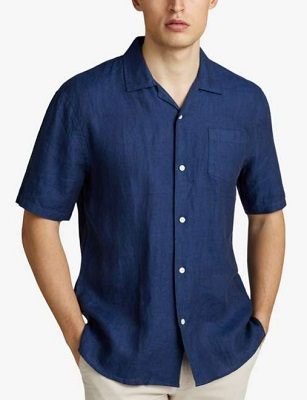 John Henric makes some nice stuff at pretty reasonable prices. And although this 100% linen shirt has a chest pocket and is missing the hip pockets, it does have the white buttons we want. They currently have sizes small to XXL in stock.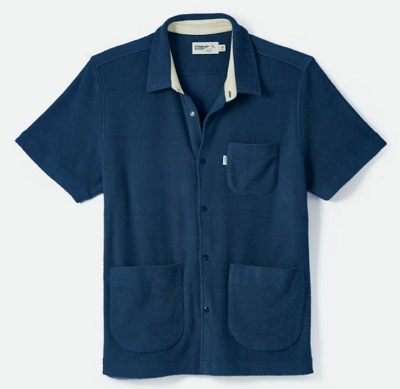 I always like to add something a little different as an alternative for this shirt. This year it's this beauty from Wellen. Made with a 78% cotton and 22% recycled polyester blend terry towelling, it has the hip pockets and the navy color looks to be a good match. Of course it's not exactly what I would call screen accurate (aside from the fabric, there's that chest pocket and the snap button front). But I still think it would be a great shirt to throw on at the end of long day at the beach or for a cool evening by the pool. Huckberry has sizes medium to XXL available.
Also Try:
The Pink Camp Collar Shirt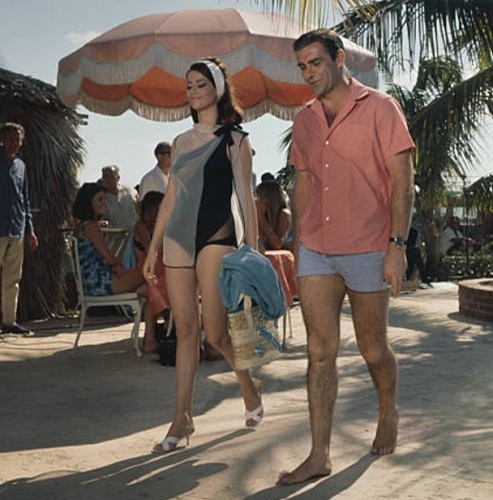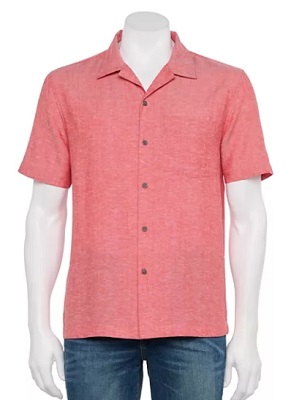 The fabric is a 76% rayon and 24% linen blend. So I wouldn't expect it to wear as light and airy as 100% linen. But it does nail most of the right style details. And thanks to the melange of red and undyed threads, the Red color looks like it comes close to what Bond was wearing. Plus the price isn't going to blow a hole in your wallet. You'll find plenty of sizes at Kohl's.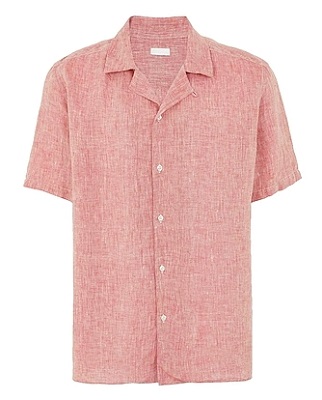 The color reminds more of the Orlebar Brown Thunderball shirt they included in their 007 collection a few years ago more than the actual shirt Bond wears in the film. But the melange effect does make the 100% linen fabric a slightly more subdued shade of pink. That's something the more introverted among us may appreciate. YOOX is down to sizes small to large at the time of writing.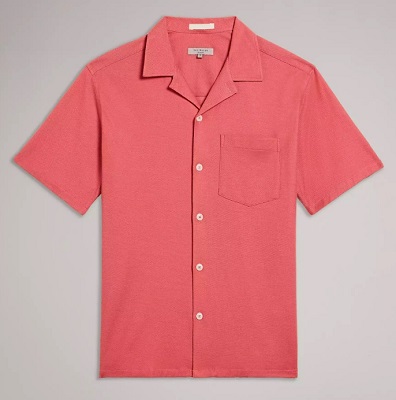 Here's an interesting choice for those of you who want to mix things up a little. The shirt's camp collar style and color make it a pretty great match for Bond's shirt. But Ted Baker has gone with an 83% cotton, 17% Lyocell jersey pique fabric (the sort of material typically used for polo shirts). That means it will wear a little heavier than a linen option. But it also gives the shirt some texture and a really nice drape. You;ll find plenty of sizes on the Ted Baker website.
Also Try:
The Beige Camp Collar Shirt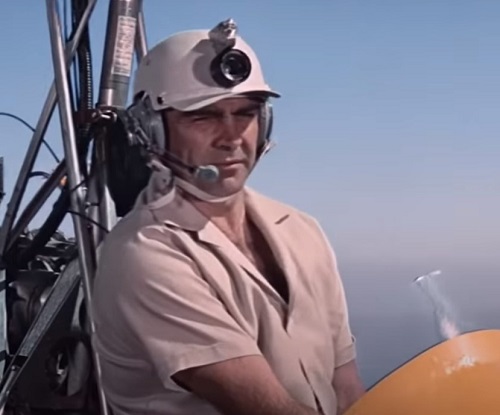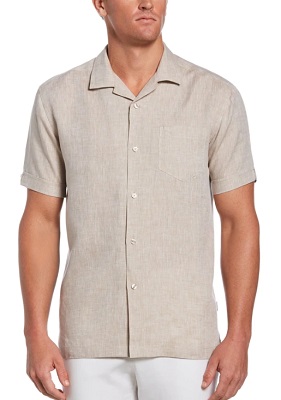 A great 100% linen option that's affordable and comes with a fun design feature. Specifically, the sleeves have turned up cuffs (just like Bond's!) with a small notch and then are finished with a button. Alright, so it's not exactly an earth shattering innovation. But little details like that can really help to subtly elevate the look of the shirt. Cubavera has sizes small to XXL in stock.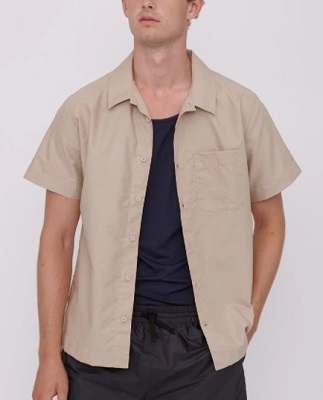 A holdover from last year, now at an even more affordable price. The styling isn't that different from the other alternatives. But this time we're getting a 100% organic cotton oxford cloth, which has a bit more weight to it than linen. Organic Basics is committed to sourcing sustainable materials (for example the buttons are 60% recycled hemp) and using ethical, lower impact manufacturing processes. If those are things you look for in your clothing brands, this is definitely one to check out. They have sizes small to XXL in stock on their website.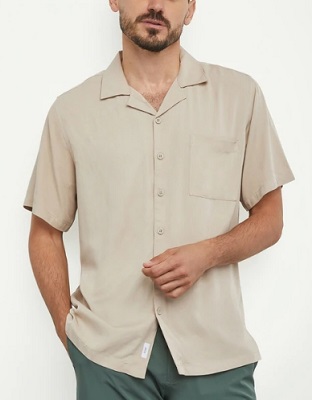 And we're changing things up again with this option from resortwear brand Onia. The style and color are a great match. However Onia has used a 100% viscose fabric which has a bit of a sheen and a more fluid drap. It gives the shirt a more sophisticated look while still keeping it comfortable for hotter temperatures. Sizes small to large are available on their website.
Also Try:
The Diamonds are Forever Toweling Camp Shirt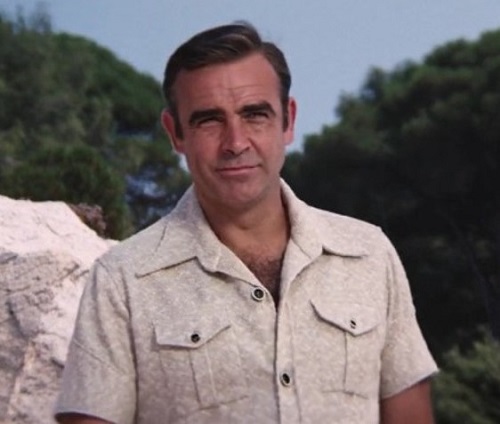 This has to be be one of the more unique shirt designs 007 has worn in his long career. The combination of the toweling fabric plus the extra wide camp collar plus the pleated and flapped chest pockets is pretty unique. If you want that same swinging 60s "safari shirt at the resort" feel, you could go for the classic traditional Guayabera. But, being who we are, we know that won't satisfy most of us. We want a shirt that's as screen accurate as possible. Unfortunately, based on the results my hunting, we'll still have to prioritize which features matter to us the most and choose accordingly. You can read more about Bond's shirt in this article from Bond Suits.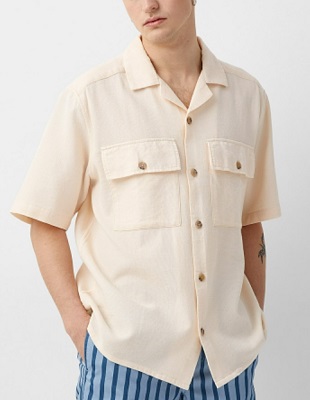 A bit of a cheat. The fabric isn't terry towelling. Instead we're getting a 100% organic cotton waffle weave. That gives the shirt some weight and texture (but not the cozy fuziness of towelling unfortunately). Think of it as an updated "inspired by" alternative for Bond's late 60s/early 70s style. Simons has sizes XS to XL on their website.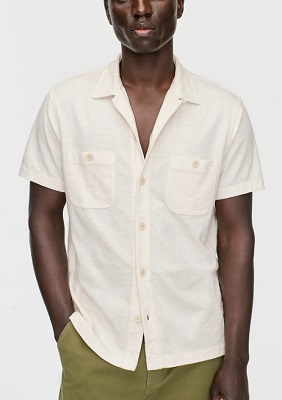 If you like the style of Bond's shirt but think you'll boil to death in towelling in the middle of summer, this option from J.Crew is worth a look. Made from a lighter weight slub cotton fabric (think t-shirt material), it will help keep you from overheating on those hotter days. And while the utility shirt design isn't a perfect match, it still captures the spirit of the original. Since this is J.Crew, remember to check for any sales codes they may be offering to bring the price down!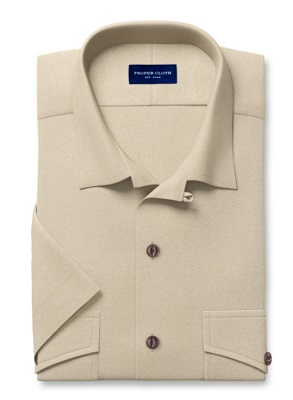 If you've got your heart set on getting an actual towelling shirt with flapped chest pockets and camp collar, then it's definitely worth considering going the custom route. Above a is a mock up I created at Proper Cloth using their "Design a Shirt" feature. The fabric is their Japanese Terry Cloth Knit in beige. For the details, I went with the short sleeve model and added the camp collar, the cuffed sleeves, the safari chest pockets and a straight hem. The buttons are coconut shell, but you could also use brown horn. A hundred and twenty-five bucks ain't cheap for a shirt. But the design comes closer to Bond's shirt than any off-the-rack option I could find.
Also Try:,
The Live and Let Die Black Silk Shirt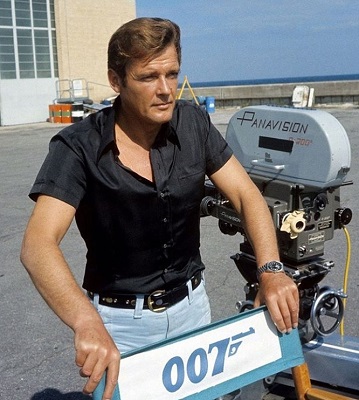 Of course we have to include Sir Roger Moore's classic shirt! Personally, I think you've got to be totally on top of your style game to pull this look off. A fitted, black silk, short sleeve shirt (worn with lots of buttons undone) can go wrong in soooo many ways. The fact that Sir Roger actually does it successfully is a testament to his status as an underappreciated style god!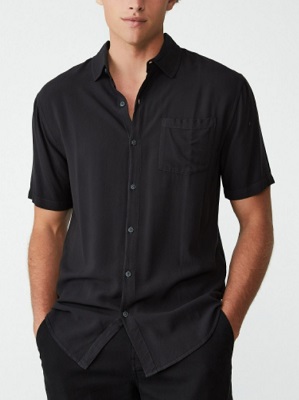 An affordable alternative if you're just looking to play around with this look. The material is 100% viscose, which has a slight sheen and a softer drape. Overall, this Cotton On option doesn't have the crisp look of Sir Roger's silk shirt. But if you want something with a more casual feel, it's worth checking out. Sizes XS to 2XL are available on their website.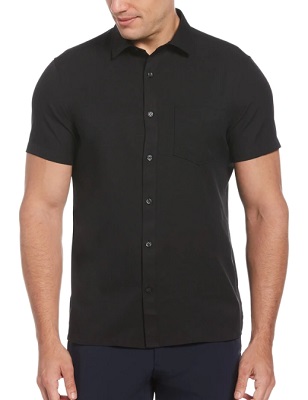 The fabric is a lightweight 100% polyester twill with 4-way stretch and moisture wicking and quick drying properties. Those are some characteristics we may appreciate when wearing a black shirt on a hot day. And it has a bit of silky sheen to it that captures some of Sir Roger's style. Perry Ellis has sizes small to XXL available.
Buck Mason Draped Twill Short Sleeve Shirt in Black: $95.00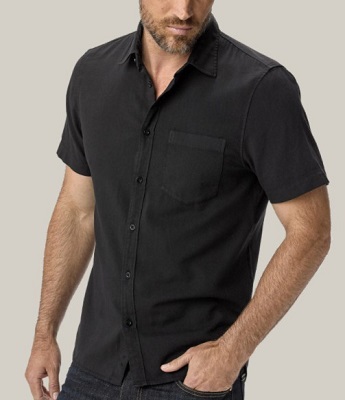 Buck Mason is mainly known for their more contemporary interpretations of classic SoCal inspired Americana designs (you can read our interview with them here). Their version of the black short sleeve shirt is made from a 60% cotton and 40% rayon blend fabric. The more structured collar adds some of the sophistication of Bond's silk shirt. But it still has a casual vibe that keeps it versatile and easy to pair with shorts, jeans and linen trousers. They have sizes XS to large on their website.
Also Try:
The Casino Royale Bahamas Arrival Shirt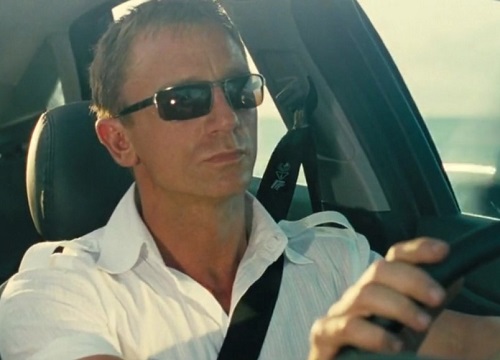 Man, this is a tricky one! There's so many little details to consider. First, the fabric. It has a tone-on-tone track stripe with a different texture than the base material. Then there's the two button collar. And we certainly can't forget the epaulets! It's almost impossible to find an off-the-rack shirt that has everything we want. But we're still going to try!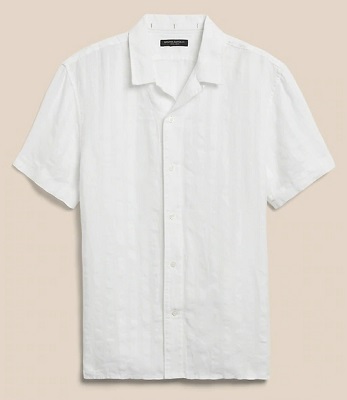 It's obviously missing some of the design details. But the lack of chest pockets keeps the style clean and simple. And that white-on-white self stripe linen fabric is at least playing in the same ball park as what we saw on the screen. I probably wouldn't wear it with a suit. But tuck it into a pair of grey linen trousers and it should look smart enough for a visit to the One and Only Ocean Club.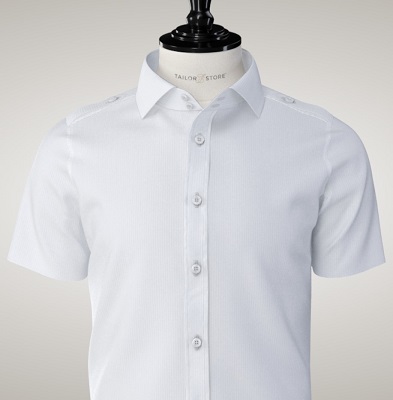 Here's a fun project: make your own Casino Royale shirt! On-line made-to-measure service Tailor Store actually has a function that let's you design your own uniform shirt. You can choose everything from the fabric to the number and types of buttons at the collar to – yes – shoulder strap style. I designed the one above using their 100% cotton dobby weave shirting, which has a very subtle stripe. As you can see, I was able to add the correct two button collar and shoulder straps and select to not add any pockets. And I bet in your communications with the company you could request the wider sleeve cuff to make it even more screen accurate. Total price for my shirt came out to $99.00, but that could go up or down depending on the fabric you choose. I haven't tried Tailor Shop yet, but they're definitely worth considering for custom work like this.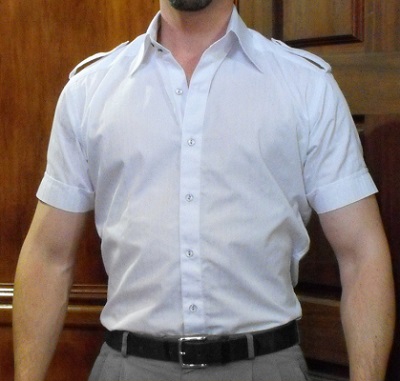 A close to screen accurate reproduction from fan favorite Indy Magnoli. I say "close" because some fans who've bought the shirt say the fabric he uses isn't a perfect match for the screen used shirt. But, as of right now, it has a perfect 5 star rating from 13 customers and, in terms of style details, he's offering the closest version we can get. Each shirt is made-to-measure. So you'll need to be a little patient during that whole process.
Also Try:
Do you have some suggestions for alternatives for the James Bond summer shirts we've shared in Part 1? Tell us about them in the comments! Part 2 of our series looks at Bond's short sleeve patterned shirts. Part 3 covers his polo shirts. And Part 4 is all about Bond's long sleeve summer shirts. You can also check out our Facebook Page, our NEW Instagram Account and Pinterest Boards for more James Bond and Steve McQueen style advice, inspiration and info!
Some photos were sourced from Thunderballs.org, BAMF Style and Bond Lifestyle.