4 Ways to Wear the Tom Ford SPECTRE Polo
At Iconic Alternatives, we try to focus on affordable clothing that will help us get the Bond style we want without emptying our wallets. So it doesn't make a whole lot of financial sense to invest in a piece and then only use it with one "screen accurate" look. Versatility is the name of the game. That's where our "4 Ways to Wear It" series comes in. We take one piece of iconic Bond clothing and combine it with other affordable 007 inspired alternatives to extend our wardrobe and get the most bang for our buck. In this post we look at the Tom Ford Johnny Collar Polo from SPECTRE.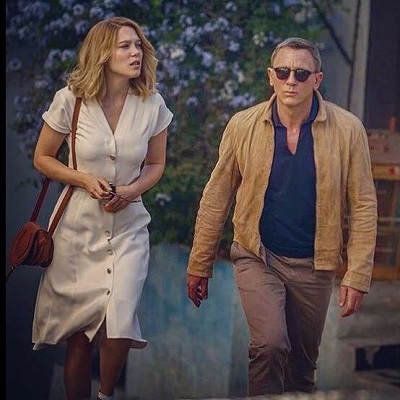 For our looks we're going to be using the Burton Navy Open Collar Knitted Polo Shirt, which is available for £25.00. But we have other alternatives in this post.
The Screen Accurate Look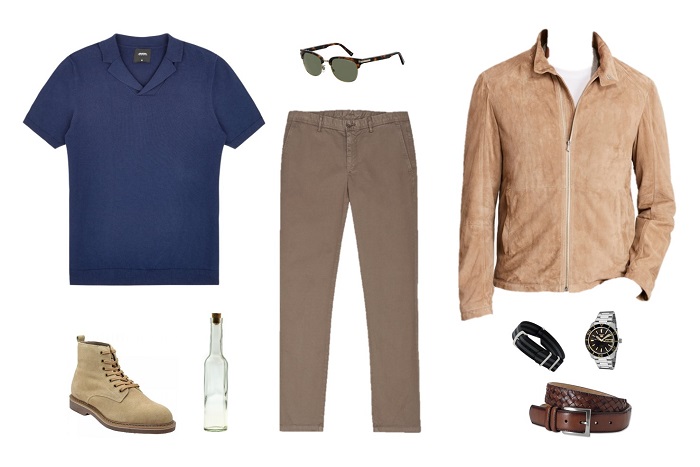 Options:
Total Price: $1188.86
Notes: 
Not a lot to say here that hasn't already been covered. The look has stayed a fan favorite since SPECTRE's release almost four years ago. And it's easy to see why. First, it's a very versatile style. The various elements (suede jacket, chinos, boots, belt and sunglasses) are used later in the film with the Brunello Cucinelli sport coat and Tom Ford shirt and tie and the Orlebar Brown blue linen shirt. Second, it's a relaxed, rugged outfit that still comes across as put-together. I mean, Bond doesn't look like he's about to dig a ditch or anything. But he definitely fits in with his environment more than, say, Roger Moore in a suit would.
The Summer Wedding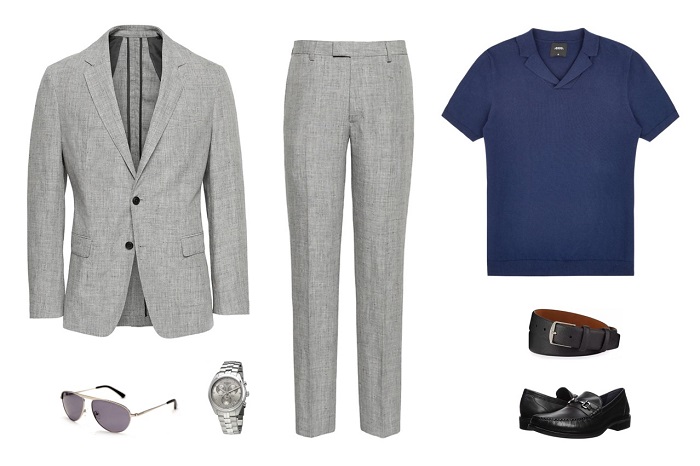 Options:
Total: $954.99
Notes:
Alright, so this one is a little slick. Blame it on the Italian designers I've been researching lately. But all the pieces do come from Bond films. And it's an outfit that will work for almost any adult-oriented, semi-formal function during the hotter months. The linen fabric keeps the suit from getting too dressy when worn with the casual polo. Plus, you can ditch the jacket if things get more relaxed and still look like you gave a damn about what you're wearing. I'll leave it up to you to decide if you want to go sockless with the loafers.
By the Pool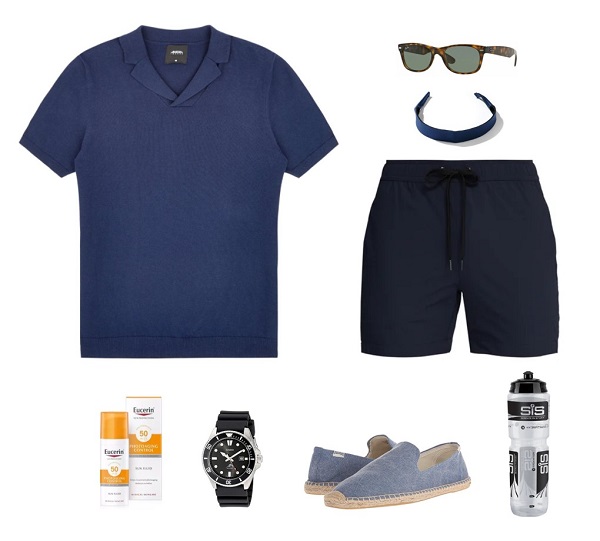 Options:
Total: $322.80
Notes:
Yes, we are still working on identifying the navy blue shorts from the Bond 25 set photos. Now on to more important stuff. Last year, I had to have very minor surgery to remove some skin cancer on my face. Nothing too serious. But I will tell you this: NO ONE likes to hear the "C" word (and I ain't talking about the one you can't say in Canada).
So, my dear friends, if you don't already, I am strongly advising you to start using a good quality sunscreen every day. And if you even suspect that a bump, mole or pimple looks a little weird, get to your doctor ASAP! When you catch it early, it really doesn't have to be a big deal. However, if you leave it too long, be prepared for medical professionals to carve chunks out of your face.  You can learn more about identifying skin cancer here. PSA over.
Day Out and About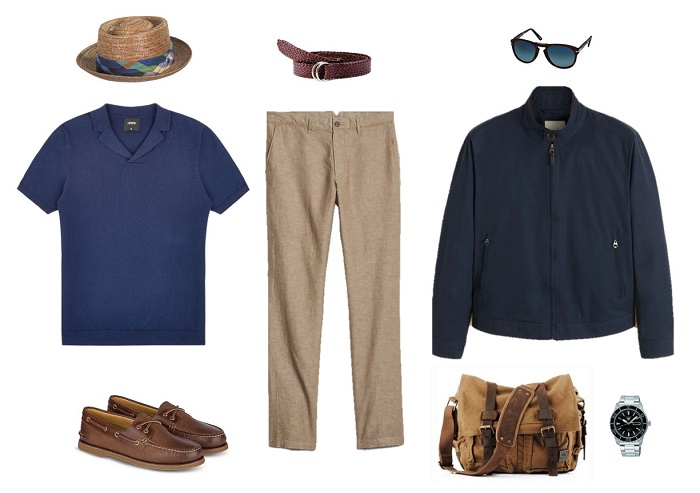 Options:
Total: $848.31
Notes:
This is the do-it-all look when you're going to be out running errands, taking the kids to the park and meeting friends for late afternoon drinks. What I like about it is the way it combines so many different pieces from the Bond films and Daniel Craig's personal style, with a touch of the King of Cool thrown in for good measure. Plus it's practical. You've got the bag for storing stuff. By all reports, those Sperry Gold Cup shoes are super comfy for walking around. The sunglasses fold up for easy storage when the sun goes down. And the jacket will keep you warm if you find yourself down by the water in the evening. Or you can be the gentleman and drape it over the shoulders of your chilly significant other.
Do you have a favorite Bond item you'd like us to use for a "4 Ways to Wear It"? Let us know in the comments below! We also regularly post alternatives, deals around the net, and assorted fun stuff and general silliness on our Facebook page, Instagram account and Pinterest boards; come check us out!