Belstaff 554 Colonial Messenger Bag
Update: We have a new version of this post with all new alternatives! You can view it here!
A favorite of Daniel Craig's for travel, the original Belstaff 554 Colonial Messenger Bag was made in Italy and retailed for approximately $395.00. The original is no longer available, although it does show up on Ebay from time to time, usually selling for way more than the original retail price.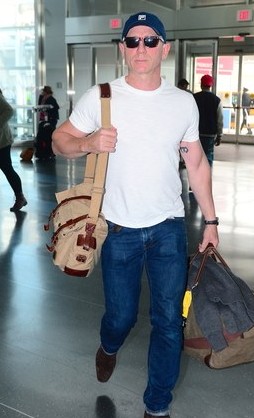 Belstaff does have a new version available: the Hand Waxed Leather Messenger Bag that retails for 695€. It's beautiful. But not exactly the affordable alternative we're looking for.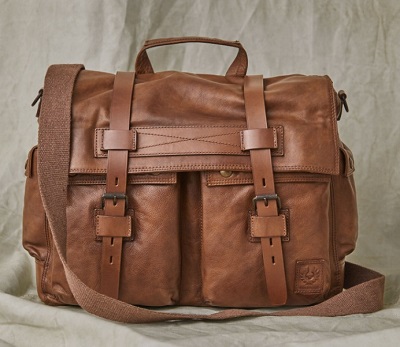 Features Wanted for the Belstaff 554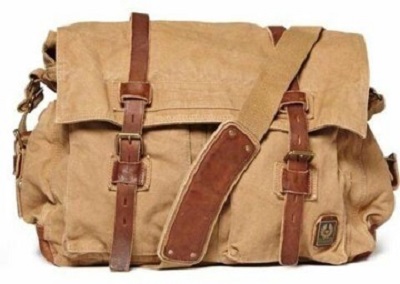 Vintage style satchel or dispatch bag (not really a briefcase shape)
Canvas body with leather straps, side pocket flaps, bottom corner reinforcements and accents
Main body flap cover with magnetic closures (buckles are mostly there for show)
Two front pockets with double snap closures and two side pockets with strap closures
Canvas and leather shoulder strap
Light tan/khaki color (the featured image shows the bag in brown; basically I couldn't find a large enough image of the bag in the Panama color to use).
Some quick background …
Quick (and very non-Bond) story: When my son was ages 4 to around 8, I actually found myself missing the "baby days" when I had a diaper bag where I could also stash some of my own stuff: cell phone, sunglasses, car keys, checkbook, etc. I was still hauling around kid supplies during our day trips to the zoo or wherever, but if I wanted to leave my hands free, I ended up having to stuff my pockets with the cookies, water bottles and the odd toy. So I started looking for a bag to carry the kid's stuff PLUS my own stuff. And – me being me – Daniel Craig and his Belstaff 554 bag were obvious sources of inspiration.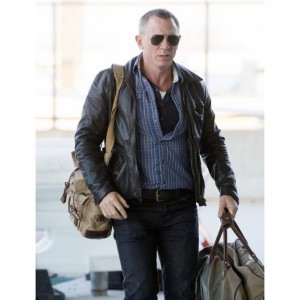 Point of the story: I've done my research, ladies and gentlemen, and I've discovered a couple of interesting things.
What I learned …
Because the 554 is such an iconic Belstaff design, very few "quality " manufacturers (e.g. Frost River or Filson) want to copy it exactly. If you're looking for a solid bag from a reputable brand that's similar to the 554, definitely check them out. But if you're looking for a Belstaff 554 replica, you'll need to search elsewhere.
Searching "elsewhere" basically means cheaper bags from Ebay, Amazon, etc. And almost all the bags I researched in the $25.00 to $80.00 price range seem to be virtually identical. As in they all came from the same one or two Asian manufacturers and the only way to tell them apart is by the logo stuck on the fabric.
For example, if someone can tell me the difference between this Berchirly Bag ($38.99) …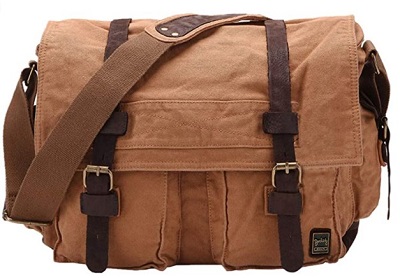 And this $49.99 Messenger Bag on Modern Man Bags …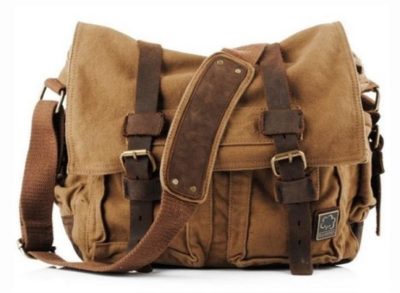 I would really love to know what they are.
In the end, I went with the HDE Vintage Canvas Messenger Field Bag from Amazon for $34.99 (which is no longer available). Not because it's radically different than the other options. But basically because it had the 4.3 stars after 129 reviews and the order was fulfilled by Amazon, instead of being shipped from Asia. I am happy to say that after 4+ years of pretty regular use, it's still working just fine.
Best Options for the Belstaff 554 Messenger Bag
If you want to search for yourself, check out any of the following:
Here are a couple of photos of the Sechunk (left) and the Jonon just to give you some reference.
But, honestly, any of the ones listed above will get the job done. Your choice really comes down to the size you want (15″ or 17″ are the most common), some slight variations in the shade of khaki, and whether you want that psuedo-Belstaff branding patch on the front.
Higher Quality Alternatives for the Belstaff 554 
If you're not married to Belstaff 554's looks, then there are some nice options from higher end Daniel Craig (and Bond) approved brands. Just be prepared for a pretty serious jump in price!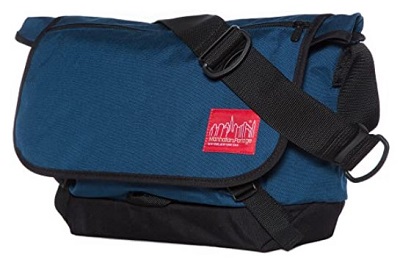 Coming to us from a Craig approved brand, Manhattan Portage's aesthetic is definitely not the same as that of the Belstaff. But it's still a very practical design and built to take a beating. Craig has their medium sized blue New York Minute bag, which is still available in black for $105.00. But if you're more interested in the color, then the above Quick Release Messenger Bag in Navy probably comes closest in size. If you want something larger with the same style of over-the-top straps as the NY Minute, then try their New York Messenger Bag in Navy for $104.99. And last, the Trotter Messenger Bag Jr. in Navy is on sale for $85.25. It's similar in volume to Craig's bag and has the straps. But the design has more zippers, compartments and pockets.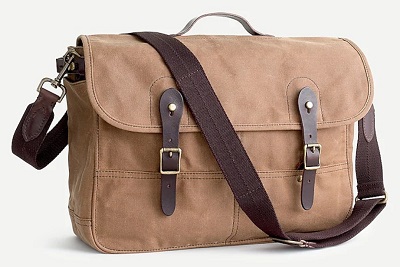 Not only did J.Crew make the fan favorite suede Kenton boots Bond wore in SPECTRE. They also had one of their duffle bags show up the film. And Craig has been seen using his J.Crew duffle on his travels now and then. Their Abingdon Messenger Bag has more of a "briefcase" look than the Belstaff 554. The design is also much simpler and cleaner, which some of you may like. J.Crew has used a lighter weight waxed cotton canvas for the body and finished it off with genuine leather trim and brass finish hardware. It's a definite upgrade from the generic Amazon models above. But it's not quite what I'd call an "heirloom" bag.
NOTE: at the time of writing, J.Crew was running another sale that knocks another 50% off the already reduced price, bringing the bag in at just under eight bucks. Not sure how long that will last. But since the Abingdon is now on final sale (i.e. no returns) I'd expect it will be discounted like this fairly regularly.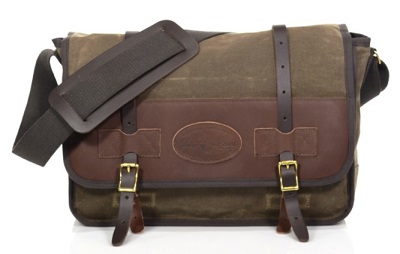 If more rustic styling is your thing, this Frost River bag is a beauty. Handmade in Duluth, Minnesota from 18 oz waxed canvas, premium leather and brass hardware, the large measures a generous 10.25″ X 16″ X 4.75″. Big enough to carry just about anything you'd need to get you through the day. It's also available in a smaller version for $220. Once again, we're looking at a Daniel Craig used brand. He's a fan of both Frost River's duffle bags and daypacks.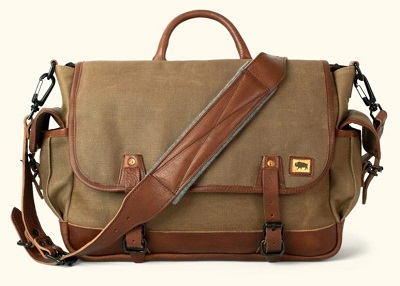 The Dakota's design probably comes closest to that of the Belstaff 554. As for materials, Buffalo Jackson has used a 15 oz. waxed cotton canvas, top grain vegetable tanned leather and solid metal hardware, with hammered rivets at all the stress points. In other words, it's built to take abuse. There's also plenty of compartments and pockets inside and out to make organizing your daily carry essentials a little easier. The bag is made in Mexico. But after twenty-eight 5 star reviews, I don't think anyone's complaining.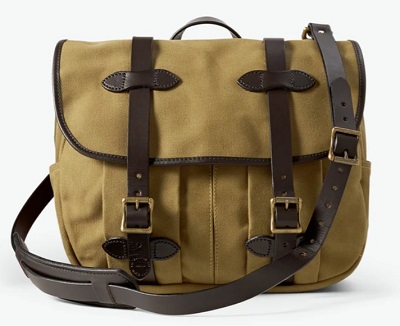 In case you didn't know, Filson is sort of the king of rugged outdoor goods. There are literally fan clubs out there for their products. And once you've had a Filson bag (or Mackinaw) you start to understand why. Their stuff is built to be bombproof. And it can take ages to break in. For example, this bag uses waxed industrial strength cotton twill, full grain bridle leather for the straps and trim and heavy duty metal hardware. The seams are all bound and the bottom is reinforced for increased durability. Apparently all that attention to detail pays off. Take a look at the customer reviews on the product page and you'll frequently read of people abusing their bags for 10 plus years with barely any signs of wear and tear.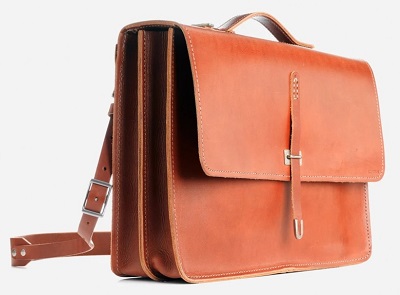 When I finally decided to upgrade from my forty dollar Amazon bag a couple of years, this is what I ended up choosing. It was a relatively big investment. But I knew I wanted a simple, clean design that would not only last a lifetime, but also show some real character over the years. And three years on, the full grain Latigo leather has already softened up and developed a richer coloring and patina from use. Mine is an earlier, more basic model than the current Schoolboy satchel (basically mine is missing the interior pockets). However, I can appreciate the slight changes Billy Kirk has made. Bonus points for it being made in the U.S.A. and coming from a Daniel Craig approved brand. If we define "affordable" as "cost per use" then the Schoolboy Satchel has been a bargain for me.
Have some options for the Belstaff 554 Colonial Messenger Bag you'd like to share? The comments are open below! And remember to check us out our Facebook page, Instagram account and Pinterest Boards for more James Bond style advice, inspiration and info on where to find the latest deals!
Images for this post were sourced from GQ.com. Featured Image sourced from Aaron Lam.