The Daniel Craig Belstaff Messenger Bag
Over the last two and half months, the great Instagram account @whatsdanielwearing has been sharing short videos of Daniel Craig making his daily exits from the Longacre Theatre in New York where he's currently starring in the Broadway production of Macbeth. And fans haven't failed to notice that the actor is almost always carrying an old favorite: his Belstaff Messenger bag.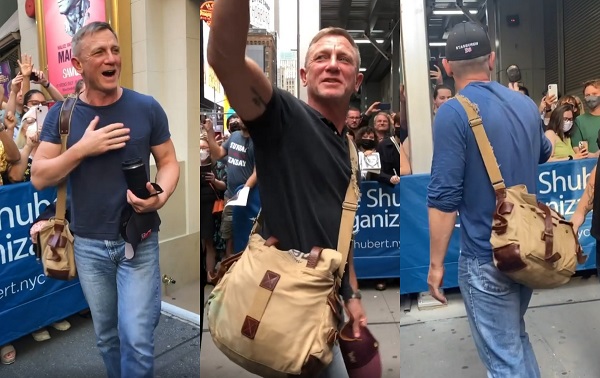 Craig's Belstaff 554 Colonial Messenger Bag has been a trusted travel companion for years now, a fact made clear by the countless paparazzi pics of the actor in various airports over the last decade. Today, with its frayed strap and stained canvas, the bag is looking a little worse for wear. But the Belstaff is clearly still going strong, a testament to the wisdom of investing in good luggage.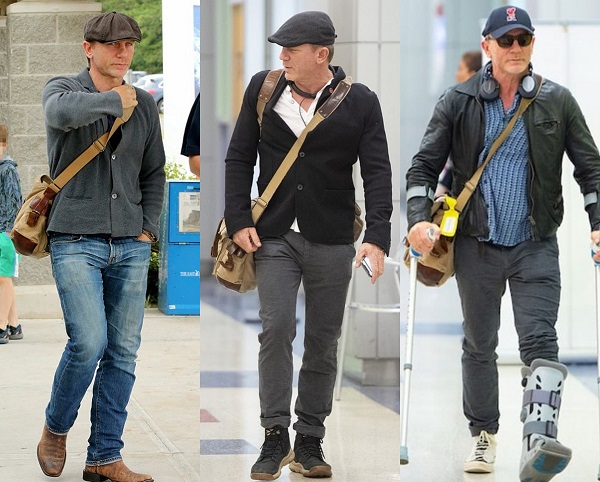 Features Wanted for the Daniel Craig Belstaff Messenger Bag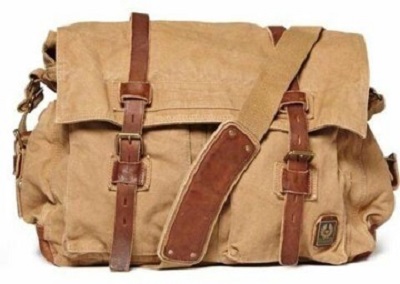 Vintage style satchel or dispatch bag (not really a briefcase shape)
Canvas body with leather straps, bottom corner reinforcements and accents
Main body flap cover with magnetic closures (buckles are mostly there for show)
Two front pockets with double snap closures and two side pockets with strap closures
Canvas and leather shoulder strap
Light tan/khaki color
Before we get to the alternatives, I just want to quickly discuss some of the lower priced options below. As we noted in our recent article on Where to Find Great Deals on Menswear Online, many of these bags are coming from the same manufacturers in Asia. But depending on the retailer, the pricing can range from around $30 up to $120 for exactly the same product. I've tried to find the ones with the best prices to share here. However, I'd still recommend shopping around on Amazon, Ebay and Aliexpress to see if you can turn up a better deal.
Having said that, these cheaper options definitely come closest to the 554 in the looks department. One thing I've learned over the years searching for alternatives for the Belstaff is that because the 554 is such an iconic design, very few quality manufacturers (e.g. Frost River or Filson) want to copy it exactly. But many of them make bags that share the same rugged and practical DNA. So if you'd rather invest in a solid bag from a reputable brand that's similar to the 554 (instead of a clone) then there are some great choices.
Under $100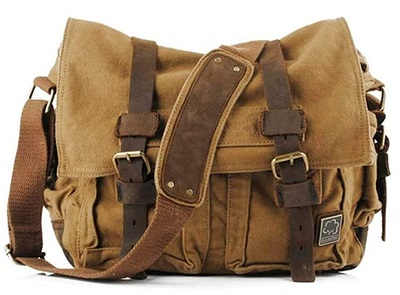 This is an example of the lower priced, mass produced bags I mentioned above. Other options include this one from Berchirly ($37.99), this 14″ model from Gearonic ($45.95), a no-name bag on Aliexpress ($32.46), one from a company called S.C. Cotton ($30.99 ot $35.99), and another no-name Aliexpress special ($34.99 plus $15.79 for shipping!). There will be some small differences in the details between them (various shades of khaki and brown leather, with or without that psuedo-Belstaff branding patch on the front). But you can expect about the same level of quality from all of them. And, to be fair, my $35 bag has held up just fine for the nearly six years I've been using it.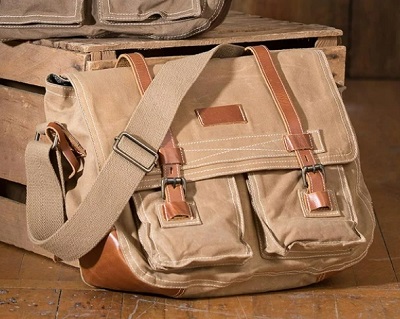 I have to admit, when I first saw this alternative, I assumed it was another generic bag from Asia being sold at an inflated price. But then I started looking more closely at the details. For example, the stitching on the Italian leather straps. And the brass hardware. And the addition of the padded interior laptop sleeve. Then I read a little bit about the company and the projects they sponsor helping women in Punjab, India. Plus they plant a tree in the Amazon Rainforest for every purchase made. So if you're looking for an alternative that captures the looks of the 554 and generates some positive social and environmental impact, this just might be your bag.
Under $200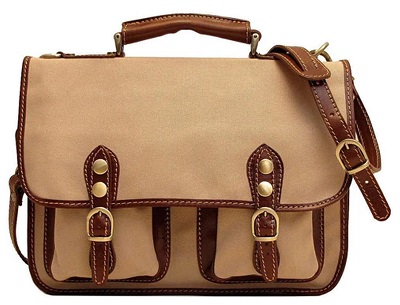 A classier interpretation of the classic design. And boy, it certainly does look sharp! Made in Italy from linen canvas and hand tanned Vecchio brown calfskin leather and lined with suede, it's definitely more of a briefcase style shoulder bag. But it should soften up and develop a nice patina with use. Normally priced at $319.00, it's delivering a lot of luxury for that sale price!
Under $500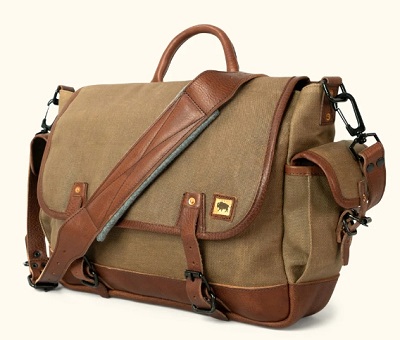 Among the more exprensive alternatives, the Dakota's design probably comes closest to that of the Belstaff 554. As for materials, Buffalo Jackson has used a 15 oz. waxed cotton canvas, top grain vegetable tanned leather and distressed metal hardware, with hammered rivets at all the stress points. In other words, it's built to take abuse. There are also plenty of compartments and pockets inside and out to make organizing your daily carry essentials a little easier. It's also big, with a 20L capactity. With 5 starts out 5 after 35 reviews, it looks like a lot of customers have been very happy with it!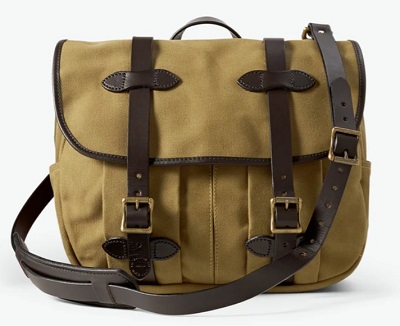 In case you didn't know, Filson is sort of the king of rugged outdoor goods. There are literally fan clubs out there for their products. And once you've had a Filson bag (or Mackinaw) you start to understand why. Their stuff is built to be bombproof. For example, this bag uses waxed industrial strength cotton twill, full grain bridle leather for the straps and trim and heavy duty metal hardware. The seams are all bound and the bottom is reinforced for increased durability. Apparently all that attention to detail pays off. Take a look at the customer reviews on the product page and you'll frequently read of people abusing their bags for 10 plus years with barely any signs of wear and tear. The bag is currently sold out on the Filson website, so I've linked to Amazon above. But there's also a seller on Ebay offering it for $299.99.
The Investment Piece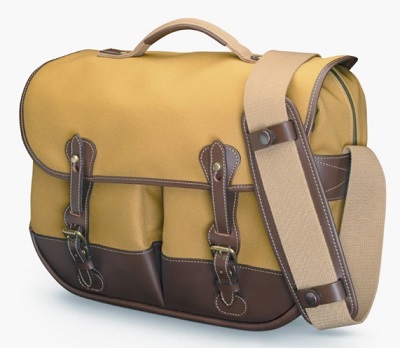 Even though this option from Billingham is designed to be a camera bag, it definitely captures the style we want. Made in England from a 3-layer waterproof fabric with genuine leather accents, it's more rigid than your typical canvas satchel, which will make rummaging around inside a lot easier. They include a closed cell foam insert to store camera gear. But pull that out and you've a great looking bag for day-to-day use that's rugged enough to stand up to some serious abuse. If you're looking for something smaller (and less expensive), the Billingham Hadley Small Pro Camera Bag ($268.00) is also worth a look!
Know of an alternative we should check out for the Daniel Craig Belstaff Messenger Bag? Let us know about it in the comments below! And if you're looking for more style inspiration, remember to check out Iconic Alternatives on Facebook Page, our NEW Instagram Account and Pinterest Boards!