The Best James Bond Inspired Swimwear
Beach weather is coming on fast. Which means it's time to start looking at some James Bond inspired swimwear! In this post, we're going to be looking at affordable alternatives for what I think are the best 007 swim shorts. Which means I'm skipping some of the tighter styles this year that we've included in the past. So apologies in advance to you fans of the trunks from Goldfinger and Casino Royale! If you are interested in alternatives for those, let me know in the comments and I'll be happy to share some options. And if you're looking for some Bond-style summer shirts to wear with the shorts, check out our series starting with this post.
Even excluding a few pairs, we still have lots to cover. So let's dive right in!
The From Russia With Love Boat Shorts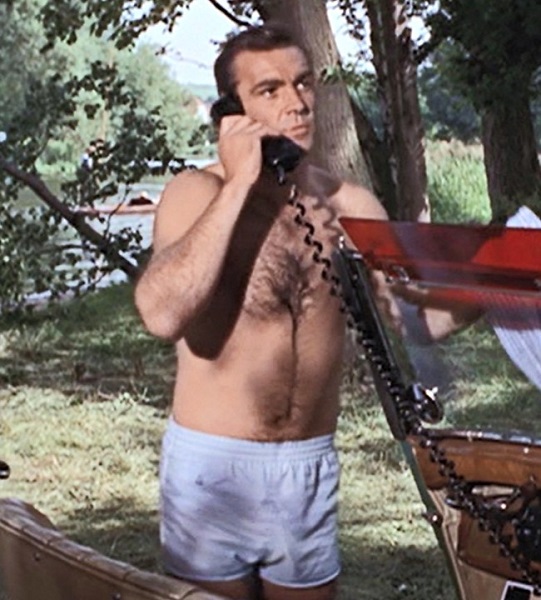 Connery's Bond wore this pair during his riverside afternoon date with Ms. Sylvia Trench at the start of the film. And it's not easy to find a perfect match for them. It really comes down to the combination of the elasticized waist (no drawstring or buttons) with the coin pocket. Then there's the white piping. I'll keep looking for alternatives, but for now we'll need to sacrifice some features. Check out BAMF Style for a complete analysis of Bond's look from this scene.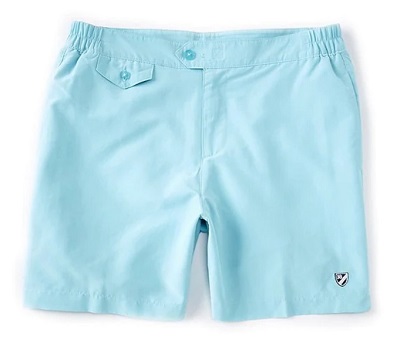 The color is a little more light teal than pale blue. And the button tab closure and zip fly aren't screen accurate (althought much more practical). But the partially elasticized waist and coin pocket have the right retro vibe. And at just under sixty bucks they're relatively affordable. Sizes small to XXL are available at Dillard's.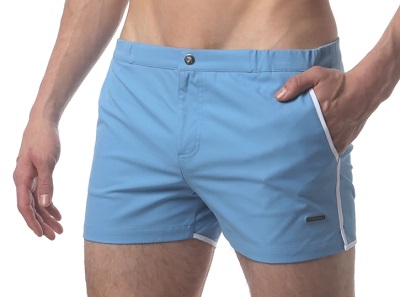 That's quite the jump in price. But, despite some of the differences in the details, I think these do the best job of capturing the spirit of Bond's shorts, especially with the contrasting piping and short length. You'll find sizes 28 to 36 on the Parke & Ronen website.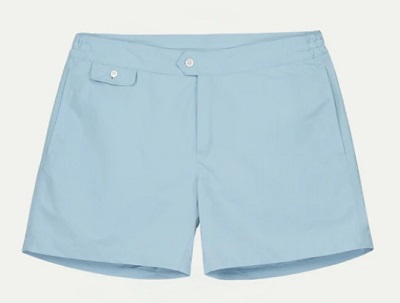 The "smart luxury" pair. Like the options above, these have a button tab waist, a velcro fly and a semi-elasticized waist. But the pale blue color and coin pocket are exactly what we want. I'll also note that this pair in white or in pink would make great alternatives for Bond's Thunderball shorts (more on those below). Aurélien has sizes small to XXL available in all colors.
Also Try
The Blue Belted Thunderball Jantzens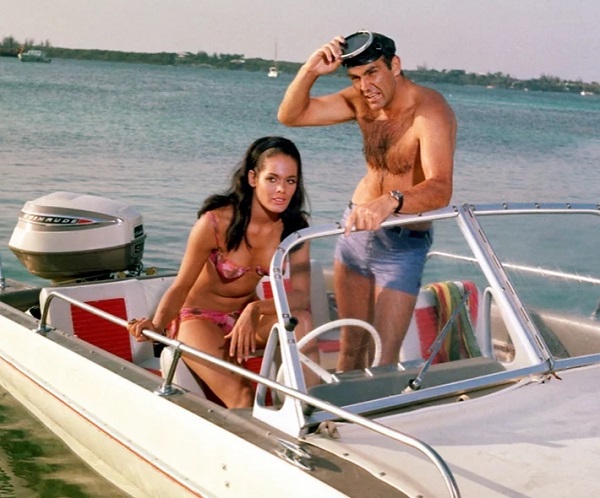 They're probably the most famous shorts from the film. These pale blue Jantzens have a short inseam and button-down belt loops to hold a black belt. Obviously, the belt feature is the most difficult detail to match. However I'm happy to report that this season we have some options in good colors with the belt loops. We'll also take a cue from Orlebar Brown's interpretation (see below) and include some alternatives in the "Also Try" section with a darker colored waistband that gives the effect of the black belt. So we have choices, my friends!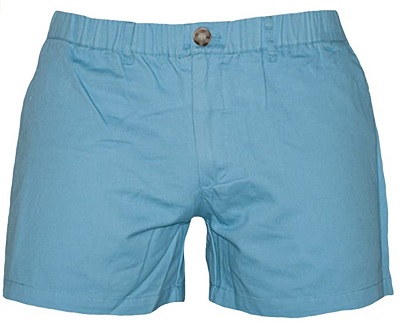 The first of our alternatives with the belt loops. When it comes to the color, it was a toss up for me between the "Carolinas" (shown above) and the lighter "Sky Blue". Either could work, in my opinion. As for the length, the 5.5″ inseam is short enough to have a bit of a retro feel while still giving a little more coverage to those of us who want it. The four-way stretch fabric should also be comfortable. Just note it's a cotton and spandex blend, so don't expect them to be super quick drying. And I'd also strongly suggest you read about the sizing and consider sizing up to get the correct fit. Amazon has small to XXL available.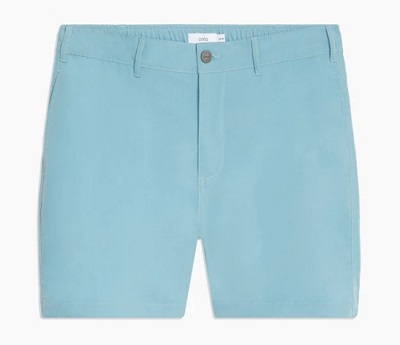 And our second belt compatible option. Onia is a big step up in both price and quality. The color isn't quite the shade of blue we want. But the clean design and tailored fit makes them a perfect "pool to restaurant" short. Combine them with a black webbing belt and you've got a great modern interpretation of the Thunderball swim trunks. Also check out the Red Dawn color as an alternative for Bond's pink Thunderball Jantzens. Onia has sizes small to XXL on their website.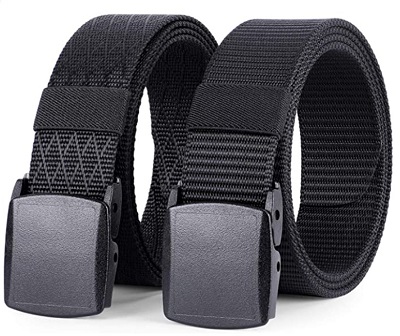 These are really just an example of the kind of belt you could use with the Meripex or Onia alternatives above to give them that final Thunderball touch. There are tons of options on Amazon and Ebay. But I would recommend going with a plastic buckle, especially if you plan on spending more than a few minutes in the water.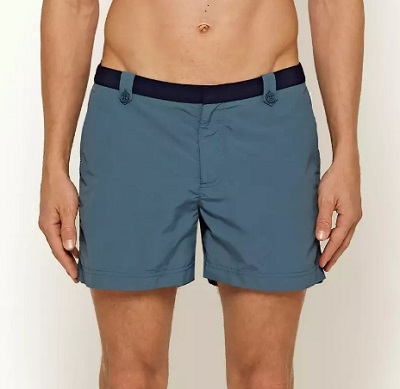 As we mentioned above, here's Orlebar Brown's interpretation. By now, almost every fan of Bond-style knows that OB released a huge collection of 007 inspired pieces back in 2019. And personally I think these modified Setters were one of the stand-outs. The regular Setters are already a great design. But the addition of the contrasting waist band and the buttoned belt loops was a nice homage to Bond's shorts, without making them look like a costume. They're back again this season, however OB has decided to go with a much darker shade of blue this time around. I still like it. But I feel it's much less screen accurate than the lighter Riviera/Navy colorway of the first version. You can find the new color in sizes 28 to 38 on the OB website. Or head over to 007.com where the price drops to $250.00.
Also Try
The White Thunderball Jantzen Shorts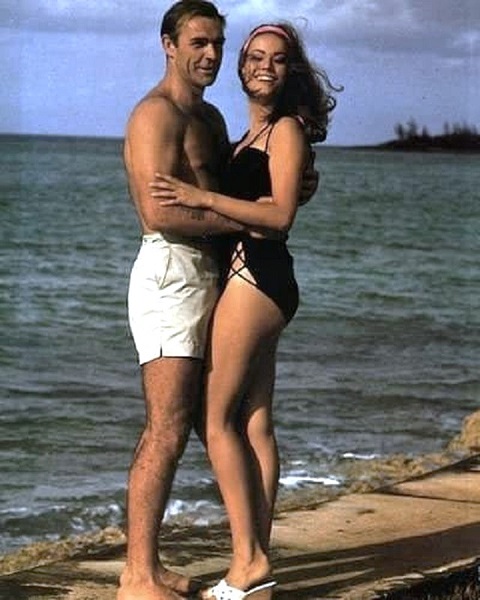 Although these ones were a big part of Thunderball's  promotional artwork, they actually don't get a lot of screen time. We mostly see them poking out from below Bond's red wetsuit (because nothing says "secret-underwater-nighttime-recon mission" like BRIGHT COLORS!). But the general assumption is they're a similar style to the other Jantzens in the movie.
As for the alternatives, I'm not sure it needs to be said, but with white shorts we do run the risk of transparency when they get wet. So although the options below are more expensive, they use thicker fabrics that should keep us from revealing too much in public settings.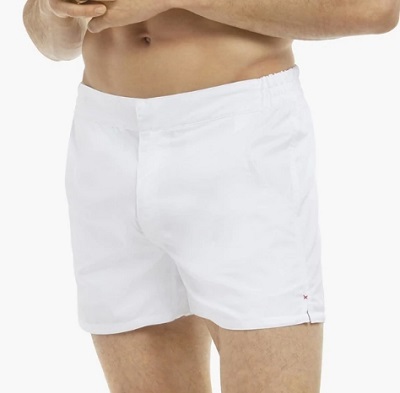 A clean design in a quick drying fabric with some nice details and a suitably short-but-not-too-short 4″ inseam. 2(x)ist has sizes small to XL on their website. They also make the Ibiza in a Pink Peacock color that would work for Bond's pink Jantzens. And the Scuba Blue color (on sale for $59.99) would make a decent alternative for the Craig Bond Skyfall swim shorts.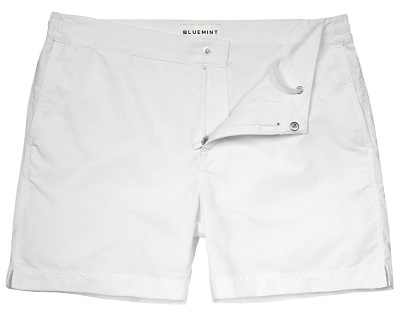 With their concealed button and zip fly closure, semi-elasticized waist band and 4″ inseam these are very similar to the Ibiza option above. But I would expect Bluemint to use nicer fabrics. Sizes 30 to 40 are in stock on their website. If you'd prefer a slightly longer style, check out their Bond Model in white for the same price.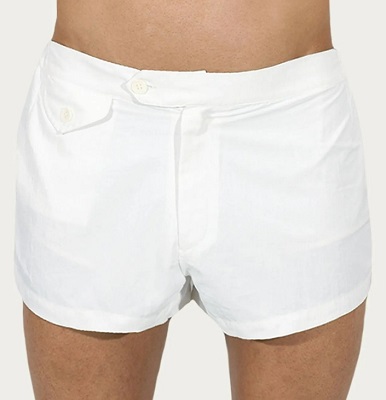 The "short shorts" pair. The founders of PIER Sicilia found inspiration for their designs in the swimwear worn by their grandfather. So they have the right retro look but are made in Sicily by local craftspeople using modern materials. Bombinate has sizes XS to XL in stock.
Also Try
The Goldeneye Black Steam Bath Shorts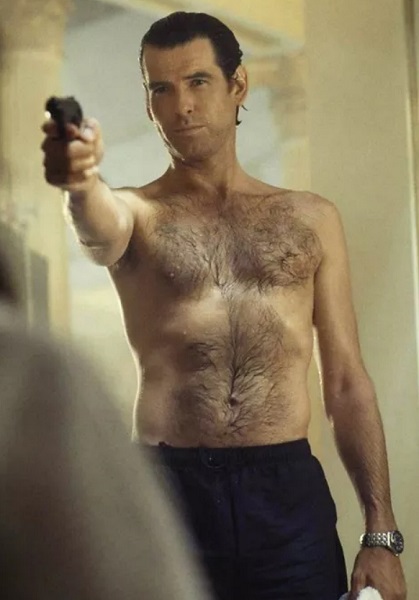 For his relaxing swim in the pool and friendly tussle with Xenia Onatopp in the steam room, Pierce Brosnan's Bond wears a pair of simple black swim shorts. There's really not much to say about them. They have open side pockets with white liners, an elasticized waist and a black drawstring. There is a white logo on the front left, but I can't figure out what brand it's from. In any event, if you're looking for some basic, no-nonsense swimwear, these are a good place to start.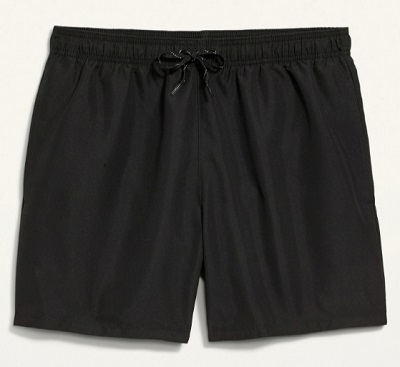 As I said above, we're looking for basic, no-nonsense swimwear. And this pair from Old Navy fit that description at a very affordable price. You'll find sizes XS to 4XL on their website.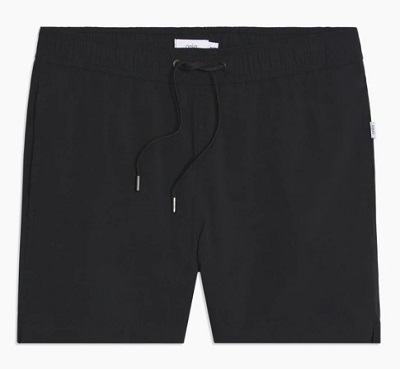 A big step up in price and quality. Expect these to have a more tailored fit and a nicer hand thanks to the refined, tightly woven 95% nylon and 5% Spandex material. Onia has sizes small to XL available on their website.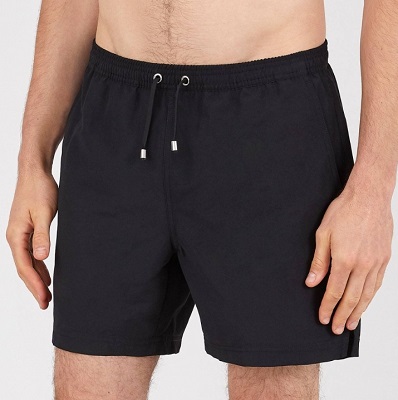 Of course I have to include a pair from the creators of Bond's famous Casino Royale polo shirt. Sunspel has used a fabric from SEAQUAL, which is made with waste plastic recovered from the ocean. That's certainly a benefit for those of us concerned about pollution. Sizes XS to XXL are available on their website.
Also Try
The Skyfall Orlebar Brown Setters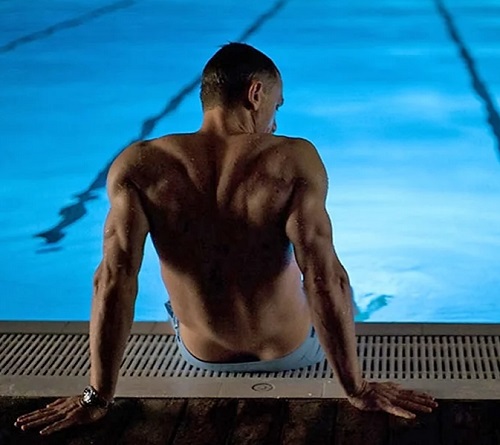 I don't want to say Orlebar Brown wouldn't be successful today if it wasn't for Bond's Setters in Skyfall. But I'd be hard pressed to put a price on the impact their 10 seconds of screen time had on the company. And we never even see them from the front!
None of that is to say Orlebar Brown doesn't make great swimwear. They re-invented a style that dozens of companies have tried to copy over the last decade. Their execution of that retro-look and the quality of their manufacturing are top notch. And the brand has been very savvy as it's grown, constantly re-enforcing its "Resort Lifestyle" image and leveraging the Bond-connection to maximum effect. Some may feel that Orlebar Brown's prices are unreasonably high. But no one can argue that their products sell.
However, a nice side-effect of that style's popularity is that we, the more price conscious buyers, have plenty of great affordable alternatives to choose from.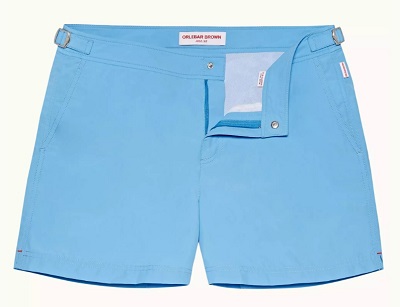 We'll start with the original design. And ten years after their quick appearance in Skyfall, they remain one of the most popular styles from Bond's collection of swim shorts. Orlebar Brown releases a pair in some sort of light blue each season, but seems to reserve the specific shade of "Sky" blue from the film for limited edition releases only. This year we have a shade called Riviera II, which is slightly darker and has a bit more pop to it than the screen used pair. You can find sizes 28 to 36 on their website.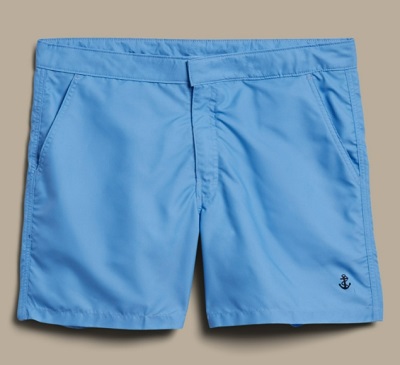 They're missing the side-tab adjusters. And the inseam is a little longer. The shade of blue is also a little brighter than ideal. But if you're looking for a simpler design that you can easily find in almost any mall, they'll get the job done. You can also order them directly from the Banana Republic website, where they have sizes medium to XL in stock.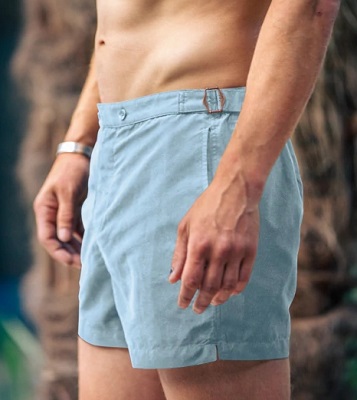 It's just my personal opinion, but I think &Sons knocked it out of the park with their Newman shorts. That pale shade of blue is almost exactly what we want. And the design details, like the buckle side-tab adjusters and shorter inseam are also spot-on. I also think the button tab front closure, while not screen accurate, adds a little more sophistication to the style. Like the black Sunspel pair above, &Sons has used SEAQUAL yarn, which is made from upcycled marine plastic. Last, but not least, we get all of that for about half the price of the Setters. Sizes small to XXL are in stock on their website.
Also Try
The No Time To Die Jamaica Shorts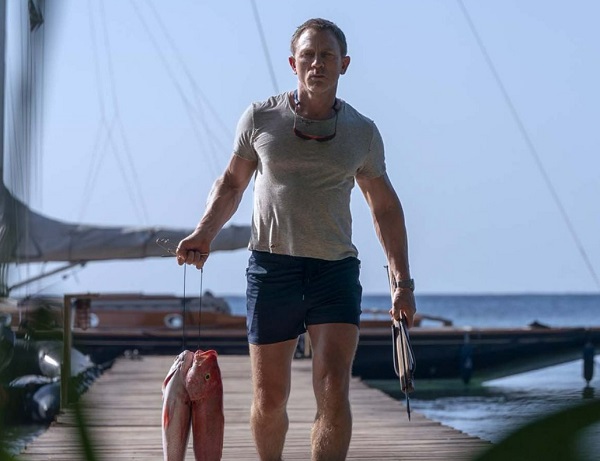 The maker of Bond's Jamaica swim shorts was a frustrating mystery for soooo long! Were they an unreleased design from Orlebar Brown? Maybe an older pair from Tom Ford or Brunello Cucinelli? It seemed like no on could figure it out.
When the brand was finally revealed, I think it's safe to say many in the Bond community were a little shocked. Turns out they were a pair from Jed North, a company best known for its line of clothing for body builders. And not only is the model still available, it's very, very affordable.
But, as with all things Bond, there's a catch. The No Time To Die costume department modified the original design for the film, removing the logo on the left leg and changing the day-glo yellow drawstring with a more subdued dark navy one. The good news is with a bit of work it's relatively easy for any of us to make the same modifications to the shorts to create our own screen accurate pair. More on that below.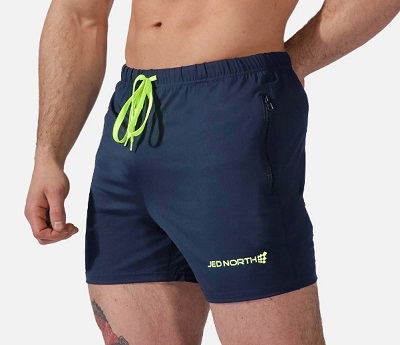 The brand and model used in the film. If you'd like to pick up a pair yourself, this article from James Bond Lifestyle is probably the best guide I've read on how to execute the necessary modifications to make them screen accurate. You can order them directly from Jed North, where they have sizes small to XXXL in stock. Or you can get them from Amazon for $30 (if you have Prime, you'll save on shipping and get free returns).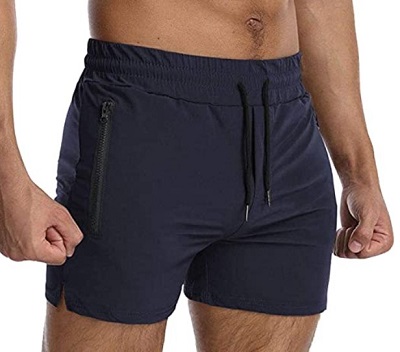 Let's say you can't be bothered to go through the work of making the Jed Norths screen accurate. Another option is to pick up these very affordable alternatives from Everworth. They have almost all the correct style details. But they're also logo-free and already have a dark navy drawstring. So they're ready to go right out of the bag. I grabbed a pair for myself and found them to be decent quality for the price. The fabric does have some stretch and although it's thin, it doesn't feel particularly cheap. The same can't be said for the zippers on the pockets (chunky plastic) or the drawstring (basically a low quality shoe lace). However, the cut is decent and true to size. I'm a medium in almost everything and ordered a U.S. medium and the fit is trim but not skin hugging tight. Seriously, we could do a LOT worse for ten bucks! Amazon has sizes XS to XL available.
Have an alternative you'd like to recommend for our James Bond inspired swimwear? Or is there a pair you think we should have included this year? Let us know about it in the comments below! And if you're looking for more style inspiration, remember to check out Iconic Alternatives on  Facebook Page, our NEW Instagram Account and Pinterest Boards!