Where to Find Great Deals on Menswear Online
A little over a year ago, I wrote about my favorite brands for affordable Bond inspired style. And it seemed like a few of you fine folks enjoyed hearing a little more about the process I go through when hunting for affordable alternatives for this website. So I thought I'd revisit the topic, this time focusing on some of the main platforms I use to find those great deals on menswear online to share with you all.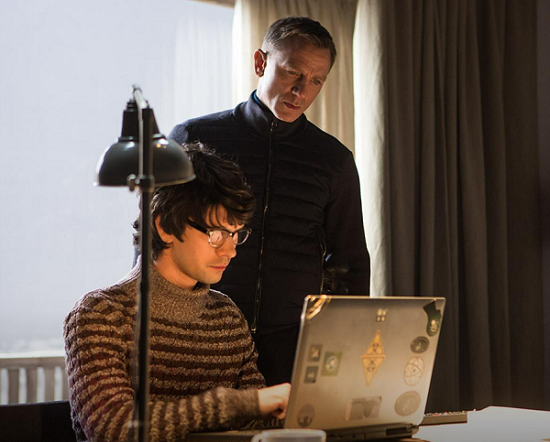 The Obligatory Few Quick Notes …
First, for this post I'm going to focus on websites where you can find deals on new clothing. As many of you already know, sites like Grailed, The Real Real, Poshmark and even Etsy can be great sources for gently used menswear at significantly lower prices. But good pieces come and go pretty quickly. The sites I'm sharing below offer a relatively consistent stream of new inventory so it's a little easier to find what you want (or least come very close).
Second, when I'm searching for affordable alternatives for a specific post, one of the first places I check is Shop Style. If you're not familiar with it, Shop Style is basically a clothing focused search engine that pulls in results from thousands of retailers. I find it very useful for seeing what options are out there for a specific article of clothing and doing price comparisons. It's a great place to start your hunt for deals.
Third, none of the businesses I've shared below have paid me anything to be part of this post. In fact, I haven't even contacted any of them to let them know they're included. The information here is all based on my personal experience with their services.
Alright, let's get started with one of the biggest names in the game!
Ebay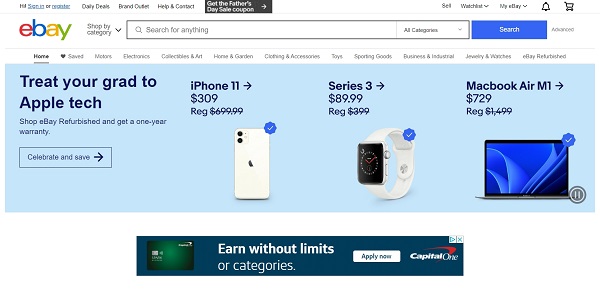 What is it?
Obviously, almost everyone knows about Ebay. So I'll use this opportunity to share some insights that may not be general knowledge.
First, while many of us are aware of Ebay as a platform for selling used goods, you can find plenty of new products on the site. It's as simple as selecting the "New With Tags" (or "New With Box" if it's shoes) option in the search filters. While the search results will mainly show individual sellers offering new products, you should also see plenty of options from larger retailers and brands that operate "Stores" on Ebay. And you can often find better deals here than you would on their own websites (I've found this to be especially true with running shoes and athletic wear for some reason).
The second insight requires some explanation. Today it's easier than ever to start your own online clothing business. In fact, you don't even need to be a designer to do it! Here's how it works.
The New Business of Online Selling
Decide what products you want to sell. Polo shirts, jackets, jeans, accessories, whatever you find interesting. For this example, I'll use vintage style canvas and leather messenger bags.
Go to Alibaba.com. Alibaba is basically a massive B2B (or business-to-business) marketplace for Asia based manufacturers who can produce almost anything under the sun in smaller volumes. Search for the product you want to sell and scroll through the results until you see what you want. Here is one option I found for messenger bags.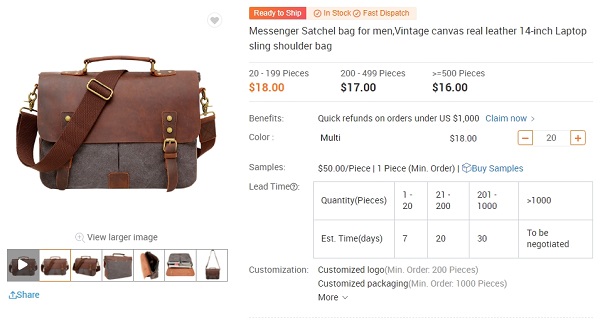 What you probably noticed looking at that product page is that the minimum number of pieces you need to buy can actually be quite small. But the more pieces you buy, the lower the price per unit. You may have also noticed that you can customize the bag to do things like add your own logo. So once you've found the right product, you place your order with the manufacturer for the quantity you want and maybe contact them to change some of the details.
Here's where things get interesting. Because now you have to arrange for delivery. You have a few options at this point. Obviously most people don't have the space to store hundreds of canvas bags. Or the internal business infrastructure to handle international logistics. So many sellers use what's called a fulfillment service. To put it simply, this is an end-to-end service that arranges for the delivery of your products from the manufacturer, warehouses the products for you, and ships the product when a customer buys one. There are plenty of companies out there that offer fulfillment services and Amazon and Ebay have their own in-house fulfillment programs. Some of the manufacturers on Alibaba will even do it for you for an additional fee. So finding a solution that meets your needs isn't difficult.
However, what that means is you, the seller, never have to come into physical contact with the product you're selling! It can go straight from the manufacturer to the warehouse to the customer and you never have to lay eyes on it. But you do have some important tasks ahead of you. Your job is to set up your storefronts on Amazon, Ebay and other platforms and promote your products to the end customers. That can take a lot of work and a lot of patience (and knowledge of things like search algorithms, key words, etc.). But since you don't have to worry about the logistics of getting your product into the buyer's hands, you can focus almost all your attention on selling.
What it means to you
So why should you, a guy just looking for tips on finding great deals online, care about all of this? Because thousands of online businesses are doing this. And a lot of them are buying from the same manufacturers. Which means exactly the same product is being sold at a variety of different prices. Remember my messenger bag above that I bought for $18 per piece? Here it is on Etsy for $105.57!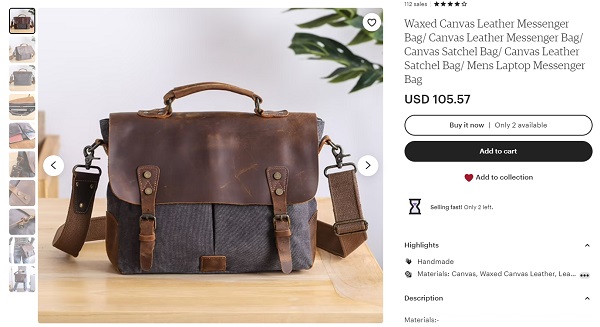 And on Ebay for $73.99.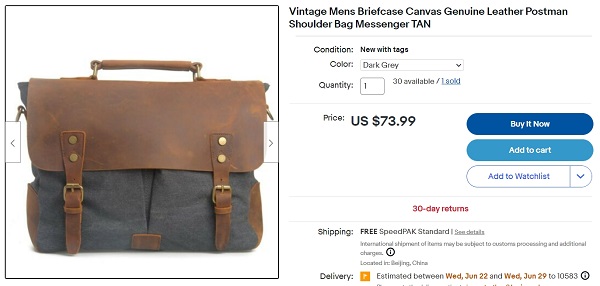 And on Aliexpress for $51.29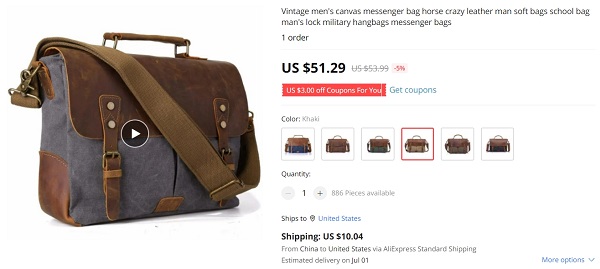 And on Amazon for $29.99.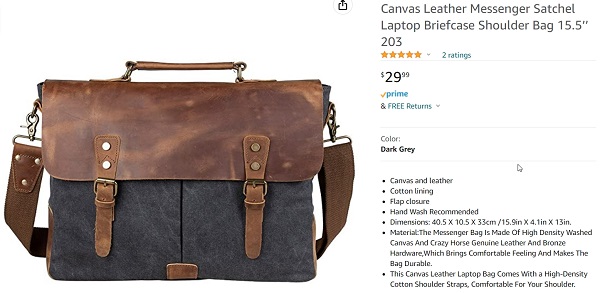 Different sellers on different platforms with different prices. But they're all selling exactly the same thing. And this isn't limited to messenger bags. Ebay (and Amazon and Etsy and Alibaba and others) is now overrun with fly-by-night businesses selling the same linen shirts, Harrington jackets, cable knit sweaters, flat caps, dive watches, you name it. So even when you think you've found a great deal it's more than likely that there's an even better deal still out there for the identical product. And digging a little deeper can often save you a LOT of money.
Now that we've tackled some of the platforms almost everyone knows, let's take a look at a few of the smaller players that I find to be incredibly helpful in my hunt for affordable alternatives!
Thread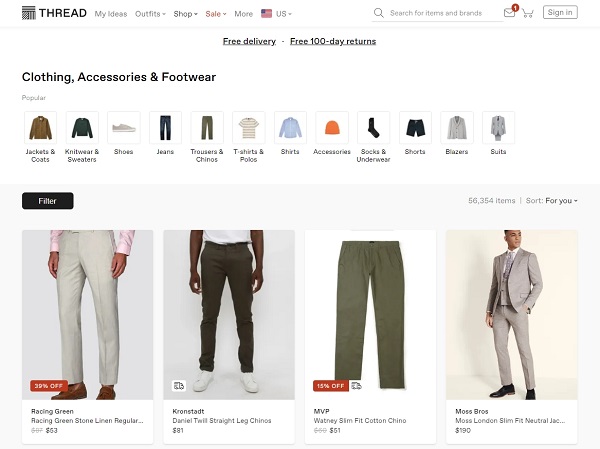 What is it?
Thread is both an online shopping platform and a personlized styling service. It curates thousands of products from various brands (and retailers I'm assuming) so it can offer a great selection to suit almost any taste. When you create an account (which isn't necessary for simple searches in their store) you'll be asked to complete a "Style Survery" to help Thread learn more about your personal style. They will then assign a stylist (yes, it's a real person) to your account to make clothing recommendations based on your survey results. All of this is free of charge.
As for pricing, I've found Thread to be very competitive. And they will price match if you find something cheaper elsewhere. They also run sales fairly often and, when you have an account, email you alerts when something you've been eyeing gets a discount.
What's good?
Great selection of products from plenty of brands many of us know and love.
Great way for U.S. based customers to access some UK based brands.
Prices are very competitive and when there's a sale they're often lower than I've seen almost anywhere else.
Free personalized recommendation service to help you find new products.
Service is available in both the UK and the U.S.
What's not so good?
Shipping will cost you $7.99 until you hit the $100 threshold. Then it's free. But Thread does cover any import duties. And returns are free, which is great.
Although the prices in general are very good, there are a few exceptions. Since Thread is based in the UK, some of the pricing, especially for U.S. brands, can be a little high. For example, Levi's Premium 501s are about $90 on the Levi's website. But they're $105.00 on Thread. So you still need to keep your eyes open.
The search engine turns up solid results. But there aren't many filters (Brands, Colour, Price and Fit are about all you get). So when you're searching for something like chinos, you sometimes have to wade through hundreds of options with no way to really dial in your search.
Garmentory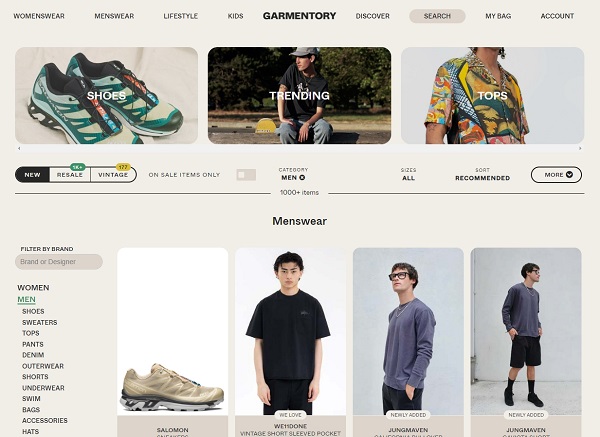 What is it?
Like Thread, Garmentory curates thousands of products from a huge variety of brands. But they also include a wide range of independent retailers from around the world on their platform. So it actually operates as more of a marketplace, a sort of ultra cool online shopping mall where Rick Owens hangs out with Naked & Famous and Montblanc. I mainly use Garmentory when I'm looking for things I just can't find anywhere else: that unique sweater design or something that's out of stock at the bigger stores. Because they're pulling in search results from all those smaller brands and boutiques, I'll find what I need more often than not.
The other advantage of including all those boutiques is pricing, especially for more common pieces. A search for "Barbour Jacket" turns up results from stores in London, Torino, New Jersey and North Carolina. And one of them is almost always going to have a deal on what you want.
What's good?
Garmentory has a truly impressive range of products on their platform, everything from Arc'teryx jackets to Iron Heart jeans to sweaters from Maison Margiela. You really can find almost anything here.
Because you can access smaller, independent boutiques you can frequently find items on sale even when the bigger online retailers aren't offering a discount. For example, at the time of writing, a store in Vancouver is running a 40% off promotion on select Sunspel pieces.
Serves the U.S., the UK and Commonwealth countries.
What's not so good?
My single biggest complaint with Garmentory is the search function. There are zero filters. And, if I'm being completely honest, it doesn't handle key words all that well either. That's not too much of a problem if you know exactly what you're looking for. But if you're doing a more generic search, say for "polo shirts", you either end up with an overwhelming number of results or barely any.
Shipping costs can be all over the place and are totally dependent on the boutique from which you're making your purchase. So you really need to pay attention to the fine print!
YOOX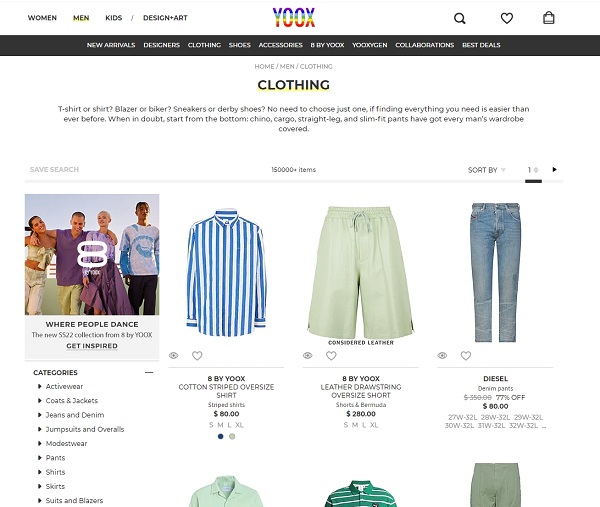 What is it?
YOOX is sort of an online clearing house for designer clothing. Looking for 70% off a Brunello Cucinelli blazer? How about 55% off a Tom Ford dinner jacket? Or 40% off some Gucci loafers? This is where you'll find 'em. And a lot, LOT more. YOOX has pieces from a bajillion brands (that's an estimate). You've undoubtedly heard of many of them. But there are definitely more than a few obscure ones. And, even though some of their designs can be a little out there, you might be surprised how often you can find the cool jacket of your dreams from a designer you've never heard of.
There's just a couple of catches with using YOOX. First, almost everything with a decent discount is from one or two seasons past. Which isn't really that big of a deal since changes in menswear take so long to evolve. The second is a little more problematic: sizes are all over the place. Sure you can find a 40% discount on some Orlebar Brown shorts. But they only have size 28. And you need a 34. That happens frequently on YOOX, which is one of the main reasons I don't share too many items from them in IA posts. Having said that, if you're down with doing some serious webpage scrolling and Lady Luck is on your side, you can find some truly excellent deals.
What's good?
It's all about the deals! YOOX deliveries serious discounts on tons of pieces.
It's a great place to discover some very cool pieces from more obscure designers (and those are the ones usually get the deepest discounts).
Even though YOOX is best known for sales on higher end designer pieces, they also have a good selection from more mid-tier brands. And their own 8 by YOOX in-house label offers some really nice designs at reasonable prices.
The onsite search function is actually … okay. I'd just skip entering key words into the search box and go straight to the filters. For example, searching for "Blue Linen Shorts" brought up over 100,000 results, most of which were khaki pants for some reason. But when I used the filters (category: Shorts & Bermudas, color: Blue, print: One Color, material: Linen) I got 80 results. And this time they actually were blue linen shorts.
Available internationally.
What's not so good?
As I mentioned above, the big thing is the limited sizing availability. YOOX really is cluttered with one-offs in single sizes. And it can be very frustrating to find a deal on exactly the piece you want only to discover they only have it in size XXXXL. So use the size filters in the search right from the start and save yourself the headache (and heartache).
Although there are some mid-tier brands on the platform, most of the inventory is from higher end designers. So a lot of it is really expensive, even with the discounts. Sure that Cucinelli blazer is 60% off. But that brings the price down to $1500. Which is still a big chunk of change.
Do you have a suggestion for a source of great deals on menswear online? Or want to share your experiences with one of the platforms we discussed here? Tell us about it in the comments!  If people seemed interested in this topic, I'll be happy to write another article discussing other sources I use and my process for finding affordable alternatives. And if you're looking for more style inspiration, remember to check out Iconic Alternatives on  Facebook Page, our NEW Instagram Account and Pinterest Boards!