5 Things I Want June 2022
Welcome to the June 2022 edition of 5 Things I Want! So what's this post about? Basically it's my public wish list. A place to share some incredibly cool things that I've found during my wanders around the internet searching for affordable alternatives. Five things that made me shout, "I WANT!" as soon as I laid eyes on 'em. They won't always be Bond-related. But I think they're definitely worth a look!
A Retro Polo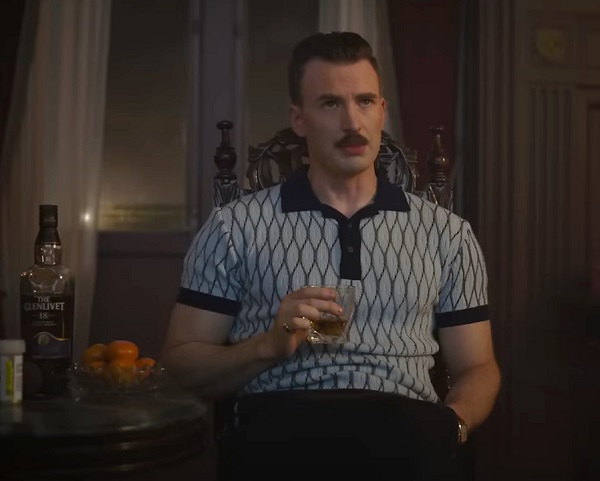 Has everyone seen the trailer for The Gray Man? The new action spy movie from the Russo Brothers stars Ryan Gosling, Chris Evans and Ana de Armas and looks like it's going to be some fun, waaay over the top entertainment.
It also has to be noted that Evan's character Lloyd Hansen wears some interesting retro style polos throughout. The one that gets the most screentime is that pale grey number with the navy collar, cuffs and vertical wavy line pattern pictured above. Is it towelling? Some sort of ribbed knit? It's hard to tell. But it definitely caught my eye as a source of 60s style summer shirt inspiration.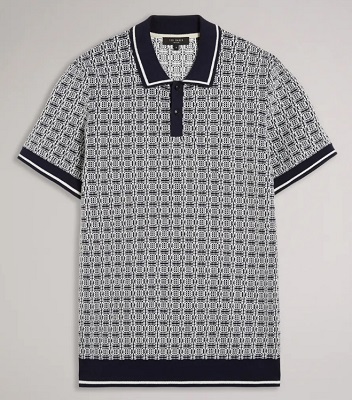 Not exactly the same pattern. But it definitely has the same vibe as Lloyd's shirt. I'm not usually a fan of tipping on polos. However I think it works here. And the intricate geometric pattern adds the right amount of retro style while still being subtle and sophisticated. Thread has sizes XS to XXL in stock at that sale price.
A REALLY "Out There" Retro Polo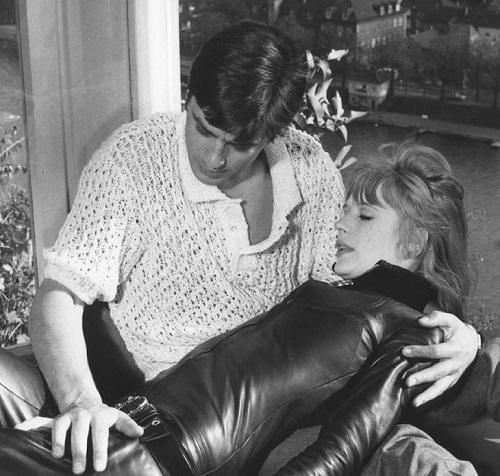 Alain Delon and Marianne Faitfull's 1968 psycho-sexual drama might not be essential viewing. However it does feature some pretty cool bikes, a skin tight leather jumpsuit and that very unique oversized crocheted polo sweater. Maybe it's because I've spent the last month looking at James Bond's decidedly more subdued summer shirts. But this season I'm definitely thinking about adding something a little weirder to my closet.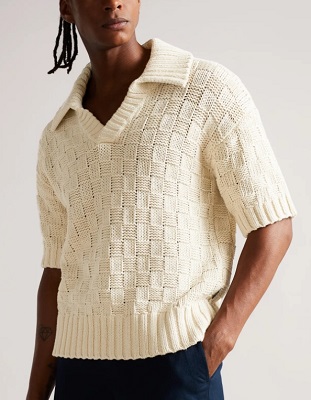 Ted Baker again. This 100% cotton polo sweater has a great basket weave knit, the right short and boxy retro fit and (of course) that huge collar. Am I cool enough to actually pull off the look? I doubt it. But damn me if I don't want to try!
A Summer Weight Utility Shirt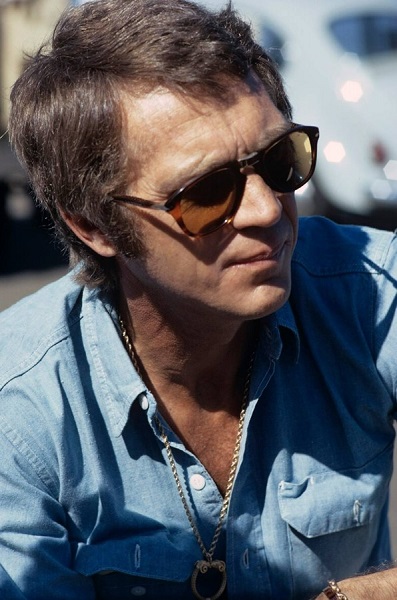 Since my personal style leans more towards casual workwear than tailoring, I'm a fan of utility shirts. I already have a few lighter weight chambray ones that work for hotter weather. But they're all that traditional pale blue color. This summer I've been keepign my eye out for something a little brighter.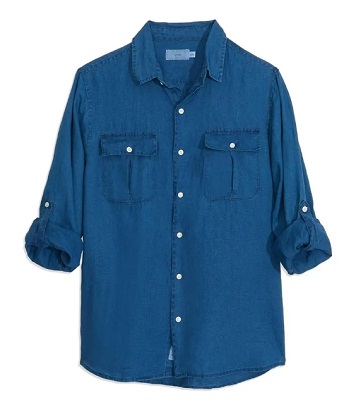 A great indigo blue color, 100% linen fabric and all the style details you could want, including inverted box pleat pockets and sleeve tabs to keep those rolled up cuffs in place. Throw it on when you need to make a quick bar run at the pool. Or wear it with some navy linen trousers for a more rugged take on Brosnan Bond's look from Tomorrow Never Dies. Nordstrom still has all sizes in stock, but inventory is running low.
The Lifetime Leather Jacket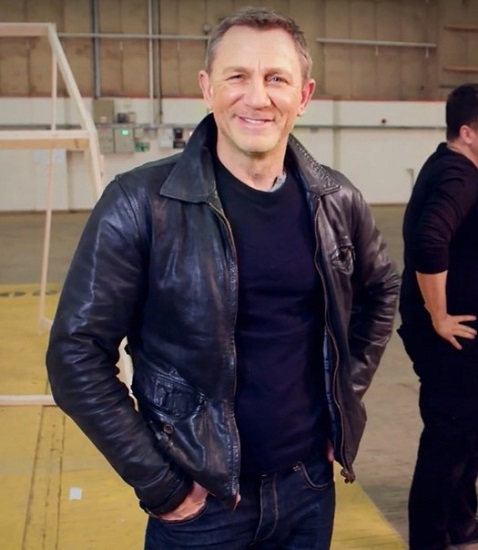 After all these years, I'm still looking for a good alternative for Daniel Craig's favorite leather jacket, the Belstaff Patterson. I've come across some great options. But many of them are made from stiffer leathers that, while extremely high quality, will take ages to break in. And since I've already gone through that process a few times in my life, I'm kind of over it. Now I want something that will soften up quickly but doesn't have that awful faux-aging we see on so many "distressed" leather jackets. That's a lot harder to find than you'd think.
It's not a clone of the Patterson. But it certainly shares a lot of the same DNA. Coming to us from Cockpit USA, makers of high quality replica military outerwear, the design is based on a jacket worn by General Lucian K. Truscott Jr., who commanded under General George Patton in North Africa in 1942, and combines features from the A-2 Flight Jacket and the M-41 Field jacket. The outer is a rugged oil tanned steerhide leather than been softened using their proprietary process to give it an authentic aged look and feel. The vintage army khaki canvas liner features some great graphics and lots of practical pockets. And it's made in the U.S.A. Is it expensive? Yep! But like I said, I'm looking for a "Lifetime Leather Jacket".
A Different Summer Shoe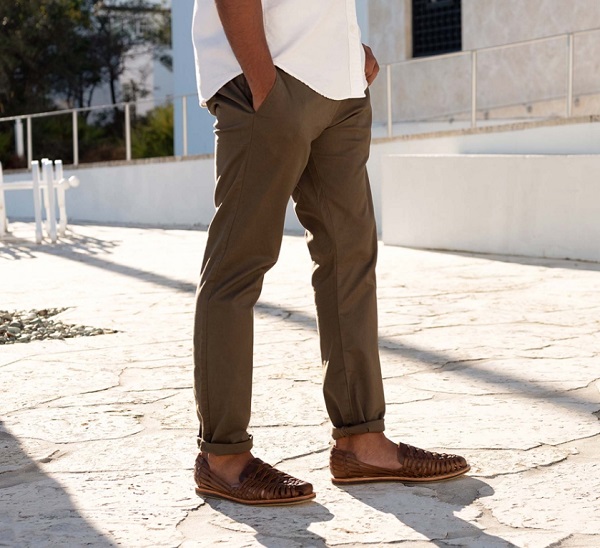 Don't ask me why. Because I won't be able to explain it. But for whatever reason, every summer I seem to get obsessed with trying out a new shoe style. Last year it was the suede espadrille style shoes from Aurélien (you can read my review of those here. And yes: I'm still loving 'em). This year it's Huaraches, the traditional woven leather sandal-shoe hybrid from Mexico that was big with surfers in the 1960s. I'm not much of an open-toe sandal kind of guy. So the practicality of the design appeals to me: it provides good foot coverage but still offers a fair amount of breathability. Plus I just think they look cool, a sort of rugged cousin of the classic canvas espadrille. I totally understand these won't be to everyone's liking. But I have a pair on my Summer Wish List.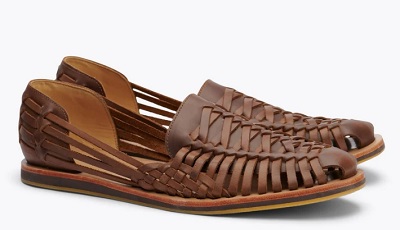 When it comes to Huaraches, Nisolo is a big name. A Certified B Corporation, they make their traditional designs in workshops in Peru and Mexico, each pair handwoven by local craftspeople who receive above average living wages and financial literacy training. You can read more about Nisolo's sustainability and employee programs here. As for the shoes themselves, they're a classic style that combines the character of the woven leather uppers with a more modern shock absorbing foam midsole and non-slip rubber outsole. And the fact that they have 4.7 stars out of 5 after more than 330 reviews would seem to indicate that plenty of customers have been happy wearing them.
Know of something great we should of added to our 5 Things I Want June 2022 edition? Tell us about the cool things on your wish list in the comments below! And if you're looking for more style inspiration, check out Iconic Alternatives on  Facebook Page, our NEW Instagram Account and Pinterest Boards!