Aurélien Suede Beachside Loafer Review
A little over a year ago, I went on the hunt for the perfect summer shoe. I knew what I wanted in theory. I'd already stocked my closet with plenty of sneakers, boat shoes and traditional espadrilles, so most of my casual needs were covered. For those occasions requiring a more formal look, I had leather soled suede and shell cordovan loafers. Plus numerous dress shoes just in case I found myself back in a suit (which seemed unlikely in May of 2020, but I remained optimistic).
What I wanted was something that could bridge the gap between the casual and the formal. A style that had the flexibility and airy comfort of a Top Sider but could also work with a pair of pressed linen trousers and a collared shirt. The type of shoe I could wear when I felt like dressing up a little to hit a nice restaurant patio for drinks. And so I started my search ….
Enter the Aurélien Suede Beachside Loafer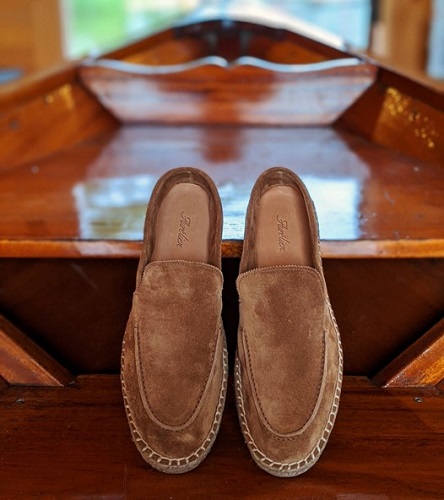 From a style perspective, the Aurélien suede Beachside Loafer looked set to deliver everything I wanted. I've shared select pieces from Aurelien on here before. I'm a big fan of their toweling polos (that rust one in the photo at the top of this post is my latest acquisition). And I've already included them in my list of Favorite Brands for Affordable Bond Style. But this would be the first time I'd tried any of their footwear. Would the Beachside Loafer live up to my expectations? Read on to find out!
The Style
What first drew me to the Beachside Loafer is the way it effectively combines two of my favorite casual summer shoe styles into one elegant package. The upper is in the style of the classic Venetian loafer, with a stitched apron and plain vamp free of any bits, bands or tassels. The slightly raised apron seam and pinking along the top of the tongue do provide some visual interest. But the overall look stays clean and simple. Meanwhile, the espadrille style braided jute sole gives the shoe a distinctive casual summer feel and adds an appealing rustic element.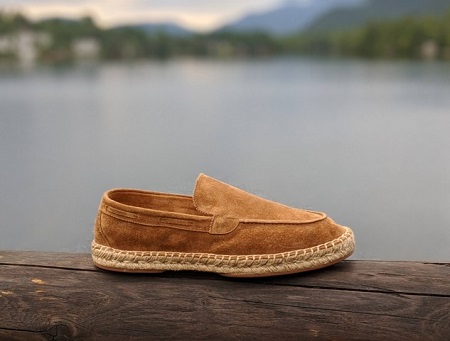 For me, the design isn't only visually appealing, it's also versatile. In the year I've owned the Beachside Loafers, I've worn them with faded jeans and a polo, dressier lightweight chinos and a button up shirt, and linen shorts with a camp collar short sleeve. And, to my eyes at least, they've worked perfectly with all those looks.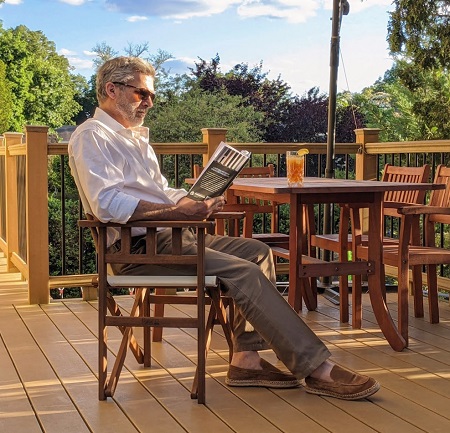 The Materials and Construction
The Beachside Loafers are basically a three part construction: an unlined suede upper and a braided jute sole with rubber sole plates at the forefoot and heel.
When you have a relatively simple design like a Venetian loafer, the materials do most of the talking. There's really no way to hide a flaw in the leather or missed stitch. So the quality and character of the suede really do stand out. And Aurélien nailed it. They use a French calfskin that's thick enough to provide some structure but still incredibly soft and supple. It has a slight nap that adds to the depth of the color. And the stitching along the apron and collar is neat and even with no missed stitches or stray threads to be found.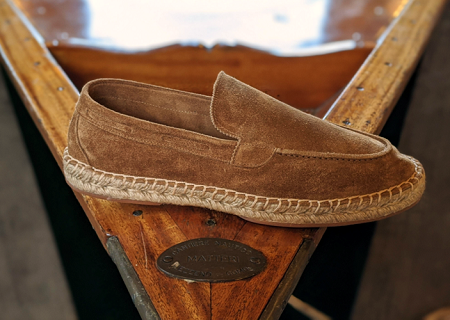 Down below, the jute sole is tightly woven and stitched cleanly to the upper using the traditional espadrille construction technique. After months of regular wear, I still haven't noticed a broken strand in the braiding and the stitching has stayed snug and secure. The rubber plates, which are cemented onto the sole, have resisted peeling and any sign of wear is minimal. All in all, the materials and construction are top notch.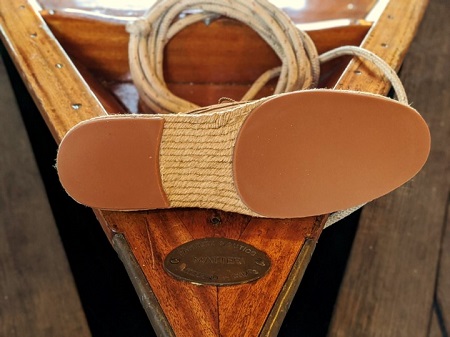 Comfort and Fit
There's a few things to cover here. As I mentioned above, the uppers are unlined suede. In my experience, that can be both a positive and a negative. On the plus side, unlined suede is going to breath better and wear cooler, which helps keep your feet more comfortable in hot weather (in comparison, my feet feel noticeably warmer in my lined suede Alden loafers). And since the interior of the Beachside Loafer's suede upper has the same soft and smooth finish as the exterior, it feels great against the skin.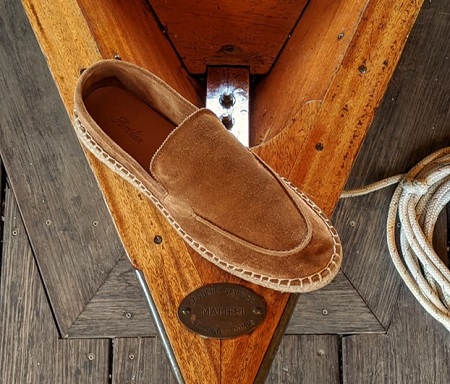 But suede is also going to absorb any perspiration that your feet put out. Which can leave stains as the moisture is pushed through the leather. So if your feet tend to perspire heavily when the thermometer starts climbing, I'd recommend wearing no-show socks to help alleviate this issue. Giving them a good brushing and letting them air out and dry after use will also help.
The other issue with unlined suede is that it usually doesn't have a lot structure or offer much support. The Beachside Loafers have three design features that address these issues. First, Aurelien's suede is a medium-weight calfskin that's thick enough to keep its shape while still molding to your foot. Second, that apron vamp and the lower volume forefoot help keep things snug up front.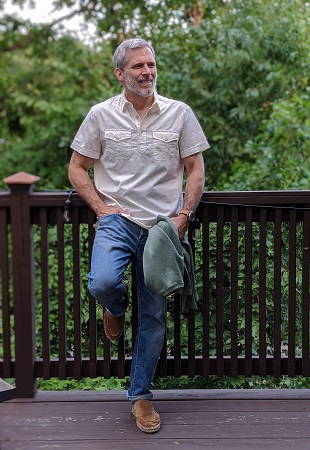 Third is the sole. The natural jute foot-bed conforms to your foot's shape over time, giving you a stable platform with plenty of grip. And there's also a leather half-insole to provide your heel with some traction. Long story short, the Beachside Loafers were incredibly comfortable right out the box and they've just gotten better each time I wear them.
Sizing
On the Beachside Loafer's product page, Aurélien states that this model fits large and recommends ordering a size down from your normal size. I kind of agree. I'm somewhere between a 43 and a 44 in European sizing, depending on the maker. I went with the 43 in the Beach Loafer and the sole length is nearly perfect, although the fit is just a touch loose. I think if I'd gone with a size 42 the sole would have been just too short. And I don't really mind the little bit of extra volume since I regularly use no-show socks if I know I'll be wearing the Loafers all day.
If you're still not sure about what size to get, Aurelien has a very helpful sizing chart that not only shows the European to U.S. size conversion, but also compares their fit to other popular brands like Nike and Adidas. And their customer service is excellent, so reach out to them with any questions.
Conclusions
Let's start with the obvious question. With a $273.00 price tag, are the Beachside Loafers worth the money?
I think there're two ways to look at it. First, when compared to similar espadrilles styles from Loro Piana ($725.00, made in Spain) or Brunello Cucinelli ($745.00, made in Italy), the Aurélien loafers check a lot of the same boxes. The Beachsides are made in Portugal. And, as I've already mentioned, the materials and construction are very high quality. Having handled espadrilles from those other luxury brands in person, I feel confident saying the Auréliens can definitely hold their own in a head-to-head match up. And, personally, I like the styling of the Beachsides more than similar models from other popular brands like Castañer ($205.00 to $260.00) or Mulo ($225.00). We might also want to consider that Orlebar Brown was selling their cotton canvas, cork and rubber 007 espadrilles for $225.00.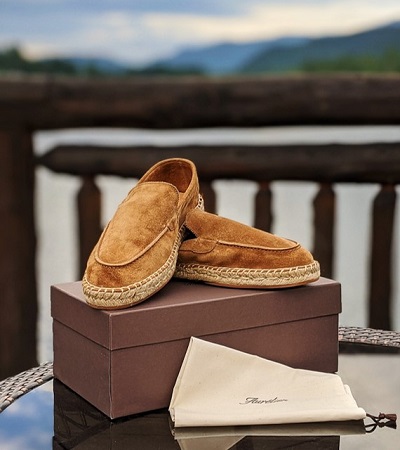 Defining Value
But $273 is still a fair chunk of money. So ultimately it comes down to how you approach the price. I wore the Beachsides a lot last summer (and plan to wear them just as often this summer). Which means my cost per use has made them excellent value for the money. The fact that they still look almost brand new after all that wear just reinforces my feeling that they were the right choice. But more importantly for me, the Beachside Loafers have delivered everything I wanted in summer shoe. They're a versatile and timeless style, extremely well made with beautiful materials and very, very comfortable. Obviously I can't put a price on your personal satisfaction, but one year later I'm still totally happy with my decision.
The Aurélien suede Beachside Loafer are available on their website for $273.00/£193.00/€225.00 and come in multiple colors (including a blue that works great as a more sophisticated alternative for Bond's Thunderball espadrilles). For a similar style at a lower price, you can also check out Aurelien's suede Seaside Loafer for $212.00/£150.00/€175.00.
Photos for this article were taken at the Golden Arrow Lakeside Resort in Lake Placid, New York. A special thanks to them for letting me use their beautiful Cantiere Nautico wooden launch!