4 Ways To Wear The No Time To Die Matera Jacket
At Iconic Alternatives, we try to focus on affordable clothing that will help us get the Bond style we want without emptying our wallets. So it doesn't make a whole lot of financial sense to invest in a piece and then only use it with one "screen accurate" look. Versatility is the name of the game. That's where our "4 Ways to Wear It" series comes in. We take one piece of iconic Bond clothing and combine it with other affordable 007, Daniel Craig and Steve McQueen inspired alternatives to extend our wardrobe and get the most bang for our buck. In this post we look at Bond's blue No Time To Die Matera jacket.
The No Time To Die Matera Jacket
As almost every fan of Bond-style now knows, he's wearing the Connolly Giubbino Jacket in some of the No Time To Die Matera scenes. You can find it on the Connolly website for £490.00/$576.00, where they have sizes medium to XL still in stock.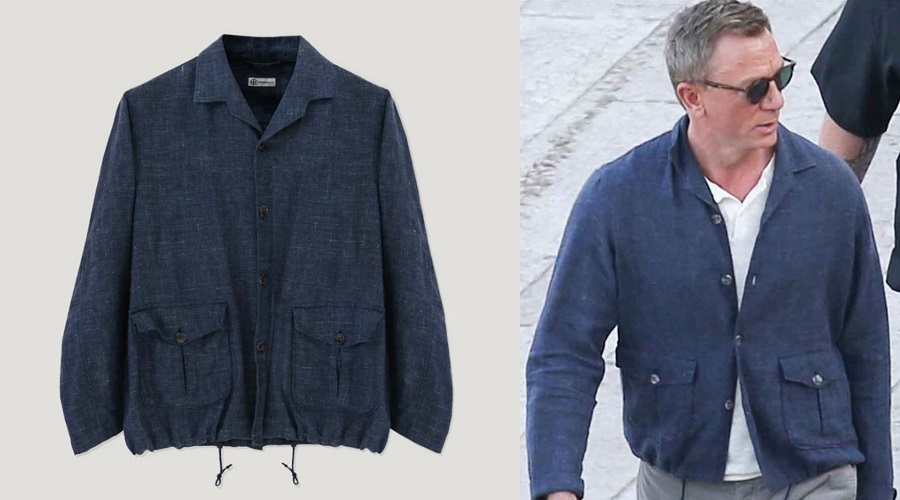 We've already covered the Giubbino in detail in our dedicated post, which you can read here. To highlight a few key points: Connolly made in the jacket in Italy using a 59% cotton, 41% linen blend fabric. Its light weight construction and relaxed fit make it a great design for warmer weather.
The Challenging Design of the Matera Jacket
But the style of the Connolly jacket has also been a little controversial, with many fans asking if it's the right look for Bond (even for a romantic post-retirement vacation to Italy). On top that, some folks in the Bond community that own the Giubbino have reported that it's actually a difficult jacket to wear. Which may seem like an odd thing to say. After all, on the surface the Giubbino looks pretty simple: a basic button-front blouson with flapped patch pockets and a revere collar. And navy blue isn't exactly an earth-shaking color choice.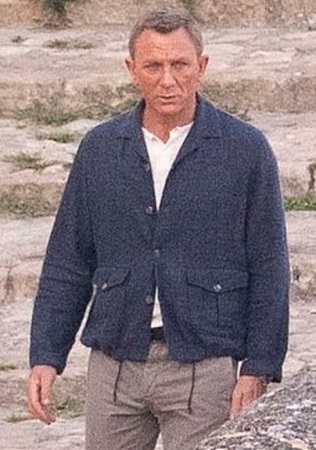 But there is something about it, something that I honestly can't put my finger on, that presents a challenge. Maybe it's the shorter, looser fit? Or the way the unstructured construction and light weight fabric drape on the body? Perhaps it's the way the various design elements have been combined, which leaves the wearer with a large swath of plain blue material up top while crowding pleated and flapped patch pockets and a drawstring hem right around the waist (not an area most guys want to draw attention to). Or maybe it just looks kind of frumpy.
Whatever the reason, a jacket that should be a versatile addition to most of our outerwear collections has instead proved to be a little frustrating. If we're only going to wear it with a white henley and grey cords to get the screen-accurate Bond look, then it's not going to see much use. So in this post, we're going to experiment with the Matera jacket and see if we can successfully combine it with other Bond inspired pieces to increase its range.
The Alternative
For our alternative, we'll be using the Walkers Appeal Estaban Jacket in the looks below. The jacket retails for $275.00/£199.00. But the fact that it's half the price of the screen used jacket isn't the only reason to give it place of honor in this post.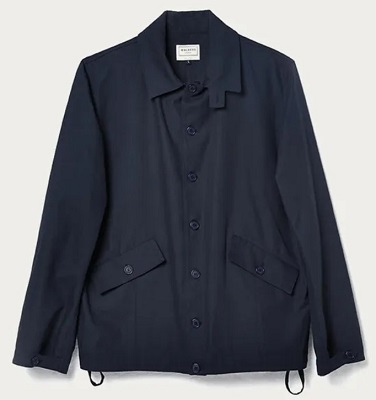 First, in terms of general appearance, the Esteban comes very close to Bond's Matera jacket. And the subtle differences we can see give it a slightly cleaner and more refined look in my opinion. Walkers Appeal is a young brand (it was founded in 2016) that takes the design and quality of their products very seriously. For example, this particular jacket is made in partnership with a heritage factory in Spain and uses a lightweight cotton that will be perfect for warmer weather. You'll find the jacket at Bombinate, where they have sizes small to XL in stock.
You can find more alternatives for Bond's Matera jacket at a variety of prices in this post. Now on to the looks!
A Farewell to Arms Part 2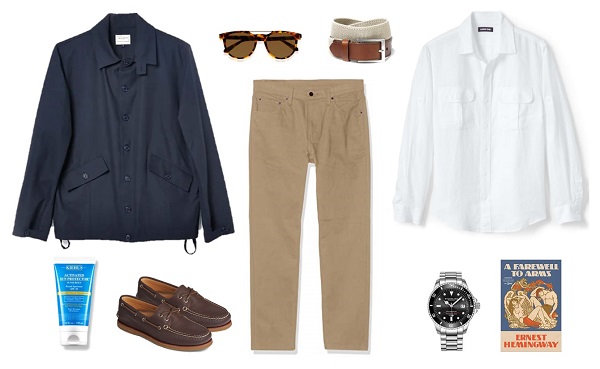 Options:
Notes: 
We already took a stab at this look in our post on James Bond Inspired Spring Style. But since the styling of the Matera jacket closely resembles that of the Teba jacket Dalton wore in License to Kill, I figured we'd give it another go. And use a more screen accurate shirt this time. Overall, this is a clean and simple outfit, using pieces most of us will already have in our closets. If boat shoes just aren't your thing, it should work equally well with suede chukkas and a brown belt. Or even some navy espadrilles if want to fully embrace Bond's style from that film. For a more detailed analysis of the License to Kill outfit, check out this post from Bond Suits.
Back to the Office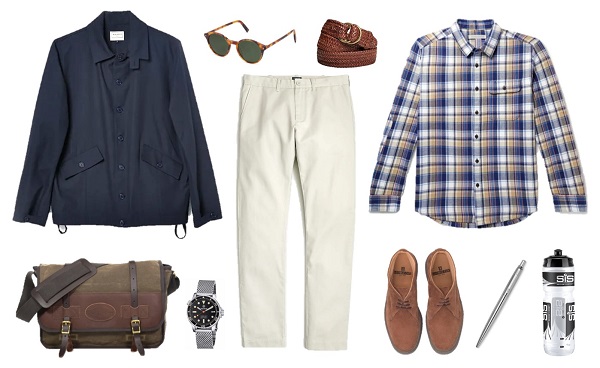 Options:
Notes:
Whether it's a button up, polo or henley, when it comes to shirts both Bond and Craig tend to stick with solid colors. But Craig has worn plaid on occasion. For example, here's a photo of him arriving at LAX in 2011 (just in case you think I'm pulling that Outerknown shirt out of thin air).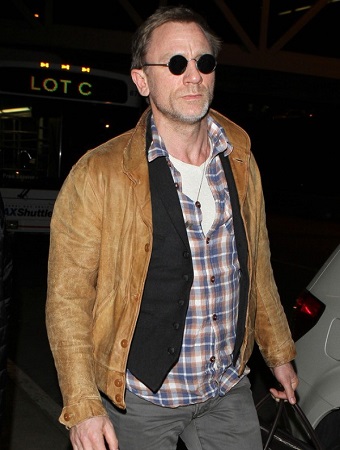 A solid color shirt would also work just fine with this look. But it's always fun to shake things up a little. And, honestly, those of us inspired by Bond's style don't often get the chance to add some bigger, bolder patterns to the mix. The plaid also leans into the more rustic design elements of the Matera jacket and helps give the outfit a bit of a workwear vibe.
Of course there's also the issue of the flannel shirt material. It's not exactly a summer fabric. But anybody that's worked in an air conditioned office will tell you that things can get chilly, even when the sun is baking the pavement outside in late July. So something heavier may not be totally inappropriate for those settings. Or you can just keep this one in reserve for early fall when things cool down.
Road Trip Time!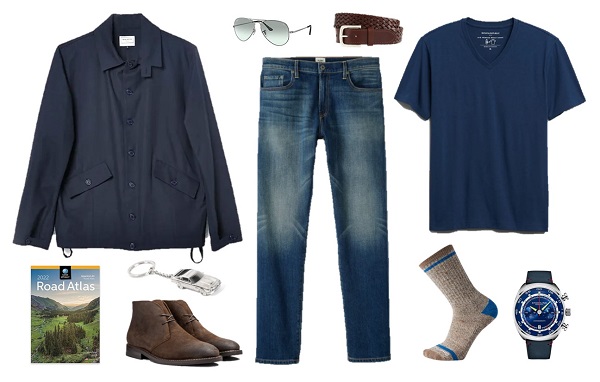 Options:
Notes:
I'll start with the denim. We all know Craig is a fan of jeans. And almost every guy has a pair in his closet. The coarser denim fabric also works well with the slubby weave of the Matera jacket to help balance the textures on the top and bottom. As for the color, it would be tempting to stick with a darker wash here (and it certainly wouldn't look bad). But personally, I like the way a pair of lighter colored, slightly faded jeans pair with the more playful aspects of the Matera jacket design to keep things relaxed and casual. The t-shirt adds to that and helps give the jacket more of a lightweight overshirt vibe.
A quick note on the Road Atlas. When I'm actually on the road, like many of you I'm using Google Maps to help me get where I want to go. But when it comes to planning the trip, I'm pretty old school. I like having a map spread out in front of me, something physical upon which I can place my finger and trace the route. I want to see the scope of my upcoming journey in a way the small screen of a phone just can't offer. YMMV.
Martini Time!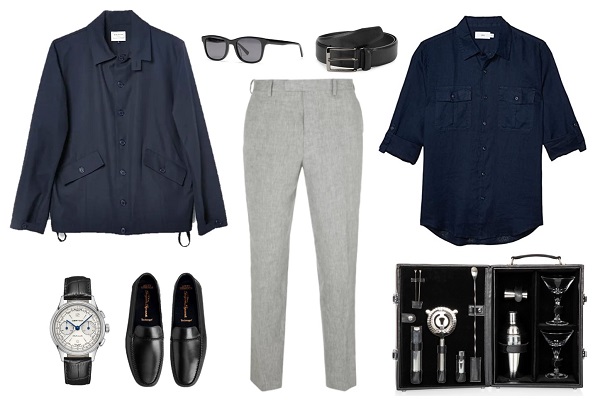 Options:
Notes:
I really wanted to see if the Matera jacket could work with a more sophisticated outfit for this post. And here's what I came up with. One thing I will say about Bond's look in No Time To Die is that the grey color of the cords really does work with the blue of the jacket. But I wanted to use a more summer-friendly fabric than corduroy, hence the linen trousers inspired by Bond's One and Only Ocean Club outfit in Casino Royale. I also think something like the Sunspel Riviera polo could be substituted for the long sleeve button up shirt since it has a stiffer collar. A more traditional pique polo (like the Thunderball Fred Perry) would be less effective in my opinion. The jacket's revere style collar really needs to be paired with a shirt that as some structure around the neck. And the softer collar of the traditional polo just won't get the job done.
About the watch: yes it's expensive and it's probably not going to be easy to acquire (especially for those of you in the U.S.). But not to worry! We'll be taking a look at alternatives for all of Bond's watches throughout July and August. So you can expect more options for that watch in the very near future!.
Have some suggestions for how to wear the No Time To Die Matera Jacket? Tell us about them in the comments! And don't forget to check out our Guide to Contemporary Casual Style and our article on How to Dress Like Bond if you want more suggestions for updating your personal style. You can also visit our Facebook page, our NEW Instagram account and Pinterest Boards for more James Bond, Daniel Craig and Steve McQueen style advice and inspiration!