(00)7 Top James Bond Sunglasses Part 2
Update: We have an updated version of this post with all new alternatives you can view here!
Welcome to Part 2 of our look at the (00)7 top James Bond sunglasses. In Part 1, we discussed Bond's shades from Thunderball, A View to a Kill, Goldeneye and Skyfall. In this post we'll be exploring more models from the later Craig era and hunting for affordable alternatives to help us capture the various styles. Let's get to it!
The SPECTRE Tom Ford Snowdons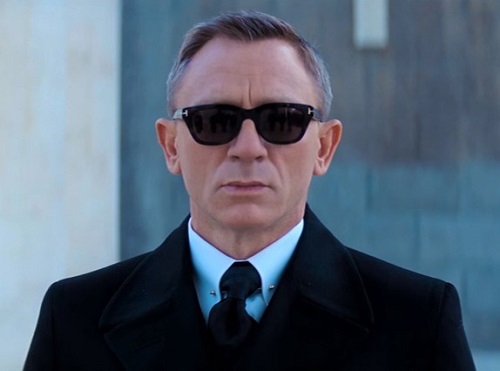 If comments on Instagram posts are anything to go by, the Snowdons are definitely one of the more popular models from the Craig era. Their modified Wayfarer shape is distinguished by the thick frames and the more gradual blending of the outer rims into the endpieces. But what about the color you ask? I, like many, assumed at first they were black. However, diligent research by James Bond Lifestyle has confirmed Bond actually wore the 50mm Snowdons in the 52N Havana color, which is a kind of dark tortoise. And the lenses were the standard grey which can look brown in real life.
I've mainly gone with the Tortoise color for the alternatives below. However, most of the options are also available in black if you'd rather go that route.
The Originals (almost)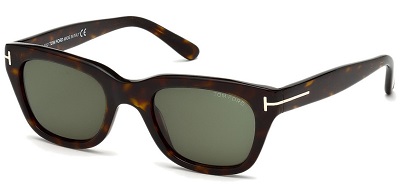 The Tom Ford Snowdons are still out there in the original 52N Havana color. However, they now only seem to come with green colored lenses. It's an unfortunate change that keeps them from being truly screen accurate. But sometimes we have to settle for "close enough" (unless we want to pay an exorbitant amount for a pair from 2015). The best price I could find was from Edel Optics, which I've linked to above. And they have the smaller 50mm and the larger 52mm sizes in stock. The 52mm size also available at Amazon for $277.50. Or you could order them directly from Tom Ford for $430. Just note they only have the Havana color available in size 52, although in the product photos it looks almost identical to the Dark Havana.
Best Option for the SPECTRE Tom Ford Snowdons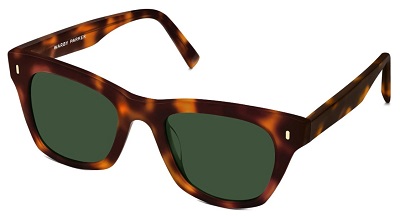 The frame color is a little brighter than ideal. But the overall shape with that gentle transition from the outer rim to the edgepieces is a good match. And the 49mm lenses and 20mm bridge are pretty spot-on size-wise. Plus they also make this model with a "low bridge" frame that's especially designed for wider, fuller faces. Warby Parker uses high quality hand polished acetate and CR-39 polycarbonate lenses, so you get a good amount of bang for your buck. And we can't forget their home try-on program. We've mentioned a few different pairs from the company in these posts. Might be a good opportunity to give a few of them a shot risk free to see which styles work best for you. This model is also available in black, if that's your preference.
Other Alternatives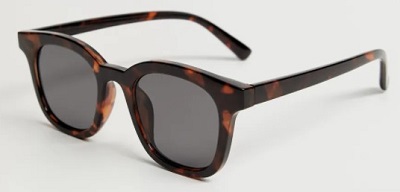 A budget pair from one of our favorite sources of alternatives. We won't pretend these are offering the level of quality you'd get from a pair of Tom Fords or Persols. And the frame shape leans much more to the traditional Wayfarer style than we'd like. But the thick frames, the darker brown Tortoise color and grey lenses come close to the look we want. If you're on a tight budget and don't plan on wearing these all day in the sun, they're not a bad choice.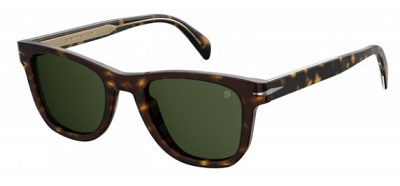 I had no idea famous footballer David Beckham made sunglasses. These are the things you learn researching Bond style. Looks-wise, the Beckham 1006 model isn't a bad alternative for the Snowdons. The frames have more of a traditional Wayfarer shape. But the 50-22-145 measurements are a good match. The tortoise color is also a deeper brown, which is what we want. I'm also happy to note that other than the small "DB" engraved on the lens, the external branding is virtually non-existent. That's always a plus for me. You can get this model in a black frame with grey lenses as well.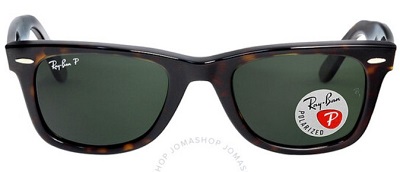 If we're talking about Wayfarer style shades, we need to include the original Ray-Bans. And Joomshop is running a heck of a deal on them right now. Normally, models with the polarized G15 lenses go for around $160. So scoring the classics with that feature for under $130 is pretty sweet. Just note they're advertising the discount as a Mother's Day Sale. Since that was a couple of days ago in the U.S., I'm not sure how much longer it will last.
If you are interested in getting a tortoise pair with non-polarized but more screen accurate blue-grey lenses, check out the Ray-Ban customization program. They're currently offering a special to the promote the service that brings the price down to $123.20.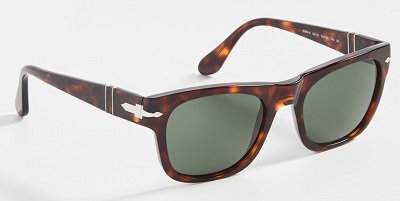 And finally, a design from another popular Bond sunglass brand that captures the look of the Snowdons. The made-in-Italy PO3269S model has a deep brown Havana color acetate frame and Persol's famous green-tinted mineral glass lenses. And the 52mm lenses and 20mm bridge should be big enough to fit larger faces. Plus, you can get them in black for about twelve bucks more on SmartBuyGlasses. Now to play a bit of the old pricing game. I did see this model going for $126 on a website called Blickers in Black and Havana. And they do have an "Excellent" rating on Trustpilot. But I've never heard of them, so I'd still proceed with caution.
The SPECTRE Tom Ford Henrys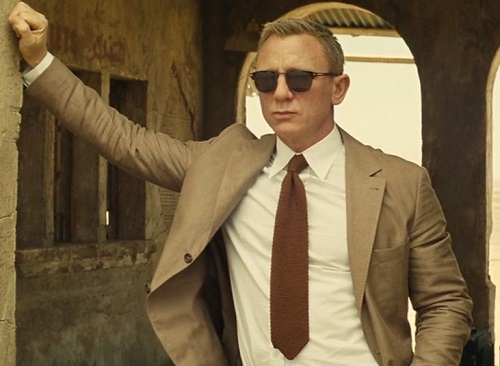 No confusion about these ones! During his stay in Morocco and after his eventful train ride to the layer of his arch-nemesis, Bond wore the Tom Ford Henry FT0248s, color code 52A with the Matchless suede jacket, Tom Ford Polo, Brunello Cucinelli sport coat and chinos, the Tom Ford rust knit tie and J.Crew Kenton boots. The versatile Clubmaster style has remained popular for years. And it's a style that looks good on a variety of faces.
The Originals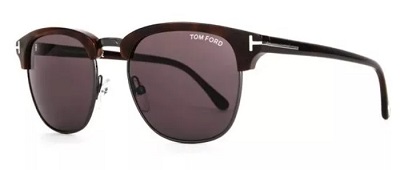 Yep, you can still get the originals! So if this is your style of choice, probably best to save up and get the real deal. I've linked to SmartBuyGlasses above. They seem to have some of the best prices at the time of writing.
Best Option for the SPECTRE Tom Ford Henry

Aside from missing the silver Tom Ford "T" at the hinges, these are about as close a match as one could ask for from a budget pair. Even the 51mm lens size and 21mm bridge width is pretty close. And, since they're coming from J.Crew, if you're a little patient there's no doubt a deal will come along to bring that price even lower. I wouldn't give them an A+ rating in the quality department. But they'll certainly be better than a cheaper pair from Wal-mart or your local gas station.
Other Alternatives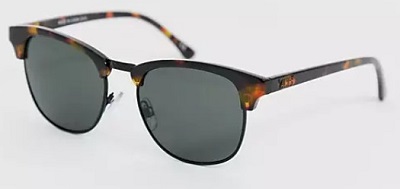 The frame shape and lens color are a good match. And it's hard to argue with that price. As long as you're realistic about the quality you're getting, these should get the job done. The best price I found was on the ASOS U.S. site. But unfortunately, they're sold out on their UK site.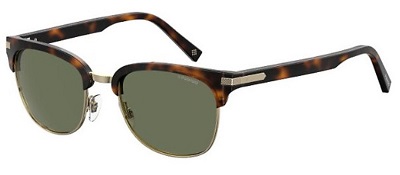 I've given my Polaroid sales-pitch a couple of times on here before. This particular model happens to be the newer version of the ones I own. And I've been very happy with mine. They're lightweight, very scratch resistant and the polarized lenses work great around water. Seriously, I find myself wearing them just as much as some of my Persols and Ray-Bans. Compared to the Henrys, the gold colored metal on the Polaroids is an obvious difference. But I do like how the metal inserts on the arms of the newer model give them a bit more of that Tom Ford style. They're also a bit larger, measuring 51-20-145. So they'll work well on medium to larger faces.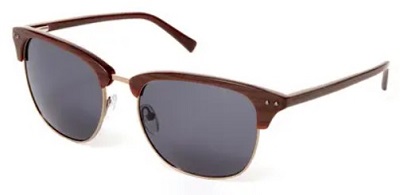 I wanted to include a larger affordable pair for those of you with wider faces. And here they are. They come with a gold colored metal and "wood" pattern acetate frame. So not exactly screen-accurate. But the lenses measure a whopping 55mm, which should be plenty wide enough for you bigger guys. You'll find them at that sale price on Nordstrom Rack.

Of course we need to include the original Ray-Bans. The problem with most of the models in the Clubmaster line is the gold colored metal. But if you order directly from Ray-Ban, their aforementioned customization program solves that. And the special promotional price makes it even better. For the photo above I went with the classic G15 Green lenses (none in grey, unfortunately), the standard tortoise top frame and matte gunmetal for the rims. And the total price is about forty bucks less than an off-the-shelf, less screen accurate pair. Plus they offer an engraving service if you really want to personalize them. The only downside is Ray-Ban only offers the above customization for the 49mm standard fit. But those should work just fine for those of us with smaller to medium faces. I'm not sure how long this deal is going to last, so you'd best get a move on if you want a pair!

A slightly squarer shape from Bond's other favorite sunglasses brand. What I like about these ones is the silver metal and dark greyish green lenses come very close to the looks of the Henrys. Now one point of slight concern. I'm almost positive these are the PO3199S model, NOT the PO3210S, which is shows up as a rounder, full acetate frame style on every other website. Which means SmartBuyGlasses probably has this pair tagged incorrectly in the URL. Not saying they're fake or anything. But if you decide to go with this model, I'd give them a call first to make sure you're getting the right ones.
The No Time To Die Barton Perreira Nortons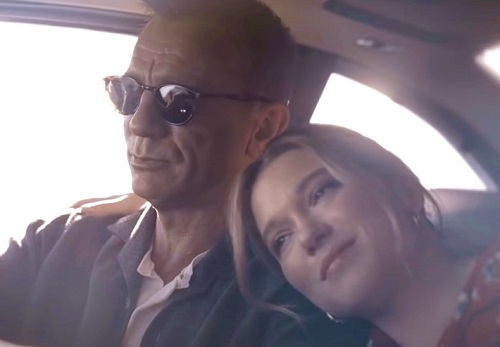 When Bond decides he likes a sunglass brand, he certainly goes all in! After wearing Tom Ford models almost exclusively since Quantum of Solace, Bond has switched to two different companies for the new film. The first is heritage French brand Vuarnet, who already made an appearance in SPECTRE when he used a vintage pair of their PX5000 Glacier Glasses in Sölden. In No Time To Die, Bond will wear their brown Legend 06 model (which we've already discussed in our post on his Jamaica style) and the Edge 1613s.
The second company is a relative newcomer to the luxury eyewear scene. Patty Perreira and Bill Barton combined their extensive design and operational experience at Paul Smith, Prada and Oliver Peoples to launch Barton Perreira in 2007. And they were a hit with both celebrities and the in-the-know style crowd almost immediately. Bond will be wearing two of their models in No Time To Die. We'll look at the Nortons first.
The Originals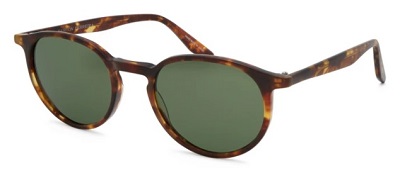 Designed in Southern California and crafted in Japan, the Nortons are a classic shape made with premium acetate and high quality CR-39 lenses. The 50mm lens width and 21mm bridge should work well on most small to medium size faces.
Now, as most of us know, Barton Perreira is releasing new versions of Bond's No Time To Die sunglasses with some subtle 007 branding. And the price for the new Nortons will be going up to $440. But there are still some of the "original" originals floating around. California based retailer Good See Co. is offering the non-007-branded versions at the original price (I gave them a quick call to confirm they still have them), so that's who I've linked to above. But if you do want the new versions, you can order them directly from Barton Perreira. You can also find them at Saks Fifth Avenue and Uncrate for the same $440 price.
Best Option for the No Time To Die Barton Perreira Nortons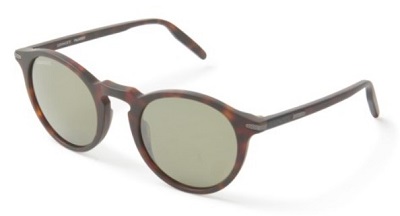 These are definitely one of the better deals in this post. Serengeti is undoubtedly one of the better sunglass manufacturers out there, especially for driving. The Raffaelle model is made in Italy from premium acetate and uses ultra-light polarized mineral glass lenses. Plus the frame shape and color, the key-hole bridge and green lenses make them a pretty solid match for the Nortons. This particular colorway is from last season, which explains why it's on close-out at Sierra for that low price. So I'm not sure how long they'll be in stock. Also worth noting is the size. With 48mm lenses and a 23mm bridge, they're going to work best on small to medium sized faces. But if that's what you've got, I wouldn't hesitate to grab a pair before they disappear!
Other Options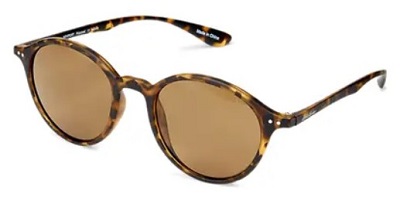 A decent pair of shades at that sale price. The top of the rims are more rounded than the Nortons and they're missing the key-hole bridge. Then there're those brown lenses. But on the plus size, they've used durable Grilamid TR90 plastic for the frame and polarized polycarbonate lenses with UV A and B protection. And the size is almost an exact match for the Nortons. You could definitely do a lot worse for under forty bucks!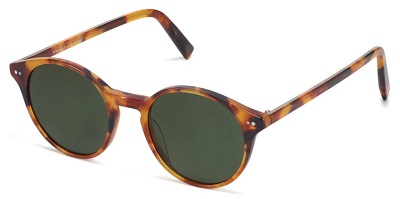 Once again we're seeing a rounder frame. Noticing a trend here? But as we've mentioned before, Warby Parker has a good reputation and their home try-on program makes ordering them pretty risk free. The frame color, green lenses and key-hole bridge also come close to what we see Bond wearing. But with their 48mm lens width and 19mm bridge, these are definitely better suited for smaller faces.

Another style you can get for a steal from that Ray-Ban promotional program. Normally the RB2180s are only available with brown lenses in the Tortoise frame. But with the customization option you can get the classic green G15 lenses to make them more screen accurate. The overall shape is a little more rounded than the Nortons (again!). But we do get that key-hole bridge and the 49mm lens width comes close to the size of the Barton Perreiras. Plus Ray-Ban consistently offers solid value for the money. Especially at that promo price.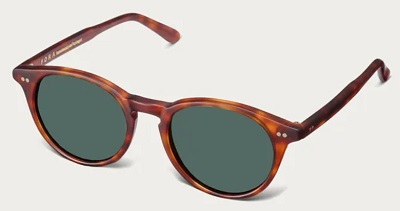 The frame is a little thicker than the Norton's. But I have to say, I'm really liking these. FORA is a smaller boutique brand that hand makes their sunglasses in Portugal using premium Italian acetate and Carl Zeiss lenses. And their Goldlover model really captures that "Bond in Matera" vibe we want. Unfortunately, as is so common with this frame style, the smaller 48-20-145 size isn't going to be the best for those of you with larger faces. But if they made these in a larger version, I'd be very tempted to grab myself a pair.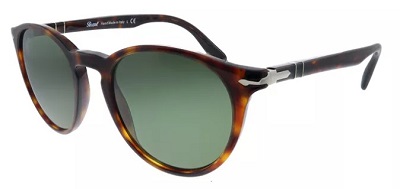 Persol's quality and connection to Bond style really don't need any introduction at this point. And, to be honest, the PO3152S isn't the best match for the Nortons on this list. But it does come in two sizes: a 49mm for small to medium faces and a 52mm for wider faces. So they've got that going for 'em. Plus, there seems to be some kind of weird sale going on over at Target (or at least with one of the 3rd party retailers that sells on its website). You can almost always find a good deal on Persols. But $170 is getting lower than they normally go. If you need a larger size frame, these would definitely be worth checking out.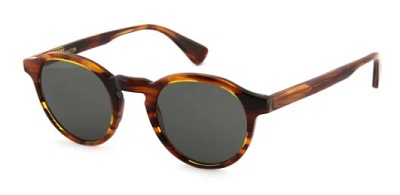 When it comes to alternatives for Bond's Barton Perreira Nortons, I'm really liking this suggestion from AJB007 forum member James Boldman. They're from the Curry & Paxton line revived by the great Mason & Sons. In terms of style details, I can't say that their thicker, more rounded frames and grey lenses makes them a perfect match for the Nortons. But they have a lot of the same character. And it's always nice to buy from a company that loves Bond as much as we do!
The No Time To Die Barton Perreira Joes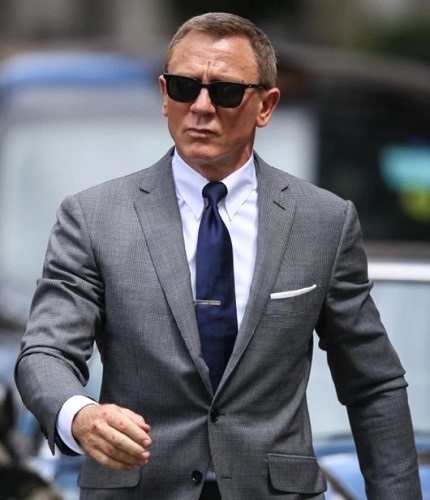 The second model from Barton Perreira is one my favorite pairs of Bond sunglasses. I just think they totally nailed the style. They're strong without being heavy. They go perfectly with a suit, but I could easily see them working just as well with a black leather jacket. And they do a great job of balancing "timeless" and "contemporary". In other words, they're perfect for Bond. Plus, that streamlined Wayfarer shape and the 52mm size will work well on most faces.
In fact, I didn't fully realize what a great job Barton Perreira had done with the design of the Joes until I went looking for alternatives. There aren't as many out there as you'd think there'd be. Most have too much curvature along the top of the frame. Or the lenses height is too big. Or the temples are too thick. They're just missing that special "something". But we've still managed to find a few that come pretty close.
The Originals

I've already sang my praises to this model. So let's talk pricing. As with the Nortons, Barton Perreira is re-releasing the Joes with the same subtle 007 branding. And the price is again going up to $440.00. But with the bit of digging you can still find some first generation versions at the $395 price. Good See Co. (the same company I linked to for the Nortons above) still has a few pairs in stock if you want to go this route. If you're in the UK, check out Fashion Eyewear, where the Joes retail for £300. The company doesn't have the best rating on Trustpilot, but most of the complaints come from U.S. buyers who were charged extra for shipping and customs. Buyers from the UK seem to be pretty happy with them.
If you don't mind the Bond branding, you can order the new version of the Joes directly from Barton Perreira for $440.00. And since the fan reaction to the shades has been so overwhelmingly positive, they also launched new colors of the frame inspired by the various locations in No Time To Die. The Bond Experience does a good job of exploring the new models in this video.
Best Option for the No Time To Die Barton Perreira Joes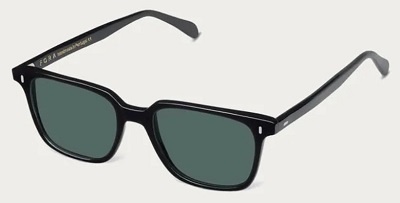 We've already talked about FORA above in the alternatives for the Nortons. But the Portuguese boutique brand also makes a killer option for the Joes. Like Barton Perreira, they've gone with a slightly thinner rim. But because they've kept the top of the frames relatively straight and the curves elsewhere more gradual, the look stays strong. Overall, it's a sophisticated but structured, no nonsense style. And, like the Goldlovers, these are handmade in Portugal using Italian acetate and Zeiss Sunlens lenses. The 50-20-140 measurements are a little smaller than the Joes. So I'd expect these to work best for small to medium size faces.
Other Alternatives

I first shared this model in a post back in 2019. They're still available. And they're still a solid alternative, especially for those of you with larger faces. The 55-17-145 is definitely on the larger size so bigger guys can get the Bond look without worrying about their heads getting squeezed. I'm also liking the slightly smaller 0960/S model from Boss. Those measure 53-20-145 and should work well for medium to wider faces.

The top of the frames are more curved than the Joes. But the overall design and the matte black/grey lens color combo look like a good match. Like the J.Crew alternatives for the Henrys, I wouldn't call these "Best in Class" in terms of quality. However, they should be easy to find and will come close to delivering the style we want. Plus, they're sitting with 4.8 stars out of 5 after 14 reviews. So plenty of customers have been happy with them. Unfortunately, there's no mention on the BR website about the actual size.

Basically Ray-Bans classic Wayfarer frame with thinner rims and without the diamond shaped metal accents at the endpieces. But those subtle changes bring the design very close to the looks of Bond's Joes. The lenses aren't grey. But the standard green G15 lenses are popular for good reason and should make most of us happy. And the 51-20-150 gloss black frames are going to fit (and look good) on a variety of faces. The link above goes to Frame Direct. But you can also order them directly from Ray-Ban's various international sites.

The thicker temples give these a sportier look than the Joes from the side. But straight-on, they're a great match. The top of frames are relatively straight. And the rims have that slightly angular transition around the bottom of the lenses. They're also packing a lot of quality. Raen has used zyl acetate for the crystal black frames and high quality Zeiss polarized CR-39 lenses in a "smoke brown" color. Plus, the 52-18-145 frame size is going to look good on most medium sized faces. All in all, a pretty sharp pair of shades!
For some Connery, Moore and Brosnan style, check out Part 1 of our (00)7 Top James Bond Sunglasses series. Of course, if you have any suggestions for alternatives for the sunglasses featured in this post, let us know in the comments. And remember you can always find more on our Facebook Page, Instagram Account and Pinterest Boards!