Top (00)7 James Bond Sunglasses Part 1
Update: We have an updated version of this post with all new alternatives you can view here!
Welcome to part one our Top (00)7 James Bond Sunglasses post! How did we chose the top 7, you ask? It was a very rigorous scientific process that involved the following criteria:
Bond looked really cool and/or did cool stuff while wearing them.
We need different styles to work for different face shapes.
These are the ones I like the most.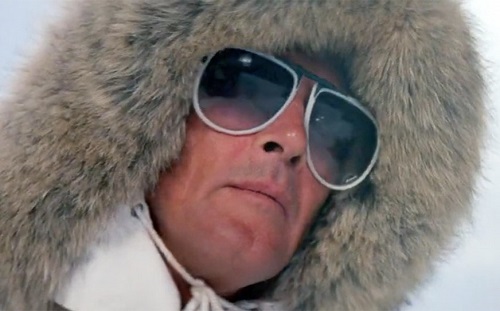 Just one quick comment before we begin. You'll probably notice many of links below go to SmartBuyGlasses or FramesDirect. Neither of them are sponsoring this post. But I do know them as reputable dealers of authentic eyewear (unlike some of the 3rd party vendors on Amazon or Ebay). And they usually have close to the best prices and ship to both the U.S. and UK. So those are the reasons. But I've also tried to include a selection of alternatives from smaller brands that offer models that really capture the various looks we're after. Now let's look at some James Bond sunglasses!
The Thunderball Black Sunglasses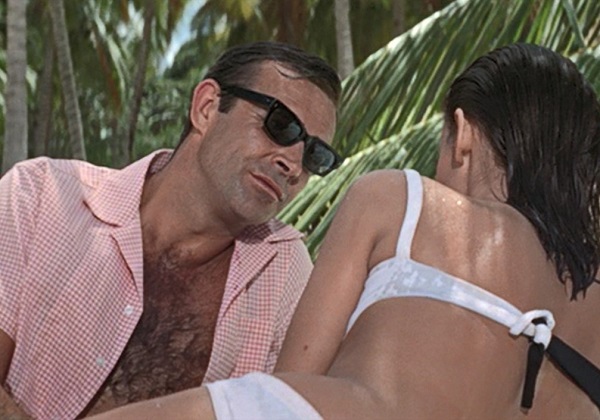 The history behind Sean Connery's Thunderball sunglasses gets a little convoluted. And you can follow along with most of it in the comments section of this BAMF Style article. For a while it seemed like the Oliver Goldsmith Consuls were the ones we were looking for. But for the last few years, the Polaroid Cool Rays N135 have been getting the vote. And they do look pretty darn close to what we see on-screen.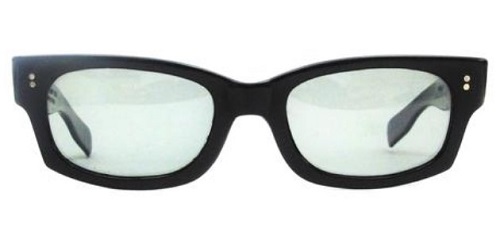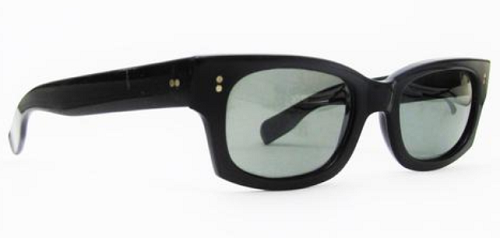 So why chose the Thunderball sunglasses for the Top 5? Well, Bond did wear them during one of his most "Bond" moments. Beach, beautiful woman, spear gun, dead bad guy, sarcastic quip. We all remember it. But aside from that, they also have a certain "retro cool" that isn't too over-the-top and would look pretty darn stylish today.
Best Option for the Thunderball Sunglasses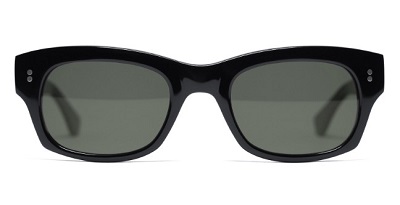 Mason & Sons, masters of breathing new life into vintage James Bond designs, have done it again. The Seans are directly modeled on the sunglasses Bond wore in Thunderball. They've used a high quality Italian Mazzucchelli cellulose frame that has a black gloss coating over a Tortoise shell base to give them some character. Five barrel hinges and green lenses finish off the package. Basically, if you want screen accurate, these are the ones to get.
Other Alternatives
GANT offers a simple 52mm black frame with the two pins at the temples, paired with grey polycarbonate lenses. The GA7080s may be lacking the originals' unique shape. But for those of you looking for a more straight forward design that still has some of the desired style details, these will help you get the look.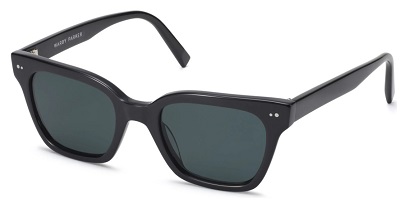 Most of us know Warby Parker as the makers of stylish and reasonably priced prescription eyeglasses with that great home try-on program. But they also deliver some pretty nice sunglasses, which you can get with a prescription lenses should you need them. The Beales are more of a classic Wayfarer shape than Bond's shades. But the double rivets help capture some of the look. They've used hand polished cellulose acetate for the frames and CR-39 polycarbonate for the lenses. So we're getting a decent level of quality for the price. With a 51mm lens width, these should work well for those of you with medium size faces.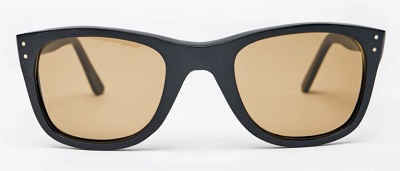 I could write paragraphs about what Industry of All Nations (IOAN) is, what they do and why you should seriously consider buying from them. But to save time I'll just direct you to their FAQ page and use these sunglasses as an example of their ethical business practices. To make the glasses, IOAN partnered with the Signum Vitae Co-operative in Addis Ababa, Ethiopia, an organization established in 1989 to offer vision services and work training in communities at risk in the country. But you're not just helping a good cause when you buy the sunglasses. They're also a pretty high quality pair of shades. The frames are hand polished cellulose acetate and the German mineral glass lenses are hand shaped to fit each frame. And their retro-cool design is a great match for Connery's Thunderball sunglasses. That makes a trifecta of a value for money, ethical manufacturing and the desired Bond style. That certainly makes them worth a share!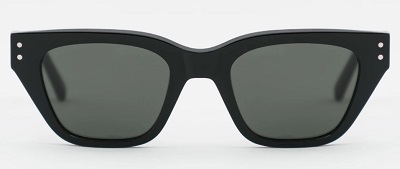 Based in Stockholm, Sweden, Monokel delivers a fair amount of bang for the buck. The frames are made from re-claimed acetate and they've used best-in-class Carl Zeiss lenses, stainless steel hinges and Teflon covered hinge screws. As for the styling, their "Cats-Eye meets Wayfarer" shape does a great job of capturing the retro-cool vibe of Bond's sunglasses. The overall frame width is only 136.5mm. So these will probably work best on those of you with narrow to medium width faces.
The A View to a Kill Round Tortoise Shell Sunglasses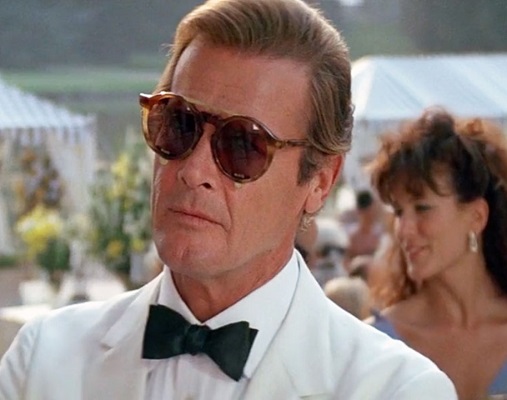 One of only two pairs of sunglasses Sir Roger Moore wore during his time as Bond. And this second pair from A View to a Kill is certainly the more conservative option. Equipped with a function that allows the wearer to see through tinted windows, the actual maker of the glasses has yet to be identified (or least that's what my research tells me). Apart from their obviously large frame size, their most distinguishing feature is the prominent brow-bar.
When it comes to modern sunglasses that replicate this look, if you want to go with with a simpler round frame without the brow-bar there's no shortage of options to choose from. But I'm going to stick with alternatives that fully embrace Sir Roger's style!
Best Option for the A View to a Kill Sunglasses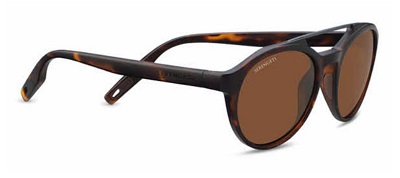 A modern take on Sir Roger's 1980s style. The 53mm size will look good on a variety of faces. And the glare-reducing polarized lenses will keep things clear when you're driving or on the water. To help cut out light from the side, this pair is also equipped with removeable side shields (not shown above). Serengeti is famous for the quality of it's eyewear. So if this is a design you love, the Leandros would be a worthy investment. They're currently on sale at Sierra, but I have no idea how long that deal will last.
Other Alternatives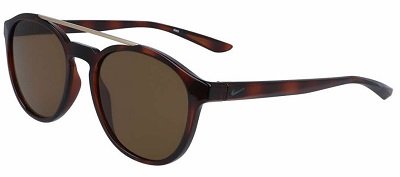 A relatively inexpensive option from the famous running shoe brand that really captures the look of the originals. Other than the style, the main thing worth mentioning is the 54mm frame is made from Grilamid, a lightweight, hypoallergenic thermoplastic. And the size should look good on most guys with a medium to wider face.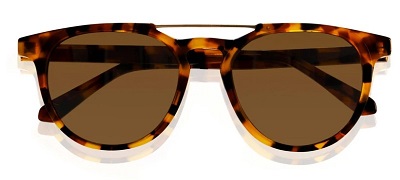 If the Serrengetis and Nikes lean more towards a sporty look, the Walkers fully embrace the dressier aspects of Bond's sunglasses. Made with premium Italian acetate and UV A and B blocking CR-39 polycarbonate lenses, the polished frames and that thin gold brow bar give this pair a more sophisticated feel that will work perfectly with a white dinner jacket.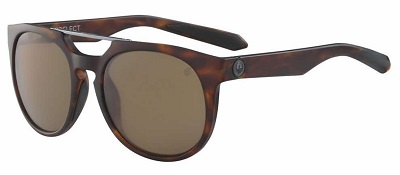 The style of the DR Proflects is obviously flatter across the top than we want. But if that doesn't bother you too much, they're a solid pair of glasses for the sale price. Dragon Alliance is apparently a pretty well-known brand for motocross and snowsport goggles. With this pair, they've used 6-base polarized polycarbonate lenses. So they've got a bit of technical backbone to them.
The Goldeneye Persols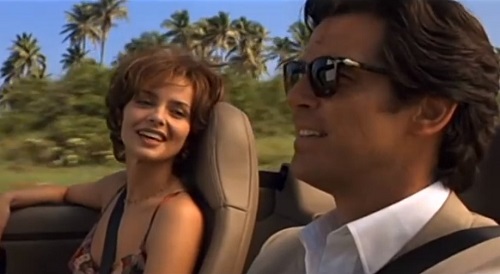 As with the Thunderball glasses, there's been some controversy over the exact Persol model Bond wore in Goldeneye. The general consensus is they're the 2611-S. So essentially the same as these ones on INeedSpex (which are being listed as "Bond Goldeneye Persols" for £170.00; just remember: Buyer Beware!).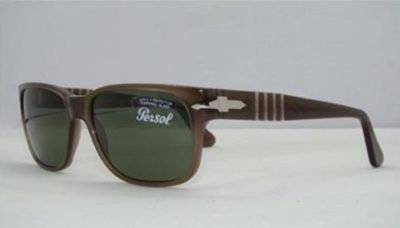 The problem is some people simply don't feel that arms and hinges on the 2611-S match what we saw on screen. This older thread on AJB007 goes into a bit more depth about the mystery.
As for me, I'm a fan of the Goldeneye style (and Persol glasses in general). And I think we get enough good shots of Bond wearing the sunglasses to have a clear idea about what we're looking for. Even if we don't know the exact model number.
Best Option for the Goldeneye Persol 2611-S

The closest current model I could find from the original Bond brand (although the PO3135S would also be a solid choice if you prefer taller lens). The main difference is the narrower temple which, to me at least, actually looks more like the style Brosnan's Bond wore in the film. With a 55mm lens width, these would be a great frame size for those you with wider faces. And if you need something even larger, they also come in a 58mm lens width for the same price.
Other Alternatives

Ray-Ban did a great job with the updated version of their iconic Wayfarer design, softening the angles and giving the frames a more streamlined look. They'll also work well as alternatives for the Goldeneye Persols. As with most of the classic Ray-Bond models, these use crystal lenses. So expect them to feel a little heavier when you wear them. You can also get them with the standard 52mm lens (good for narrow to medium width faces) and a wider 58mm lens.

With their 57mm size, these would be a solid choice for gentlemen with larger skulls. The shape is very similar to the New Wayfarers above. But with this model we're getting a slightly taller lens and narrower temples. I've gone with the polarized brown crystal lenses here. But you can also choose the shinier Havana frames with a unique Violet lens or the same Tortoise with a non-polarized brown gradient lens.
The Skyfall Tom Ford FT0144 Markos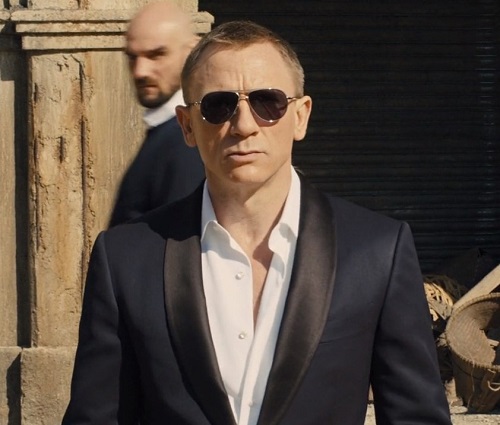 Tom Ford's take on the classic aviator design is still a fan favorite from the Craig era. And it's easy to see why. It's an iconic shape that works well on a variety of faces. So the famous luxury designer didn't have to mess with it too much to create a great looking pair of shades. Perhaps the most noticeable addition was the slightly heavier brow bar which integrates almost seamlessly into the top of the frame. It's also a detail that reminds us of the FT108s from Quantum of Solace (and, if we're being honest, the Oliver Peoples Airman sunglasses).
The Originals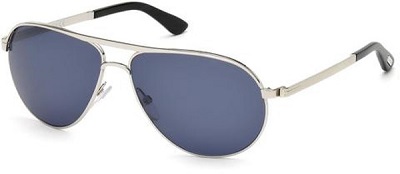 The originals are still out there. And, with a bit of digging, you can usually find them at a reasonable price (unless you buy them directly from Tom Ford, where they retail for $405). Really, the only thing to note is the size. The lenses are a wide 58mm. But they certainly seem to wear smaller in person thanks to the thin metal frame and light color of the rhodium.
Best Option for the Skyfall Tom Ford Markos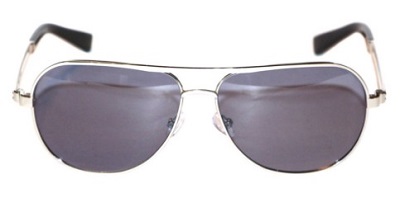 About as close to the originals as we're going to get unless we invest in the actual Tom Fords. What's nice about Magnoli's replicas is that they're not only screen accurate, they're also a decent pair of sunglasses. The frames are stainless steel rather than the more luxurious rhodium used for Bond's shades. But the blue tinted polycarbonate lenses do have UV400 protection to help keep your eyes safe on those bright summer days. Plus, Magnoli is currently including a free Craig-era tie with each sunglass purchase, which is a nice bonus!
Other Alternatives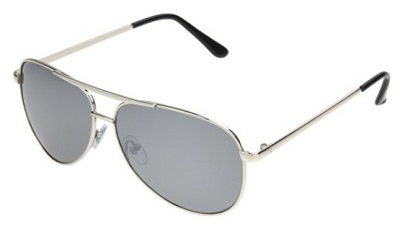 Although they claim the mirrored, polarized lenses offer 100% UV A and B protection, I still have a hard time call these "serious" sunglasses. But they do have that heavier brow bar (even if it does look clunkier than the one on the Tom Fords). So if you just want that Marko style and aren't planning on wearing them all day in the sun, the $15 price is pretty tough to beat. Just note that based on the website product photos, these things wear HUGE!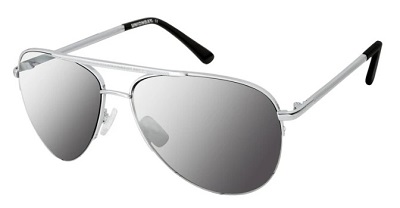 Another budget pair with the heavier brow bar. Again, I would call this "fashion glasses" rather than proper sunglasses and would be wary of using them for long days out in the sun. And unfortunately there's no mention on the website of the actual frame size. So it's going to be a bit of a gamble. On the other hand, if they do work for your face they'll do a decent job of capturing the Skyfall look at a real budget price.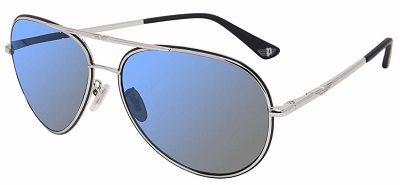 They're certainly a jump up in price. But we're also getting many of the features we want in a good alternative. The frames are made from Monel, a nickel and copper based metal that's flexible and corrosion resistant. And the blue tinted lenses really capture the look of the Markos. They're also a great size for larger faces, with 62mm lenses that will provide plenty of protection.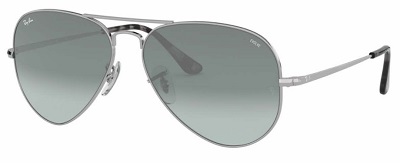 We can't do a post on Aviator style sunglasses without including the originals. And while the frames are the classic Pilots, Ray-Ban has upgraded the lenses for this particular model. Their new "Evolve" technology is a photochromatic process that quickly adapts to changing weather conditions, making the lenses lighter or darker depending on available light. They're also available in a smaller 55mm size and a larger 58mm, so it's easy to pick a pair that will best suit your face. I've linked to Ray-Ban above, and the RB3689s are available on most of their country specific websites.
In the upcoming Part 2 of our look at the top (00)7 James Bond sunglasses well be exploring more alternatives for the new classics from the Craig-era. Including a couple from the upcoming No Time To Die! If you have any suggestions for alternatives for the sunglasses featured in this post, let us know in the comments! If you'd like to learn more about using 007 to inspire your personal style, check out our How To Dress Like James Bond series. And remember you can always find more on our Facebook Page, Instagram Account and Pinterest Boards!