How to Dress Like James Bond
With the success of Daniel Craig's Bond films, it could be argued that 007's casual style has become even more influential than his tailored suits on the way men dress today. With this series of articles, we'll explore how to dress like James Bond when we're not wearing a suit and tie and we're limited by a more, let's say, "realistic" budget.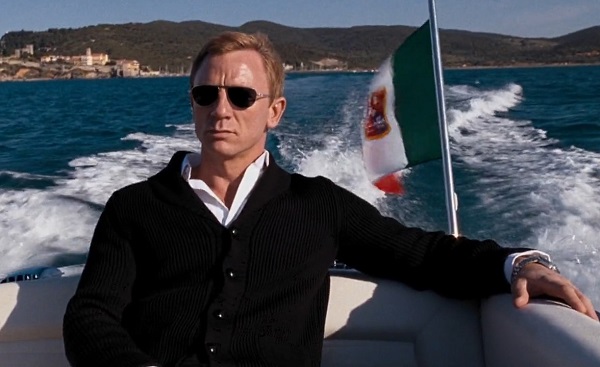 Personally, I find myself more inspired by Craig's Bond's casual clothing. For the most part, I like they way they look, I like the way they fit, and I like the fact they're practical but still stylish. But I don't feel a particularly pressing need to dress exactly like him (even if I could afford to). Basically, I'm just an average guy that wants to look and feel my best and uses "the Bond look" as a launching point in the development of my own day-to-day personal style. For those reasons, I focus more on the guidelines for dressing like Bond. This has helped me find articles of clothing that, while not appearing in a Bond film, still fit with the overall aesthetic with which I'm comfortable.
With that out of the way, let's look at the guidelines I believe can help us all achieve the look we want. There are four main ones: fit, colors, fabrics, and details.
Fit
While some would argue that the Tom Ford suits used by Craig's Bond are not the best fit, when it comes to his casual clothes the cut is almost always spot on. The reason is simple: he uses pieces that work with his body type and keeps the lines clean, with the fabric skimming his frame without clinging or looking skintight.
Obviously, not all of us have Craig's body type. Which means we need to avoid the temptation to wear the exact same cut that Bond uses, and instead focus on what works with our own bodies to get the right look. Take jeans as an example: Craig's Bond tends to favor a straight or slightly tapered fit. But he also has a pretty solid pair of pegs on him so he fills out the pant legs.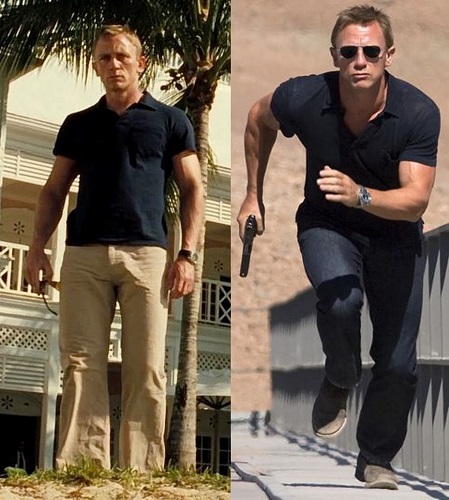 If you have slimmer legs, that same straight cut would probably look too baggy on your frame. So you'd be better off looking for a slimmer style of jeans. It may not be "screen accurate". But you will get the silhouette you want.
Other Thoughts on Fit
Of course there are exceptions to the "keep it fitted not tight" guideline. For example, it would be hard to describe the Tom Ford Polo from SPECTRE as anything other than "body hugging". Some of you may have the build to pull this off. But comfort and confidence are equally important components of getting the "right" fit.  Simply put, if you don't feel comfortable wearing it, you won't have the confidence that is 99% of Bond's appeal. Better to walk away and find a style that flatters your frame more.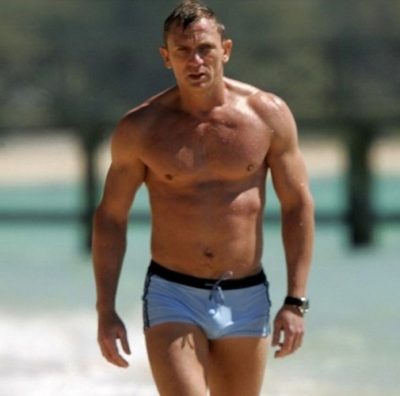 A final note on fit: beware of vanity sizing (here's a good article on the psychology behind that trend). It's no secret that the population of the U.S. is trending "larger". As a result, many manufacturers have adjusted their sizing to accommodate and save people's feelings. For example, over the last 15 years, I've seen myself go from a large to a medium and now sometimes even a small in the clothing from one popular brand. Long story short: if you want a more tailored look, seriously consider sizing down in your clothes. Especially when buying from a bigger U.S. based brand.
Color
Blue, grey, black, brown and beige. Various tones of those five colors make up about 90% of Bond's clothing. So how are we supposed to work with such a limited (yeah, I'll say it: boring) color palette on a day to day basis? It's all in how he combines them.
With a few exceptions, Bond has a tendency to stick with lighter colored pants. The beige Tom Baker linen pants from Casino Royale and the off-white and light khaki Levi's STA-PREST 306s from Quantum of Solace. Or the lighter grey ACNE Wall Street Shark trousers and Zara chinos from Skyfall.  Also, the taupe Brunello Cucinelli trousers in SPECTRE. And most recently the light grey Tom Ford jeans in Bond 25. He most often pairs these lighter pants with a darker colored top: the black Alfani shirt, the Adidas Y-3 jacket, the black Tom Ford cardigan, the black v-neck sweater, the dark navy Tom Ford polo. And the black Tommy Bahama silk shirt.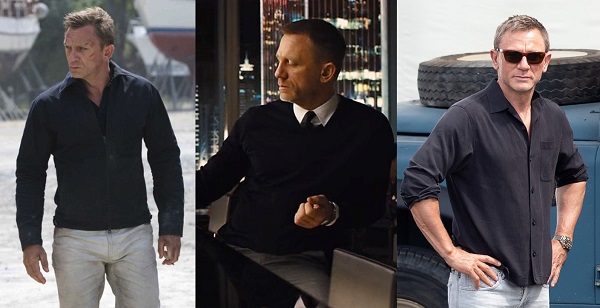 Color Blocking
This simple color blocking allows for a high contrast between basic colors that keeps things visually interesting. Additionally, staying with variations of the neutral beige tone on the bottom gives us some room to experiment with a wider variety of blue, grey and brown tones on the top. Just think about the differences in blue tones between the navy Sunspel polo, deep royal blue of the Tom Ford johnny collar polo and the sky blue of the Orlebar Brown linen shirt, for example.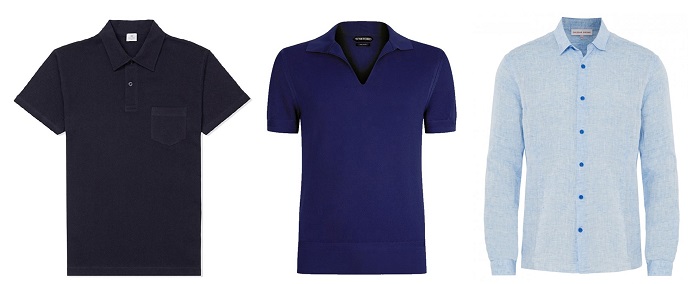 Craig's Bond also isn't afraid to add some contrasting color when it's needed. Three examples that spring to mind are the teal and lapis blue N.Peal  sweaters he wears under the Barbour X To Ki To in Skyfall and the Tom Ford quilted front sweater in SPECTRE, and the rust brown Tom Ford tie he wears with the Brunello Cucinelli blazer. They're not overly bright. But those spots of unexpected color add some life to what are otherwise pretty monochromatic outfits. So using higher contrast colors in moderation (one piece per outfit) can help generate some impact.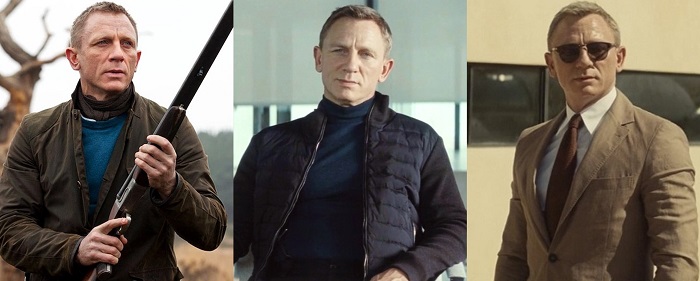 Color Blocking and Height
A quick note on color blocking for those of us under 6 feet: combining a darker color on top with a lighter color on the bottom can actual make us look shorter than we are. It makes our bodies look like they're "chopped" into pieces and emphasizes shorter legs or a shorter torso. Especially if you wear your dark shirt untucked, your pants with too much break, and/or darker colored footwear.
So if you want to appear taller out here in the real world, take your cues from the SPECTRE London finale outfit or the Quantum of Solace Harrington jacket outfit. Both are darker and more monochromatic, and therefore better bets than the Casino Royale Sunspel polo outfit for giving the illusion of more height.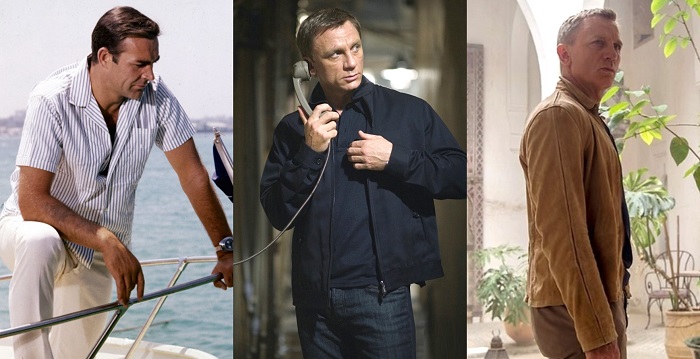 If you want something lighter, the Matchless jacket with the Orlebar Brown Linen Shirt, Brunello Cucinelli taupe trousers and J.Crew Kentons is also a good example. As is Connery's look at Palmyra in Thunderball. Or you could, you know, just wear whatever the hell you want with confidence.
Fabric
To keep it simple, I'll look at fabrics from the perspective of fiber content, pattern and texture.
Fiber Content: This one is easy. If the fabric isn't cotton, wool, cashmere, silk or leather it probably won't make it into Bond's wardrobe. Stick with natural fibers and fabrics whenever possible (or practical).
Patterns: While Bond's suiting may exhibit some more intricate patterns, his casual clothing tends to be solid colors. Even when a pattern is used (like the Zara Enjoying Death shirt or the Neil Barrett SPECTRE trousers), it is very subtle and can almost pass as a solid color from a distance. So stay with solids and if you do chose a pattern keep it small and tonal.
Connery's Thunderball camp shirts might be considered an exception. But, when you think about it, he also keeps the stripe and gingham patterns small scale and relatively subdued. Bond's "aloha" shirts in Die Another Day and Casino Royale are the exceptions that prove the rule.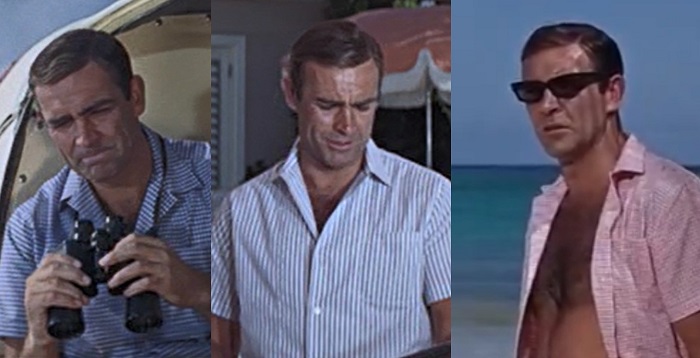 Texture, Weave and Weight: I don't see this discussed much. But combining different fabric textures, weaves and weights is probably the most effective way to make a wardrobe with a limited color palette more visually interesting. I think the best example of the impact of combining different fabrics is the Skyfall Scotland outfit. Here we get the waxed cotton twill of the Barbour jacket with the softer knit of the scarf and N.Peal sweater with the corded fabric of the All Saint's jeans and the pebbled leather of the Crockett and Jones' Islay boots. Working in these multiple textures, weaves and weights elevates a basically monochromatic, earth toned outfit to a new level of style.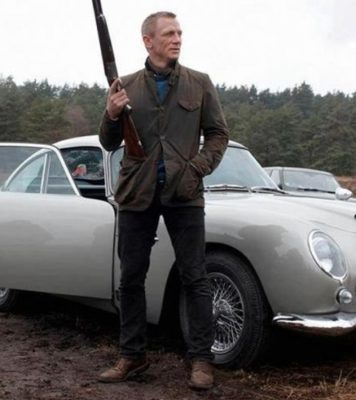 How to Combine Fabrics
There are plenty of other examples of how these three characteristics of fabric are used to create more visual interest. The distressed leather of the Levi's Menlo jacket against the broken-in cotton of the Zara shirt. The shinier sharkskin weave of the Acne Wall Street Shark trousers contrasting with the heavier wool of the Billy Reid peacoat. Or the rib knit of the Tom Ford cardigan with the refined, fine weave of the white dress shirt. And the subtle cable knit of the N.Peal Mr. White turtleneck sweater against the felted cashmere of the Dior Homme jacket.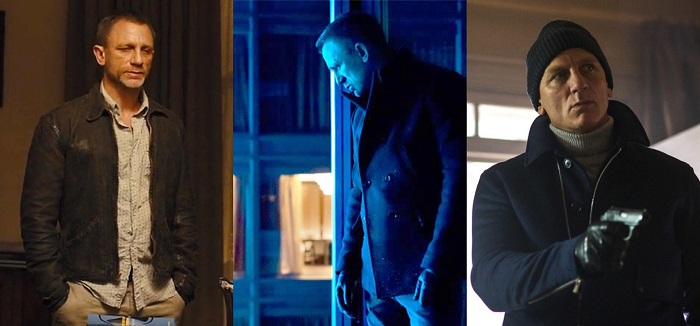 So don't just think about color. Also consider how the textures, weaves and weights of your clothes' fabrics feel and look when worn together. Start by trying to combine fabrics on the top and bottom of similar weights but with distinctive textures or weaves, and then mix in a lighter weight fabric.
The Y-3 jacket outfit from Quantum of Solace and the John Varvatos suede racer jacket outfit from SPECTRE work because the weights and textures of the jacket materials (cotton/polyester twill; suede) are balanced and complimented by the weights and textures of the pant fabrics (denim; wool), allowing the lighter weight fabrics of the shirts (mesh cotton; cashmere) to really stand out.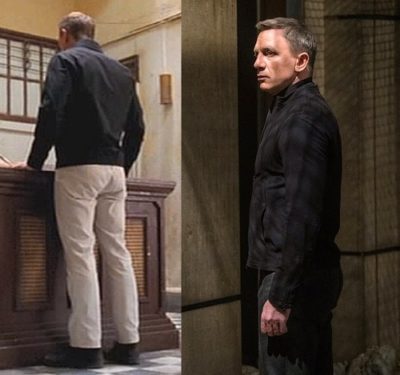 The Little Details
Another important way to make a more muted color palette more visually interesting is focusing on the small details of the individual pieces that make them stand out. In a world full of navy blue polo shirts, the self fabric collars and pockets of Bond's shirt sets it apart. The same with the double placket of the Venice long sleeve polo shirt in Casino Royale. We also see this in the belts Bond uses. The crosshatching in the saffiano leather of the Prada belt from Quantum of Solace or the thicker plaiting and rectangular silver buckle of the Brunello Cucinelli belt in SPECTRE.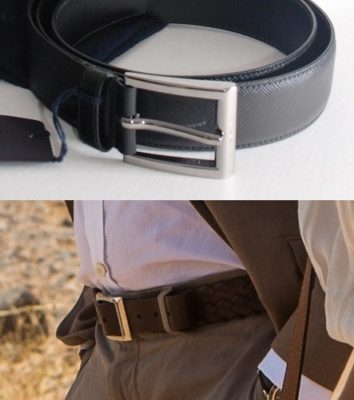 Bond is a details man. And the attention he pays to the "little things" helps distinguish his wardrobe "basics" from what the masses wear. His Harrington jacket lacks the ribbed knitted cuffs and hem that 99% of the "barracuda" jackets on the market have. He wears a dress shirt with French cuffs with his Tom Ford shawl collar cardigan. His Orlebar Brown swim shorts have side tabs instead of an elasticized waist. His casual suede boots have the shape of dress chukka instead of desert boot.

Basically, these "little things" matter if you want to adopt Bond's style. Even if the majority of people won't consciously notice them.
In Conclusion …
Find clothes that fit YOU, not Bond. Look for garments that follow the lines of your body, giving you a trimmer and more elongated silhouette. And think about sizing down for a more tailored look. Remember, if you're comfortable, you'll feel more confident.
Work with a more muted or neutral color palette. But don't be afraid to mix in brighter or higher contrast colors from time to time to create an impact.
Focus on combining different fabric textures, weaves and weights to create visual interest.
Pay attention to the little details that elevate your wardrobe and show that you care about what you're wearing.
Next we'll explore the basic pieces of an affordable starter Bond wardrobe and I'll share some of the resources I use for general advice and finding the right pieces at the right price. You can find our next post on 007 style shirts and sweaters here.
The Affordable James Bond Wardrobe Series:
Shoes and Boots (coming soon!)
Details and Extras (coming soon!)
Remember, you can visit our Facebook page, Instagram account and Pinterest Boards for more James Bond style advice and inspiration!